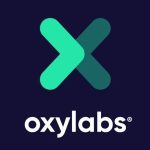 Deciding on a suitable proxy for your needs is challenging. Among the various providers all touting their superiority, it's tough to discern truth from fiction.
Reviews go a long way to enlightening savvy customers about a proxy provider's actual performance. In this review, we will examine Oxylabs proxies in detail, focusing on the strengths and when it's the right choice for you.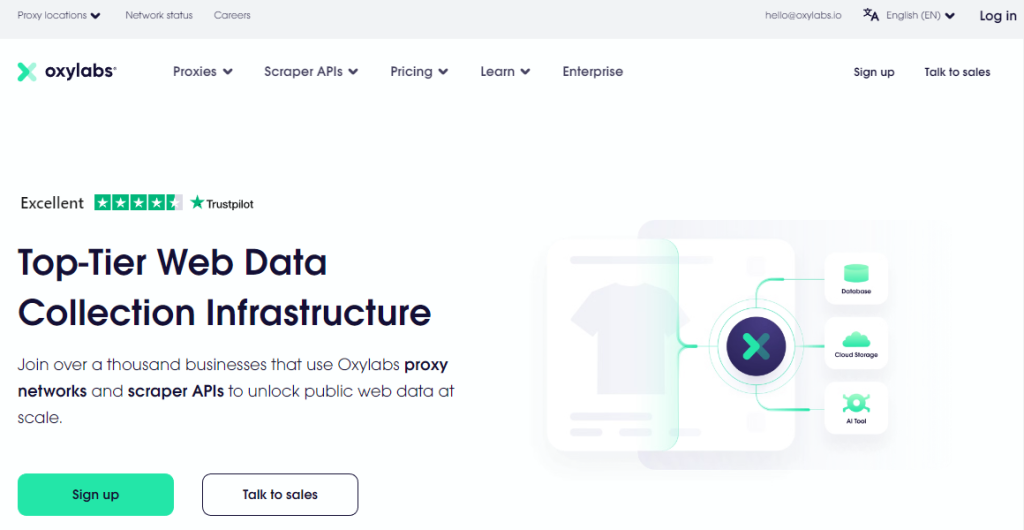 Oxylabs Introduction
In the sea of proxy providers on the market today, you may never have heard of Oxylabs before, but don't mistake obscurity for inexperience. Oxylabs was founded in 2015 by Julius Černiauskas and has enjoyed an impressive track record of providing robust infrastructure to companies of any size.
In addition to the proxies themselves, Oxylabs offers a complete set of exposed APIs, allowing tech-savvy users more control.
Their focus on transparency and values sets Oxylabs apart from the competition. Their core mission is to build trust through openness and foster quality relationships with their partners.
This core value is a welcome change that guides how Oxylabs conducts its business.
Oxylabs is equally focused on security, taking extra steps to verify its supply chain and fortifying its infrastructure.
So, let's dive in and see what Oxylabs brings to the table.
Oxylabs Features
The hallmark of a proxy provider is the features that it presents. Because you can use it in so many different ways, having extensive features at your disposal is vital. Oxylabs delivers its customers an array of powerful options to support your workflow.
A critical element of any proxy service is the number of locations it offers. Choice is essential in the realm of proxies because there are many reasons for quickly switching them on-the-fly. Having numerous proxies in each region and many areas to choose from adds valuable redundancy in case of failure and increases efficiency during automation.
Oxylabs has thousands of proxies in all major regions for worldwide coverage. Whether you're looking for IPs in Italy or auditing in Argentina, Oxylabs has you covered.
In addition to their large selection of locations, Oxylabs also supplies numerous IP addresses for each area. Oxylabs gathers its IPs from various sources, including data centers and individual suppliers, building maximum quantity and quality.
Having multiple IP addresses for each region maximizes redundancy and robustness against failure, ensuring your work never gets interrupted.
If you're performing data scraping or in-depth market research, you've likely found yourself limited by other proxy providers. Complete control of your active proxy sessions allows you to bypass restrictions and perform additional automated tasks more efficiently.
Their Python-based API lets you direct your session via scripts, apps, or other means in real-time, for the ultimate responsive experience.
Some proxy providers skimp on their network resources to maximize simultaneous users (and profits). In contrast, Oxylabs allocates more resources per client than average, giving you more bang for your buck.
Whether you use their proxies for work or play, Oxylabs has the backbone to power your needs.
One area where some proxy providers fail is customer service, often relying on only basic e-mail support. Oxylabs has expended significant care in this area, offering 24/7 e-mail support and dedicated account managers.
Oxylabs also goes above and beyond, boasting real-time chat support and a growing FAQ section for instant help whenever you need it.
Oxylabs has developed a wide array of extra tools to empower its customers to achieve their goals. From mobile apps to Chrome extensions, Oxylabs supports you with accessible add-ons when you need them.
With Oxylabs' full suite of apps and extras available on the GooglePlay store, the clients can spend less time managing their proxies and more time using them.
Many proxy providers try to lock their users into their products and services. Oxylabs takes an open approach by encouraging compatibility with their tools and proxy services.
Oxylabs has even taken the extra step of providing guides on integrating their proxies with your favorite products, services, and apps.

Types of Proxies
Alongside an impressive feature set, Oxylabs has numerous proxy types for various uses. Most people are familiar with anonymous proxies, popularized in movies and television. However, there are more specialized proxies for particular tasks.
Picking the right proxy is as critical to good performance as the proxy itself, and thankfully, Oxylabs has plenty of options to fit any situation.
Residential proxies, for example, are ideal for those performing data-scraping and market research from the perspective of an individual internet user account. Residential proxies allow you to access particular websites, communities, and services restricted from datacenter proxies. Because Oxylabs harnesses real residential IPs for these proxy servers, you can be confident that your session will go undetected by various blockers.
Mobile proxy servers are similar to residential proxies in their use and function but are specifically geared towards mobile (cell) networks. These proxies let you appear as a mobile user to whatever sites or services you visit, facilitating particular experiences or use cases. Oxylabs uses real mobile devices for a completely authentic proxy session.
Rotating ISP proxies are another everyday staple of most providers, but Oxylabs goes a bit further, offering unlimited targeting, usage stats, and 24/7 live support.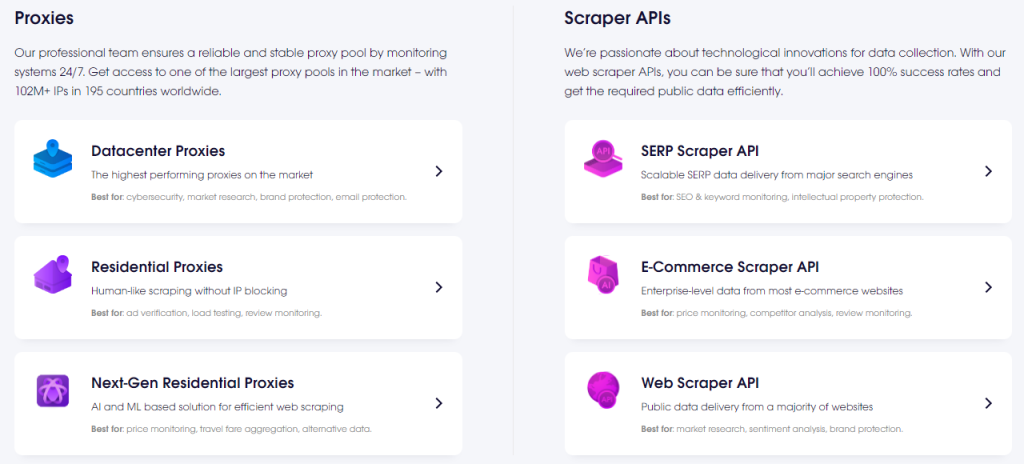 Proxies Unique to Oxylabs
Oxylabs doesn't stop at the typical proxies – they've made significant innovations in the proxy space. One such proxy is their Next-Gen Residential Proxy, which uses advanced artificial intelligence and machine learning to provide dynamic caching for superior performance.
These proxies provide the ultimate performance, making quick and intelligent decisions on-the-fly to achieve the objective regardless of the network status. The auto-retry system mitigates failure rates and is ideal for structured data scraping.
Enterprise Solutions
Oxylabs has a robust set of enterprise services for even more demanding needs. When you need best-in-class performance and robust infrastructure, Oxylabs has you covered.
They offer fully customizable solutions tailored to your company's needs, using their impressive network of over 100 million proxies. With Oxylabs' Search Engine Results Page (SERP) scraper API, you can harvest tremendous amounts of data at lightning speed.
Oxylabs Proxy Speed and Performance
A proxy provider may offer outstanding features, but real-world performance is critical for everyday usage. Slow proxies hamper business efficiency and make streaming, gaming, and other bandwidth-intensive tasks impossible. Therefore, proxy speed is essential for work and play alike.
Oxylabs conducts regular testing of their proxies to ensure acceptable performance. From our research, the average millisecond ping time to popular sites such as Amazon, Google, Adidas, YouTube, and Nike, was 4 ms. Obviously, this number is subjective and will change based on factors such as location and the proxy in use.
The average 4 ms ping time is impressive and provides speed similar to an un-proxied connection. These results mean that whether you are running demanding automation bots or streaming rich content, Oxylabs' proxies are up to the task. A round-trip ping time of under five milliseconds indicates that, on average, Oxylabs should provide a seamless, buffer-free experience with minimal lag.
The success rate is another crucial metric because a failed connection attempt can increase response time exponentially. Our research shows that Oxylabs performs exceptionally in this area, with an average success percentage of 98%. Their high success rate gives you more productivity and less time waiting for a connection.
Proxy responsiveness can affect things such as streaming, gaming, downloading, and automation performance.

Additional Tools
Besides an impressive array of proxies, Oxylabs offers enticing extras for users looking for more flexibility. Advanced users will appreciate their proxy APIs that allow you to automate many tasks.
Their scraper APIs and advanced AI and data parsing technology give Oxylabs a noticeable advantage in the business proxy market. These extra tools bring the mundane task of harvesting data into the 21st century. If a worker is only as good as their tools, Oxylabs provides a much-needed boost in productivity.
Oxylabs' APIs include the latest anti-CAPTCHA algorithms to ensure success on any platform, plus they only charge for successful connections, saving you money.
The various proxies return results in various formats including plain text HTML, CSV (comma-separated values), or JSON (JavaScript object notation).
Oxylabs' Chrome Extension
Beyond scraper APIs, Oxylabs goes the extra mile to provide more tools via Google Chrome extensions. One such extension is the OxyLabs Proxy Manager, which lets you start, stop, and configure proxies at the touch of a button.
The extension allows you to switch proxies on the fly, freeze your IP address to maintain sessions, and change protocols.
Oxylabs Proxy Manager Android App
A full-featured proxy management app also exists for Android devices and is available on the Google Play Store. The app is convenient for managing proxies in one dashboard— even proxies from other providers! We've rarely seen a provider willing to open their app to work with other providers this way; nice touch!
Unlike some other proxy managers, the Oxylabs app doesn't require root permissions, so you don't need to compromise your device. The app respects your privacy and won't harvest your info or contact list. Your data is kept secure and not shared with any third parties. Clearly, Oxylabs takes privacy seriously, and we appreciate the extra effort to protect its users.
Automatic Proxy Rotator
Another helpful addition offered by Oxylabs is their proxy rotator. This advanced business-centric add-on lets you automatically switch data center IPs for a more streamlined experience.
The Oxylabs Proxy Rotator significantly decreases your odds of being blocked, as it more closely replicates human-like behavior online.
The rotator service reduces your blocked connection rate and enhances load balancing. You can keep throughput high by automatically rotating proxies and avoiding delays and unnecessary downtime.
Although their proxy rotator service is primarily aimed at business use, it can enhance your privacy also. A rotating proxy provides two valuable advantages:
It makes you a "moving target" regarding IP blocks and bans.
It causes you to appear as multiple users, helping you remain hidden.

Purchase Simplicity
Most proxy providers accept multiple payment methods based on their regional headquarters. Oxylabs takes simplicity one step further by accepting most standard payments, plus PayPal as a more global solution. So even if your favorite card or payment type isn't supported outright, the chances are that PayPal can process it for you.
Buying proxies is as simple as creating an account, deciding which proxies you want, and completing your purchase.
Oxylabs also supports a "Fast Checkout" feature, allowing users to purchase and activate proxies automatically in mere minutes.
Oxylabs Pricing
With everyone watching their budget these days, price plays a large part in deciding on a provider. Oxylabs takes a quality over quantity approach to fees, opting to provide superior service over the long-term rather than nickel and dime their customers.
That being said, subscribing to Oxylabs proxies requires an investment of at least $99 at the time of this article. This price is comparable to other premium proxies today, and the subscription also fluctuates depending on the proxy location and type.
While some people might hesitate at the initial cost, the return on investment for speedy, reliable proxy connections should be factored into the equation.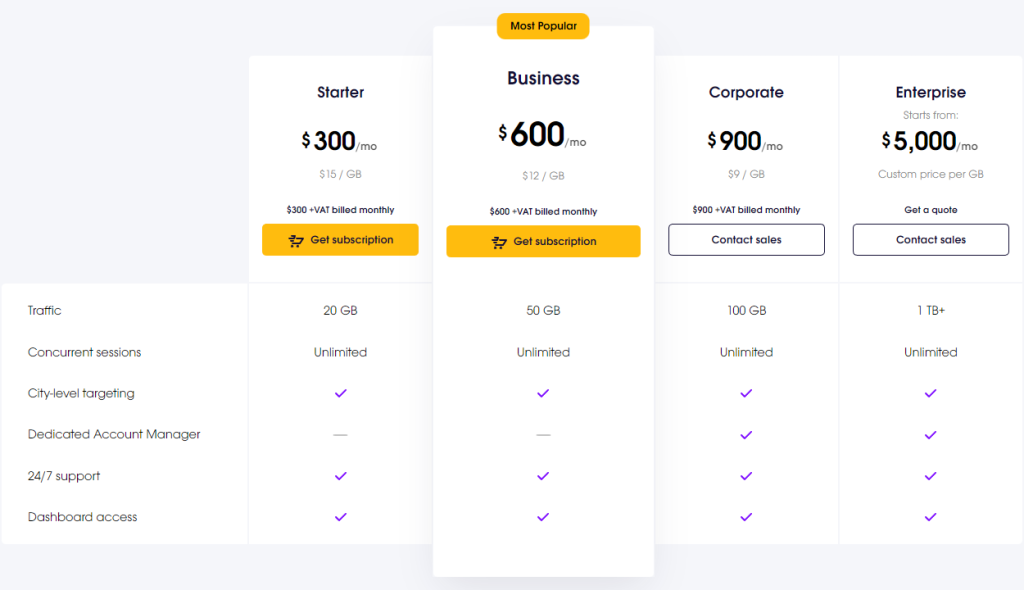 Oxylabs Discounts
If Oxylabs' prices still seem a bit dicey, you can find coupon codes across the web. Oxylabs also currently offers a free trial for most of their proxies, and you can find further percentage discounts on their proxy pages.
You can always chat with their sales team to obtain the latest information regarding Oxylabs' deals and discounts. We also recommend asking about Oxylabs' free trials; they currently offer testing periods for businesses and individuals. You can try their latest proxies in your network environment to find the best fit using these trials.
Is Oxylabs Legit or a Scam?
When considering a service that may process sensitive data, you might wonder if Oxylabs is the real deal. You can't be too careful with the rise of online data breaches and increasing privacy concerns. Many scams on the internet today are designed to capture your precious personal data. Ironically, these data invasions often take the form of services designed to protect you.
One of the best ways to judge the legitimacy of a service is through user experience. Oxylabs has numerous positive reviews from other sources, as well as satisfied customers, and word-of-mouth is still a powerful way to discern the best from the rest.
Oxylabs maintains an excellent 4.7 / 5 rating from TrustPilot, with many positive reviews and ratings on display.
Of course, the ultimate test of Oxylabs is your personal experience with them. Using their free trial for residential and data center proxies, you can test the service without risk. They also offer a limited three-day money-back guarantee for individuals. So whether you're considering Oxylabs for yourself or your corporation, there's a trial suited for you.
Customer Support
If there's one particular area where proxy providers tend to falter, it's customer support. Most proxy providers offer email-only support, minimal documentation, and little help if things go wrong.
Oxylabs takes a much appreciated different approach by providing multiple avenues of support. Along with the standard e-mail support, Oxylabs has a live chat and extensive documentation. Users can choose the help options that best serve them and minimize downtime waiting for inconvenient support channels.
The wealth of API documentation is a nice touch for those who want to dig deeper into proxy utilities and scripting. Most basic questions can be answered simply by browsing Oxylabs' website FAQs and help articles.
Additionally, their FAQ section has search functionality, allowing you to find the answers you need quickly.

Can You Earn Money With Oxylabs?
A recent trend with some proxy providers is the opportunity to generate revenue. Since everyone can use some extra cash, this could be a deciding factor for thrifty users looking to protect their privacy and boost their budget.
Oxylabs offers a reseller program in which you earn a commission based on signups to their platform. Oxylabs maintains a detailed white paper explaining their affiliate process and how they source their proxies.
Currently, Oxylabs offers a 50% commission on your first affiliate sale. This bonus is a fantastic incentive for those seeking extra cash. Frugal users can even turn around and use their earnings to pay for their proxies, essentially letting the proxies pay for themselves.
Contact Oxylabs for more details on this program and current rates.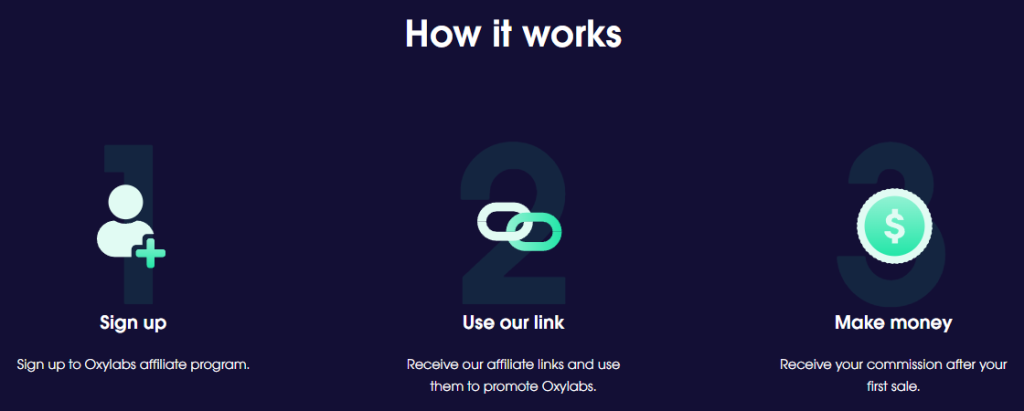 Oxylabs Pros and Cons
All the quality and performance that Oxylabs provides comes at a cost, and while Oxylabs still offers competitive prices, they can sometimes get steep. That being said, your privacy, safety, and performance are valuable resources. So far, we've examined Oxylabs' core features and like what we see. Here's a quick rundown of our findings thus far.
Positive
Superb support
Quality service
Extensive documentation
Speedy performance
Terrific tools
Negatives
Higher than average prices

Final Verdict
Having taken a deep dive into Oxylabs, we're impressed by the care and responsibility this proxy provider takes in its approach to quality and openness. They have extensive documentation and a user support system beyond most other providers.
Oxylabs' prices are higher than other providers, but we think they offer superior service for the money. You know how much your privacy is worth; Oxylabs' high-performance private proxies are an excellent investment, especially with data breaches rising.
With a clear mission statement and a passion for excellence, we believe that Oxylabs is a cut above the competition. We wholeheartedly recommend Oxylabs to businesses and individuals who need the superb speed and security offered by Oxylabs.
Ratings
Oxylabs Alternatives
If you're still window shopping or want to see how Oxylabs compares with the competition, here are three other proxy providers vying for the spotlight.
BrightData offers the standard selection of proxies, including residential and datacenter. BrightData's pricing is higher than Oxylabs, but they offer a pay-as-you-go option for some proxy types.
SOAX doesn't offer the range of features as other providers such as Oxylabs and aims for a more basic approach. SOAX is a good choice when you want a no-frills, simple proxy for primarily home use.
On the other end of the spectrum is IPRoyal, a provider geared toward residential proxies. IPRoyal created its own global pool of 100% authentic residential proxies perfect for the corporate market and private use, offering excellent performance and significantly lower prices per GB.
FAQ
Can I use proxies on multiple devices?
Yes. The device doesn't limit Oxylabs proxy servers – you can share the bandwidth however you like. Make sure you check out their how-to guides for configuring your devices for Oxylabs proxies.
Do proxies protect against viruses?
Proxies might provide some protection, depending on the type of malware, but will probably not stop a genuine infection. Proxies are more about anonymizing your identity online and boosting performance.
Can I pay with bitcoin or any other cryptocurrencies?
At this time, Oxylabs doesn't accept any cryptocurrency payments. They accept all major credit cards and US and Euro wire transfers. For those wanting a bit more security, they also accept PayPal and Alipay.