The wide range of benefits of using quality proxy servers has made them quite popular among casual internet users and data-driven businesses. You can use them to unblock geo-restricted websites and services, browse the web anonymously, or perform online business activities like market research and web scraping safely and smoothly. In other words, you can use them for anything that requires online anonymity, privacy, and security!
However, choosing the right proxy provider is not easy, considering how many brands are currently out there claiming they are the best ones on the market. Some of them may have considerably smaller proxy pools than advertised, and others may provide poor customer service.
So to make the right decision and avoid wasting your time and money, you need more information than what you see on their websites. Reading multiple reviews for each provider will undoubtedly help you get an honest opinion of their proxy service, but it will also take you a lot of time and effort.
That's why we've decided to evaluate some of the most popular paid proxy providers currently on the market and help you make an easier and better decision.
Let's take a look at what we've found out.
Best Proxy Providers of 2022 – Quick Summary
IPRoyal – the best premium proxy provider ✅
Bright Data – the provider with the most powerful infrastructure
Smartproxy – the most cost-effective proxies
Oxylabs – provider with the largest proxy pool
MarsProxies – the best sneaker proxies
Flipnode – the best backconnect residential proxies
GeoSurf – the best proxy provider for business users
NetNut – provider powered by DiviNetworks and dependent residential IPs
Shifter – the best provider for unmetered backconnect residential proxies
Proxyrack – provider with affordable and versatile packages
How We Evaluated the Best Proxy Services
Our technical knowledge and experience helped us to evaluate the top proxy service providers of 2022 by analyzing the size of their proxy network, server options, quality, speeds, how they are sourced, supported protocols, and other features.
We looked at their customer service, checked for user experiences, prices, and pricing models, and noted if they provide additional tools like API integration, web scrapers, or browser extensions. Once we collected all the information, we selected our top picks and wrote a short summary of each provider so you know what to expect.
What Is the Difference between Paid Proxies and Free Proxies?
Paid and free proxy servers don't provide the same level of anonymity, security, reliability, and speed. In fact, if they weren't so different, no one would have wanted to pay for something they could get for free.
With a free proxy service, inconsistencies and sudden crashes are very common. And even if you find a free proxy that works, it would probably burn out very soon. On the other hand, paid proxies tend to be consistent and reliable, ensuring a smooth online experience.
Free proxies are shared between an unknown number of users simultaneously, so they are very slow. This makes them unsuitable for streaming, downloading, gaming, or anything else that requires a decent to fast connection speed. Paid private proxies, however, are a lot faster because they tend to be dedicated to one user at a time. This means they are ideal for pretty much any online activity, from streaming content and playing games to copping limited-edition sneakers and large-scale web scraping.
The lack of HTTPS support is probably the most important difference between free and paid proxy services. Most free proxies only use HTTP, which makes them highly unsafe, so using them will put your sensitive data at risk of being monitored and stolen. Your connection can easily be monitored, and your browsing history sold to ad companies or big corporations. With paid proxy providers, you don't have to worry about your online privacy and security as they tend to use HTTPS.
Using free IPs may infect your device with malware and wreak havoc on your device and network. Once again, paid proxy services are supposed to protect you from possible malware and viruses.
Last but not least, free proxy providers don't offer customer support to their users, unlike paid proxy providers who care about customer satisfaction and ensure that all of their questions are answered promptly and issues resolved as soon as possible.
Why Do We Only Test Paid Ones?
Since we know the low level of quality and anonymity free proxies tend to provide, we've decided to test only the best proxy service providers – the premium ones. Although free proxies may help you perform basic tasks like bypassing geo-restrictions, they will probably burn out quickly or expose your real IP address.
On top of that, they are frustratingly slow and will probably bombard you with a bunch of ads. Overall, they are unreliable and unsafe, so researching and testing them would've been a waste of time.
For that reason, we've decided to evaluate only paid proxy providers, especially those offering residential proxies as the most reliable and secure type of proxy servers.
Full Provider Reviews
Even though paid proxies are better than free proxies, not all of them provide the same level of anonymity, reliability, and performance. Some are better than others, so we are here to reveal the top 10 proxy server providers available right now.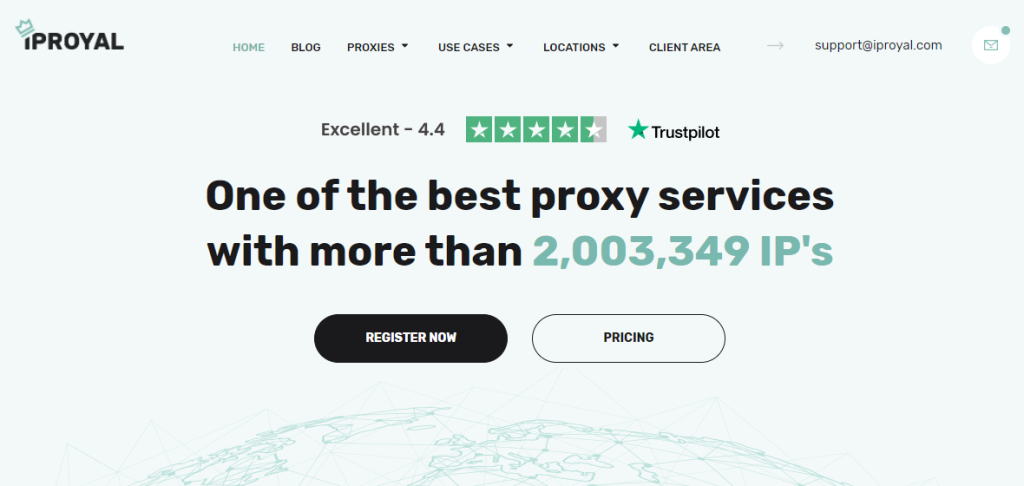 Founded in 2020, IPRoyal is one of the youngest proxy server providers on the market that has managed to build a great reputation in such a short period. Its diverse menu of proxies and affordable prices make it a perfect choice for both private and business users.
Right now, IPRoyal's network consists of over 2 million ethically-sourced residential proxies from around 190 countries in the world. IPRoyal's proxies are of the highest quality, being ethically sourced through the provider's very own IPRoyal Pawns program. This allows users all over the world to rent their IP address and connection while earning a commission for the traffic they share.
This provider offers residential ISP proxies, static residential proxies, datacenter proxies, private proxies, sneaker proxies, and 4G mobile proxies. They are great for anonymous browsing, web scraping, market research, gaming, sneaker copping, social media automation, streaming, etc.
With IPRoyal's proxies, you can rest assured you're the only user of the residential IPs allocated to you. The provider offers both HTTP(S) and SOCKS5 support, which guarantees maximum versatility and online security. It also offers flexible rotation options, city and state targeting, and 24/7 customer service that's highly praised among its users.
Since speed and reliability are essential factors to consider when choosing a proxy provider, we tested IPRoyal's proxies and were positively surprised by the results. The proxies had an uptime of 99.9% and speeds of up to 10 Gbps.
When it comes to pricing, IPRoyal has very affordable proxies. Right now, they offer residential proxies from $4 per GB all the way down to $0.8 per GB, depending on the amount of traffic you order. The best part is that your traffic never expires, and you can use it as needed, unlike many other paid proxy providers that lock you in for lengths of time.
---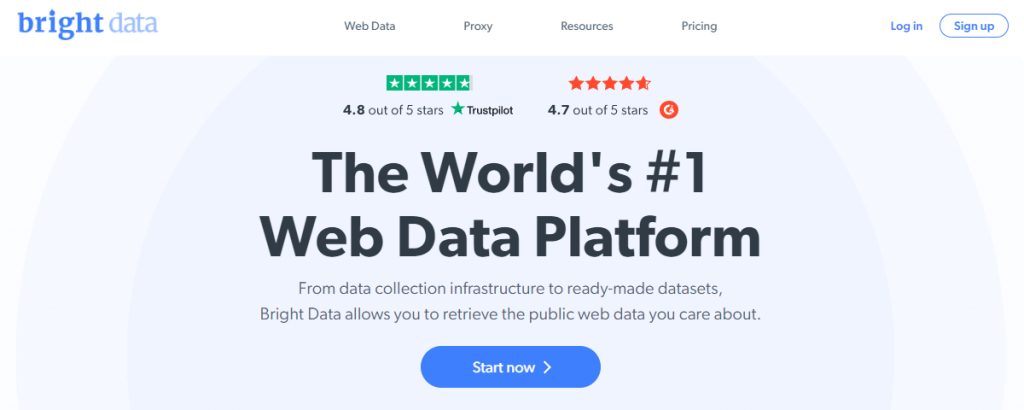 With over 72 million residential IP addresses worldwide, Bright Data has one of the biggest proxy pools in the industry. The provider offers a variety of proxies, including residential, datacenter, mobile, and ISP proxies from almost every country in the world.
Its ethically-sourced residential proxies support both sticky and rotating sessions and HTTP(S) and SOCKS5 protocols. Besides the standard targeting options such as city, state, and country, Bright Data also supports ASN targeting. When it comes to their mobile proxies, the provider has 7 million IP addresses obtained from real mobile devices.
Along with proxies, the provider offers a wide range of tools to help you make better use of their proxies. These include a browser extension, custom API, Web Unlocker, and a Proxy Manager that adds many advanced and powerful features such as intelligent routing and SSL decryption.
Bright Data supports unlimited concurrent sessions for optimal performance. Its residential proxies have 99.9% uptime and a low failure rate proving their high reliability and stability. This makes them ideal for specific online tasks such as web scraping, web crawling, ads verification, social media automation, brand protection, etc. The provider supports both types of authentication – username/password and IP whitelisting.
When it comes to the pricing structure, Bright Data offers standard monthly and yearly subscriptions and a pay-as-you-go plan. However, specifying additional parameters like targeting levels makes the final cost even higher than it already is.
---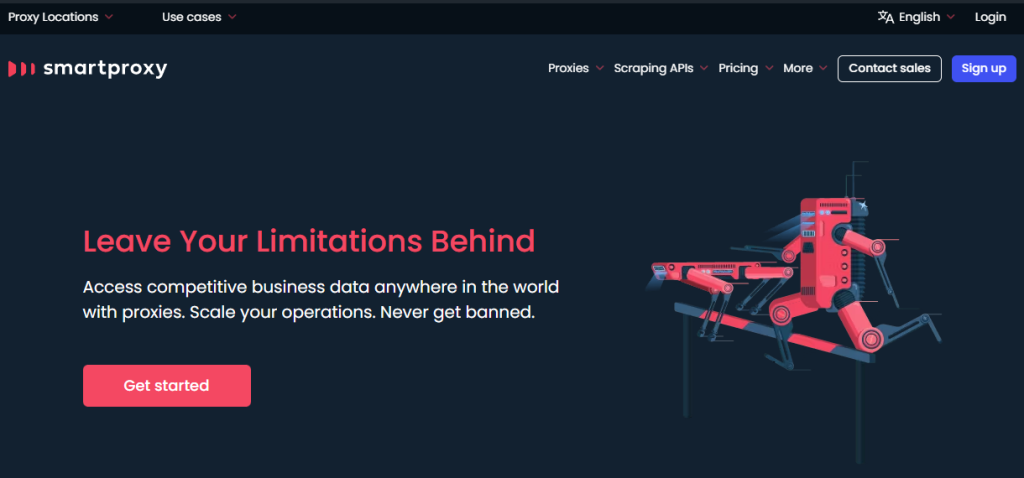 Smartproxy offers a great proxy solution to scraping professionals as it allows you to send unlimited connection requests concurrently. With its residential proxies, you can rest assured that your connection is anonymous without worrying about your IP or location leaking.
The provider offers over 40 million residential and 100,000 datacenter proxies for scraping and business automation projects, which creates one of the largest proxy networks on the market. It even has dedicated datacenter proxies that give you 100% control of your proxies.
Smartproxy's residential proxies cover over 195 worldwide locations and come from desktop and mobile devices. The provider offers automatic IP rotation and the ability to keep the same IP address for longer. However, it only supports HTTP(S) protocol, which means no SOCKS5 support, and it only has rotating proxies and no static residential proxies.
After testing Smartproxy proxies, we can say they have an excellent success rate and an impressive response rate of less than a second. Not to mention their 99.9% uptime and free proxy apps that will boost your proxy experience. The provider also offers a no-code scraper extension, web scraping API, eCommerce scraping API, and full-stack SERP scraping API.
Smartproxy offers regular monthly subscriptions, and the pricing structure is based on the amount of bandwidth. They are pretty affordable, which is probably related to the lack of SOCKS5 support and fewer targeting options. It has also introduced a pay-as-you-go plan recently, which is very convenient for its users.
---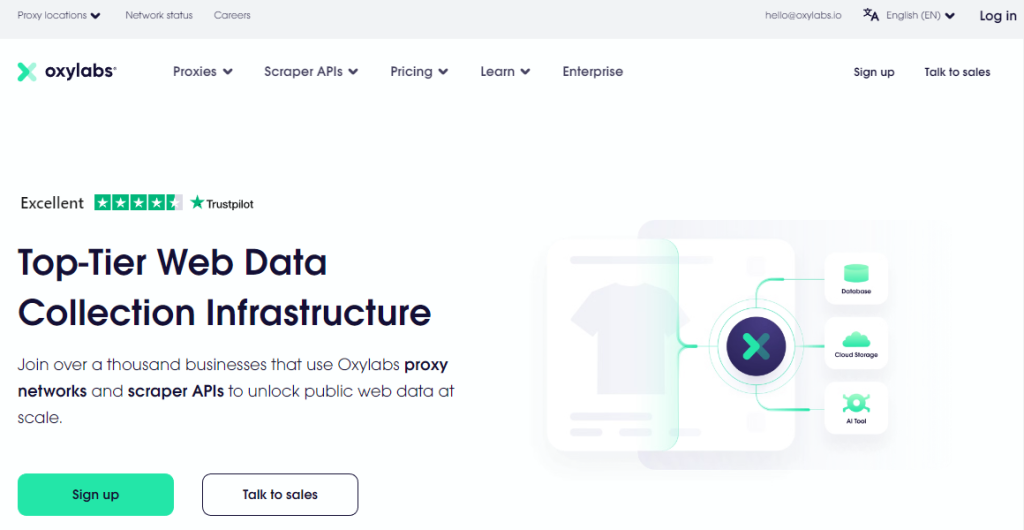 Founded in 2015, Oxylabs is a well-established proxy provider that offers a wide range of proxy services and a few data collection APIs for easy and effective web scraping. It owns the largest proxy pool on the market, with over 100 million residential proxies and over 2 million datacenter IPs.
It has excellent location coverage, offering ethically-sourced residential IPs from over 195 locations around the world along with country, state, and city-level targeting. Unlike many proxy providers, Oxylabs's datacenter proxies cover 188 worldwide locations, so you can access any geo-restricted website from anywhere. Its mobile proxies support country and ASN-level targeting.
But Oxylabs is a lot more than a provider with the largest proxy pool and excellent location coverage. According to our research and evaluation, it boasts quality and high performance. Its proxies are very stable, with an excellent success rate and great response.
The provider offers rotating and static residential proxies, SOCKS5 proxies, shared and dedicated datacenter proxies, mobile proxies, and their unique product called next-gen residential proxies. This product guarantees a 100% success rate, employing AI and machine learning to mimic regular users' online behavior and work around captchas and blocks.
The responsive customer service, live chat support, and dedicated account managers show that the company really cares about customer satisfaction, ensuring a smooth proxy experience. The provider's products even have insurance, making them ideal for mid to large companies. This, however, is one of the reasons why these products have above-average prices, so if you don't need all the specialized features and options, Oxylabs proxies may not be the best option for you.
---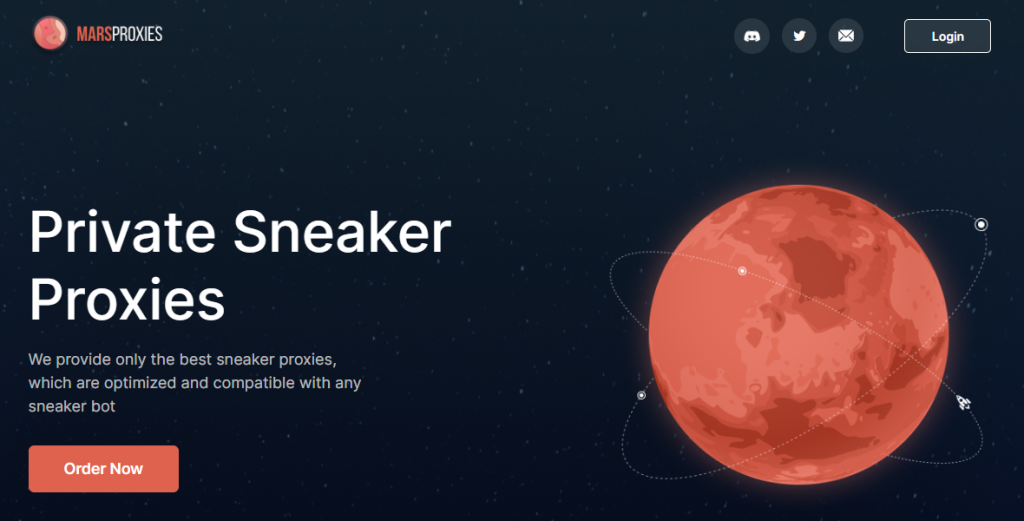 MarsProxies is a relatively new proxy provider on the market that has gained a lot of attention from sneaker-focused proxy users worldwide. It sells residential and datacenter proxies for copping limited-edition sneakers, providing clean IPs that are optimized for all sneaker websites.
Although the company's primary targets are sneakerheads and sneaker retailers, its residential and datacenter proxies are suitable for any bot or automation activity like market research.
The provider has over 250,000 IP addresses unbanned on most websites from over 190 US and EU locations. It supports the SOCKS5 protocol and sticky sessions. When it comes to authentication, it supports both IP whitelisting and username/password authentication.
Mars ISP residential proxies provide up to 10 Gbps speed, which is one of the reasons why it's so popular among proxy users. These proxies have 99% uptime and are dedicated to one user at a time, ensuring a fast and smooth connection, which is vital for successful purchase automation.
What makes this company ideal for newbies is the easy-to-use dashboard that allows them to have complete control over their proxies. Some of the best things about Marsproxies are their low prices, unlimited bandwidth, and daily plan costing only €0.80 per proxy.
---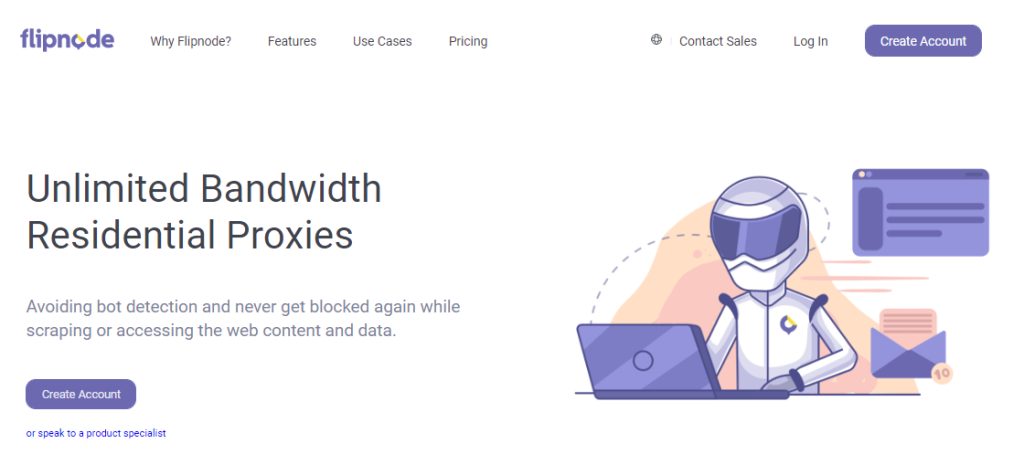 Flipnode is considered a reputable proxy provider that has gained the trust of some of the world's most popular companies like Microsoft and Spotify. It has over 9.5 million backconnect residential proxies from over 195 worldwide locations, making it one of the top residential proxy providers in the industry.
The company focuses only on backconnect residential proxy servers, offering them in two variants – high rotating and sticky IP addresses. It supports HTTP(S), SOCKS4, and SOCKS5 protocols and IP authentication only. Flipnode's proxies allow customer IP rotation time and automatic IP rotation. Their proxies for business use are dedicated, but the standard ones are probably shared between multiple users.
The proxies from this provider have a 90% success rate and 99.9% uptime, guaranteeing high reliability and performance. Plus, they offer live chat support, which is not easy to find among proxy providers. They also offer support via phone for their business users, which is fantastic.
However, if you're not a business user, Flipnode's proxies may be too expensive for you. In fact, this company has one of the most expensive proxies on the market despite the lack of username/password authentication and no support for city and ASN targeting.
---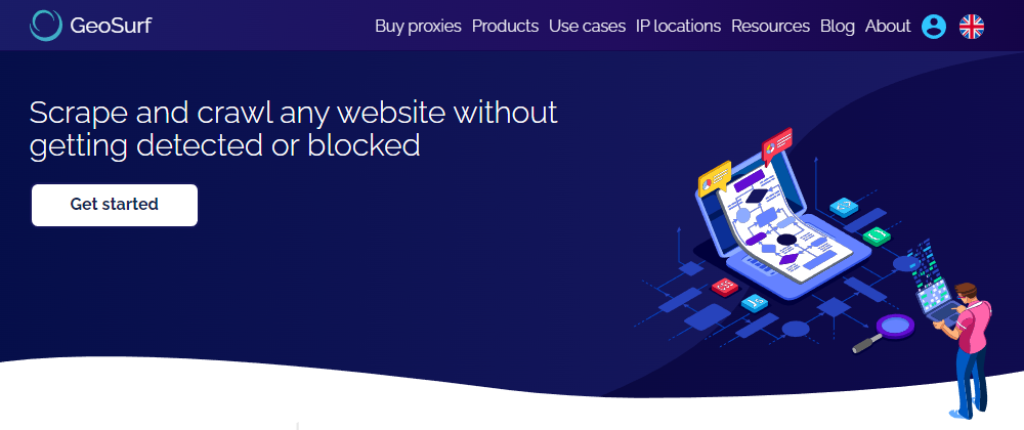 GeoSurf is one of the oldest proxy providers on the market, selling its residential and datacenter proxies ever since 2009. The provider focuses on providing ethically-sourced residential proxies for web scraping and web crawling, although it also has specialized proxies for ad verification and Instagram.
Its proxy pool consists of more than 3.7 million unblocked residential IP addresses from over 2,000 locations across the globe. The company allows you to target based on country, state, and city, although you'll have to pay extra money to get access to city targeting.
GeoSurf has an inbuilt IP rotation API that ensures high scope and high-performance corporate-level activities. It provides you with a fresh IP address with each new request, making it ideal for web scraping or any other activity that requires ultimate online anonymity.
The provider gives you a few options to get in touch – Telegram, Skype, or WhatsApp. What's really great about it is that it signs legally binding agreements with its customers, guaranteeing optimal online privacy.
You can authenticate GeoSurf proxies by username and password or IP address. However, it only supports HTTP(S) protocol, so the lack of SOCKS5 support is something you need to keep in mind. The provider's clean and secure proxies are known for their above-average prices, but this shouldn't be a problem for their target customers, which are corporate users.
---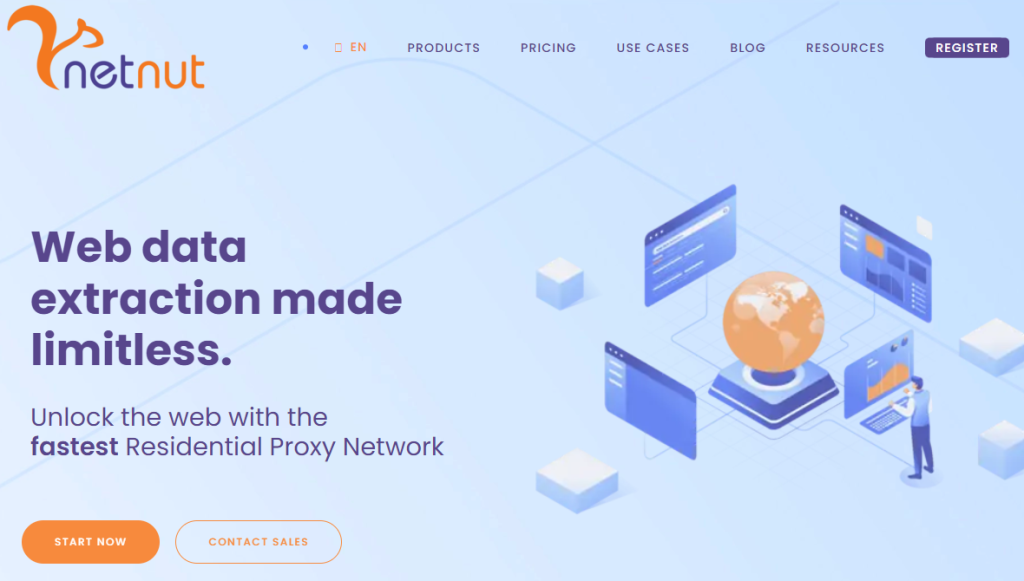 Despite being a relatively new company in the proxy industry, NetNut has managed to build and maintain a reputation as one of the most reliable proxy providers available. It has over 20 million rotating residential IPs, over 1 million static residential ISP proxies, and 110,000 US datacenter IPs.
Besides the large proxy pool, NetNut also provides full global coverage for its rotating residential proxies, offering IPs from over 150 countries across the world. These proxies come with rotation and session support and unlimited concurrent requests, whereas the static residential IPs cover around 50 cities in the US and EU, providing you with permanent static IP sessions.
The company supports HTTP and HTTPS protocols and offers sticky sessions. They compensate for the lack of SOCKS5 support with DiviNetworks powered and dependent proxies which guarantee high stability and performance.
NetNut provides you with the best type of sticky IPs, which are always online. Its rotating proxies can be easily integrated into any browser, providing you with a new IP with each browser session. Plus, they come from dedicated private pools, ensuring the highest success rates at optimal speeds.
They offer plans based on bandwidth and on request. Either way, their proxies are quite expensive.
---

Founded in 2012 and rebranded a few times since then, Shifter continues to be one of the leaders in the proxy industry. It offers residential and datacenter proxies, focusing on backconnect residential proxies for data-driven marketing.
The provider has a huge proxy pool consisting of over 50 million IPs from hundreds of countries and cities around the world. Its backconnect residential proxies are unmetered, meaning you won't have to worry about your internet connection being cut off after using a specific amount of bandwidth.
There are two types of Shifter's backconnect residential proxies: basic and special. While the basic proxies support only HTTP(S) protocols, the special ones support both HTTP(S) and SOCKS4/5 connections.
With Shifter proxies, you'll get a new IP after a set period, which can be between 5 minutes to 60 minutes, depending on your settings. This makes them perfect for data scraping and crawling. The company supports ISP and ASN targeting.
Unlike most residential proxy providers, Shifter's proxies are priced based on ports and not bandwidth. This means you won't have to pay additional fees if you want to continue using them after consuming the assigned data. Although the proxies from this company are not the cheapest ones on the market, they are affordable.
---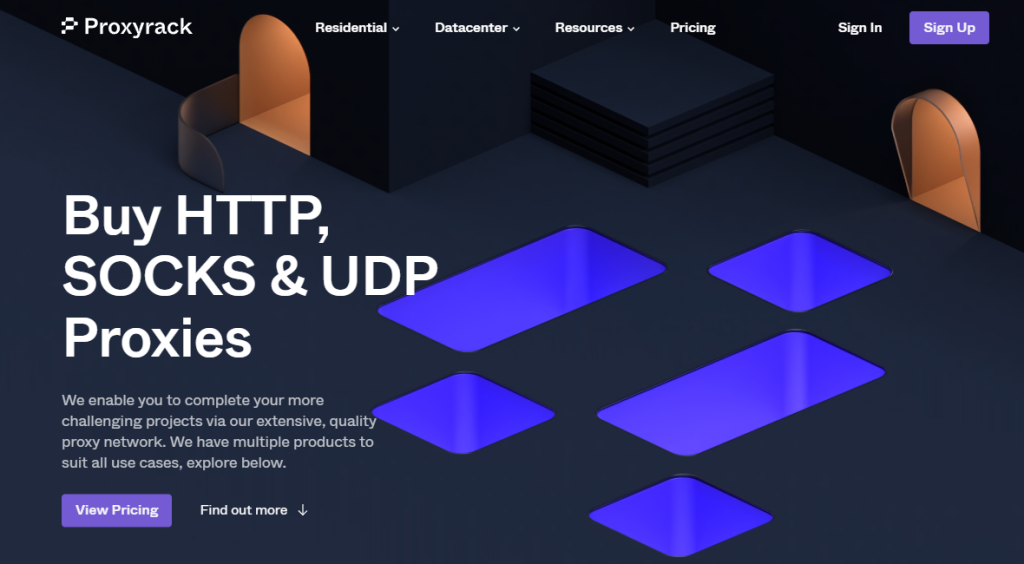 This Australian proxy provider has offered affordable residential and datacenter proxies for over 12 years. It allows its users to enjoy unlimited bandwidth or use as many IPs as they want, making it an attractive option for any proxy user.
The company has over 5 million residential IPs from more than 140 countries worldwide. It also has 20,000 datacenter proxies with unlimited bandwidth transfer. While most proxy providers tend to hide the number of active IPs in their pool from their users, Proxyrack shows this number on the company's homepage, which is a refreshing change.
Proxyrack supports SOCKS4/4A/5, HTTP, and UDP protocols, as well as username/password and IP authentication methods.
All residential proxies from Proxyrack come from actual devices and real ISPs, minimizing the chances of getting detected and banned. They support country, city, and ISP-level targeting and both sticky and rotating ports. You can customize the IP rotation time from 3 to 60 minutes.
The provider allows you to choose between private unmetered residential or premium residential proxies, depending on your bandwidth needs. The first ones are great if you need uncapped data, and the second if you need clean proxies with the highest chances of success.
But the best part about Proxyrack is their affordable and versatile packages that allow everyone, from individuals and small businesses to big corporations, to use their proxy services.
---
How to Choose the Best Proxy Server For You
Choosing the right proxy server for your needs can be overwhelming. To make this decision easier, think about how you plan to use it and choose the type of proxy specialized for that purpose. Next, choose a reputable proxy provider to avoid wasting your time and money.
You may also want to consider the pricing and pick a proxy service with a price that matches its performance. This means avoiding free proxies as well as overly expensive ones. Don't forget to look at the company's proxy pool size, location coverage, browser extensions, API access, HTTP(S) and SOCKS5 support, and other features that are important for you.
Most Popular Proxy Types and Use Cases
There are many types of proxy servers available depending on various factors such as anonymity, access, and protocol. Here are the most commonly used types of proxies.
Residential Proxies vs. Datacenter Proxies
The residential proxies are obtained from real users and are therefore used for tasks that require ultimate online privacy and security. Datacenter proxy servers come from cloud hosting companies, so they are ideal for tasks that require faster speeds and anonymity.
Private Proxies vs. Shared Proxies
Private proxies are used by one user at a time so they are ideal for sensitive tasks like web scraping, brand protection, and load testing. Shared proxy servers, as their name suggests, are shared between multiple users simultaneously and are cheaper. Still, they make a great and inexpensive choice for unblocking geo-restricted websites, torrenting, and even scraping on a small scale.
Rotating Proxies vs. Static Proxies
Rotating proxies provide you access to the provider's entire pool of IPs that interchange with each request or at fixed intervals. That's why they guarantee optimal anonymity and security on the internet. Static proxy servers assign one sticky IP address, so they are used for activities that require keeping the same IP for a longer time, like social media management.
Conclusion
Choosing the right proxy provider for you is not easy considering how many companies are currently out there, each promoting itself as the best proxy service on the market. But if you know why you want proxies and what types of proxies are available, finding a provider that offers the product you need becomes significantly easier.
We hope our evaluation of the best proxy providers will help you choose the right proxy service for your needs and budget.