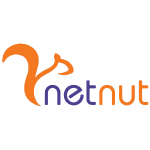 NetNut is an Israeli premium proxy provider that offers residential and datacenter proxies. Although it's a rather new provider in the industry, it has managed to build a reputation as one of the most reliable proxy providers. And in the world of proxies, reputation and reliability are everything.
While some users love the fact that these proxies are fast and stable, others say they are too expensive. So, to find out if they are worth the price, you have to know their pros and cons before reaching for your wallet.
But before diving into all the key advantages and disadvantages of NetNut proxies, let's find out more about this proxy provider and what makes it different from its competitors.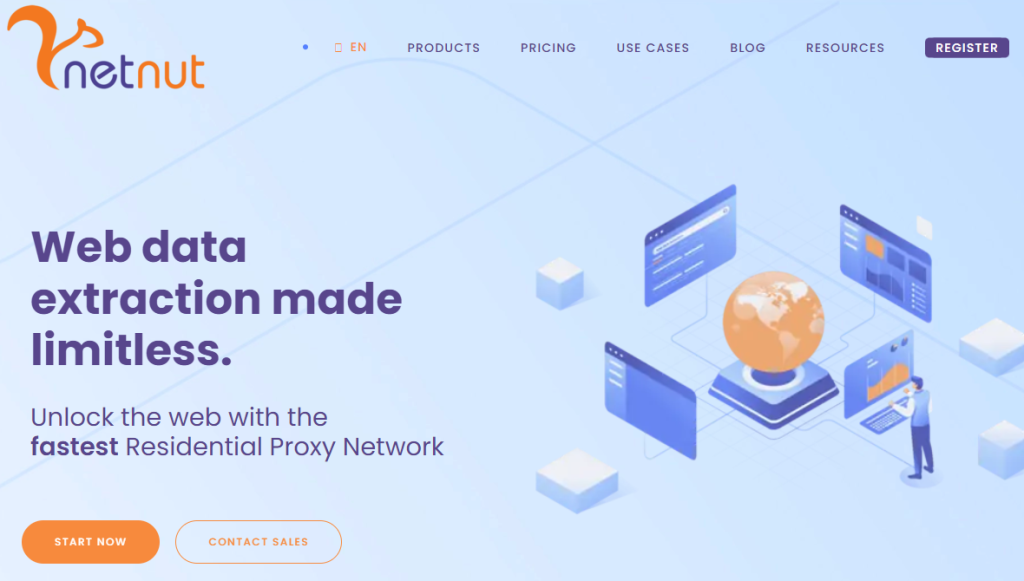 NetNut Overview
NetNut is one of the newest proxy providers on the market, offering its rotating residential, static ISP, and datacenter proxies for just a bit over a year. It's a reliable and safe provider that allows you to try out its proxies for seven days before committing to a paid subscription.
What sets NetNut apart from other providers is that it uses the services of DiviNetworks to acquire residential IP addresses directly from over 100 ISPs worldwide instead of using P2P (peer-to-peer) networks. This makes its proxies more stable, secure, and fast, at least on paper, which is what any proxy user would want.
NetNut offers more than 20 million proxies from over 50 locations, and the number is constantly increasing. Although it's not the largest IP pool you can find, it surpasses a lot of providers that have been in the industry for longer. NetNut often provides clients with high-volume requirements, including sneaker resellers, search engine scrapers, and social media marketers.
Let's move on to the types of proxies NetNut offers and their most important features.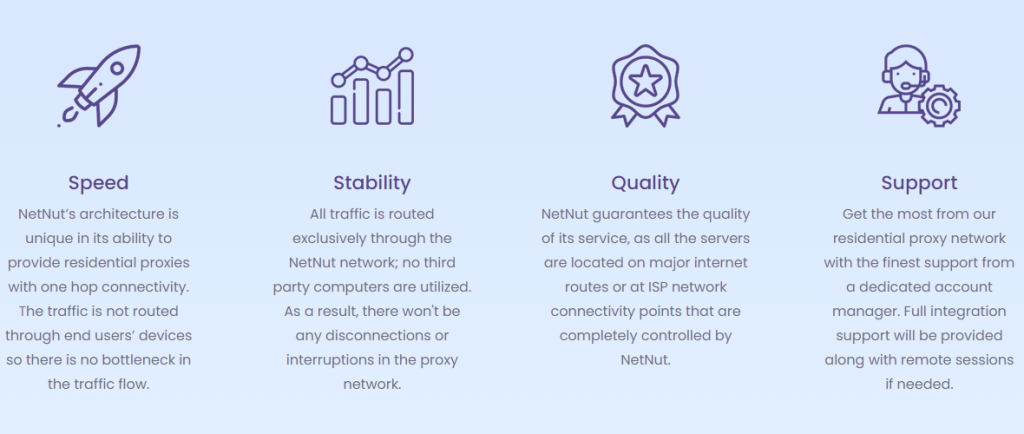 What Type of Proxies NetNut Offers
Right now, NetNut offers the following types of proxies:
Rotating residential proxies – great for general surfing, bypassing geo-restrictions, efficient web scraping, and other tasks that require a high degree of anonymity.
Static residential (ISP) proxies – being able to use them as long as you need, these proxies are great for social media management and any other complex enterprise activities.
Datacenter proxies – suitable for both simple and complex tasks that require fast speed and anonymity.
Let's find out more about each type of NetNut proxies.
NetNut Residential Proxies
NetNut offers 20 million rotating residential IP addresses and one million static residential IP addresses from countries all over the world. The provider allows you to select the locations you want to target, which is very useful to many users looking for proxies in a specific region.
The rotating residential proxies cover more than 150 countries, while the static residential ones cover around 50 cities, mostly in the USA and Europe. These proxies support both IP authentication and username and password authentication, so you can choose whatever is more convenient to you.
The P2P rotating residential proxies come from real end-user devices from different parts of the world, thus providing the best IP credibility to access any site and perform complex web crawling projects.
The static residential proxies are sourced from hundreds of ISP partnerships in more than 50 countries, providing excellent IP credibility and the ability to hold the IP address as long as necessary.
NetNut residential proxies support HTTP(S) and offer sticky sessions. They are optimized for ad verification, SEO tasks, brand protection, price comparison, social media purposes, etc.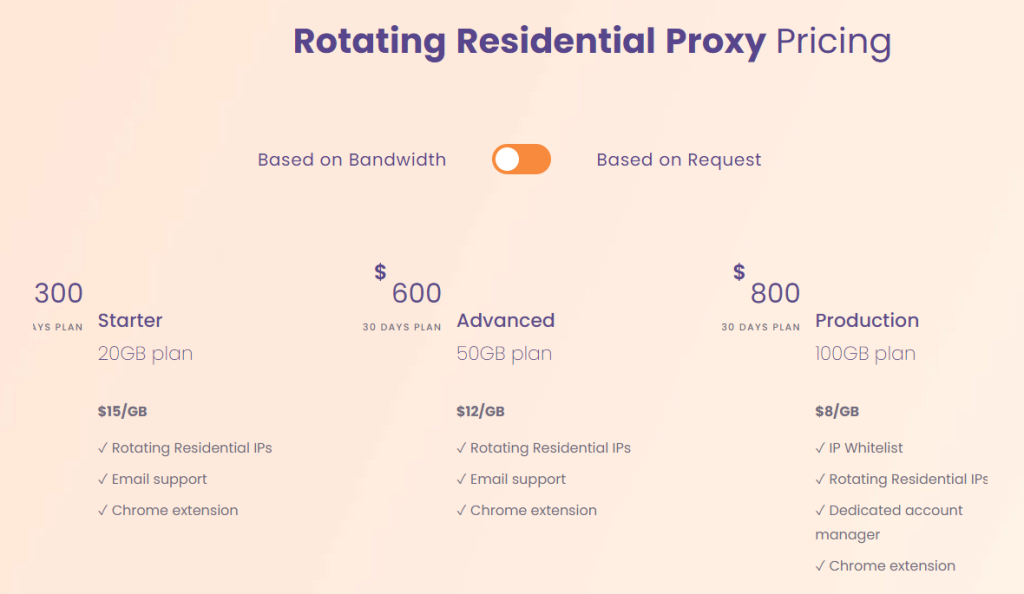 NetNut Datacenter Proxies
With NetNut datacenter proxies, you get access to 110.000 shared IP addresses covering only the United States. They are sourced from cloud hosting providers. You can use them for monitoring competitor ads, managing social media, accessing geo-restricted content, performing research for marketing and academic purposes, and scraping unprotected sites.
To access NetNut datacenter proxies, you don't need to go through sales reps. Instead, the provider offers a simple self-service purchase, so all you need to do is register, pick a plan, and follow the instructions.
These proxies are the provider's most affordable type of proxies.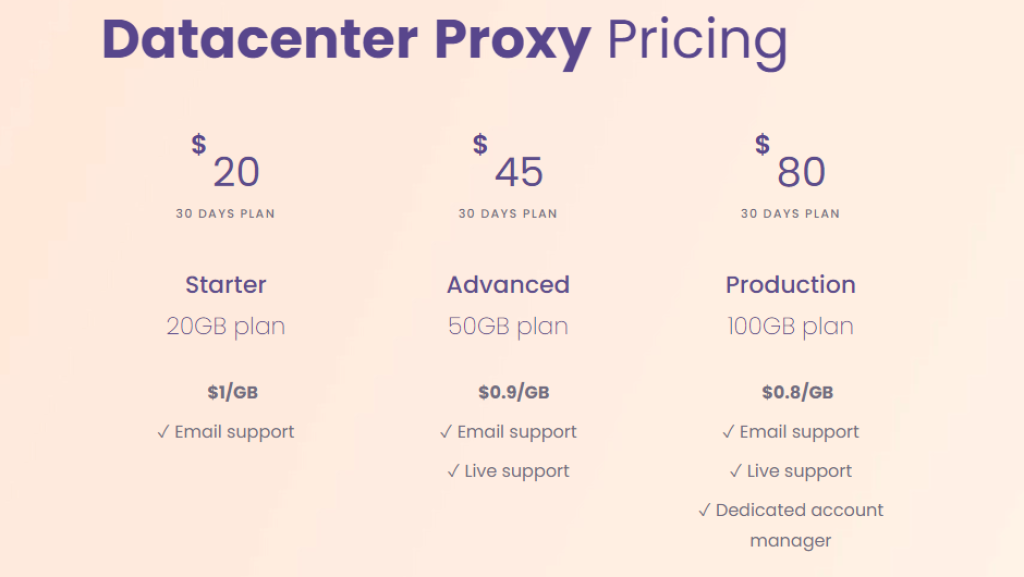 Advantages of NetNut Proxies
Let's start with the reasons why you should use NetNut proxies:
This is definitely the most significant advantage of NetNut proxies that makes it stand out from the rest. The proxies from this provider are DiviNetworks powered and dependent, unlike other providers that use P2P networks.
DiviNetworks is a company that helps NetNut get its residential IP addresses supplied directly by ISPs, unlike the proxy IP addresses from other providers that depend on the network connection of other users. This means you won't have to worry about occasional drops if another user switches off their network connection, which makes them more stable but significantly pricier at the same time.
With over 20 million residential proxies and 110.000 datacenter proxies, NetNut has one of the largest proxy pools on the market. And for such a young proxy provider, this is really impressive. The best part is that its IP addresses are ethically sourced from internet service providers, so that makes them very safe.
Plus, its IP addresses are always online and active, which is not the case with many other providers that claim the same despite using P2P networks.
The fact that NetNut uses IP addresses directly from ISPs guarantees you maintain 100% control over sessions of static IP addresses. This is why they can provide you with the best type of sticky IP addresses, which are always online, allowing you to use them as long as you need.
However, this also means that NetNut does not perform the IP rotation. Having 100% control over the session means that you have to rotate the IP addresses at your own interval. Doing this can be tricky, so you have to be careful to avoid using them for a long time when it comes to activities that require timely proxy server rotation.
Good speed and low latency
Although 5.013s may not be the best average response time out there, it's still fast enough for most tasks. When it comes to the proxy connection speed, NetNut has done a good job thanks to the service from DiviNetworks. Compared to other proxy providers, the latency or ping linked to NetNut proxies is minimal.
Unlike many premium proxy providers, NetNut offers a 7-day free trial for its residential proxies. And, even as a free user you're still assigned an account manager, which is not something many other providers offer.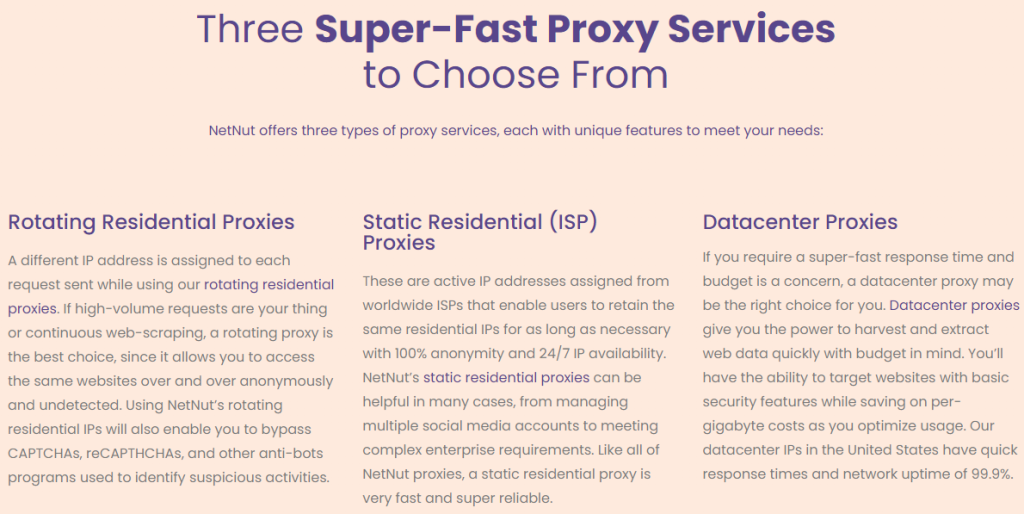 Disadvantages of NetNut Proxies
Now it's time to discuss the weaknesses of NetNut as a proxy provider, so here are the ones we think you should be aware of:
The starting subscription plan comes with 20 GB of traffic and costs $300, so you're basically paying a whopping $15 for a GB. This is according to the NetNut proxy pricing based on bandwidth. However, the good part is that the more bandwidth you buy, the less expensive it is.
So if you subscribe to the 1 TB plan, you'll pay $4 for a GB. The other model of proxy pricing is based on request.
Unfortunately, NetNut supports only the HTTPS protocol, so if you need SOCKS5 proxies, you should look for another provider.
NetNut doesn't have a refund policy, so you can't get your money back if its proxies are not a good fit. However, the 7-day free trial should help you figure out if its proxies are compatible with the site or service you intend to use them with and whether they can meet your needs.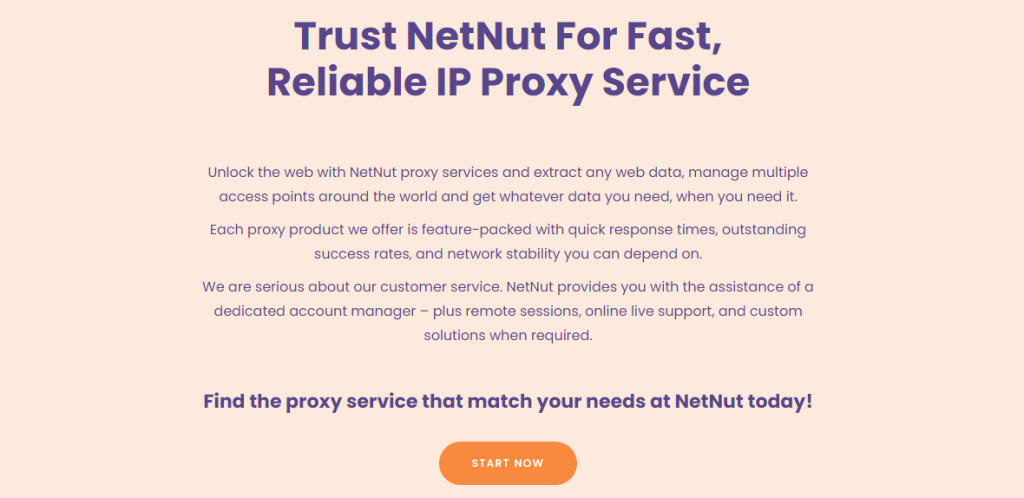 NetNut Pros and Cons
To sum up, here are the key pros and cons of NetNut:
Positive
Advanced proxy control
Good speeds
Free trial available
Negatives
High prices
No support for SOCKS5
No refunds
Final Verdict
Just like any proxy provider, NetNut has its pros and cons, with the pros outweighing the cons. After reviewing this provider, we can say its residential and datacenter proxies are of high quality and can meet your needs as long as you don't need SOCKS5 proxies and don't care about the high prices.
NetNut Alternatives
Here are a few NetNut alternatives you should keep in mind:
IPRoyal – unlike NetNut, IPRoyal offers way more affordable ethically-sourced proxies that provide a high degree of anonymity, security, and speed.
Bright Data – with over 70 million ethically-sourced proxies, Bright Data has a much larger IP pool than NetNut.
Smartproxy – this proxy provider offers residential proxies from over 195 locations in the world, which is an impressive location coverage.
FAQ
How easy is NetNut to use?
NetNut proxies are easy to set up and use. The provider has a simple dashboard which makes things a lot easier, so even first-timers can quickly learn how to use it. Having an account manager assigned to you is also helpful. There's even a section dedicated to proxy integration into applications.
Does NetNut have a subscription plan that includes an unlimited volume of data?
NetNut pricing model is based on bandwidth, so it doesn't offer a plan that includes an unlimited volume of data. Still, you can figure out how much monthly bandwidth you'll need during the free trial.
What type of customer service does NetNut offer?
NetNut allows its users to contact the support and sales team through email and live chat on its site, Skype, Telegram, and WhatsApp.