Every day, you use the internet in one way or another. You may be purchasing something online or need to talk to someone overseas. Whatever the case, the internet is in everything we do.
For most people, a basic internet connection is more than enough. But for others, the many restrictions often enforced on different online platforms become limiting, which begs the need to maneuver around such blocks.
Enter proxies. They have been hailed as some of the most efficient tools you can use to streamline your internet experience. But what exactly is a proxy? In layman's terms, it is a tool that can hide your IP address and show another one to websites you visit.
Did you know there are different kinds of proxy servers, each with a specific application? For purposes of this text, we will stick to rotating residential proxies. Read on to find out what they are, how to use them, and the best places to buy them.
What Are Rotating Residential Proxies?
The name rotating residential proxies brings together two distinct terms – rotating and residential proxies. To understand what a rotating residential proxy server is, we must look at what these terms mean.
We will start with residential proxies. As mentioned earlier, a proxy is simply an internet device that masks your IP address and provides another with a host of benefits, such as different locations and smoother connections.
That said, residential proxies are just regular proxies. The only difference is that the IPs you use will come from real users and devices. Usually, the ISPs provide these IPs, and these proxy servers are known to be more reliable as the IPs seem more authentic to websites.
Now that you know of residential proxies, what of rotating proxies, or better still, rotating residential proxies? These are simply residential proxies that change regularly. This means your IP is not static. It rotates from time to time as per a specified period or after you perform an action.
So, there you have it, a quick introduction to rotating residential proxies. In short, these are residential servers whose IPs rotate within a specified period. Now, on to the next question, what are they used for? Read on to find out.
What Are Rotating Proxies Used For?
Before we get to see what rotating proxies are used for, we first need to understand the basic functionality of your IP address and why in addition to it, you may need to rotate it from time to time.
Your IP address acts like your name on the internet. It is how websites identify who you are, where you are from, and what you do on their platform. Ordinarily, these websites get suspicious when many requests stem from one IP address.
This is where IP rate limitation comes in. Whenever websites notice too many requests from one IP address, they initiate a range of measures to curb the requests, including IP blocking, throttling, and even CAPTCHAs.
In this sense, rotating residential proxies come in handy when you send many requests to the same host server. In such situations, a regular proxy would not make the cut, as the IP would still be flagged and blocked.
Hence, a rotating proxy would be the best option. By periodically switching your IP, you will trick the host website into thinking the requests are coming from different devices in different locations.
Typical applications include botting, which may consist of data scrapping to sneaker copping. You may also use these servers to maintain your privacy online and change locations as needed.
By now, you should stand a better chance of identifying residential proxies and naming some basic use cases. Still, we have yet to answer one question – where are the best places to buy these servers? Read on below.
Best Place to Buy Rotating Residential Proxies
To find the best place to buy rotating residential proxies, you need to consider several factors. For starters, you first need to ask yourself, "What am I looking to accomplish with this proxy?" Once you answer this, you can find a residential proxy server provider that befits your use case.
Next up, you need to check the pricing. Which companies offer proxies that are within your budget? Make a list of the same, but keep in mind, for the most part, the cheaper the proxy, the less reliable it is.
On top of that, you also need to check the performance of your ideal proxy. Here, it would be best to test the service to see if it matches your expectations. It is only fitting to go with companies offering free trials, but you can also pay for small packages to test the performance.
Finally, you need to check the reputation of the company. It is best to stay objective and go with a company with a stellar track record of meeting customer needs. After all, you are the customer and do not need to compromise since the provider is looking to sell the service to you.
By adhering to this stepwise procedure, you will likely find an ideal company that meets all your expectations. On top of that, we have gone a step further and decided to help make your work easier by looking for some of the top rotating residential proxy providers.
We came up with this list after carefully analyzing different companies, comparing their specs, and testing the services. Once we did this, we compiled this list and incorporated some of the most important details that will ultimately help you make an informed decision. See below.
Best Residential Rotating Proxies Providers Quick Summary
Full Providers Reviews
Below is a list of some of the top rotating residential proxy providers. We covered the pros and cons of each provider to help you find the perfect fit for your needs.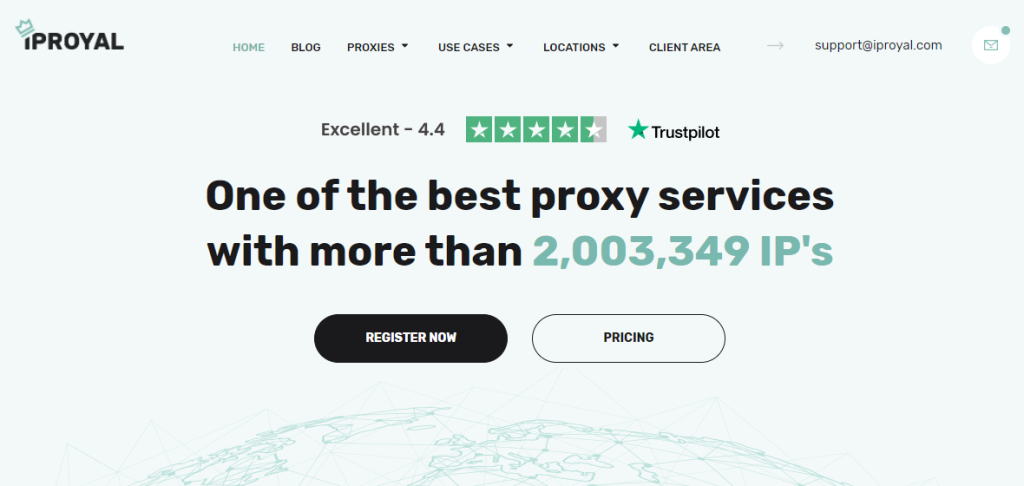 IPRoyal is a world-renowned proxy service provider that has rotating residential proxies in its lineup. It is known for high-performing servers with blazing-fast speeds and a 24-hour available customer support team.
The rotating residential proxies from this provider are some of the most versatile in the industry. And what makes them even more alluring is the fact that they are affordable, which is rare among premium companies.
Also, these proxies have all the features you'd expect from a premium rotating residential proxy, ensuring that you get nothing short of seamless connections to make your experience on the platform seamless. For example, these servers have SOCKS5 support, translating to better reliability over time.
Finally, the location support at IPRoyal is amazing, with servers from over 180 countries. With such a vast array of locations, proxy rotation becomes seamless, significantly reducing the chances of detection.
---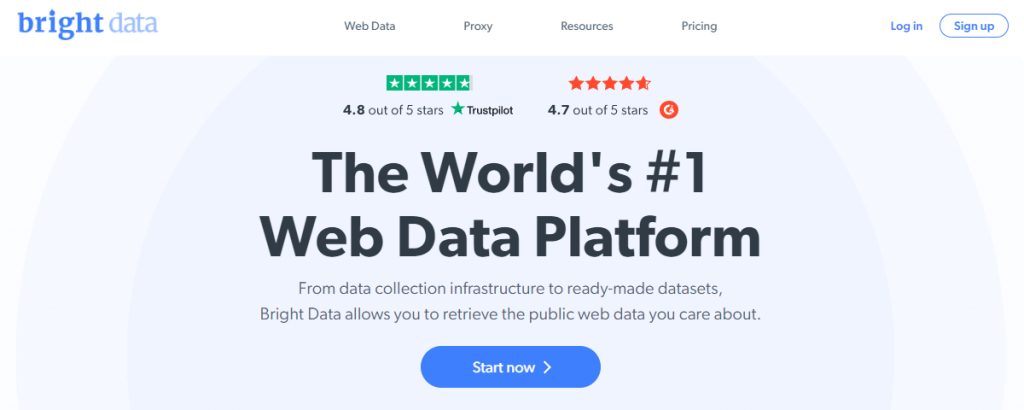 Up next is one of the biggest proxy providers in the market – Bright Data. Formerly known as Luminati, this company offers some of the most in-demand tools in the proxy realm.
The rotating residential proxies from Bright Data are best suited to business use cases, as you can infer from the pricing, which, to be fair, is quite expensive for the average user.
That aside, these proxies offer competitive features, which is perhaps why they are so popular. With over 72 million IPs, small and large businesses' use cases are limitless.
The location support is equally impressive. These servers come from over 195 locations worldwide, and you can target any country and ASN. With such features, the rotation capabilities are top-tier and will likely work for your use case.
---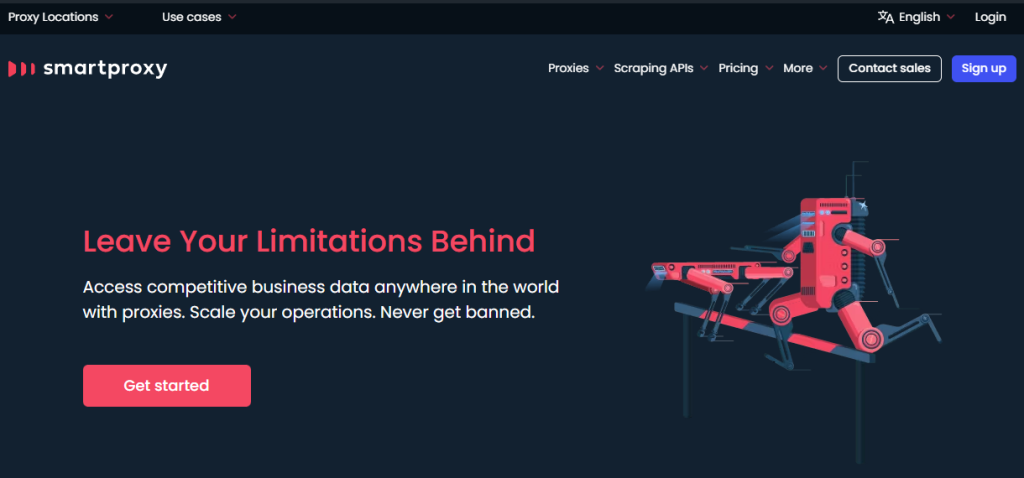 SmartProxy and Bright Data share many similarities. Still, they have one stark difference. On the one hand, Bright Data focuses on small and large companies. On the other hand, SmartProxy aims to meet the average proxy user's needs.
The pricing is the perfect evidence, which by all accounts, is on the average side of things. However, this does not mean that SmartProxy compromises on quality. You can categorize its proxies as world-class.
The rotating residential proxies from SmartProxy offer intuitive features designed to make your experience worthwhile. For starters, you get a new IP with every connection.
On top of that, you get high uptime and access to over 195 locations, which is amazing for a rotating proxy. Finally, you get country and city-level targeting for more precision while using the servers.
---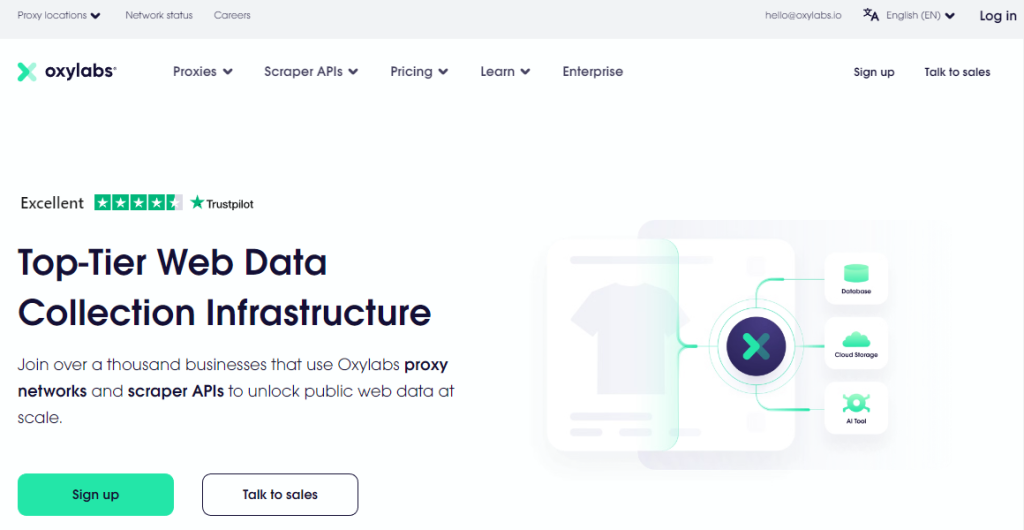 Oxylabs is a Lithuanian-based proxy provider known world-over for its great network of proxies. In truth, few companies can match the level of performance this company offers.
To put this into perspective, the rotating residential proxies span over 100 million servers. This means the success rates when rotating your IP is boosted manifold, translating to a more refined user experience.
Furthermore, these servers span over 195 locations worldwide and offer country, city, and ASN-level targeting. You will likely enjoy an unmatched performance from these servers as a user.
However, Oxylabs has tailored its services for business use cases, which depending on where you fall, can either be a pro or a con.
---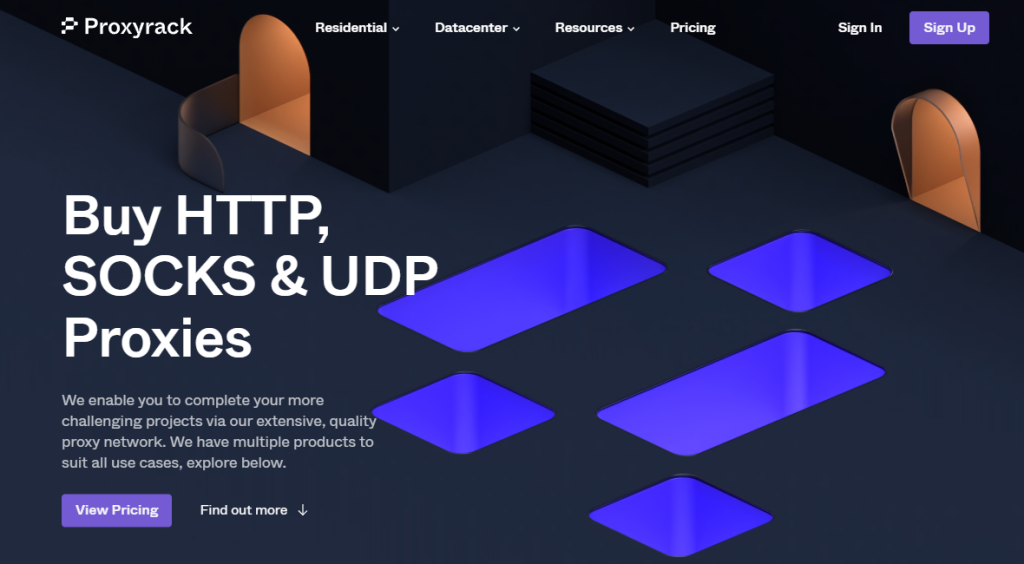 Proxyrack is among the companies that have successfully built a positive reputation by consistently delivering quality service to customers. It has an impressive package of residential proxies.
The residential proxies from this provider fall into two distinct tiers: Private Unmetered and Premium Residential proxies. From our analysis, only the Private Unmetered option gives you rotating capability, and for the scope of this review, that is what we will stick to.
Another notable feature we found with this provider is that the Private Unmetered package gives you access to custom proxy rotation times. This means you can rotate the servers according to specific time thresholds.
Furthermore, the servers are infused with all available connection technologies to facilitate smooth connections. They include HTTP, SOCKS, and UDP. Below is a list of the pros and cons of working with the company.
---

Infatica falls in the category comprising companies focused on working with medium and large corporations. This particular provider claims to source all proxies under its catalog ethically.
We were particularly impressed with how forthcoming this provider is about its residential proxies. Accordingly, the website has everything you need to get started with the service.
Infatica has a relatively large IP pool synonymous with premium-level proxy service providers. Under its pool are 35 million IP addresses, which translates to better success rates when rotating proxies.
The location support is also nothing short of amazing. This provider supports over 100 countries, meaning you can rotate IPs from various locations.
---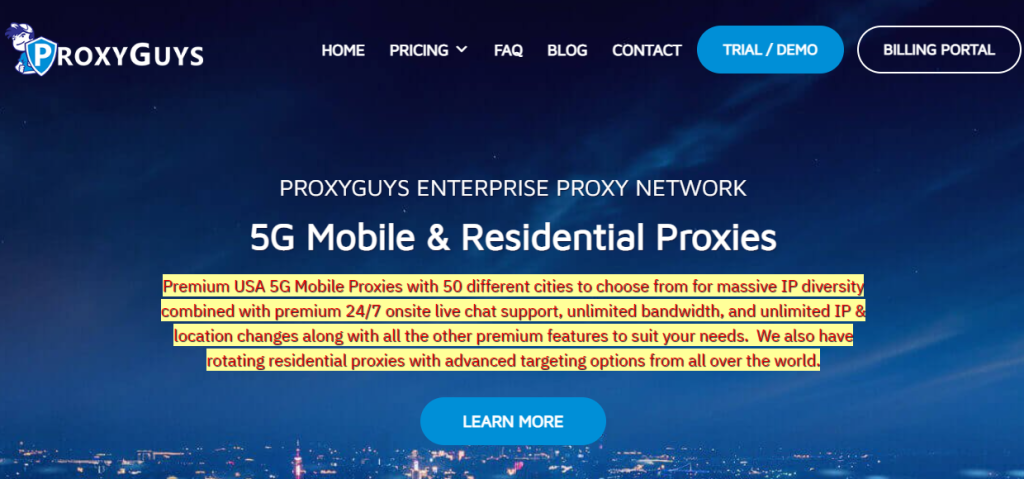 ProxyGuys is revered for offering 5G mobile proxies, a feat that most proxy service providers are yet to achieve. Did you know this provider also has rotating residential proxies in its catalog?
The rotating IPs from ProxyGuys have some competitive features, enough to give some major providers a run for their money.
Accordingly, the servers allow the city, state, country, and ISP level targeting, a valuable feature as it increases the scope of use for the residential servers. You also get unlimited threads and concurrent IPs.
Finally, with this provider, you get over 10 million rotating residential IPs. While it's not the most impressive number we've seen, it is still helpful and will work fine for most tasks.
---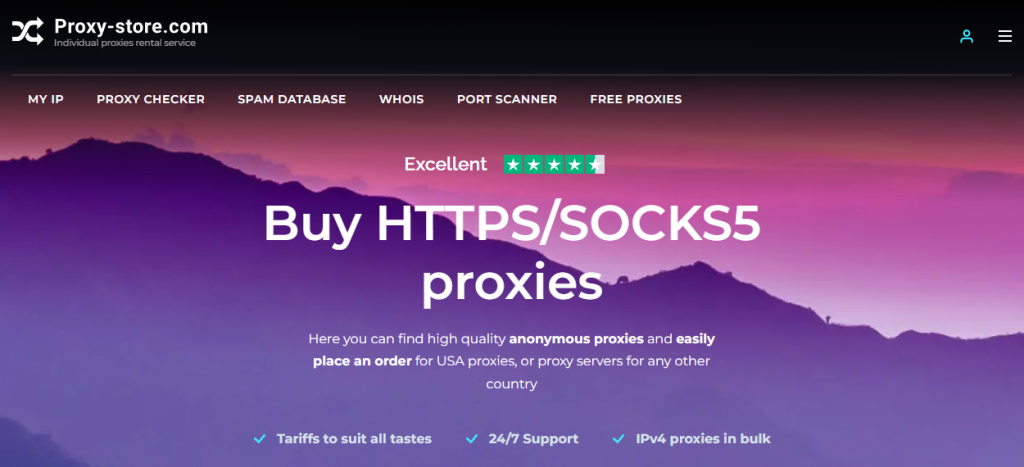 Proxy-Store is one of the most straightforward companies we have come across in our reviews. Right from the website, you will notice that this is a serious provider focused on getting to work immediately.
The website offers different tools, including an IP checker and a port scanner. But that is not what we are interested in; we are looking to see what the rotating residential proxies offer.
First, the IPs rotate every 600 seconds, which is a downside given that this provider does not offer custom rotation options like other premium companies. On the flip side, the servers have SOCKS5 support, which translates to better reliability.
The location support is impressive as the proxies come from more than 150 countries. This automatically translates to higher success rates.
---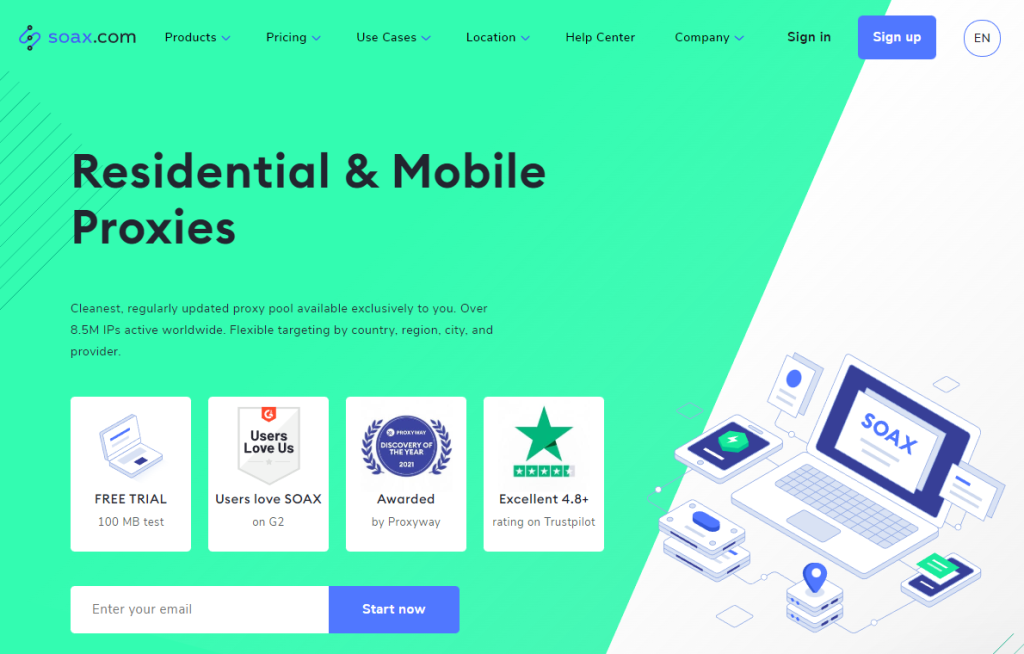 SOAX is another robust proxy service provider on our list. The UK-registered company is known for some of the most robust residential proxies on the market. It has an impressive online reputation indicating that the company is focused on meeting customer needs.
With this in mind, it goes without saying that SOAX has one of the most impressive catalogs you will find in a proxy service provider. For starters, the company has over 8.5 million addresses in its pool.
These IPs are known to be responsive and fast, required out of any rotating residential proxy. On top of that, it guarantees 99.9% uptime while working with the company.
The company claims that its proxies come from all countries in the world, excluding the state of Texas, USA. Specifically, we found that this provider supports over 185 countries, an impressive feat.
---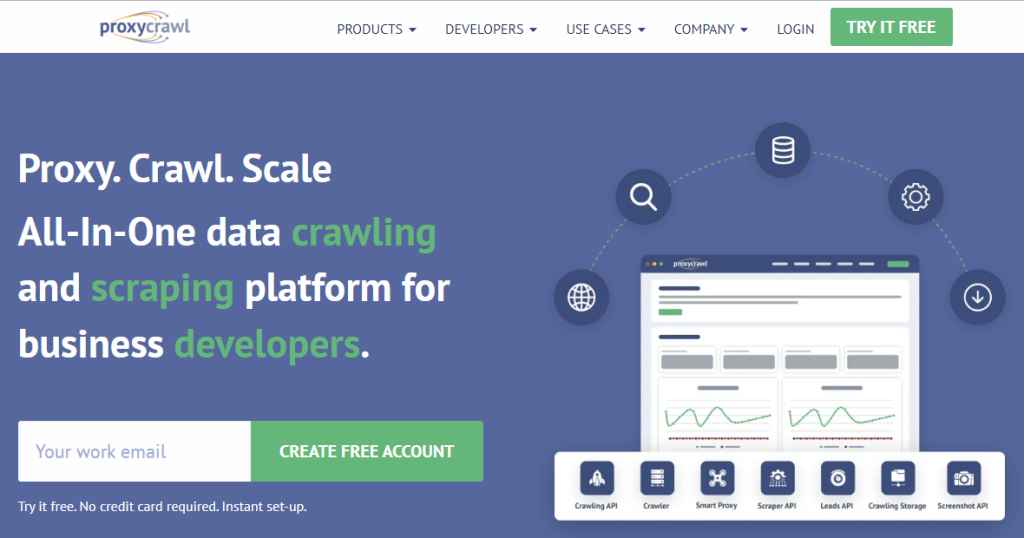 As you can infer from the name, ProxyCrawl is a provider that has dedicated its service to data scraping. Therefore, it goes without saying that this company offers rotating residential proxies.
ProxyCrawl is a unique company in its own right in that it bases its entire service on proxy rotation. You should note that this provider's proxy package is known as 'SmartProxy.'
But what makes ProxyCrawl stand out from its competitors? The company uses AI technology to facilitate a seamless user experience. Accordingly, you are less likely to encounter CAPTCHAs and blocks with the company.
Also, ProxyCrawl uses a clever routing mechanism to rotate your traffic to the best-performing IPs, which is beyond impressive. Finally, this is the perfect company for web crawlers as it has various tools dedicated to this task.
---
Benefits of Using Rotating Residential Proxies Instead of Static
In reality, rotating proxies offer a tonne of benefits when compared to static proxies. While a static proxy provides access to one IP, rotating proxies will let you access an entire pool of IPs.
This way, the use cases for the proxy increase significantly. You can easily visit several websites in different regions without having to source a new IP whenever you want to connect.
On top of that, rotating proxies are perfect for activities that require sending many requests to a particular website. With such servers, you do not have to worry about blocks as you would with static IPs, as your IP is changed periodically.
Finally, rotating IPs are cheaper in the long run when compared to static servers. How? With a static proxy, you pay for a new IP if you need to access a different server, whereas, with a rotating proxy, you pay once and access a pool of different IP addresses.
Conclusion
That's it. By now, you should have noted the stark difference between static and rotating proxies and which is best for your specific needs. In all reality, the benefits of these proxies will manifest depending on your use case.
For instance, rotating IPs are best for botting activities as they often involve sending many requests at once. That aside, you should have a rough picture of what to do when purchasing a rotating residential proxy.
Our list can be a good starting point as it contains some of the best-performing companies in the market. Remember, everything you need is available online when it comes to proxies. All it takes is a little digging.