Social media has come a long way since the early days of MySpace. Today, almost everyone is on these platforms, and their use cases have immensely increased.
LinkedIn is a unique social media platform compared to other standard platforms such as Facebook and Instagram. While other social media networks focus on creating social connections, LinkedIn focuses on developing and expanding professional relationships.
With LinkedIn, you can build a group of contacts to grow your professional career. The site is two decades old, founded way back in 2002. Since then, it has experienced immense growth, with a current user base of more than 65 million individuals from different parts of the world.
Today, more and more companies are turning to LinkedIn to screen and recruit employees, which has positively contributed to the platform's growth. In all reality, creating a LinkedIn account can make a huge difference when looking for a job.
So, why would you need to use proxies for LinkedIn? This relatively short read introduces you to the relationship between LinkedIn and proxy servers. Moreover, it will shed insight into some of the best proxy providers you can choose.
Why Use Proxies for LinkedIn?
On to the burning question – why would you use proxies for LinkedIn? This is a social media platform, and its relationship with proxies might be somewhat hard to understand. It all comes down to one thing – data.
With the many users on LinkedIn, it is a data gold mine. You can source massive data from the platform, including usernames, email addresses, websites, skills, etc. However, there is a catch.
You have to scrape the website to collect this data, and doing so manually would take days, if not months, to finish. For this reason, you need special tools known as data scrapers which are simply bots designed to perform automated web scraping for you.
While these tools are efficient, you should note that they come with one significant risk. Since scraping is outlawed in most websites, LinkedIn included, the site you're scraping data from will ban your IP upon detection.
So, what is the way forward? It would be best if you used proxies to scrape data from the platform. These are simply tools designed to mask your actual IP address and provide an alternative one.
However, a standard proxy is still insufficient in this scenario. Why? Your IP will still be flagged if it sends too many requests to the LinkedIn website, and sending many requests is at the core of data scraping.
For this reason, you need specialized rotating IPs which change your IP address every once in a while. This way, the LinkedIn website is tricked into thinking the requests come from several devices from random locations.
Now that you know rotating IPs work best for LinkedIn data scraping, where do you purchase these servers? Let's find out.
Best Place to Buy LinkedIn Proxies
The internet is full of places you can buy LinkedIn proxies. In fact, if you were to google "LinkedIn proxies" right now, you would probably find hundreds of companies claiming to offer the service.
All these companies cannot offer the same level of service, can they? While there are good providers you can work with, others are scams that will swindle you out of your hard-earned money.
Hence, it would be best if you considered several factors to find the best place to buy Linked proxy servers. First, how reputable is the company? Is it known for selling good, capable proxies, or are its servers mediocre?
Next up, you need to check the pricing. Is it within your financial capabilities? If so, the next thing you should check for is the performance; this is where you should be particularly careful. Different providers have varying levels of service.
Therefore, before settling down to working with a particular company, you should be careful and test the service to see if it meets your performance capabilities.
Finally, it would be best to steer clear of free proxies as they are known to offer mediocre performance. On top of that, these servers tend to scam users in different ways, with privacy violations being the most common.
Best Proxies for LinkedIn – Quick Summary
Full Providers Reviews
Below is a list of some of the best LinkedIn proxies providers. We came up with this list after carefully analyzing each company and stacking it against its competitors to see how it performs.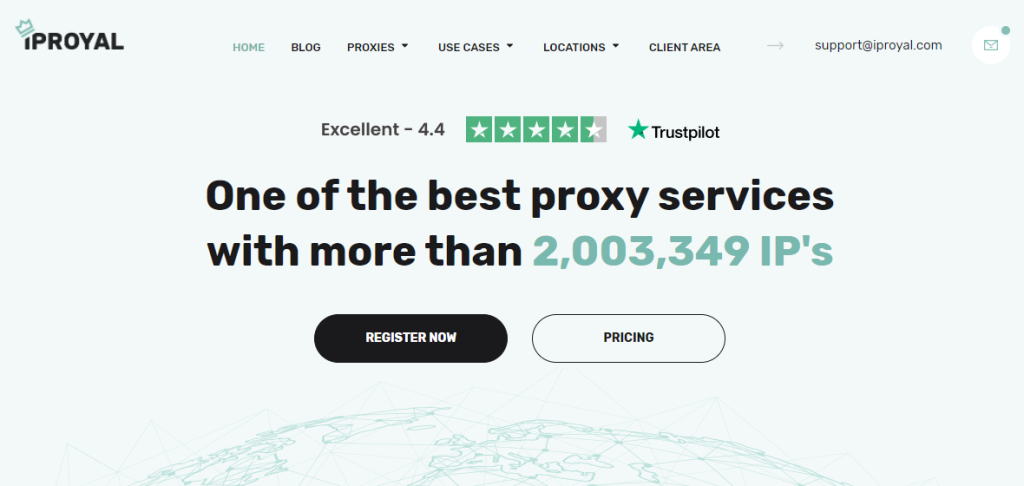 At the top of our list is IPRoyal, a company that has beaten the odds and risen above the ranks to become a premium provider preferred by many customers worldwide.
IPRoyal has not been in the market for long. But it already boasts of a versatile proxy catalog capable of giving its customers a run for their money. You can get residential, datacenter, sneaker, mobile, and static residential proxies from this provider.
It boasts over 2 million servers capable of taking your LinkedIn data scraping needs to the next level. As for location diversity, the proxies come from 180 countries, implying that you can comfortably scrap data from any location.
The proxies are also infused with coming-of-age technologies to facilitate robust connections that do not falter even when under high loads. They include SOCKS5 support and impressive rotation capabilities.
---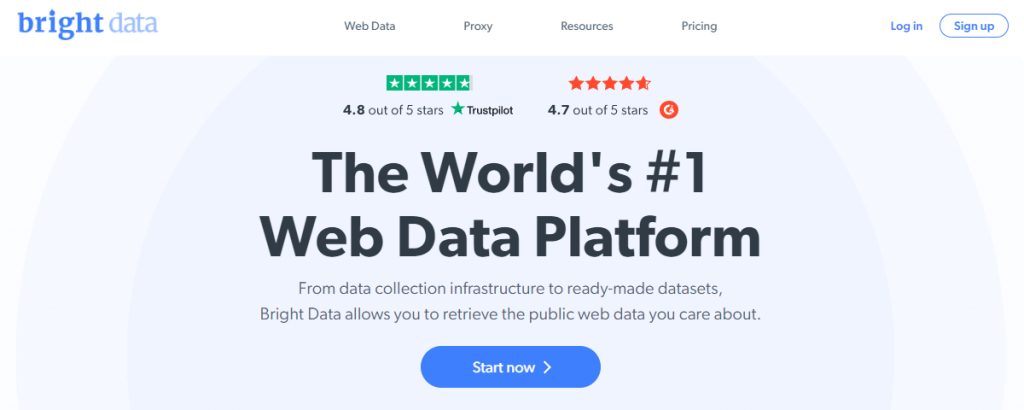 Our list would not have been complete without mentioning the iconic Bright Data. Formerly known as Luminati, this company is a household name in the proxy realm, given it has one of the mightiest networks of proxies.
You will find residential proxies, ISP proxies, datacenter, and mobile proxies in its pool. This catalog is more than enough for your LinkedIn needs, and given that this provider has more than 72 million IPs, your experience is likely to be smooth and flawless.
However, you should note that Bright Data's service is expensive and may not work for the average user. If you have mega LinkedIn scraping needs, then Bright data can be the company for you.
Its proxies come from over 195 locations worldwide, meaning you can scrape data from any region without worrying about restrictions. Here is a list of its pros and cons.
---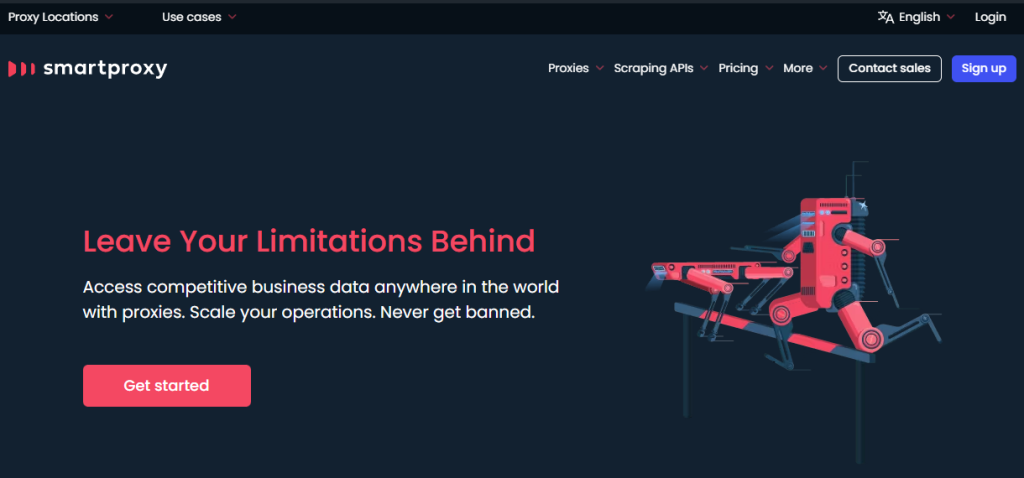 SmartProxy is another relatively young provider that has positioned itself as a company seeking to meet the needs of the acreage proxy service user. To do so, it has made its service relatively affordable compared to bigger providers like Bright Data.
SmartProxy has a network of residential, datacenter, and dedicated datacenter servers. On top of that, it also offers a tool known as A no-code scraper, which is perfect for our case as we are looking for LinkedIn scraping IPs.
As mentioned earlier, one of these servers' most significant selling points is that they are priced aggressively enough to give other companies a run for their money. On top of that, SmartProxy has carved a niche for itself by offering additional data scraping tools like an eCommerce scraping API, web scraping API, and SERP scraping API.
Finally, SmartProxy has a pool of over 40 million IPs from more than 195 locations which means you are less likely to encounter interruptions while using the service.
---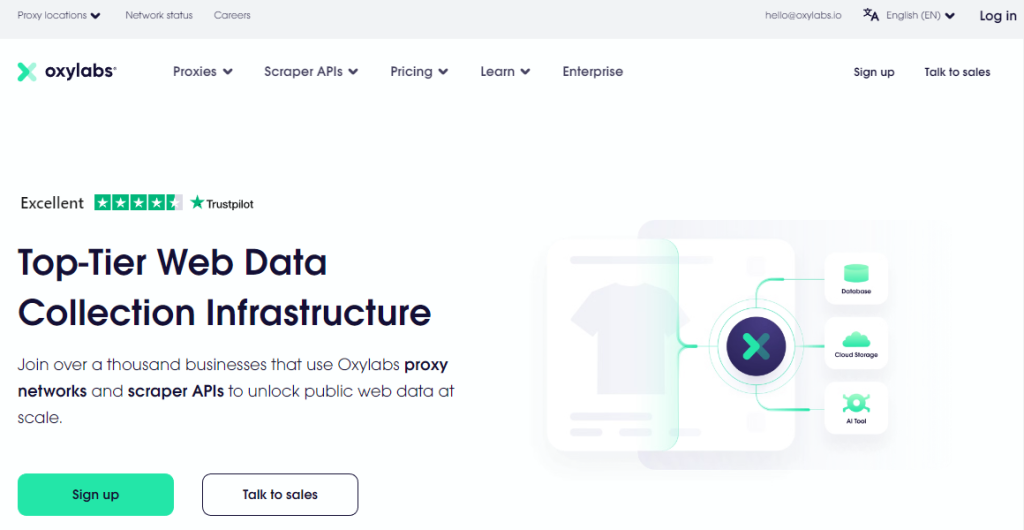 Oxylabs is one of the whales of the proxy industry. It is known for having one of the largest and most versatile networks of proxies. On top of that, it is relatively old compared to other companies on our list since it began operations in 2015.
One of the things you should know about Oxylabs is that it has business clients as its primary target. The pricing mostly reflects this, which might be a tad steep for small-time proxy users.
Oxylabs has also carved a niche in web scraping and data collection, making it perfect for our list. The company offers residential, static residential, mobile, rotating ISP, shared and dedicated datacenter, and SOCKS5 proxies.
Finally, this provider has over 100 million IPs in its pool, which makes it perfect for LinkedIn scraping. It currently supports over 195 locations with city and ASN-level targeting.
---

On our list is another relatively young proxy service provider, Infactica. This provider hit global markets in 2019 and has since made great strides in offering top-tier services to users.
However, you should note that Infactica is not looking to work with small-time proxy users. Instead, this company targets small and medium companies, as you will likely note from its main website.
The proxy packages from Infatica are pretty impressive. You can get residential and mobile IPs from the company. You won't find datacenter servers here. Infatica makes up for this by offering a web scraping API and a keyword rank checker, both intuitive tools.
In its pool, you will find more than ten million residential IPs and 35 million mobile IPs, which is quite impressive. The location support is pretty good, too, making Infatica a good option for your LinkedIn scraping needs.
---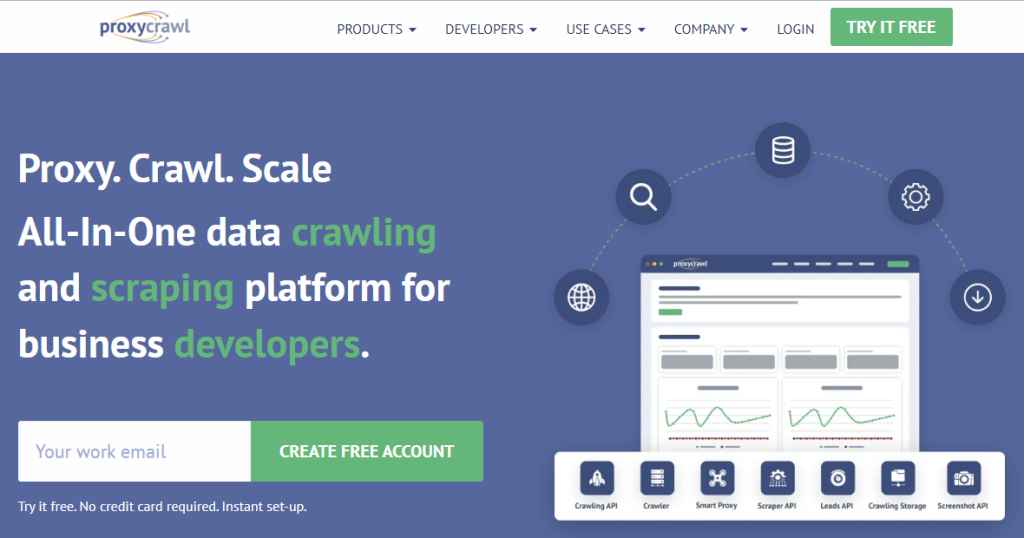 Given that we are looking for providers that can work for LinkedIn web scraping, it is only fitting to add ProxyCrawl. As you can infer from the name, this is a provider focused on web scraping.
In fact, ProxyCrawl is known for its web scraping services in lieu of its proxy packages. Still, we will take a look at its services and see what it has to offer. As per the website, this provider has over one million IPs in its pool, which, while it is nothing remarkable, is still pretty decent.
Unlike other companies, ProxyCrawl does not categorize its IPs as either datacenter or residential. Its proxy package is known as 'SmartProxy' and offers AI capabilities.
How so? Once you connect to its network, it routes your traffic through the best IP, which helps in avoiding blocks and CAPTCHAs. This automatically gives ProxCrawl a competitive edge over its peers.
---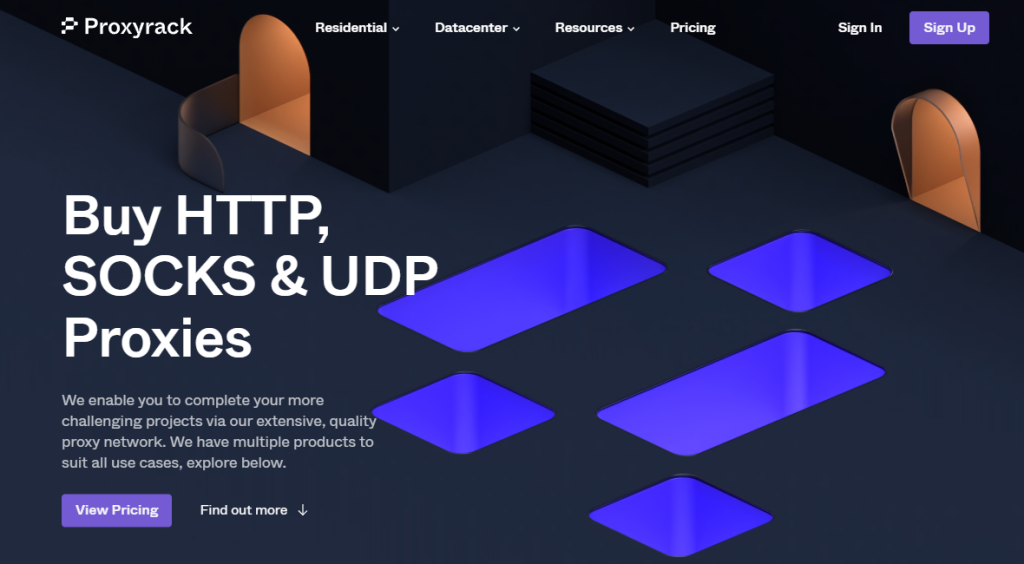 Proxyrack is another premium proxy service provider. It has been in the business for close to seven years and has managed to rack up one of the most impressive reputations by consistently delivering exceptional services to its clients worldwide.
This provider offers residential and datacenter proxies broken down into different tiers. Under the residential option, you get private unmetered and premium residential proxies. The former limits connections by the number of concurrent threads, while the latter limits the bandwidth.
Under the datacenter proxies, you can get the USA rotating or global rotating datacenter proxies. One of this provider's most significant selling points is that it has a relatively diverse catalog.
These servers have robust connection technologies, including HTTP, SOCKS, and UDP. Finally, the proxies are significantly cheaper than its competitors without compromising quality.
---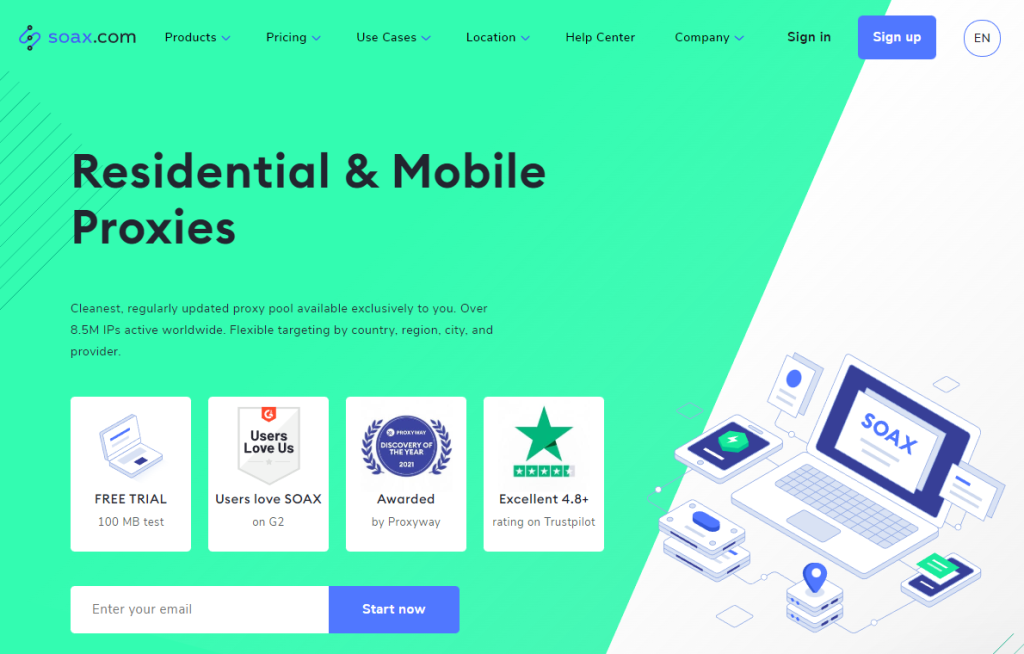 Soax is a UK registered proxy service provider of Russian origin. The provider hit global markets in 2019 and has come a long way since then.
We were particularly impressed by the SOAX website, given it is pretty neat, with everything well laid out, and is relatively easy to follow. On to the real stuff now: SOAX has over 8.5 million IPs in its pool, which, while it is not anything remarkable, is still functional.
SOAX does not have a diverse proxy pool comparable to some companies on our list. It only offers residential and mobile proxies, but since we are looking for LinkedIn scraping servers, they befit our use case.
On the flip side, the servers are infused with some of the most in-demand technologies, including SOCKS5, which makes them ideal. Below is an outline of the pros and cons of using these servers.
---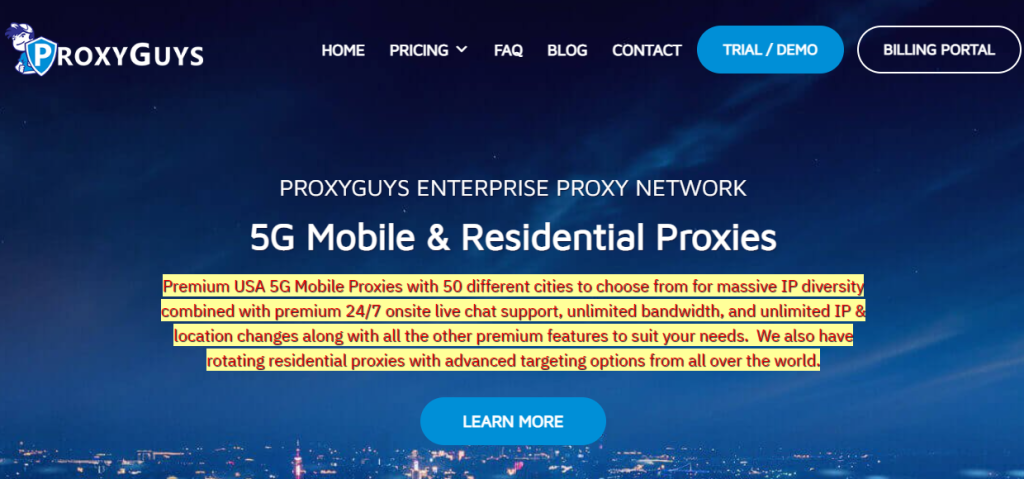 From the name, you will notice that this provider has a rather cool and modern vibe. It is also reflected on the website, which has a futuristic look.
ProxyGuys specializes in mobile and residential proxies. One of the biggest appeals of this provider is that it is one of the first to offer mobile 5G proxies, an impressive feat.
However, the pricing from ProxyGuys, especially for mobile proxies, is a bit on the higher side, despite being a relatively less-known company.
The company claims to have 50 million IPs in its pool, which is pretty impressive. However, most of its IPs come from the US, which depending on your use case, can either be a pro or a con.
---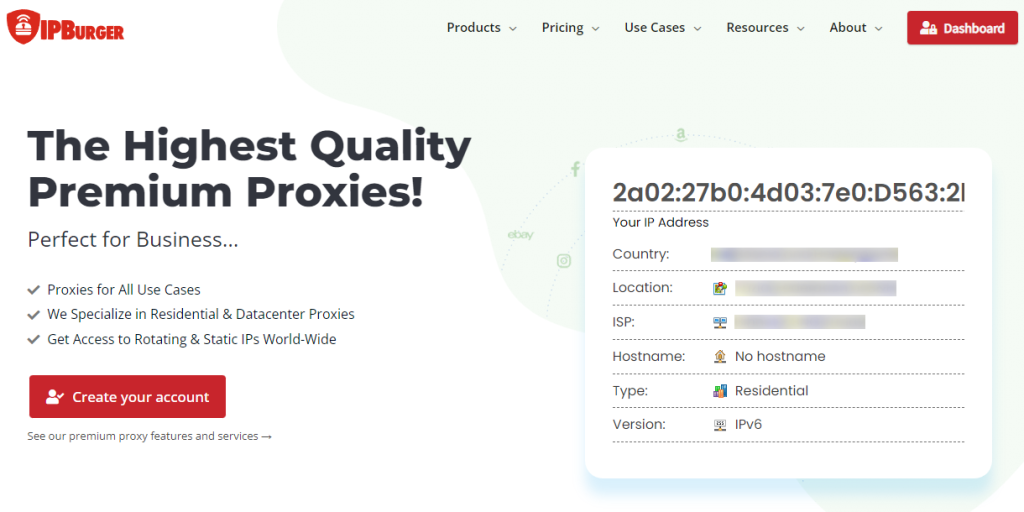 Wrapping it up is IPBurger, a promising proxy service provider with a diverse package. We were particularly impressed with the website as it tells you your IP and location details once you open it, which pushes users to implement proxies.
IPBurger has a pretty impressive catalog comprising static and rotating residential proxies, dedicated datacenter proxies, mobile proxies, and 'Fresh' proxies. The pool spans more than 30 million IPs, which is equally impressive.
As for location support, we were pretty impressed, given this provider has proxies in over 195 locations. This means you can scrape LinkedIn data from anywhere in the world.
In brief, despite being a lesser-known provider, IPBurger has what it takes and offers premium features that can make it a good match for your LinkedIn data scraping needs.
---
How Do LinkedIn Proxies Work?
LinkedIn proxies work by masking your IP address and providing another one with a range of benefits, such as being from a different region. However, the best LinkedIn proxies should rotate your IP, making data scraping on the platform seamless.
By rotating your IP, your many requests will seem like they are coming from different regions, reducing the risk of detection and subsequent blocks.
What Proxy Type Works Best for Scraping LinkedIn?
Before we see what type of proxy works best for LinkedIn, we should first explore the different types of proxies.
On the one hand, residential proxies use IPs sourced from ISPs and real devices. On the other hand, datacenter proxies utilize IPs sourced from datacenters, simply servers set up in specific regions.
Additionally, mobile proxies work with mobile service carriers, while ISP proxies are datacenter proxies with residential server capability.
That said, which is the best proxy for LinkedIn scraping? That title undoubtedly goes to residential proxies affiliated with internet service providers. This automatically means the chance of detection while scraping data from LinkedIn is significantly reduced.
Conclusion
By now, you should have a clearer picture of LinkedIn and why you may need proxies while working with the platform. In reality, LinkedIn harbors massive data, which, when utilized correctly, can avail immense benefits.
With robust proxies, you can effectively scrape data off LinkedIn without the overbearing fear of detection and blocking. Happy data scraping!