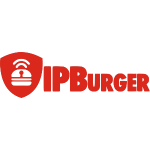 Do you need to talk to a distant relative abroad? Or maybe you want to hop into a meeting with your boss from the comfort of your couch. Then again, maybe you want to watch a newly released blockbuster from your laptop, and you don't have time to go to the cinema.
All these things are possible today thanks to the internet. Some think it is the greatest marvel of human ingenuity and capacity to innovate after the wheel. Suffice to say, their opinion is warranted; there is nothing you can't do with the web.
While this massive interconnection of devices has a plethora of advantages, it comes with its fair share of downsides. The most dangerous of these downsides are privacy and security. Without proper mitigatory measures, your confidential data could easily get compromised online, leading to colossal losses.
Fortunately, you can steer clear of all these issues using proxies. Such devices are designed to mask your IP address and provide a different one. We cannot emphasize the benefits of these devices nearly enough; perhaps that is why hundreds of companies are offering the service online.
That said, we have taken it upon ourselves to help you select the best proxy service provider for your needs by analyzing one of the more popular companies, IPBurger. In this review, we will break down this company's services and determine whether it is worth your hard-earned money. Take a read below.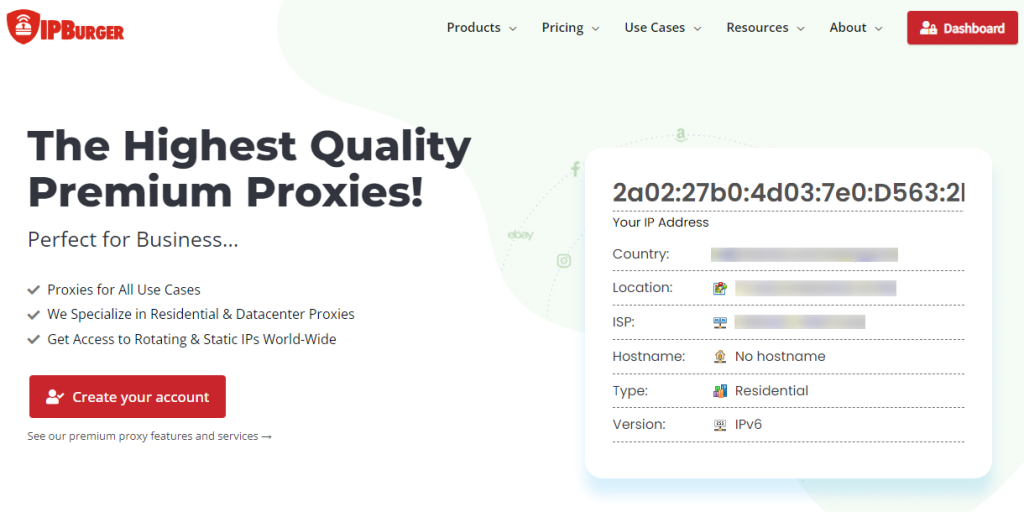 IPBurger Introduction
IPBurger is a reasonably young proxy service provider: reports say it has been in the market for about five years. IPBurger specializes in residential and datacenter proxies, which we found to be good enough since these have the most demand in the market. While we were not impressed with the lack of diversity in the packages available, we hope the provider will make up for this in other areas.
That said, does this company have what it takes to match up to other premium proxy server providers on the market? Should you subscribe to the packages? We can only answer these questions after carefully analyzing what IPBurger has to offer.
IPBurger Features
The features this provider has to offer are, well, above average. The one thing we noted this company had done quite well at is diversifying the proxy locations. Accordingly, it offers support for over 195 countries, which is beyond impressive by current market standards. In fact, we can confidently say that very few companies are capable of reaching this threshold.
That's not all. The proxy pool size is also equally impressive. IPBurger has one of the biggest IP pools in the market, with over 30 million residential IPs. However, we could not find any info on the source of the IPs, which is something we expected, given that most proxy companies do not like disclosing the source of their IPs.
Types of Proxies
As mentioned, this provider offers two types of proxies – datacenter and residential. Worth noting is that these proxies serve different purposes and offer different levels of functionality depending on the use case.
That said, you get both rotating and sticky sessions with IPBurger. You can easily rotate an IP after every request, which fits tasks such as sneaker copping and data scraping. Furthermore, you can get 30 minutes of a sticky session, which is also pretty standard.
We gathered that the company only offers username/password authentication and not IP whitelisting, which is a significant downside for the user. Both these authentication methods have their upsides and downsides, and it is always convenient to use both. On the flip side, IPBurger has SOCKS5 support.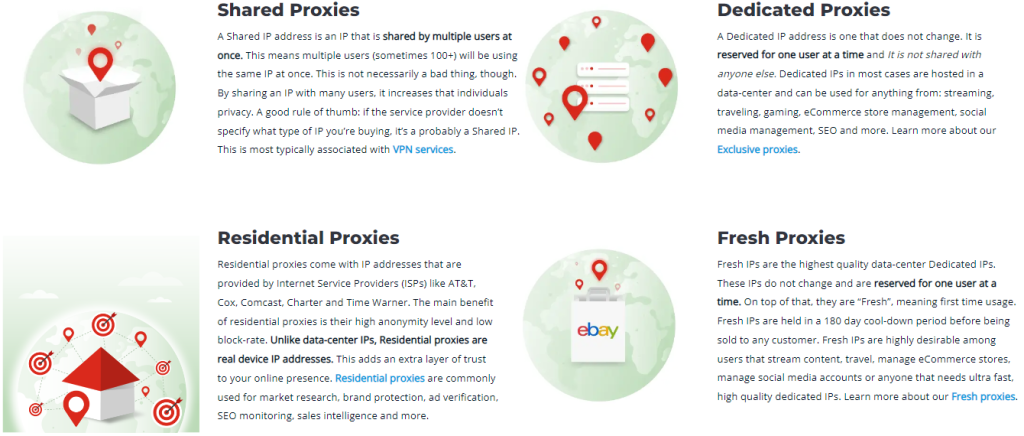 IPBurger Proxy Speed and Performance
From our analysis, the proxy speed and performance are acceptable. Granted, it is not anything record-breaking, but it works just fine. You should note that the proxy connection speed is influenced by various factors such as location and your ISP limitations, which means your speeds will likely differ from ours.
The average download speed from our analysis was 24.36 Mbps, with an average ping of 81ms. These figures will work just fine for most tasks, and while there are other companies with way better performance, it does not mean that IPBurger is that bad, either.
Additional Tools
You should not expect any sophisticated tools like scrapers and API support from IPBurger. Here, you only get the essential tools like a speed tester, IP checker, and extensions for Chrome and Firefox. You can easily find them online and for free; hence they do not add any convenience to the customer. We could say that this is one section where IPBurger dropped the ball.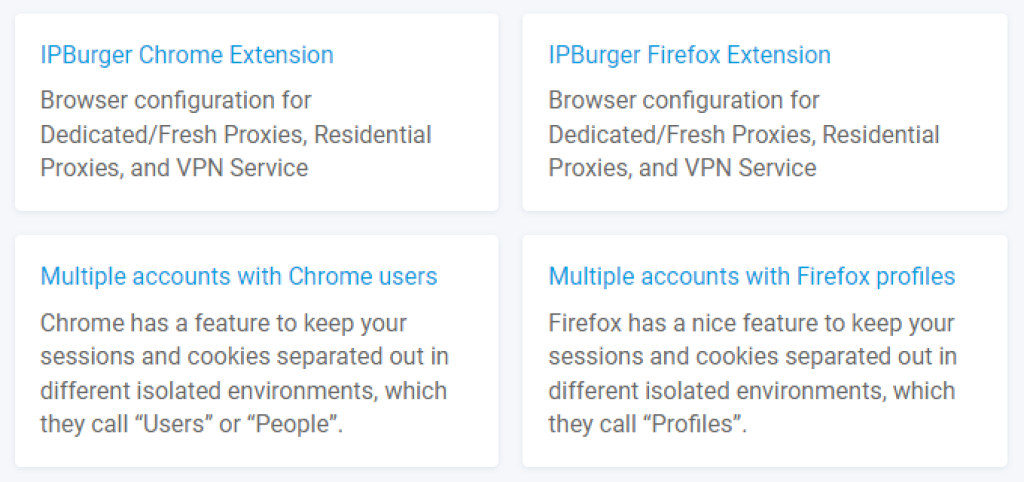 Purchase Simplicity
The IPBurger website has a fantastic modern design. While we agree that the IP checker is not, in particular, a well-thought-off tool, the designers have done a pretty good job of integrating it into the website. Specifically, you can see your IP and the related information immediately after you open the website, which is a good marketing tool as it shows customers their information is exposed.
To access the proxies, you must create an account with IPBurger. The process is one of the smoothest we have come across, and the system directs you on everything you need to do to get started. Once you successfully create your account, the website redirects you to the dashboard, from where you can manage the proxies and buy more as needed.
IPBurger Pricing
The pricing plan at IPBurger is nothing short of genius. While most proxy service providers use bandwidth or the number of IPs to determine price, IPBurger uses an entirely different approach. The plan you go for will determine the number of proxies you can use for the residential proxies. The cheapest plan, 'Regular,' starts at $69 monthly with access to 20 million residential IPs and other features.
From what we could gather, the datacenter proxies from this provider are not that developed. The pricing starts with the basic plan, which goes for $8 per month and gives you one dedicated IP. The most expensive plan is the 'enterprise' plan which starts at $1,000 monthly and offers more than 100 dedicated datacenter IPs. The next plan is called 'premium' and costs $75 monthly with full access to all the 75 million residential IPs.
You don't get a free trial with IPBurger, and the information on the moneyback guarantee is conflicting. On one page, the company says that it offers refunds, but on another, it refutes this information, which is quite odd.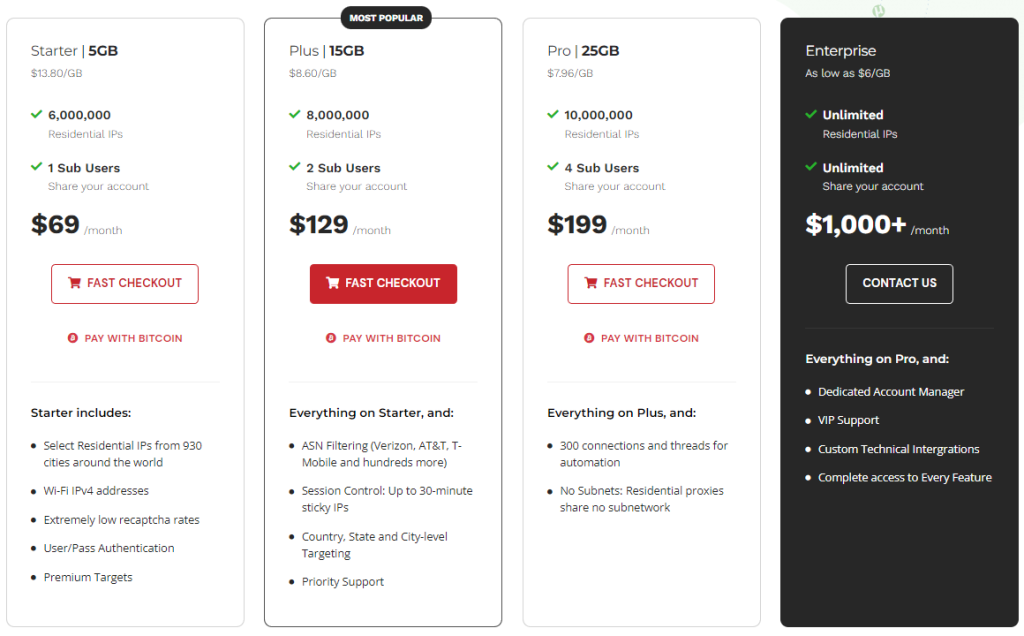 IPBurger Discounts
IPBurger offers periodical discounts and coupons. We could not find any running discount at the time of writing, but we found evidence of past offers. Some of the sales we found include Black Friday flash sales and coupon codes. However, we could not find evidence of bulk order discounts, which is quite odd.
Is IPBurger Legit or a Scam
After a thorough analysis, we found this company to be legit, with a few inconsistencies and shady practices. First, the website information does not reflect the actual service IPBurger offers users. A typical example is money-back guarantees, with conflicting information on the website. On top of that, IPBurger seems to be paying its customers to add positive reviews on Trustpilot, which is unethical. In brief, this provider has a shady way of dealing with business and serving its customers.
Customer Support
The customer support system at IPBurger is average. While the website mentions 24-hour customer support, this is far from the truth. We tried reaching out to the support agents via live chat unsuccessfully. We got an error message informing us that the agents were not online and instead, they would email us, which is a big letdown.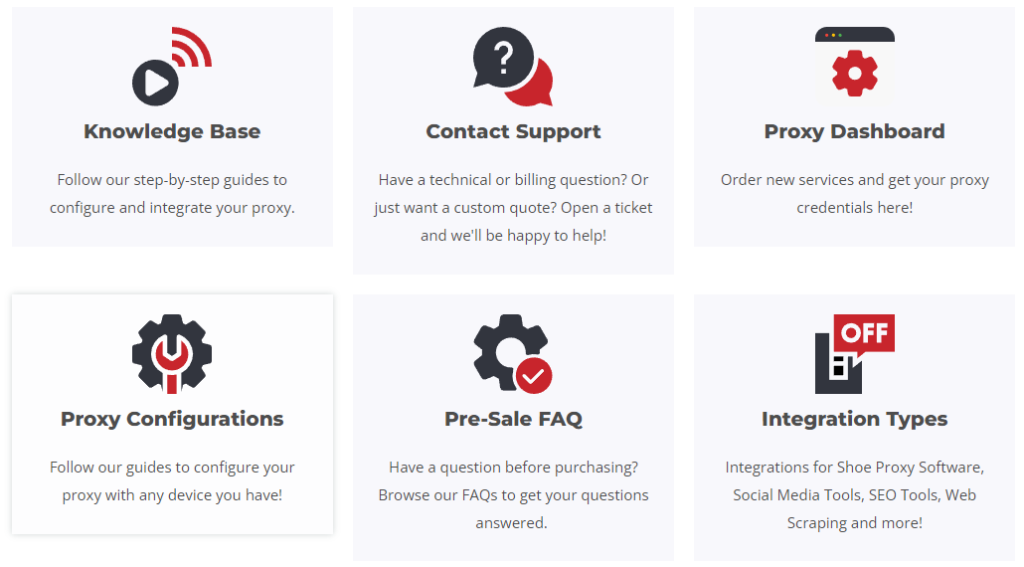 Can You Earn Money With IPBurger?
IPBurger has one of the most comprehensive affiliate systems on the market. The affiliate page has all the information you need to get started in earning with the company. It offers a 30% commission on recurring sales, which is way more than most companies offer. There is even a prize for the top affiliates, the first we have come across.
IPBurger Pros and Cons
IPBurger, like any other proxy service provider, has its pros and cons. These factors can determine whether you should work with the company or not. They are listed below.
Positive
Excellent location support
Huge IP pool
Affordable
Acceptable speeds
Negatives
No free trials or money-back guarantees
Poor reputation online
Final Verdict
With all that said, you must ask yourself, do we recommend this proxy service provider? Well, no. IPBurger still has many kinks it needs to iron out to become a trustworthy proxy service provider. The first and most significant of these is the irregularities on the website. The lack of transparency is more than likely to create a sense of distrust among customers.
There have been reports of IPBurger paying customers to leave positive reviews. It is an unethical marketing method and casts a shade of dishonesty on the company. Hence, IPBurger still has a long way to go to become a safe and trustworthy provider.
Ratings
IPBurger Alternatives
Given this provider's uncertainties, you might be safer going with alternatives. Below are some companies that rank higher than IPBurger:
IPRoyal is a trusted name in the proxy world. With an impressive pool of over 2 million IPs and a stellar reputation on the web, this is an excellent alternative to IPBurger.
Storm Proxies is a perfect alternative for sneakerheads looking for residential sneaker proxies. It is known for affordability and high performance, making it the perfect choice.
As you can infer from the name, this is another provider known for sneaker copping compatibility. It has more than 28 million IPs in its pool.
FAQ
What kind of proxies does IPBurger offer?
You can get residential and datacenter proxies from IPBurger. You should note that they are priced differently and have different features.
IPBurger is a legitimate company but its service and how it handles business, including paying customers for reviews, raises questions.
Is IPBurger good for sneaker copping?
IPBurger can be a good option for sneakerheads. It has an excellent IP pool and sticky and rotating sessions.