Limited edition sneakers from the most popular online shoe stores can run out of stock in seconds. For any release, thousands of sneakerheads are trying to buy the same pair of sneakers, so getting your hands on the pair you want can be really hard.
The competition is real, so the only way to stand a chance of getting one or more pairs of highly coveted, limited-edition kicks from shoe websites is to use a sneaker bot yourself and pair it with good sneaker proxies. Without these tools, you can forget about owning or reselling them for profit.
But with so many options on the market, choosing sneaker proxies can be challenging. That's why we have analyzed the most popular sneaker proxy providers on the market and selected ten of them that will help you win. But before we give you the list, let's explain what role sneaker proxies play in sneaker copping so you can better understand them and make the right decision.
Best Sneaker Proxy Providers of 2022 – Quick Summary
1. IPRoyal – the best premium sneaker proxy provider
2. MarsProxies – clean IPs optimized for all sneaker bots
3. Oxylabs – provider with flexible rotation options
4. Smartproxy – proxies that are compatible with all major sneaker bots
5. Bright Data – provider with an excellent proxy pool size
6. ProxyDrop – ideal for small-time sneakerheads
7. Shifter – ethically-sourced proxies with low response time
8. PacketStream – excellent randomize IP feature
9. Geonode – a versatile proxy service
10. Storm Proxies – compatible with all major sneaker bots
What Is a Sneaker Proxy?
A sneaker proxy is a proxy server optimized specifically for purchasing sneakers from sneaker websites. It is precisely developed to be compatible with sneaker botting software. Like any other proxy, a sneaker proxy acts as a middleman between you and the websites you visit. It has its own IP address and location, so it keeps yours hidden, helping you to enjoy complete online anonymity. This allows you to do almost anything you want on the internet without being traced, restricted, or blocked.
For sneaker fans worldwide, this means getting access to limited edition releases even if they are unavailable where you're located. For example, you live in Europe, but you want to purchase a pair of sneakers that are only sold in the United States. In that case, US sneaker proxies can help.
Also, it means buying sneakers from different locations. But most importantly, it improves your chances of success when copping sneakers with bots.
How Do Sneaker Proxies Work?
Sneaker proxies work on your behalf when sending requests to a shoe website. They intercept your requests and send them to the target website using their own IP address. Likewise, they receive the responses from the target website and send them back to you.
Since the target websites can only see your proxy's IP and location, you can choose a proxy with an IP address from a supported country which will give you a chance to buy the sneakers you want from any corner of the world.
Sneaker proxies are also used to hide sneaker bots when wanting to increase your chances of getting the highly sought-after kicks before anyone else or when purchasing multiple pairs of limited edition kicks from sneaker websites with a one-pair-per-customer rule.
Although bots can help you automate the process, sneaker proxies are here to ensure you don't get banned. Since bots send numerous requests to the target website, the website's servers can quickly flag your IP address and temporarily or permanently block you. That's because no human can send that many requests simultaneously, which is a clear sign that you're using a bot.
So instead of risking and getting your IP blocked for life, you can pair your sneaker bot with good sneaker proxies. This way, you can trick shoe websites into thinking that all requests come from different IP addresses and users, not from a single IP or device.
Not only that this will help you use your bot anonymously and safely, but it will also protect your original IP address in case the target website blocks the proxy's IP. If this happens, you can always use another proxy's IP address and continue copping sneakers on the same site.
How to Choose the Best Sneaker Proxy Provider for Sneaker Bots?
Not all sneaker proxies are created equal, and not all of them will help you get the sneakers you want. Only by knowing what to look for in a sneaker proxy provider, can you choose the right proxies that will increase your sneaker copping efficiency and success.
Here's what you should consider:
The Type of Proxy
Always use premium proxies to maximize your chances of getting your favorite pair of sneakers from a newly launched edition or buying sneakers in bulk. Besides helping you to grab the sneakers you want before anyone else, premium proxies will also help you to stay safe on the internet, as opposed to free proxies.
Country of Origin
Choosing sneaker proxies near the store's servers will ensure you get fewer lags, faster connectivity, and access to the release no matter your location. For example, if the seller is located in the United States, you'll need proxy servers from a US location.
Sticky Sessions
If you go with rotating proxies for copping sneakers, they should be able to hold the same IP address for at least ten minutes. That's because some sneaker websites use queue-based systems, so choosing a provider that supports sticky sessions will boost your sneaker bot's performance.
Response Time
When it comes to copping sneakers, you should look for proxies with low response time instead of fast speeds. Buying sneakers has nothing to do with upload or download speeds, so the only thing that matters is the response time – the lower it is, the faster the proxy will do its job and complete your purchase.
Full Providers Review
Now that you know what sneaker proxies are, how they work, and what they should offer to give you the best results, it's time to learn where to find them. After analyzing and evaluating plenty of sneaker proxy providers, we've selected the top 10 brands to help you get those sneakers!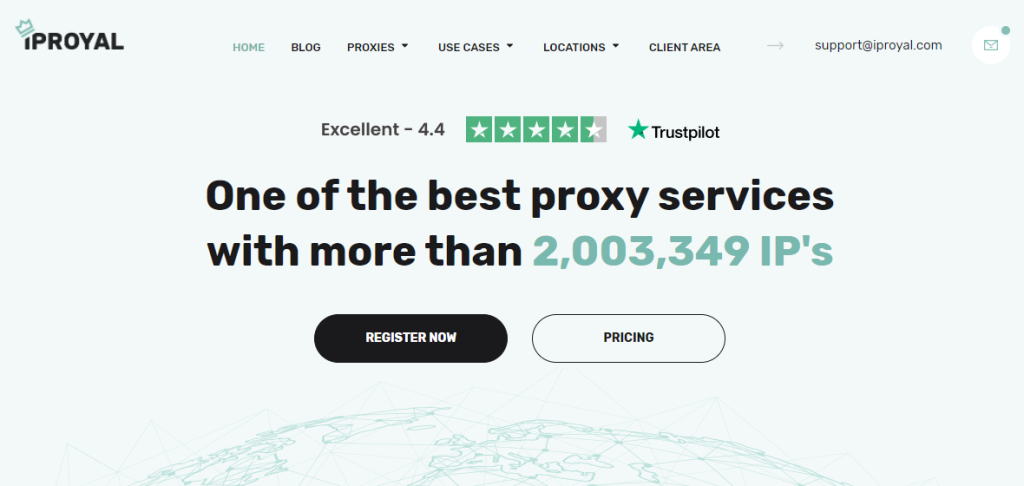 IPRoyal is a reliable proxy provider known for its high-quality and reliable proxy pool consisting of over two million IP addresses. Although it doesn't have one of the biggest proxy networks in the market, the number of IPs is more than enough for sneaker botting.
In fact, IPRoyal is one of the few proxy providers that sell sneaker proxies or proxies specifically made for sneaker copping. While many brands mention sneaker copping as one of the many use cases of their proxies, this brand actually sells them as a separate product. That's because its proxies are unbanned everywhere, so you can use them to cop sneakers on any shoe website without worrying about getting detected or banned.
The provider has over 1.5 million datacenter sneaker proxies from the United States, United Kingdom, Germany, Australia, Canada, and France. The most important thing is that they are compatible with any sneaker bot, including Supreme Bot, NikeBot, Sole Player, and countless others. IPRoyal guarantees they work on any site with any bot, so it's really as good as you can get!
The sneaker proxies from this brand are premium proxies with some of the lowest response times on the market – 1.36s, which makes them ideal for copping. In fact, according to a market overview done in August 2022, IPRoyal's sneaker proxies provided the fastest connection, making them the fastest sneaker proxies on the market.
They come with unlimited bandwidth and threads, so you can set up your sneaker bot with any number of connections for the same price. This will increase your chances of purchasing multiple pairs and making a great profit.
They also have a fantastic uptime of 99.9%, which makes them highly reliable, ensuring your connection will stay uninterrupted during the entire drop. Also, the provider allows you to replace the whole proxy list monthly without any problem.
All sneaker proxies support HTTP(S) and SOCKS5 connections and dual authentication – IP and username/password authentication. They are fully dedicated proxies, which means the IP addresses allocated to you are not used by anyone else at the moment. All this makes IPRoyal's sneaker proxies extremely trusted and safe so that you can rest assured that your payment details and personal data will remain confidential.
The company has very affordable monthly and daily plans, and if you're not sure which one is better for you, IPRoyal's support is always available to assist you.
---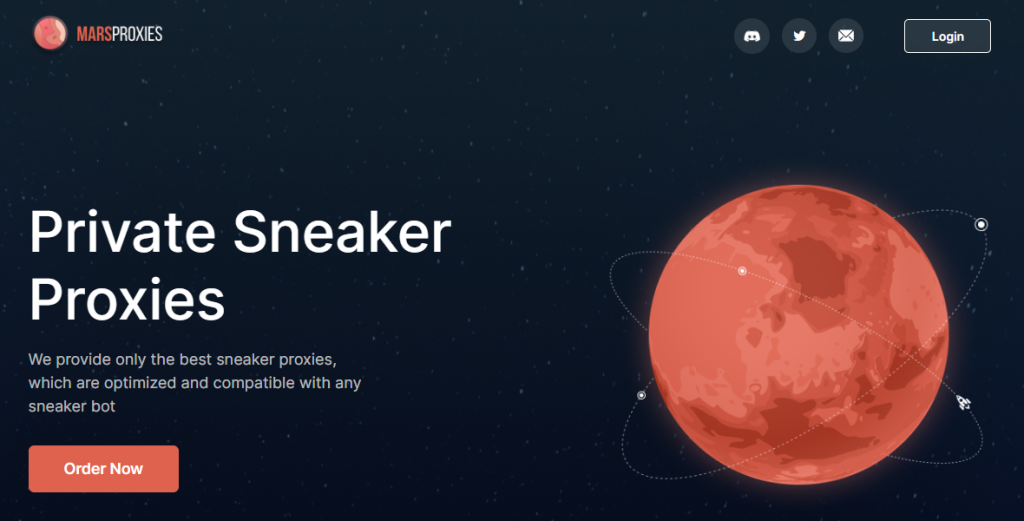 MarsProxies is a legitimate proxy provider that focuses on selling sneaker proxies optimized and compatible with any sneaker bot. It has a reliable proxy pool consisting of 550,000 clean IP addresses from over 190 EU and US locations, ensuring you stay away from bans on any shoe website. This makes it ideal for sneakerheads and sneaker retailers around the world.
The provider offers sneaker proxies in two variants – residential sneaker proxies and datacenter sneaker proxies. Its residential plan includes three different pools of IP addresses, but you can use them all at once.
All sneaker proxies from MarsProxies support dual authentication – username/password and IP authentication, which means you can use any sneaker bot you want. They also support SOCKS5 connections, which makes them highly secure.
The residential sneaker proxies are dedicated and static, so you can rest assured that no one is using the same IP address as you, making them highly trusted. They are extremely fast, boasting speeds of up to 10 Gbps.
When it comes to datacenter sneaker proxies, they have an extremely low response time of 6 to 120ms, which makes them ideal for copping limited edition footwear. All MarsProxies sneaker proxies provide unlimited bandwidth and threads and a fantastic uptime of 99.9%, guaranteeing a smooth copping experience.
The brand provides 24/7 customer support to help you answer your questions as quickly as possible. The proxies are affordable, and there's a daily plan for datacenter sneaker proxies starting from €0.80 per proxy.
---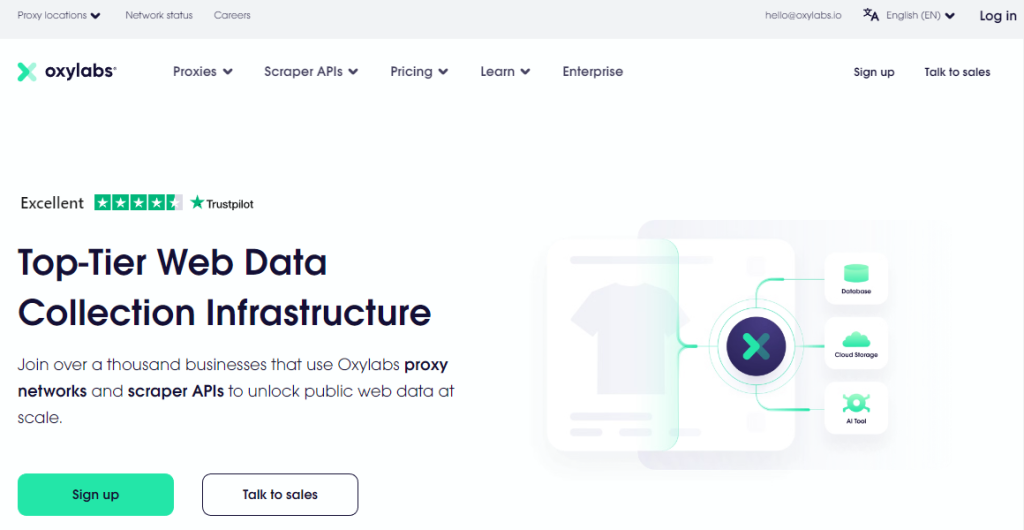 Oxylabs is one of the most popular proxy providers, with a gigantic proxy pool consisting of over 100 million sneaker proxies. Although its infrastructure was originally designed with data scraping in mind, the IP addresses work well as sneaker proxies as they are compatible with any sneaker bot.
The company has excellent location coverage, offering premium IP addresses from 195 locations worldwide and supporting country, state, and city-level targeting. The company sells premium residential sneaker proxies that have flexible rotation options. You can create sticky sessions for up to 30 minutes or have your IP changed every time you make a new request.
Oxylabs proxies have great performance and an excellent 99.9% success rate, so you'll enjoy an uninterrupted connection during your entire copping session. They provide unlimited concurrent sessions and up to 5-hour extended sessions. The proxies support HTTP(S) and SOCKS5 protocols and dual authentication, so you can sign in using IP whitelisting or username and password without worrying about your personal and financial information being compromised.
Another great thing about this company is the responsive customer service, dedicated account managers, and live chat support, which shows it really cares about customer satisfaction. The prices, however, are above the average, so Oxylabs may not be a good fit for those on a tight budget.
---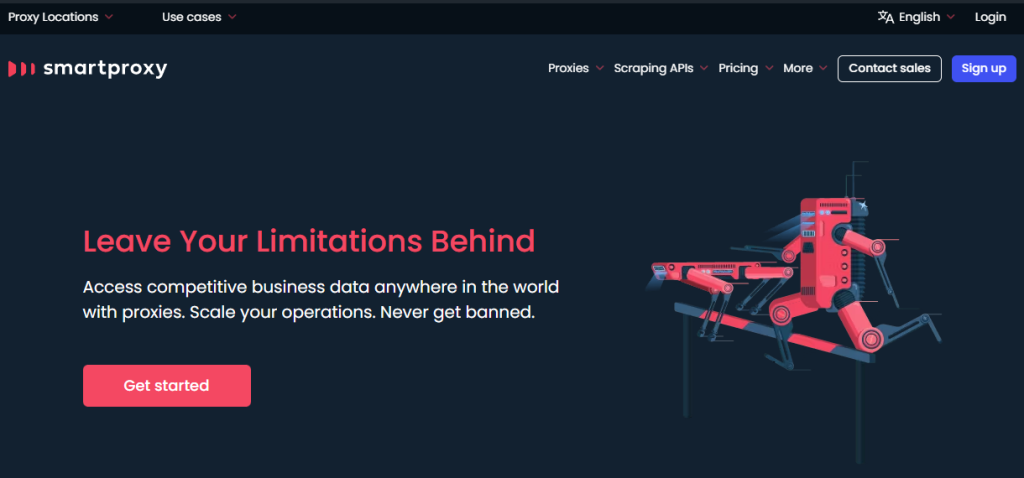 Smartproxy is one of the rare proxy companies that specifically mention you can use their IP addresses to cop sneakers on shoe websites. Its sneaker proxies are compatible with all major sneaker bots, including Supreme Bot, Another Nike Bot, Nike Slayer, Better Nike Bot (BNB), EasyCop Bot, and Nike Shoe Bot.
It has a proxy network consisting of over 40 million residential sneaker proxies that don't share a sub-network. This makes them very reliable, as you can't get all of your IPs banned at once. The company allows you to geo-target almost 200 worldwide locations and offers rotating and sticky IP sessions. The sticky sessions allow you to keep the same IP for up to 30 minutes.
All sneaker proxy plans provide unlimited connections and threads, so you can try to make multiple sneaker purchases using the same plan. They support dual authentication and HTTP and HTTPS protocols, so the lack of SOCKS support is a slight drawback. On the other hand, they have an impressive success rate of 99.9%, an average response time of 1.9s, and 99.9% uptime, ensuring a fast and smooth connection.
Smartproxy offers a pay-as-you-go plan along with monthly subscriptions. It has reasonable prices and a 3-day money-back guarantee for all users.
---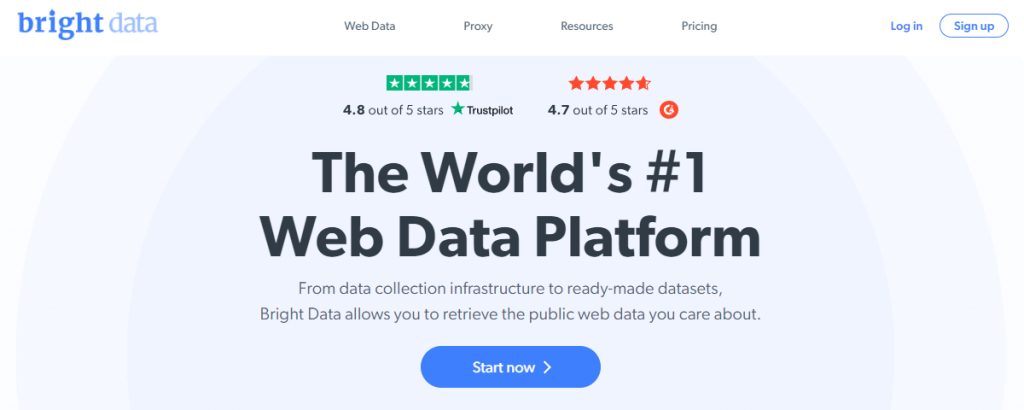 Bright Data is one of the most popular proxy providers on the market, boasting a powerful infrastructure and a massive proxy network. It has over 72 million ethically-sourced residential proxies from 195 locations across the world. Although you can't find sneaker copping under the use cases section on its site, the enormous proxy network is great for this purpose as well.
Its proxies are obtained from real residential internet users and are not part of the same subnet, so they are hard to detect and ban. They allow country, city, ASN, and carrier-level targeting and the creation of sticky and rotating sessions.
Bright Data supports HTTP(S) and SOCKS5 connections, IP authentication, and username/password authentication. The proxies have 99.9% uptime and a low failure rate which shows how much reliable and stable they are. They allow you to make unlimited concurrent requests, making them a good choice for copping sneakers.
You can find both private and shared IP addresses on the company's site. While the private ones are ideal for targeting specific domains without getting detected or banned, the shared IPs are great if you want rotating IPs.
The average response time of Bright Data's residential proxies is 1.08s, and the average success rate is 99.4%, making them excellent performers. The proxies are a bit costly, especially when you specify additional parameters like city targeting. On the good side, there's live chat support and a 7-day free trial for companies.
---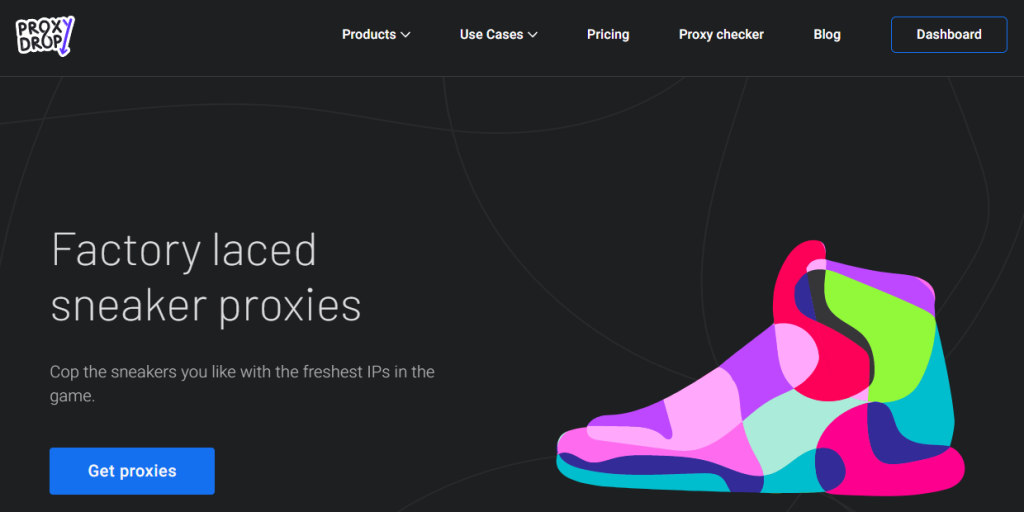 Proxydrop is a small but legitimate proxy company focusing only on sneaker proxies. Its proxy pool consists of over 28 million dedicated IP addresses, which is more than enough for its 500+ users.
The small number of active users can be seen as a sign of untrustworthiness, but the truth is that Proxydrop is relatively new to the market. This can also mean using the service to cop sneakers without worrying about a shortage of proxies.
The proxies provide global coverage, and you can choose from around 20 worldwide locations, including the US, the UK, France, Spain, Italy, Portugal, Japan, Mexico, Peru, Netherlands, etc. The sneaker proxies from this company work on Supreme, Adidas, Foot Locker, Nike, etc.
They support username/password authentication only and location targeting. They have no expiration time, which is definitely a plus. Proxydrop residential proxies are rotating proxies that allow you to keep the same IP address for up to 30 minutes.
What's interesting about this provider is that it has a routing feature that improves the response time. However, it's only available for US, CA, BR, and GB IP addresses.
Proxydrop offers unique unthrottled sneaker proxies that will help you grab multiple pairs of limited-edition sneakers from sneaker websites. It offers datacenter, residential, DC Captcha, and ISP sneaker proxies and customer support via its Discord server. There are a variety of packages to choose from, most of which are expensive.
---

This proxy provider has been around for about ten years under different names, offering a variety of proxies for many use cases, including copping sneakers. The company claims its sneaker proxies are compatible with all shops, so you can cop shoes on websites like Adidas, Supreme, Footsites, Nike, and OVO.
Shifter has a massive proxy pool of over 50 million IP addresses from countries worldwide. And if you're willing to pay a little extra, you can get access to city targeting. The proxies from this provider support HTTP(S) and SOCKS4/5 connections, which allows you to use them with many sneaker bots. They have 99.9% uptime which indicates high reliability and stability.
All IP addresses from Shifter are ethically sourced, so you can rest assured they are trustworthy, helping you to avoid IP bans. The proxies can rotate every 5 to 60 minutes, depending on the user setting. They are designed for sneaker bots and have a low response time of 1ms. They support IP authentication and username/password authentication.
Shifter proxies provide unlimited sessions and very low latency because of the distributed cloud infrastructure. The provider doesn't charge them for bandwidth, but for proxy ports, so you don't have to worry about any restrictions. Although they are not the cheapest on the market, their pricing is reasonable, considering what you get in return.
---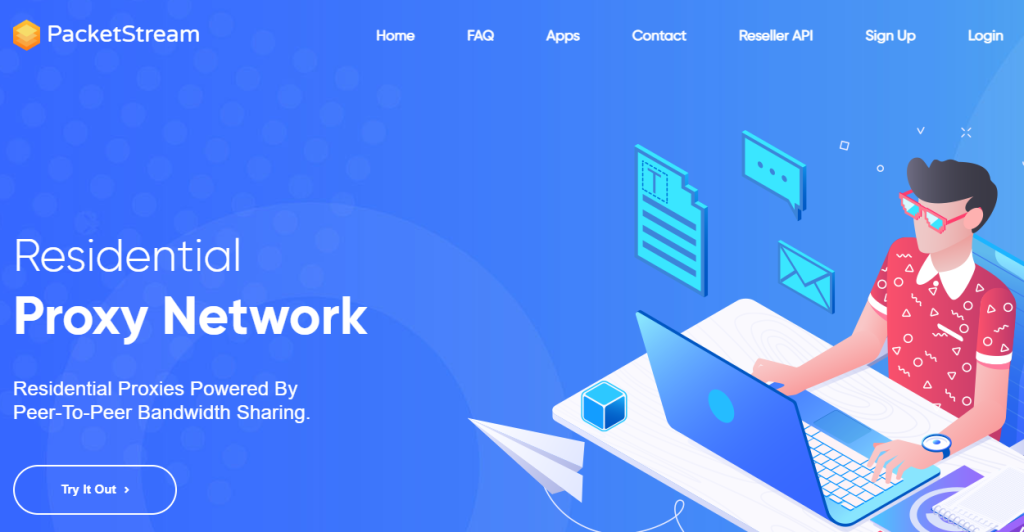 PacketStream is a general-purpose provider offering residential proxies for various use cases, one of which is sneaker copping. Although it doesn't specifically sell sneaker proxies, you can use them for that purpose as they come from real users, which makes them harder to ban. The company is mostly known for its cheap proxies, so it's an excellent choice for newbies and individuals on a very tight budget.
Right now, PacketStream has a proxy pool consisting of over 7 million residential IP addresses powered by P2P bandwidth sharing. The IP addresses cover around 100 countries worldwide, but you can't see how many IPs each location has. The proxies are rotating residential proxies, and you can choose to keep the same IP address for as long as it is available or change it on every new request.
PacketStream proxies support HTTP and HTTPS connections and username/password authentication only. So the lack of SOCKS support and IP authentications can be considered drawbacks.
The provider has a very simple and easy-to-use dashboard, high success rates, and 99% uptime. However, its proxies are not particularly fast. Despite being an American proxy provider, its US proxies have below-average connection speed, which is definitely a flop.
On the bright side, its proxies are among the cheapest ones in the proxy industry, coming at a price of only $1 per GB. Considering the low prices, it's only understandable that the company doesn't offer a free trial or refund policy.
---

Geonode is a great option if you want to test some good proxies for sneaker botting without spending a lot of money. The company has a proxy network of around 2 million IP addresses from 140 worldwide locations, including the United States, Europe, The United Kingdom, Russia, Australia, etc. Although it's not a massive proxy pool, it's made of ethically-sourced proxies obtained from real users, making them highly trusted.
Geonode has a versatile proxy service, supporting HTTP(S) and SOCKS4/4A/5 protocols. It also supports rotating and sticky sessions, allowing you to keep the same IP address for 5 to 60 minutes.
It also supports dual authentication, which means you can use a username and password or IP whitelisting to sign in. The service allows you to host multiple IP addresses on your device simultaneously, making it ideal for copping multiple limited edition sneakers.
However, the proxies from this provider are not very fast. The company says its users should expect new premium proxies with blazing speeds and high success rates in the coming weeks.
What's interesting about this provider is that it offers two billing methods, per thread and per GB. The first one doesn't have monthly bandwidth limits, so you don't have to worry about data transfer limitations. The second one allows you to buy a specific amount of bandwidth which guarantees high success rates on secure sites, which come at a higher price.
---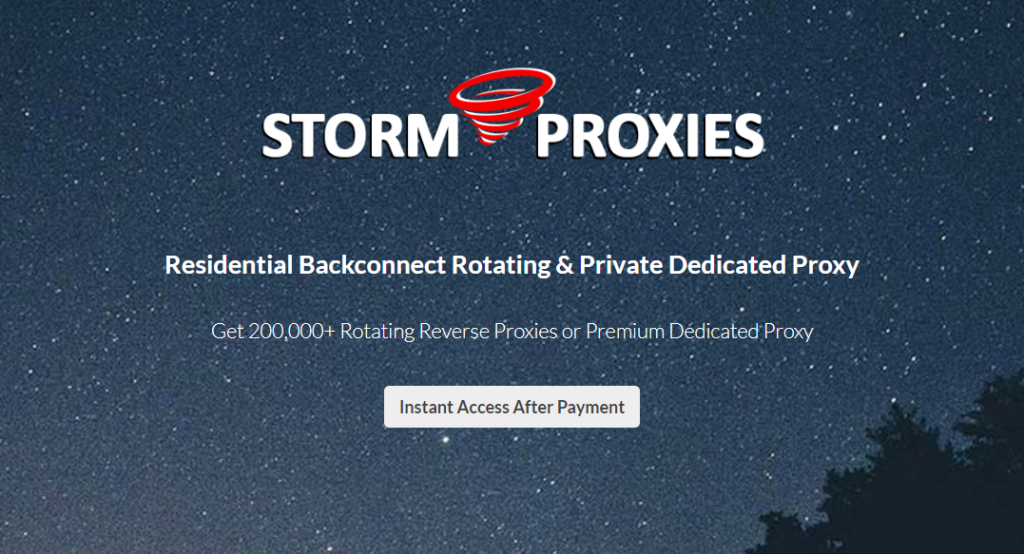 Storm Proxies may be a small-scale proxy provider, but it offers more than you think. It has dedicated and rotating residential proxies that are optimized for many sneaker websites, including Nike, Supreme, Adidas, Yeezy, Footlocker, Eastbay, Footaction, and Champs Sports.
They are compatible with a variety of sneaker bots such as Nike Bot, AIO Bot, Another Nike Bot, Better Nike Bot, Supreme Bot, SneakerHead-Bot, Sole Slayer, Heated Sneaks Bots, Easy Cop Ultimate, NikeShoeBot, etc.
There are several sneaker proxy plans to choose from, each giving you access to over 40,000 residential rotating IP addresses. Although this number can't match the millions provided by other competitors, the company offers unlimited bandwidth with each plan.
The proxies cover two broad regions, the United States and Europe. They only support IP authentication and HTTP(S) protocols, so there's no username/password authentication and SOCKS support. All plans are limited to one access IP address, so you can only use Storm Proxies service from a single device.
Storm Proxies sneaker proxies rotate every 5 minutes automatically, so you don't have to change them manually. They are highly anonymous and optimized for high performance. The prices are reasonable and there's a two-hour money-back guarantee.
---
Datacenter vs. Residential vs. ISP Proxies for Sneaker Copping
Choosing the right proxy type for copping limited edition sneakers can be confusing. However, the right choice will mostly depend on your needs and budget. Here are some things to keep in mind when making a decision.
Residential proxies are more secure than datacenter and ISP proxies as they come from real users. They allow you to generate as many IP addresses as you like, which makes them great for sneaker copping. However, they usually have traffic limits and slow speeds, which can be bad when copping footwear.
ISP proxies, on the other hand, allow you to use unlimited traffic and are generally faster than residential ones. But, these are easier to block in bulk, leaving you without any proxy during the drop.
When it comes to datacenter proxies, they are less secure than residential and ISP proxies as they usually come from cloud server providers. However, they compensate for the lower security and reliability with faster speeds and lower prices. You can keep them running 24/7 and order as many datacenter IPs as you need for a specific drop.
Why Choose Premium Sneaker Proxies Instead of Free?
Free sneaker proxies are very unsafe. They can be set up by cybercriminals to steal your personal or credit card information. If this happens, you will never get past the sales page after entering your information to make the purchase.
No matter how often you try to buy sneakers, you won't be able to. The proxy will steal your information every time, and in just a few seconds, the cybercriminal will have your name, address, and your banking information. This means other people can use your credit card to shop online.
The worst part is that you won't get anything, not even your sneakers. To avoid this, you should always use premium sneaker proxies managed by reputable and legitimate companies. Only in that way can you have peace of mind when using proxies for buying one or more pairs of shoes online.
Conclusion
Getting the hottest limited edition sneakers on the market requires more than just a good sneaker bot – you also need good sneaker proxies. Besides allowing you to buy sneakers from online stores that are unavailable in your region, proxies also help you get your favorite limited edition footwear before anyone else and more than just one pair.
Using the proxies from any of these top sneaker proxy providers for 2022 will help you beat sneaker bots when everyone else is using them.
---
FAQ