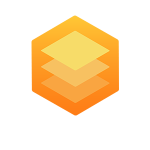 Many proxy providers claim their proxies are ethically sourced, especially in the residential proxy market. The truth is that some of them use unethical means to obtain their IPs while others go entirely illegal just to get users' devices into their P2P network. With PacketStream, you won't have to worry about this, as their proxy service is truly ethical.
This US proxy service was established in 2018. It offers ethically-sourced residential proxies powered by a paid P2P network owned by them. The proxies are affordable and suited for personal and business use cases. But just because it has affordable ethically-sourced residential proxies, it doesn't necessarily mean it has everything you need.
So let's find out more about it!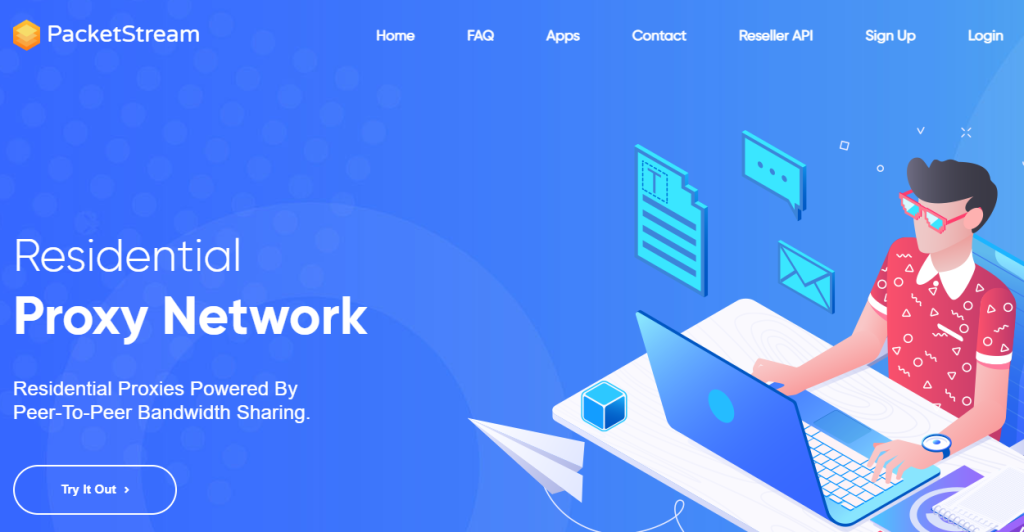 PacketStream Introduction
PacketStream is a relatively young proxy provider, offering residential proxies since 2018. The provider is based in the US, and it's a go-to choice for many users looking for affordable residential proxies. Aside from proxies, PacketStream is also giving you a chance to earn some side cash by becoming a Packeter and sharing your bandwidth.
It's how they acquire their IP addresses, so you can rest assured they are ethically sourced and highly trustworthy. As a general-purpose provider, the brand offers proxies for private browsing, IP ban prevention, geolocation control, and various business use cases, including price comparison, QA testing, brand protection, and ad verification.

PacketStream Features
Let's talk about the most important features of any proxy provider – the proxy pool size, location coverage, and how it obtains its IP addresses.
As you already know, the provider created its P2P network by allowing people to share their bandwidth in exchange for a reward. This is how it turns the owners of the IP addresses into proxy servers. The IP address owners are called Packeters, and they are fully aware that their IPs are shared with other users. As a result, you get ethically-sourced IP addresses.
When it comes to the proxy pool size, the company has over 7 million residential IP addresses, so it's not among the largest or the smallest proxy networks in the market but somewhere in the middle.
In terms of location coverage, the IP addresses are from over 100 countries around the world. You can see their locations in the dashboard, but not the exact number of IP addresses from each location. The IPs are assigned randomly, but you can also target specific countries. City and state targeting is still unavailable, but the company says it's coming soon.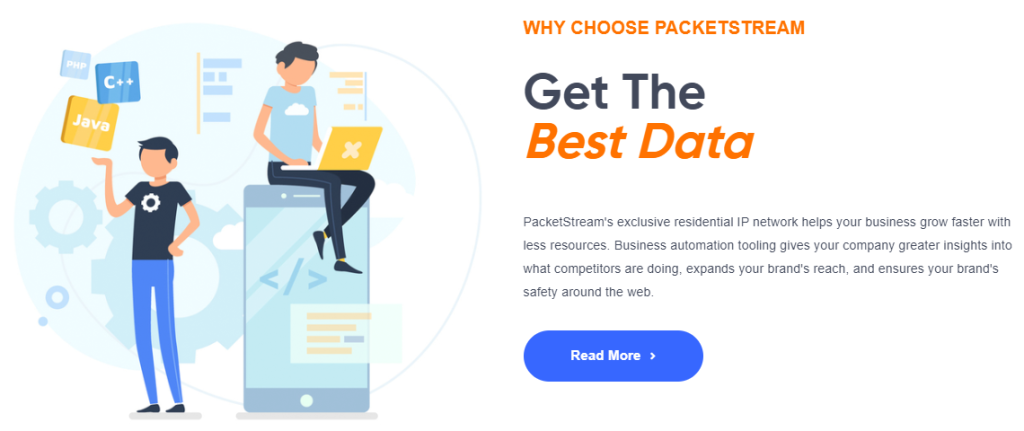 Types of Proxies
PacketStream is a residential proxy provider, so you won't find another proxy type here. It offers rotating residential IP addresses and supports sticky sessions. The proxies allow you to choose rotation on every connection request or hold the IP address until the source goes offline.
As high anonymous proxies, they offer the highest level of anonymity, meaning the target site servers won't even know that you're using a proxy.
They support only HTTP and HTTPS connections, so there's no SOCKS support. This means you can't use PacketStream proxies for torrenting or streaming. Overall, SOCKS proxies provide more security and flexibility online, so the lack of SOCKS support is definitely a flop.
The provider only allows you to sign in using a username and password. The lack of IP authentication support means you can't sign in by whitelisting your IP address.

PacketStream Proxy Speed and Performance
The PacketStream website has no information about proxy speed, which is disappointing because speed is an important factor to consider when choosing proxies. It only shows the uptime of proxies which is 99%, indicating high reliability.
We've tried to find out more about the speed and performance of these proxies, so we've gone through many reviews. What we've found was that PacketStream proxies are not particularly fast. They provide below-average connection speed, so if you're looking for blazing-fast residential proxies, you should probably go with another provider.
On the bright side, the proxies tend to have high success rates, which is great considering their affordable price. Also, its proxy pool really consists of IPs from residential devices, so you don't have to worry about their trustworthiness.
Additional Tools
The company has a reseller API for those who want to white-label and resell residential proxies to their own customers. However, it doesn't offer an API for your own proxy use. At least it doesn't mention it on its website. You also won't find any scrapers, proxy speed checkers, or any other additional tools.
Purchase Simplicity
Purchasing proxies from PacketStream is really simple. You just need to create an account which requires entering your email, username, and password, and then selecting the buy proxies option. The site doesn't even ask you to confirm your email.
Once you're in the dashboard, you can see it servers both Packeters and proxy users. But don't worry, as the dashboard is not overloaded with features, so you can easily use it. Here, you can see your invoices, traffic stats, buy bandwidth, and contact support. There's a page for setting up the PacketStream proxies as well.
Overall, buying and using PacketStream proxies is easy, which makes it ideal for newbies.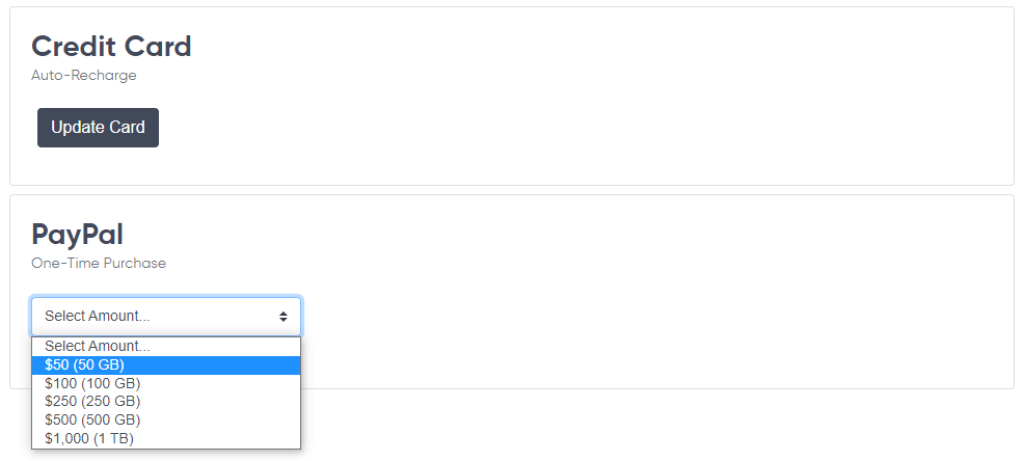 PacketStream Pricing
This is probably one of the most affordable residential proxy providers in the industry, offering 1 GB for only $1. The company doesn't use a subscription-based pricing model, so there are no weekly, monthly, or annual commitment periods. It uses a pay-as-you-go pricing model, charging you $1 for 1 GB. However, there's a catch – you can't buy fewer than 50 GB at a time.
The provider gives you the option to automatically recharge the balance when it goes below $1, as long as you use a credit card. Top-up amounts range between $50 and $1,000. Using the other payment method available, PayPal, allows you to make only one-time purchases.
PacketStream offers no money-back guarantee, but you can fill in a form to get a free trial.
PacketStream Discounts
PacketStream doesn't offer any discounts, even for bulk orders. However, you can find many coupons and promo codes that can help you save up on your orders.
Is PacketStream Legit or Scam
PacketStream is a legitimate US company that has sold residential proxies for over four years. According to the website, it has over 5,000 happy clients, but from what we've found on TrustPilot, many Packeters are not satisfied with the app.
Packeters are desktop users that share their bandwidth in exchange for rewards, so these are not proxy users. Anyway, they are complaining about their accounts being suddenly banned for no reason. When it comes to the proxy service, PacketStream is definitely not a scam. Proxy users say the service works just fine.
Customer Support
The only way to reach PacketStream is via email. The lack of other customer support options is a downside, as most people today prefer live chat or phone support to get the answers they need as quickly as possible.
On the good side, there's a detailed FAQ page you can easily find on the website. It includes a lot of questions and answers regarding their bandwidth-sharing and proxy service.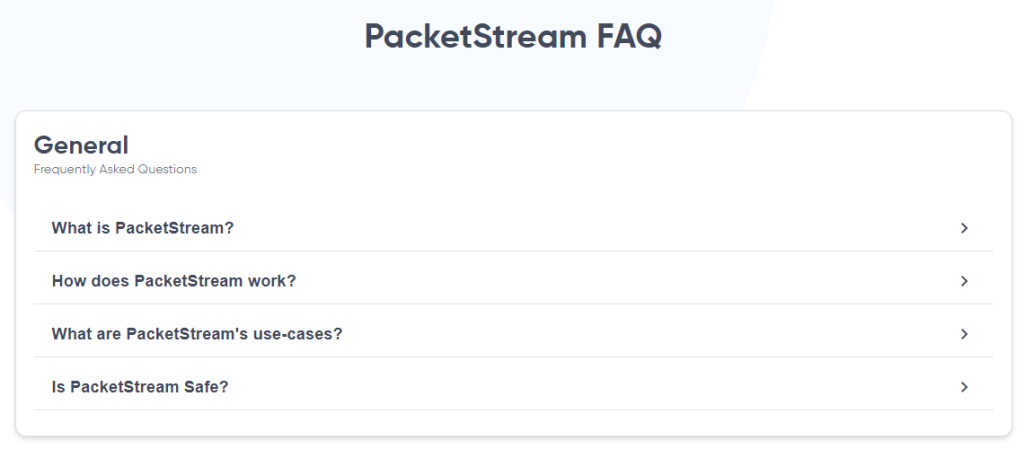 Can You Earn Money With PacketStream?
Yes, PacketStream gives you two options to earn money – by becoming a Packeter or reselling your proxies. Being a Packeter means agreeing to share your internet connection and IP address with others. All you have to do is download the free app on your desktop computer and let it run in the background.
The other option is to white-label and resell the proxies to your own customers through the company's Reseller API. You can find all the documentation necessary on the site.
Unlike many proxy providers, this one doesn't have an affiliate program you can join and earn from your referrals.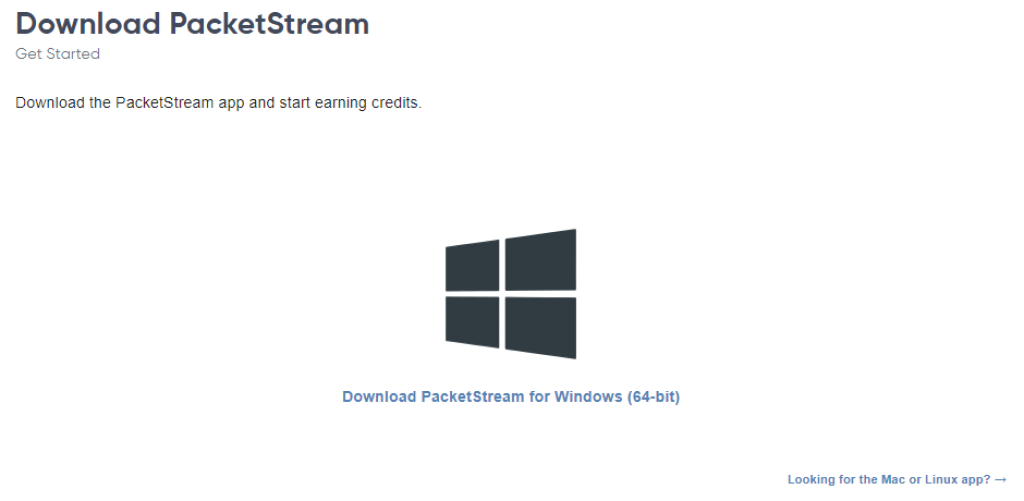 PacketStream Pros and Cons
Now that you know almost everything about PacketStream, it's time to see its pros and cons so you can make the right purchasing decision.
Positive
Decent proxy pool size
Good location coverage
Ethically-sourced residential IPs
High anonymous IPs
Affordable prices
Country targeting
Rotating and static sessions
Username/password authentication
HTTP(S) support
High uptime
High success rates
Reseller API
A chance to get a free trial
Pay-as-you-go pricing model
Easy to purchase
Negatives
Only residential proxies
Slow speeds
No SOCKS support
No IP authentication
Starting price at $50
No city and state-level targeting
Lack of customer support options
No money-back guarantee
Final Verdict
PacketStream is a good choice for those looking for affordable HTTP(S) residential proxies. The proxies provide the highest level of anonymity, covering more than 100 countries worldwide. However, if you're looking for another type of proxies or fast residential proxies that support SOCKS connection, you won't find them here.
Ratings
Average
Score by our metrics
PROS
Decent proxy pool size
Good location coverage
Ethically-sourced residential IPs
CONS
Only residential proxies
Slow speeds
No SOCKS support
Add your review
|
Read reviews and comments
Alternatives
Having a few more options in mind is always a good idea, so here are three more proxy providers to consider if you're not sure that PacketStream is the right provider for you:
IPRoyal – this provider offers even more affordable residential proxies than PacketStream. It offers a greater variety of proxies and faster speeds, HTTP(S) and SOCKS support, and dual authentication.
Bright Data – this proxy provider has a strong infrastructure and a massive proxy pool consisting of over 72 million residential proxies. It offers HTTP(S) and SOCKS support and dual authentication.
Smartproxy – this company sells HTTP(S) rotating residential proxies from more than 195 locations around the world and datacenter proxies that allow you to keep the same IP for up to 30 minutes.
FAQ
Does PacketStream offer datacenter proxies?
No, this proxy provider offers only residential proxies, so if you need datacenter or any other type of proxy, you should look for another provider.
What payment methods does PacketStream support?
The proxy provider supports credit card payments via Stripe and PayPal payments.
Can you track your bandwidth consumption?
Yes, the provider allows you to review your bandwidth consumption for the last two weeks on your PacketStream dashboard.