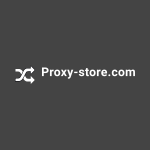 Issues such as breaches of privacy and restrictions are common on the web. Cases of companies mishandling user data and hacks have risen steadily over the past few years, and the party that is always at the receiving end is the internet users.
Luckily, there are several methods you can use to safeguard your internet connection, and one of the most efficient is proxy servers. However, the proxy industry has long been shrouded in mystery and scams. Cases of companies being outed for illegal activities are becoming all too common.
Therefore, you must be particularly careful when selecting a proxy service provider. You should perform your due diligence and find as much information as possible about the company. That said, unbiased reviews are helpful and can help you make an informed opinion.
This review contains expert, neutral information on Proxy-Store.com. It will dive into the intrinsic specifics of this company and help you decide whether you should work with Proxy-Store.com.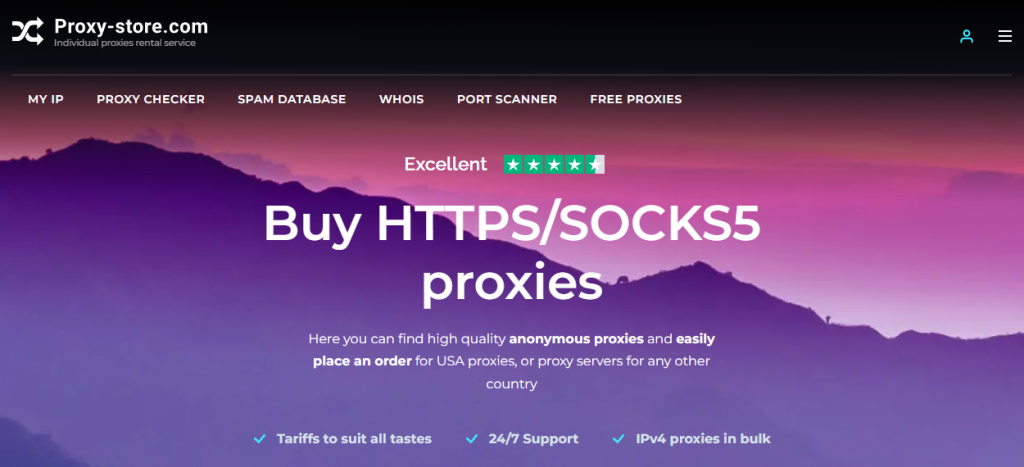 Proxy-Store.com Introduction
Proxy-Store.com is a company that takes an entirely different approach compared to most other proxy service providers. While most companies categorize their proxies as residential, datacenter, or ISP, Proxy-Store.com categorizes its servers based on the intended purpose.
This technique is quite effective since it means the proxies are optimized for specific purposes as opposed to general servers. That said, the Proxy-Store.com website is relatively easy to follow with a modern design.
In reality, Proxy-Store.com seems to have the substance to take on top premium proxy service providers. However, we can only make this opinion once the features, pricing, and other factors have been extensively reviewed.
Proxy-Store.com Features
Proxy-Store.com is not shy of mentioning its features. You will notice that the website is quite comprehensive and has a lot of information. However, this does not change the fact that the location support is poor.
Proxy-Store.com offers proxies in just 36 countries, which is a fairly modest number considering some providers offer up to 195 locations. Also, the website does not mention how many IPs it has in its pool nor how it governs its network. This is quite odd and implies that the figures may turn some customers away, which is why the provider has kept them private.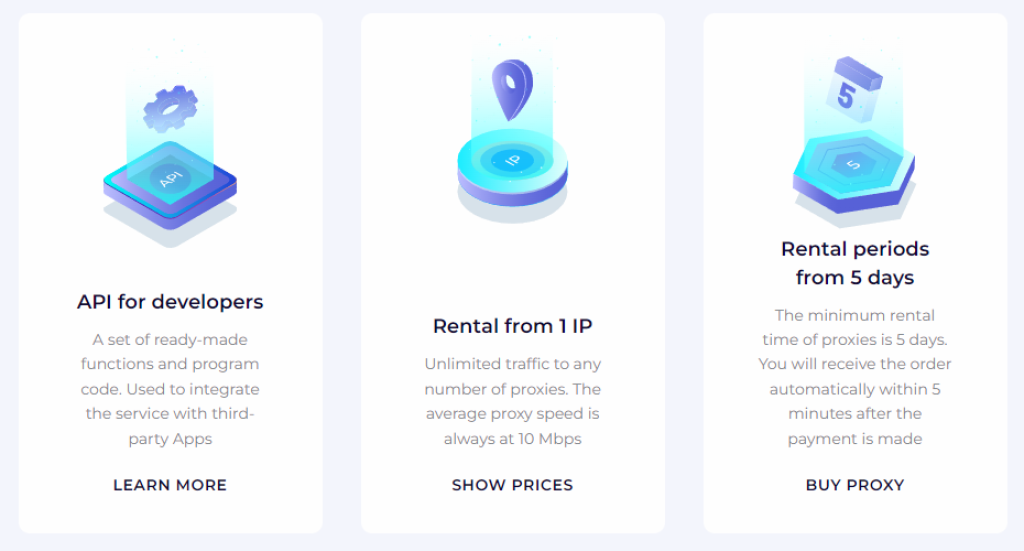 Types of Proxies
As mentioned earlier, this provider does not categorize its proxies as residential or datacenter. Instead, the proxies are divided based on the intended use, meaning they have been fine-tuned for optimum customer experience.
Accordingly, you can get proxies for gaming, social networks, other purposes, any other website, and finally, shared proxies. Evidently, Proxy-Store.com has optimized its servers for some of the most in-demand applications, which is a genius move.
You can also get rotating and sticky IPs, meaning the scope of use for these servers is diverse. Finally, Proxy-Store.com offers dual authentication for all the packages except shared proxies. You can authenticate using your username/password or IP whitelisting.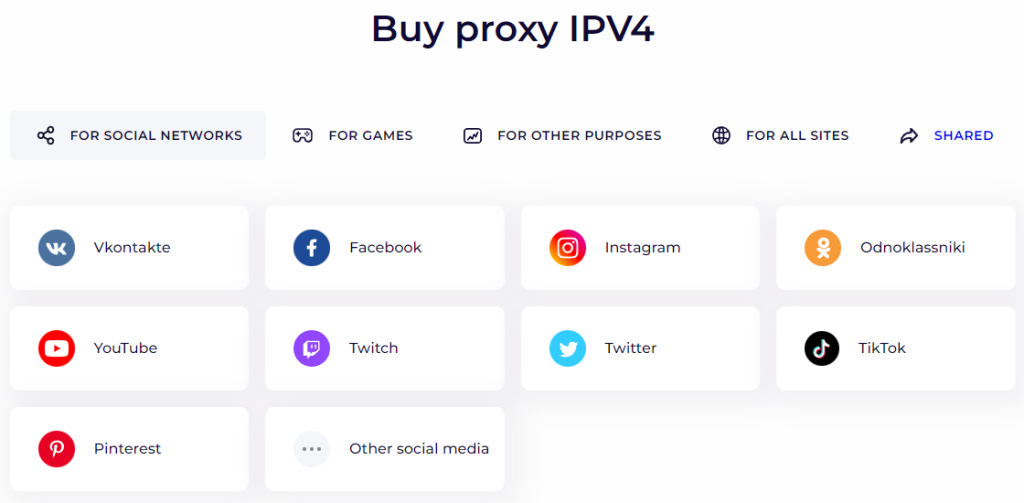 Proxy-Store.com Proxy Speed and Performance
Proxy-Store.com does not give any guarantee of the speed of the services. But given their packages' high-level technology and comprehensive nature, we expect these proxies to deliver optimum performance.
However, you should remember that proxy speed is influenced by several factors, including your ISP's bandwidth limitations, location, and physical distance from the servers you're communicating with. Therefore, a slight drop in speed is expected due to the rerouting action of the proxies.
Additional Tools
Proxy-Store.com has several tools designed to make the proxy experience smooth. Very few providers have the same or similar extra packages you can get from Proxy-Store.com.
The first and arguably most important is the API for developers. Next up is the proxy checker, which allows you to verify the validity and functionality of the proxies. You can also get the "Whois" tool, which allows you to check different domains.
Additionally, you can get the port scanner, which helps check for open ports. Lastly, you can get the IP address detector to check different IP addresses.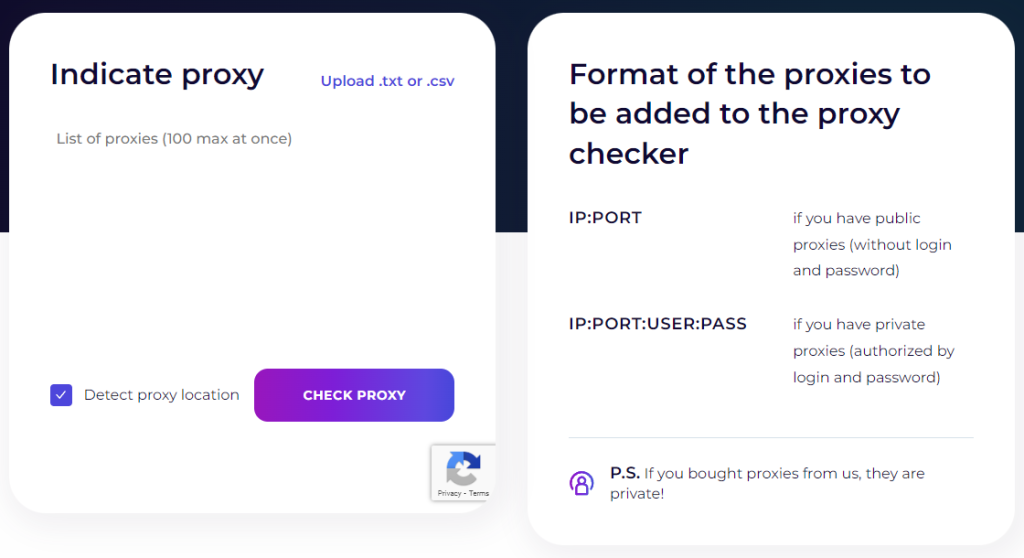 Purchase Simplicity
The Proxy-Store.com website is relatively easy to follow and has one of the most impressive designs on the market. We tested different sections, and everything was working perfectly. Therefore, you should have an easy time using the site.
Purchasing a proxy from the website is a fairly easy process. All you need to do is navigate to the proxy catalog, where you will see a list of the available packages. From there, all you have to do is provide your email address, rental period, and the number of proxies you wish to purchase.
Proxy-Store.com Pricing
The pricing at Proxy-Store.com is quite reasonable and can work for small-time users as well as enterprise clients. You should note that the pricing will be determined by the type of proxy you use. Moreover, the website allows you to customize your proxies before purchase, where you can specify the number of proxies and the rental period.
On the flip side, Proxy-Store.com lets you test the proxies for 24 hours, after which you can request a refund if your needs are unmet. While including the money-back guarantee is a good feature, it is quite unfortunate that it only lasts 24 hours. Finally, the website seemingly does not offer a free trial for the services.
You should note that Proxy-Store.com has strict guidelines under which it issues refunds. The first is the 24-hour timeline. Next, the user should have purchased no more than 10 proxies, which is quite odd. Finally, it has specific payment methods under which it issues the refunds.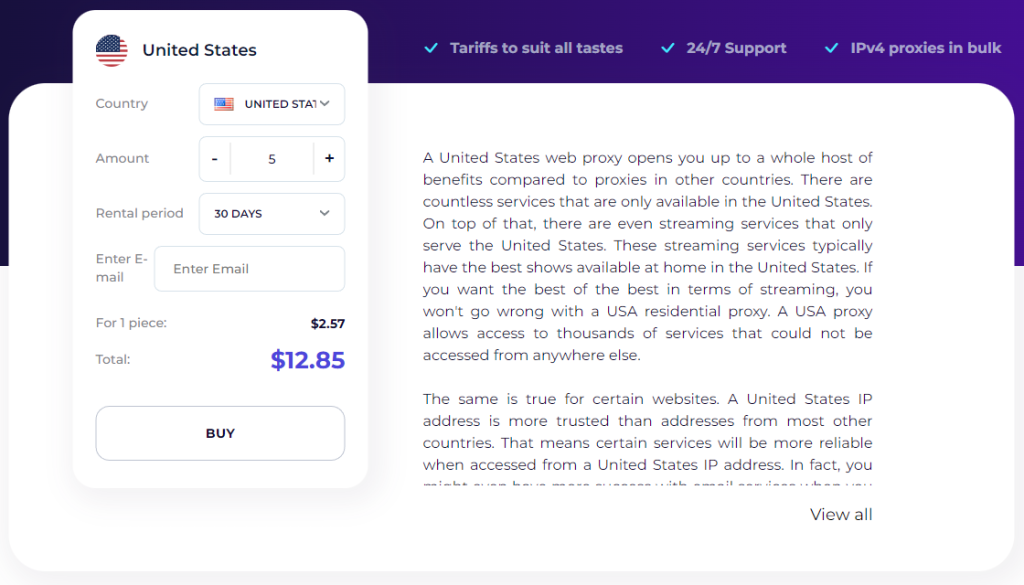 Proxy-Store.com Discounts
Proxy-Store.com has periodical running discounts for its customers. The company posts these discounts on social media and other channels. You can also use coupons to get special discounts on the site. Finally, the website offers bulk order discounts where the price per proxy decreases as you buy more and more proxies.
Proxy-Store.com is among the few companies that offer comprehensive discount packages for customers. Such incentives are the perfect marketing strategy for attracting and retaining customers and could have played a pivotal role in building a positive company reputation.
Is Proxy-Store.com Legit or a Scam
Proxy-Store.com is a legitimate company with a stellar reputation online. It has a Trustpilot rating of 4.7 stars, which is beyond impressive. Such stats prove that most customers are generally satisfied working with the company, and the service delivery meets customer expectations in most cases.
Customer Support
The customer support system at Proxy-Store.com is beyond impressive. The website has a live chat feature which we used to talk to customer support. An agent was with us in just a few minutes and politely answered our questions. You can also contact the support agents via the email address provided on the website.
Can You Earn Money With Proxy-Store.com?
Proxy-Store.com has one of the most comprehensive referral systems on the market. The website provides a referral link and coupon code for users interested in the service. Once you refer customers, they get a 5% discount from the coupon code, and you get a 20% payout from their order.

Proxy-Store.com Pros and Cons
From our analysis, we noticed that Proxy-Store.com has areas where it shines and others where it does a fairly poor job. That said, we have summarized these factors in the pros and cons list below:
Positive
SOCKS5 support
Great customer support
Comprehensive service structure
Dual authentication support
Final Verdict
Proxy-Store.com seems to have done an excellent job of delivering quality service to its clients. The customer reviews allude to a high-performing provider with a knack for exceeding customer expectations.
The packages are comprehensive and reasonably priced. Moreover, the company introduces periodical discounts, which keep the customers satisfied. Hence, we can confidently conclude that the Proxy store is safe to use and the service is worth your money.
Ratings
Proxy-Store.com Alternatives
Needless to say, Proxy-Store.com is a top-tier proxy service provider. Still, there are other companies with similar and even better functionality. Here are a few alternatives to consider:
MarsProxies is the perfect alternative for sneakerheads. It has over two million private sneaker IPs and a stellar online reputation, implying that its service delivery is perfect.
Despite being a fairly new provider, AstroProxy has proven to be a reliable company with exceptional service. It has over a hundred thousand daily and one million monthly IPs.
SmartProxy is famous for its quality rotating proxies. Despite being a relatively new provider, it has quickly risen above the ranks to become one of the most preferred proxy providers.
FAQ
Is Proxy-Store.com legit?
Proxy-Store.com is a legitimate company with a stellar reputation online. It is known for quality proxies and excellent customer service.
Is Proxy-Store.com affordable?
Proxy-Store.com is one of the few affordable top-tier proxy service providers. Its service is tailored to small-time users and enterprise clients.
Can I get banned from Proxy-Store.com?
Proxy-Store.com does not tolerate illegal activities. Hence, you must be careful and stick to the regulations stipulated within the terms of service.