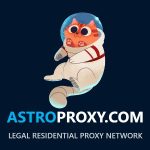 Astroproxy is a Russian proxy provider established in 2017. It offers a good variety of proxies, including residential, mobile, and datacenter proxies. Although it's been here for four years, it didn't become as popular as most of its competitors despite the low prices.
That's why we've decided to review Astroproxy and help you figure out if you should go with this relatively cheap proxy provider or look elsewhere.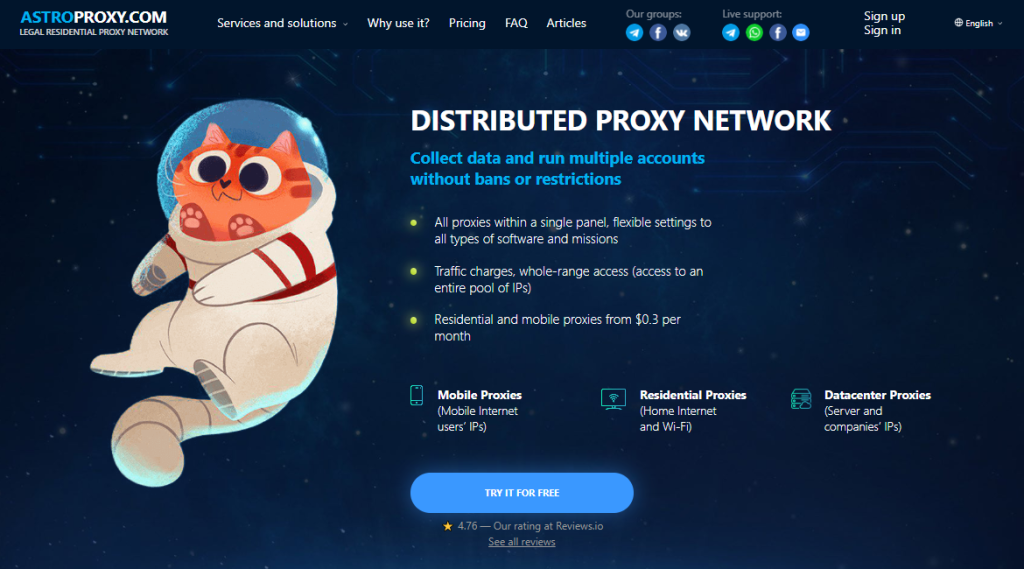 Astroproxy Introduction
Astroproxy has been selling residential, mobile, and datacenter proxies for over four years. It's a low-cost proxy provider known for its flexible price options, which is why many proxy users consider it for their proxy needs. Some users say it has the most flexible packages of all companies in the market, but we'll get into that a bit later.
The provider sells legitimate IPs from countries worldwide, but the number of supported countries is a bit limiting. So when compared to most proxy providers, Astroproxy doesn't have the best location coverage.
On the good side, it has an interesting free trial that will convince you to try its proxies and see how they work. Also, it won't let you lose any unused traffic as it gets carried over to the next month as long as you continue the subscription. On top of that, its proxies are compatible with any OS and software and are charged by the amount of traffic used.
You can use them for price comparison, data parsing, data aggregation, ad verification, ad placement, multiple accounts management, SEO content compliance, copyright protection, SEO ranking, market research, etc.
The company has many satisfied customers around the world, but we've found a few proxy reviewers saying Astroproxy is definitely not the fastest provider on the market.
So, let's learn more about Astroproxy.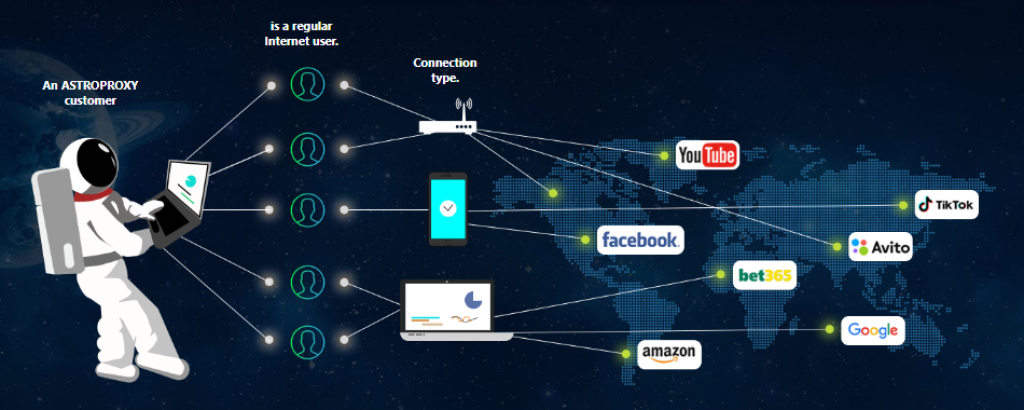 Astroproxy Features
The best way to start reviewing any proxy provider is to look into its location coverage, size of the proxy network, and source of proxies.
You'll be surprised to find out how many proxy providers rely on illegally-sourced IP addresses, some of them even more popular than Astroproxy. But with this brand, you have nothing to worry about as it has a legal P2P residential proxy network that provides ethically-sourced IPs. This practice is very important because it means you'll be using IPs with the minimum risk of account restrictions and bans.
In terms of location coverage, it does have worldwide proxies, but its servers are placed only in 12 countries, including Canada, the US, Germany, France, China, Russia, and Ukraine. Although this is a nice variety of locations, it can still limit some users.
Astroproxy gives you access to its entire proxy pool with about 100,000 available IP addresses daily or one million unique IPs monthly. Compared to other brands in the industry, the Astroproxy proxy pool is small to average in size but still enough for most proxy tasks.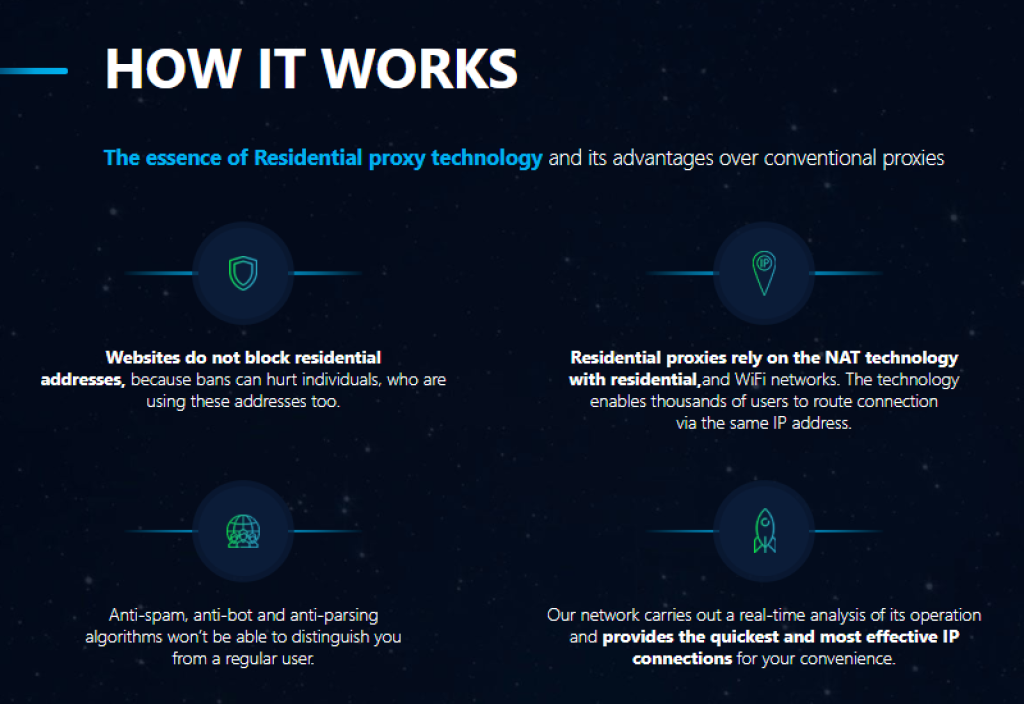 Types of Proxies
Astroproxy has three main products: residential, datacenter, and mobile proxies. The company has ensured each visitor to the site understands the purpose of each type of proxy so they can better decide the one they need.
The residential proxies are considered the most secure and private type of proxy because they belong to residential internet users and are provided by genuine internet service providers. This makes them highly trusted by sites and services, which minimizes your risk of bans.
With Astroproxy residential proxies, you can target countries, cities, and ISPs. These advanced targeting options will make them even more secure and reliable, as well as perfect for multiple account management, advertising, data parsing, etc.
Mobile proxies are IPs belonging to real mobile phones or mobile IT users. They are the most trustworthy proxies of all because of their nature to rotate during the day. With Astroproxy, you can choose between traffic options, parameters, and IPs with provider, country, and city-specific proxies. This will make them even more secure and private.
This provider obtains its rotating mobile IPs from its own pool of users. You can use them for multiple account management, advertising, SEO, and any other task that requires high online anonymity.
Datacenter proxies are IPs obtained from physical or virtual servers housed in datacenters. That's why they are the fastest proxies but also the least secure. What's great about Astroproxy is that it tests and selects datacenter IPs before registering them with a proxy server.
Also, no datacenter IP is shared with multiple users, so you can rest assured you're the only user of your Astroproxy datacenter IPs. You can use them for tasks that require an average level of anonymity and security.
All Astroproxy proxies are rotating, allowing you to change your IP every 30 seconds. You can enable IP rotation at a specific time or upon request. This provider doesn't offer static proxies, which is a flop. Also, it doesn't allow you to switch between countries once you make a purchase.
It supports both IP authentication and username/password authentication, as well as HTTP(S) and SOCKS protocols.

Astroproxy Proxy Speed and Performance
Proxy speed is a crucial factor when selecting your provider. No matter the purpose of use, we all want fast proxies and low ping that will help us do our job as fast as possible.
If you look at Astroproxy site, you won't find much information about the proxy speed. Basically, the company says it has the fastest proxy network in the industry but doesn't reveal the speed you should expect when using its proxies.
That's why we've contacted the Astroproxy support team and asked them if they could tell us more on this topic. This is what they said: "We have speeds of up to 5 megabits on our channels. If it's lower, usually changing IP helps."
Although 5 Mbps is not impressive, and as some other proxy reviewers say, "Astroproxy proxies are slow but work," almost all customer reviews we've found on the internet are positive in terms of Astroproxy proxy speed.
So we guess it depends on the specific use. Astroproxy proxies would probably be slow for you if you need proxies for tasks requiring high speeds. But if you need them for everyday proxy tasks like data aggregation, ad verification, etc., they would be just fine.
A good thing about the proxies from this provider is that they have 99,9% uptime which means they should be up and running for a long time. But this is expected considering the fact that the company has a legal P2P proxy network that relies on ethically-sourced IPs.
Additional Tools
Most proxy providers offer an additional tool such as a scraper, proxy speed checker, or API. Astroproxy has a useful API that allows you to switch external proxy addresses without changing the settings in your OS. This is particularly useful for software developers.

Purchase Simplicity
If you want to purchase Astroproxy proxies, you'll first need to try them for free. If you go to their page, you'll see there are no plans for any type of proxy. Instead, you have to choose the free trial of the desired proxy type for which you have to register and wait for the support team to give you access to free testing.
Although this may sound confusing, it's really not. Giving you a chance to try its proxies for free before buying them is an excellent strategy to convert you into their loyal customer. Once you make the order, you'll get instant access to your proxies.
The dashboard is a bit outdated but not too complicated to use. What's really great about it is that it shows you the amount of traffic used aside from all the information about your proxies. All this makes Astroproxy a good option for both new users and veterans in the field.
Astroproxy Pricing
We've already mentioned that Astroproxy is an affordable provider with very flexible price options, but now we'll explain why. Let's start with the pricing structure.
This provider has no pricing plans for any type of proxies, unlike most competitors. Instead, you create your own package based on the type of proxy you need, the amount of traffic you intend to use, or the number of ports per month.
But, how to know how much traffic to order?
That depends on your needs which is probably one of the reasons why Astroproxy gives you a free trial. If you run out of traffic before the end of the month, you can get more, which is as easy as a click of a button.
The best part is that at the end of the lease period, any unused traffic will go to the archive, and if you update it to the minimum amount of traffic, they will add it to what you already have. This means you won't have to lose any unused traffic as long as you continue to be an Astroproxy customer.
Although the site shows you the amount you have to pay per one GB for each type of proxy, you can't order less than 100 MB and more than 300 GB. The site automatically calculates the price you have to pay based on your chosen features.
You can get 1 GB residential proxies for $7 and 1 port for $0.27, which is cheap. So, the minimum order of 100MB residential proxies will cost you $0.69.
If you want mobile proxies, 1 GB costs $13, and 1 port costs $0.27. The minimum order of 100MB mobile proxies will cost you $1.25.
And for datacenter proxies, you'll have to pay $3 for 1GB traffic, and $0.27 per port. The minimum order of 100MB costs only $0.35.
As you can see, Astroproxy is more than just an affordable proxy provider – it's a cheap one!
The provider offers a "pay as you go" system as well, allowing you to pay only for the amount of traffic you spend. This is the plan with unlimited traffic but every MB paid this way is more expensive than when ordering a traffic package.
Besides the fantastic prices, Astroproxy gives you a free trial which is a bit different than those offered by other companies. The company gives you $2 to create the perfect proxy package for your trial needs that will last depending on the test period specified in your order. To access the free trial, you need to contact the support team.
On the other hand, the company doesn't have any refund policy, which shouldn't be a big deal because of the great free trial. But, it doesn't accept USA credit cards which is a big downside.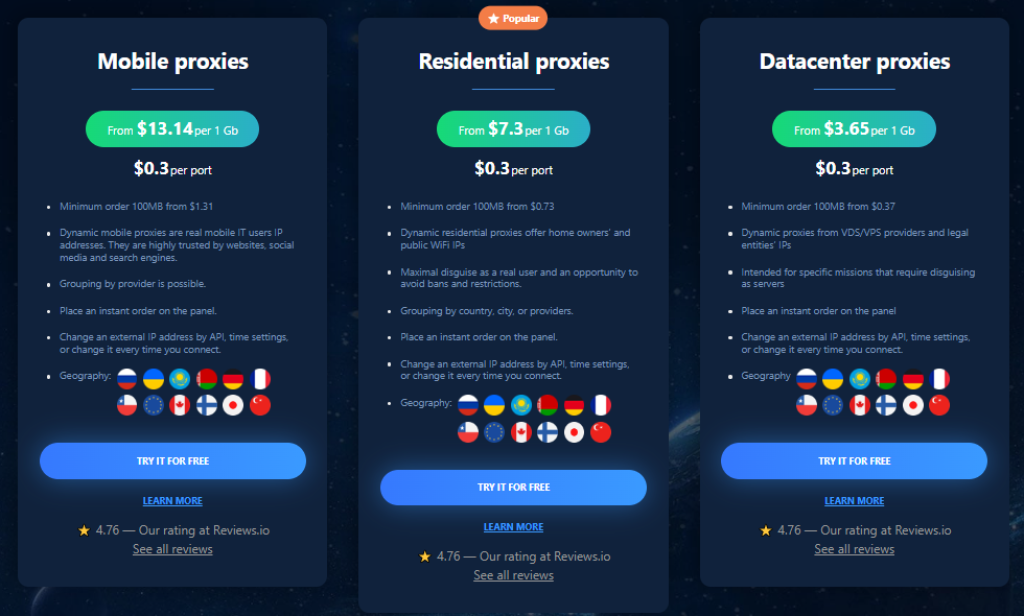 Astroproxy Discounts
Astroproxy gives you a 5% discount on your first purchase, which is not something many proxy providers do. In fact, if you follow the provider on social media, you'll see it often offers discounts, which is something to keep in mind if you plan to become a customer.
You can also find promo codes on the internet that allow you to get its proxies even cheaper.
Is Astroproxy Legit or a Scam?
Astroproxy is a legitimate residential proxy provider that offers a variety of proxies. There are plenty of satisfied customers on the internet and only a few that didn't have a good experience with them, which is relatively common for any company. So, nothing big to worry about.
Customer Support
Astroproxy has great real-time support through multiple channels, including Telegram, WhatsApp, etc. Its customer service is fast and helpful and praised all over review websites. When we tried to reach them on Telegram, an agent responded within a few minutes, which is excellent.
You can also contact them via email, Facebook, or VK. Also, it has a detailed FAQ page which should give you plenty of information about its service. On the downside, the site lacks live chat support, so that's something they can work on in the future.
Can You Earn Money With Astroproxy?
This company has a referral program that allows you to earn money from each new user you'll bring to them. You'll get a commission from every payment made by any new user brought to the platform through your personal link.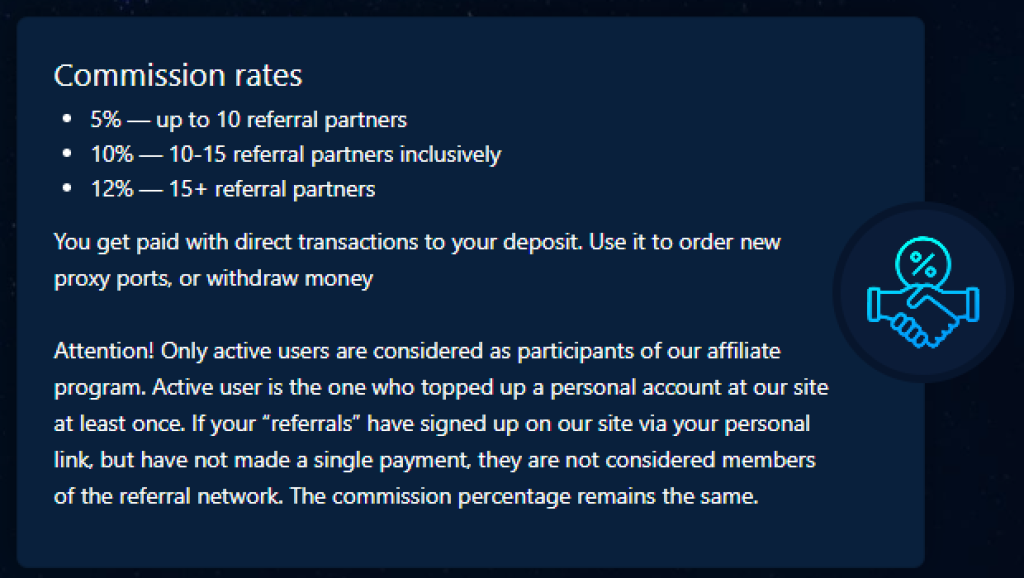 Astroproxy Pros and Cons
Here are Astroproxy's major strengths and weaknesses in one place so you can better decide if this is the right proxy provider for you.
Positive
Ethically-sourced proxies
A good variety of proxies
IP rotation
HTTP(S) and SOCKS support
IP authentication and username/password authentication support
Compatible with any OS
High uptime
API
Flexible payment options
Cheap proxies
Free trial
Traffic rollover as long as you continue the subscription
Discounts
Great customer support
Instant access to proxies
Dashboard showing the amount of traffic used
Referral program
Negatives
Limited location coverage
Small proxy pool
Decent speed
No static proxies
No refund policy
No live chat support
No USA credit cards support
Final Verdict
Astroproxy is a great proxy provider if you need cheap residential, datacenter, or mobile proxies for tasks that don't require fast speeds. It has a good free trial and flexible payment options, so you can create the perfect plan for your proxy needs and budget.
On the other hand, if you need static proxies from locations other than the 12 countries it supports, you better look elsewhere.
Ratings
Astroproxy Alternatives
Having a few more options in mind is always a good idea, so here are three more proxy providers to consider:
IPRoyal – unlike Astroproxy, this company has legally sourced and fast static residential proxies from locations all over the world.
Oxylabs – unlike Astroproxy, this proxy provider has over 100,000 static residential IPs that support all protocols.
Bright Data – this brand has a massive pool consisting of legally-sourced IPs, including static residential proxies from worldwide locations.
FAQ
What payment methods does Astroproxy support?
Astroproxy accepts almost all payment methods, including credit cards, PayPal, Apple Pay, Qiwi, and cryptocurrencies. However, it doesn't accept USA cards.
Do Astroproxy proxies work with eBay and Craigslist?
Yes, Astroproxy proxies work with eBay and Craigslist. The provider recommends using their residential or mobile proxies with city-level and ISP-level targeting to minimize your risk of bans.
What kind of traffic does Astroproxy charge?
Astroproxy charges either the downloaded or the uploaded traffic, depending on which one is bigger. So if you have uploaded more data than downloaded, the provider will count and charge only the uploaded traffic.