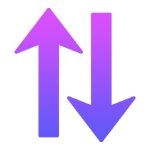 Airproxy is a mobile proxy provider based in Italy. It sells only 4G mobile proxies for social media automation and management. While its proxies are known as the cleanest ones on the mobile proxy market, they are very expensive.
So the question is, are Airproxy proxies worth buying? To make the right decision, you first need to know a bit more about this provider, which is why we'll review it here.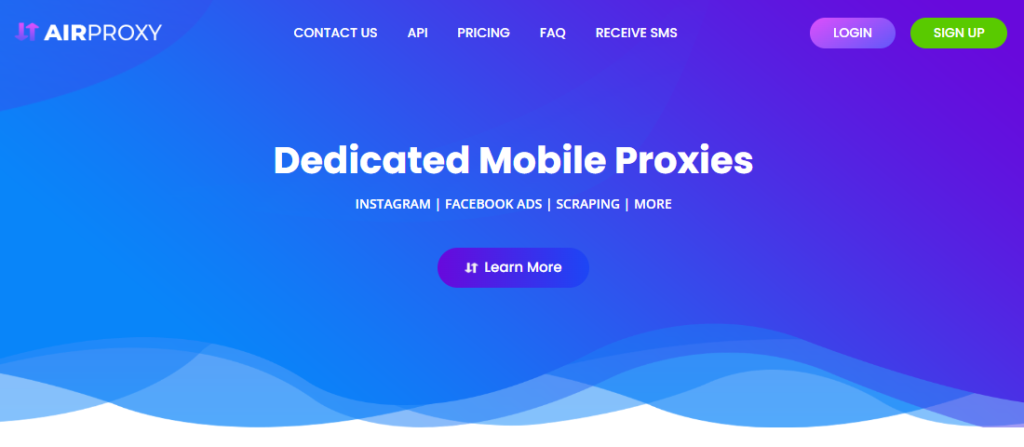 Airproxy Introduction
Airproxy is an Italian proxy provider that sells mobile proxies. It's a business that focuses on providing 4G mobile proxies for Facebook ads, Instagram bots, and data scraping.
What sets Airproxy apart from other mobile proxy providers is the use of a dedicated SIM card for each subscription. This makes its proxies a lot cleaner than those provided by its competitors. Plus, the company owns its network and doesn't share it with other companies, which results in faster proxies. They also come with unlimited bandwidth and automatic IP change.
However, the location coverage is limited, and the proxies are very pricey. So this is where it gets tricky. Should you pay significantly more for Airproxy proxies for your social media automation or data scraping needs, or go with a cheaper alternative? Let's find out by exploring the Airproxy's features.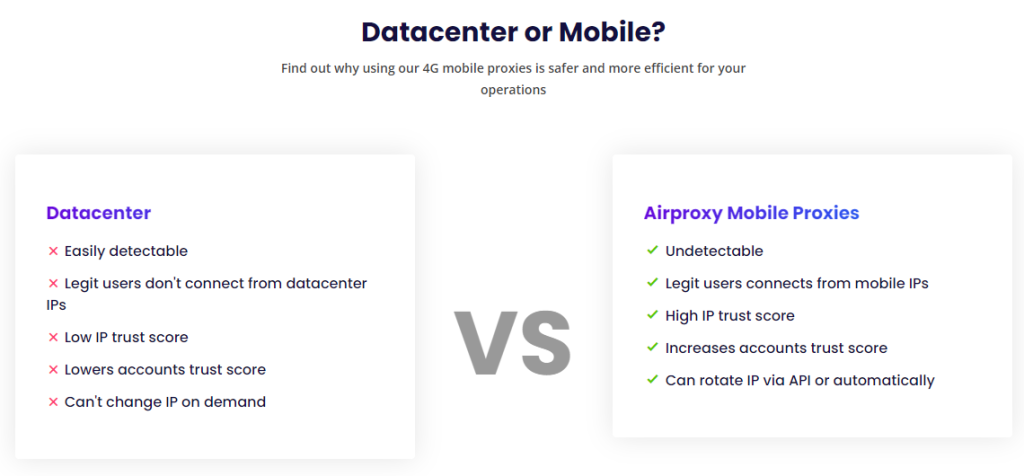 Airproxy Features
Before subscribing to any proxy provider, you must find out how it obtains the IPs in its proxy pool. A lot of companies make use of shady means to build their proxy network. This is not what any proxy user would want, as it'll probably lead them to restrictions and bans.
With Airproxy, you can rest assured you're using 100% clean and safe IPs that have never been used before. Unlike other legitimate providers that obtain their proxies through P2P networks, this one owns all the infrastructures it uses. Airproxy dedicates its own modems and SIM cards to each customer, so it has full control over its network. This means safer proxies and higher speeds.
Another important feature to look at is location coverage. This is where Airproxy disappoints because it covers only Italy. It only has Italian proxies, which is a big flop as many users want proxies from other specific countries in the world. And this is why most proxy providers have a worldwide presence.
However, the limited location coverage may not be such a big problem if you need proxies for social media automation because of Airproxy's own modems and SIM cards. Social media sites like Facebook and Instagram don't tie down accounts with a specific location. This means you can use Italian IPs for your social media automation tasks no matter your geographical location and without worrying about bans.
Another thing you should consider is the proxy pool size. While some companies boast massive proxy pools consisting of millions of IPs, Airproxy doesn't give any information about the number of IPs in its pool.
That's why we've contacted them and found that they have 1,500 modems/proxies. Although this may seem like a small number compared to its competitors, the dedicated SIM card with each proxy can be seen as compensation for the small proxy pool.

Types of Proxies
This proxy provider sells only one type of proxies – 4G LTE mobile proxies. But focusing only on one type of proxy has turned out to be a good thing for Airproxy because it provides 100% clean and fresh IPs with 0% spam and fraud score.
The company gives a dedicated SIM card and modem to each customer, so you won't be sharing your SIM card or your proxy with anyone else. The site has a "Receive SMS" page that allows you to get an activation SMS on a virgin Italian mobile number for services such as Facebook, Eurobet, Gmail, Betflag, Microsoft, Goldbet, Payoneer, PayPal, Netbet, Telegram, Twitter, YouTube, WhatsApp, etc. You also have the option to reuse a mobile number you've already used.
Airproxy's mobile proxies come with limitless and automatic IP rotation, which is crucial for managing multiple social media accounts because it provides you with as many IPs as necessary to avoid account bans.
All proxies can rotate the IP address at specific times, at a custom interval, or by clicking the "Change IP" button. You can also use Airproxy's API to change the IP every time you load a particular link. The company, however, doesn't have static mobile proxies.
As a paid proxy provider, Airproxy protects you against unauthorized use by requiring you to authenticate with a username and password before using your proxies. Unfortunately, this is the only authentication method it supports, which means no IP authentication support.
In terms of protocols, the company supports both HTTP(S) and SOCKS protocols.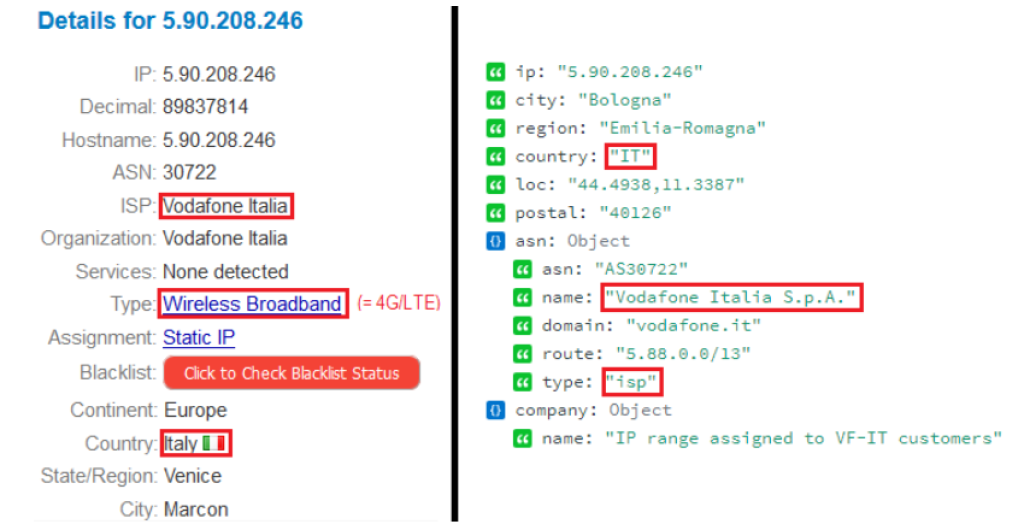 Airproxy Proxy Speed and Performance
You won't find anything about the speed of proxies on the Airproxy site. But, we've found that when using its proxies, you'll hardly experience timeouts, network errors, blocks, or CAPTCHAs, resulting in a fast and smooth proxy usage. This is probably due to Airproxy's in-house technology and the control it has over its infrastructure.
The proxies come with unlimited bandwidth, so you won't have to worry about reaching any upload or download limits. The fact that so far, no Airproxy customer has complained about the speed and performance of the proxies on review sites and online forums is definitely a good sign.
Additional Tools
Not all proxy providers have additional tools such as API, scrapers, or proxy checkers. Luckily, Airproxy has an API that will further improve and make your proxy usage easier. You can use it to change your IP address at any time or perform multiple tasks at once.
Purchase Simplicity
The purchasing process on Airproxy is rather simple. Thanks to the minimalistic design of the site, you can easily find the pricing section or page and the big green "Buy Now" button.
Of course, to buy Airproxy proxies, you first need to open an account which you can do by either clicking the "Buy Now" or the "Sign Up" button. You'll then have to leave your personal and billing details, and once you get a confirmation email, you can access the easy-to-use dashboard where your proxies will be instantly delivered.
The dashboard shows your list of proxies alongside their IP, port number, username, password, MNO, proxy expiry date, and traffic data. To use one, you just need to copy the IP as well as its username and password, and that's pretty much it.
Airproxy Pricing
Airproxy's pricing system is as simple as it can be. If you scroll down the site, you will only see one available plan, and that's it. Now, this can be both a good and bad thing.
On the good side, it's very simple. You can see the company offers you one proxy for 87€ (around $92) a month and everything that comes with it. This includes a dedicated SIM card, unlimited bandwidth, custom rotation time, limitless IP rotations, and instant delivery.
On the bad side, it's costly. Although you do get a dedicated SIM card and modem with the proxy, which you won't find anywhere else, it's still plenty of money for one mobile proxy.
So we wanted to find out how many social media accounts we can manage with one proxy for which we contacted Airproxy and got the following reply:
"There is no fixed limit on our side. It depends on the social platform itself and its limits. For Instagram, generally it's 4-8 accounts per proxy. If you use Twitter or other socials, you can run all the accounts from the different social platforms on a single proxy."
Basically, you pay 87€ or $92 for a proxy you can use to run multiple accounts on various social media platforms for a whole month. Since the proxy rotates its IP address as you wish, it'll provide you with as many clean mobile IPs as you need. So you pay a high price for high-quality IPs which won't get you banned.
Still, we must say there are many cheaper alternatives that provide quality mobile proxies, but without the dedicated SIM card provided by Airproxy.
A good thing about this brand is that it has a 3-day paid trial, allowing you to test its proxies for 72 hours at 9.90€ or $10.40. Of course, it would've been better if it was a free trial, but it's still something. There's no automatic renewal, so you can use this time without worrying you'll subscribe for a whole month if you forget to cancel the trial.
The company provides a full refund policy on the first payment within 48 hours if you're not happy with its proxy or it's incompatible with your target software. This is another plus for Airproxy!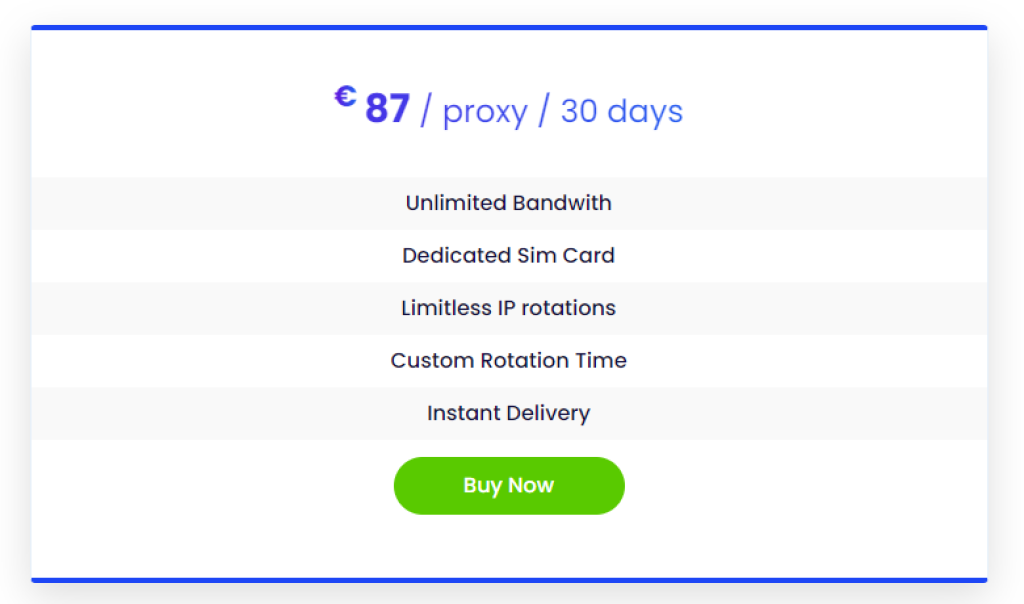 Airproxy Discounts
The company offers great discounts for bulk orders, so if you need more than one proxy, make sure you contact them and ask for one. When we asked for a discount, they said we could get one proxy for 67€ or $70.49, which is a good deal compared to the original price.
You can also find promo codes on the internet that will help you get an Airproxy proxy for a better price.

Is Airproxy Legit or a Scam?
You have nothing to worry about with Airproxy. It's a legitimate Italian company that offers 4G mobile proxies with dedicated modems and SIM cards for each customer.
We didn't find any customer complaints about users being ripped off from the provider and not getting what they paid for.
Customer Support
Airproxy allows you to contact them via Telegram or email. Generally, they respond very quickly on Telegram, so if you need to get your questions answered ASAP, make sure you choose this communication method.
We don't know whether it's a support agent or the owner itself who responds to customers' and site visitors' messages, but they are very polite, helpful, and fast.
However, there's no live chat support on the site, which is the most preferred method of communication for site visitors.
Can You Earn Money With Airproxy?
This proxy provider doesn't have any affiliate or proxy reseller program that will help you earn extra money. At least for now.
Airproxy Pros and Cons
Let's see Airproxy's major strengths and weaknesses, so you can better decide if this is the right mobile proxy provider for you.
Positive
4G LTE mobile proxies
100% clean proxies with 0% spam and fraud score
A dedicated SIM card and modem
Automatic IP rotation
Limitless IP rotation
API
HTTP(S) and SOCKS support
Unlimited bandwidth
Username/password authentication support
Fast speeds
3-day paid trial
Refund policy
Great customer support
Discounts
Instant proxy delivery
Negatives
Limited location coverage (only Italian proxies)
Poor variety of proxies (only mobile proxies)
Small proxy pool
No IP authentication support
No static proxies
Expensive proxies
No free trial
No live chat support on the site
No affiliate or proxy reseller program
Final Verdict
After reviewing Airproxy, we can conclude that it's a trustworthy mobile proxy provider that offers highly anonymous, reliable, and safe mobile IPs that come with a dedicated SIM card and modem. It's a great choice if you need Italian mobile proxies for social media automation or scraping.
However, it's probably not the best option if you're on a budget, as Airproxy proxies are very expensive. And it's definitely not an option if you need mobile IPs from locations other than Italy.
Ratings
PROS
4G LTE mobile proxies
100% clean proxies with 0% spam and fraud score
A dedicated SIM card and modem
CONS
Limited location coverage (only Italian proxies)
Poor variety of proxies (only mobile proxies)
Small proxy pool
Add your review
|
Read reviews and comments
Airproxy Alternatives
Here are a few more options to consider if Airproxy is not the best choice for your needs and budget.
IPRoyal – this proxy provider has 100,000 Lithuanian mobile IPs and a daily plan with unlimited bandwidth that gives you access to them for $7.
Soax – this brand has a proxy pool consisting of millions of residential and mobile IPs from almost every country in the world.
ProxyGuys – this proxy provider offers 4G/5G mobile proxies from 50 locations in the United States.
FAQ
What payment methods does Airproxy accept?
Currently, Airproxy accepts credit/ debit cards and cryptocurrencies like Bitcoin, Ethereum, and Litecoin. It also accepts wire transfers, but they require manual delivery.
Can you get an SMS to the number you used before?
Yes, you can use the same number as long as it's available for reuse. To request the same number, you should go to the number reuse page that can be found on the "Receive SMS" page on the Airproxy site.
Does Airproxy offer a discount for bulk orders?
Yes, the company offers great discounts if you order more than one proxy. You should contact the support team for more information.