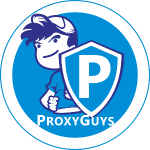 The world of mobile proxies is still fairly young, with minimal providers in the game. In fact, now is when more and more providers are looking to tap into this market for new clients, as most services are generally focused on residential and datacenter proxies.
Still, you might have difficulty choosing the best company for your mobile proxy needs as all the providers claim to offer top-tier services. The best way to know what a company truly has in store is to go through reviews and get an idea of its features.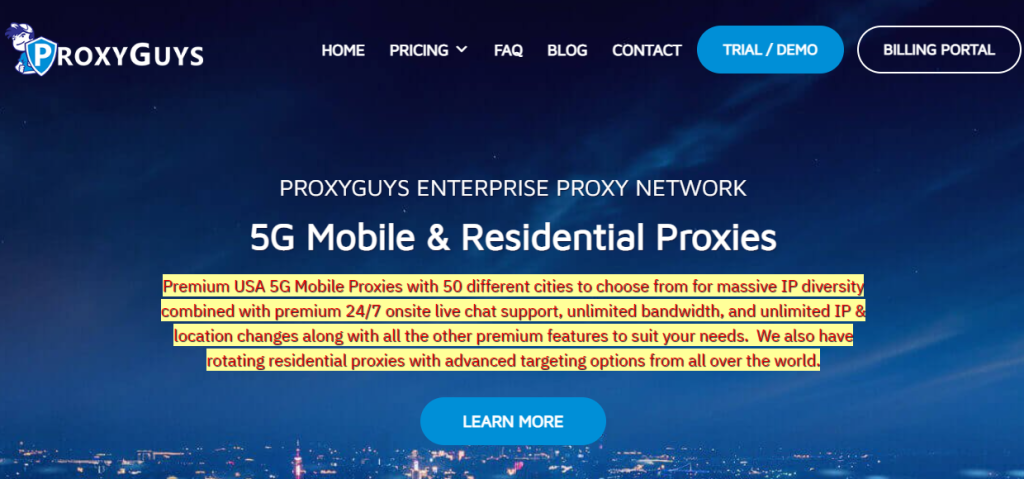 ProxyGuys Introduction
This review will dive into one of the lesser-known mobile proxy providers in the market today: ProxyGuys. Right from the company's name, you can infer that this provider has a somewhat cool and modern vibe.
The website has a premium futuristic look that is begging to be explored. Perhaps this can be attributed to the fact that this is one of the newest proxy companies in the market. At the time of this writing, ProxyGuys is barely two years old, having been introduced in July of 2019.
ProxyGuys mainly specializes in mobile proxies. While most providers focus on 4G LTE proxies, this provider has taken it a notch higher by offering mobile 5G proxies, but more on that later. The company also provides residential proxies, albeit this service is fairly new with close to a year on the market.
ProxyGuys Features
One of the most significant features of ProxyGuys is a large number of IPs in its pool. What might surprise you even more is that ProxyGuys has beat pioneers such as Luminati. Accordingly, it has more than 50 million proxies, which is beyond impressive.
However, while most providers offer proxies from diverse worldwide locations, ProxyGuys is somewhat localized, with most if not all of its mobile proxies coming from the US. The limited coverage might be a downside and an upside at the same time because the company has optimized these proxies with specialized targeting across more than 26 US locations.
ProxyGuys may not be the best fit for users who need mobile proxies from other locations. This is quite common among providers with complete control over their network instead of companies that get their IPs from peer-to-peer networks. ProxyGuys uses enterprise-grade 4G and 5G equipment from Verizon Wireless and AT&T to power its network across the US.
ProxyGuys also offers residential proxies, which is a new feature that it introduced in mid-2021. This option comes with more than 10 million IPs with access to every major location globally. The company has support for most internet service providers, which is pretty impressive given this option is relatively new.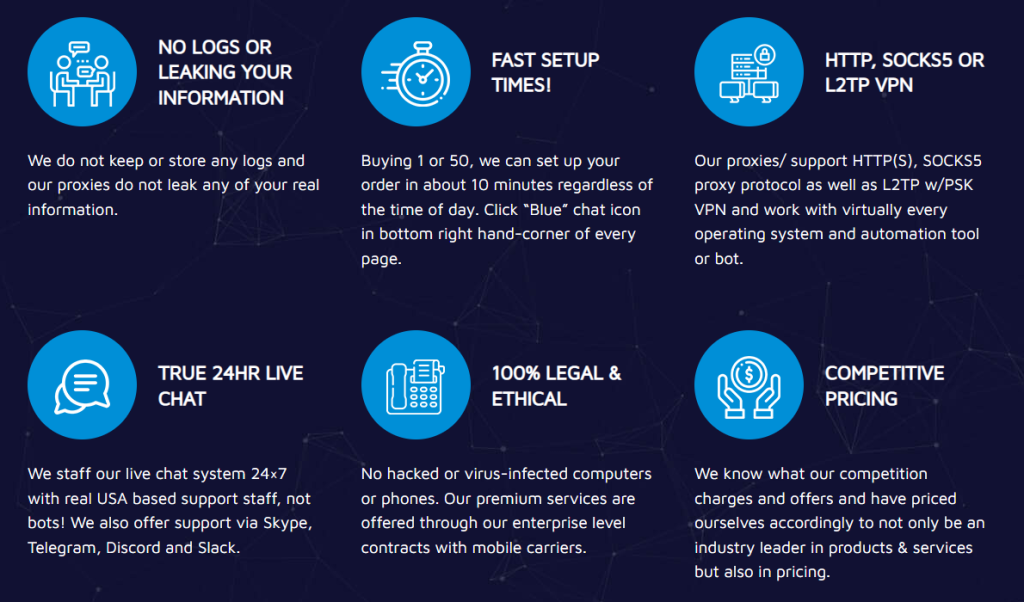 Types of Proxies
ProxyGuys is known for specializing in mobile 5G proxies that are based in the United States. All the subscription options for the mobile proxy plan include unlimited access to all their 26+ Us locations and unlimited instant IP changes. You also get access to premium unlimited bandwidth.
The mobile proxy plan also supports all major protocols, including HTTPS and SOCKS5. It also supports both username/password and IP authentication methods meaning users are at liberty to decide the authentication method that works best for them.
For the residential proxy plan, ProxyGuys offers support for both HTTPS and SOCKS5 protocols as with its mobile proxies. The company also provides sticky and randomized sessions with options to keep the same IP for 10 minutes. Lastly, the residential proxies only support IP authentication.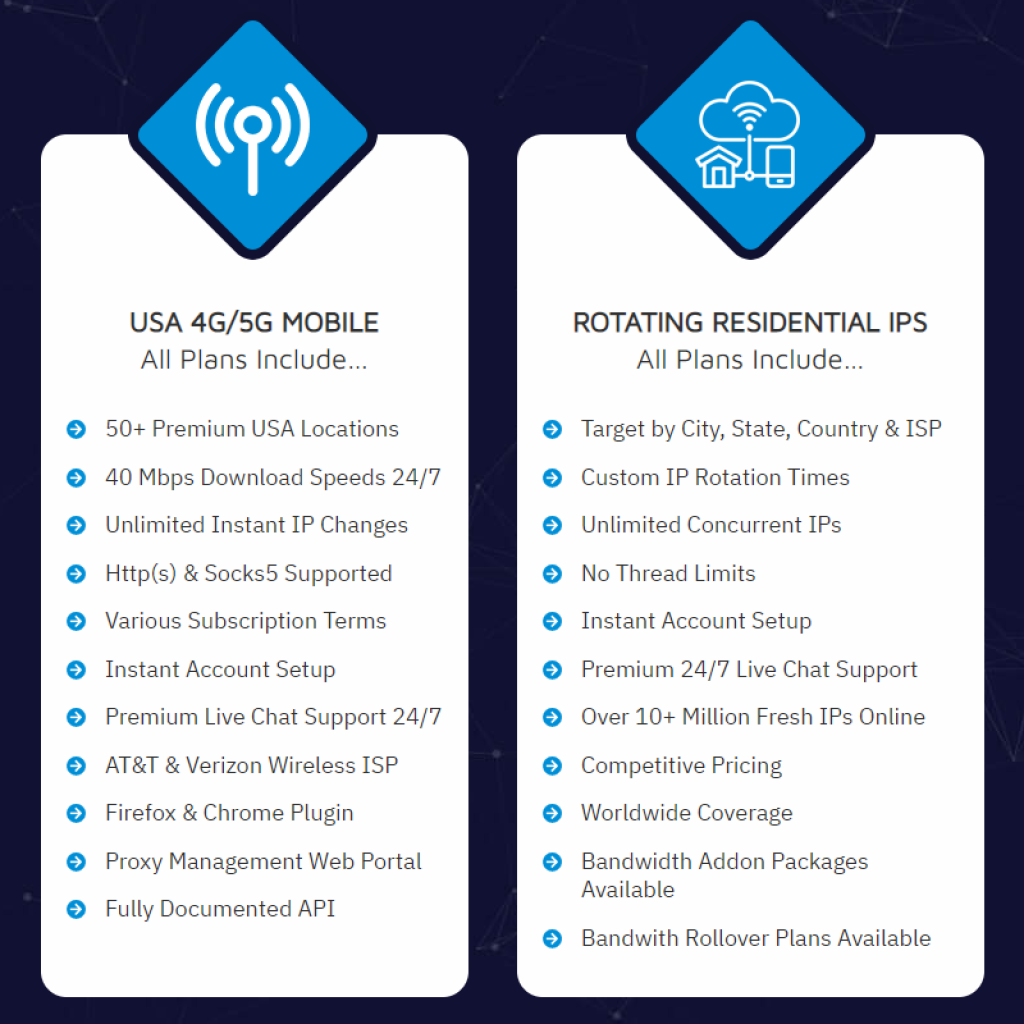 ProxyGuys Proxy Speed and Performance
Speed is one of the most important factors you should check for when purchasing proxies. You should note that a drop in internet speed when using a proxy is normal due to the rerouting and all the nodes involved. The drop's magnitude distinguishes a good proxy from a bad one.
Accordingly, the speed of proxies from ProxyGuys is nothing exceptional. We do not expect much for mobile proxies since these tools are known to be considerably slower. With an average speed of about 4 Mbps, it's far from exceptional, but still enough to complete average tasks.
The company also owns all equipment, and the proxies are all virgin and unused, translating to better efficiency. You should expect excellent success rates when using these proxies due to these factors.
ProxyGuys claims to offer new IP addresses updated daily to boost your success rate for the residential proxies. The company also claims to be connected to several internet service providers directly for more efficient IPs.
Additional Tools
ProxyGuys also offers an API tool for premium customers. The company does minimal work in advertising this software. In fact, it will probably take a long time before you get the API details from the main website, as it is only available to customers that have purchased the multi-location 5G mobile proxy plan.
The API has a wide variety of use cases and is designed to make the user experience flawless. For instance, you can use it to get a list of all the available proxies. Another impressive feature is that the API can get a list of available sites and change the current IP in a minimum of 4 seconds.
ProxyGuys also offers a free Google Chrome and Firefox plugin for subscribers. Even though the company does little to advertise this tool, it is designed to enhance customer experience. Accordingly, it allows users to change the IPs and locations from the browser easily.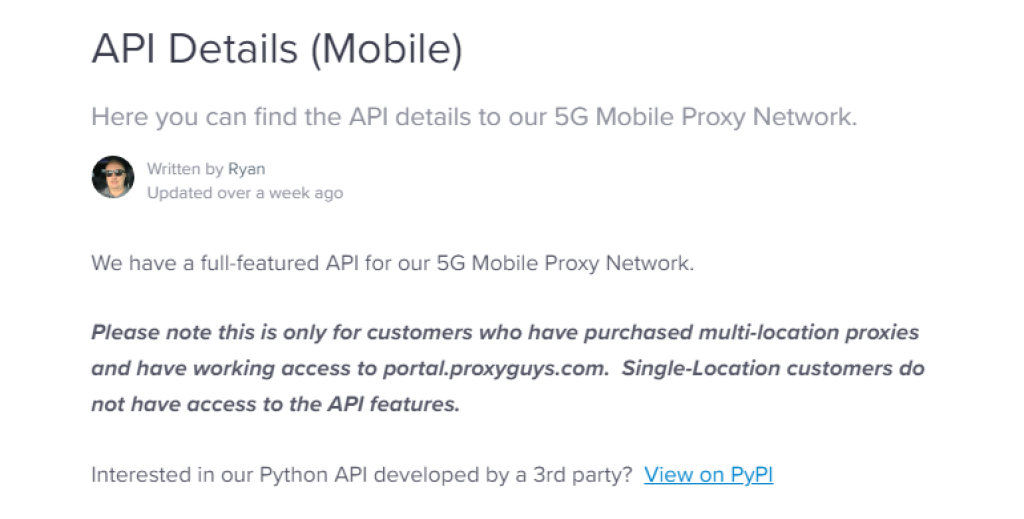 Purchase Simplicity
The order purchase process from ProxyGuys is fairly simple. Unlike other providers, there are no detours that take you on a wild goose chase for no reason. The available subscription plans are well laid out on the main website. All you have to do is navigate to what fits your liking and select the number of proxies you need.
The prices are also well presented, ensuring you know what you purchase. Furthermore, the website has done a good job of explaining the features of particular plans, which goes a long way in helping the customers during the purchase process.
ProxyGuys Pricing
Before we get into the details, you should note that ProxyGuys is not one of the cheap providers. Its services fall on the more expensive side and may not work for the average user. Instead, enterprises with high use cases are more likely to benefit from this service.
Accordingly, two major factors influence the pricing model for the proxy packages from ProxyGuys: the number of proxies and the time of use. For the 5G mobile proxies, the multi-location package starts at $20 for 24 hours for just one proxy. The single location proxy begins at $180 for one proxy that expires after one month.
The pricing increases as you increase the number of proxies and the timeline you want to use them. The rotating residential proxies have a somewhat different pricing plan since they are priced according to the bandwidth amount and rollover rollover.
The cheapest tier is the monthly 500 MB bandwidth with no rollover at $5. You are free to select the amount of bandwidth you need and whether you need bandwidth rollover, after which the system will automatically generate the pricing for you. Overall, the rotating residential proxies are far cheaper than the mobile 5G proxies.
ProxyGuys also offers users a free demo account to try out their services. While the company claims this to be a free trial, this is not the case as it has a one-time charge of $5. For the mobile 5G proxies, the company offers access to the proxies for 1 hour while it offers 100 MB of bandwidth for the rotating residential proxies. There is no mention of money-back guarantees with ProxyGuys.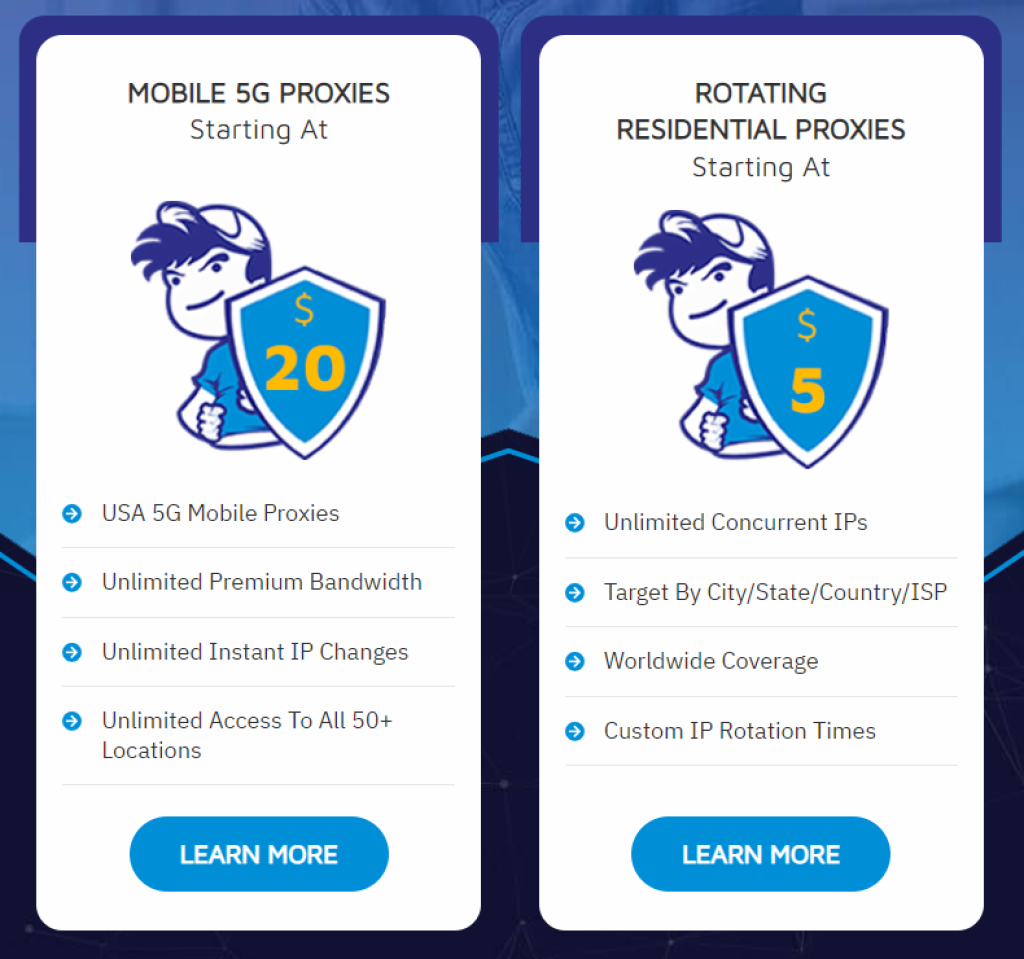 ProxyGuys Discounts
The discounts at ProxyGuys are minimal, to say the least. You will only get a discount on bulk orders, and they are not that noticeable. For instance, for the single-location 5G mobile proxies, you will only get a discount once you purchase more than five proxies for the monthly plan.
For the multi-location 5G mobile proxies, there are no discounts for the 24-hour subscription plan. However, the proxies are cheaper for the weekly plan, where a single proxy for the weekly plan goes for $80 while it goes for $20 for the 24-hour plan. It gets cheaper if you opt for the monthly plan where a single proxy is priced at $300, and the more you buy, the cheaper it becomes.
Is ProxyGuys Legit or a Scam
ProxyGuys, while it is a legitimate company, has below-average reviews on TrustPilot. With a rating of 3.2 stars, this shows that the customer service from this provider is poor. From the reviews, it seems like the company lost its grip sometime in 2022, as this was when most customers began complaining of poor service.
Most customers complain that the proxies are not working despite the high prices. The lack of a money-back guarantee has also factored heavily into the negative feedback from customers. Therefore, ProxyGuys has some work to do if it is to recover its lost glory.
Customer Support
The customer support system at ProxyGuys is impressive, given the high number of options available. The website has a live chat option where you can speak to a customer support agent in case of any issues. You can also call the support team using the phone number available on the website. Finally, you can also email the customer support team via the email address provided on the main website.
According to reviews from clients, the customer support response time was good back in 2020, but things took a turn for the worse in 2022. The response time is all over the place. Sometimes you'll get a reply immediately, and sometimes it'll take ages.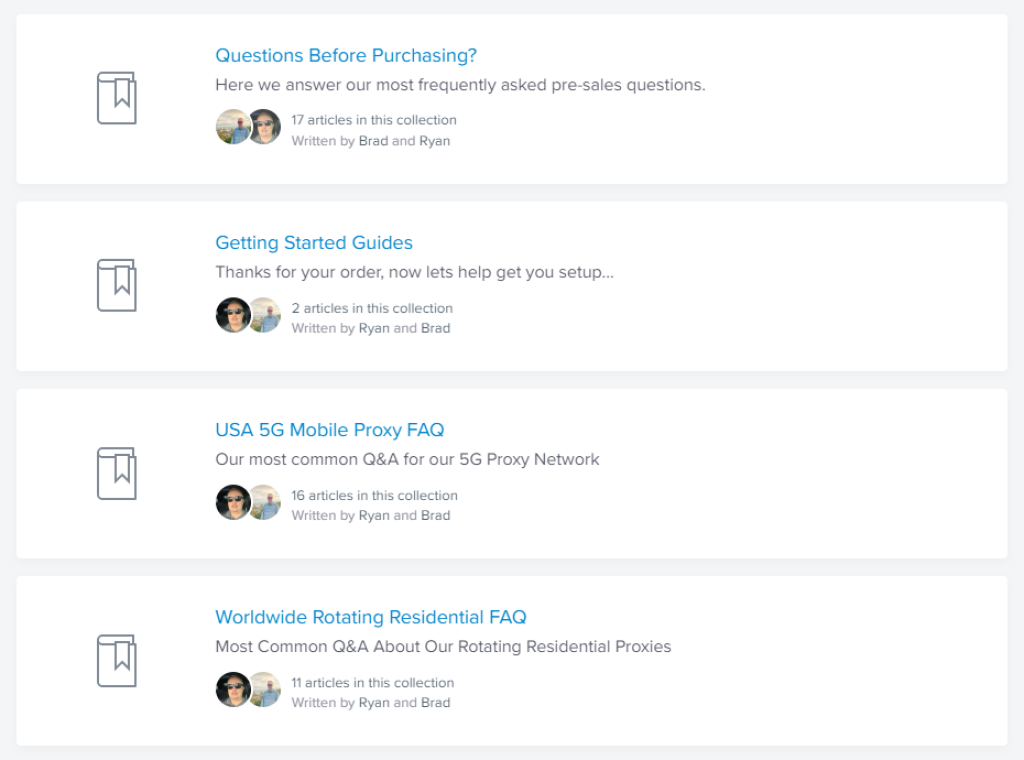 ProxyGuys Pros and Cons
ProxyGuys has several pros and cons that will make you enthusiastic about working with the company or motivate you to look for options. While the provider excels in some areas, it falls behind its competitors in others.
Positive
Large number of proxies in the United States
Complete control over the infrastructure
Easy to use
Negatives
Limited location support
Expensive
No free trial 
Poor customer support
Questionable proxies
Final Verdict
ProxyGuys is a legitimate company, but this does not mean it offers legitimate services to its customers. If anything, the company still has some work to do if it is to match the services of its competitors. Customers complain of poor service ranging from questionable proxies to poor customer support.
Furthermore, the cost of the services offered by the company is way too expensive, considering customers have complained of poor proxies that lag and fail to work. Therefore, the services might not benefit consumers since they are likely to pay for top-tier services only to get below-average service.
Ratings
Below average
Score by our metrics
PROS
Large number of proxies in the United States
Complete control over the infrastructure
Easy to use
CONS
Limited location support
Expensive
No free trial 
Add your review
|
Read reviews and comments
ProxyGuys Alternatives
It is pretty clear that while ProxyGuys has its upsides, it has way more downsides. For instance, its services are quite costly, yet customers complain about poor customer support. With this in mind, there are several options you could go for that offer way better services at far lower prices, as shown below:
Marsproxies is designed for sneakerheads. It offers affordable sneaker proxies at affordable prices with significantly better location coverage.
Bright Data is one of the pioneers in the world of mobile proxies. It has maintained its place as a premium provider with quality proxies.
This provider specializes in 4G mobile proxies, offering unlimited bandwidth with support for username/password authentication and better pricing.
FAQ
What kind of proxies does ProxyGuys offer?
ProxyGuys offer 5G mobile proxies and rotating residential proxies. The residential proxies are far cheaper than 5G mobile proxies.
Does ProxyGuys offer a free trial?
ProxyGuys claims to offer a free trial for its service. However, you will still pay a non-refundable fee of $5.
Is ProxyGuys a legitimate company? 
Yes, ProxyGuys is a legitimate company. However, the customer service has deteriorated recently.