Residential proxies are known as the most trusted and secure proxies of all. They come from real users and ISPs, making their IP addresses authentic and legitimate. Since they are harder to detect and block than other proxies, individuals and businesses use them for online activities that require high anonymity and security.
Even though you may think all residential proxies do the same job, some perform better than others. As long as you choose the right provider, they will provide you with optimal online security and enough speed while making a cost-friendly solution.
To make this easier for you, we've compiled a list of the ten best residential proxy providers on the market for 2022. But before we get into that, let's explain a few things about residential proxies because understanding them is crucial to making the right decision.
What Is a Residential Proxy?
A residential proxy is a proxy server that uses a real IP address acquired from an actual homeowner and a real internet service provider. It is attached to a genuine physical device like a PC or mobile phone on Wi-Fi, making your traffic look more human-like to the target website. In other words, the proxy uses someone else's internet-connected device as an intermediary for your connections.
Reputable proxy providers ensure their residential proxies are acquired ethically, whereby homeowners agree to participate in the proxy network in exchange for compensation. This is why residential proxies are the most reliable and secure type of proxies.
They work by assigning you a residential IP address through which all your requests are routed while keeping your original IP address hidden. This way, the target website assumes your activity is that of another legitimate user, providing you complete online privacy.
Why Choose a Residential Proxy Instead of Other Proxy Types?
Since residential proxies have IP addresses obtained from real users and ISPs, using them is a more effective way to improve your online anonymity, privacy, and security than using any other type of proxies.
They are unique and offer the highest IP trust scores, so you don't have to worry about getting detected and blocked. This is why they are preferred by anyone who wants to keep their online identity anonymous and ensure their activities are performed safely and smoothly.
Although they are a bit slower and costlier than datacenter proxies, they provide anonymity and security unmatched by any other proxy type. Providers usually control a lot of residential IP addresses, so getting the same IP twice is almost impossible. Also, they mostly offer a greater range of locations to connect from, making them perfect for bypassing geo-blocks.
Whether you're a casual internet user that wants to unblock a particular website and access restricted content, or a business user that wants to do market research, ad verification, brand protection, or web scraping, residential proxies are the ideal solution for you.
Their biggest strengths include being harder to block, having many IP addresses and locations to choose from, and being highly diverse, as they rarely share the same subnet.
Now that you know a little bit about residential proxies and how they work let's see where you can find the best ones on the market.
Full Providers Reviews
Finding the best residential proxy provider for your needs and budget can be challenging with so many available options. To help you avoid paying for proxies that won't give you the anonymity and security you need, we've analyzed numerous residential proxy providers and selected ten of them that we consider the best in 2022.
Check them out and choose the provider that has the ideal residential proxy package for you.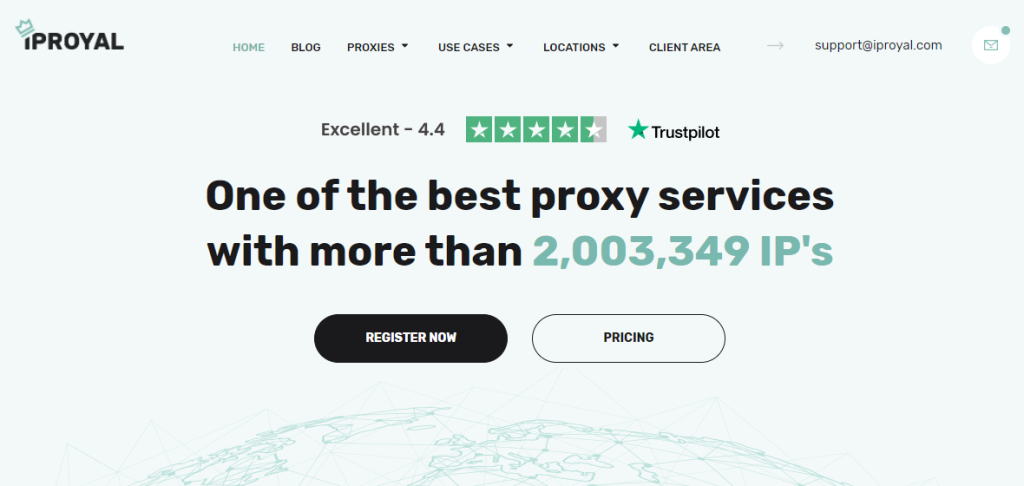 IPRoyal might be one of the youngest proxy providers on the market, but that surely didn't stop it from becoming one of the most reputable companies in the proxy industry. The company cares so much about its customers' online safety that it has developed an app that allows them to acquire and sell only ethically-sourced residential IP addresses.
Basically, the app called Pawns.app offers rewards in exchange for users' bandwidth. So IPRoyal is here to connect Pawns.app users from over 190 worldwide locations with anyone who needs an authentic residential proxy for any legal activity. This makes IPRoyal's residential proxies highly trustworthy and safe for both private and business users.
The company sells dedicated residential proxies, meaning each IP address is given exclusively to one user at a time. The proxies come with HTTP(S) and SOCKS5 support, ensuring optimal online security. IPRoyal offers city and state targeting, sticky sessions, and one of the most flexible rotation options on the market, allowing you to change your IP automatically on every new request or after a specific period.
Another great thing about this provider is the 24/7 customer support that has a lot of positive reviews. After testing the proxies to see if they are as fast as IPRoyal claims, we've ensured they have speeds of up to 10 Gbps, which is more than enough for streaming high-res movies, copping limited-edition sneakers, playing online games, scraping multiple websites, and any other online activity that requires speed. Also, they had a fantastic uptime of 99.9%, which makes them highly reliable.
One of the reasons why IPRoyal is at the top of our list is its affordable pricing. You can buy 1 GB for $4 or order more traffic and reduce the price to $0.8 per GB. The traffic never expires, so you can use it as needed.
---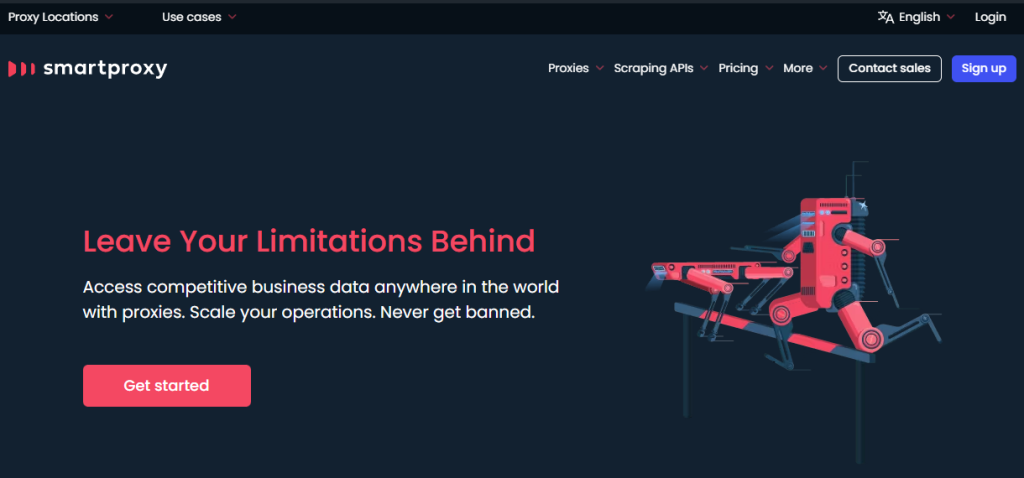 Smartproxy is a well-known provider among scraping professionals, offering reliable residential proxies and free apps, including a visual web scraper and an anti-detect browser. Its residential proxies have excellent scraping performance, allowing you to run them with unlimited concurrent sessions. This means your web scraper can access numerous pages in no time.
With over 40 million residential IPs from over 195 locations worldwide, you can rest assured that your connection and IP address will stay anonymous. The provider offers only rotating residential proxies, but you can set them to rotate automatically or keep one for longer. The residential proxies from this provider support HTTP and HTTPS connections. However, the lack of static residential proxies and SOCKS5 support are drawbacks you should consider.
Smartproxy offers many free proxy apps and advanced support tools like web scraping API, a no-code scraper extension, full-stack SERP scraping API, and eCommerce scraping API. After testing the residential proxies from this provider, we concluded they have a response rate of less than a second and high success rates. They have an amazing uptime of 99.9%, indicating their high reliability and stability.
The provider's pricing structure is based on the amount of bandwidth, and the proxies are affordable. It offers regular monthly subscriptions, a pay-as-you-go plan, and 24/7 customer support with a live chat option.
---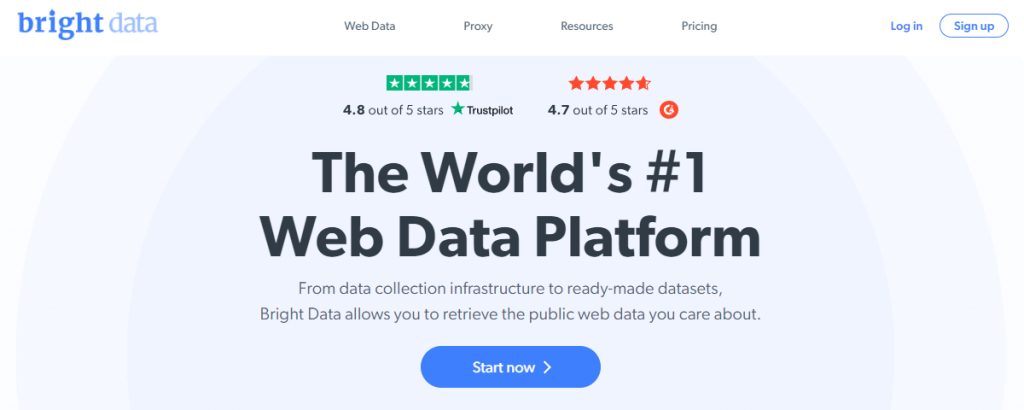 As one of the most popular proxy providers in the world, Bright Data has ethically-sourced residential proxies used mostly by business customers. It boasts a vast proxy pool that includes over 72 million IP addresses obtained from real users in over 195 countries worldwide. This allows you to bypass even the most complex website restrictions and collect massive amounts of public data completely anonymously.
Bright Data has sought consent from the IP address owners before selling them to businesses. The company uses its free Hola VPN to acquire its residential proxies ethically. This is what makes its proxies highly reliable.
The residential proxies from this provider support HTTP(S) and SOCKS5 connections and sticky and rotating sessions. They also support country, city, state, and ASN targeting. Bright Data offers a variety of tools to help you use the proxies to the fullest. Some of them are Web Unlocker, custom API, browser extension, and a Proxy Manager that adds some great features like SSL decryption and intelligent routing.
With an uptime of 99.9% and a low failure rate, you can rest assured that Bright Data's proxies are highly reliable and stable. The provider supports unlimited concurrent sessions and dual authentication. All this makes them ideal for web scraping, web crawling, brand protection, etc.
The pricing structure is based on the amount of bandwidth, so ordering only one GB can cost you $15, which is more expensive than some providers. On top of that, the prices go higher if you choose dedicated IP addresses and city-level targeting. However, you can get a better deal if you order more bandwidth, and there's a free trial for business users. Besides the pay-as-you-go plan, there's also a monthly and yearly subscription.
---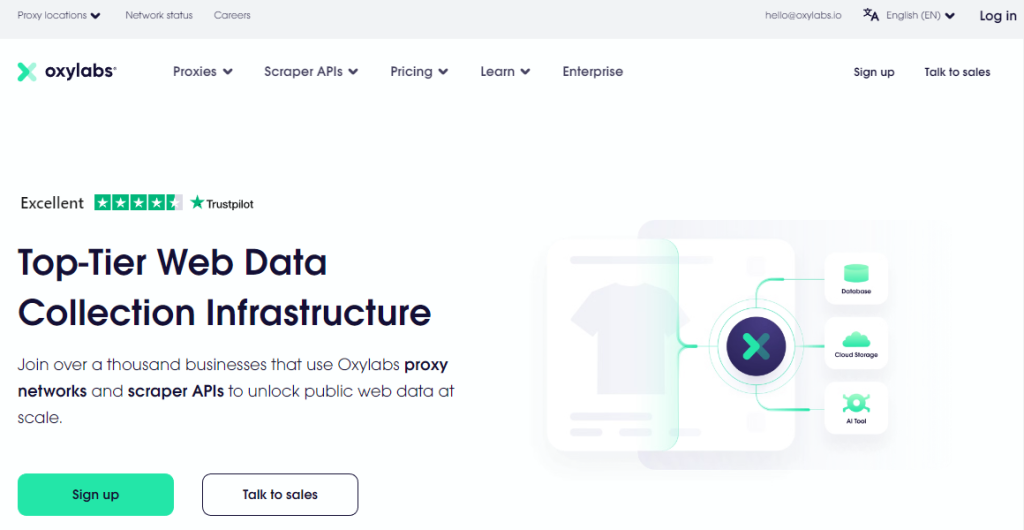 Oxylabs is a reputable proxy provider with the largest proxy pool on the market, ensuring block-free target scraping. With over 100 million residential IP addresses from over 195 locations worldwide and a few data collection APIs, the provider is the number-one choice for many web scrapers around the world.
The residential proxies support country, city, and state targeting, SOCKS5 protocol, and unlimited concurrent sessions. Our evaluation shows they are high quality and very stable, with great response and amazing success rate. They come with flexible rotation options and sticky sessions which are included in the price.
Besides static and rotating residential proxies, you can also find next-gen residential proxies, which are a unique product of Oxylabs. It promises a 100% success rate when gathering data, no matter the target's complexity, by using AI and machine learning.
Oxylabs' residential proxies are great for both beginners and advanced proxy users. They are easy to set up and allow you to easily integrate and manage them with third-party tools, making them ideal for any size web scraping project.
The provider clearly cares about customer satisfaction as it offers live chat support and a dedicated account manager for users that subscribe to the enterprise plan. The fact that its products have insurance clearly indicates that the provider targets companies, hence the higher prices. Although this makes them ideal for businesses, it's probably why they are not the best choice for individuals on a tight budget.
---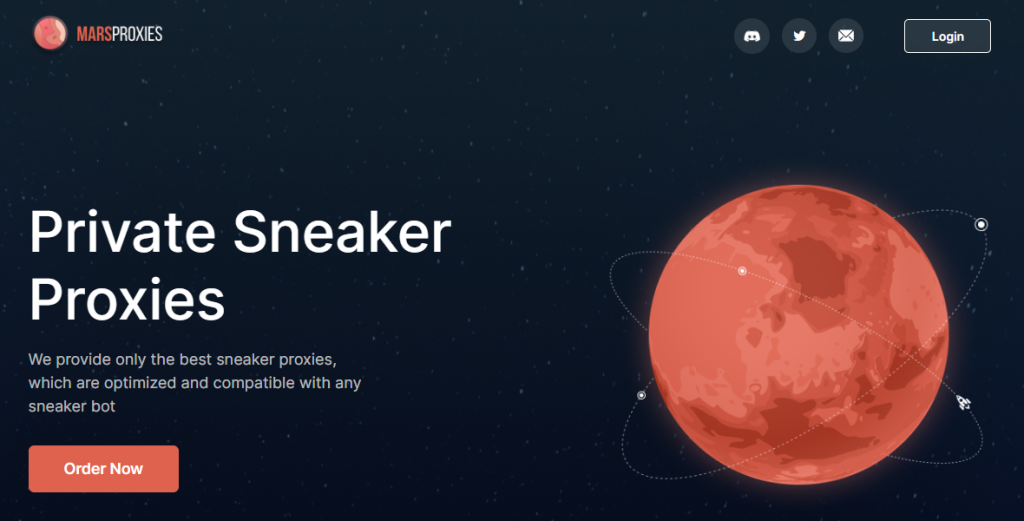 MarsProxies is a reliable provider that offers residential proxies for particular uses, including sneaker botting, market research, and online shopping. It is especially popular among sneakerheads and sneaker retailers as it provides them with clean IP addresses optimized for all sneaker sites.
With over 550,000 unbanned residential IPs from over 190 locations across the United States and Europe, MarsProxies's proxies are ideal for any bot activity. The provider supports dual authentication, username/password authentication, and IP whitelisting, which can help you use any bot you want. The proxies support SOCKS5 connections and sticky sessions.
One of the reasons why this provider has become so popular among residential proxy users is the blazing speed of its proxies. They provide up to 10 Gbps speeds, which makes them one of the fastest residential proxies on the market. They also come with 99% uptime which shows how reliable they are.
MarsProxies sells dedicated residential proxies or residential proxies that are dedicated to a single user at a time. This means you won't have to deal with bandwidth overload and instead enjoy a fast and seamless connection.
We must mention the easy-to-use dashboard that allows everyone to use it, including both businesses and newbies. It lets clients have complete control over their proxies, and it makes ordering new proxies, changing settings, and making a deposit very simple.
The pricing structure of MarsProxies is based on the number of proxies you order, providing unlimited bandwidth and threads. But there's also a plan that lets you order a specific amount of bandwidth with non-expiring GBs. Interestingly, the provider offers a daily plan costing €0.80 per proxy. The affordable pricing, unlimited bandwidth, and daily plan are some of the best things about this provider.
---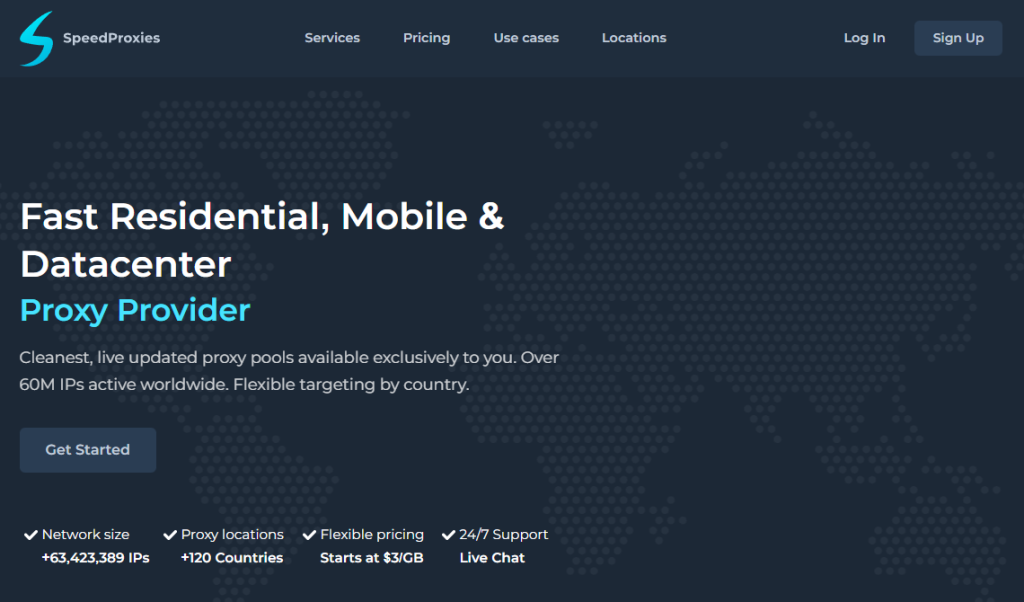 SpeedProxies may not have been in the market for a long time, but it has built a pretty impressive network size and location coverage with over 63 million residential IP addresses from over 120 locations. However, we're unsure how it acquires its IP addresses as we couldn't find any information about it on the SpeedProxies website, which we consider a flop.
The residential proxies support username/password authentication and HTTP protocol only. Although the lack of HTTPS and SOCKS5 support and IP whitelisting is an apparent downside, the provider doesn't limit how many threads you use on proxies. This makes its proxies great for many automation tasks, ranging from web scraping and sneaker botting to sales intelligence and ad verification.
SpeedProxies residential proxies rotate per request and allow a static session of up to 10 minutes. They have an uptime of 99.9%, which means they are highly reliable.
Purchasing and using the proxies is very easy, so it's ideal for beginners. The provider charges you for the amount of bandwidth you consume on a pay-as-you-go rate. The prices are average, so anyone can afford them, and there are also some great bulk order discounts. On the bad side, there's no free trial or money-back guarantee.
---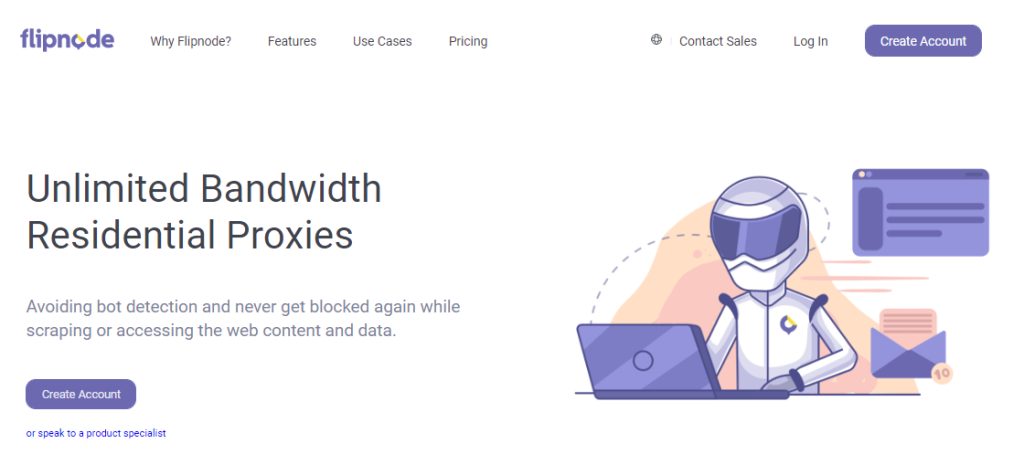 Flipnode is a reliable proxy provider trusted by some of the biggest companies in the world, including Spotify and Microsoft. The company sells backconnect residential proxies, boasting a proxy pool of over 9.5 million IP addresses from over 195 locations worldwide.
You can find two variants of Flipnode's backconnect residential proxies – sticky and high-rotating IP addresses. They all come from real users and ISPs in the supported countries, so you can be assured they are trustworthy and effective.
The proxies allow automatic IP rotation and customer IP rotation time, support HTTP(S) and SOCKS4/5 connections, and IP authentication. The provider gives you access to its entire network pool, which is over 9.5 million residential IP addresses at your disposal.
There are proxies for individuals and business users, but they all have 99.9% uptime and unlimited bandwidth. The residential proxies in the business plan are dedicated to one user at a time, but the ones in the standard plan are most likely shared between several users.
The fantastic uptime and 90% success rate make Flipnode's proxies highly reliable and effective. Another great thing about this provider is the live chat support for all users and the phone support only for business users.
Despite the lack of city and ASN targeting and no username/password authentication support, the provider sells its proxies at a relatively high price.
---

As one of the top players in the proxy industry, Shifter focuses on backconnect residential proxies for data-driven marketing. The company has a massive proxy pool of over 31 million ethically-sourced residential IP addresses completely undetectable as proxies. It also has great location coverage, providing IPs from almost every country and city globally.
The company sells two variants of backconnect residential proxies – basic and special. The basic residential proxies support only HTTP and HTTPS connections, while the special proxies support HTTP, HTTPS, SOCKS4, and SOCKS5 connections. All proxies are unmetered, so you won't have to worry about exceeding the bandwidth limit and having your internet connection cut off.
The IP rotation time of Shifter's proxies can range between 5 and 60 minutes, depending on the user's settings. This makes them ideal for web crawling and web scraping. The proxies have a high uptime of 99.9% and 99.5% success rates, so you can rest assured that they are reliable and effective. They are also very fast, with low response times of just 3ms.
The pricing structure of Shifter is based on ports that come with unmetered bandwidth. They may not be the cheapest residential proxies on the market, but they are somewhere in the middle.
---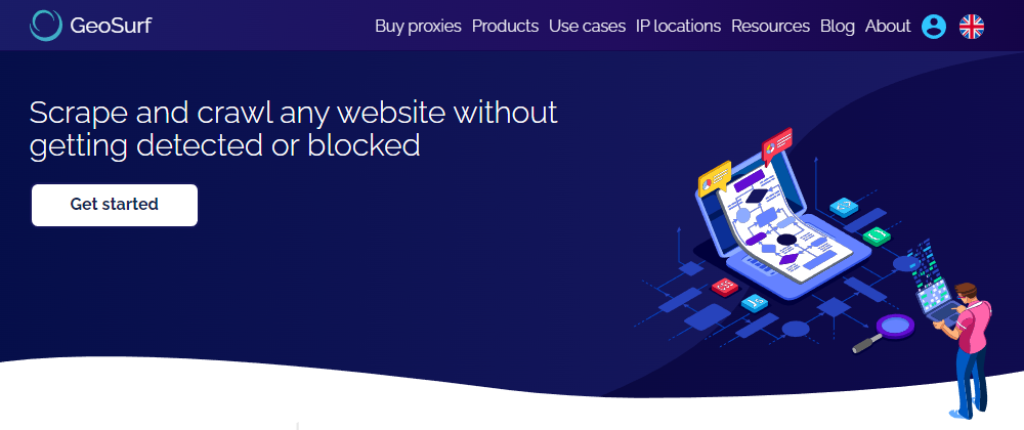 GeoSurf is a legitimate proxy provider owned by the reputable company BI Science. Although it offers a few types of proxies, residential proxies are its main product. What sets it apart from the competition is the legally binding agreements it signs with its customers, ensuring their data will stay private. This makes it ideal for corporate users that want to protect their online privacy and security.
The company has a proxy pool with over 3.7 million residential IP addresses, which is more than enough to do almost anything online. It has global coverage with IP addresses from 192 countries and 1,700 cities across six continents, including Europe, North and Central America, South America, Asia, Africa, and Oceania.
All of its proxies are ethically sourced, as GeoSurf provides IP addresses based on real users and P2P networks, which makes them highly effective. The provider offers rotating and sticky sessions, allowing you to keep the same IP address for 1, 10, or 30 minutes or choose your own timeframe. The inbuilt IP rotation API provides a new IP with each request so you can enjoy ultimate anonymity on the internet.
GeoSurf supports country, city, and state targeting, but city-level targeting requires paying extra money. It also supports dual authentication – IP authentication and username/password authentication, and HTTP(S) connections. The lack of SOCKS5 support is a drawback you must consider if you're looking for residential SOCKS5 proxies.
The provider has expensive residential proxies compared to other providers, but this shouldn't be a problem if you're a corporate user.
---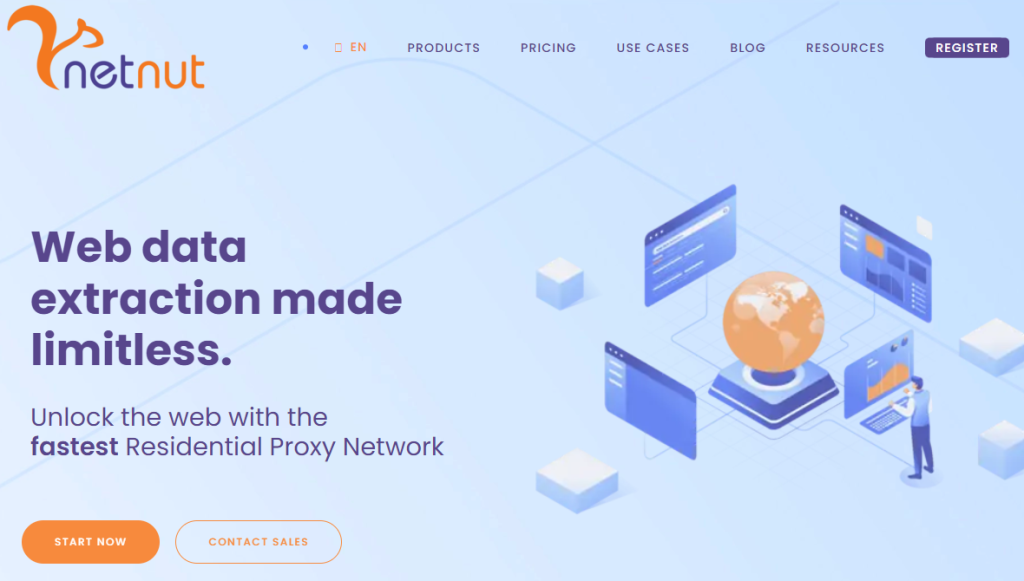 NetNut is a reliable proxy provider, offering fast and stable residential proxies for just a bit over a year. It has a large proxy pool containing over 20 million rotating residential IP addresses and over 1 million static residential (ISP) proxies from real users worldwide. The company's unique infrastructure offers high scalability, eliminates downtime, and guarantees optimal anonymity.
NetNut has great location coverage, offering rotating residential proxies from over 150 countries worldwide and static residential proxies from around 50 EU and US countries. The rotating proxies come with unlimited concurrent requests and rotation and session support, while the static ones provide permanent static IP sessions.
All NetNut proxies support HTTP and HTTPS connections and sticky sessions. The sticky IP addresses from this provider are always online so they are one of the best you can find. The proxies support two authentication methods – username/password and IP authentication. We also have to mention that NetNut residential proxies are very easy to set up and use, and you can easily integrate the rotating IPs into any browser.
One of the biggest strengths of this provider is that its proxies are DiviNetworks powered and dependent, making them more stable than proxies that depend on other users' network connections. The biggest weaknesses, however, are the lack of SOCKS support and above-average prices.
---
Why Is a Premium Residential Proxy Better Than a Free One?
Premium residential proxies are faster, more reliable, and safe than free proxies. With a premium residential proxy, your IP address will stay anonymous throughout your entire project, guaranteeing optimal privacy online. On the other hand, free proxies can expose your real IP address at any moment, so you'll most likely end up with an IP ban.
Also, they usually don't support HTTPS connections, making them extremely unsafe. This makes it easier for snoopers and cybercriminals to monitor your connection and sell your browsing history or personal data to whoever pays the most. High-quality premium residential proxies, on the other hand, support HTTPS and/or SOCKS5 connections, so using them will keep your online activity and data safe from prying eyes.
On top of that, free proxies tend to be slow and unreliable as they are shared with hundreds of users simultaneously. Premium residential proxies are usually dedicated proxies that are given exclusively to one user at a time, so you'll have all the bandwidth to yourself. They have high performance and fast speeds as opposed to free proxies' poor and sluggish performance.
Main Use Cases of Residential Proxies
Thanks to the high performance and trustworthiness of residential proxies, individuals and companies use them for various online activities. It's the best way to hide your online identity, no matter the reason. Here are just a few common use cases of residential proxies:
Accessing Geo-Restricted Content
Many websites and services geo-lock their content due to licensing agreements and internet censorship. This makes their content available only to people in certain countries. With residential proxy servers, you can hide your IP and location and make it appear as if you're browsing from a supported location. This will help you gain access to the target website from anywhere.
Web Scraping
Most businesses need to collect and analyze their competitors' data every day, so they can stay ahead of them. For that reason, they scrape their competitors' websites using web scrapers and use residential proxies to keep their web scrapers anonymous. This way, proxies help them collect the necessary data without getting detected and blocked by the target site's anti-scraping software.
Market Analysis
With residential proxies, businesses can analyze the target market and learn valuable information about the current trends, prices, and competition. This will help them build smart business strategies and plans and avoid making bad investments.
Brand Protection
Residential proxies help in taking care of a brand's reputation. They allow you to scan plenty of websites worldwide and combat IP blocks and geo-restrictions so you can protect your company's name from numerous counterfeits. With residential proxies, you can prevent anyone from laying their hands on your products, ideas, or creative work.
Social Media Management
Almost every modern business uses social media to increase brand awareness and attract new customers. This requires creating and managing multiple social media accounts, which is not allowed by most social media platforms. That's when residential proxies can help. They allow you to open and manage as many accounts as you need without getting noticed or blocked.
Sneaker Copping
Residential proxies can help you get multiple pairs of limited-edition sneakers. They allow you to use sneaker bots anonymously and safely, so you can purchase the coveted sneakers before anyone else. By letting you cop from multiple accounts, which is not allowed by most shoe sites that sell limited-edition sneakers, you can buy more than just one pair of the same sneakers.
Search Engine Optimization
SEO is crucial to every digital business, and residential proxies can help you get the best results. To ensure successful SEO scraping, proxies hide your SEO scraper from the target website's servers. By helping you stay anonymous, proxies allow you to use a keyword scraper for research. This way, you can learn a lot about your competitors and stay one step ahead of them.
How to Choose the Best Residential Proxy Server For You
Finding the right residential proxy service for you can be challenging as there are plenty of options to choose from. However, making the right decision is crucial if you want to perform your online tasks as efficiently and safely as possible.
So here are a few things to keep in mind if you want to find and use high-quality residential proxies:
Make sure you get your proxies from a legitimate company
Always choose premium residential proxies instead of free ones
Avoid too expensive proxies, as you can always find affordable ones that perform well
Make sure the proxies are ethically sourced
Choose residential proxies with fast speeds and high uptime
Ideally, the proxies should support HTTPS and/or SOCKS connections
Choose proxies from a provider that offers customer support.
Conclusion
Residential proxies are undoubtedly the best option for any online activity that requires optimal online anonymity, privacy, and security. They come from homeowners and real devices, so your online identity will stay private.
However, choosing the right residential proxies for you can be difficult as many options are available. That's why we've done the research for you and found the top ten providers for 2022. Consider their positives, negatives, and pricing to make the right decision for your needs and budget.