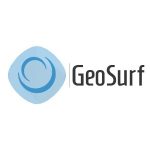 GeoSurf is an Israeli proxy provider established in 2009. Its main product is residential proxies, but it also offers static or datacenter proxies. It's one of the most popular proxy services today, claiming it provides the highest level of anonymity, reliability, and security.
However, GeoSurf proxies are quite expensive and have no refund policy, so you should learn more about them before subscribing. For that reason, we're going to review the company as a proxy provider and help you realize if its proxies are worth buying.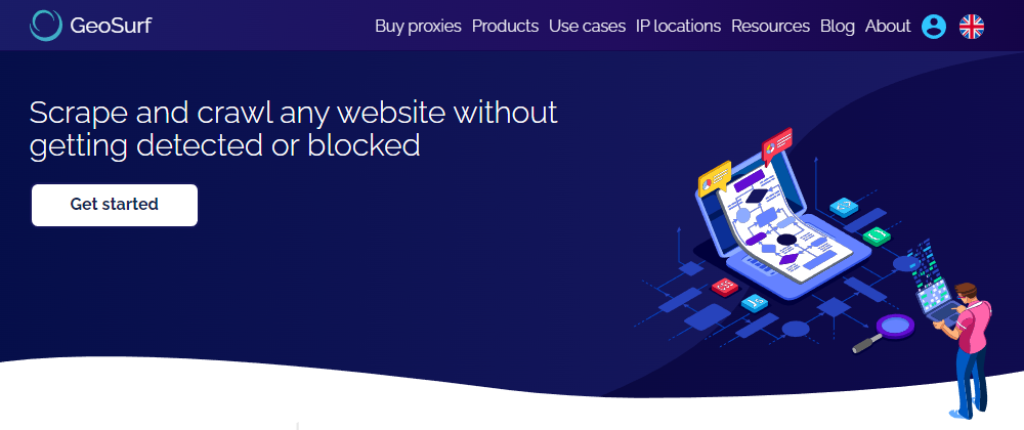 GeoSurf Introduction
GeoSurf is a well-established name in the proxy world. It's owned by BI Science – a reputable company that provides business intelligence solutions. Aside from proxies, the company also offers VPN services, but we're going to focus only on the proxies.
Speaking of proxies, GeoSurf focuses on providing residential proxies, but it also has datacenter proxies which are a bit harder to find on its site. What sets it apart from other proxy providers are the legally binding agreements it signs with all of its customers, guaranteeing it won't share their data with third parties.
This is why many proxy users worldwide choose this brand for their proxy needs, especially in businesses where anonymity and security are much needed and appreciated.
The most common use cases of GeoSurf proxies are ad verification, web scraping, social media automation, sales intelligence, sneaker copping, SEO, etc.
GeoSurf Features
Let's discuss the main features of GeoSurf as a proxy server provider – its proxy pool size, location coverage, and the source of proxies.
GeoSurf's proxy pool spans over 3.5 million residential IPs. Although there are other proxy providers with bigger proxy pools, 3.5 million is still a very good number that will help you perform any proxy task you can think of. The high number of IPs gives you peace of mind that you can scrape data without worrying about any limitations.
In terms of location coverage, GeoSurf has residential IPs in over 150 countries and 1,700 cities across the globe, including the US, the UK, China, Brazil, Canada, Russia, Iran, etc. Its static proxy network has servers in over 130 counties and cities worldwide and over 30 US designated market areas. What's more, the company says it constantly adds more locations and IPs to its network.
The source of IPs is perhaps the most important feature of any proxy provider as it reveals the level of security they provide. With GeoSurf proxies, you have nothing to worry about as this company provides ethically-sourced proxies only. That's because it owns all the servers on its network and provides IPs based on real users and P2P networks.
Plus, the company always signs a legally binding agreement with each customer to guarantee their privacy.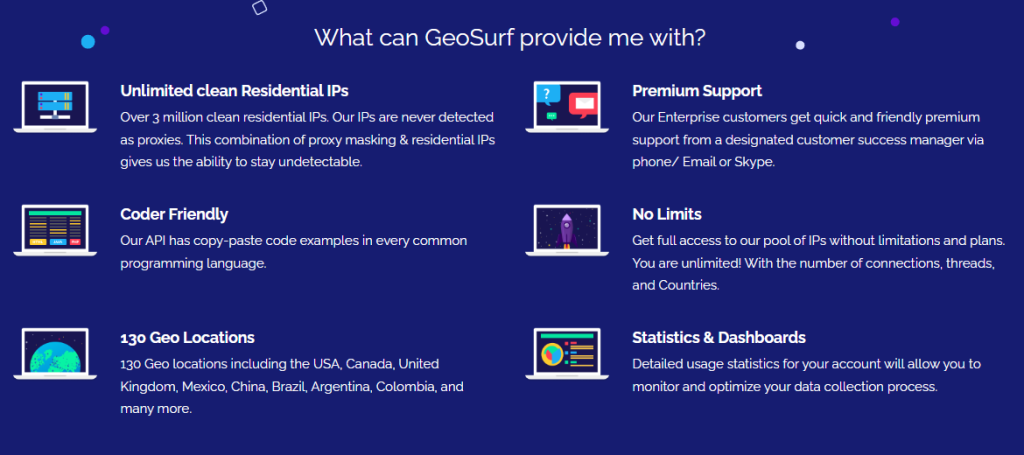 Types of Proxies
GeoSurf offers clean residential proxies and static or datacenter proxies. Clean IPs are IP addresses that have never been flagged as proxies, making them undetectable. Although you can see it has specialized proxies for Instagram and ad verification, they are actually the same residential proxies.
The service offers both sticky and rotating sessions. The sticky option allows you to keep the same IP for one, ten, or thirty minutes. You can select the time frame yourself. What's more, you can choose sticky residential IPs from any supported location, and you can see all the available locations on your dashboard.
When it comes to rotating sessions, the proxy provider gives you fresh IPs with each new request. This feature makes your proxy experience highly anonymous, which is ideal for web scraping or any other proxy task that requires a high degree of anonymity.
GeoSurf allows you to target based on country, state, and city. However, city-targeting is a premium feature, so you'll have to pay extra money to access it.
Also, the provider supports authentication by both IP and username and password. But, it only supports HTTP(S) connections, which is one of its biggest weaknesses as the SOCKS protocol is considered more secure and flexible.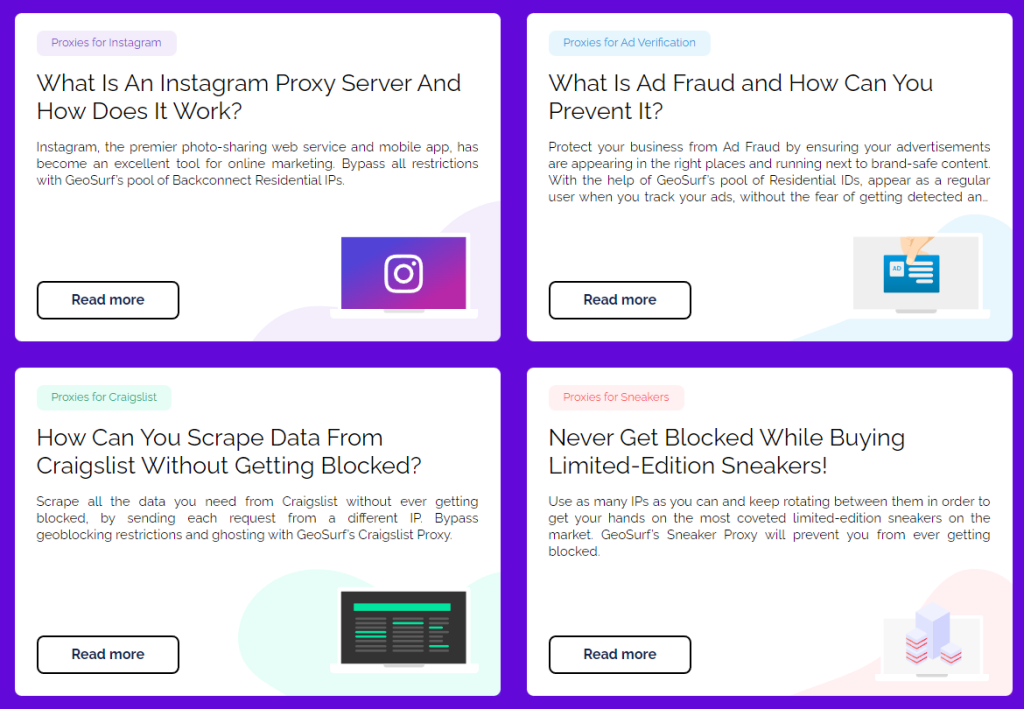 GeoSurf Proxy Speed and Performance
GeoSurf doesn't reveal anything about the proxy speed and ping, which are crucial factors for using any proxy. However, we've found that it has decent ping and speeds, although this can vary based on the location of the server you're using.
Another factor to consider is that datacenter proxies are always faster than residential ones. This provider doesn't offer unlimited bandwidth because its pricing plans are based on the amount of bandwidth.
Additional Tools
Unlike some proxy providers, GeoSurf offers a few additional tools that could be very useful to its customers. It has a GeoSurf Pro browser extension that's easy to use and supports both residential IPs and datacenter IPs.
It also has an API that allows you to add or remove IPs from your account's whitelist, check your balance, get a report for your account's traffic, see your current bandwidth usage, see your payment history, etc.

Purchase Simplicity
GeoSurf site is user-friendly, so even proxy beginners can use it without difficulties. It has a nice and clean user interface that's well organized and structured. Thanks to its browser extension, the integration of proxies is even easier for users of Chrome, Firefox, and other Chromium-based browsers.
You can even see how much bandwidth you are left with and other information about your traffic log. To make an order, you need to become a GeoSurf member by leaving your name and email. Then, a support agent will contact you via email or Skype and assist you in the process.
GeoSurf Pricing
The first thing we want to say is that Geosurf has expensive proxy servers with prices way above the average. But let's learn more about its pricing structure and what you get when subscribing.
GeoSurf offers five pricing plans for its residential proxies, based on the amount of bandwidth. The lowest plan is the Explorer, providing you with 20GB a month for $300 or $15 per GB, which is expensive. If you consume all the bandwidth before the end of the month, you can get an additional GB for $15.
The Starter plan provides you with 38GB for $450 a month, which means you'll pay almost $12 per GB. The Professional plan costs $900 and gives you 90GB a month, which is $10 per GB.
The Plus plan costs $2,000 and provides you with 250GB a month and $8 per additional GB. For the enterprise or special plan that provides you with 2TB, you'll have to contact the support team to learn more about the price.
Besides being a costly service, GeoSurf doesn't have a free trial or refund policy. This means you'll have to pay at least $300 to see how its proxies work, which is quite a lot of money to spend on a proxy test. On the other hand, we know its proxies are clean and secure, so it's up to you to decide if you want to go with them without a free trial and refund policy.

GeoSurf Discounts
You can find plenty of promo codes online that will help you get GeoSurf proxies for cheaper. Also, the provider reduces the price per GB when ordering more bandwidth.
For the enterprise plan, you need to contact the support team and discuss the pricing.
Is GeoSurf Legit or a Scam?
Don't worry about GeoSurf being a scam, as this is a service owned by a trustworthy and legitimate company called BI Science. With this provider, you can rest assured no third party will get access to your data, thanks to the legally binding agreement you sign with GeoSurf.
Besides, there's not a single customer review on the internet claiming the provider is a scam, so you really don't have to worry about the legitimacy of GeoSurf.
Customer Support
GeoSurf gives you a few options to contact them – via Whatsapp, Skype, Telegram, or to open a ticket. Although there's no live chat support on the site, the support team is always available and will reach out to you quickly, no matter your preferred communication method.
Customer reviews online describe GeoSurf's support team as fast, helpful, and responsive. That's exactly what customer support should be like, regardless of company or service.
Can You Earn Money With GeoSurf?
Yes, GeoSurf has a referral program that lets you earn money by referring businesses to GeoSurf residential IP services. More precisely, you'll get $150 on your PayPal account for each new subscription over $300 made via your unique referral link.
While you can find out everything about the program on the site, including the referral program terms and conditions, the main affiliate page gives back a 404 error.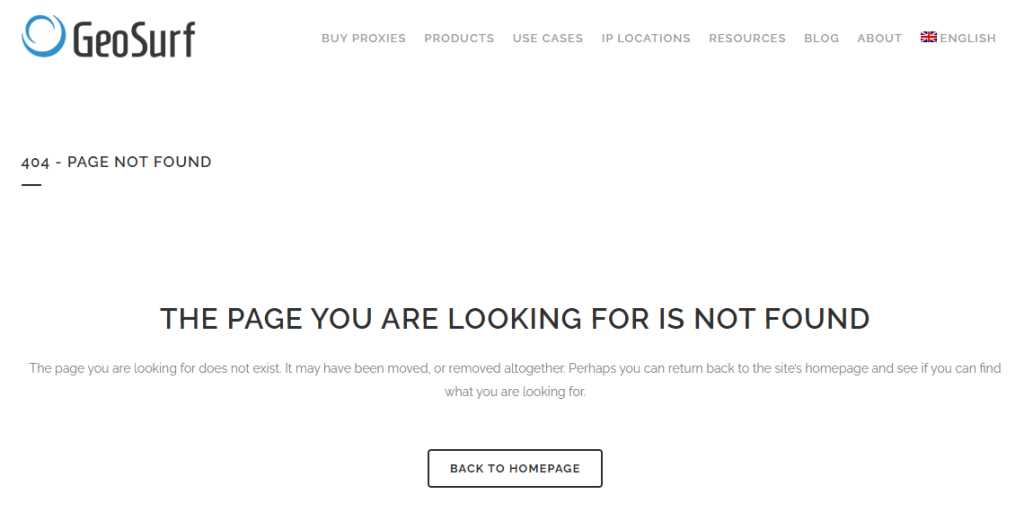 GeoSurf Pros and Cons
It's time to see the key strengths and weaknesses of GeoSurf next to each other to help you decide if you want to buy these proxies.
Positive
Owned by a trusted company
Excellent location coverage
Clean residential IPs
Sticky and rotating sessions
Large proxy pool
Ethically-sourced proxies
IP authentication and username/password authentication
Country, state, and city targeting
Decent speed and ping
Browser extension and API
Easy to purchase and use
Great customer support
Referral program
Negatives
No SOCKS support
Expensive proxies
City-targeting with additional cost
No refund policy
No free trial
No Live chat support
Final Verdict
After reviewing GeoSurf, we can say it's a trustworthy proxy provider that sells highly anonymous and secure residential and datacenter IPs from locations worldwide. It has a great support team that will help you solve any problems quickly.
However, the proxies from this provider don't support the SOCKS protocol and are very expensive. On top of that, you won't be able to get your money back if you're not satisfied with them for any reason.
So, if you need proxies for small-scale scraping or general browsing, we recommend using a more affordable service. But if you need highly secure and reliable proxies for your business needs, you should definitely go with GeoSurf.
Ratings
Positive
Owned by a trusted company
Excellent location coverage
Clean residential IPs
Negatives
No SOCKS support
Expensive proxies
City-targeting with additional cost
GeoSurf Alternatives
Here are a few other proxy providers to have in mind:
Mars Proxies – this company sells affordable residential proxies with 10Gbps speed and SOCKS support, along with affordable datacenter proxies with unlimited bandwidth.
Spider Proxies – unlike GeoSurf, this proxy provider offers affordable residential proxies, city-targeting with no extra cost, and a 7-day free trial.
Anonymous Proxies – this company offers affordable residential proxies that support both HTTP(S) and SOCKS protocol and provide country, state, city, and subnet targeting at no additional cost.
FAQ
What payment methods Does GeoSurf support?
This provider accepts credit cards and PayPal only for US customers. You can also pay with wire transfer if you're an Enterprise customer.
Does GeoSurf offer plans with unlimited bandwidth?
No, GeoSurf's pricing structure is based on the amount of bandwidth, so there's no plan offering unlimited bandwidth.
Does GeoSurf allow rollover of unused credit?
No, GeoSurf doesn't allow you to roll over any unused credit from one billing cycle to the other.