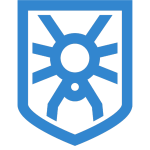 Spider Proxy is a residential proxy provider that hasn't been around for a long time. It focuses on residential proxies for web scraping, but it also offers a real-time crawler. When visiting the company's site, you'll see they have made their proxy service seem like the best one on the market.
But, don't take their words for it without checking the service for yourself. Or even better, let us help you understand what Spider Proxy is really like by reviewing it and revealing its major pros and cons. Only in that way can you decide if this is the right proxy provider for you.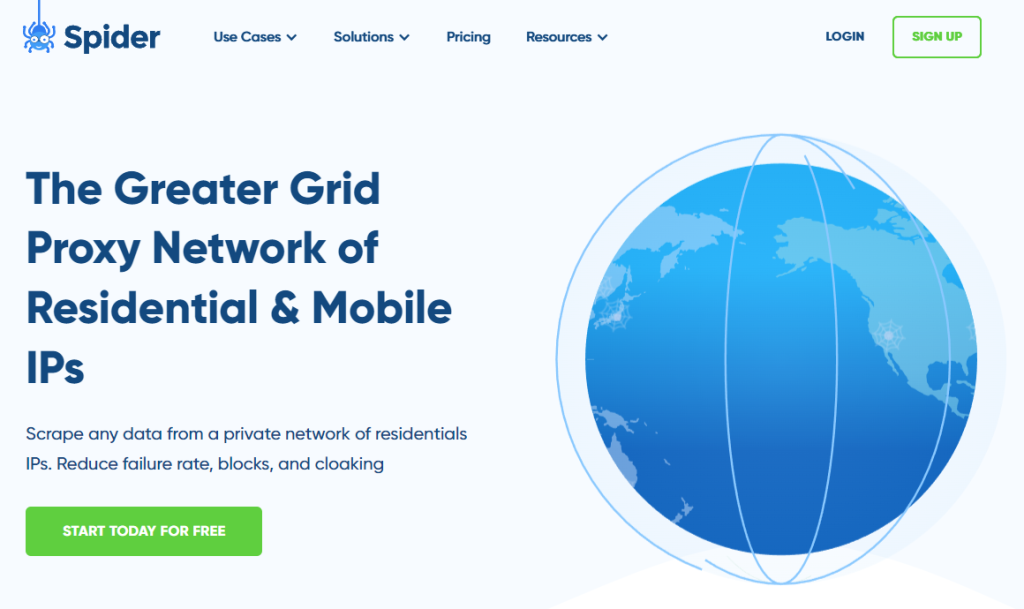 Spider Proxy Introduction
Spider Proxy is a proxy service that offers residential proxies. Besides proxy servers, it offers a few other services including Fetch API, SERP API, and Incometm. The company began as a startup called DomainTools in 2002, but it started offering the products it sells today only recently.
The company advertises its proxies as the best private residential proxies for scraping data. That's because it uses the latest network address translation (NAT) technology which allows you to scrape data without worrying about blocking.
Aside from web scraping, you can also use its proxies for brand protection, ad verification, competitor intelligence, posting ads, avoiding geo-restrictions, SEO monitoring, travel aggregation, and market research.
While everything sounds legit about Spider Proxy, not many people are talking about it on the internet. But before explaining the reason for that, let us tell you more about the company's features.

Spider Proxy Features
Let's start with the most important feature of any proxy service – the source of IPs. Spider Proxy provides legally-sourced residential IP addresses by partnering with some desktop and mobile app developers and allowing them to use its GDPR-compliant SKD to offer an alternate means of monetization. In other words, it sources ethical bandwidth from clients after obtaining their consent.
Another important feature of proxy services is their proxy pool size. But with Spider Proxy, this is unclear as the company seems confused about the number of IPs in its proxy pool. On the homepage, it says it has over 3 million IP addresses. The residential proxy page mentions over 70 million IP addresses, and the FAQ page states over 5 million residential IP addresses are available to clients.
Even if the smallest of all these numbers is the right one, 3 million IPs is still impressive, so they don't have to lie to attract customers. Now the question is, can you trust this provider after trying to lie about the size of its proxy pool? And are they lying about the 3 million IPs as well? Confusing.
On the good side, they do reveal the number of available IPs they offer, which is about 80,000 in the last 24 hours. Unlike most providers which hide this number, Spider Proxy decided to be honest with this one. You can find this information on the FAQ page, but it would've been even better if they had it included on the homepage.
The last feature you need to be aware of is location coverage. Spider Proxy claims it has proxies from everywhere, and the fact that it allows you to choose IPs from a specific country, city, carrier, or ASN is great.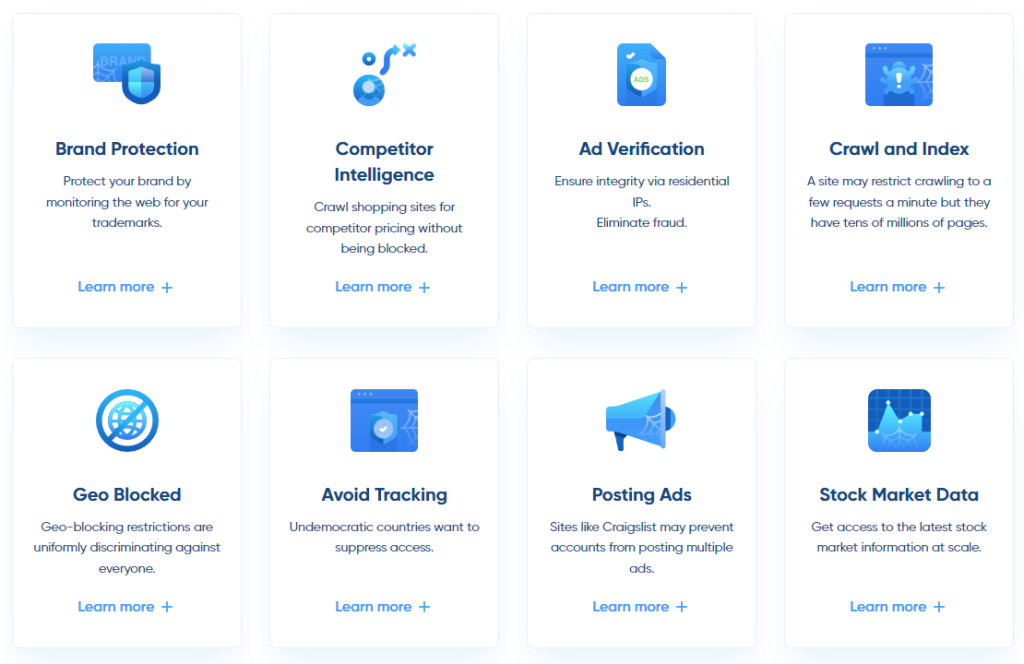 Types of Proxies
This proxy provider offers only one type of proxies – residential proxies. All of their proxies are private and come from actual desktop and mobile users, so you can use them for browsing anonymously on your desktop or mobile device.
Since residential proxies provide a higher degree of security and anonymity than datacenter proxies, they are perfect for business purposes such as web scraping and market research.
Spider Proxy offers rotating residential proxies that switch every 5 minutes or even sooner. But you can also make your IPs sticky in the settings and use it until you sign off. The provider also supports session proxies that can maintain sessions for up to eight hours, provided that the IP doesn't go offline.
The company doesn't mention anything about SOCKS and HTTP(S) support, so we don't know the protocol its proxies work with. Spider Proxy proxies support username/password authentication only.

Spider Proxy Proxy Speed and Performance
This company doesn't provide proxies with unlimited bandwidth, so it will cut your connection if you exhaust the bandwidth provided to you until you buy more. That's because the pricing plans are based on the amount of bandwidth, so you choose what you need.
But, this has nothing to do with speed. Unfortunately, Spider Proxy doesn't give any information about upload and download speeds or ping, so you don't know what to expect in terms of proxy speed. However, there's a free trial so you can try its proxies and see if they are fast enough for your needs.
The proxies from this company should be very stable as they have 99.9% uptime.
Additional Tools
Besides proxies, Spider Proxy sells a real-time crawler. Before you buy, you can try its live demo and scrape any data from Google with it for free. The product also has a 14-day free trial, so you can use it to extract as much web data as you want.

Purchase Simplicity
To purchase proxies from Spider Proxy, you first must register and open an account. Right now, the company accepts potential new customers on an invite-only basis. So you'll have to provide your name, email, company name, website, and the reason for using its proxies so you can send a request to become a new Spider Proxy customer.
Once you're approved, the process is pretty straightforward. You choose the package you need and provide your personal and billing information.
Spider Proxy Pricing
Spider Proxy has affordable residential proxies. It has similar prices to top-rated residential proxy providers, but it still sells them a bit cheaper.
The pricing structure of its plans is based on the amount of bandwidth, so you can use an unlimited number of IPs. The smallest Micro plan provides 5GB for $75 or $15 per GB. Although this is not cheap, it's a good option for users that don't need massive amounts of bandwidth.
The Starter plan costs $480 and provides you with 40GB a month, which is $12 per GB. This is the average price per GB among top-rated proxy providers.
Then you have the Professional plan, which costs $850 for 100GB a month or $8.50 per GB. Now, this is very affordable if you need large-scale scraping. The Spider plan provides you with 1,000GB for $2,500 a month, meaning you'll pay as little as $2.50 per GB, which is very cheap.
Another great thing about this provider is that it offers a 7-day and 100MB free Candy plan. You can use it to test its proxies without leaving your billing information.
Spider Proxy says it has a money-back guarantee as well, but it fails to provide any further information about it.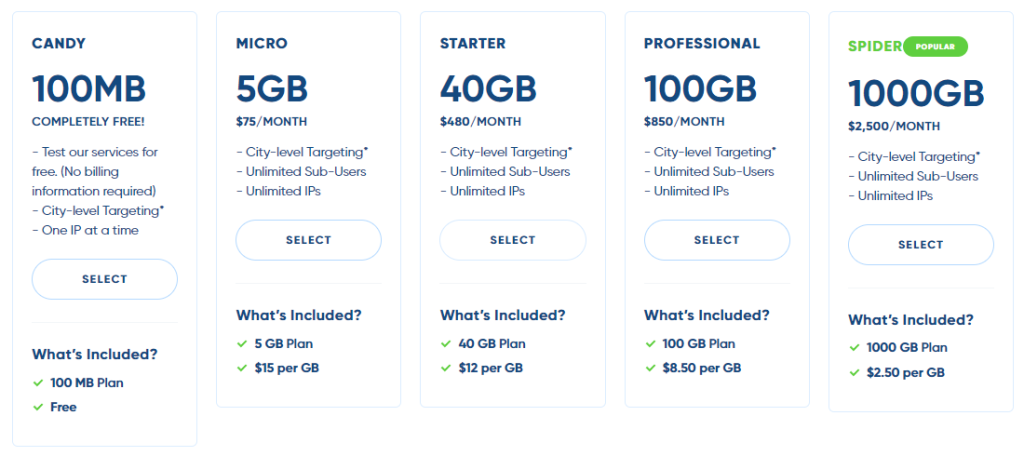 Spider Proxy Discounts
Like most proxy providers, Spider Proxy also follows the rule "the more you buy, the less you pay." What this means is the cost per GB reduces as you order more bandwidth, or the more bandwidth you order, the less you pay for it.
You can also find promo codes on the internet and get Spider Proxy proxies for cheaper.
Is Spider Proxy Legit or a Scam?
Spider Proxy is a legitimate proxy provider, despite the lack of customer reviews. This is because the service is still in the beta stage, so there aren't many users yet. As long as everything works fine and proxies meet the users' expectations, we're sure Spider Proxy will become a more popular proxy service and get more customer reviews.
Customer Support
If you want to contact Spider Proxy, you can only open a ticket and write your questions in a message box. This is disappointing for any proxy service, especially if you don't get a fast reply. This is exactly what happened when we wanted to find out more information about the service it offers. It has been a few days since we opened a ticket, and they still didn't reply to it.
Live chat support would've been perfect, but you won't find it on the Spider Proxy site. And, you can only find their email at the bottom of their Terms of Service page.
On the good side, the company says it sets up a dedicated Slack channel between its teams for real-time communication with customers, so that's great. Also, they do have a decent FAQ page that can help you get the answers to some of the most common questions.
Can You Earn Money With Spider Proxy?
Spider Proxy allows you to earn money by downloading and installing the Income™ app on your internet-connected Windows desktop. Basically, you'll allow sharing your internet connection with Spider Proxy's clients and get paid from $0.1 to $1 per GB, depending on your location.
The more amount of traffic is routed through your device, the more you'll earn. The service claims it takes privacy seriously and doesn't use your personal information for anything other than paying you.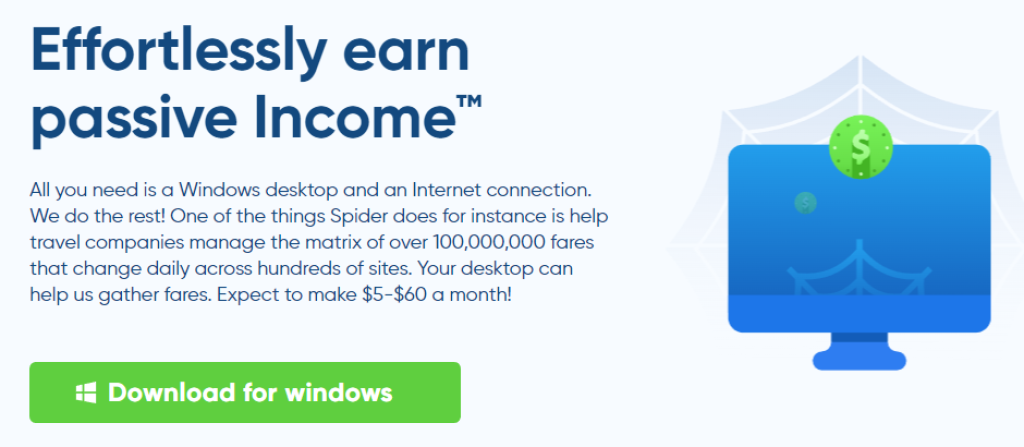 Spider Proxy Pros and Cons
Let's get down to the most important pros and cons of Spider Proxy as a residential proxy provider.
Positive
Ethically-sourced residential proxies
Excellent location coverage
Large proxy pool size
Rotating and static IPs
Username/password authentication
99.9% uptime
Country, city, carrier, and ASN targeting
Live demo of its real-time crawler
Dedicated Slack channel for customers
Affordable proxies
A 7-day free trial (a free Candy plan)
Promo codes
A chance to earn money
Negatives
Poor variety of proxies
An unclear number of IPs it offers
No info about its money-back guarantee
No info about HTTP(S) and SOCKS support
No IP authentication support
No info about the proxy speed
No live chat support
Final Verdict
Overall, Spider Proxy is a legitimate proxy service that offers affordable residential proxies for web scraping. It doesn't provide any information about the proxy speed you should expect, but it gives you a 7-day free trial which should be enough time to test the proxies and see if they are fast enough for you.
The customer support is slow, and there's no live chat support, but the service is still in the beta stage, so there's room for improvement. If you need datacenter proxies, however, you should look for another provider.
Ratings
Avergae
Score by our metrics
Positive
Ethically-sourced residential proxies
Excellent location coverage
Large proxy pool size
Negatives
Poor variety of proxies
An unclear number of IPs it offers
No info about its money-back guarantee
Spider Proxy Alternatives
If you want to have a few more options in mind before subscribing to any Spider Proxy plan, check out the following proxy providers:
IPRoyal – this company has a great variety of fast SOCKS-supported proxies from 190+ countries, flexible rotation options, and great discounts.
Bright Data – this proxy provider offers residential, datacenter, mobile, and ISP proxies with great location coverage and amazing customer support.
Oxylabs – this brand has a massive proxy pool size consisting of over 100 million residential IPs with an average of 0.6s proxy speed.
FAQ
What type of authentication does Spider Proxy provide?
Spider Proxy provides only username and password authentication. But the service is in the beta stage, so it may offer IP authentication in the future.
Does Spider Proxy offer unlimited bandwidth for its residential proxies?
No, the pricing of Spider Proxy's residential IP addresses is per GB. This means that you don't get proxies with unlimited bandwidth but limited bandwidth with unlimited IPs.
Can you cancel the Spider Proxy service anytime?
It depends on your subscription plan. If you have subscribed to a plan listed on the Spider Proxy site, you can cancel it anytime. But if you're on its contract-based custom plan, you should contact your account manager to cancel your account in time.