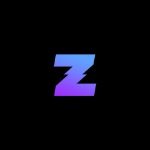 Zoom Proxies is a proxy provider that focuses on proxies for sneaker copping. It offers ISP datacenter proxies that work on Shopify sites like Doverstreetmarket, Undefeated, and Kith. Although the service guarantees its proxies will work on these sites, the risk of getting banned is always higher with datacenter proxies.
Also, the company says its proxies will "most likely work" on sites like Footsites and Supreme, so users are unsure whether they should buy and use them for this purpose. That's why you need to know more about Zoom Proxies before subscribing, hence our honest review.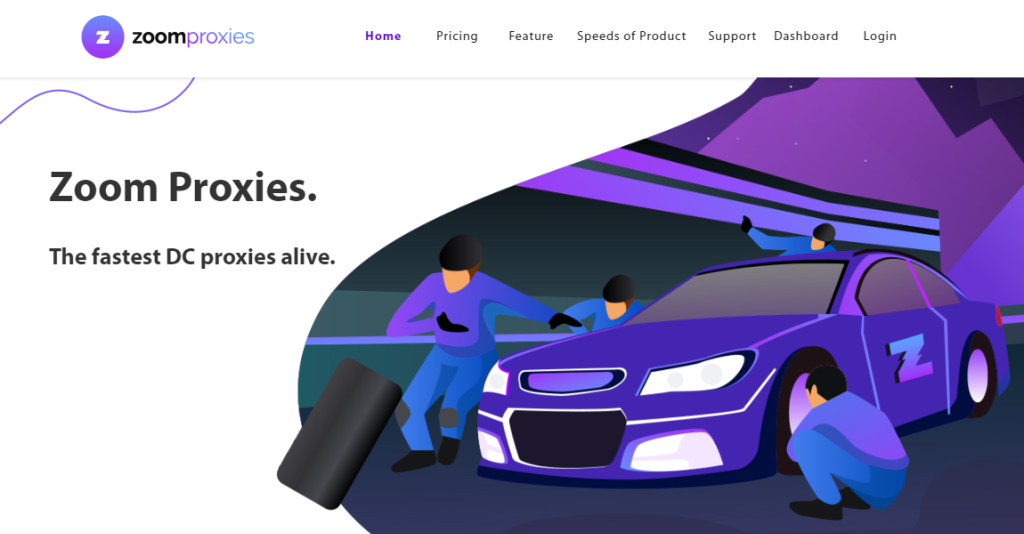 Zoom Proxies Introduction
Zoom Proxies is a datacenter proxy provider that boasts about having the fastest proxies for copping sneakers on the market. Its proxies work on Shopify sites, allowing sneakerheads worldwide to make instant purchases.
The company provides several types of ISP datacenter proxies, each with two plans to choose from – a 3-day plan and a monthly plan. But, Zoom Proxies is often out of stock, according to customer reviews on the net. In fact, at the time of writing this review, all of their plans were sold out, so we couldn't access any proxies.
Besides copping sneakers on Shopify, Adidas, Supreme, YeezySupply, Finishline, and Footsites, you can also use these proxies to unblock sites and online content meant only for users from the supported locations and browse the net more anonymously.
While some customers complain about the lack of available proxies and the high price they have to pay for them when available, others praise the company for the fast proxy speeds and instant delivery.
But don't worry – you'll know whether its proxies are worth the price by the end of the review.

Zoom Proxies Features
Zoom Proxies doesn't have impressive location coverage, but that's not necessarily bad when it comes to sneaker proxy providers. Currently, it offers proxies only from the US and the UK. However, the US locations are among the top locations for sneaker servers at the moment – Ashburn, VA, and Chicago, IL. This means faster ping speeds, but we'll talk about Zoom Proxies proxy speed later.
The company doesn't share its proxy pool size, so you can't know the number of IPs its proxy network platform is built of. This is an important feature of any proxy provider and not providing information about it is certainly not helpful for any potential customer.
When it comes to the source of its proxies, they probably come from internet service providers but not from end-users.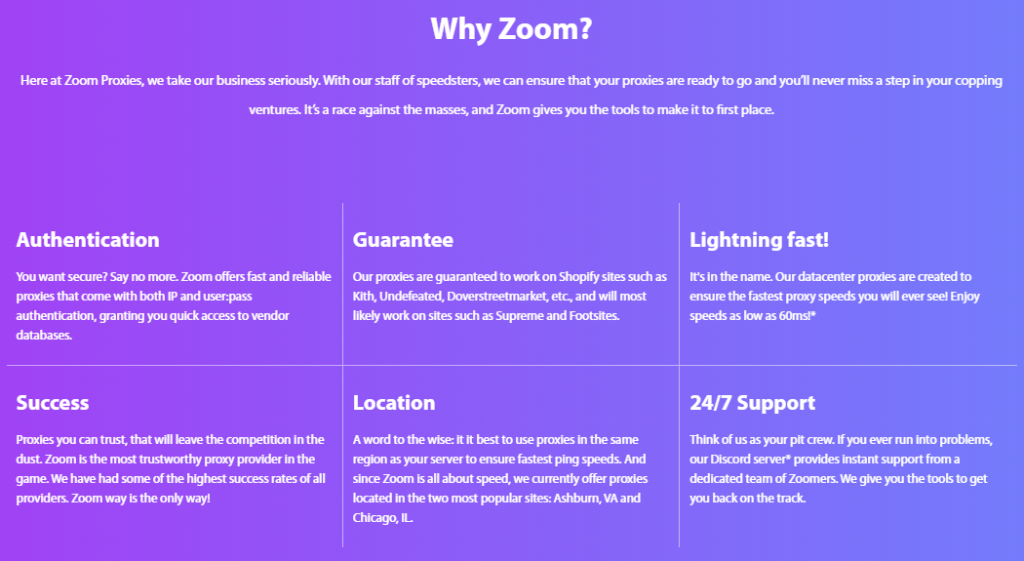 Types of Proxies
Zoom Proxies has ISP datacenter proxies sold as Premium ISP proxies, Captcha ISP proxies, and Retail ISP proxies. It sells UK proxies under a different package, describing them as fully-dedicated proxies.
Although ISP datacenter proxies are associated with an ISP, they don't come from real users like residential proxies. This makes them less secure and reliable than residential proxies, so the risk of getting banned is higher when using them.
On the other hand, ISP datacenter proxies are faster than residential proxies as they are hosted on a data center, and speed is crucial for copping in-demand sneakers.
Besides, with Zoom Proxies' premium ISP proxies and retail ISP proxies, you get 100% clean IPs or "virgin IPs," so you'll be secured from any issues made by previous users. This way, you'll be sure you use proxies that weren't banned on sites you want to cop sneakers from.
Since you can use the retail ISP proxies to cop sneakers on Walmart, Target, Amazon, Shopify, BestBuy, YeezySupply, and Finishline, using these proxies will reduce the risk of getting detected and banned. Both premium and retail ISP proxies support only username/password authentication.
The Captcha ISP proxies are trusted IPs that are optimized for farming Gmails and V3 solvers. Just like Premium proxies, these ones support only username/password authentication.
The UK proxies are fully dedicated proxies, so you won't be sharing them with anyone else. Unlike other types of proxies from Zoom Proxies, these support both username/password authentication and IP authentication methods.
There's no information on whether the proxies from this provider support HTTP(S) and/or SOCKS connections.
Zoom Proxies Proxy Speed and Performance
As ISP datacenter proxies, the proxies from this provider have the speed you need to cop limited-edition, in-demand sneakers. With 100 Gbps port speed, Zoom Proxies' Premium ISP proxies and Captcha ISP proxies are the fastest proxies from this provider and also one of the fastest proxies on the market.
The UK proxies and Retail ISP proxies come with a 10 Gbps port speed, which might be slower than the speed of Premium and Captcha proxies, but it's still a decent speed.
All proxies come with unlimited bandwidth, so you can use as much data as you need without any restrictions. The company doesn't state the uptime anywhere on the site, but we've found customer reviews saying its uptime is decent.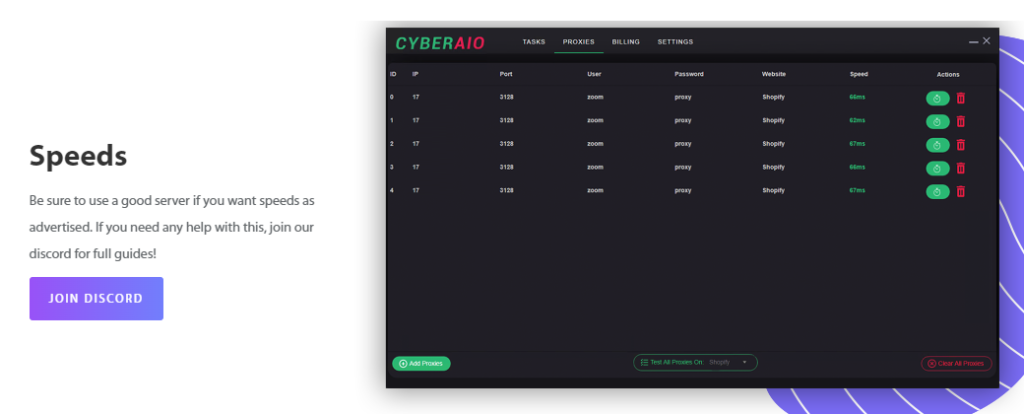 Additional Tools
Unlike many of its competitors, Zoom Proxies doesn't offer any additional tools. So don't look for a proxy checker tool, API, or scraper on the site, as you won't find it.
Purchase Simplicity
To buy Zoom Proxies proxies, you need to register an account for which you'll have to provide your credit card information. Once you log in, you can see a user-friendly dashboard where you can easily add, remove, or buy new proxies.
Zoom Proxies provides all the information you need for each package, so all you have to do is choose the best for you. Once you make the purchase, the proxies will be delivered to your dashboard instantly.
Zoom Proxies Pricing
The price of the Zoom Proxies' plans is based on the number of proxies, and you can order as few as 25 proxies up to 100 proxies. You also have the option to choose between a 3-day plan and a monthly plan for each type of proxy.
But, since there was no available package when we were writing this review, we couldn't see the current pricing. We did try to dig up information about it from other reviews, and we've only found the pricing for the premium ISP and retail ISP proxies.
The 3-day plan consisting of 25 premium IPS proxies costs $21.25, which is $0.85 per proxy. The monthly plan that provides you with 25 premium ISP proxies costs $48.75, or $1.95 per proxy, which is not cheap for datacenter proxies.
When it comes to retail ISP proxies, you'll have to pay $20.75 for 25 proxies that expire after three days. This means you'll pay $0.83 per proxy. The monthly plan costs $37.50 and provides you with 25 proxies, each costing $1.5, which, once again, is expensive for datacenter proxies.
Compared to other datacenter proxy providers on the market, Zoom Proxies has a costly pricing structure. On top of that, this provider doesn't have a free trial or a refund policy, so you won't be able to get your money back if you're not pleased with its proxies.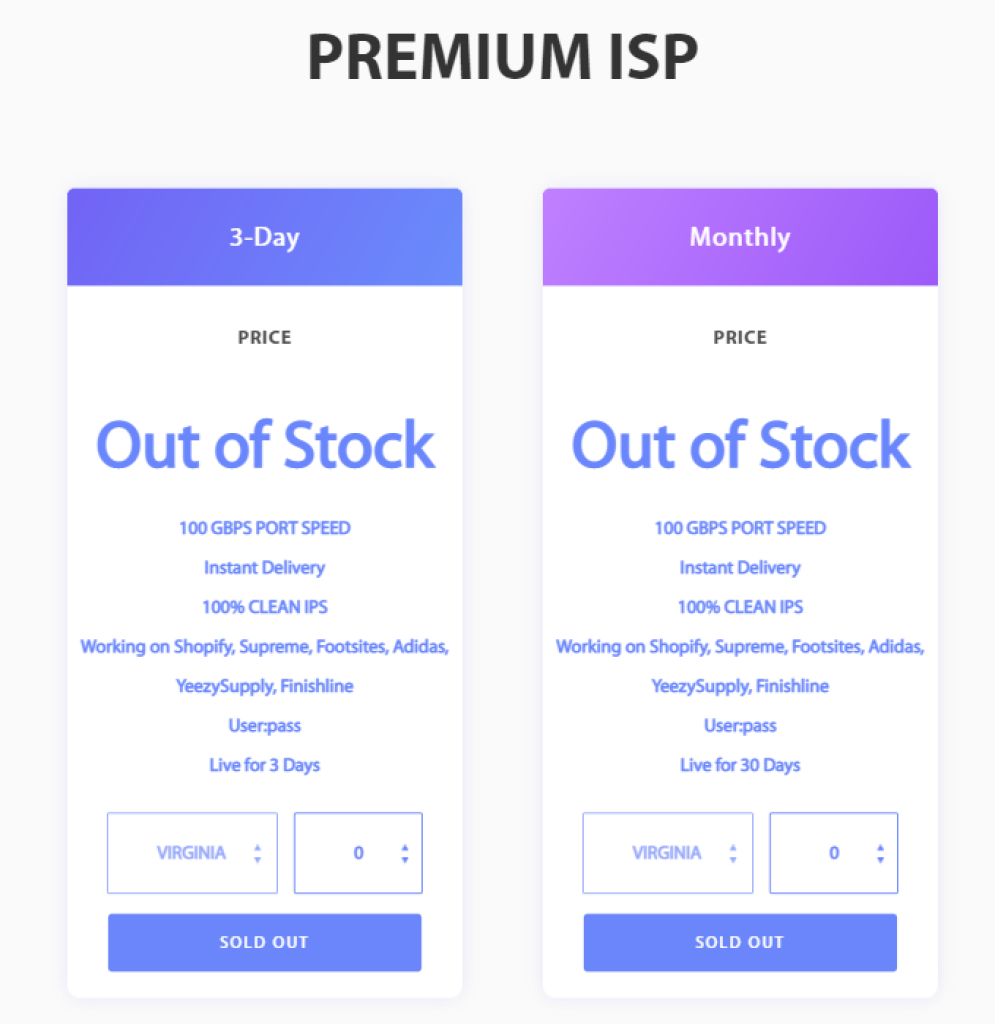 Zoom Proxies Discounts
Since Zoom Proxies is currently out of stock, we weren't able to see if they are offering any special offers or bulk order discounts on the site. But, when we visited its Twitter page, we found that the company offers regular discounts.
You can also find Zoom Proxies promo codes online, allowing you to save money when buying its proxies.
Is Zoom Proxies Legit or a Scam?
There's no need to worry about the legitimacy of Zoom Proxies, despite the lack of refund policy and limited proxy availability. The service is often out of stock because it gets a small batch of IP addresses and sells them all before a major sneaker drop.
So if you manage to find an available proxy package from Zoom Proxies and you like what the company offers, go ahead without worrying about being scammed.
Customer Support
It seems Zoom Proxies doesn't care about its potential customers as they don't provide a FAQ page, knowledge base center, or anything else of its kind on its site. The only ways to get in touch with its support team are via email, Twitter, or Discord. We tried joining their Discord, but had no success.
The lack of live chat or phone call support is a major drawback as it prevents customers from getting the information or help they need ASAP. On the good side, customer reviews reveal that Zoom Proxies' technical support team provides swift support that solves your problems efficiently.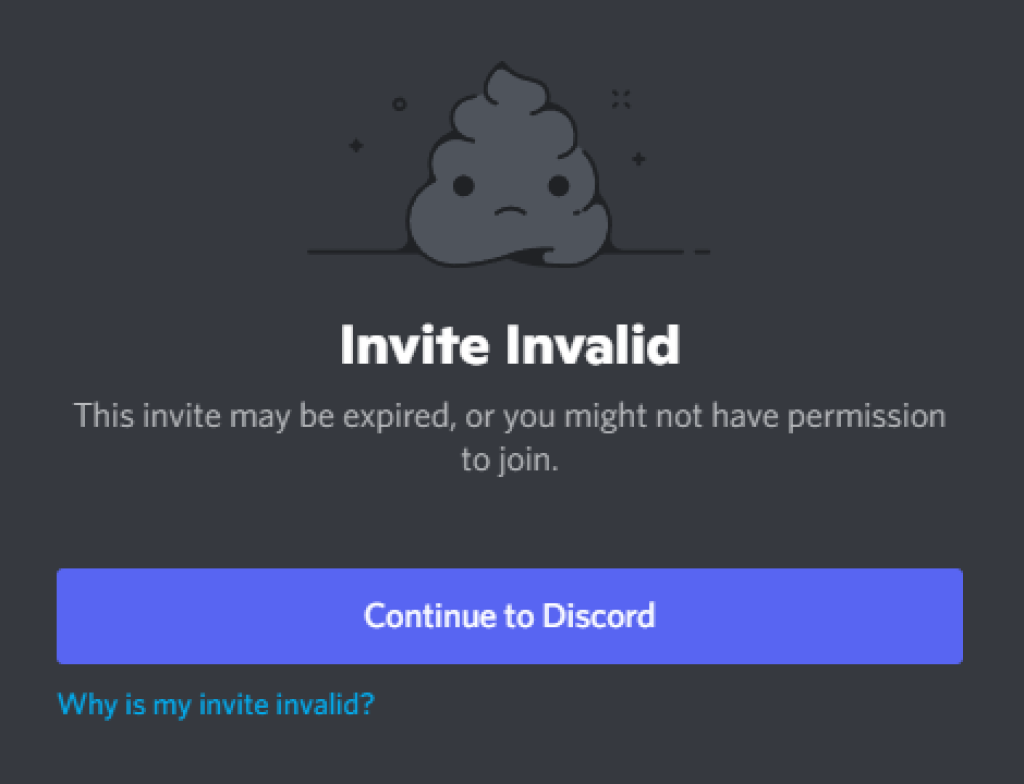 Can You Earn Money With Zoom Proxies?
Many proxy providers offer their customers a chance to earn money by joining their affiliate or proxy reseller programs. Unfortunately, Zoom Proxies doesn't have any of these programs.
Zoom Proxies Pros and Cons
Listing the major pros and cons of this proxy service will help you compare and contrast its biggest qualities and flops so you can more easily decide if this is the right proxy provider for your needs and budget:
Positive
Proxies from the top locations for sneaker servers
Shopify sites support
Unlimited bandwidth
Fast speeds
Dual authentication for UK proxies
100% Clean IPs
Easy to purchase
Promo codes
Negatives
Usually out of stock
Lack of residential proxies
Unknown proxy pool size
Unknown uptime
Limited location coverage
High prices
Lack of a free trial
Lack of a refund policy
Lack of info about HTTP(S) and SOCKS support
No additional tools
No affiliate or proxy reseller program
No live chat support
Final Verdict
Zoom Proxies provide fast but costly ISP datacenter proxies that work on Shopify sites and most likely on other sneaker sites like Supreme or Footsites. However, the company is usually out of stock, and even if you find an available package, you won't get a refund if you're not happy with its proxies.
Although Zoom Proxies has very fast proxies, we think you can find better and cheaper alternatives that offer proxies when you need them.
Ratings
Average
Score by our metrics
PROS
Proxies from the top locations for sneaker servers
Shopify sites support
Unlimited bandwidth
CONS
Usually out of stock
Lack of residential proxies
Unknown proxy pool size
Add your review
|
Read reviews and comments
Zoom Proxies Alternatives
Here are a few other proxy providers to have in mind:
Mars Proxies – this company has ethically-sourced, affordable, and SOCKS-supported proxies that are compatible with any sneaker bot.
Shifter – this proxy provider has a massive proxy pool and excellent location coverage, offering residential proxies suitable for copping sneakers on sites like Supreme, Nike, and Footsites.
Oxylabs – this proxy service boasts over 100 million residential and datacenter IPs with a high success rate of 99.2%, so you can use them for successful sneaker copping.
FAQ
Do Zoom Proxies premium ISP proxies support IP authentication?
No, Premium ISP proxies from this provider support username/password authentication only. On the other hand, its UK proxies support dual authentication, including IP authentication.
Does Zoom Proxies have API support?
This proxy provider doesn't offer an API, but you can contact its support team to find more information about it.
Can you use Zoom Proxies for web scraping?
Yes, the proxies from this provider are good for web scraping and many other uses besides copping sneakers.