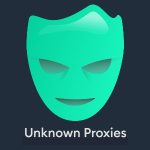 Unknown Proxies is a well-established name in the proxy business. It sells anonymous proxies to bot users around the world, helping them secure the latest releases on sites such as Supreme, Shopify, Foot Locker, and Size.
But are these proxies the best fit for your needs and budget? Take a look at our review and find out everything you need to know about Unknown Proxies so you can make the best buying decision.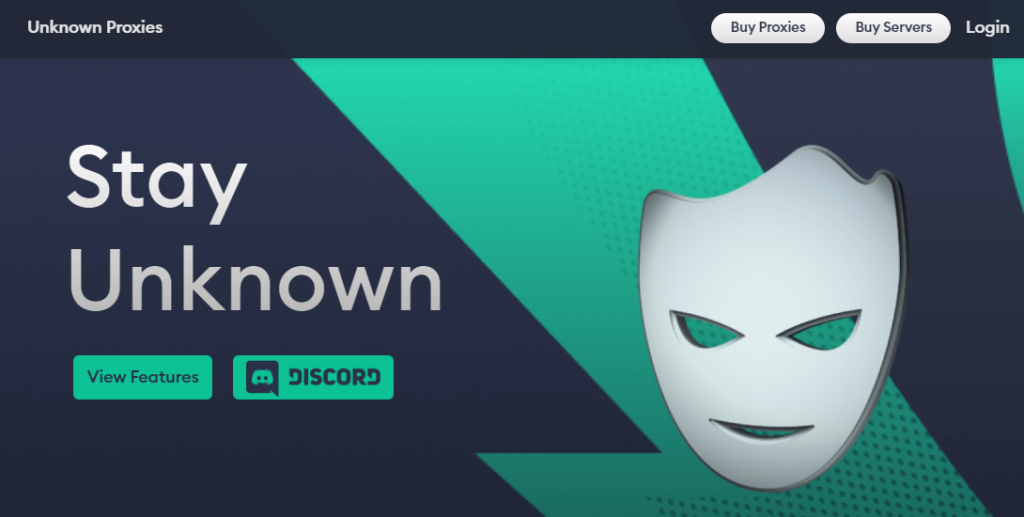 Unknown Proxies Introduction
Unknown Proxies is a proxy provider located in the United States. It's a popular name in the botting world, with more than 2,000 active users and 50,000 checkouts. The company offers residential and ISP proxies for bot users that cop limited editions on sites such as Shopify, Hibbett, Adidas, Off-White, Finish Line, Nike, and YeezySupply.
What's great about this provider is that it allows you to roll over any unused residential data from one month to the next, as long as you renew the plan. On the downside, it doesn't have any refund policy or free trial.

Unknown Proxies Features
Unknown Proxies has a massive proxy pool consisting of over 35 million IPs coming from over 150 subnets. This is really impressive for any proxy service.
When it comes to location coverage, it supports more than 150 locations across the globe. This number includes both countries and cities, so you'll be able to secure releases in multiple regions worldwide.
The source of Unknown Proxies IPs is unknown, so they could be reselling proxies from bigger providers. But that's just an assumption.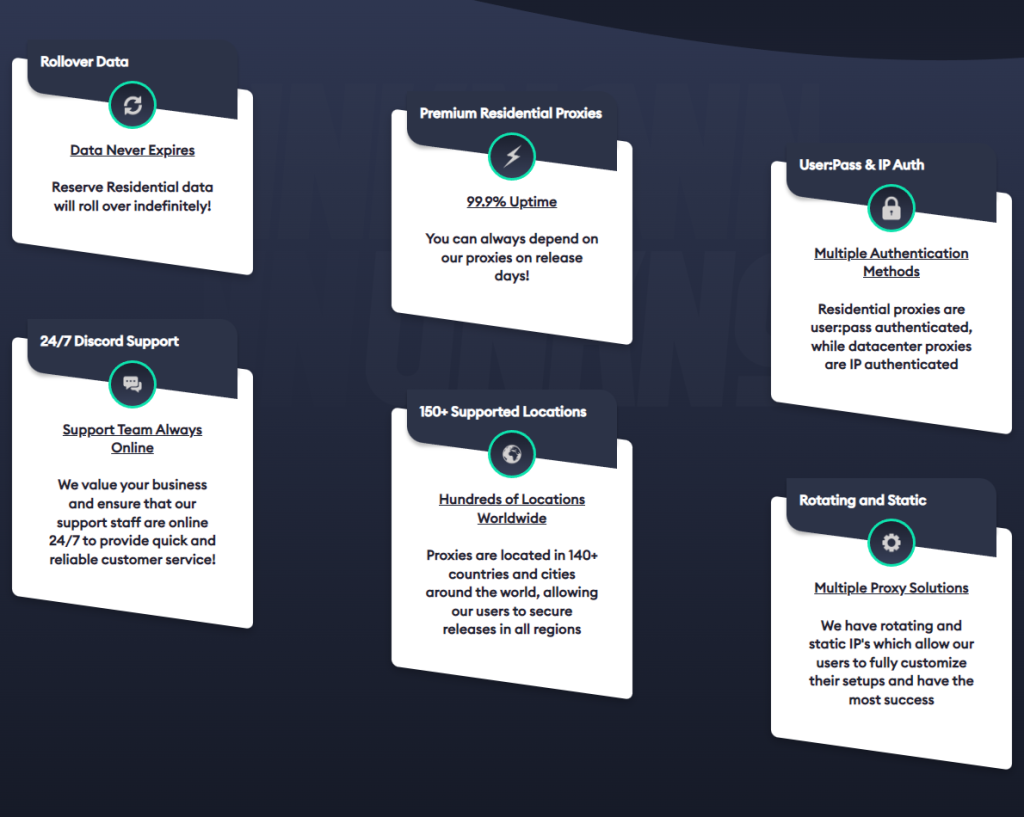 Types of Proxies
This proxy provider sells residential and ISP datacenter proxies. With residential proxies, your real IP address is guaranteed to stay hidden no matter how many pairs of sneakers you cop. That's because they are provided by real users and internet service providers, which makes them more trustworthy, reducing the chances of being detected and banned by foot sites.
Unknown Proxies has two residential proxy plans to choose from – Reserve Residential and Masked Residential. The Masked plan provides endpoint IPs that change every 8 to 12 hours. The company has both static and rotating residential IPs. They support username/password authentication only.
Another product offered by this provider is ISP datacenter proxies. Unlike residential ones, these proxies are hosted on a server and don't involve end-users. They are a great choice for sneaker copping because of their fast speed.
Unknown Proxies sells them as Captcha ISPs which are great for solving ReCaptcha V2/V3 and farming Google activity. Another ISP proxy plan is the 30-day Signature ISPs which are curated explicitly for optimal performance on retail sites like Shopify, Footsites, and Nike.
The last ISP proxy plan, the 24-hour YS ISPs, is currently sold out. All datacenter proxies from this provider support IP authentication only. However, the company doesn't state whether its proxies support HTTP(S) and/or SOCKS protocols.

Unknown Proxies Proxy Speed and Performance
The only thing we know about Unknown Proxies in terms of speed and performance is that they have 99% uptime. Although this means they are very reliable, it doesn't reveal anything about their speed.
On the other hand, the excellent location coverage means you can geo-target any of the 150 locations supported, which would result in a smoother copping experience. In general, datacenter proxies are faster than residential proxies, so you should expect faster connection speeds with Unknown Proxies ISP datacenter proxies.
Additional Tools
Many proxy providers on the market offer additional tools such as scrapers, API, or proxy speed checkers. Unfortunately, you won't find any of them with Unknown Proxies.
Purchase Simplicity
Buying proxies from this provider is simple and easy. Of course, you have to create an account to make an order, but that's easy as well. Once you get access to the user-friendly and minimalistic dashboard, you can go to Purchase Plan and select the desired plan based on the given specifications.
The ISP datacenter proxy plans allow you to choose the number of IPs you want, while the residential proxy plans give you options for the amount of bandwidth. After choosing the best plan for you, you click the Purchase button and enter the required billing information.
Unknown Proxies Pricing
Unknown Proxies doesn't have the most affordable proxies on the market. The cheapest residential proxy plan is the Reserve Residential plan which provides 2 GB of traffic for the price of $29.99, which is not cheap. However, the fact that it never expires as long as you're an active user of these proxies makes it cost-effective. You can order up to 10 GB for $139.99 and roll over the unused data.
The Masked Residential plan provides you with as little as 4 GB and 50 IPs for $59.99, and up to 100 GB and 1650 IPs for $1429.99. Unlike the Reserve plan, this one expires after 60 days.
Captcha ISPs are also not cheap, selling at $15.49 per 10 proxies, which means one proxy costs $1.54. Although the price decreases as you order more proxies (100 Captcha ISP proxies cost $140.99 or $1.4 per proxy), it's still not cheap. This plan expires after 30 days.
The 30-day Signature ISP plan allows you to buy as few as 25 proxies for $62.99 or $2.51 per proxy. The more proxies you order, the cheaper they get, so 100 proxies will cost you $239.99 or $2.39 per proxy. This plan also expires after 30 days.
The currently unavailable 24-hour YS ISPs cost $1 per proxy if you order the starting plan consisting of 25 proxies, or even less if you order a higher number of proxies. For example, 100 proxies cost $95, which means one proxy is $0.95.
This proxy provider has neither a free trial nor a refund policy. In other words, you won't be able to try its proxies before subscribing or get your money back if you're not satisfied with them for any reason.
Needless to say, these are one of the Unknown Proxies' biggest disadvantages. However, the company tries to give its customers a little peace of mind when ordering its proxies by saying it can replace any banned IPs but only if it's capable of doing so. You can also request a subnet change from the dashboard.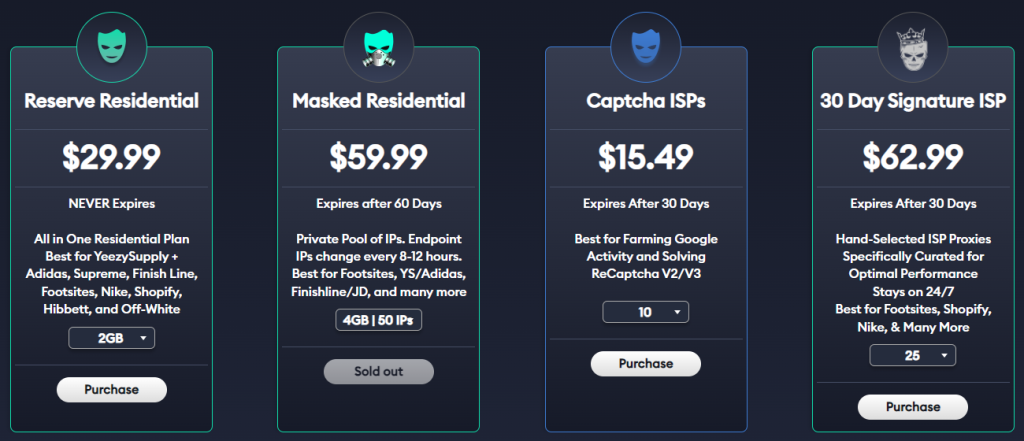 Unknown Proxies Discounts
You can easily find some Unknown Proxies discount coupons on the internet, offering a certain percentage off your purchase. Also, the more proxies or bandwidth you order, the price slightly decreases.
Is Unknown Proxies Legit or a Scam?
You can rest assured that Unknown Proxies is totally legit despite the lack of a refund policy. It's a popular US company that focuses on proxies for sneaker copping.
Customer Support
As soon as you open the Unknown Proxies site, you can see the Discord link that takes you to the Discord server where you can communicate with other users and create a ticket for assistance with plans and billing. Other than that, you can't really find any contact information on the site.
The only thing we managed to find was an email on the Terms of Service page that says you should only use it to ask questions about the Terms of Service. We did use it to try and get more information about Unknown Proxies service, but the support team responded that we should create a ticket on the Discord server for that matter.
So, the lack of publicly displayed email, proper email support, and live chat support is definitely a flop.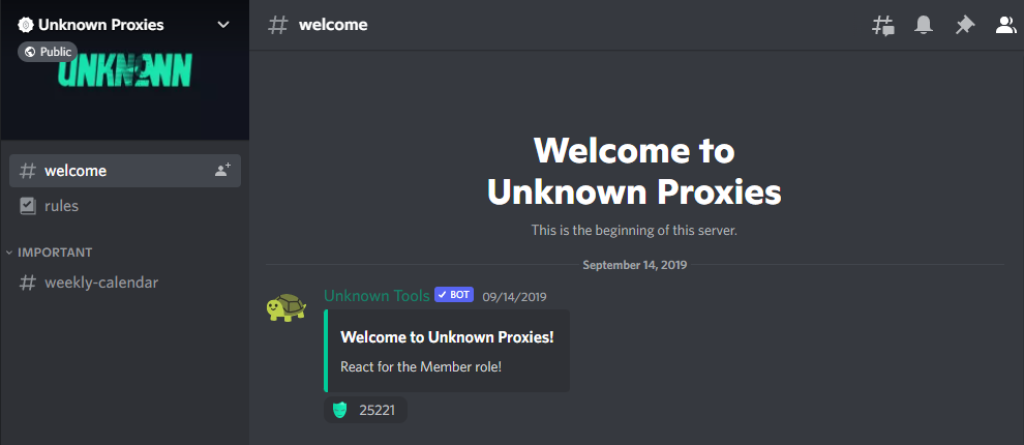 Can You Earn Money With Unknown Proxies?
While some proxy providers have affiliate programs that customers can join and earn money, Unknown Proxies doesn't give you that option.
Unknown Proxies Pros and Cons
Here are Unknown Proxies' major pros and cons to help you figure out if you want to use its proxies for copping sneakers.
Positive
A big proxy pool
A great location coverage
Support copping multiple foot sites
IP authentication and username/password authentication support
Static and residential IPs
Discounts
99% uptime
Easy to purchase
Negatives
Unknown IP source
Expensive proxies
No info about proxy speed
No info about HTTP(S) and SOCKS support
No free trial
No refund policy
Lack of email and live chat support
No affiliate program
No additional tools
Final Verdict
Unknown Proxies is a good proxy provider if you're copping sneakers on Supreme, Foot Locker, Size, and some other retailers. It has excellent location coverage and residential proxy data that never expires.
On the other hand, it has expensive proxies and doesn't offer any refund policy. On top of that, there's no information about HTTP(S) or SOCKS support and the proxy speed. So if you're not satisfied with how they work or how fast they are, you won't be able to get your money back.
Ratings
Average
Score by our metrics
Positive
A big proxy pool
A great location coverage
A great location coverage
Negatives
Unknown IP source
Expensive proxies
No info about proxy speed
Unknown Proxies Alternatives
If you think Unknown Proxies is not the best proxy provider for you, here are a few more options to have in mind:
IPRoyal – unlike Unknown Proxies, this provider has ethically-sourced sneaker proxies with 10 Gbps port speed sold at much lower prices.
PrivateProxy – unlike Unknown Proxies, this brand offers a free trial for its sneaker proxies and an exclusive subnet for each client.
Geonode – with this proxy provider, you'll get access to API and advanced proxy controls like geo-targeting, auto-replace, ISP-targeting, and a 7-day trial service for $7.
FAQ
What payment methods does Unknown Proxies support?
Currently, Unknown Proxies supports G Pay and credit cards including Visa, MasterCard, American Express, and Discover.
From what locations are the 24-hour YS ISPs from Unknown Proxies?
This Unknown Proxies plan has ISP proxies based in Virginia, US.
What is the timeframe of Unknown Proxies ISP/datacenter proxies?
All proxies will last for 30 days of a month from purchase. After that period, they will no longer work.