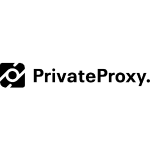 In a world where everything is digitized, the internet has become a reliable companion for the average individual. Today, almost everything has some form of connection to this vast global swarm of servers and computers. From education to health to the food industry, the internet is a true masterpiece of the human capacity for innovation.
While the internet has made life way more convenient compared to what it used to be, say, only three or four decades ago, it also has its fair share of complexities. For one thing, it may not be the most secure platform when private information is involved.
Hackers, websites, and other fraudsters masquerading as legitimate parties on the web are always trying to get their hands on private user data for uses such as targeted advertising and sale to the highest bidder on the dark web. Indeed, the sale of stolen data is thriving on the dark web, and it does not seem like it will wane anytime soon.
Another significant concern with the internet is restrictions. If you are a regular user, you've probably realized by now that most web content is unavailable to all users. Different factors come into play here, including geo-blocks, copyright laws, and government regulations.
So, how do you protect yourself from all these limitations? Proxy servers are some of the most efficient tools you can use. These are servers designed to hide your IP address and provide an alternative one from the same region or a different one.
While these tools are efficient, finding the right proxy service provider can be a real pain. Most proxy companies tend to be unethical and engage in shady dealings. However, the market has many honest and legitimate companies that offer great products, pricing, and customer service.
With that said, this review will dive into one of the popular proxy service providers on the internet, PrivateProxy.me. By the end, you should have an easier time deciding whether you can work with this provider or not.

PrivateProxy.me Introduction
As you can infer from the name, PrivateProxy.me is a service provider primarily focusing on private proxies. Yes, this may well be one of the biggest highlights of this provider: the proxies come from its own network array, which translates to better reliability on the user's part.
PrivateProxy.me has been in operation since 2010 and hails from Hong Kong. It is a subsidiary of AquaNetworks HK Limited, a company that deals with cloud IT services. We were particularly interested in how the website handles user data, so we searched for a privacy policy. To our surprise, there isn't one on the site.
However, the website mentions that it does not keep data related to your actual IP address, browsing history, connection times, or bandwidth usage. If this is the case, users are safe knowing that the provider does not log their private data.
That aside, does this website have what it takes to match up to other premium proxy service providers out there? Let us find out!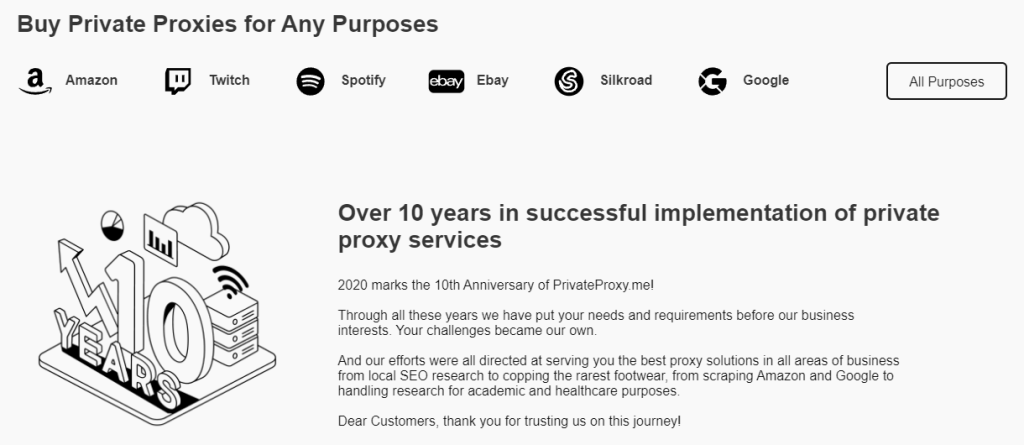 PrivateProxy.me Features
You should not expect worldwide location support or a staggering amount of proxies with this provider. PrivateProxy.me takes a relatively simple approach with a modest amount of proxies in its pool and meager location support.
That said, PrivateProxy.me only has 15,000 IPs in its pool. To be honest, this is a rather small number of IP addresses, given that other companies offer far much larger pools comprising IPs in their millions. The IPs from PrivateProxy.me are spread out throughout the US and Europe. This shows that location support is poor compared to providers with significantly more locations available worldwide.
On the flip side, all the proxies from PrivateProxy.me are private and come from the company's own private network, which automatically translates to better reliability that P2P proxies. With P2P connections, the provider has less control over network performance as the individual peers' networks determine how the proxy network performs.
Hence, despite the poor location support and the relatively small number of IPs, the network is seemingly robust for many use cases. However, the actual performance of these servers will only be determined by their speeds and success rates which we will get to later in the review.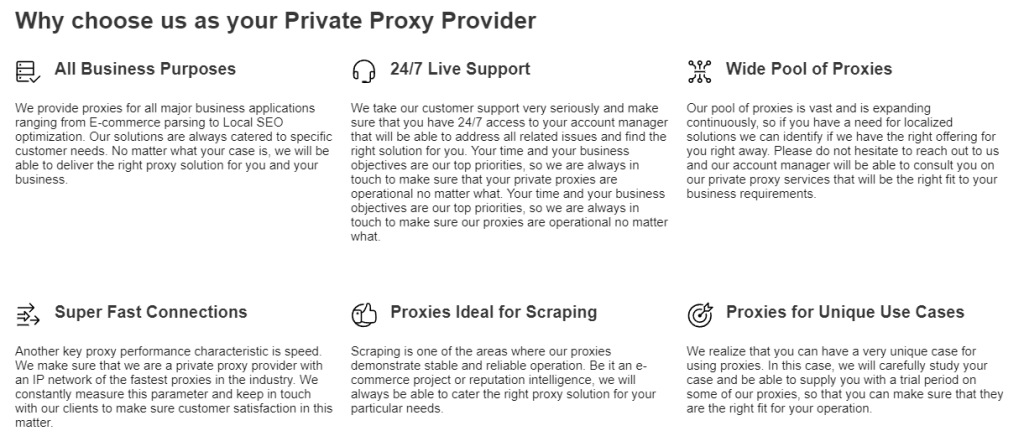 Types of Proxies
The PrivateProxy.me catalog is nothing record-breaking or surprising. You should not expect dedicated proxies here, like sneaker or Instagram proxies. This provider only offers datacenter and residential proxies.
In terms of performance, PrivateProxy.me does not lag behind. It supports the SOCKS5 proxies in addition to HTTP(S). This protocol has lower chances for errors when making connections since SOCKS5 proxies do not rewrite packet headers. This protocol is also more versatile, so it's good to have it as an option.
However, this comes at the cost of privacy, as packet headers contain your personal information. Therefore, this can be either good or bad, depending on how you view it.
When it comes to authentication, this provider gives users the option of going with either IP authentication or username and password authentication. You should note that both these methods have their ups and downs. Hence, having the option to select either is a significant convenience on the user's part.

PrivateProxy.me Proxy Speed and Performance
Speed is one of the most important aspects to consider when purchasing proxies. IPs that tend to introduce a bottleneck that hampers your connection speeds are a terrible idea, as this is mediocre quality.
Fortunately, you do not have to worry about such issues when working with PrivateProxy.me. The IPs exceeded our expectations when we checked for their speed and reliability in performance. This provider's upload and download speeds are remarkable, with more than 70% of the IPs exceeding the 240 Mbps mark.
With such remarkable speeds, these proxies can work for most use cases without much fuss. Such speeds are more than likely to work for ad verification, data scraping, general market research, and more bandwidth-intensive scenarios like streaming and gaming.
You should, however, note that you may not experience these speeds when implementing the proxies. Several factors influence a proxy's speed, such as your ISP, distance from the server, and location. Therefore, you should consider these factors when checking for speed.
Additional Tools
Under complementary tools, this provider lists ScrapeBox proxies, which is quite odd. ScrapeBox proxies are not tools since they are still proxies and come at a price. We expected to find something like an additional application, data scraper, or proxy checker. Unfortunately, all these were lacking from the website, which is a huge letdown.

Purchase Simplicity
We were particularly impressed with the PrivateProxy.me website. It is informative and contains links to everything you need to buy and start using proxy servers. The website design is also relatively modern, with just the right balance between text and graphics.
To purchase the proxies, you first must sign up, which is a relatively straightforward process. You need only provide your name, email, and password and confirm how you learned about the company, and you are good to go. You get access to the dashboard from which you can purchase a new subscription.
Hence, this is an area where this company seems to have put in enough work. The experience using the website is more than likely to be flawless, and most users will not need additional help finding their way.
PrivateProxy.me Pricing
There are several different subscription plans available from this provider. However, as we mentioned earlier, there are no specialized proxies here, so whether you want to use the proxies for ticketing, ad verification, or data scraping, the prices remain pretty much the same.
With this in mind, the pricing structure from PrivateProxy.me is on the average side. Accordingly, four different subscription plans are available:
static private datacenter proxies,
static private residential proxies,
backconnect rotating datacenter proxies,
backconnect rotating residential proxies.
That said, these plans all have a different pricing structure. For the static and rotating proxies, you are charged according to the number of proxies, while for the backconnect proxies, you will be charged according to the number of requests.
You also get a free trial when working with these proxies, but you must provide your billing information for you to get access. There is no mention of a money-back guarantee on the website, meaning that when you purchase the proxies, there likely won't be any refunds.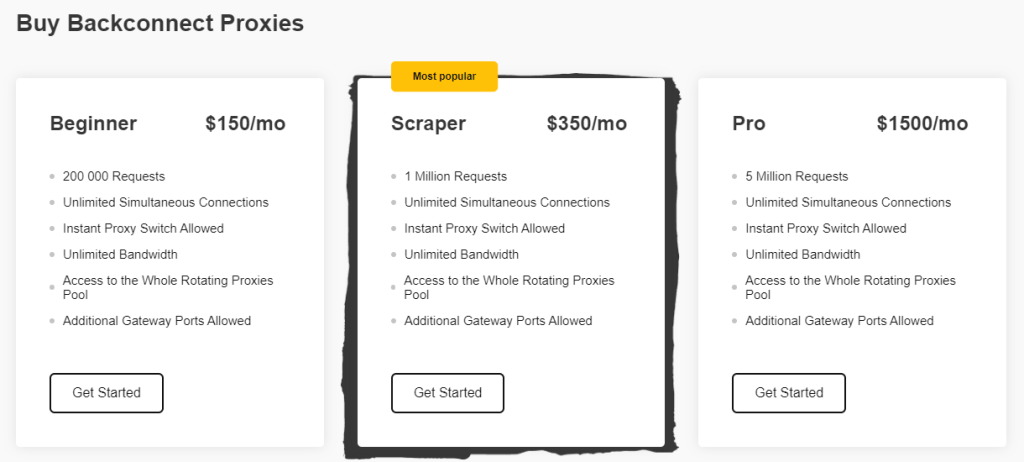 PrivateProxy.me Discounts
From our analysis, PrivateProxy.me does not seem big on discounts and special offers. The only significant deal we could find when analyzing the provider was bulk order discounts, where the more you buy, the cheaper it becomes. For instance, under static private datacenter proxies, you can get three proxies for $9 and 100 for $180. You can also apply a coupon code to get a discount during your purchase.
Is PrivateProxy.me Legit or a Scam
From our extensive analysis, we found this company to be indeed legitimate. The payment methods are safe and secure, which means that the service is honest. The company has a Trustpilot rating of 4.7 stars, indicating that most customers are satisfied with the service. Therefore, should you have qualms when using PrivateProxy.me, you can stay safe knowing that the provider is legitimate.
Customer Support
The customer support system at PrivateProxy.me is amazing. The website has a live chat system with all-around available support agents. We tested this service, and a customer support agent responded within seconds, which was beyond impressive by today's standards. The agent was polite and quite informative in answering our questions. There doesn't seem to be any other method of reaching out to the support team apart from the live chat option.
Can You Earn Money With PrivateProxy.me?
You can earn money with PrivateProxy.me by joining the referral program. You can earn 25% commission on referrals, which is on average. On the flip side, there is no approval process, as with many providers, and you also get real-time statistics on your referrals and earnings.

PrivateProxy.me Pros and Cons
Depending on your use case, you might decide to give this provider a chance or work with alternatives. The pros and cons list is designed to make your decision easier:
Positive
SOCKS5 support 
High speeds
Instant proxy delivery 
Dual authentication
You can authorize up to 10 IPs
Negatives
No money-back guarantee
The free trial requires billing information 
Final Verdict
With all that said, we have not answered one question – is the service recommendable? Absolutely! This provider seemingly ticks all the checkboxes and qualifies as a premium proxy service provider. This is a legitimate and reliable service, from high-performance proxies to all-around available customer support and good features.
However, PrivateProxy.me is not without mishaps. For one thing, the location support is poor and cannot compare to other premium providers. Moreover, it lacks specialized proxies such as sneaker, Instagram, ticketing, and scraping servers. Regardless, we can confidently say the benefits outweigh the costs.
Ratings
PrivateProxy.me Alternatives
If, by any chance, these proxies do not work for you, below is a list of providers with similar or even better features:
MarsProxies is the perfect choice for sneakerheads. It has an impressive catalog of private sneaker proxies with 99% uptime.
Oxylabs is known for its premium, high-level features. With support in over 195 locations and intelligent web scraping technology, this is an excellent alternative to PrivateProxy.me.
Astroproxy is relatively new, but it has some amazing features. You get rotating proxies with geotargeting options, API support, and integration.
FAQ
How long after purchase are the proxies activated?
Once you purchase proxies from PrivateProxy.me, you do not have to wait for delivery. The provider activates the proxies immediately.
Can I get banned from PrivateProxy.me?
Yes, you can get banned when you use the proxies for illegal activities. Therefore, you should always stick to the terms of service.
Unfortunately, you cannot get a refund with PrivateProxy.me. You can, however, use the 7-day free trial to try out the service. Remember that you have to provide billing information.