The proxy industry has become one of the most dynamic and fast-paced sectors in the world of technology. With new entrants every day, competition has become strife with no room for errors.
Speed is one of the determinant factors that makes a proxy company stand out from the pack. With good speeds, a provider can stay confident in attracting and retaining customers, as this is one of the greatest selling points of any proxy service.
However, there is much skepticism concerning proxy speeds, given some providers' bad reputations over the years. Accordingly, some proxy companies are known to introduce huge bottlenecks that end up compromising quality.
On top of that, the proxy realm has been shrouded in mystery and scams for a long time. Even today, many companies are getting exposed for running scams targeting users. However, there are legitimate companies that offer ethically sourced and fast proxies. All it takes to find them is a little research.
In this piece, we will look at some of the fastest proxy service providers. Better still, you will learn how to discern a fast proxy provider from a slow one and pick the right option for your needs if speed is a top priority.
How to Know Which Provider Offers the Fastest Proxies?
So, how exactly do you discern which providers offer fast products from those that offer mediocre ones? It is no secret that the proxy market is flooded, and more and more companies are breaking into the scene even now.
As a proxy user, you might be in a dilemma discerning which providers offer top-tier speeds. In all reality, there are several ways of selecting fast providers. The fastest and easiest method is checking for customer reviews.
Customer reviews will give you a first-hand account of what other customers have experienced working with these servers. You can search for customer reviews on sites like Trustpilot and Blackhat World.
The next method is testing the proxies yourself. Here, you must understand that this might only work for select providers. You can try proxy providers that offer free trials and find out what speeds their proxies offer. However, not all providers offer free trials.
Hence, if you find a promising provider that ticks all the boxes but doesn't have a free trial, you can opt to pay for their smallest package and see how their network performs.
Remember, as the end user, you do not have to compromise. There are many proxy services online, and with the right amount of patience and digging, you will find one that meets all your needs.
Hence, you need to be objective when looking for a provider. You can also check for reviews that stack up one company against another and see which outperforms the other. This way, you will easily get the fastest and best-performing proxy provider for all your needs.
Main Reasons Why Some Proxy Providers' Proxies Are Faster Than Others
Why exactly is there a disparity when it comes to speed from different providers? Before we answer this question, we need to get several facts out of the way.
For starters, you should understand that several factors come into determining the speed of a proxy, and some of them may be beyond control of your provider and yourself.
Typical factors include location and your internet service provider. How so? Well, you need to understand that the distance from the proxy server determines the speed you will get from your server.
Also, if you are getting mediocre speeds from your ISP, there likely won't be any difference with your proxy server. That said, other factors still determine the speed you get from your proxy.
The first of these is the proxy infrastructure. A provider with modern technology will likely offer better speeds than a provider with lower-grade features and infrastructure. Also, you need to understand that the kind of proxy will also affect the speed where datacenter proxies are faster than residential ones.
Finally, pricing also plays a significant role in determining why some proxies are faster than others. To put this into perspective, you can never really compare the speeds a free proxy offers to those offered by premium proxies. Also, the more you pay, the better performance you are likely to get.
On a side note, you should avoid free proxies, no matter how enticing they may seem. Such servers are a red flag as most offer mediocre performance, and some are just scams designed to hack your device and steal your data.
With this in mind, below is a list of some of the fastest proxy service providers in the current market.
Fastest Datacenter Proxies Providers – Quick Summary
IPRoyal – the best premium proxy provider ✅
Bright Data – the provider with the most powerful infrastructure
Smartproxy – the most cost-effective proxies
Oxylabs – provider with the largest proxy pool
Fastest Datacenter Proxies Providers
Datacenter proxies are known to offer some of the fastest speeds, but the exact numbers vary from provider to provider. Take a read below:
---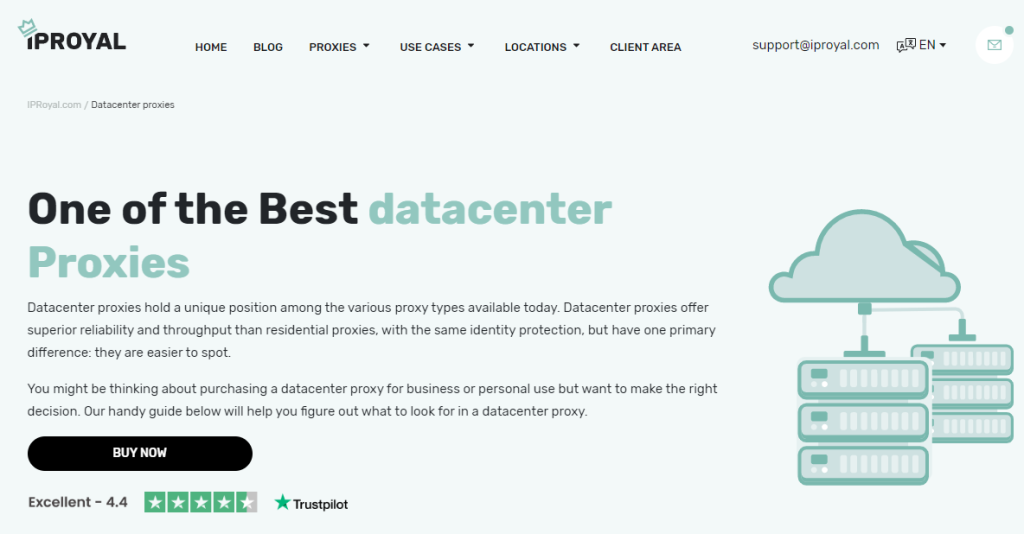 When it comes to fast datacenter proxies, IPRoyal ranks at the very top. With coverage worldwide, IPRoyal has become a market leader in top tier datacenter proxy service providers.
What makes IPRoyal superior when it comes to fast datacenter proxies? For starters, this provider utilizes enterprise-grade connection technologies to ensure users get seamless connections.
Also, IPRoyal uses a robust framework to check and maintain its servers from all over the world. The IPs are constantly reviewed to ensure they are at optimum performance, and new locations are added on a regular basis.
This way, users enjoy blazing-fast connections and improved service, which is why IPRoyal ranks at the very top of our list.
---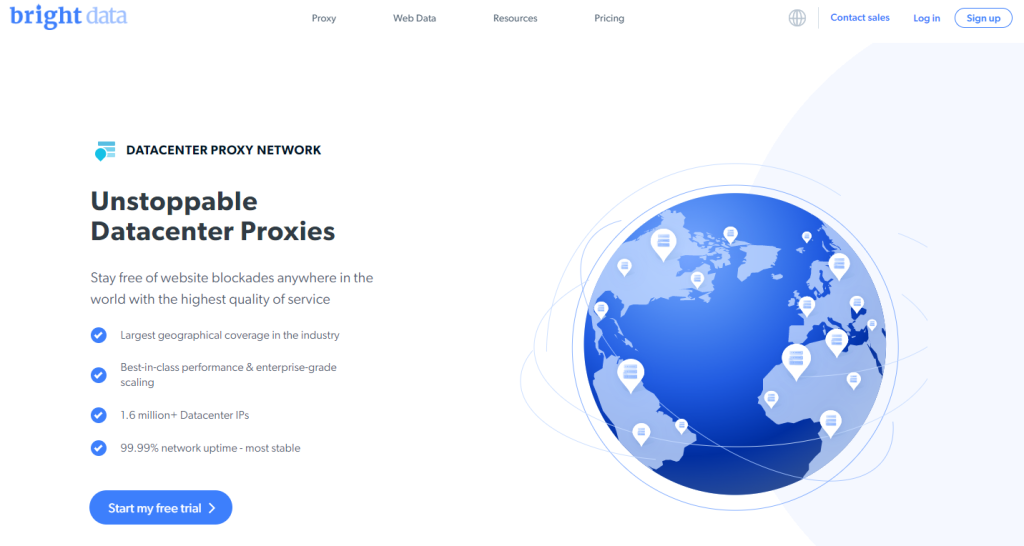 Bright Data, formerly known as Luminati, is easily one of the most popular proxy service providers in the current market. The company has a range of more than 1.6 million datacenter IPs from cities and countries all over the world.
The Bright Data website is easy to use, and you need no technical experience to navigate the website. In addition to the datacenter proxies, you also get additional features such as an open-source proxy manager, which offers more advanced features like SSL decryption.
Bright Data has one of the most impressive reputations, and most customers are impressed with the speeds the datacenter proxies have to offer. While this provider might be more expensive than most companies on our list, you get precisely what you pay for – premium-level speeds.
---
Smartproxy is a mid-range proxy provider, meaning it has prices slightly below the industry standard and tries to cover all major use cases. This, however, does not imply that this is a mediocre proxy service provider. In fact, it is anything but that.
Smartproxy is the best choice for medium-level proxy users as it offers a sweet spot between reliability, speed, and price. What does this mean? You can source datacenter proxies in the same tier as Bright Data but at a far lower price.
You can get both rotating and dedicated datacenter proxies from Smartproxy. The rotating datacenter proxies are the entry-level proxies from this provider and consist of more than 10,000 IPs in random locations.
The rotating proxies are best for use cases that do not care about the location or IP. Unlike rotating servers, the dedicated proxies are unshared and consist of more than 40,000 servers limited to the US.
---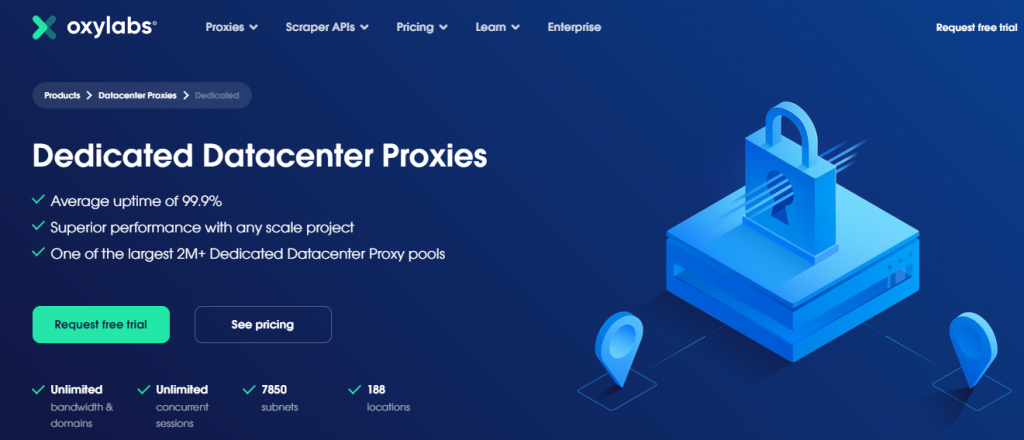 Oxylabs is one of the most revered proxy service providers. The Lithuanian-based company primarily has business clients as its target, evidenced by its simple website with a list of certifications and a dedicated account manager.
This provider has powerful static datacenter proxies sourced from cloud service providers in different locations worldwide. One of these proxies' most significant selling points is that they are available from nearly all countries worldwide, which is a fantastic feat for datacenter proxies.
You get access to over two roughly two million residential IPs with the option of geotargeting down to the city. Also, the datacenter proxies offer support for the SOCKS5 protocol, translating to faster speeds and better reliability.
Fastest Residential Proxies Providers – Quick Summary
Fastest Residential Proxies Providers
Below is a list of some of the fastest residential proxy service providers and what their services have to offer.
---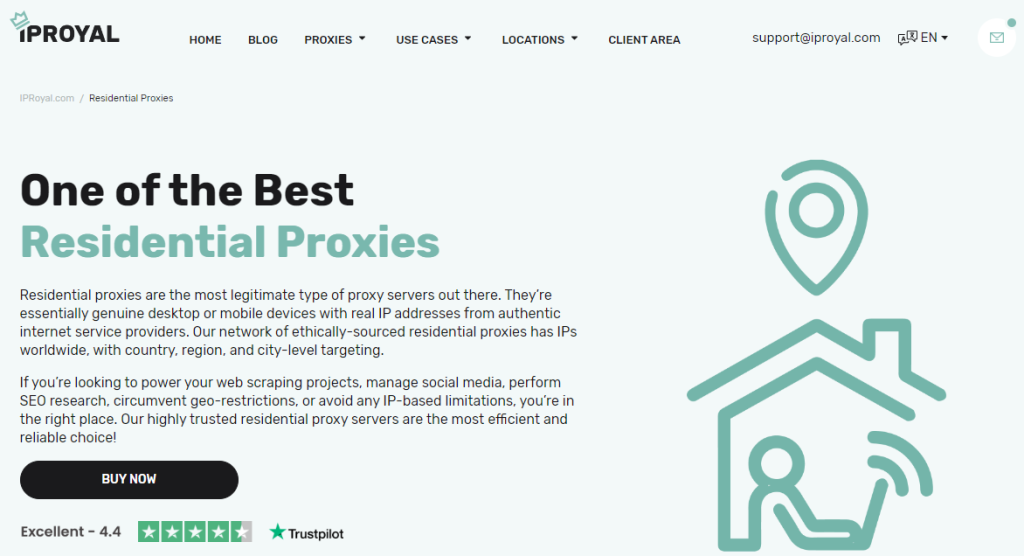 Despite being one of the younger proxy service providers, IPRoyal has quickly risen above the ranks to become one of the most trusted residential proxy service providers. IPRoyal targets small-time clients and positions itself as an affordable proxy service provider.
The residential proxies from IPRoyal are known to be some of the most reliable in the market. Their own residential pool currently has over 2 million ethically-sourced IPs from over 190 locations worldwide. You also get precise geotargeting down to the city, which is pretty impressive.
One of the most exciting features of IRoyal is its ability to toggle IPs. This means that you only get the fastest and most stable IPs, and while it reduces the pool size, it ensures you get maximum service delivery.
---

Smart proxy is another young company that has managed to position itself as a key player despite the many odds stacked against it, like stiff competition. It has a diverse pool of residential proxies that can cater to your every need.
In fact, residential proxies are Smartproxy's flagship service, reflected by its diverse proxy pool constituting more than 40 million IPs. To put this into context, this number automatically places Smartproxy among the most diverse residential proxy providers.
As for location, the proxies come from 195 different countries, which is staggering, given very few providers reach these numbers. You are also at liberty to rotate your IPs between 1, 10, and 30 minutes thresholds.
---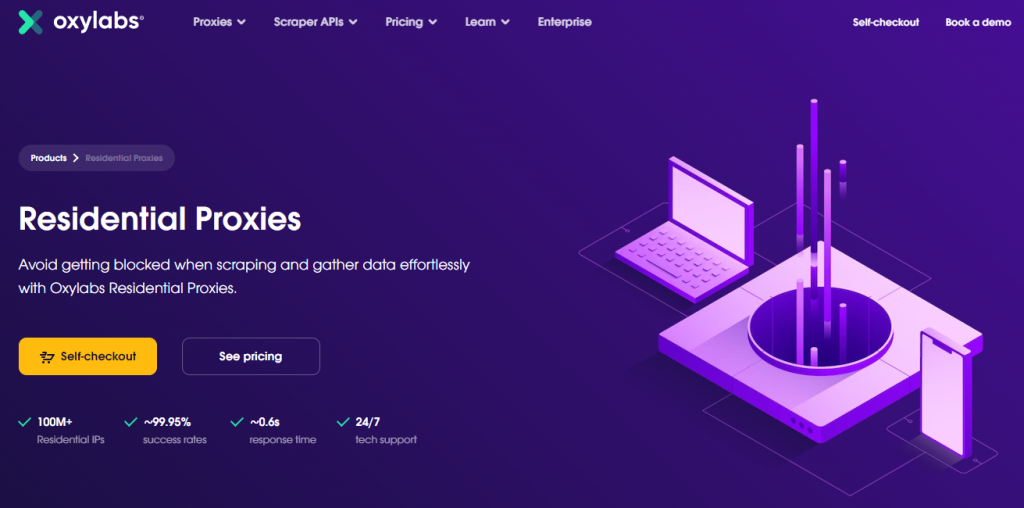 Oxylabs is a premium residential proxy service provider targeting small and large businesses. It has what is arguably the largest residential proxy pool in the market, consisting of more than 100 million IPs.
Such numbers automatically translate to better speed and reliability as fewer people are likely to be using the same IP. The IPs are available in all locations with all the goodies we need from high-level proxies.
The only thing missing from Oxylabs is ASN filtering and SOCKS5 protocol integration, which is a significant downside. You can also rotate the IPs as needed, albeit the options are limited, with 10 minutes being the only threshold available.
---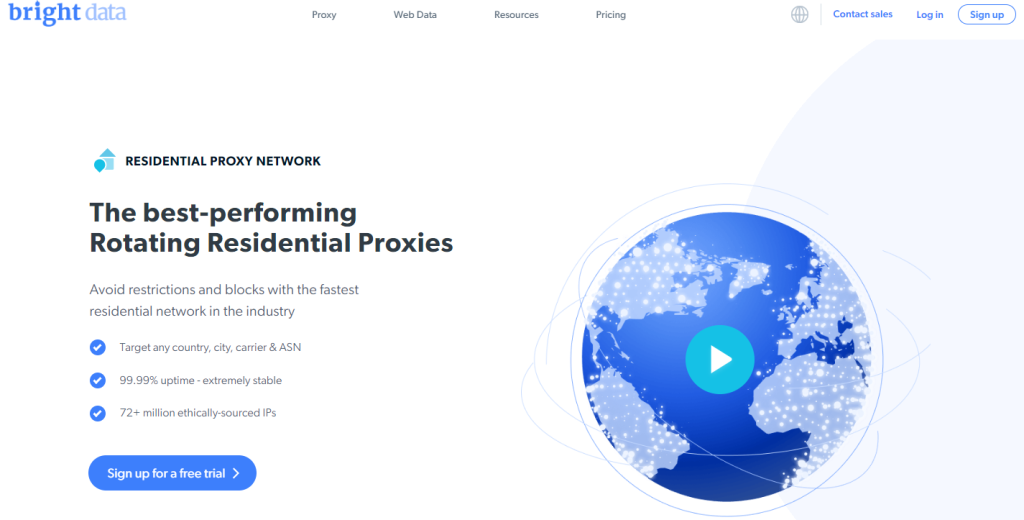 The residential proxies from Bright Data are some of the fastest in the current market. The Israeli-based company has 72 million IPs in its pool, which is an amazing number that reflects its premium nature.
Most of the residential proxies are shared, but this does not imply that the performance is in any way compromised. You also get country, state, and ASN filtering. Other than that, these IPs support both HTTP(s) and SOCKS5 protocols.
When it comes to performance, these IPs shine. For one thing, you will likely get unique addresses, which translates to better performance and excellent speeds.
Fastest Mobile Proxies Providers – Quick Summary
Fastest Mobile Proxies Providers
Mobile proxies, being relatively young, are fast rising in popularity. Below is a list of some of the fastest mobile proxy service providers:
---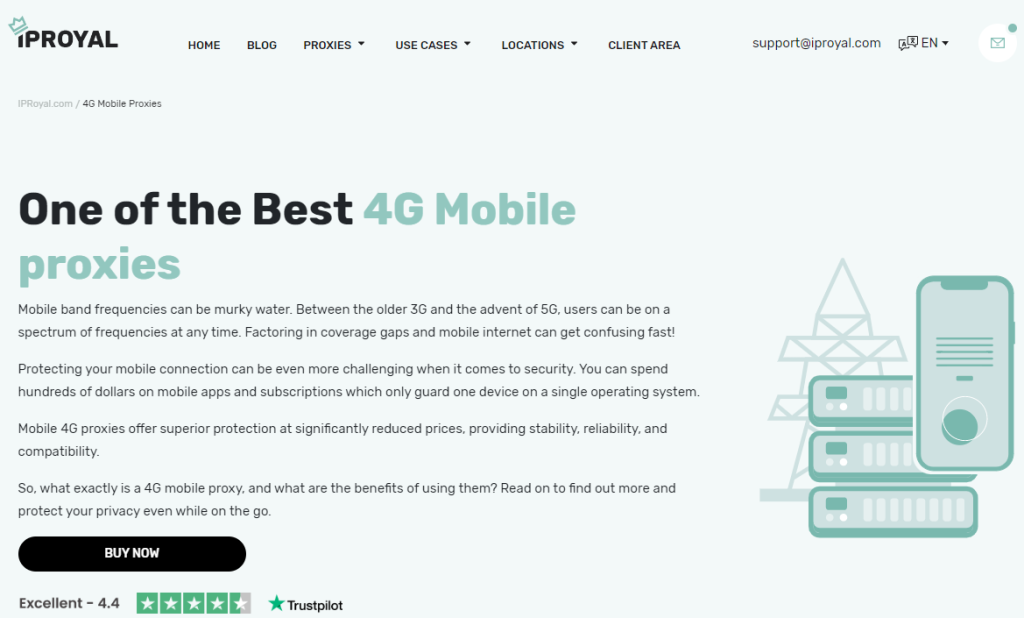 IPRoyal offers some of the fastest mobile proxy providers for all your needs. The Lithuanian proxy provider is based on dedicated devices with sim cards. This implies you can only use one IP at a single instance.
On the flip side, IPRoyal has no traffic limitations, and IP rotation is straightforward with no setbacks. This has made the service quite popular among multiple account managers due to its flexibility.
You also get unlimited bandwidth on a pool spanning more than 100,000 IPs with top-of-the-range speeds. Finally, IPRoyal does not log user data, and everything you do with the IPs is entirely anonymous!
---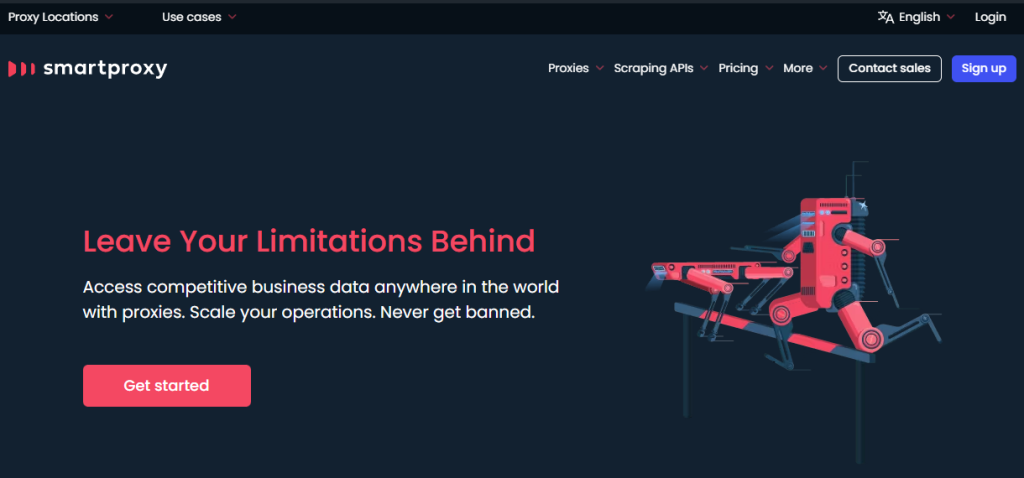 Smartproxy is one of the largest proxy service providers in the current market. It has over 40 million IPs that are priced aggressively enough to give major players like Bright Data a run for their money.
The company has servers in most cities and countries, which makes it ideal for a wide range of applications. The mobile proxies are part of the 40 million residential proxy servers and span both 4G and 5G servers.
However, Smartproxy is yet to launch a pure mobile proxy plan for users. The website mentions the company has plans to kickstart this service later this year.
---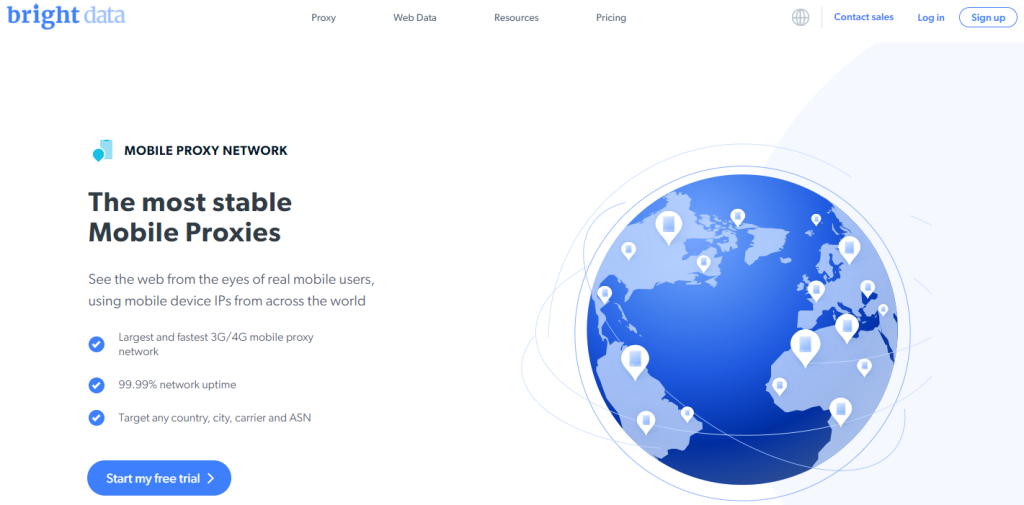 Our list would not have been complete without Bright Data, one of the pioneers of the proxy revolution. This provider has over 7 million mobile IPs in its pool, which is beyond impressive.
You get both 4G and 5G IP addresses spread out across every major city worldwide. However, you should note there aren't any dedicated proxies here, but that does not imply that the proxy functionality is compromised in any way.
You also get additional features like precise geotargeting, unlimited users per account, and unlimited bandwidth. For these reasons, Bright Data has made it into our list of fastest mobile proxies.
---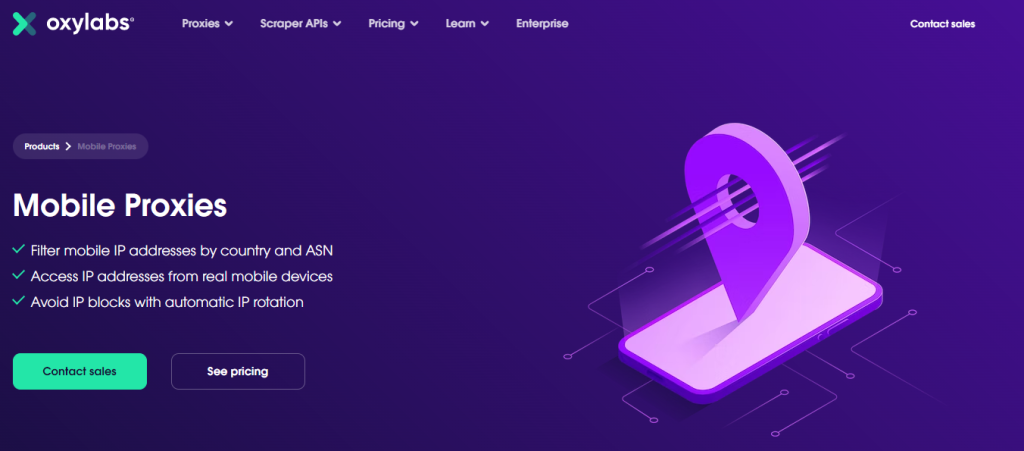 Oxylabs has an impressive pool of mobile proxies consisting of 20 million IPs. The servers are spread across every major country, adding to their reliability and functionality.
While you don't get geotargeting as is the case with residential proxies, Oxylabs offers IP filtering, which is a useful feature as well. On top of that, you get IP rotation within a 10-minute threshold which is also not that bad.
However, these servers do not offer SOCKS5 protocol support, which has better functionality and reliability. On the flip side, you get unlimited threads and bandwidth minus 5G functionality.
---
Conclusion
The proxy realm is awash with many companies. But few can reach the records set by the companies listed above. As a proxy user, it is your duty to do your due diligence before settling for any proxy service provider.
First off, you should understand that proxy companies are different. While they may offer the same product, the way they deliver the service to the customer are different, which translates to the different levels of service we see in most companies.
Despite the disparity in service quality, you also need to note that different factors work in tandem to determine the final figure when it comes to speed. And some may work in your favor, while some may work against you.
For instance, the further away you are from a server, the longer a data packet will take to reach its final destination, as it will have to go through many nodes. Also, your ISP's infrastructure will affect the proxy speeds you get.
With all these factors in mind, your proxy's infrastructure and the connection technologies it utilizes will determine how fast it is. An ideal proxy service provider has speeds along the same lines as your ISP.
That said, when looking for a proxy service, it is best to settle down on a bit of research. Accordingly, check for online reviews and free trials, and, if possible, try out the service yourself. A good place to start would be the options listed in this post.
Using this strategy, you are more than likely to find a provider matching your pricing, performance, and speed needs. This way, you will be free to conquer the depths of the internet without restrictions!