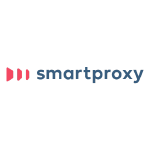 The plethora of proxies available today can be daunting. Being caught in analysis paralysis can be costly and dangerous for anyone concerned about privacy and security, from a single user to international corporations. Smartproxy has positioned itself in the "sweet spot" between affordability and rich features, offering something for everyone.
This review takes an in-depth look at Smartproxy and what it provides to its customers. We'll cover everything a proxy user might care about, from speed and performance to pricing, customer support, and extra tools you get with proxy servers.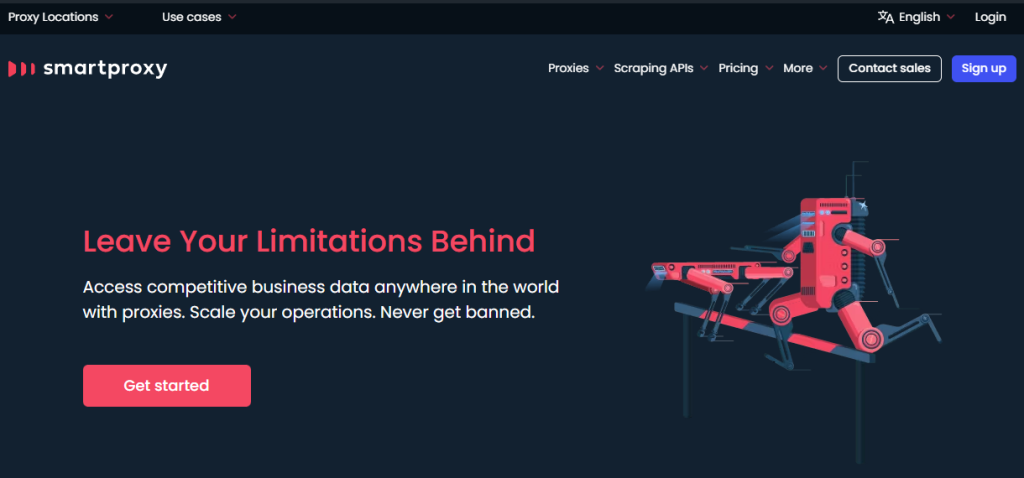 Smartproxy Introduction
Today's review subject is Smartproxy, one of the newest entries in the proxy market. Established just a few years ago in 2018, you'd be forgiven for thinking the service lacks the experience and the infrastructure you'd find elsewhere. However, Smartproxy offers an impressive feature array for such a young provider.
Smartproxy's price point makes it an intriguing option for anyone wanting to balance contemporary proxy power without breaking the bank.
What truly sets Smartproxy apart from the competition is its youthful attitude and passion for performance. In the words of the founders, they got fed up with the waiting and delays.
In our fast-paced world, information moves at lightning speed; any delay can devastate eCommerce and a company's bottom line. Smartproxy understands the need for premium performance and reliable solutions.
Our deep-dive review focuses on the details of using Smartproxy for business and personal use. We'll explore real-world performance statistics, features, the payment process, and more to help you decide which proxies to buy.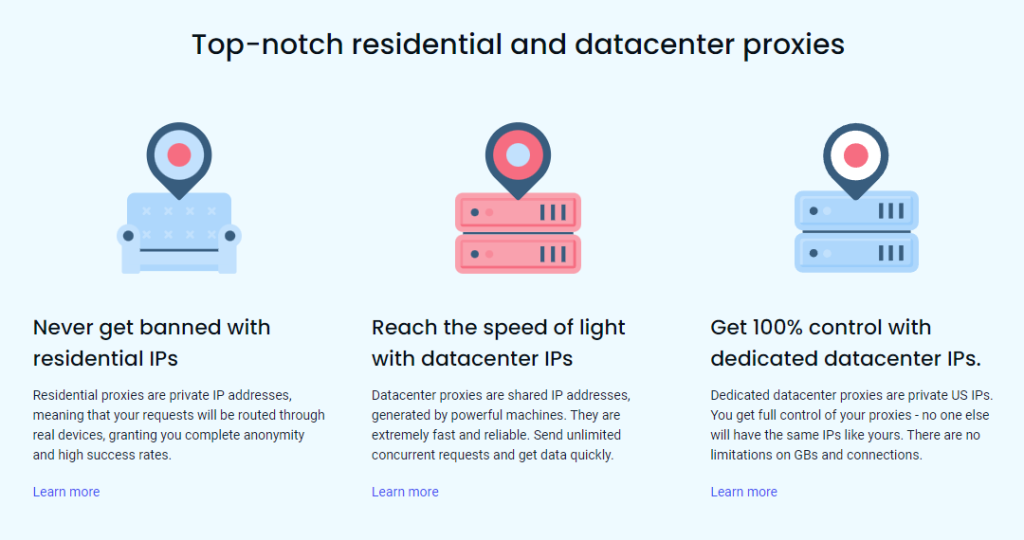 Smartproxy Features
Available features can make or break a proxy, depending on your needs. Customers expect the basics that are included with nearly every plan, so unique features are what sets proxies apart.
Although "proxy" is in the name, Smartproxy places equal emphasis on proxies and scraper APIs. Whether you're in the market for privacy protection or marketing research, Smartproxy provides the tools to drive success.
Smartproxy adjusts to your changing demands as needed by providing flexible resources tailored to your usage.
Enjoy proxies that grow with you and multiple packages to fit any project.
24/7 e-mail and chat support
Minimize delays with a support team that's always on hand whenever you need them. Smartproxy goes beyond the norms by offering live chat support to walk you through any difficulties in real-time.
Unlike other providers, Smartproxy doesn't share subnets between their residential proxies. So, if one proxy gets banned, it won't affect the others. This segregation means Smartproxy is ideal for any task with a high ban risk, giving you peace of mind when you need it most.
Smartproxy doesn't artificially cap your performance with maximum thread limits. You have the freedom to run as many concurrent connections as you want. Download large files and scrape as much data as you need without limits with Smartproxy.
Smartproxy gives you the choice of cutting edge or maximum compatibility with IP v4 and v6 proxies at your fingertips. Choose either protocol or switch between both as needed to maximize your success rates. Stop choosing which website or service to visit based on protocol compatibility, and start letting your proxy work for you.
Many other proxies fail HTTPS secure validation, but Smartproxy doesn't skimp on compatibility or security. Use HTTPS for fast and secure payments or to access sites requiring logins without compromising. You can easily toggle between the two protocols for each connection, giving you complete control over your services and automation.
Smartproxy provides deep integration through proxy and scraper APIs, browser extensions, and other tools to work seamlessly with your business in any situation.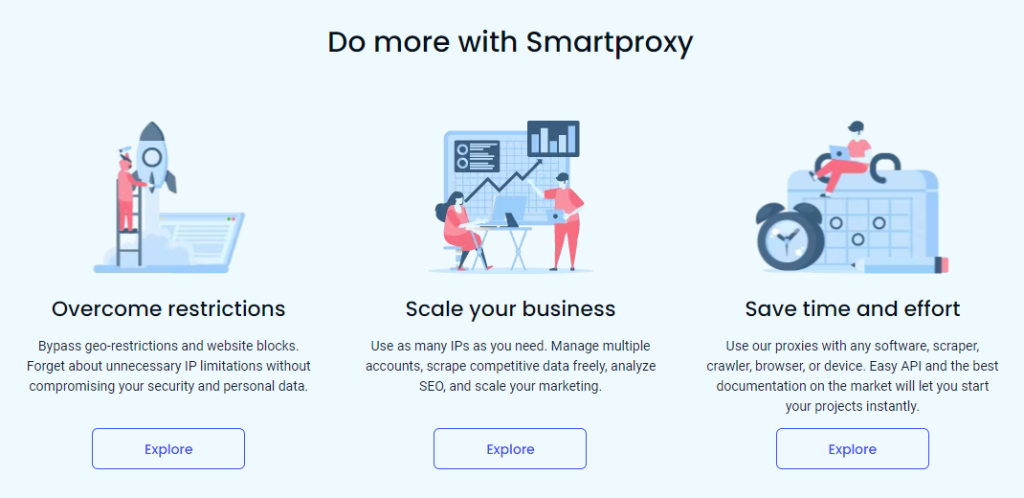 Types of Proxies
Smartproxy has an impressive feature set, but it doesn't stop there— the company also offers a complete collection of proxies tailored to your particular workflow. Here's a rundown of what Smartproxy provides.
Residential Proxies
Residential proxies are perfect for businesses or individuals alike, offering high-performance connections that appear as individual user accounts. Each of Smartproxy's 40 million IP addresses corresponds to genuine residential devices, giving you protection against IP blocks and maximal success rates.
With over 195 locations and unlimited proxy threads, we believe Smartproxy's residential offerings are more than capable for nearly any business or personal application.
Smartproxy's residential proxies also offer the choice of desktop or mobile device masking, so you can reach the precise market that you are targeting. Since some sites are only available on mobile or desktop browsers, having the choice of proxy device type is a nice touch. We wish more providers would adopt this option in the future and applaud Smartproxy for the smart choice!
Datacenter Proxies
Datacenter proxies are geared towards scraping, with specific tools and features aimed at efficient data gathering. Smartproxy offers several variations of datacenter proxies in dedicated and shared environments.
Smartproxy provides a 30-minute "sticky session" option for their datacenter proxies, allowing you to maintain your IP address for particular tasks. Some example use cases for sticky sessions include maintaining an account's credentials (login), transferring large files, or keeping the contents of a shopping cart when cookies are disabled.
Enterprise-Level Proxies
Smartproxy offers a specific enterprise plan for their datacenter proxies that deserves a separate entry in this list. Their enterprise service gives you access to expanded traffic and additional login accounts to empower your business.
You can customize the amount of traffic you expect (in terabytes) and contact the sales team directly from Smartproxy's website.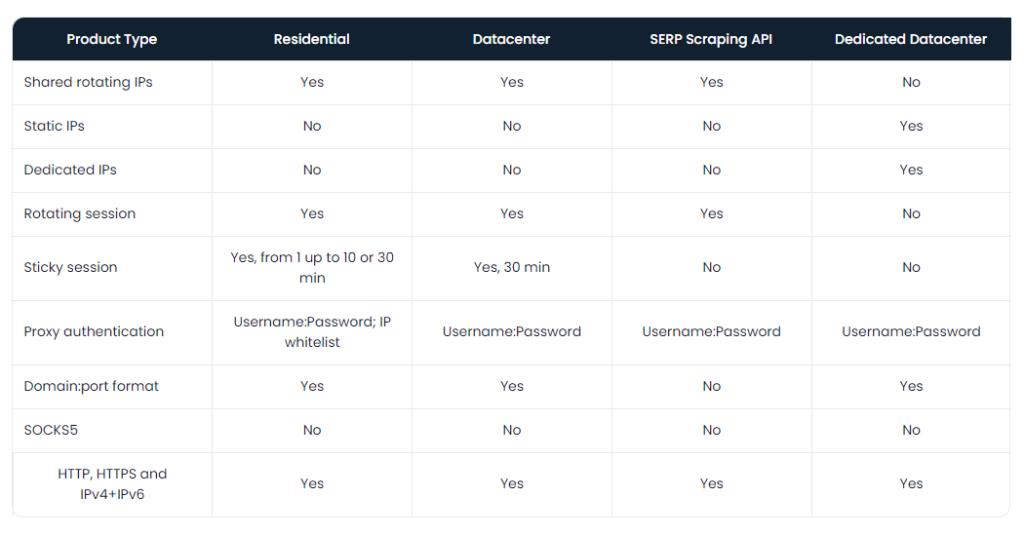 Smartproxy Speed and Performance
Features are only one side of the coin when deciding on a proxy service; real-world performance is a crucial factor also. Even if a proxy server provider has fantastic tools and features, slowness or unreliability can be detrimental.
Our research indicates that an average response time from a client and server located in the mid-western United States is 86 ms.
The average download speed is 30 Mbps.
The average upload speed is 18 Mbps.
These statistics are highly subjective, and your results will vary depending on your location, the proxies you select, and your target websites.
Critical Metrics
Besides raw speed, other factors, such as uptime and success rate, are crucial to success. Smartproxy datacenter proxies boast a 99% uptime for nearly perfect availability.
Smartproxy also gets high marks for its success rates, with an impressive 100% guaranteed success rate for its SERP scraper API. Other services will vary slightly depending upon the data, time, and target.
Additional Tools
The extra tools offered by Smartproxy are generous. With extensions for Chrome and Firefox, as well as an account browser and address generator, you'll have everything you need.
Smartproxy gives users complete control with their various APIs, letting you fully automate your data gathering, scraping, or botting. Save time, money, and resources by mitigating downtime and delays as Smartproxy manages the connection. Or, for more advanced users, fine-tune your proxy using manual controls that suit your needs.
Their APIs also include a "no-code" scraper. So even if you're not comfortable writing code, you can still take advantage of their advanced scraper technology with easy-to-use flowcharts.
We appreciate that Smartproxy gives users the freedom to operate their proxy as they choose, whether using automation or manually.
X Browser
X Browser is Smartproxy's unique profile management tool that lets you use multiple browsers with separate proxy profiles. Smartproxy also offers video tutorials on using X Browser with popular websites such as Twitter and eBay.
Smartproxy currently offers X Browser for Windows and macOS, although users will receive warning prompts during installation in both cases. Windows SmartScreen will warn users that X Browser is from an unidentified publisher because not enough users have reported it as safe.
Likewise, macOS will warn users that the developer cannot be verified because Smartproxy hasn't registered with Apple as a known developer.
Neither of these warnings is indicative of malware and simply alerts users to the unverified nature of the publisher.

Smartproxy Chrome Extension
Smartproxy offers a handy extension for Google Chrome (and Opera) users that lets you manage your proxies with a few simple clicks. Easily set up your proxies, manage configurations and use your proxies from any device.
Smartproxy Firefox Add-On
If Mozilla Firefox is your browser of choice, you'll appreciate Smartproxy's Firefox add-on, which lets you quickly set up and manage your proxies. Smartproxy's add-on for Firefox makes using your proxy as easy as picking your country, getting an IP, and going!
Address Generator
Smartproxy's address generator is a valuable tool that instantly produces a proxy list in plain text format. You can then use the generated proxy list in any other software. The address generator is convenient for bots and can save you from the monotonous task of manually typing proxy login details.
The address generator runs on Windows and macOS, is easy to set up, and can generate up to 49,999 proxy addresses per file.
Additionally, you can generate proxies with login credentials appended to each entry, so manual editing isn't needed. This feature can save time and reduce the risk of error.

Purchase Simplicity
Proxy server providers usually accept various payment methods based on their locale or targeted for a particular customer base. Smartproxy gives customers the choice of how to pay, carrying a wide range of payment methods.
Smartproxy accepts the most payment methods of any proxy provider we've seen, with major credit cards, cryptocurrencies, Alipay, GooglePay, and Apple Pay. They also offer a Smart Wallet feature allowing you to easily manage multiple payment methods, using them for one-time payments and subscriptions.
Smartproxy gets high marks for purchase simplicity since giving users more choices of how to pay is always the preferred solution.
Smartproxy Pricing
It's no secret that prices are on the rise. With the cost of necessities skyrocketing around the globe, staying within budget is crucial for businesses and individuals. Smartproxy aims to ease frugal consumers' minds and wallets with plans that fit nearly every quota.
At the time of review, their residential proxies start at $75 per month, with their datacenter plans starting at a mere $30 per month. These plans are fairly affordable, considering what you are getting.
Their scraper APIs all start at $50, making them an incredible return on investment for marketing purposes.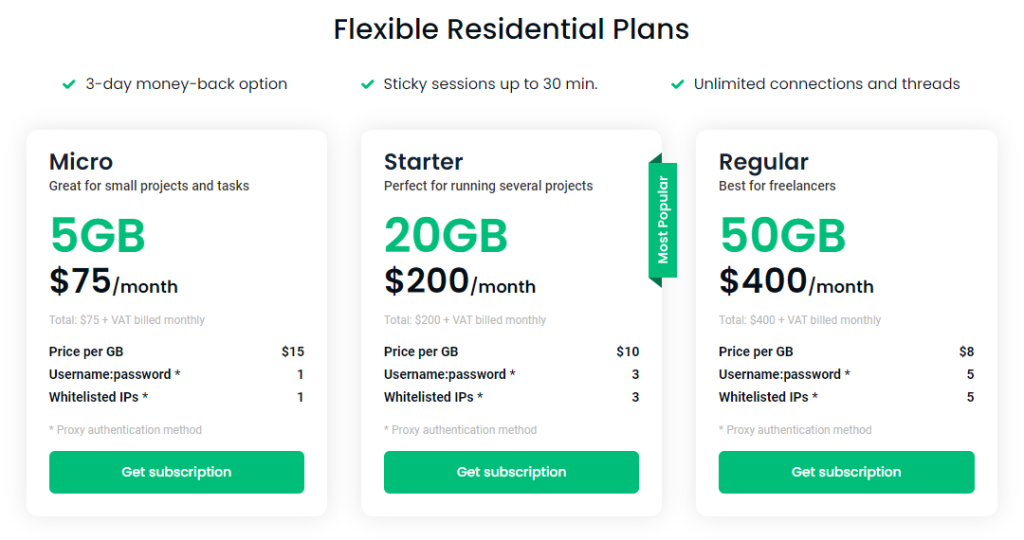 Smartproxy Discounts
Beyond Smartproxy's already below-average prices, they also offer regular discounts. A standard three-day free trial is available for all of their proxies, and they also provide a three-day refund policy under particular conditions.
Smartproxy also has free trials for their SERP and scraper APIs and special discounts for businesses. Contact their sales team to learn more about current deals and promotions.
Finally, Smartproxy has various coupon promotions throughout the year, which you can use from your account dashboard. Overall, it has impressive discounts to make saving money that much easier.
Is Smartproxy Legit or a Scam?
With so much of our data online and digital crime on the rise, you can't be too careful when deciding whom to trust. Is Smartproxy legit? We can confidently say "yes" based on our research.
Smartproxy has a substantial web presence and numerous user testimonials and contact points by which you can verify identities. It's also worth mentioning that Smartproxy has one of the highest TrustPilot scores, of 4.6 out of 5. Such a wealth of positive user reviews lends credibility to Smartproxy.
Even so, there's still no substitute for real-world performance and personal experience. If you are unsure whether Smartproxy is right for you, we recommend trying them out for yourself. Speak to their representatives and avail yourself of their free trial to take them for a "test drive."
Customer Support
An area where most providers struggle is customer support and documentation. Many proxy sellers take an almost "self-service" approach to their help channels, leaving users to figure things out independently.
This approach might be okay for the tech-savvy crowd but doesn't fly for the regular user simply looking to protect their privacy. Poor support also isn't good for new businesses that rely on quick resolutions to avoid costly delays or downtime.
Smartproxy excels in its help department with e-mail, live chat support, and extensive help articles. They have extensive API documentation, walkthroughs, and YouTube videos, beyond what we've seen from other providers.
Clearly, Smartproxy has put significant effort into ensuring that users can get the answers they need fast, through whatever channel they prefer. Smartproxy is poised to have one of the largest proxy support databases of any provider as they continue to grow their support resources.
We welcome this initiative and believe that other providers could learn a thing or two from Smartproxy's proactive approach to customer service.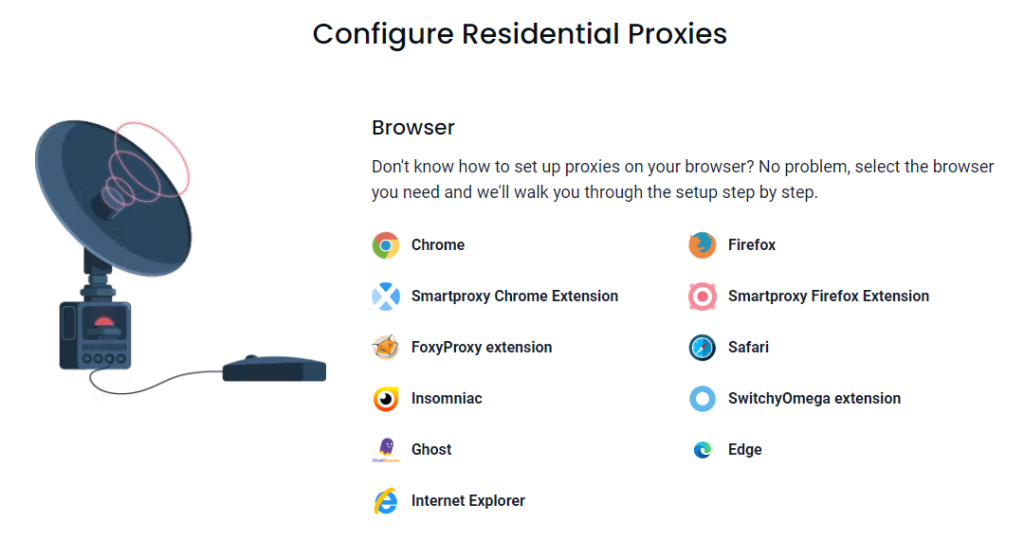 Can You Earn Money With Smartproxy?
With everyone looking to make some extra cash to augment their budgets, you might wonder if Smartproxy can assist in your efforts. As it turns out, they can! While some providers offer bandwidth leasing options that pay customers a small percentage, Smartproxy's approach could be life-changing!
Smartproxy has a full-fledged reseller program allowing interested users to purchase bulk proxies and lease them to customers. This program is one of the more unique partnership plans we've seen from any provider, and we applaud Smartproxy for its ingenuity. Unlike most affiliate offers we've seen, Smartproxy takes a much larger view of revenue earnings.
While the initial investment might be high at $1,000 per month, there is no limit to the amount of profit you can make from reselling proxies. You could theoretically double or triple your revenue with a strong marketing strategy.
Smartproxy Pros and Cons
Don't have time to read our in-depth review of Smartproxy? We understand. Here's a quick rundown of what they offer.
Positive
Pleasantly priced
Quality customer service
Extensive documentation
Reliable response
Abundant add-ons
Prominent payment options
Superb savings
Negatives
No SOCKS support
Not great for individuals
Final Verdict
This concludes our deep-dive review into Smartproxy. We were very impressed with every area of their service, and they have a dedicated, professional approach to proxy service that doesn't skimp on features. Their prices are fairly reasonable, and their care in providing quality documentation is a very welcome change from other providers' offerings.
Smartproxy is undoubtedly a top provider to watch in the coming years, and we look forward to seeing what they have in store!
Ratings
We use a rating scale from 1 (poor) to 10 (excellent) to give Smartproxy the following score
Smartproxy Alternatives
We understand that one review may not be enough to convince you. So if you still want to explore other options, here are a few other proxy providers to check out.
IPRoyal is similar to Smartproxy but with significantly lower prices. This proxy service also offers support for SOCKS5 if you need that protocol.
SOAX is a budget option for those who are genuinely counting their quarters. If you need a basic no-frills proxy service, SOAX is it.
A middle-road provider offering cheap packages with limited add-ons, Storm Proxies is worth a look if you want something different than the standard fare.
FAQ
Can I use proxies on multiple devices?
Yes. In fact, Smartproxy's extension tools allow you to do that easily, and their address generator can help you quickly log in to your proxies via copy and paste.
Do proxies protect against malware?
Although proxies might provide some protection against malware, that's not their primary function. Proxies are more helpful in anonymizing your connection or gathering web data.
Can I pay with Bitcoin or other cryptocurrencies?
Yes. Smartproxy accepts a variety of payment methods, including several cryptocurrencies. Login to your dashboard or contact their sales team to discuss the particulars of the transactions.
How much can I earn reselling proxies?
There's no upper limit to your earnings as a reseller. How much you make depends on your prices, customers, and repeat business.