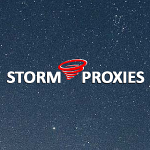 Storm Proxies is a US proxy provider established in 2016. It offers residential and dedicated proxies, including ticketing proxies, sneaker sites proxies, and social media proxies. Throughout the years, Storm Proxies has managed to stay one of the most affordable proxy providers on the market.
However, the affordable price is not a reason enough to use these proxies. After all, they have to possess certain qualities and features that will make you want to buy them. So, let's find out whether they have what it takes to accomplish your goals and needs.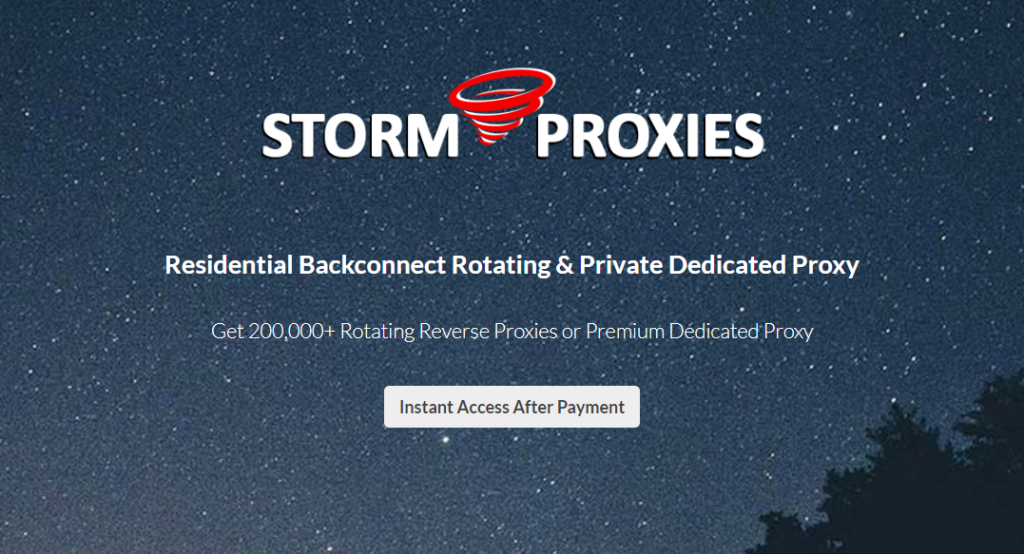 Storm Proxies Overview
Storm Proxies has been offering its residential and datacenter proxies for over six years. Although it's a small-scale provider, it offers a lot more than it seems. Users love it because it doesn't claim it's the solution to all proxy needs. Instead, it promotes what it has, dedicated and residential rotating proxies targeted at sneaker sites, ticket sites, social media sites, etc. Its proxies are suitable for small-time scraping as well as anyone on a tight budget.
However, the Storm Proxies pool of proxy servers includes only 200,000 IPs that can't match the millions offered by the top competitors. It has very restricted geo-targeting, offering proxies from extremely wide regions: EU, USA, Worldwide, and US city coverage in Cheyenne, New York, and Los Angeles.
This is just the introduction of Storm Proxies. Read on to find out more about each type of proxy it offers, the pricing plans, customer support, user interface, speed, and other essential information that will help you decide if this is the right proxy provider for your needs.
What Type of Proxy Servers Does Storm Proxies Offer
This proxy provider offers three main types of proxies:
Residential rotating proxies – great for scraping sites with strong protection measures
Datacenter dedicated proxies – great for tasks that require high speeds
Backconnect proxies – great for tasks that require a large number of different IP addresses.
Let's learn more about each type of proxy, including its pros and cons.
Storm Proxies – Residential Proxies
Like any other residential proxies, those from Storm Proxies come from real users and real ISPs. This makes them highly secure and ideal for accessing sites with robust protection measures. Storm Proxies offer over 70,000 rotating residential proxies that support HTTP(S) and SOCKS5. It's important to note that there's no information available on how these proxies are sourced.
Since they are rotating residential proxies, you can choose between automatically getting a new IP address with every new request, after three minutes, or 15 minutes. They offer sticky sessions as well.
These proxies from Storm Proxies are optimized for SEO monitoring, market research, ad verification, traffic bots, brand protection, web scraping, web crawling, pricing intelligence, scraping sites with custom bots made in Python, cURL, Ruby, PHP, or any other language, data verification, travel fare aggregation, bulk accounts registration, product page intelligence, email protection, and any other task requiring multiple IP addresses.
Storm Proxies residential proxies don't have user:pass authentication method. Instead, they work on an IP authentication basis.

Pros Cons
Positive
Low price
Easy to use
Decent speeds
Good customer support
Negatives
Limited geo-targeting options
A small IP pool
No free trial
No user name and password authentication
Advantages of Storm Proxies Residential Proxies
Here are some of the key advantages of these proxies that are worth mentioning:
The rotating residential proxies from Storm Proxies are somewhat cheaper than proxies from other providers. What you should know, however, is that they don't sell their proxies based on bandwidth like most proxy providers. Instead, they price their proxies based on the proxy gateway or port.
Right now, they have four plans. The 5-port plan costs $50, the 10-port plan costs $90, the 20-port plan costs $160, and the 50-port plan will set you back $300. Whatever plan you choose, you get access to 40,000 residential IP addresses. Storm Proxies offer even a smaller package, one port for $19 a month.
Storm Proxies doesn't have any advanced features in place, such as APIs and browser extensions like top proxy providers. Instead, it offers a minimalistic approach and a simple user interface that makes it really easy to use. You just use the proxy gateways you've paid for, and the rotation will perform automatically.
The average response time of Storm Proxies residential proxies is 6.144 seconds. Although this is slower than top players in the market, it's acceptable for most tasks. The average ping is 101ms, which is once again decent for the price you pay.
While users had complained about the customer support of Storm Proxies in the past, nowadays they praise their fast responsiveness. However, they only offer email support, which means no support tickets and no live chat.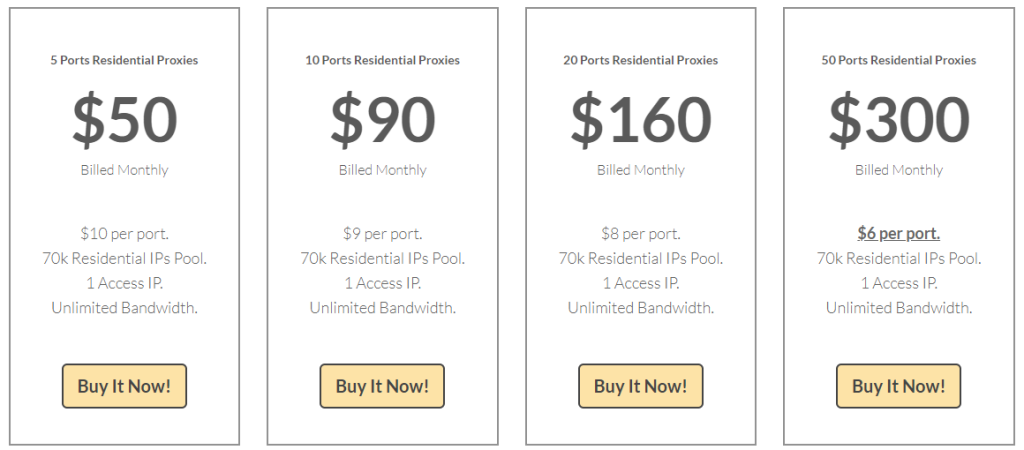 Disadvantages of Storm Proxies Residential Proxies
Here are the cons of these proxies that could make you want to choose another proxy provider:
Limited geo-targeting options
The Storm Proxies servers are located only in the European and the United States region. This is why they don't share the locations of their proxies like most providers. So, this is a downside if you need proxies from a specific country. Storm Proxies doesn't offer a city targeting option, and they haven't publicly stated that they are working on supporting more locations in the future.
Some proxy providers offer tens of millions of residential IP addresses, while Storm Proxies offers around 70,000. And you get access to only 40,000 residential IP addresses no matter what plan you choose.
Storm Proxies don't provide a free trial which is a big flop. They only offer a 24-hour money-back guarantee for each plan.
No user name and password authentication
Storm Proxies only support IP authentication, so if you prefer the username and password authentication method, their proxies may not be the best option for you. Also, each package comes with one access IP, which means you can use it from only one device.
Storm Proxies – Datacenter Dedicated Proxies
Dedicated proxies from Storm Proxies come in the form of dedicated or private proxies. These proxies are exclusive to one user at a given time, meaning you don't share them with other clients. They are great for surfing, copping sneakers, SEO purposes, ticketing, managing social media accounts, and playing online games like Pokemon Go.
Storm Proxies datacenter dedicated proxies support HTTP(S) but not SOCKS5. They support both IP and username/password authentication, so that's a plus. When it comes to the locations of their IP addresses, they come from the US only, so there are no EU proxies. Storm Proxies dedicated proxies are 100% private, meaning no one else will use the IP addresses you've paid for.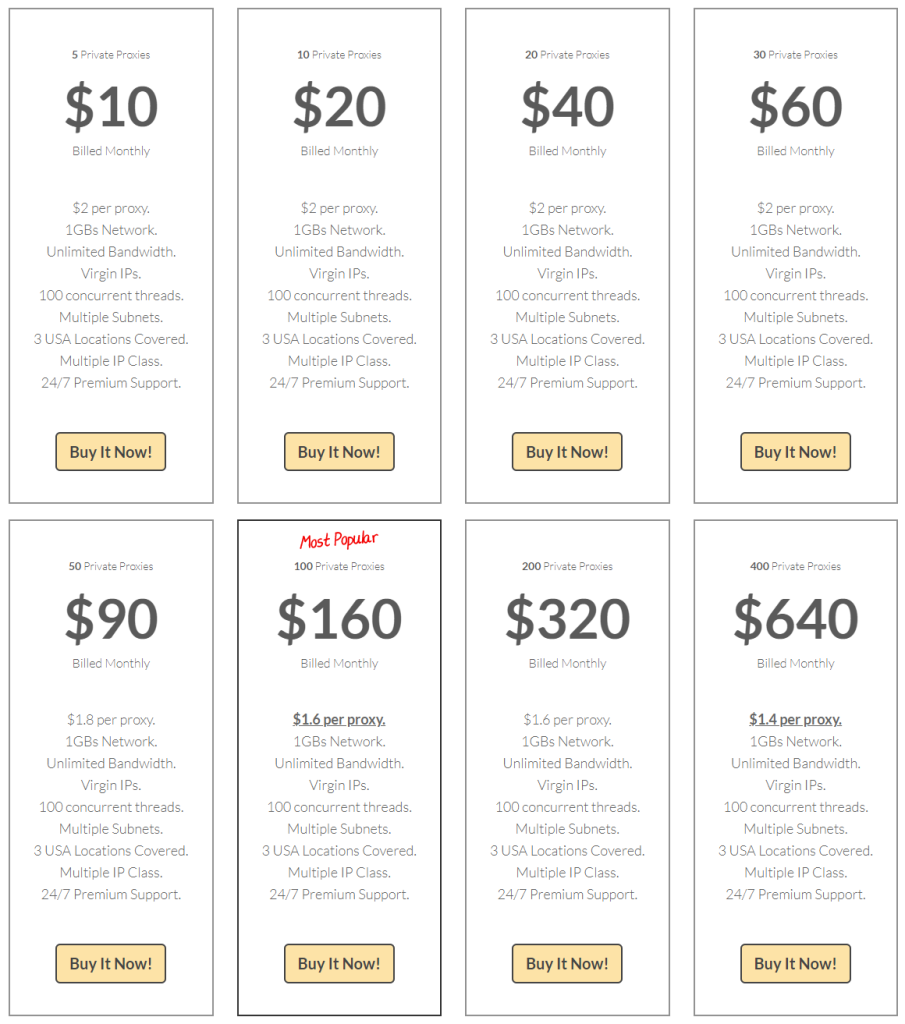 Advantages of Storm Proxies Dedicated Proxies
Here are the major advantages of Storm Proxies datacenter proxies:
Storm Proxies offers general dedicated proxies you can use for surfing and avoiding geo-restrictions. However, they also have dedicated proxies for particular use cases, such as proxies for SEO purposes, including scraping websites, SEO tools, traffic bots, and multiple account creation. This provider also offers proxies aimed at copping sneakers on popular sneaker sites like Supreme, Adidas, Nike, etc.
Their offer also includes social media proxies made for Facebook, Instagram, Twitter, Youtube, Snapchat, etc.
Each of the special proxies aimed at a particular application has different pricing. Nevertheless, they are all quite affordable. The starting plan for their general dedicated proxies comes with five proxies at the price of $10. In terms of ticketing, for example, they offer 200 private ticketing proxies for $600.
Fast speeds and unlimited bandwidth
Generally, datacenter proxies are faster than residential proxies, and those from Storm Proxies are no exception. The speed of their datacenter proxies is impressive, with a ping of only 14ms. Plus, they come with unlimited bandwidth.
Although this proxy provider doesn't have a browser extension, it's still very easy to use. It has a user-friendly web interface and simple registration steps you need to follow. When it comes to the authentication method, you can either use IP authentication or username/password authentication. Its datacenter backconnect proxies use only IP authentication.
Disadvantages of Storm Proxies' Dedicated Proxies
Here are some of the major flaws of Storm Proxies' datacenter proxies that you should be aware of:
Limited location coverage
The geographical coverage of Storm Proxies datacenter proxy servers is one of its major cons. It only has proxies in the US and no servers in other regions. This is a problem if you want proxies in particular locations outside the United States.
Once again, Storm Proxies doesn't offer a free trial for its dedicated datacenter proxies, only a 24-hour money-back guarantee.

Final Verdict
Although the location coverage of Storm Proxies is quite limited and it doesn't offer a free trial, its proxies are affordable and fast. They come with unlimited bandwidth and different subscription plans to suit everyone's needs and budget.
Ratings
Awesome
Score by our metrics
PROS
Low price
Easy to use
Decent speeds
Good customer support
CONS
Limited geo-targeting options
A small IP pool
No free trial
No user name and password authentication
Add your review
|
Read reviews and comments
Storm Proxies Alternatives
Here are a few good alternatives to Storm Proxies you should keep in mind:
Mars Proxies – this proxy provider has three individual IP pools, offering over 100 million unbanned IP addresses, which is a lot more than what Storm Proxies offers.
Bright Data – unlike Storm Proxies, Bright Data has a considerably bigger IP pool, and it offers shared IPs and mobile proxies.
Oxylabs – this provider offers ethically-sourced residential proxies covering 195 locations, reducing the chances of IP bans to a minimum.
FAQ
Is Storm Proxies legit or a scam?
Storm Proxies is a legitimate proxy provider offering residential and dedicated datacenter proxies. Its proxies are affordable and work quite well.
Do Storm Proxies residential proxies support SOCKS5?
Yes, the residential proxies from Storm Proxies support both SOCKS5 and HTTP(S).
Do Storm Proxies support IP authentication?
Yes, both residential and dedicated datacenter proxies from Storm Proxies support IP authentication. Only datacenter proxies support username/password authentication, though.