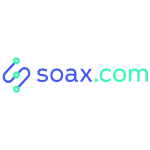 The internet is the epitome of society today. It has engrossed everything we do, from communication to commerce. Today, the web has become a source of income for a significant portion of society, whether freelancers or solopreneurs.
While the internet has a whole bunch of advantages, in some instances, it creates some inconvenience for users. Take a scenario where you are looking to purchase a product from an online store, only to find that it is unavailable in your region.
Another perfect example is when you are used to watching movies from a specific website and travel abroad to find this website unavailable. In other cases, your private data may end up in the wrong hands online, which can put you in an awful position.
Such complications have become a norm due to the complexities of sharing content over the internet and the security issues that come with it. On the one hand, issues such as copyright and government policies influence such restrictions, while on the other hand, hackers and other unscrupulous parties promote insecurity online.
Fortunately, you can use proxies to bypass all these restrictions and make your browsing experience safer. A proxy is a device designed to replace your IP address with another one and add an extra security layer to your device.
With this in mind, this post will dive into the nuts and bolts of one of the new proxy service providers in the market today, SOAX. It will unravel its integral features and help you make an informed decision as to whether you can work with this provider. Have a read below.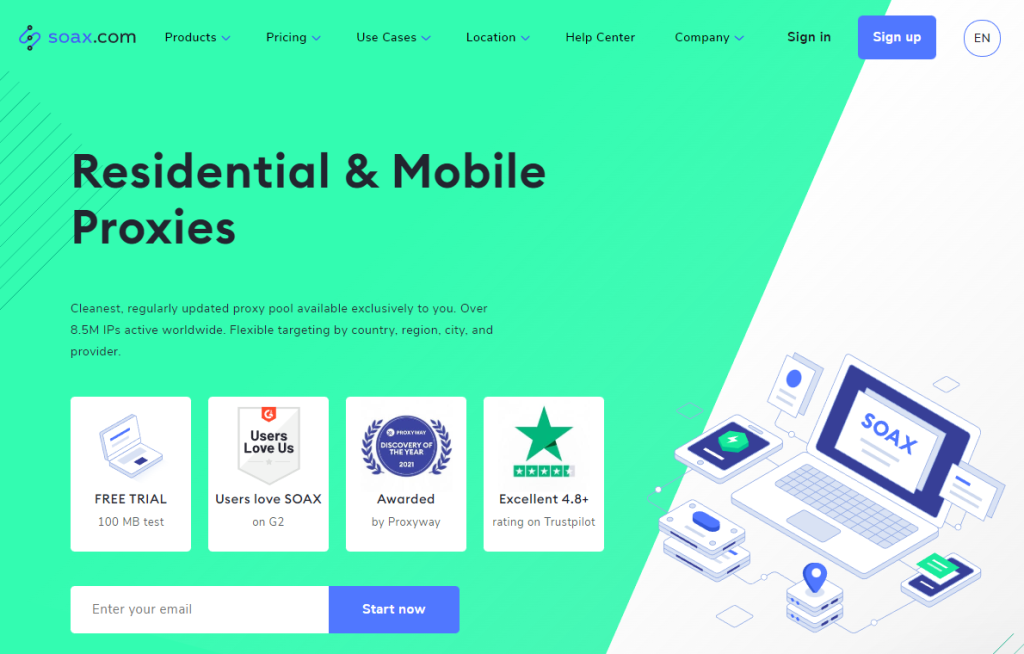 SOAX Introduction
SOAX is a relatively new entrant in the proxy realm, having been introduced in 2019. It is a UK-registered company of Russian origin that provides residential backconnect proxies to anyone looking to perform market research, monitor product prices, and perform web scraping.
Since SOAX proxies hit the market, it has come a long way. It has an impressive catalog of features, which is perhaps why it has become so popular recently. The website is pretty neat by today's standards and has all the information you need to start using proxies.
With a stellar track record online, everything seems to point to SOAX proxies being a premier proxy service provider. It seems to have all the features in demand nowadays, but does it have what it takes to match up to other premium proxy service providers? Let us find out.

SOAX Features
When it comes to features, SOAX does not fall behind. In fact, this provider has one of the most impressive catalogs we have seen so far. For starters, it has a pool of more than 8.5 million IPs, which it claims to update regularly. Very few providers are capable of reaching this threshold, meaning that SOAX belongs to the premium tier.
SOAX claims its proxies are owned by real ISPs and assigned to devices such as smartphones and laptops. However, since such proxies are prone to going offline, SOAX automatically rotates the IPs based on the need, translating to better reliability.
This automatically implies that the proxies have better functionality when compared to competitors. If a specific IP is not working as intended, it is automatically rotated, and a new one is selected.
As for locations, SOAX claims to support over 185 countries worldwide. This is beyond impressive by market standards as it translates to better reliability on the client's part. As a user, you can get city and IP level targeting, a rare and valuable feature in the proxy realm.
Hence, we can confidently say that SOAX has done a decent job equipping its proxy pool with impressive features. This is the first step to attracting and retaining a loyal client base and might have played a significant role in the company's success.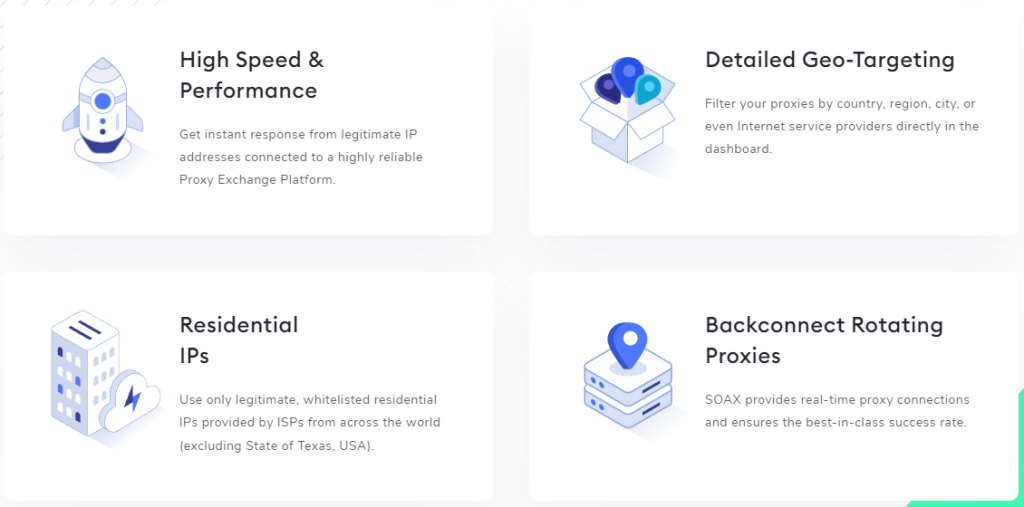 Types of Proxies
As mentioned earlier, the catalog from SOAX is quite impressive. The provider offers some of the most popular and sought-after proxies: residential, datacenter, and mobile. What's more, you get both static and rotating IPs with these servers.
It implies that the use cases for this provider are diverse, given that you get rotating or static IPs. Whether it's social media management, security, or sneaker copping, SOAX seemingly can handle it.
Also worth noting is the fact that the IPs under SOAX are offered through a backconnect system. They support the two major protocols: SOCKS5 and HTTP(S). Finally, users benefit from improved functionality as these protocols provide strong and secure connections.
SOAX offers both IP and username/password authentication. However, the number of IPs you can whitelist will, for the most part, be determined by the plan you purchase. Under the micro and starter plans, you can only whitelist two IPs, while under regular and business plans, you can whitelist five IPs.
You should also note that the authentication method will depend on the number of simultaneous connections available. For example, when using username/password authentication, you can only make 1,000 concurrent connections. On the other hand, custom plans with more than 1,000 connections will need IP whitelisting.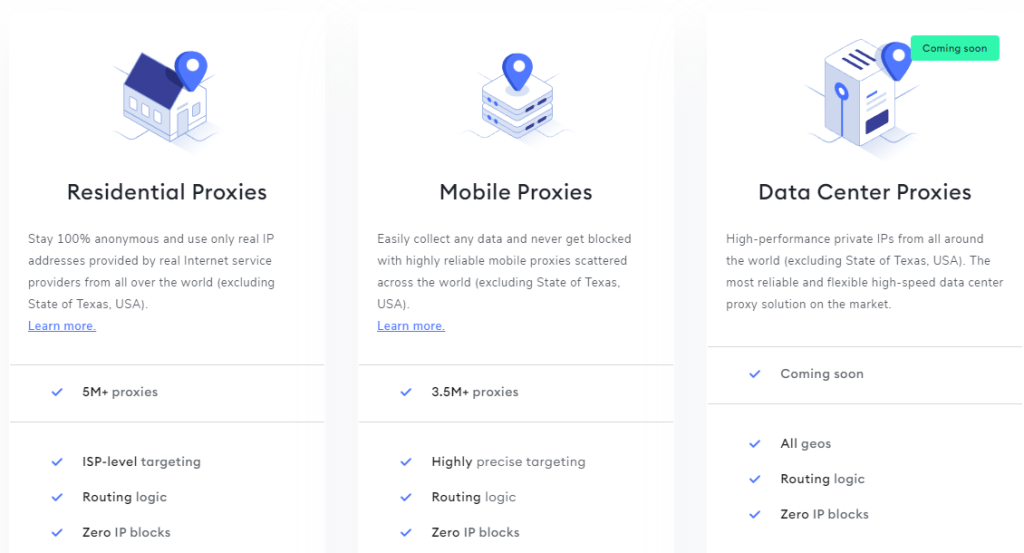 SOAX Proxy Speed and Performance
Speed is one of the most important factors to consider when deciding whether or not you should work with a specific proxy service provider. Most proxies introduce a bottleneck that compromises the user's internet speed. The rerouting action of the proxy is the cause, but how much they reduce the internet speed or whether they reduce it at all determines the quality.
SOAX claims to offer fast speeds and high-quality performance. Sadly, there is no method of verifying the actual speeds on the website. The lack of a free trial means you have to pay to access the proxies, even if you want to test them.
The customer support team was not of much help either. We reached out looking for a rough estimate of the proxy speeds available but could not get a straight answer. However, they mentioned that while their network is robust, the speed will largely be determined by your ISP and the strength of the network.
Additional Tools
Unfortunately, this provider does not seem to offer any additional tools as part of its services. We scoured the website in search of something along the lines of a proxy checker, API, scraper, or an application but could not find any. Hence, users needing these tools will have to look for alternatives.
Purchase Simplicity
The SOAX website is pretty easy to use. It has sufficient information to help users in navigation. We were specifically impressed with the sign-up process since it is comprehensive. The website provides a list of different use cases and asks you to select which ones you are interested in for use with the proxies.
Users then select which use cases they are interested in, and in case they aren't listed, they can write their custom use case down. On top of that, users can also specify the websites where they intend to use the proxies. This process helps the team at SOAX improve the user experience, which is pretty genius since only a few other providers use this system.
Once you sign up, you get access to the dashboard, which is pretty intuitive by today's standards. To buy a proxy package, you must select the 'Buy Package' button, after which you will see a list of available options.
SOAX Pricing
Before we get into the pricing, we have to get one thing out there: SOAX cannot be defined as cheap. This is likely not your option if you are after affordable proxy services. Under residential proxies, the cheapest plan starts at $99 per month. It may not be the cheapest option on the market today, but is it worth it? Let's find out.
To be honest, there are far cheaper and better options on the market. Under the smallest tier, you get 8 GB worth of data, 300 ports, and you can whitelist two IPs. The most expensive is $700 per month, offering 100 GB of data with 600 ports. Here you can whitelist 5 IPs. Enterprise customers can also talk to the support team for custom packages.
The mobile proxies are priced similarly but with less bandwidth, probably due to the high cost of setting up these servers. On the flip side, you get a three-day free trial with every package. Here, you can use the proxies for three days before the billing cycle begins. Finally, you can cancel the subscription at any time.
SOAX has a well-documented policy governing money-back guarantees. You can only get a refund for your purchase if you pay twice and haven't started using the second bundle. Otherwise, the website does not offer any refunds for the services.

SOAX Discounts
From our analysis, SOAX does not seem to be offering discounts of any kind. You only pay less when you decide to buy more proxies, which is nothing extraordinary as it is common with most proxy service providers. Under the residential proxies, the cheapest tier, which offers 8 GB, goes for $99, while the most expensive is $700 and offers 100 GB.
Is SOAX Legit or a Scam
SOAX is a legitimate company with stellar reviews on the web. It has a Trustpilot rating of 4.8 stars which shows that most customers had a positive experience with the company. On top of that, this website uses secure payment methods, which adds to its credibility. Overall, this is an honest company with legitimate services.
Customer Support
The customer support system at SOAX is impressive. The website has a live chat option, which we tested, and an agent was with us within seconds. The customer support agent was polite and answered our constant questions thoroughly. You can also reach out to them via email or Telegram. Hence, this is one area where SOAX really shines.
Can You Earn Money With SOAX?
You can earn money with SOAX through the referral program. The referral page is on the dashboard, and you can access it once you sign up for SOAX, from where you get access to all the tools you need to earn money. This includes your unique referral link and real-time statistics showing how much you have made from the program.

SOAX Pros and Cons
Below are some reasons you might decide to work with SOAX or go with alternatives.
Positive
Dual authentication
Good customer support 
Impressive catalog
SOCKS5 support
City and ISP level targeting
Negatives
Expensive
No additional extensions 
Final Verdict
With all that has been said, do we recommend SOAX? Well, yes and no. This is because it depends on your financial situation and preferred use case. At face value, this excellent provider ticks all the requirements. It has all the required features, such as SOCKS5 support, multiple locations, and diverse proxies.
However, SOAX is quite expensive. There are way cheaper alternatives you can go with on the market. The costly plans aside, you get a responsive customer support team always available to answer your queries. Hence, you can opt for this provider if your pockets are deep enough. Otherwise, there are far better-priced options on the market that can give you value for your money.
SOAX Alternatives
Several companies offer similar and even better features if you feel this provider is not up to your standards. Maybe the prices are way too steep for your. Below is a list of alternatives you can go with in place of SOAX:
IPRoyal is a well-known proxy service provider with an impressive catalog. It has an amazing pool of over 2 million IPs with authentic residential, datacenter, mobile, and sneaker proxies.
Bright Data is one of the pioneers of the proxy revolution. It has over 72 million IPs with an impressive catalog of features and flexible payment plans.
While it is a lesser-known provider, Smart Proxy has an impressive pool with fair prices. With this company, you get helpful extensions and applications.
FAQ
Yes, SOAX is a legitimate proxy service provider. It has a Trustpilot rating of 4.8 stars, indicating an overall positive customer experience.
Does SOAX offer a money-back guarantee?
Unfortunately, this provider does not offer a money-back guarantee. Once you purchase and use the bundles, there are no refunds.
What kind of proxies does SOAX offer?
SOAX has quite the catalog. It offers residential and mobile proxies with impressive features hence the popularity.