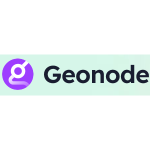 The internet has been around for over a decade, but it has only recently reached its glory days. Today, life is fast-paced, and convenience is at the heart of everything we do. From shopping to getting access to information, you do not have to leave your house as you can do everything from the comfort of your couch.
Gone are the days when people would spend hours in libraries as books were the only source of information. Today, you can access all human knowledge with a device that fits in your pocket.
It does not end there. The world of gaming has also undergone a significant revolution. With the introduction of tech to enable seamless online gaming such as virtual reality, it has become one of the fastest-developing tech niches today.
However, where the internet brings a lot of conveniences, it also has significant downsides. Among the issues plaguing this vast web of data are security, geo-blocks, and other forms of restrictions. Internet users have for a long time used proxies to get around these complications and make their experience worthwhile.
A proxy is an internet device designed to mask your IP address and provide another. This new IP may be from a different location or the same location as you're in. It all depends on your needs and usage cases.
However, the proxy space has long been associated with shady companies and hackers. However, as the niche gets bigger and bigger, legitimate companies have been developing strategies for meeting user demands while staying ethical and transparent.
With this in mind, this review will analyze Geonode and determine whether it is a legitimate company. Better still, it will seek to find out whether this provider can match up to other premium proxy service providers.

Geonode Introduction
Chances are, this is the first time you hear of Geonode. It is not a well-known company, and there are claims that it is still in the beta phase of development. What's more, this proxy service provider does not seem to be the star of many reviews and discussions online. Whether this is an issue with customer service or performance remains to be determined.
The company is based in Singapore and only focuses on residential proxies. This is not new, as we have heard of numerous companies with one area of specialization. In most cases, companies that focus on one niche in the proxy realm end up fine-tuning their services to offer fantastic functionality.
That said, does this provider have what it takes to become a premium-level proxy service provider? Let us find out!

Geonode Features
First, one thing we love about this company is the fact that it is pretty straightforward about its services. By this, we mean the company has provided information on the number of proxies and the number of supported locations.
The company has more than two million IPs under its pool. This is not a record-breaking number, and in all honesty, many providers offer way more in terms of pool size. But, then again, many companies offer far less. Hence, we concluded that this is above average since it still gives users much in the way of functionality.
The pool is spread across 140 countries in different parts of the globe. That is not the best part. With Geonode, you get country, city, and ISP level geotargeting. This is an amazing feature for users as it translates to better functionality.
Hence, it is clear that Geonode's features are above average. A pool size of more than two million IPs is more than enough for the average proxy user. But, with such precise geotargeting, users are bound to enjoy better functionality than with most other providers.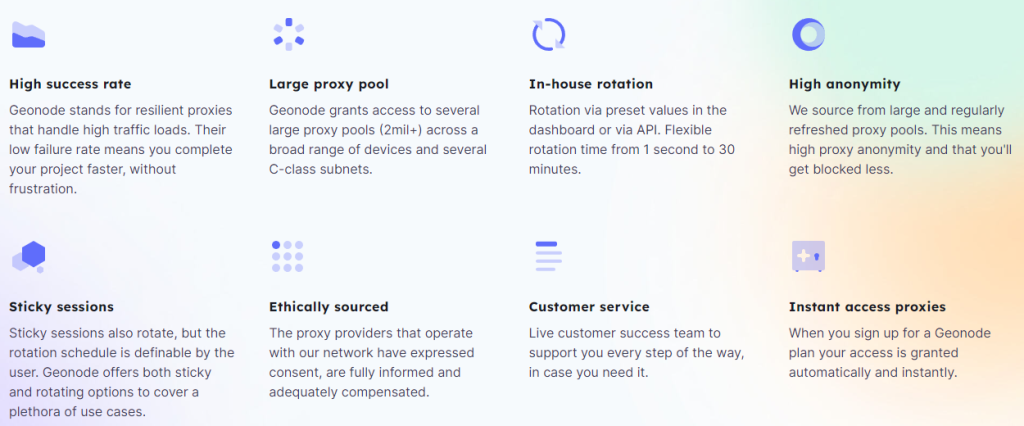 Types of Proxies
At the time of this writing, Geonode only offers residential proxies with over two million IPs. However, as per the website, the company is working on introducing datacenter proxies and has even listed some of the features users should expect. Users are free to join the beta testing program for these proxies, which shows that Geonode is pretty serious about it.
Since this company only has one area of specialization, we expected way more in terms of features. But this is sadly not the case. The features are, to say the least, pretty average. It would have been amazing if the proxies had unmetered bandwidth. That would make the company stand out.
You get static and rotating options depending on your need. Moreover, the proxies offer dual authentication methods – IP and username/password authentication. You should note that these methods each have their upsides and downsides. Still, the option to select their preferred method is very convenient for the clients.
Geonode also supports all major internet protocols, including SOCKS5 and HTTP(S). This is a significant plus, especially where SOCKS5 is concerned, since this protocol is more versatile. SOCKS(5) does not change package headers, translating to better accuracy at the expense of privacy.
Therefore, depending on what angle you use to look at it, SOCKS5 support can be a good and bad thing. On the one hand, the privacy is lowered, but the connections are still anonymous and work for most use cases. On the other hand, the performance is improved due to less affinity for errors.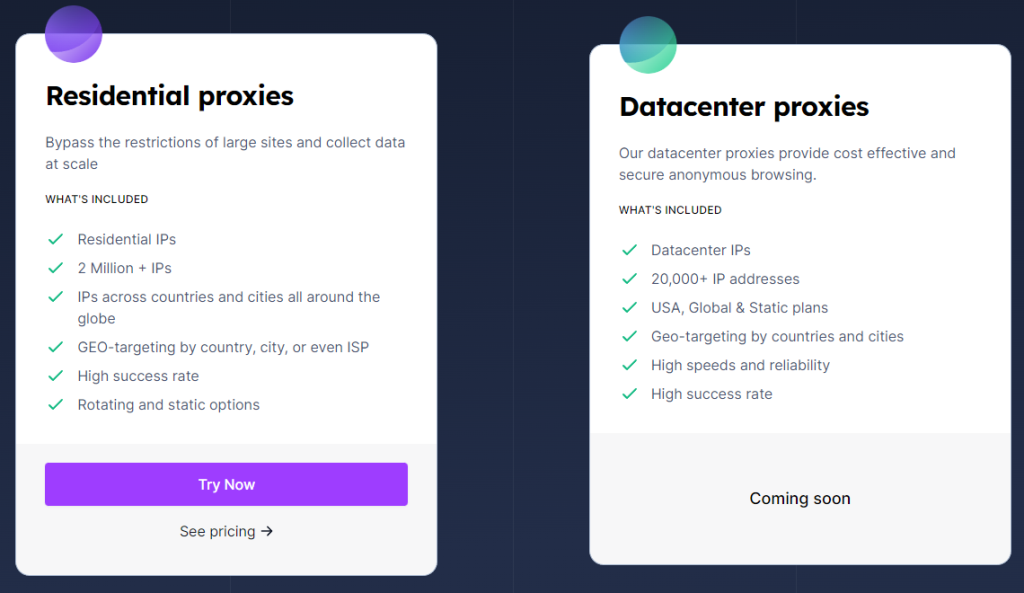 Geonode Proxy Speed and Performance
We honestly did not expect much regarding speed and performance since these are residential proxies. The title of impressive speeds and performance goes to datacenter proxies, which were not under the catalog at the time of this writing. Residential proxies suffer from poor performance since they are sourced from ISPs. Hence, you can either get blistering or mediocre speeds.
That said, we were not impressed with the performance metrics from this provider. We were also not surprised either. After all, these are residential proxies. Some IPs may average as high as 20 Mbps, and others as low as 2 Mbps. With Geonode, it all depends on your addresses and other factors such as the ISP and location. Hence, we do not recommend this provider for activities that require low ping and high speeds, such as gaming or streaming.
Additional Tools
You should note that Geonode has carved a niche offering residential proxies to developers. Therefore, it provides an API tool that allows users to integrate their tools with the proxies easily. However, you have to register and make a purchase to access this feature, which is a letdown since some companies offer such features for free without the need to register.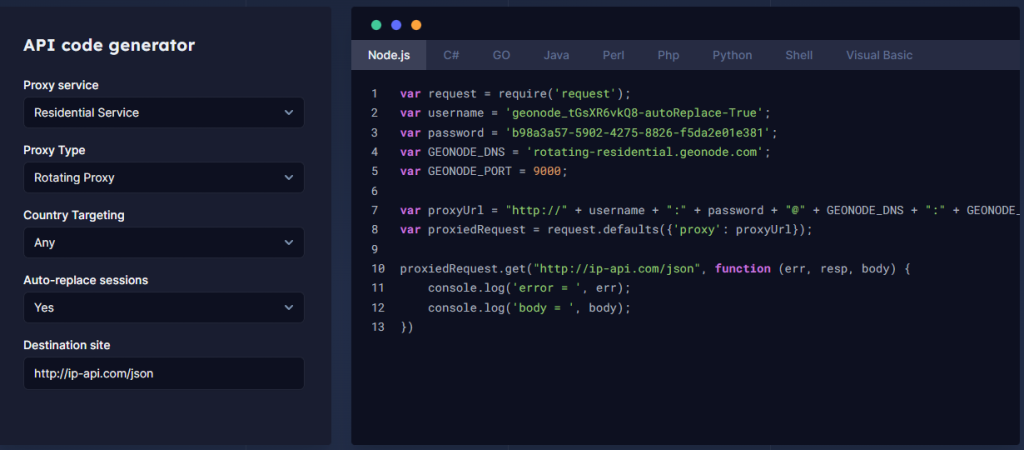 Purchase Simplicity
The Geonode website is quite impressive, which is not something we can say for most proxy service providers. It has that modern feel and the right balance between text and graphics. To be honest, we were quite impressed.
Purchasing a proxy is not that hard either. You need only provide details such as name, email, country, and verify your email. From there, you get access to the dashboard, which contains everything you need to get started with the proxies. The clean, no-nonsense look of the dashboard is something we could not afford to leave out.
Geonode Pricing
Given that this provider only focuses on one proxy- residential- we did not expect much in pricing diversity. In fact, you only get one pricing package that starts at $14 per month. You should note that the pricing is based on the amount of bandwidth that you use, and pricing starts at 5GB.
In a bizarre twist, you do not get a free trial here, the opposite of what we expected from the website. Instead, you must apply for a free trial via a separate page. It is limited to business use cases, and you must provide your company's LinkedIn URL when applying.
On a more positive note, Geonode also provides free proxies. These do not require any sort of sign-up or registration. You only specify the country and the level of anonymity from where a list is generated. There is no mention of a money-back guarantee on the website leading us to believe that the provider does not issue refunds.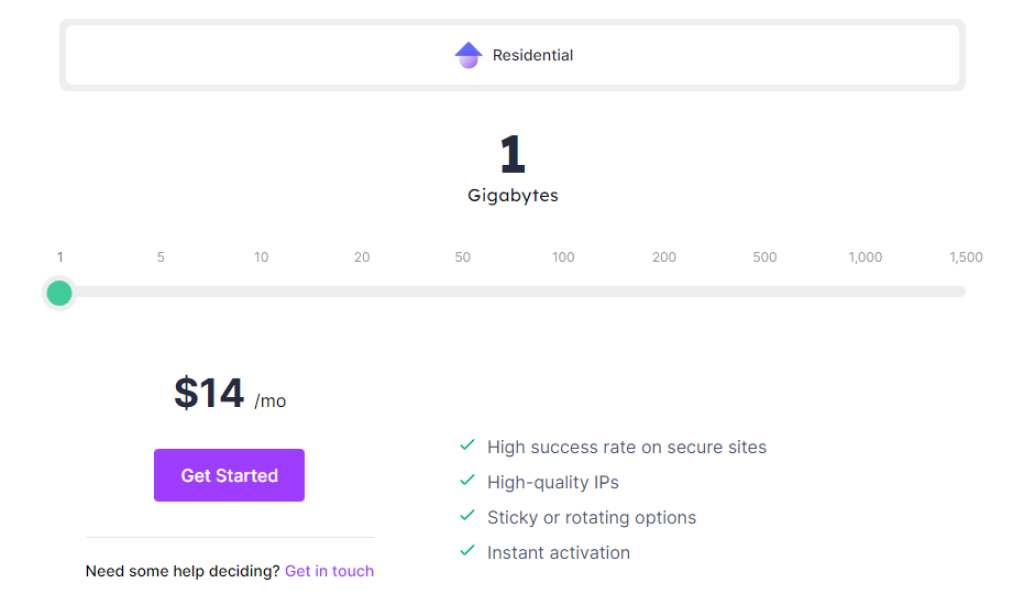 Geonode Discounts
We found it bizarre that this company does not offer any kind of discount for its services. It is not uncommon to find proxy service providers with no discounts, but it is rare to find one that does not advertise bulk order discounts like this one. We contacted the support team, who informed us that they offer discounts to customers purchasing more than 1,000 GB per month.
Is Geonode Legit or a Scam
While this company seems like a good option at face value, the customer reviews seem to say otherwise. It has a Trustpilot rating of 2.8 stars, indicating that most customers are unimpressed with the experience. We analyzed the reviews and noted that most customers complained of unresponsive proxies and many errors. However, we noted that Geonode replied to all these reviews meaning it is focused on improving its service. Whether the service is improved remains to be seen.
Customer Support
The customer support system at Geonode is average. You can contact the support team via email, phone, or ticket. We tried using the support system and found it quite odd. Before you submit your inquiry, you have to specify whether you are an existing customer or not.
We opted to use the email and see how long the support team took to respond. It took an average of two hours, which is not good and not that bad at the same time. Some companies take days to respond to emails or don't respond at all.
Can You Earn Money With Geonode?
You can earn money with Geonode by joining the referral or affiliate programs. In both, you get 30% in dollar earnings for every customer you refer. The only difference between the two is that the affiliate program is more advanced. To get access to the affiliate program, all you need to do is fill in the form and you'll get a response within 24 hours.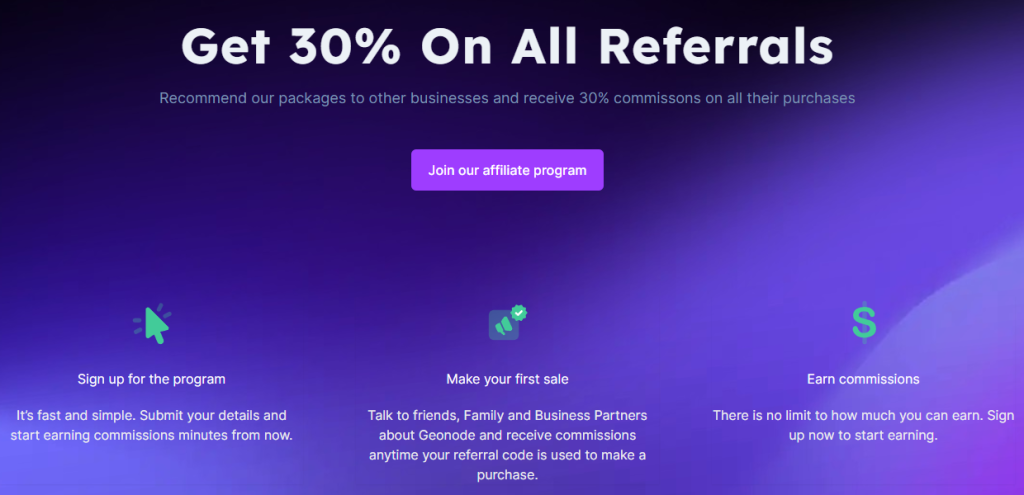 Geonode Pros and Cons
The pros and cons list below is designed to give you an easier time deciding whether or not you should give this provider a chance. Have a read below:
Positive
Affordable proxies
Good location support 
Good proxy pool 
Dual authentication support
SOCKS5 support
Negatives
Average speeds
Free trial limited to business cases 
Final Verdict
With all said, do we recommend Geonode? At the moment, we don't. This provider still has a long way to go if it is to streamline its proxy service to meet market demands. While it is relatively affordable, the customer reviews seem to allude that the service is below par.
Hence, you are better off going with the alternatives. In truth, there are way better companies in the market, and while some may be more expensive than Geonode, you get value for money. However, Geonode still has potential. A little fine-tuning is all that is needed to make this company a market leader.
Ratings
Geonode Alternatives
Depending on your needs, you might be inclined to look for alternatives with better features than Geonode. Below are some potential providers you could opt for:
IPRoyal is an excellent alternative to Geonode due to its amazing features. It offers a robust network with over two million IPs, ethically-sourced residential proxies, and real-time customer support.
SOAX might not be the cheapest alternative, but it has impressive features. It supports over 185 countries and offers city and ISP level targeting.
Unlike Geonode, PrivateProxy.me has an excellent reputation. While it has a modest pool of 15,000 IPs, it has streamlined its service for a top-tier experience.
FAQ
What kind of proxies does Goenode offer?
At the time of this writing, Geonode is offering residential proxies. But, it claims to have datacenter proxies in the works.
Can you get ISP-level targeting with Geonode?
Yes, this provider offers city-level targeting for its residential proxies. This is an awesome feature as it adds to the functionality.
Does Geonode offer a free trial?
Unfortunately, this provider does not offer a free trial for regular users. It is limited to business users, which is quite odd.