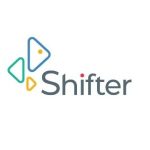 Shifter, formerly known as Microleaves, is a UK proxy provider founded in 2012. It offers residential and datacenter proxies, with its main product being high-quality backconnect residential proxies for data-driven marketing.
With its huge IP pool of 31 million IP addresses, Shifter is among the top three proxy providers in the world. Although being one of the oldest proxy providers on the market makes it more trustworthy than others, it doesn't necessarily mean its proxies and services will suit your needs.
For that purpose, we'll be doing a review of Shifter that will help you learn everything you need to know about it before subscribing.

Shifter Overview
Founded under the name reverseproxies.com and rebranded as Microleaves four years later, the proxy company has once again changed its brand name to Shifter. Thanks to the vast IP pool and affordable pricing, it has become one of the most popular proxy providers on the market.
It offers backconnect residential and datacenter proxies in both dedicated and shared variants. At the moment, it offers access to a whopping 31 million residential IP addresses and tens of thousands of datacenter proxies. The company claims it's using the latest cloud services, thus offering a high level of stability.
The backconnect residential proxies are unmetered, so your internet connection won't be cut off after using a specific amount of bandwidth. These proxies are spread across hundreds of countries and cities worldwide, while the dedicated and shared ones are based in the USA.
In our review, you'll learn a lot more about Shifter's services and proxies, but first, let's see what types of proxies it offers.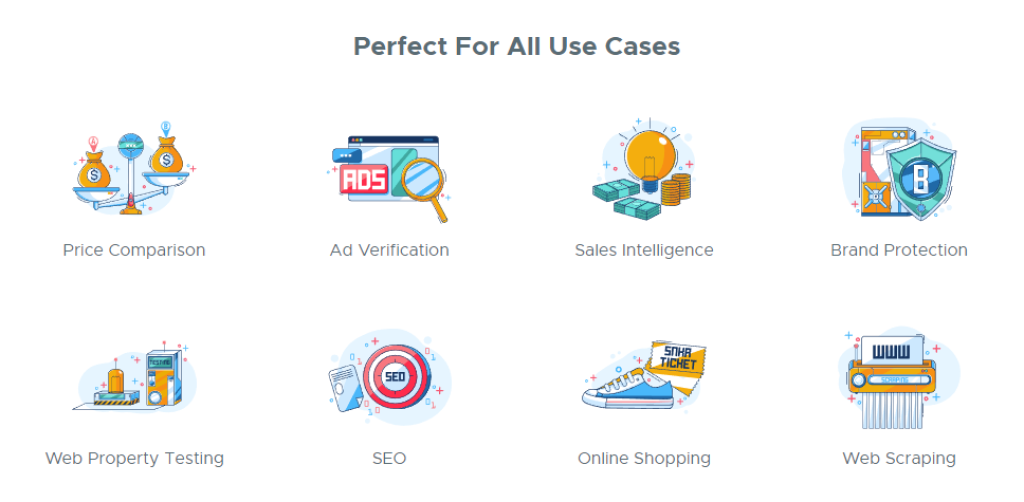 What Type of Proxies Shifter Offers
Shifter offers the following types of premium proxies:
Backconnect residential proxies – offering access to 100% residential IP addresses that are great for data mining, crawling, brand protection, sales intelligence, self-testing, ad verification, tickets, buying sneakers, playing Pokemon Go, talent sourcing, etc.
Dedicated proxies – datacenter proxies that are ideal for small-time data scrapers and getting around Instagram, Twitter, or Facebook restrictions.
Shared proxies – datacenter proxies that are good for light tasks or casual internet browsing.
Let's learn more about each type of Shifter proxies before moving on to their pros and cons.
Shifter Backconnect Residential Proxies
Shifter provides residential IP addresses that come from real home users and ISPs, making them a lot more anonymous than datacenter proxies and completely undetectable as proxies.
The backconnect residential proxies from this provider connect to its entire proxy pool consisting of 31 million residential IPs and get assigned a new IP address every rotation time, depending on the user's settings. The IP rotation time ranges from 5 minutes to 60 minutes, which is great for data mining and crawling. Shifter also offers ISP and ASN targeting.
Its P2P network is completely based on P2P technology, guaranteeing high success rates. Shifter offers two types of backconnect proxies: basic and special backconnect proxies.
The basic backconnect proxies are cheaper than the special ones because they don't have access to geo-targeting. They are created for general surfing and assign worldwide residential IPs randomly. These proxies only support HTTP(S) protocol and restrict access to high-demand sites.
The special backconnect proxies are the most expensive product of Shifter, but they allow geo-targeting and access to high-demand websites like MyWay, Outlook, Wikipedia, Yahoo, Gmail, Amazon, Youtube, Yandex, Skype, Instagram, Facebook, Inbox, Zoho, MyWay, AOL, Xtremetop, etc.
They are ideal for high-demand use cases. Unlike basic backconnect proxies, these support HTTP(S), SOCKS4, and SOCKS5 protocols.

Shifter Dedicated and Shared Proxies
Both dedicated and shared proxies from Shifter use US datacenter IP addresses from various subnets. In other words, these are datacenter proxies suitable for general browsing and small-time data scrapers who want to extract data faster and cheaper.
These proxies are dedicated, which means they are not shared with anyone else, making them more reliable and secure than shared proxies. On the other hand, shared proxies from Shifter can be shared with up to three users simultaneously, hence the low price.
Both dedicated and shared proxies come with unlimited bandwidth, support IP authentication and username/password authentication methods, and HTTP(S) protocol. You can use them to access Facebook, Instagram, and other social media platforms.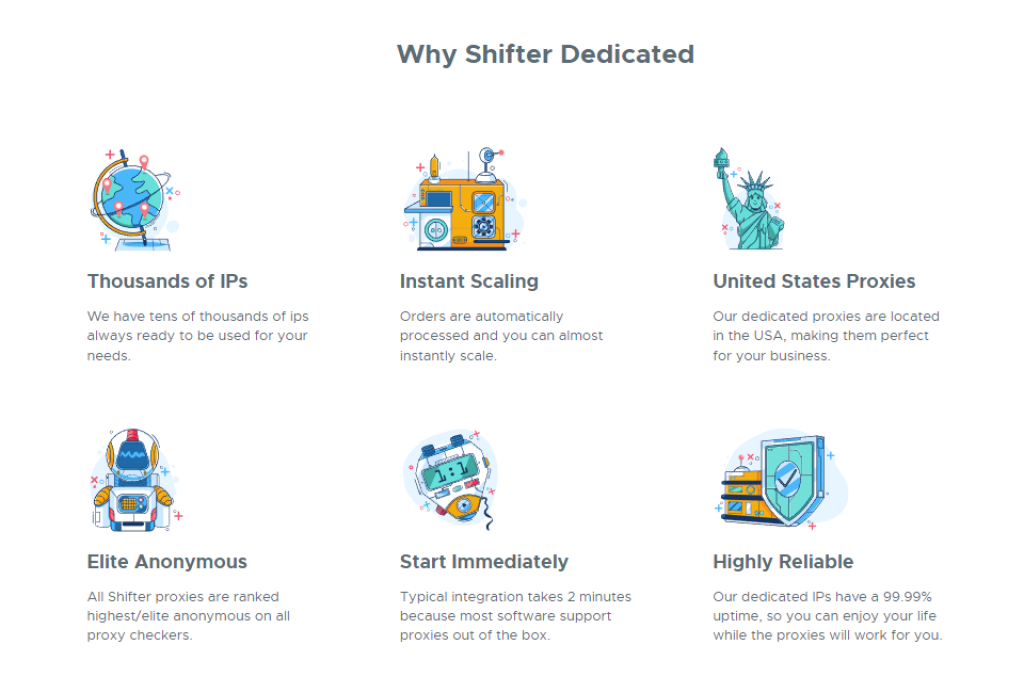 Shifter Proxies Pros and Cons
It's time to cover the key upsides and downsides of Shifter so you can more easily decide if you want its proxies or not.
Advantages of Shifter Proxies
Here are the most important qualities of Shifter worth mentioning:
Not many proxy providers can boast about having as large IP pools as Shifter. In fact, only two other providers, Smartproxy and Brightdata, have more proxies than Shifter. With over 31 million residential IP addresses in its pool, Shifter has the third-largest proxy network on the internet.
With such a massive IP pool, you'll be sure that you'll have enough proxies for whatever task you need to tackle. Another great thing about this provider is that it constantly refreshes and updates its pool, removing any nonfunctional or blocked IP addresses. Unlike many other providers, Shifter allows you to see how many IP addresses from each country are available at the moment.
When it comes to datacenter proxies, it offers tens of thousands of dedicated and shared proxies, which is more than what many providers offer.
Excellent location coverage
Shifter gives you access to backconnect IP addresses from any city and country in the world. However, it allows geo-targeting only for special backconnect proxies. It also allows you to assign a different country to a specific port or port range or a default country for all ports. The only downside is that you can't see a list of the countries the provider has proxies in.
In terms of datacenter proxies, Shifter provides only US proxies.
Affordable pricing and unlimited bandwidth
Unlike most residential proxies, Shifter's backconnect residential proxies are unmetered because they are sold in ports instead of bandwidth. This means you get an unlimited internet connection once you subscribe to a plan, so you won't have to pay extra money to continue using its service after exhausting the specific data.
Shifter's proxies may not be the cheapest on the market, but they are affordable compared to other proxies. Its smallest plan for 25 basic backconnect proxies costs $299.99. The plans for special backconnect proxies are more expensive, the smallest one for 25 proxies costing $599.99.
The cheapest plan for five dedicated proxies costs $25, and 10 shared proxies are priced at $30.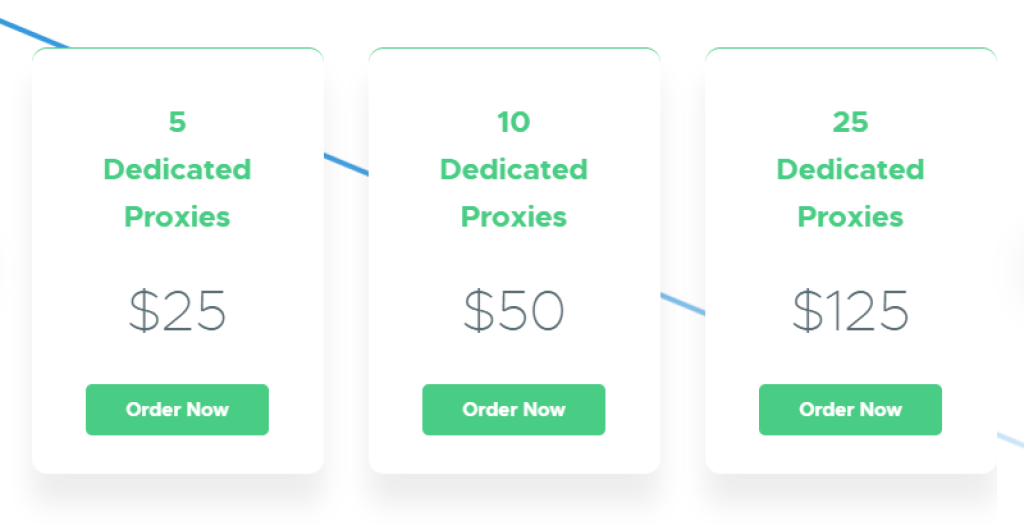 Once again, Shifter may not have the fastest proxies on the market, but their average response time of 4.433s and average ping of 84ms is acceptable for most activities.
Not all proxy companies provide a money-back guarantee, so this is definitely a plus. Shifter offers users a 3-day money-back guarantee for all types of proxies.
Disadvantages of Shifter Proxies
Not everything is great about Shifter, so take a minute to read its major cons before deciding if you'll go with this proxy provider.
Using Shifter proxies on Amazon and Google is problematic. If you want to use them on Google, you'll have to solve a lot of captchas which is an added and unnecessary complexity and cost.
If you want to use them on Amazon, you'll have to contact them so they can activate it for you. And if you don't follow Amazon's strict terms and conditions, they will deactivate it. In other words, Shifter proxies are unsuitable for scraping data off Amazon and Google.
Customer care is essential when it comes to any proxy service. Unfortunately, users are not satisfied with Shifter's customer support, saying it's poor and slow. There's no live chat support on the site and the average wait time on Skype and email (24hours) is disappointing.
However, Shifter does have a FAQ section on each service page that will help you find the most important information regarding its proxies.
Shifter doesn't have a free trial, so you can't test its proxies before purchasing them. Although this can be disappointing for many users, its 3-day refund policy should give you peace of mind, knowing that you can get your money back within three days if its proxies aren't compatible with your target service.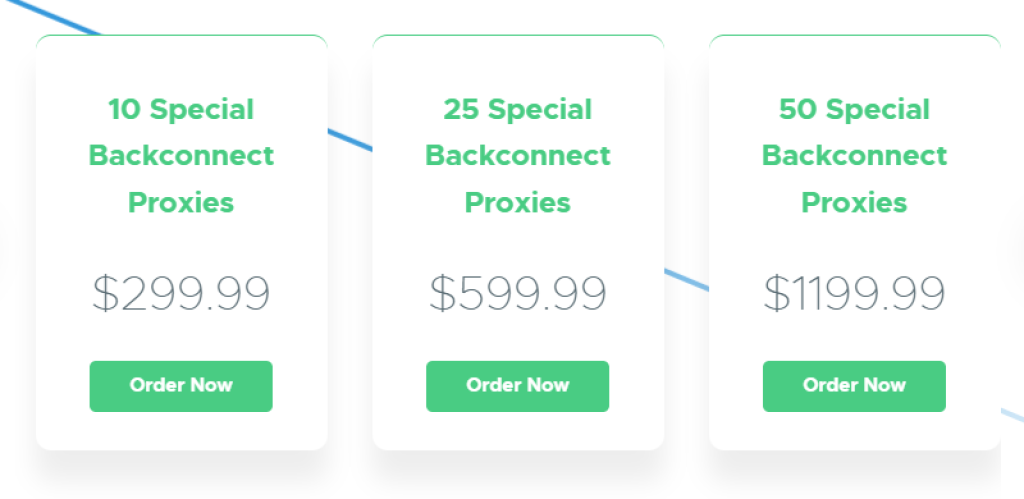 Pros and Cons of Shifter Proxies
To sum up, here are the key pros and cons of Shifter:
Positive
Large IP pool
Many locations available
Money-back guarantee
Negatives
Sub-par customer support
No free trial
Limited scraping functionality
Final Verdict
Shifter is a good proxy provider because it offers highly anonymous, secure, and affordable residential proxies and fast and reliable datacenter proxies. It has an extensive IP pool, great location coverage, and its proxies come with unlimited bandwidth and decent speed.
But, because of the connection errors, poor customer support, and no refund policy, it's not the best provider on the market. In the end, it's your decision, and we hope that we have made it easier for you.
Good
Score by our metrics
PROS
Large IP pool
Many locations available
Money-back guarantee
CONS
Sub-par customer support
No free trial
Limited scraping functionality
Add your review
|
Read reviews and comments
Shifter Alternatives
Here are a few other proxy providers to consider as alternatives to Shifter:
IPRoyal offers ethically-sourced IP addresses and excellent customer support, including live chat, discounts, and datacenter proxies that support SOCKS protocol.
Brightdata offers access to 72 million IP addresses, a 7-day free trial, and good customer support.
Smartproxy offers access to 72 million IP addresses, four different proxy types, and free proxy tools.
FAQ
Yes, Shifter has a straightforward website that's easy to use. Everything is easily accessible, which makes it ideal for beginners.
How many authorized IPs can you set?
You can add up to 100 authorized IPs for each proxy port. You can have as many packages as you want, and the authorized IPs can be shared among them all.
Can You Refresh Shifter Datacenter Proxies?
Yes, Shifter allows refreshing dedicated proxies once a month after the billing date. But, you'll have to open up a support ticket to ask for this service.