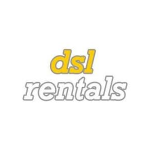 DSL Rentals is a company that offers proxies, VPNs, RDSL for rent, and 3G/4G mobile networks. It has residential, datacenter, and mobile proxies that are mostly used for SEO purposes and bypassing geo-restrictions.
The company has been offering its services for over eight years, catering to more than 15,000 clients worldwide. Although it's been long in the proxy business, DSL Rentals is not as popular as some newer proxy providers.
That's why we've decided to dig into its proxy services and help you figure out if it has what you need.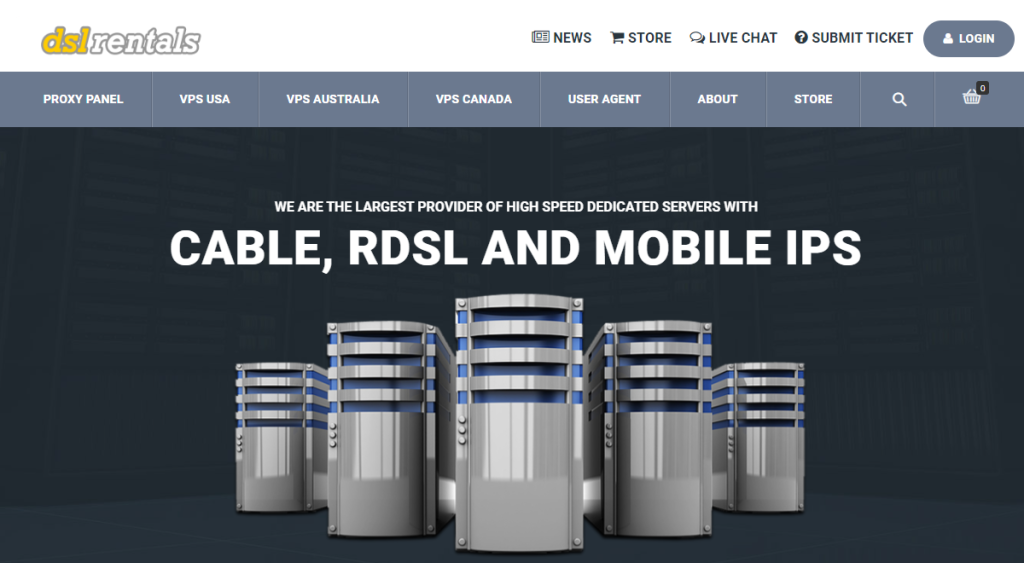 DSL Rentals Introduction
DSL Rentals sells several products, but we'll focus on it as a proxy provider only. It claims it has the most affordable proxies on the market that will help you get around geo-restrictions quickly and safely.
It has a mixed proxy pool consisting of residential, datacenter, and mobile proxies from 21 locations. Most DSL Rentals customers use its proxies for SEO purposes, social media automation and management, and unblocking sites and services.
Interestingly, this proxy provider's pricing structure is not based on the amount of bandwidth or the number of IPs. Instead, it's based on duration, which means you get both unlimited IPs and unlimited bandwidth.
Let's find out more about its features.

DSL Rentals Features
The location coverage, the size of the proxy pool, and the source of proxies are the most important features of any proxy provider.
Let's start with DSL Rentals proxy pool size. Its proxy network consists of 350,000 IPs which is not really impressive in the proxy world as there are companies offering millions of IPs. On the other hand, there are providers with smaller proxy pools. Still, 350,000 is a decent number of IPs that can help you stay anonymous online when doing small-scale proxy tasks.
What's really great about DSL Rentals is that, unlike many providers, this one shows the current number of unique IPs available. Since this number is always lower than the total number of IPs, many proxy providers decide to hide it. But, DSL Rentals has decided to be honest on this one, which is great.
In terms of location coverage, DSL Rentals sells US-based residential and mobile proxies and global datacenter proxies. Currently, it has residential and mobile IPs from 11 states: Alabama, Arizona, California, Georgia, Florida, New York, Illinois, Ohio, Texas, Pennsylvania, and Washington.
The global datacenter proxy pool includes IPs from almost every country in the world, including Canada, Russia, Australia, and the United Kingdom.
All DSL Rentals proxies are legally sourced, derived directly from local ISPs, and delivered to you. So you can rest assured the IPs are real, genuine, and highly anonymous.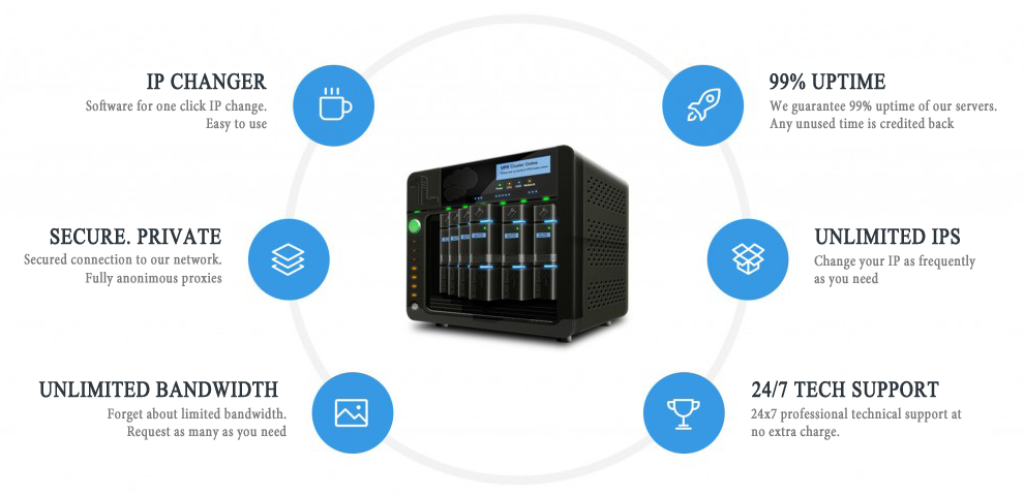 Types of Proxies
DSL Rentals offers residential, 3G/4G mobile, and datacenter proxies.
Residential proxies are the most secure type of proxies as they come from real users and real ISPs. That's why proxy users prefer them for tasks that require a high degree of online anonymity and security.
DSL Rentals' mobile proxies provide a 3G/4G connection that can help you access restricted sites and services or perform certain tasks on your mobile device while using multiple IPs.
Datacenter proxies are known as the fastest on the market, so they are great for tasks requiring high speeds and average online anonymity.
DSL Rentals has both static and rotating IPs. You can keep the same IP for a while or change it as often and as many times as you need at the click of a button on the control panel. On average, the company gives you around 500 to 700 IP changes daily, which means your IP can rotate 500 to 700 times a day, or even more.
All DSL Rentals proxies are dedicated only to one user at a time, so you won't be sharing the same IP with anyone. This means you can use DSL Rentals IPs without worrying about the consequences of other users' misbehavior.
Also, they all support HTTP(S) and SOCKS5 protocols and username/password authentication only. The lack of IP authentication is considered a downside for some users.

DSL Rentals Proxy Speed and Performance
DSL Rentals claims to provide high-speed proxies, but we need more than their claim to confirm that. According to reviews on the internet, the company doesn't have the fastest proxies on the market. In fact, it has proxies with decent speed.
When we contacted the support team to find out more about the speed we should expect with DSL Rentals proxies, they said "5 to 50 Mbps." Although those speeds are not impressive, they are fine for most proxy tasks like scraping, streaming, sneaker copping, ad verification, gaming, etc.
The company provides unlimited bandwidth, so you won't have to worry about reaching any bandwidth limit. Also, the proxies have 99.9% uptime which indicates high reliability.
Additional Tools
Not all proxy providers have additional tools that can improve the proxy experience of their customers. DSL Rentals, however, has great API support with an IP switcher Google Chrome extension. The IP changer software with API access will help you get as many new IPs and user profiles as you need.
Purchase Simplicity
You need a license key that the company calls One-Key to purchase proxies from DSL Rentals. To get a unique One-Key, you should go to the DSL Rentals Panel page, where you have the option to 'Buy new key' for one day, one week, one month, or one year. After choosing the desired period, you leave your email address and proceed to payment.
Once the payment is successfully made, you will get the One-Key that you can use to log into the control panel. The control panel is minimalistic and simple, offering information about your license key's validity period, the details of your proxies, the 'Change IP' button, and the option to chat with support.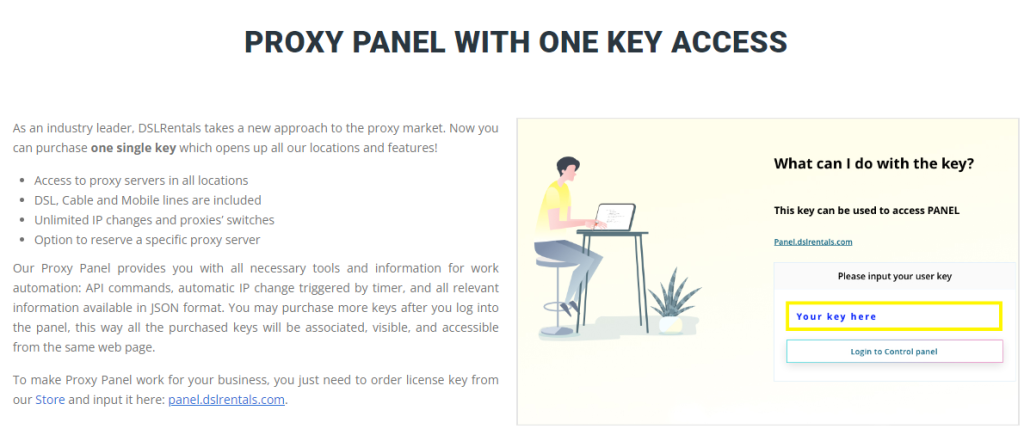 DSL Rentals Pricing
While most proxy providers have pricing plans based on the amount of bandwidth or number of proxies, DSL Rentals has a different approach. The pricing structure of this proxy provider is based on duration.
This can be a good thing if you're a long-time proxy user and subscribe to its monthly plan that gives you access to fresh unlimited IPs and unlimited bandwidth. As DSL Rentals states, some of its customers have had "9,900 IPs from Los Angeles within one month." The monthly or 'Professional' plan costs $240, meaning those customers paid $0.2 per proxy, which is very cheap.
Besides a monthly plan, DSL Rentals has a 'Starter' or a weekly plan that costs $65 and comes with a one-hour trial. There's also a bi-weekly 'Advanced' plan with an unlimited bandwidth allowance for $125.
Aside from the main 'Starter,' 'Advanced,' and 'Professional' plans, DSL Rentals also has a daily and yearly plan. The daily plan costs $24.99 and provides a mixture of residential and datacenter IPs. Although this is as cheap as you can get when it comes to DSL Rentals proxies, it's still expensive compared to other proxy providers. Some of them give you access to their proxy pools for a whole month at that price.
There's also a yearly plan that costs $1,999 and provides you with both residential and datacenter proxies. This plan is ideal for long-term users and businesses that need massive amounts of bandwidth and unlimited IPs.
Long story short, DSL Rentals proxies are affordable for long-term users but expensive for users who need just a small number of proxies or proxies for a short period of time.
The 24-hour money-back guarantee is definitely a plus as it allows you to get your money back if you are not satisfied with DSL Rentals proxies for any reason. The company also lets you try its proxies for free, which means it's very confident in its products.
With the free trial, DSL Rentals builds trust between the company and its customers, which is something any business should strive for. The only downside is that you have to contact the support team to find out the duration of the free trial, as there's no information on it on the site.
DSL Rentals Discounts
DSL Rentals says you can get some of their products at a huge discount, but fail to mention if this applies to proxies as well. So you'll have to contact the support team to find out more about it. You can find promo codes online for additional discounts.
Is DSL Rentals Legit or a Scam?
DSL Rentals is a legitimate company that's been selling a variety of products, including proxy services, for over eight years. The free trial and 24-hour refund policy reassure customers about its proxies' functionality and the company's legitimacy.
Customer Support
DSL Rentals has excellent customer support, unlike many proxy providers that fail at customer service. It has live chat support with an agent who will answer all of your questions right away. You can also contact them by opening a support ticket, sending them an email, or via Skype or social media sites.
We couldn't find any customer review complaining about DSL Rentals' customer support which is a good sign that the provider cares about customer satisfaction.
Can You Earn Money With DSL Rentals?
Yes, this company allows you to earn money by reselling its services, including proxies. But, to qualify for its affiliate program, you need to make at least three sales. Only then will you get special reseller discounts for weekly and monthly plans.
You should contact the support team to find out more about the DSL Rentals affiliate program.

DSL Rentals Pros and Cons
We've compiled a list of pros and cons of DSL Rentals to help you decide if this is the best proxy provider for you.
Positive
Dedicated proxies
Number of available IPs
Great location coverage for datacenter proxies
Legally-sourced proxies
Unlimited bandwidth
Unlimited IPs
Unlimited IP rotation
HTTP(S) and SOCKS support
Username/password authentication
99% uptime
Decent speeds
API support
Simple control panel
Affordable proxies for long-term users
Free trial
24-hour money-back guarantee
Promo codes for discount
Great customer support
Live chat support
Affiliate program
Negatives
Small proxy pool (compared to other proxy providers)
Residential and mobile proxies only from the US
No IP authentication
Expensive proxies for short-term users
Final Verdict
DSL Rentals seems like a good choice if you need US-based residential or mobile proxies or global datacenter proxies for a long time. The pricing structure of this provider is based on duration, so the longer you plan to use its proxies, the cheaper they are.
This, however, means that DSL Rentals is an expensive option for those who need proxies for a short period or those who need a small number of proxies.
Good
Score by our metrics
PROS
Dedicated proxies
Number of available IPs
Great location coverage for datacenter proxies
CONS
Small proxy pool (compared to other proxy providers)
Residential and mobile proxies only from the US
No IP authentication
Add your review
|
Read reviews and comments
DSL Rentals Alternatives
If you're not sure that DSL Rentals is the right proxy provider for your needs and budget, here are a few more options to consider:
IPRoyal – unlike DSL Rentals, this proxy provider has a proxy pool consisting of millions of IPs, including residential and mobile IPs from locations worldwide, sold for lower prices.
Shifter – unlike DSL Rentals, this company offers fast residential and datacenter proxies and a longer free trial and money-back guarantee (3 days).
Proxy-Cheap – this company has much more affordable residential, mobile, and datacenter proxies than DSL Rentals.
FAQ
What payment methods does DSL Rentals support?
DSL Rentals accept PayPal, Bank Wire Transfers, MoneyGram, Western Union, and cryptocurrencies like Bitcoin and Ethereum.
How long does it take to change your IP?
It takes a few seconds after clicking the Change IP button to have your IP replaced with a new one.
Does DSL Rentals have a proxy speed checker?
No, this company doesn't have a proxy speed checker. But, it has a free trial, so you can test its proxies and see if they are fast enough for your needs.