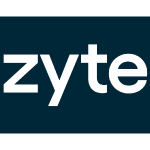 Zyte Smart Proxy Manager is known as one of the best web scraping solutions on the market, used by both individuals and businesses of all sizes. It's a proxy API that helps you manage proxies and avoid anti-ban systems of sites, thus making web scraping a lot easier.
So if you're looking for rotating proxies for web scraping, you may want to learn a bit more about Zyte and find out if it meets your needs and fits your budget. Hence our Zyte Proxy review.

Zyte Proxy Introduction
Zyte is more than just a proxy service. It's a brand with several products built specifically for web scraping, including the Smart Proxy Manager, Scrapy, and Automatic Extraction. The company used to be known as Scrapinghub, but in 2021 it officially became Zyte.
The Zyte Smart Proxy Manager (formerly known as Crawlera) is promoted as a web scraping tool built by developers for developers. It provides a rotating proxy service that manages proxies on your behalf. It automatically selects the best IPs to help you scrape data quickly and safely.
The tool enables scalable web scraping by routing your requests through a pool of IPs. It provides anti-ban management to maximize success rates. You can either use it with another Zyte service like Scrapy or Scrapy Cloud, or with any other crawler or HTTP client.
Zyte Proxy Features
With Zyte Smart Proxy Manager, you don't buy just proxies. Instead, you get a proxy management solution that automatically selects and rotates IPs to ensure easier web scraping. By providing automatic retries, it automatically rotates the IP and retries the request whenever the system detects a block. Other features include:
a universal HTTP proxy interface,
in-built anti-ban management,
throttling,
web browser simulation.
In other words, it covers most of the complexities involved in data scraping.
The service supports several programming languages such as PHP, Python, Node.JS, Java, and C#. However, it doesn't handle JavaScript, so you can't scrape data from sites that depend on JavaScript unless you combine it with Zyte's Splash or Selenium.
Zyte's proxy pool consists of hundreds of thousands of datacenter proxies which is not a record-breaker in terms of proxy pool size. But, the brand says it grows the pool as needed, so it's hopeful.
In terms of geolocation, the datacenter Smart Proxy Manager has proxies in more than 40 countries worldwide, and the residential pool has global coverage. You can choose IPs in specific locations, or leave the automatic IP proxy rotation down only to the tool.
Another important thing to consider is the source of proxies. All Zyte proxies are ethically sourced and maintained, which points out the brand's trustworthiness. The brand doesn't own the proxies, but it rents them from other providers and boosts them with an intelligent management layer.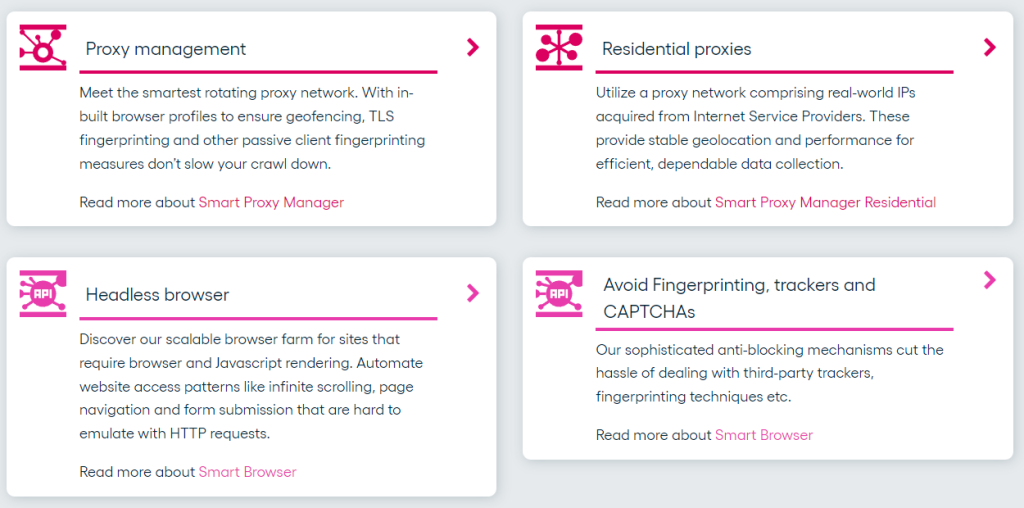 Types of Proxies
No matter what Zyte plan you buy, you'll get rotating datacenter proxies. This is the main product of the company, which is in fact the basis for it. The real product you buy is the proxy management features on top of the mediocre IPs because the focus on the brand is not on proxies but data.
Zyte's proxies use backconnect servers, so you're assigned to one gateway address, and the IP rotation is done in the backend. The brand supports sticky sessions as well.
Although datacenter proxies are not the best type of proxies for web scraping, Zyte gets the most out of them to make scraping data more reliable.
The brand also offers residential IPs, but it doesn't treat them as a standalone product. Instead, it offers them as a paid add-on for active subscribers. Since residential proxies are safer and more anonymous and reliable than datacenter proxies, you can pay extra money for them to scrape geo-blocked websites.
Zyte proxies come with HTTP(S) support only, so there's no SOCKS support which is a flop. All proxies use IPv4 protocol which is still regarded as a better option than IPv6. Authentication is done by using a unique API key. This means no IP authentication and username/password authentication support.

Zyte Proxy Speed and Performance
Zyte claims it has the fastest proxies for web scraping on the market, but we need more than just a claim to confirm it. Therefore, we've looked up some reviews on the internet to see what Zyte users and reviewers are saying about the speed of its proxies.
We found that it has good response times with 1.99s on average and that most users are satisfied with the proxy speed. Also, Zyte proxies have over 98% success rate across all domains and even more with e-commerce sites like Craigslist and Amazon.
But, because of the proxy management measures of the brand, users sometimes experience outright blocks. In fact, most failed attempts are because of timeouts longer than 30 seconds.
When it comes to performance under load, Zyte has significantly lower success rates. The more you increase the requests, the less functional the proxies are. But, the company says its request rate limit is put on purpose to protect sites from DDoS attacks.
Zyte Smart Proxy Manager has had a fantastic 100% uptime in the last three months, which means the proxies you get are extremely reliable.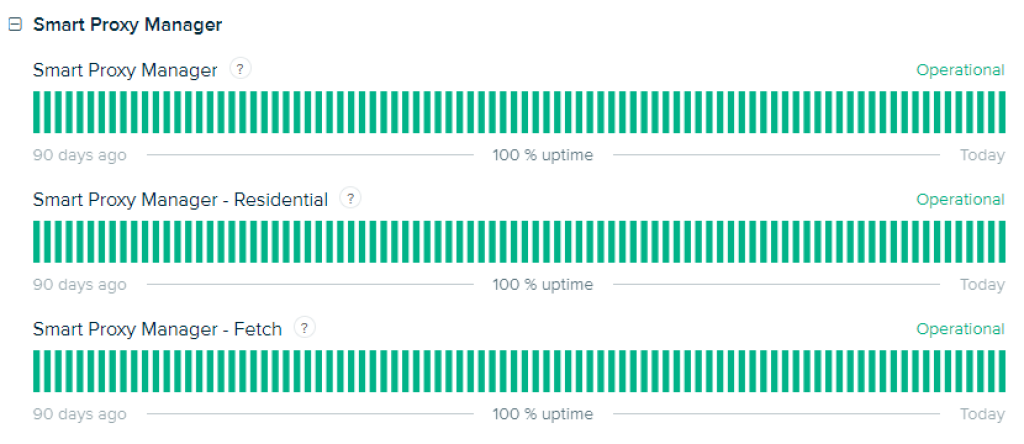 Additional Tools
Zyte offers Scrapy Cloud that can integrate with its Smart Proxy Manager to help you run your crawls and browse results more easily. This way, it saves you from the complexity of web crawling and allows you to focus on the main work of data extraction.
Purchase Simplicity
To subscribe to any Zyte Smart Proxy Manage plan, you need to click the 'Try free' button on the desired plan that will take you to the 'Sign Up' page to create an account. You should wait for a few minutes to get a confirmation email to complete your registration.
But, you'll have to enter your billing information to open an account and start using the free trial. Although this is understandable, it's not the option many proxy users prefer when seeing they can get a free trial.
Once you activate your account, you can access the easy-to-use dashboard that includes all Zyte products, including the Smart Proxy Manager. You can get your unique API key in the Smart Proxy Manager section and use it for authentication.
Zyte Proxy Pricing
Zyte doesn't charge by the number of IPs or the amount of bandwidth used, but by the number of requests. This means you can enjoy unlimited bandwidth and unlimited IPs because the Smart Proxy Manager plans are limited by the number of successful requests per month. This policy is a plus because you won't be charged for failed requests.
Zyte Smart Proxy Manager offers four monthly plans. The smallest 'Starter' plan costs $29 and provides you with 50,000 requests and the ability to get 10,000 additional requests for $10. However, this plan limits the concurrent requests to 50.
The 'Basic' plan costs $99 and allows 200,000 requests per month. You can buy additional 100,000 requests for $49, but the concurrent requests are still limited to 50.
The 'Advanced' plan gives you 2.5 million requests for $349 a month and allows 200 concurrent threats. You can buy additional one million requests for $149.
The most expensive plan is the 'Enterprise' plan which costs $999 a month. However, it allows you to tailor the requests according to your needs, including the concurrency. Also, it supports IP whitelisting, personalized onboarding, custom proxy locations, custom crawling time window, and guaranteed capacity, so it's definitely worth the price.
The brand offers a 14-day free trial which is amazing. It's more than enough time to test the tool and proxies and see if they work for you. You can even do a small-scale scraping project completely for free. The only downside is that you must leave your billing information to get the free trial. If you fail or forget to cancel it within 14 days, you'll be automatically upgraded and charged for the 'Starter' plan.
There's also a 7-day money-back guarantee that allows you to get a refund as long as you're a new user and you have only used the paid service for up to seven days. The money-back guarantee will surely give you peace of mind when leaving your billing details.
But, we did find one customer complaining that the brand didn't provide them with a refund. Since this was in 2021, we hope things got better with the brand's refund policy.
Zyte Proxy Discounts
Zyte gives you 10% discounts on annual Smart Proxy Manager plans. You can also use promo codes for additional discounts. Also, the more requests you order, the less you'll pay per request.
Is Zyte Proxy Legit or a Scam?
With over ten years of experience and ten million records validated daily, you can rest assured Zyte is not a scam. It's a legitimate company that offers web scraping solutions to individuals and businesses worldwide.
Customer Support
If you're subscribed to Zyte's cheaper plans, the only way to contact the support team is by creating a ticket. Usually, it takes 1 to 24 hours to get a reply from the support team, which is not bad. But, you won't get help on weekends, which is not ideal.
There's also a community support forum and knowledge base where you can find the answers to your questions. Although the site has live chat support, it's reserved only for sales.
If you're subscribed to the 'Enterprise' plan, however, you'll get your own dedicated account manager, direct access to the brand's developers, and 24/7 support. It turns out the more you pay, the better customer support you get.
Can You Earn Money With Zyte Proxy?
Yes, Zyte allows you to earn money by recommending its Smart Proxy Manager to others. If you join its affiliate program, you can get 50% of what each new customer spends. In other words, you'll earn money from every new customer you bring to Zyte via your unique referral link.
The brand will give you a one-month free trial, so you can create the necessary content for your followers or audience. Also, you'll get a dedicated affiliate support team to help you solve any problems you may encounter during the process.

Zyte Proxy Pros and Cons
Let's compare and contrast the major strengths and weaknesses of Zyte Smart Proxy Manager so you can more easily decide if this is the right web scraping solution for you.
Positive
Web scraping datacenter proxies
Excellent geolocation
Ethically-sourced IPs
IP rotation
Sticky session support
Residential proxy support
API key authentication
HTTP(S) support
Decent proxy speed
High success rates
100% uptime
Scrapy Cloud
Pricing structured on the number of requests
Not charged for failed requests
Unlimited bandwidth
Unlimited IPs
A 14-day free trial
A 7-day refund policy
Easy-to-use dashboard
Great support team for Enterprise users
Discounts and promo codes
Affiliate program
Negatives
Small to medium proxy pool
No SOCKS support
Small concurrent request limit to cheaper plans
Occasional blocks
No IP authentication and username/password authentication
Forced to enter your billing info to use the free trial
Residential proxies offered only as a paid add-on
Live chat support reserved only for sales
Not enough contact options for cheaper plan users
Final Verdict
Overall, Zyte Smart Proxy Manager seems like a great option if you need datacenter proxies for web scraping. It has cost-effective plans, fast rotating proxies, great location coverage, and an amazing 14-day free trial that allows you to test the proxies before buying them.
On the downside, if you forget to cancel the free trial, you'll be automatically moved to the 'Starter' plan after the free trial expires, as the website already has your billing information. Also, if you need residential proxies, you'll have to pay extra, as they are not included in any plan. Zyte is also not a suitable provider if you need SOCKS proxies.
Ratings
Great
Score by our metrics
PROS
Web scraping datacenter proxies
Excellent geolocation
Ethically-sourced IPs
CONS
Small to medium proxy pool
No SOCKS support
Small concurrent request limit to cheaper plans
Add your review
|
Read reviews and comments
Zyte Proxy Alternatives
Here are a few more brands to consider for your proxy needs:
Mars Proxies – this proxy provider offers affordable residential and datacenter proxies which support SOCKS protocol and username/password authentication and IP authentication.
Bright Data – this company has millions of proxies from countries all over the world that will help you scrape data from any site.
Oxylabs – this brand offers millions of residential proxies for large-scale scraping and a live chat support.
FAQ
What payment methods does Zyte support?
Zyte supports only PayPal and credit cards, at least for now.
Does Zyte Smart Proxy Manager support cookie management?
Yes, each Zyte Smart Proxy Manager plan comes with cookie management.
Can you use Zyte Smart Proxy Manager with your own crawler without using any Zyte service?
Yes, you can use Zyte Smart Proxy Manager with any HTTP client or crawler because it is a standalone service.