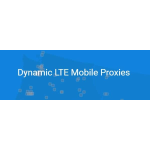 ProxyLTE is a popular mobile proxy service that focuses on providing US IP addresses. Although it promotes itself as a mobile proxy provider, its proxy pool contains residential IPs as well. The company says it has over 4,000 satisfied customers from all over the world.
While the customers love the quality of the ProxyLTE proxies and the brand's customer service, they are not satisfied with the prices. So, let's find out if ProxyLTE has what you need and whether its proxies are worth the price.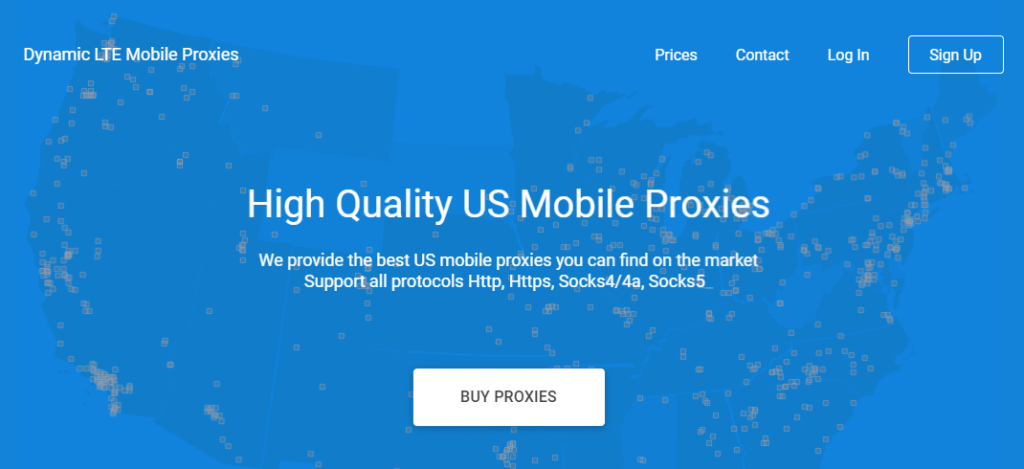 ProxyLTE Introduction
ProxyLTE is a premium proxy provider that has been offering US mobile proxies for over five years. Just as the name indicates, it works best with LTE mobile proxies. But, if you want to target other countries outside the US, it won't be useful to you.
There are four subscription plans to choose from and a custom plan for those with specific requirements. The service provides clean proxies that are ideal for social media management and automation and captcha bypass, but you can also use them for web scraping, brand protection, and anonymous browsing. You can use them on all websites and applications, except for illegal sites.
The site is straightforward and user-friendly, allowing you to choose the proxy type, connection, period, number of proxies, and state when setting up your proxy. The pricing system is very flexible, but you can buy ProxyLTC proxies only with BTC or LTC, which is a big flop.
ProxyLTE Features
Let's learn more about this service by looking at the size of its proxy pool, location coverage, and the source of its proxies.
ProxyLTE offers IPs only from the United States, which makes it ideal if you're looking for US mobile proxies. It doesn't allow city-targeting, but it does support country- and carrier-targeting.
Still, we found that the service has a small pool of non-US proxies from locations like Australia, the UK, and Germany that are only available in the '1 by 1' plan. We don't know why this is not mentioned anywhere on the homepage, but it's good to consider it as an option.
ProxyLTE doesn't shine in terms of the size of its proxy pool. Unlike other providers that have hundreds of thousands of IPs in their proxy pools, this one has nothing more but thousands of IPs. Although it's not a big proxy pool, it's still enough to complete most proxy tasks. And the company says it's constantly adding new IPs to its network.
Besides, ProxyLTE owns all of its IPs as opposed to other brands that get their proxies from P2P networks. This is probably the main reason for the small proxy network. Also, we shouldn't forget that all proxies are clean with encrypted traffic, which is more important than the IP pool size.
So with ProxyLTE, you can be sure you use legally sourced IPs which is very important for the security and anonymity of your proxies.

Types of Proxies
The main product of ProxyLTE is 4G mobile proxies. In fact, ProxyLTE advertises itself only as a mobile proxy provider, but its proxy network contains residential IPs as well. All proxies are private, which means you won't be sharing them with anyone else. You can also choose social proxies if you need clean IPs for social media automation.
ProxyLTE supports IP rotation depending on the plan. The 'Private' plan includes proxies from random US locations, and you get one IP per port per hour, so you have no control over the rotation. If you subscribe to the 'Social' or 'Carrier' plan, you can shuffle your proxy's IP every 30 minutes. You can set the IP rotation in these plans to off, on-demand only, or automatic.
The 'Social' plan allows you to choose the connection type: broadband WiFi, cellular ISP, and mixed. With the 'Carrier' plan, you can select one from the three available US carriers: Verizon, T-Mobile, and AT&T.
The '1 by 1' plan doesn't support IP rotation as the whole purpose of the plan is to provide you with proxies you can maintain from 1 to 24 hours and use them for specific tasks. You can buy these proxies individually for 24 hours, and if they drop within one hour, you can simply click 'refund' on them, and they will get refunded. There are filters in this plan for the region, zip code, ISP, spam abuse, speed, and more.
ProxyLTE supports all protocols: HTTP, HTTPS, SOCKS4/4a, and SOCKS5. You can select the desired protocol when making the purchase, and you won't be able to change it afterward.
The service supports only IP authentication. It allows you to whitelist one IP address at a time and change it every 30 minutes. Only the '1 by 1' plan allows you to whitelist five IP addresses. The lack of username/password authentication is considered a downside.

ProxyLTE Proxy Speed and Performance
What's really great about ProxyLTE is that when you set up your proxy and make an order, the provider shows you the proxy speed you should expect, alongside the number of threads. For instance, one social port is allocated 2 Mb/s and 200 threads.
Overall, all of its plans have a 12 Mb/s speed limit, but you can contact the support team if you want faster proxies. ProxyLTE customers are satisfied with the speed of ProxyLTE proxies, often saying the proxies are fast and without drops.
The service has 99% uptime and high success rates and comes with unlimited bandwidth, which is excellent.
Additional Tools
Not all proxy providers offer additional tools such as APIs, scrapers, or proxy checkers. Luckily, ProxyLTE is not one of them, as it has an easy-to-use API that allows you to add proxies into your workflow easily and export a list of proxy IPs.
Purchase Simplicity
Purchasing ProxyLTE proxies is not necessarily complicated but a bit different from other providers. You first need to register and open an account, for which you'll receive an access token in an email. The token will help you access the account and the minimalistic dashboard, as opposed to other services which use username and password.
Once you're logged in, you can see the available plans and select the desired one. Then, you set up your proxy by choosing the proxy type, connection, time, and other specifications based on the plan.
You go to 'Add to Cart' and then to 'Buy Now', where you leave your email and access IP. To make the payment, you need to have a balance on your account, which you can do by transferring BTC or LTC to a unique address that changes after each deposit.
The payment is processed automatically, so you get instant access to your proxies.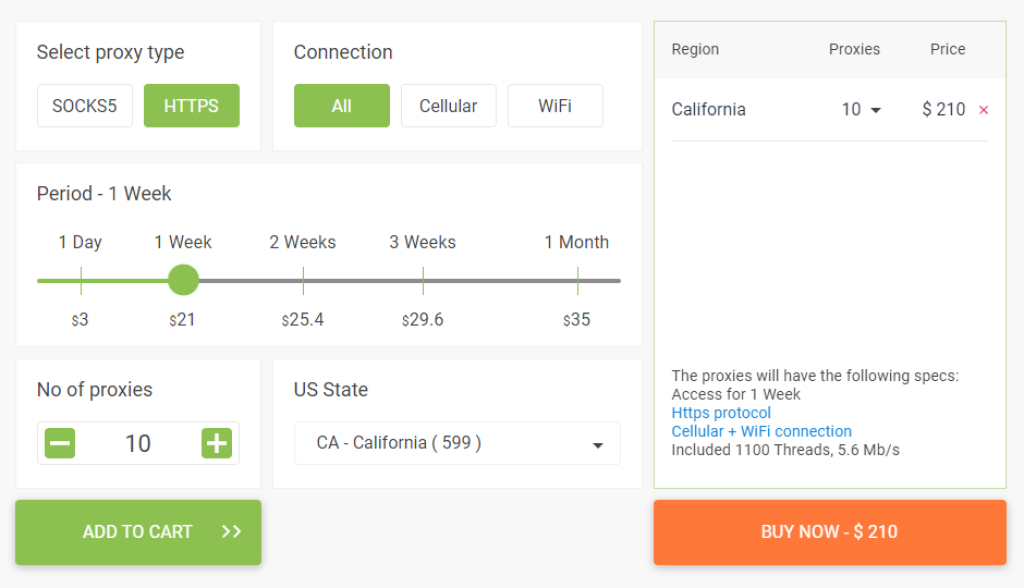 ProxyLTE Pricing
ProxyLTE pricing structure is based on the number of IPs and duration. The cost is also affected by the location of the proxies. This makes them very flexible as you can order as many proxies as you need for as long as you need, between one day and one month. But, this only applies to social and carrier proxies.
The 'Private' plan allows you to buy a minimum of 25 proxies for one day, one week, or one month. If you buy 25 private proxies for one day, you'll get them for $20. The same number of private proxies would cost $99 if you use them for one week and $275 if you use them for one month. This is rather expensive for mobile/residential proxies.
One social SOCKS proxy costs between $1.5 and $2.5 if you choose to use it for one day. It would cost between $14.5 and $17 if you use it for one week, and between $20 and $30 if you use it for a month.
Of course, the price per proxy reduces as you order more proxies. So while ordering one social or carrier proxy is very expensive, ordering more proxies is more affordable but still costlier than many other proxy providers on the market.
ProxyLTE doesn't offer a free trial, so you can't test its proxies before buying. It also doesn't have any refund policy, so you can't get your money back if you're not happy with them for any reason. The only type of refund it offers is when a '1 by 1' proxy drops within one hour. In that case, only that proxy will be refunded.
The lack of a free trial and refund policy is one of the significant drawbacks of ProxyLTE, as more and more proxy providers offer at least one of these options to attract potential customers and help them build trust in their service.
The only way to pay for ProxyLTE proxies is with Bitcoin or Litecoin, which is another flop as many users prefer using PayPal or credit cards.

ProxyLTE Discounts
We already saw that ProxyLTE proxies are expensive, but the good thing is that you get a 10% referral discount when making an order. Other than this, we couldn't find any other discounts or promo codes you can use to get ProxyLTE proxies for cheaper.
Is ProxyLTE Legit or a Scam?
ProxyLTE is a legitimate and trustworthy company that has been offering mobile proxies for over five years. Despite the lack of a free trial and refund policy, the service will deliver what's promised. So you can rest assured that ProxyLTE is not a scam!
Customer Support
You have only two options to contact ProxyLTE – via Telegram or Jabber. The lack of live chat support, Skype, and email on the site is definitely a downside, as these are the most popular options to reach support agents. Another bad thing is the site's unresponsive FAQ page.
On the good side, we found plenty of customer reviews praising the customer service of ProxyLTE, saying it's fast, friendly, and useful. According to them, the support team will answer your questions and help you solve any problem within a day or even a few hours.
Can You Earn Money With ProxyLTE?
ProxyLTE has a referral program that allows you to earn money by recommending the service to others or becoming their referral. Basically, it gives you a 10% commission from each amount spent by any new customer brought by you.
Unfortunately, you can't find information about its referral program on the site, so you'll have to contact the support team to find out more information about it.
ProxyLTE Pros and Cons
Here are the most significant strengths and weaknesses of ProxyLTE as a mobile proxy provider to help you make an easier and smarter buying decision.
Positive
Private mobile/residential proxies
Legally-sourced proxies
Flexible plans
HTTP(S) and SOCKS support
IP authentication
Country-targeting, carrier-targeting, ISP-targeting (depending on the plan)
IP rotation support
Static proxies
Fast speeds
High success rates
99% uptime
Unlimited bandwidth
Instant access to proxies
API support
10% discount
Great customer support
Negatives
Small proxy pool
Limited location coverage
No control of IP rotation for the 'Private' plan
No username/password authentication
No credit card and PayPal support
No free trial and refund policy
No live chat support, email, or Skype
No promo codes
Final Verdict
ProxyLTE is a solid proxy provider if you need US mobile proxies for social media automation, captcha bypass, etc. It supports all protocols, it has daily and weekly plans, and it has great customer support.
However, it has limited location coverage and expensive proxies, so you may need to look for a more affordable provider that will offer you some kind of refund policy or at least a free trial.
Ratings
Good
Score by our metrics
PROS
Private mobile/residential proxies
Legally-sourced proxies
Flexible plans
CONS
Small proxy pool
Limited location coverage
No control of IP rotation for the 'Private' plan
Add your review
|
Read reviews and comments
ProxyLTE Alternatives
Here are a few good alternatives to ProxyLTE to have in mind:
IPRoyal – unlike ProxyLTE, this brand offers much cheaper and faster 4G mobile proxies from locations outside the US and live chat support.
Airproxy – unlike most mobile proxy providers, this company makes use of a dedicated sim card for every subscription and allows you to buy a 3-day trial for a low price.
ActProxy– This provider offers shared and dedicated proxy servers from 64 subnets. The proxies support SOCKS, dual authentication, and there's a 3-day money-back guarantee.
FAQ
Does ProxyLTE have datacenter proxies?
No, the proxy pool of ProxyLTE consists of mobile and residential proxies only. So if you need datacenter proxies, you should look for another provider.
How to extend or renew ProxyLTE plans?
You can do this on the ProxyLTE control panel that's very easy to use.
Are ProxyLTE proxies anonymous?
Yes, ProxyLTE proxies are highly anonymous because they are clean proxies with encrypted traffic and mobile fingerprints that keep you safe from blocks.