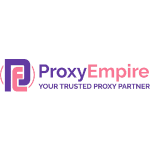 ProxyEmpire is relatively new in the proxy business as it's been offering residential and mobile proxies for over two years. It came into existence during the COVID pandemic, and in just a few years, it managed to catch the attention of proxy users worldwide.
Although testing a new service before subscribing is always a good idea, ProxyEmpire doesn't have a free trial for everyone. So how to know if it's better than the veterans in the proxy industry?
Don't worry – we'll review it and help you decide if this is the right proxy provider for you.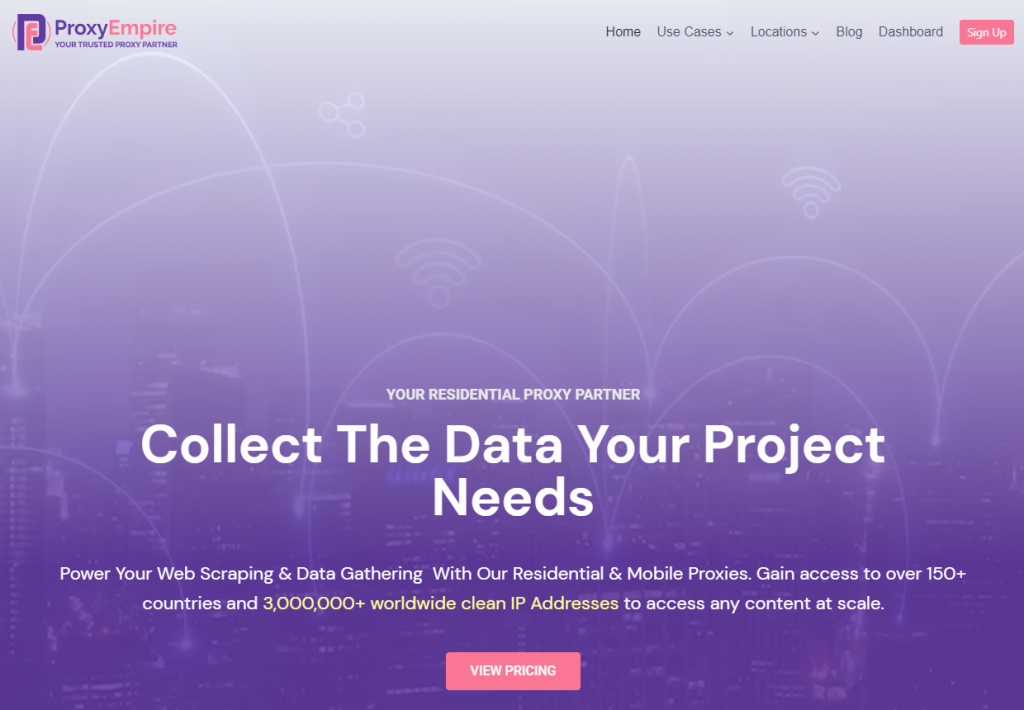 ProxyEmpire Introduction
ProxyEmpire is a proxy service that specializes in providing residential and mobile proxies. The company is among the younger competitors, but it has earned a good reputation among most proxy users around the world.
What sets it apart from most competitors is that it provides limitless rollover data. This means that any unused bandwidth will be transferred into your next month's billing cycle even if you don't have an active subscription. Pretty amazing, right?
So besides the regular amount of bandwidth you receive each month, you'll get more bandwidth from the previous month if unused. In other words, ProxyEmpire allows you to use all the bandwidth you pay for, which is excellent!
The main use cases of ProxyEmpire proxies are web scraping and data gathering, but you can also use them for ad verification, price monitoring, brand protection, sneaker copping, stock market data, travel aggregation, SEO monitoring, etc.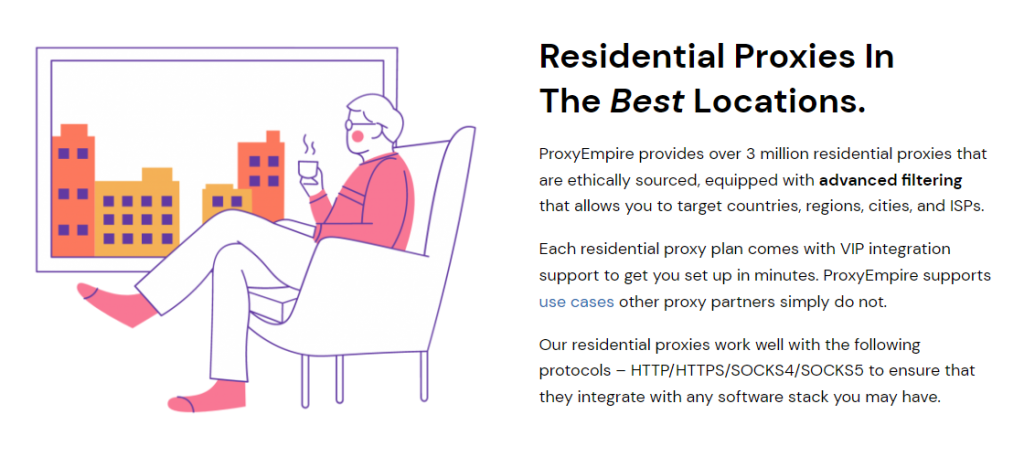 ProxyEmpire Features
The number of IPs in the proxy pool, the location coverage, and the source of proxies are the most important features of any proxy service. So let's find out more about these features concerning ProxyEmpire.
As you can see from the homepage, the provider has a large proxy pool consisting of over 3 million clean IP addresses. Although there are other providers with larger proxy networks, it's still a decent number of IPs that should be enough for most proxy tasks.
However, it's unclear how many of these 3 million IPs are residential and how many are mobile proxies. The provider doesn't give specific numbers, so we guess 3 million is the total number of proxies, both residential and mobile.
In terms of location coverage, ProxyEmpire has proxies in more than 150 countries on six continents. All the supported locations are listed on the site, including countries like the US, China, Russia, Germany, Japan, India, Cuba, Estonia, France, Malta, Saudi Arabia, Qatar, and others.
Most importantly, all ProxyEmpire proxies are ethically sourced as they come from reputable ISPs and wireless carriers.
In short, ProxyEmpire has a decent proxy pool size, excellent location coverage, and legally-sourced proxies, which are good signs that the company is trustworthy.
Types of Proxies
ProxyEmpire offers two types of proxies: residential and mobile proxies. The developers have decided to focus only on these proxies because they are more reliable and secure than datacenter proxies. That's because they come from real residential desktop and mobile devices and from real ISPs and mobile carriers.
The residential proxies can help you access any website and gather data without being detected. ProxyEmpire residential proxies allow you to target countries, cities, and ISPs. They support all protocols, including HTTP, HTTPS, SOCKS4, and SOCKS5, so you can rest assured they will integrate with your targeted software stack.
The 4G rotating mobile proxies from this brand support the same protocols. They can keep you anonymous while surfing on your mobile device or gathering data from sites and apps without looking suspicious. They support country-targeting, city-targeting, and carrier-targeting.
The provider has rotating and sticky residential and rotating and sticky mobile proxies but no static proxies. It offers automatic IP rotation, so you won't have to change your IP manually, which can be time-consuming and complicated for novices. You can also set the proxies to cycle every 1, 5, 15, 30, or 60 minutes.
ProxyEmpire says it supports both IP authentication and username/password authentication. However, the IP whitelist is disabled by default, so you can only use one authentication method. If you want to enable IP whitelisting, you should contact the support team.

ProxyEmpire Proxy Speed and Performance
Other than saying the proxies are fast, ProxyEmpire doesn't give much information on the speed of the proxies. When we contacted the support team, they said the last time they checked their US proxies, they had a speed of 50 Mbps which is more than decent. But, they didn't give us information about proxies from other locations.
The provider allows 1,000 concurrent connections without throttling and 99.7% uptime, which indicates that the proxies are quite reliable.
After going through some customer reviews, we've found that the proxies really have a decent speed but not the best latency. Anyway, customers are generally satisfied with the speed of ProxyEmpire proxies, so that's a good sign that you won't have problems using them for web scraping or other proxy tasks.
Additional Tools
Many proxy providers offer additional tools such as scrapers, proxy speed checkers, or API. Unfortunately, ProxyEmpire doesn't have any of them. But the brand is relatively new on the market, so it may start offering some additional tools in the future.

Purchase Simplicity
Buying proxies from ProxyEmpire is quite simple. You can easily see the available plans on the homepage. Once you pick one, you get to register an account. You should only leave your name and email to open an account, and once you get a verification email, you must answer a few questions as part of the company's welcome survey.
The questions are about the type of proxies you need and their purpose of use. After answering them, the provider suggests paying $1.97 to activate your account or subscribing to a plan.
But why would you want to pay an activation fee when you can skip it and directly subscribe to a plan? Well, that's because you'll get 100 MB of residential data and 50 MB of mobile data for the price of the activation fee, which is $1.97. So this is actually a paid trial rather than an activation fee.
Of course, you can skip the paid trial if you're sure you want to use ProxyEmpire proxies, but we recommend it as it's a cheap way to find out if the proxies fit your needs.
The user-friendly dashboard shows you the number of IPs ProxyEmpire has in each country for each type of proxies. It also shows you the amount of data you've used over the last month.
ProxyEmpire Pricing
The company has monthly subscriptions based on the amount of bandwidth for both residential and mobile proxies. There are six different packages for each type of proxy, which cover pretty much all proxy users, from beginners that need a little bandwidth to businesses than need more.
All residential and mobile packages include rollover bandwidth, granular targeting, and access to the entire proxy network. The only thing that differs between packages is the amount of bandwidth and the type of customer support. The more bandwidth you order, the higher level of support you get.
The smallest residential 'Starter' package costs $45 and provides you with 3 GB of bandwidth a month. This means you'll pay $15 per GB, which is not cheap. However, if you subscribe to the 'Business' package, you'll get 100 GB of bandwidth a month for $600, which is only $6 per GB. The highest 'Enterprise' package costs $4,000 but provides you with 1 TB of bandwidth a month, which is $4 per GB, and that's cheap.
The smallest mobile package, 'Mobile A', costs $60 and gives you 2 GB of bandwidth a month. This means one GB costs $30, which is far from cheap. But, the more bandwidth you order, the lower the price per bandwidth. So, subscribing to the 'Mobile L' plan will give you 30 GB of bandwidth for the price of $660, which is $22 per GB. The highest 'Enterprise M' package costs $4,500 and includes 300 GB a month or $15 per GB.
Although ProxyEmpire is not the most affordable proxy provider out there, the prices are more or less average compared to most competitors. And, we shouldn't forget that it offers rollover bandwidth, so if you have any unused bandwidth by the end of the billing cycle, it will be automatically transferred onto the next.
Unfortunately, there's no refund policy, so you won't be able to get your money back in case you're not happy with the proxies. On the good side, ProxyEmpire offers a free trial of 1 GB of data, but that's only for business clients.
All other clients can use the paid trial, which we recommend because it's very cheap. For $1.97, you get 100 MB of residential data and 50 MB of mobile data, which is more than enough to see if the ProxyEmpire proxies fit your specific use case.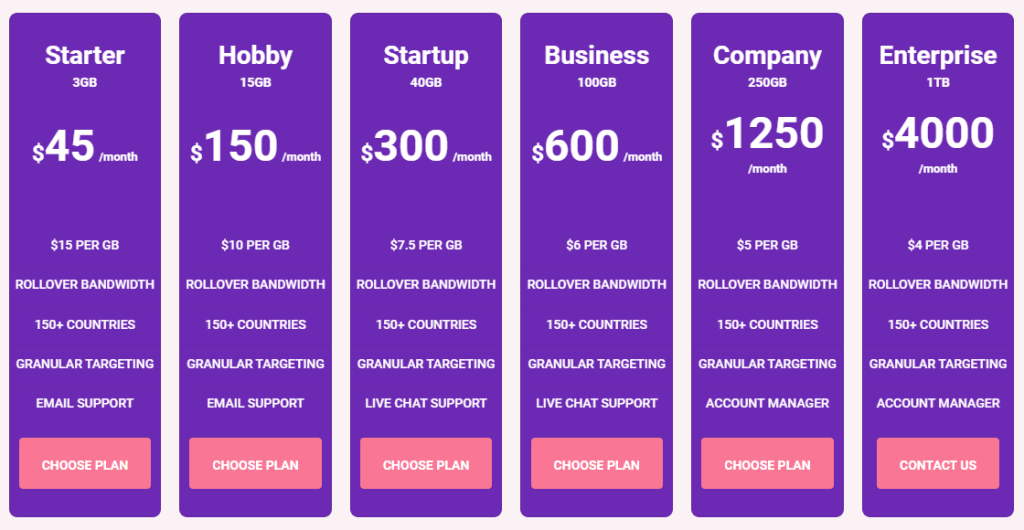 ProxyEmpire Discounts
ProxyEmpire doesn't have bulk order discounts or any special offers. Like most proxy providers, the higher plan you subscribe to, the cheaper you'll pay per bandwidth. However, you can find promo codes on the internet and use them to get proxies for cheaper.
Is ProxyEmpire Legit or a Scam?
ProxyEmpire is a legitimate proxy provider that has sold residential and mobile proxies for over two years. We only found customers with positive experiences, so there's no need to worry if the brand is a scam.
Customer Support
The first thing we noticed is the live chat support on the site, which is great as every potential customer will find the information they need quickly. For example, the live support agent answered our question in less than a minute. Another way to contact ProxyEmpire is via email.
According to customer reviews on TrustPilot, ProxyEmpire has fast and excellent support.
Although this may seem unfair, ProxyEmpire is not the only company that takes this approach. The company gives its customers a different level of support based on their plan. The two lowest plans include email support, the following two plans include live chat support, and the last two plans give customers access to an account manager.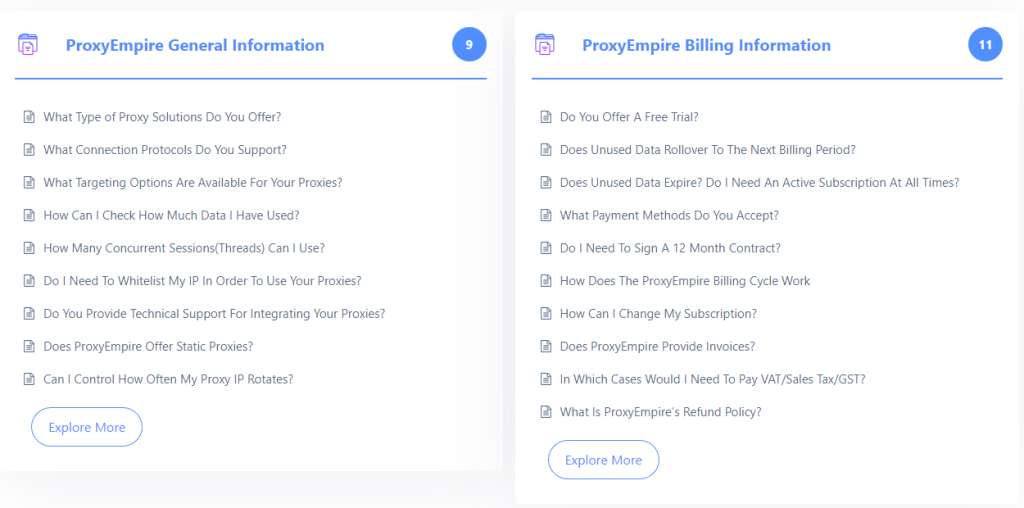 Can You Earn Money With ProxyEmpire?
Yes, ProxyEmpire has an affiliate program that allows its customers to earn 15% recurring commissions. As an affiliate, you will get access to a unique referral link and dashboard where you can monitor your referrals in real-time.
ProxyEmpire Pros and Cons
Here are the major advantages and disadvantages of ProxyEmpire so you can better decide if this is the right proxy provider for you.
Positive
Large proxy pool
Excellent location coverage
Ethically-sourced proxies
4G mobile proxies
Rollover bandwidth
Rotating and sticky IPs
Automatic IP rotation
Decent speeds
HTTP(S) and SOCKS4/5 support
IP authentication and username/password authentication support
Country-targeting, city-targeting, region-targeting, carrier-targeting, and ISP-targeting
1000 concurrent connections
99.7% uptime
Easy-to-purchase
Free trial for business clients
Affordable proxies
Promo codes
Excellent customer support
Live chat support
Affiliate program
Negatives
No information on the specific number of mobile and residential IPs
No static proxies
No datacenter proxies
IP whitelist disabled by default
No information about the proxy speed
No API
No free trial, except for business clients
No refund policy
Final Verdict
After reviewing ProxyEmpire, we can say it's a reliable company that offers ethically-sourced residential and mobile proxies. The best thing about it is that it offers limitless rollover bandwidth, which is very rare among proxy providers.
On the other hand, it lacks static proxies, a free trial, and a refund policy, and it's surely not the cheapest proxy provider on the market. So it's up to you to make the final decision.
Ratings
Awesome
Score by our metrics
PROS
Large proxy pool
Excellent location coverage
Ethically-sourced proxies
CONS
No information on the specific number of mobile and residential IPs
No static proxies
No datacenter proxies
Add your review
|
Read reviews and comments
ProxyEmpire Alternatives
Here are a few more options to have in mind in case you're not sure that ProxyEmpire is the perfect solution to your proxy needs and budget.
MarsProxies – unlike ProxyEmpire, this company offers blazing fast residential proxies at much lower prices.
PrivateProxy – unlike ProxyEmpire, this brand has static residential proxies with unlimited bandwidth and a free trial for everyone.
Bright Data – unlike ProxyEmpire, this provider has a massive residential and mobile proxy pool, a free trial, and additional tools, including Proxy Browser Extension.
FAQ
What payment methods does ProxyEmpire support?
ProxyEmpire accepts credit and debit cards only. You can also pay with a wire transfer, but you'll have to contact the company's sales staff to provide them with your billing details.
Does ProxyEmpire require signing a 12-month contract?
No, the proxy provider doesn't lock you into any long-term contract. With ProxyEmpire, you can subscribe or unsubscribe whenever you want.
Can you change your ProxyEmpire subscription?
Yes, the proxy provider allows you to change your subscription. You can do that in your personal dashboard. But, keep in mind that you'll be charged for the new subscription immediately without losing any unused bandwidth.