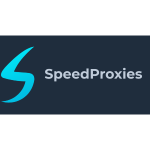 The use cases for the internet are increasing as the days go by. Digitization is at its peak, and more and more businesses are turning to the internet to reach a wider customer base. Remember, we are heading into Web 3.0, which means we are about to enter a new realm of internet opportunities.
With the advantages of the internet comes a set of complications and setbacks. Security is one of the most significant issues that have plagued internet use since it became mainstream. Hackers are working around the clock to develop new effective strategies to invade user privacy.
Another major problem is copyright and broadcasting rights, where some regions are intentionally barred from accessing certain content due to such regulations. As an internet user, you can get severely inconvenienced by such issues.
Fortunately, you can easily evade geo-blocks and other restrictions using proxy servers. Keep in mind that the scope of these tools goes far beyond circumventing geo-blocks, but that is beyond this review. Here, we will delve into one of the major proxy service providers – SpeedProxies.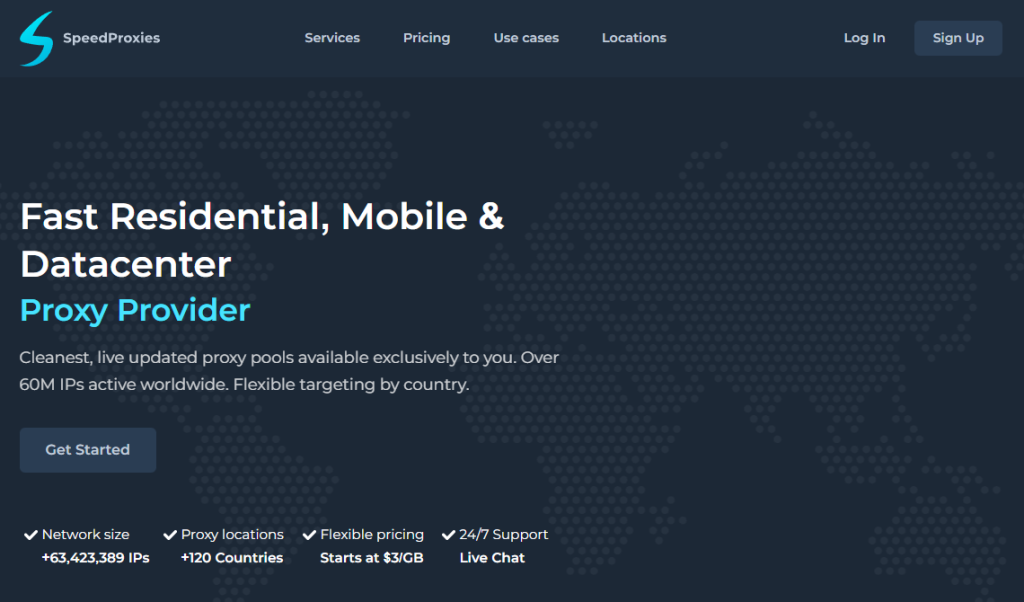 SpeedProxies Introduction
SpeedProxies is a relatively new provider in the proxy world. Judging by the sparse information on the web, we assume this provider has not been in the market for a long time. The website, at first glance, seems pretty sleek and modernistic.
SpeedProxies has one of the most impressive catalogs we have seen so far. While many proxy service companies tend to deal with either datacenter or residential proxies, this one offers datacenter, residential, ISP, and mobile proxies, which is pretty good.
These are just a few features we could gather without diving deep into our analysis. The following sections will take a deeper look into what SpeedProxies offers. By the end, you should have an easier time deciding whether this proxy server provider is a good fit for you.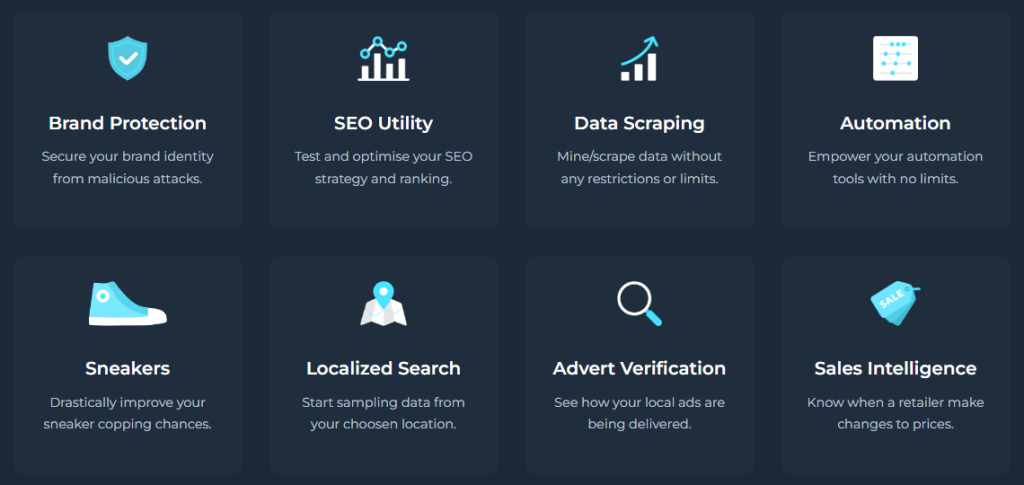 SpeedProxies Features
One of the things we loved about this company was how straightforward and open it is about its features. It does not hide how large or small its IP pool is and how it governs its network.
The IP pool is nothing short of impressive, with over 60 million IPs supported. Very few providers can reach this threshold, making SpeedProxies stand out. However, the provider is shady about how it sources its IPs, which is a red flag. This is because the source of the IPs will, for the most part, play a role in determining how effective the proxies are.
The geographical support is also quite impressive. SpeedProxies supports over 120 locations, but the effectiveness will depend on the kind of proxy servers you are interested in. The residential proxies are the most diverse, supporting over 100 locations.
However, the mobile proxies are only supported in the UK, while the datacenter proxies are available in the US, UK, and a few other European locations. The same case goes with the ISP proxies. Hence, while the location diversity is good, it is not well spread out within all the proxy packages.
Types of Proxies
By now, you should have a rough idea of some of the proxies available from SpeedProxies. They are datacenter, residential, mobile, and ISP. These proxies have different features and pricing plans, which we'll go over a bit later.
When it comes to authentication, the available authentication methods will depend on the kind of proxy you are using. For instance, you only get username/password authentication for residential proxies. However, you get IP authentication with ISP, mobile, and datacenter proxies.
Furthermore, all the proxies except the residential seem to support the SOCKS5 protocol. SOCKS5 protocol is preferred by some users as it's more versatile. However, users looking for SOCKS5 residential proxies will have to look for alternatives.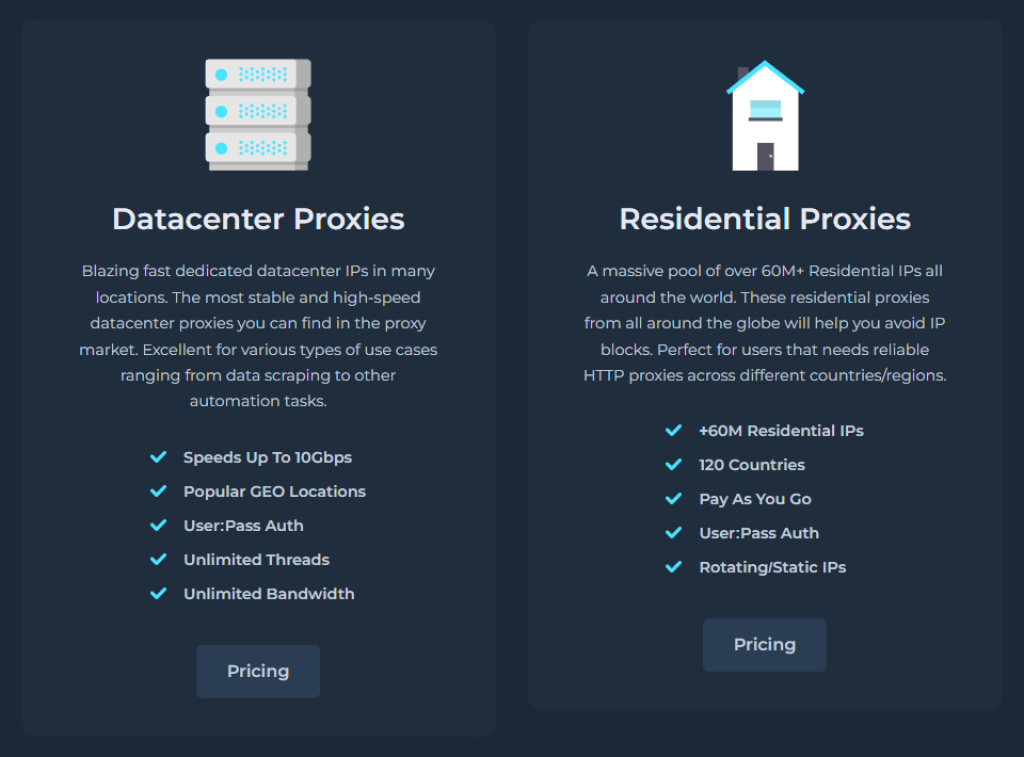 SpeedProxies Proxy Speed and Performance
By inferring from the name of this provider, you would think that it has a lot of information regarding the speeds of the proxies, right? Quite ironically, that is not the case. There is no mention of the proxy speeds from the main website, which is quite odd.
To make matters worse, we could not find information about these proxies' speeds online. We tried contacting the support team but received no response, a significant downside as it means the customer support is also not that great.
Additional Tools
SpeedProxies offers a reseller API, which means it supports reselling its proxy services. As per the website, anyone interested in reselling residential proxies can contact the support team for access to the API dashboard. A significant advantage of this tool is that you can build your dashboard per your requirements.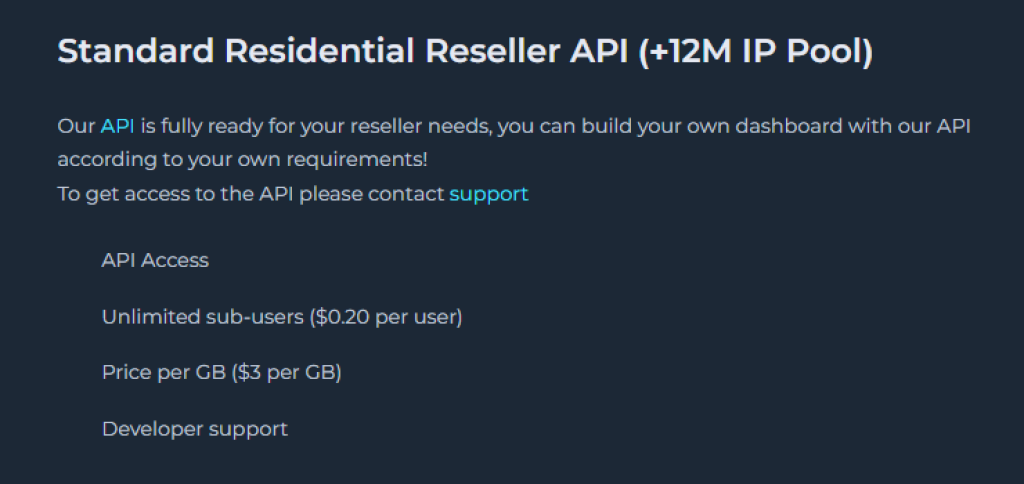 Purchase Simplicity
SpeedProxies website has a modern design and is relatively easy to use. In fact, chances are you will likely notice that it is involved with tech right from its appearance.
Purchasing proxies is not that hard either. All you have to do is select the package you are interested in from the home page. If you have not signed up, you will be required to do so. You must provide your username, password, and email to get started. After verifying your email, you can get access to the dashboard.
From there, you get access to all the features, including the panel from which you can see all your proxies and purchase more. In summary, purchasing proxies is pretty straightforward once you create an account on SpeedProxies.
SpeedProxies Pricing
SpeedProxies is on the average side when it comes to pricing. You should also note that the different proxy packages feature equally different pricing. For instance, under residential proxies, you are billed according to the amount of bandwidth you consume on a pay-as-you-go rate.
Under the datacenter proxies, you are billed based on the number of proxies you purchase. The same case goes with the mobile and ISP proxies. For the residential proxies, the prices start at $3 per GB, which is not that expensive, and it is not that cheap either.
The datacenter proxies start at $1.5 per proxy, while the ISP proxies start at $5 per proxy. The mobile proxies are fairly expensive, starting at $80 per proxy. A significant downside of this pricing structure is that there are no refunds. In fact, the website has a dedicated page explaining how it does not offer a money-back guarantee. There is also no mention of a free trial.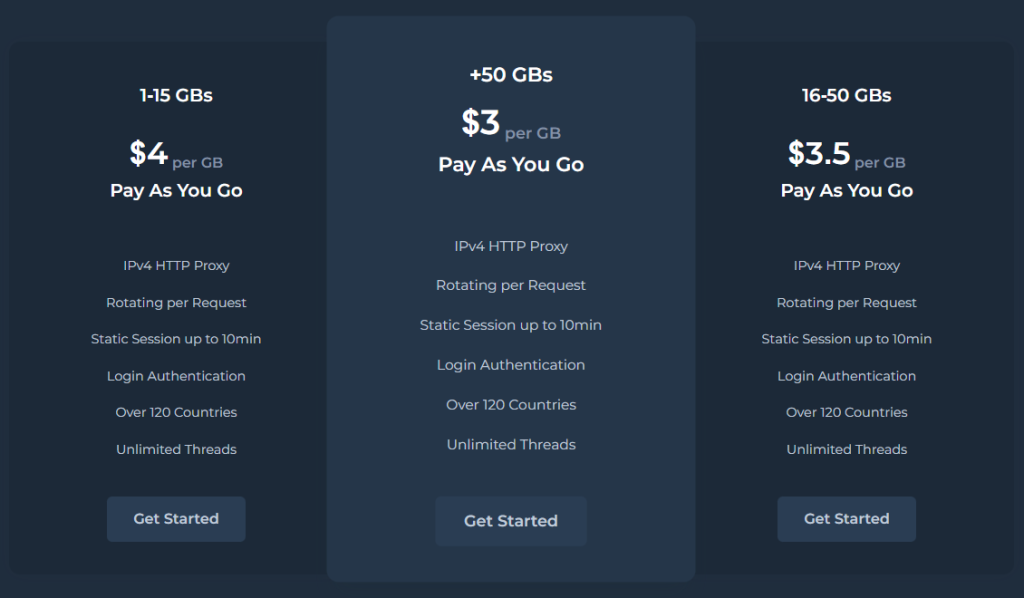 SpeedProxies Discounts
So far, one thing is clear: SpeedProxies is not big on money-back guarantees or free trials. However, it offers bulk order discounts on all its proxies, which is a plus. For instance, under residential proxies, 1 to 15 GB is priced at $4, while between 15 to 50 GB, you pay $3.5. Finally, 50 GB and above goes for $3.
Is SpeedProxies Legit or a Scam
From our analysis, SpeedProxies seems to be a legitimate company. The available payment methods are safe and secure. However, we have seen customer complaints of the website being a scam as it does not update payments even when you purchase proxies. The number of positive reviews does outnumber the negative ones, but we still advise you to be careful.
Customer Support
The customer support system at SpeedProxies is average. You will notice a live chat button on the home page, but if you open it, it is not really a live chat but more of a ticket system. You enter your name, email, and message, after which the customer agents get back to you.
While this is a good customer support feature, it would be a lot better if the company complemented it with a live chat option. A direct communication channel would make it more convenient for customers to reach out to the support team. The ticketing feature also does not seem to be working since we got no response when we tried reaching out to the customer support team.

Can You Earn Money With SpeedProxies?
Unfortunately, you cannot earn money with this provider. There is no mention of an affiliate program on the website, which led us to believe the provider simply does not offer this feature. When we tried reaching out via email, we got no response.
SpeedProxies Pros and Cons
Now that we have looked at SpeedProxies in detail, you might still be at a crossroads in deciding whether you should work with it. The pros and cons list below might make your decision easier.
Positive
Dual authentication
Good location support
High service variety
Negatives
Poor customer support 
Mobile proxies are always sold out 
No money-back guarantee
No free trial 
Pros
The advantages of SpeedProxies are listed below.
You get dual authentication support on all packages except for residential proxies.
The location support is quite impressive. Although, it is primarily evident under residential proxies.
SpeedProxies has a pretty impressive proxy catalog comprising residential, datacenter, mobile and ISP proxies.
Cons
Below are some of the downsides of working with this provider that might make you look for an alternative.
SpeedProxies has a ticketing system as the only sure way of contacting support, which is a major flop. Furthermore, we got no response when we tried reaching out.
Mobile proxies are always sold out
You will probably find the mobile proxies sold out, so it might be a dealbreaker for some clients.
Unfortunately, this provider has no money-back guarantee for any of its packages.
Unlike most premium proxy services, SpeedProxies does not allow you to test the service before purchasing.
Final Verdict
Do we recommend SpeedProxies? Yes. From what we could gather, it is a legitimate proxy service provider. However, this provider could improve certain aspects of their service (like customer support) significantly.
We would advise starting small to determine whether these proxy servers would be a good fit for you. Preferably, buy a small number of proxies or bandwidth first. If you find the service sufficient, you can order according to your needs.
Ratings
Below average
Score by our metrics
PROS
Dual authentication
Good location support
High service variety
CONS
Poor customer support 
Mobile proxies are always sold out 
No money-back guarantee
Add your review
|
Read reviews and comments
SpeedProxies Alternatives
Due to the shortcomings of this provider, you might decide to look for alternatives. Below are some of the companies with better features.
MarsProxies is a provider that is entirely devoted to sneaker bots. It has an impressive pool of dedicated sneaker proxies, a good option for sneakerheads.
Bright Data is one of the oldest proxy companies out there. It has an impressive proxy pool and unbelievable features focused on web scraping.
Soax proxies may not be fast, but they are pretty reliable. The company also offers flexible management plans.
FAQ
Yes, SpeedProxies is a legitimate company. We would advise trying out their service with minimal purchase as there is no free trial.
What kind of proxies does SpeedProxies offer?
This company offers residential, mobile, datacenter, and ISP proxies. However, the mobile proxies are sold out at the time of writing.
Does SpeedProxies offer a money-back guarantee?
Unfortunately, this provider does not have a money-back guarantee. It has a whole page explaining why.