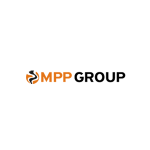 As the internet continues penetrating every aspect of life, data is becoming more and more valuable. Today, every website you visit will want to collect some sort of information about you.
The use cases for this data are many, but one of the most common is advertising. Ever googled something and found it being advertised to you a few minutes later? That is data collection right there.
Some people have no problem with data collection, while for some, it violates privacy and causes significant discomfort. Luckily, there are several tools you can use to enhance your privacy on the internet, and one of these is proxies.
These are simply tools that can swap your IP address with a new one. With proxies, your internet activity cannot be physically tied to your IP address. Your requests go through the proxy server, which replaces your IP with its own and sends it to the destination server. This server sends a response back to the proxy, which forwards it to your device.
This review will dive into one of the popular proxy service providers on the market today – MyPrivateProxy. It will dive into its integral features to determine whether this is a legitimate company. By the end, you should have a rough idea of whether you should give this provider a chance. Have a read below.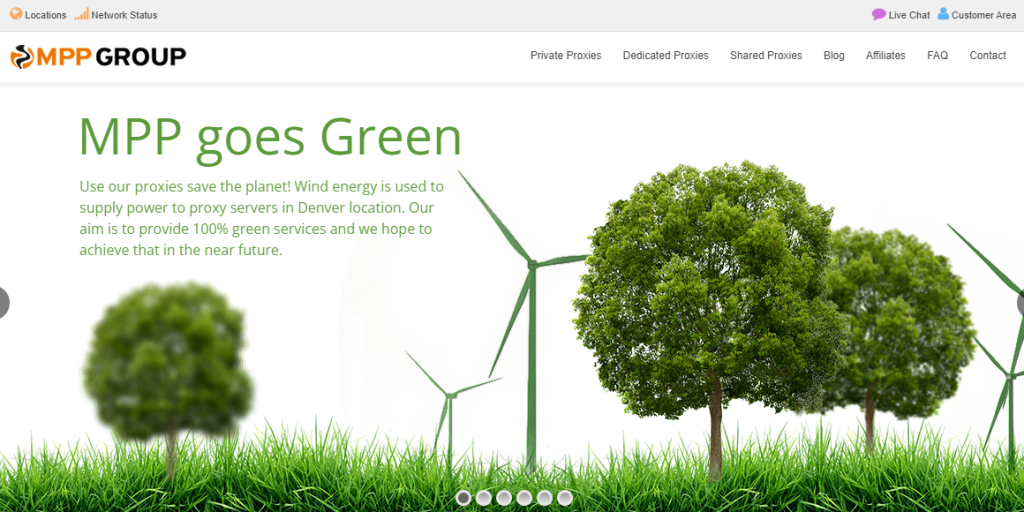 MyPrivateProxy Introduction
MyPrivateProxy, also known as the MPP Group, is one of the top proxy service providers in the market today. The Seychelles-based company has come a long way since it opened its doors in 2011.
Despite its Twitter account dying only one year after the company was founded, this provider has beaten all odds and remained incredibly popular. MPP specializes in datacenter proxies that are divided into several categories.
They include private, dedicated, and shared proxies. It is worth noting that these have different pricing and features as well. For example, the shared proxies are way cheaper than the private proxies, and the more proxies you buy, the less they cost.
Now that we have a brief introduction to the company, let us dive into its integral features. The sections below will define the MyPrivateProxy's features and determine whether it ranks among the top proxy server providers.

MyPrivateProxy Features
MyprivateProxy offers 100,000 IPs and 520 subnets, which is not in the least impressive. This is a modest proxy pool, and there are companies with way bigger pools. The company uses IPV4 proxies within its pool.
When it comes to locations, it does not get any better. The company has data centers in 16 US cities and eight locations in Europe. This coverage is incredibly limited, affecting the proxy functionality and use cases.
You can also get locations in Canada, although the company does a very poor job of advertising it. One of the most significant downsides of MyPrivateProxy is that the company is secretive about how it gets its IPs and how it governs its network.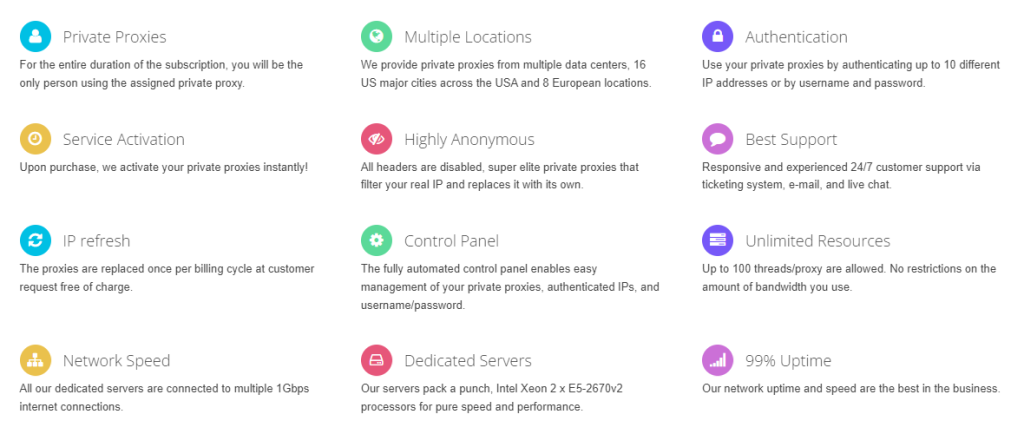 Types of Proxies
As mentioned earlier, MyPrivateProxy primarily deals in datacenter proxies. These are divided into private, shared, and dedicated proxies. Private proxies assign one IP per user, which translates to better functionality. However, there is no way of verifying whether you are the only one using the proxies or if they've been used before.
The dedicated proxies are just private proxies with specific use cases. They include sneaker proxies, PokemonGo proxies, and ticketing proxies. Finally, shared proxies, which are the cheapest, have IPs shared by several users.
MyPrivateProxy offers sticky sessions. The proxies are randomized every month, which does not say much about functionality. On the flip side, this provider offers both username/password and IP authentication.
However, you can only whitelist 10 IPs, which we believe is a move the company makes intentionally to prevent proxy reselling. Finally, users looking for SOCKS5 support will have to get alternatives as this company has no support for this protocol.
MyPrivateProxy Proxy Speed and Performance
MyPrivateProxy performs pretty well when it comes to speed and performance. The proxies average about 80% success rates which means four out of five connections are likely to go through. However, you should note that the success rates will likely change with the connections, where the more connections, the less the success rates.
The proxies are also fast, with an average of 300 concurrent connections in 1.58 seconds, which is quite impressive. Your ISP will determine the proxy speeds, but given the robust nature of this provider, upload and download speeds shouldn't be a problem.
Additional Tools
MyPrivateProxy offers an API to simplify proxy use. You can access it from the client area, and it automates several use cases for a better user experience. For instance, you can use the API to fetch the proxy list, refresh the proxy plan and enable or disable auto-refresh.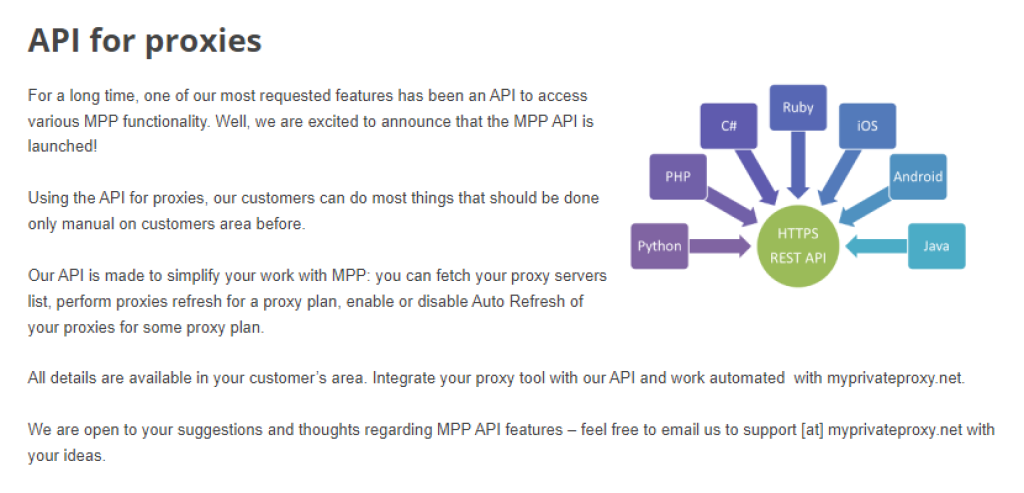 Purchase Simplicity
The MyPrivateProxy website may not be the best looking in the market, but it is pretty decent. It has just the right amount of information on the home page. Most proxy service providers tend to get this area wrong by either adding too much or too little info.
Purchasing a proxy is also relatively straightforward. You can navigate the different proxies from the menu bar on the home page, after which you can make a purchase using the 'Get Started' button. You will be redirected to a different page where you can adjust order details before purchasing.
MyPrivateProxy Pricing
MyPrivateProxy is one of the cheapest proxy service providers in the market. The private proxies from this company are the most expensive of the different packages available. One private proxy starts at $2.49, which is average by today's standards. The dedicated proxies are priced the same way as the private proxies.
The shared proxies are cheaper, starting at $50 for 50 proxies. Unfortunately, you do not get a free trial with any of these proxies, which is a big letdown. On the flip side, you get a 3-day money-back guarantee, which by market standards, is on the average side.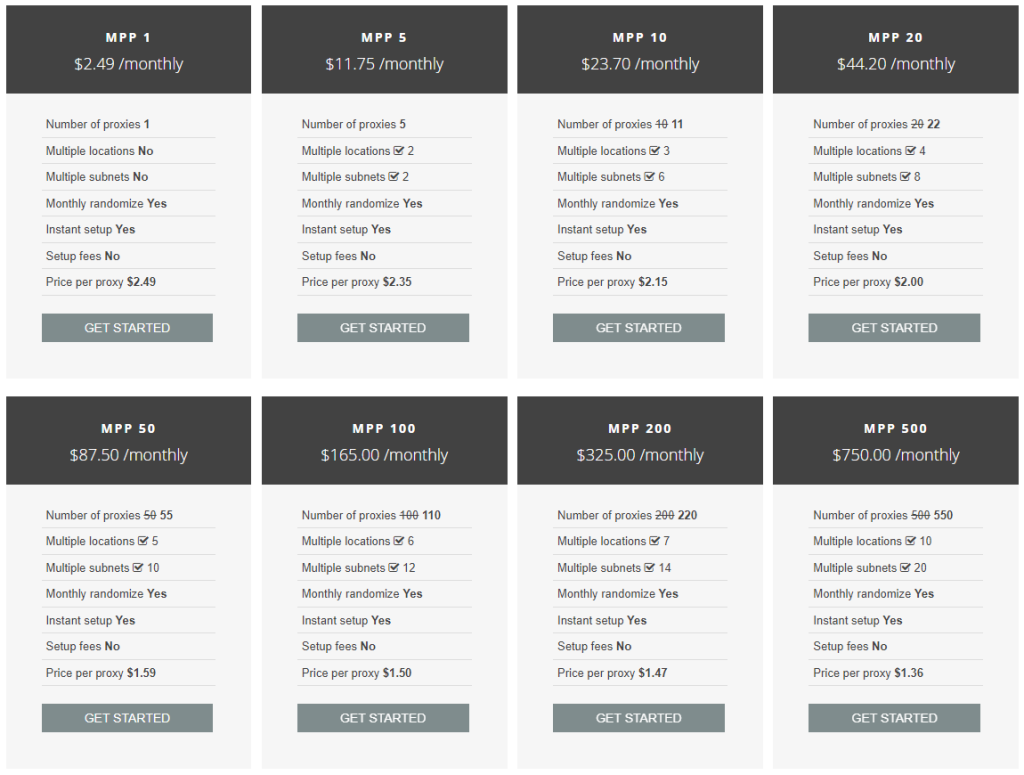 MyPrivateProxy Discounts
MyPrivateProxy has discounts on its page which change from time to time. The website offered a 10% bonus on private proxies at the time of this writing. Also, you get discounts if you make bulk orders, just like the ones with most other providers.
For instance, under private proxies, one is priced at $2.49 while 100 are priced at $1.65. The same is the case with other proxies under its catalog.
Is MyPrivateProxy Legit or a Scam
MyPrivateProxy is a legitimate company with a focus on meeting customer needs. While its website points to a robust company with a powerful network, the customer reviews seem to say it is pretty average. MPP's Trustpilot rating of 3.9 stars indicates that most customers are generally satisfied with its service, while some haven't had the best experience with the company.
Customer Support
The customer support system at MyPrivateProxy is average. The website has an icon for a live chat which does not seem to be working. The only sure way to reach the customer support system is by opening a ticket.
Most users prefer the live chat feature as it is more convenient and does not require filling out any forms, as is the case with the ticketing feature. Regardless, the response time is pretty fast, with some customers reporting that the support team responded in a matter of minutes.
Can You Earn Money With MyPrivateProxy?
You can earn money with MyPrivateProxy through the affiliate program. You earn a 25% percent commission on any sale you refer, and the website provides you with all the tools you need for marketing. Finally, you can view your referral statistics in the client area. Here you get real-time statistics on the sales and traffic.

MyPrivateProxy Pros and Cons
MyPrivateProxy has some areas where it excels. In others, it falls short of its competitors. With this in mind, below are the pros and cons of this provider.
Positive
Fast proxies 
Dual authentication 
Competitive pricing
Negatives
Limited locations 
No SOCKS5
No free trial
Final Verdict
Now that we have thoroughly analyzed MyPrivateProxy, you might ask yourself, do we recommend it? Yes, we do. Despite a few hiccups, this provider has proven to perform well. However, using these proxies for activities that send many connection requests might not be a good idea.
Regardless, MyPrivateProxy performs better than some other providers we've reviewed. It provides dual authentication, a good customer support system, and decent datacenter proxies. Moreover, its prices are also not that outrageous and match the features.
Ratings
MyPrivateProxy Alternatives
Still, you might be inclined to go for better alternatives due to the shortcoming of this provider. Below are some good options to consider.
IPRoyal has an IP pool spanning over 2 million IPs and probably the most impressive location support in the market. All its proxies feature SOCKS5 support, so it's an excellent alternative to MyPrivateProxy.
BlazingSEO is a well-known provider in the proxy server realm. It has fast speeds, a polished user experience, and unlimited bandwidth.
SmartProxy is known for its fast and reliable proxy servers. It offers both rotating and dedicated datacenter proxies at affordable prices.
FAQ
Yes, MyPrivateProxy is a legitimate company. It offers datacenter proxies at affordable prices, which is why it is popular.
Does MyPrivateProxy have a money-back guarantee?
Yes, this company has a 3-day money-back guarantee. This is pretty average since some companies offer as much as a 30-day money-back guarantee.
Can I use MyPrivateProxy for sneaker copping? 
Yes, you can use this provider for sneaker copping. In fact, it has dedicated sneaker proxies under its catalog.