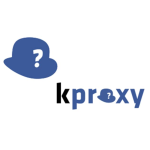 KProxy is an anonymous web proxy service established in 2005. Unlike standard proxy services, this one offers diverse accessibility and a free plan. So instead of buying a specific number of proxies or bandwidth amount, you can download the free browser extension or use the service from the site.
Although it sounds like the perfect solution for any proxy user, the free plan has a few annoyances and restrictions. That's why the company offers a paid service which is better, but still far from ideal.
So we're going to review both KProxy's free and paid services so you can know what to expect if you decide to go with any of them.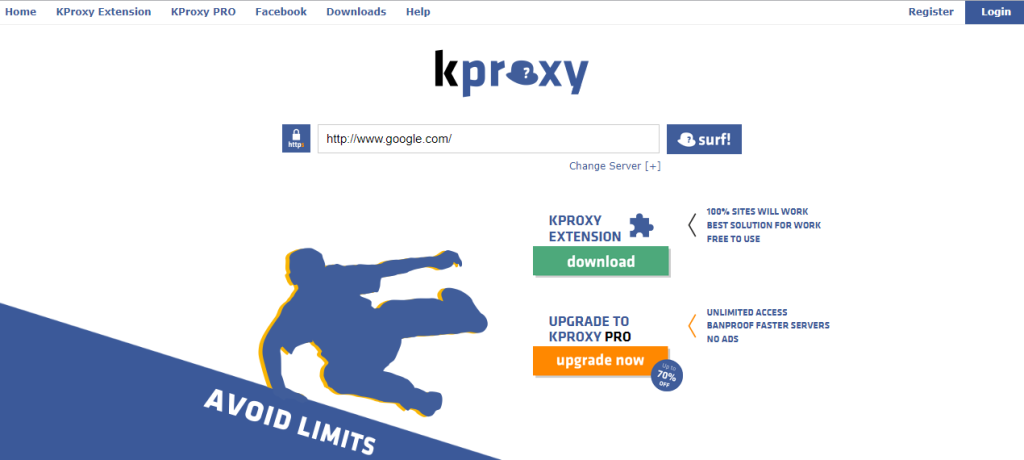 KProxy Introduction
KProxy has been offering free and paid proxy services for over 17 years. The company is based in Spain but provides services to over 1.5 million worldwide users every month. The free plan is definitely attractive to anyone looking for a way to browse the web more anonymously.
You can use it by downloading the KProxy extension for your browser or directly from the site. There's also a portable solution that can come in handy for many users. But, besides unblocking standard websites, you can't do anything else with it, making it unsuitable for business users or anyone else who needs to do more serious proxy tasks.
The paid service or KProxy Pro has better features such as unlimited downloads and no ads. But is it good enough for something more complicated than unblocking sites? We're about the find out.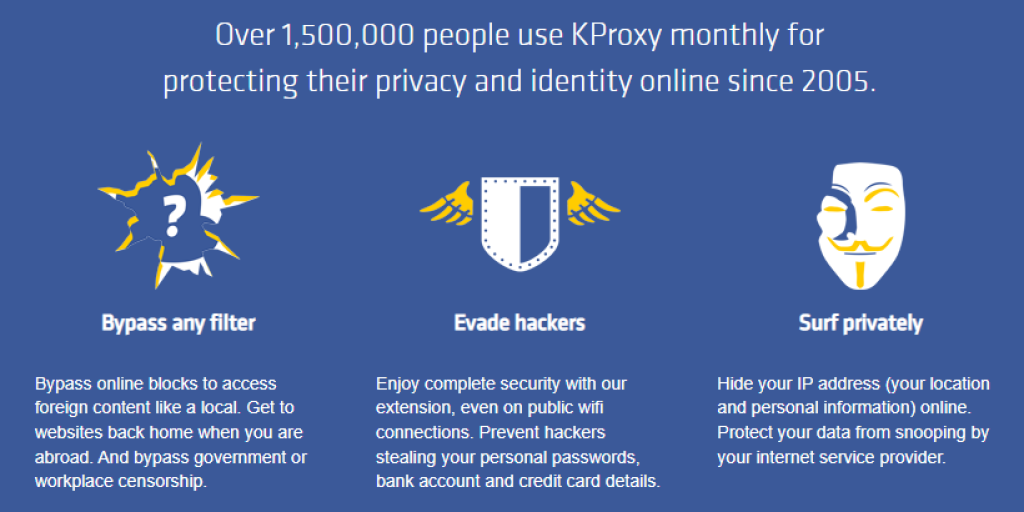 KProxy Features
We always start our reviews by explaining the three key features of proxy providers: location coverage, proxy pool size, and the source of proxies.
The free KProxy service provides you with proxies from two locations only: Canada and France. This is very limiting and you can't even pick the desired location when installing and using the extension for the first time. It's connected to Canada by default, so you have to switch the location manually with a click if you want French IPs.
The paid KProxy Pro service provides you with IPs from five more locations: the UK, Germany, USA West, USA East, and the Netherlands. Although this is better than the free plan, it's still limiting for a paid proxy service.
When it comes to the proxy pool size, KProxy has more than 100,000 IPs which is little compared to what other proxy providers offer on the market. But, it's still enough for accessing restricted sites from work or school. Plus, those are free IPs, so you can't really complain about the small proxy network.
As far as the source of proxies is concerned, the company doesn't reveal how it collects its IPs. And from our experience as proxy reviewers, companies like to point out the legitimacy of their IPs, of course, if they are legally sourced. So the lack of information on this matter is not a good sign, which is why we've contacted them and asked them about the source of their IPs.
Unfortunately, we still didn't get their answer which points out another weakness of the company – poor customer support. But, more about it later.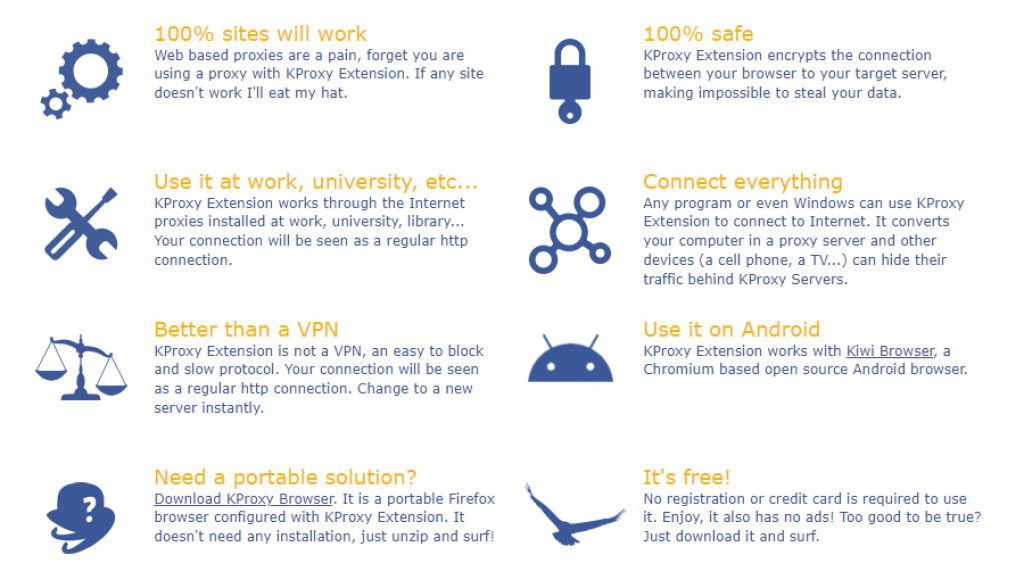 Types of Proxies
KProxy doesn't reveal the type of proxies it provides, so it's unknown whether those are datacenter or residential proxies or dedicated or shared proxies. The only thing we found was that the proxies are private, static, and support HTTP(S) connections.
As far as the free service is concerned, the proxies are most likely datacenter proxies because they are cheaper and less secure than residential proxies. So it's only logical that you won't get residential proxies for free. But, we're not sure about the paid service, although the company would probably boast about its residential proxies if it did offer them.
However, it's good that the proxies are private, which means they are highly anonymous. On top of that, IP leak protection is automatically enabled, so your real location will stay hidden all the time.
We can conclude that KProxy provides private datacenter HTTP(S) static proxies. This means no IP rotation, SOCKS support, and residential IPs. Since they are free proxies, they require no authentication method.
Instead of explaining the types of proxies it provides, KProxy focuses on the products it offers, which are the browser extensions, the portable solution, and the KProxy Pro.
The company has browser extensions for Chrome, Edge, and Firefox you can download for free. The extensions work with the Kiwi browser, so you can use them on your Android device as well. The extensions are compatible with any program or Windows, transforming your device into a proxy server.
The portable KProxy browser is based on the portable version of Firefox designed for the open-source platform PortableApps. This platform allows you to run any app on other devices without installing them.
So although the browser is not an invention of the brand itself, this modification is still extremely useful to KProxy customers. In fact, it's one of the things that sets KProxy apart from its competition. It's free and easy to use as it doesn't require installation.
Although KProxy is mainly a free proxy service, you can get additional benefits if you subscribe to one of its paid plans. Some of the benefits include ban-proof faster servers, improved performance, servers that will never overload, and no ads.

KProxy Proxy Speed and Performance
KProxy doesn't say much about the speed of its proxies, only that the KProxy Pro plan provides you with fast servers. From what we've found, the speeds of KProxy proxies were reasonable, varying between 25 Mb/s and 50Mb/s. This is more than enough for browsing privately or bypassing geo-restrictions.
Other reviewers on the internet say the service is not suitable for streaming and accessing streaming platforms like Netflix from another geo-location.
The free KProxy service gives you limitless bandwidth, limiting downloads and uploads to up to 300 megabytes. As a result, you won't be able to download many files or see more than a few videos. Instead, you'll either have to wait for 30 minutes until you proceed with your activity or subscribe to KProxy Pro.
KProxy Pro users enjoy unlimited downloads and unlimited usage of the extension.
Additional Tools
KProxy helps you avoid a temporal or permanent ban while at work or school by entering the site's URL in a form on the site and trying to access it via a different server. This means you don't have to download or install anything but just visit the site and access the desired website through a different server.
Other than this, the provider doesn't offer an API, proxy checker, or a scraper, which are some of the most common additional tools offered by proxy services.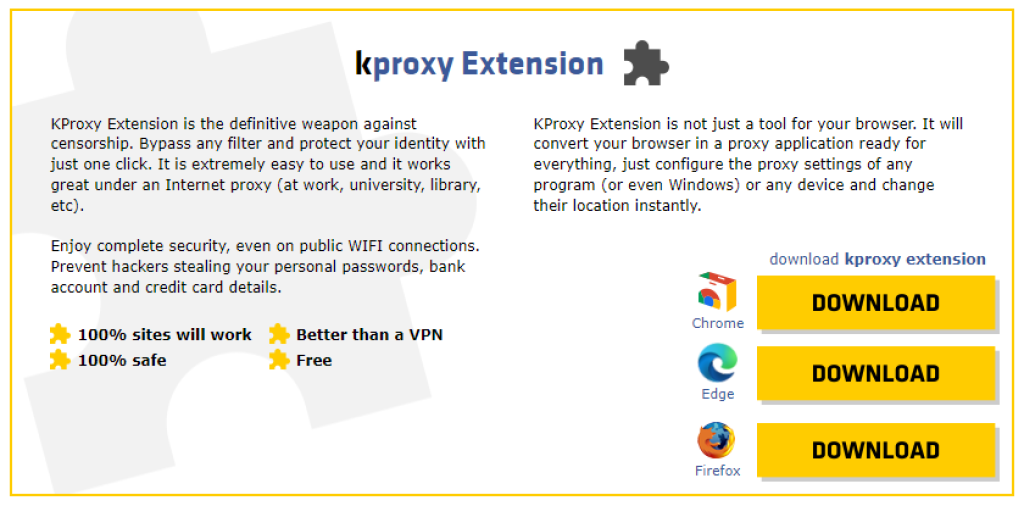 Purchase Simplicity
In terms of the free KProxy service, you don't have to pay anything to start using it. All you have to do is enter the site's URL in a form on the site, use the browser extension like a regular browser add-on, or download the portable KProxy browser.
The extensions are easy to add to your browser, and once installed, you can easily change your browsing requirements as desired. The portable browser doesn't require installation, so you should just unzip it and browse the web anonymously.
The KProxy Pro plans require registration on the site, which is easy, and once you have an account, you can subscribe to any of them. But, you must enter your email or phone number linked to your PayPal account to proceed to checkout. This is a bit limiting because you must have a PayPal account to be able to subscribe to a KProxy Pro plan.
KProxy Pricing
Most products of KProxy are completely free, although they do come with those annoying targeted ads and other restrictions and annoyances. For example, it limits your access by time, stopping the connection after 30 minutes of browsing, after which you have to wait about 15 minutes to reconnect.
But, there's an option to eliminate the ads, get unlimited downloads, and remove other restrictions if you upgrade it to one of the KProxy Pro plans. Plus, you'll get access to proxies from more locations.
There are three paid plans available, all of which are very affordable. The Basic plan allows you to use the KProxy Pro benefits for 10 days for only $5. The Premium plan costs $10 and lasts for a month, and the VIP plan costs $30 and lasts for 180 days.
The best part is that you don't have to use a monthly or yearly plan. KProxy Pro allows you to subscribe to any of the three available plans for the number of days you need to use the service.
Another great thing about the KProxy Pro plans is that they all come with a 30-day money-back guarantee. But, you mustn't have used more than 1 GB of bandwidth to be entitled to a full refund. Also, you must send the support team an email explaining the reason for your cancellation.

KProxy Discounts
Obviously, the free KProxy extensions and browser don't need any discounts for you to use them today. But, the KProxy Pro plans are paid proxy services for which you have to pay a certain amount of money to use them.
At the time of writing this review, the site is offering a 30% discount on the Premium plan and an incredible 70% discount on the VIP plan. You can also find promo codes on the internet.
Is KProxy Legit or a Scam?
When it comes to free proxy services, you should always check their legitimacy before using their proxies. Although KProxy doesn't reveal how it collects its IPs, it's considered a legitimate company that provides both free and paid proxy services.
The company has been in the market for a long time, so if it was a scam, we would've found some customer reviews complaining about it. Luckily, we couldn't find even one review that will make us think KProxy is a scam.
Customer Support
This is where KProxy disappoints. The site doesn't have a live chat feature but only two emails that you can use to contact the technical and support team. Obviously, we've sent them an email to see how fast their customer support is. And, we still didn't get a reply from them, which is a huge disappointment for any company.
On the good side, the site has a Help page that explains the most common extension problems and solutions. You can find the same thing by clicking the blue Configuration Guide button on the homepage.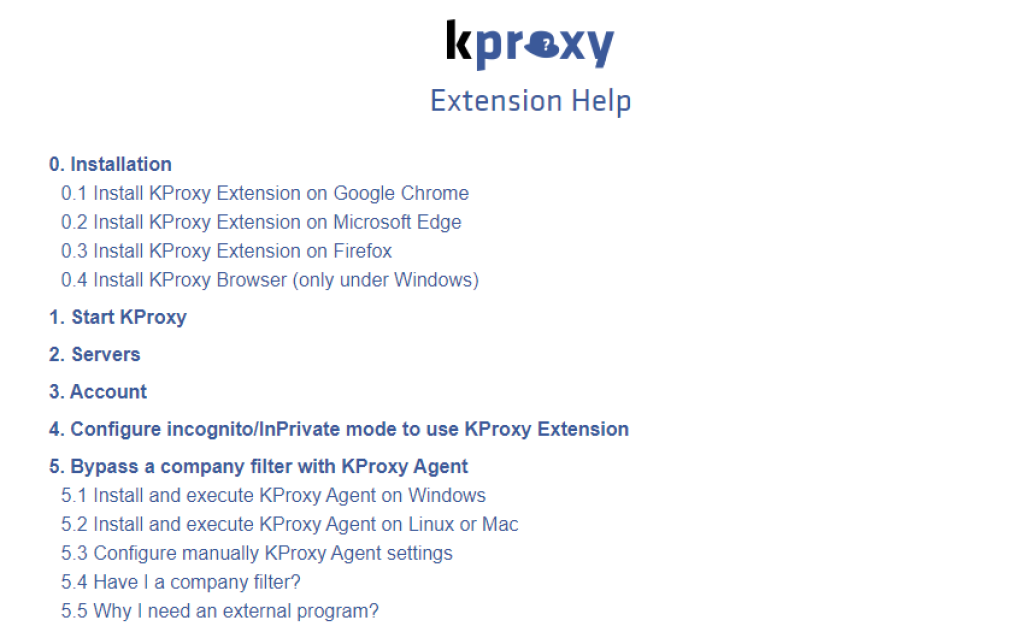 Can You Earn Money With KProxy?
Besides helping you save money by providing you with a free proxy service, KProxy doesn't offer you a chance to earn extra money. Many other proxy providers have affiliate programs and proxy reseller programs that allow customers to earn money from their service.
So if you are interested in becoming a member of any of these programs, you should look for another provider.
KProxy Pros and Cons
Here are the key strengths and weaknesses of KProxy as a free and paid proxy service.
Positive
Free proxy service
Easy to use
Free extensions for any browser
Portable solution
Private proxies
Static IPs
HTTP(S) support
Decent speed
30-day money-back guarantee
Discounts
Unlimited downloads and usage of KProxy Pro extensions
Ad-free paid service
An option to pay for the number of days you'll use the paid service
Negatives
Limited location coverage
Small proxy pool
Lack of information about the type of proxies
No SOCKS support
No rotating IPs
Limited downloads and uploads (free service)
Targeted ads (free service)
Storing user logs
Time-limited free plan
No affiliate or reseller program
Poor customer support
No live chat support
No API
Unknown source of proxies
Final Verdict
KProxy is a good proxy service option if you need to browse the web anonymously and unblock websites from your workplace or school, no matter what budget you have. But if you need proxies for more serious or business proxy tasks, you better go with another provider.
Ratings
Average
Score by our metrics
Positive
Free proxy service
Easy to use
Free extensions for any browser
Negatives
Limited location coverage
Small proxy pool
Lack of information about the type of proxies
KProxy Alternatives
If you're not sure whether KProxy is the ideal proxy service for you, here are a few more options to consider:
IPRoyal – unlike KProxy, this provider has ethically sourced residential, datacenter, static, and rotating proxies that support the SOCKS5 protocol.
Proxy-cheap – this proxy provider has cheap datacenter, residential, and mobile proxies that support SOCKS connections and a massive proxy pool.
SSLPrivateProxy – unlike KProxy, this company offers private and shared proxies as well as specialized proxy packages for Instagram, Pinterest, LinkedIn, etc.
FAQ
Can you use KProxy to unblock Netflix?
Like most free proxy services, KProxy fails to unblock this popular streaming platform. In fact, you may not even be able to access the site at all.
Does KProxy offer an API?
Unlike most proxy providers, KProxy doesn't have an API. But this is expected as most of the service is free.
Does KProxy log the details of your activity?
Yes, every time you use the KProxy service, it logs details such as your IP, time zone, web browser type, version, Wi-Fi network name, connection type, the identity of third-party sites, platforms, networks, apps, and services you access via KProxy, the amount of time you spend on a feature or page, etc.