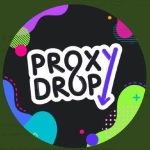 The sneaker market is becoming hotter and hotter as the days go by. The competition is stiffer than ever, with companies trying to outdo each other with limited-edition collab releases and new editions of all-time classics.
The popularity of the sneaker market led to the rise of a new business that is quickly becoming more and more popular: sneaker copping. In simple terms, sneaker copping is the act of successfully purchasing a pair of sneakers, regardless of the method applied.
The demand for sneakers has risen to unprecedented levels in the past couple of years. How high? Sneakers get sold out in a matter of minutes, and without the right tools, there's a pretty good chance you'll miss out on a drop.
You might be wondering what the best tools for successful sneaker copping are. They come in pairs – sneaker bots combined with robust proxies. This review focuses on proxy servers from Proxydrop and what they bring to the table.
We'll analyze Proxydrop from an expert point of view to determine whether the company is legitimate and the services befit sneaker coppers. By the end, you should have an easy time deciding whether you should work with this provider.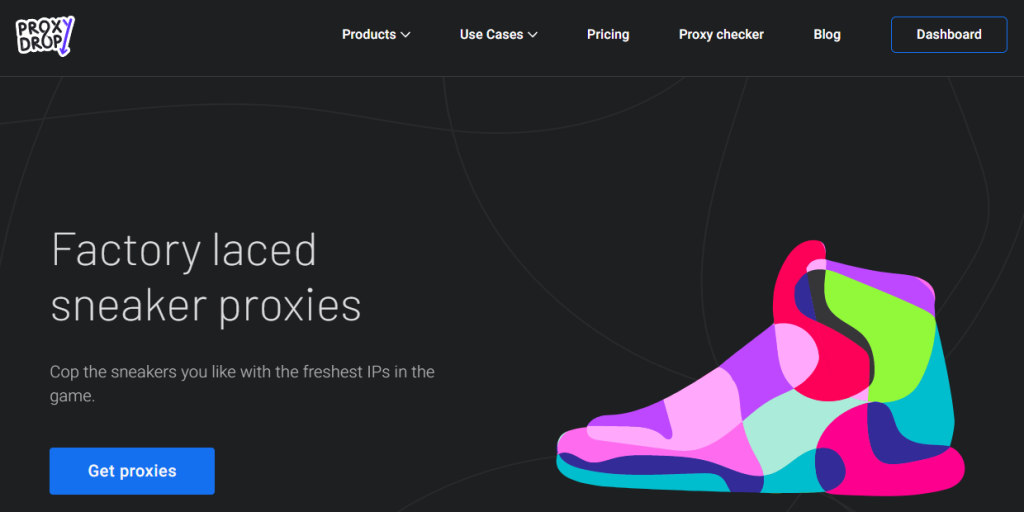 Proxydrop Introduction
Proxydrop is a sneaker proxy server provider established by sneakerheads for sneakerheads. It opened its doors in 2020 and offers residential, ISP, and CAPTCHA proxies designed for sneaker drops.
Like many similar sneaker providers, the staff is quite active on Twitter and Discord. It has a simple but effective working premise where the developers get IPs, optimize them for sneaker copping, and sell them to sneakerheads at a premium price.
As a customer, you will notice that the website is optimized for sneaker copping. In fact, there is an element of sneakers in almost every aspect of the website, from the text to the illustrations. We can't complain about the website design as it is pretty modern. But does Proxydrop have the substance to match other top sneaker proxy providers? Let us find out.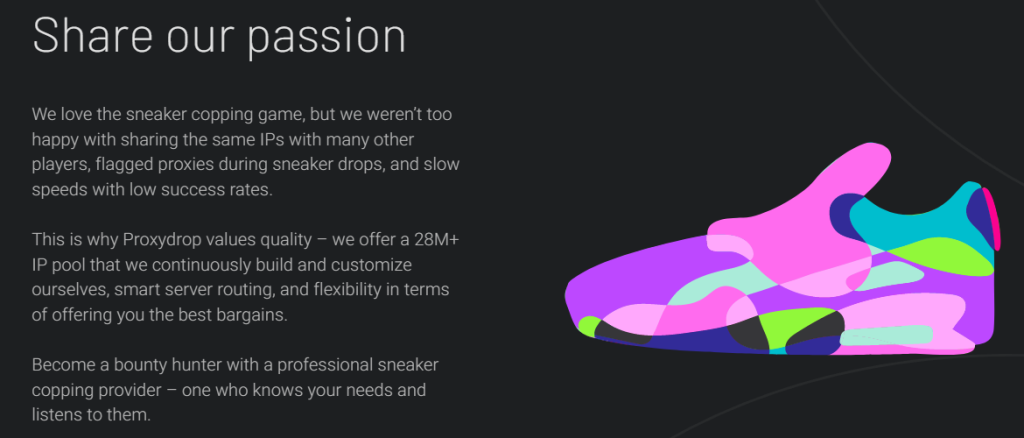 Proxydrop Features
Proxydrop has streamlined its services to meet the ever-evolving sneaker copping demands. You will notice that the IP pool is impressive, with over 28 million IPs supported. Given the relatively young age of this company, it is hard to believe that Proxydrop sourced all these proxies. A significant portion may have been sourced from third-party providers. Will this affect the overall performance? We'll find out later in this review.
The location diversity at Proxydrop will depend on the kind of proxy you are interested in. The company does not specify which locations its datacenter proxies support, which is quite odd. For the ISP proxies, Virginia is the only region supported.
The company selected Virginia intentionally as most shoe companies have servers nearby. Therefore, if you are interested in US drops, these proxies will work fine. However, users that need ISP proxies from other major drop locations such as Japan will have to look for alternatives.
Finally, the residential proxies support the most locations, with most major drop locations such as the US, UK, China, and Japan supported. You can select from 20 different countries, which may not be the best, but it should work for most copping needs.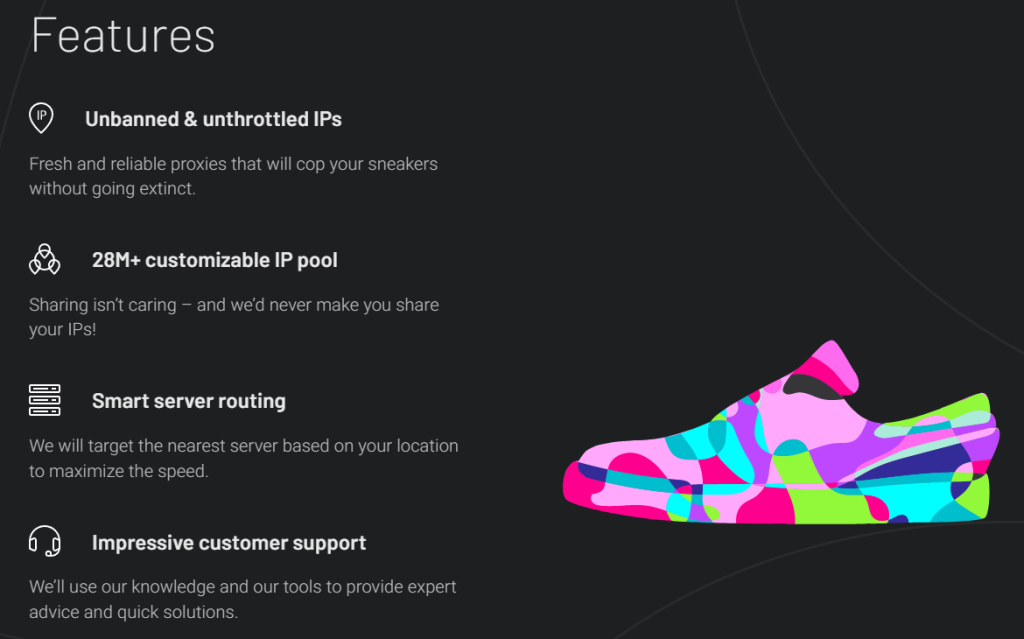 Types of Proxies
As mentioned earlier, Proxydrops has datacenter, residential, and ISP proxies. Each of these has its specific features and use cases. For instance, the ISP proxies only support Virginia, while the residential proxies support 20 countries.
The provider supports sticky and rotation sessions, ideal for sneaker copping. A significant downside is that these proxies only support one authentication method- username/password. Unfortunately, IP whitelisting is not supported, making the service less convenient.
There is also no mention of SOCKS5 proxies on the website, which means Proxydrop likely has no support for that protocol. It is preferred for several reasons. For one thing, SOCKS5 proxies support more communication protocols. They are more secure since they establish a full TCP connection without authentication and use SSL encrypted tunneling.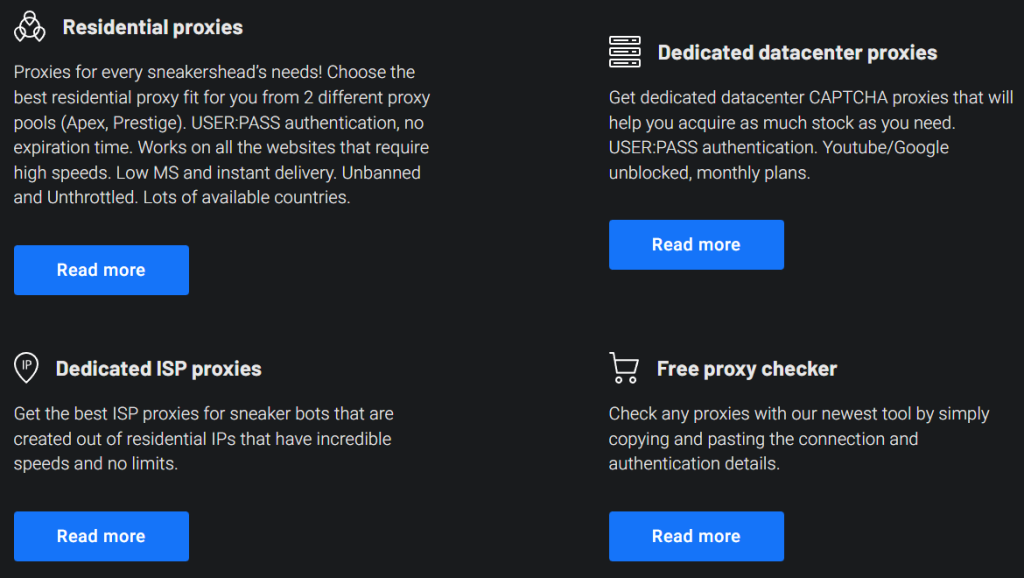 Proxydrop Proxy Speed and Performance
We tried scouring the web for information on Proxydrop proxy speed and performance and came out dry. The website does not help as it provides very little information on the speeds and performance of the servers.
We decided to talk to the customer support team via email, hoping to find more information. Unfortunately, we did not get any response, which also led us to question the validity of the customer support system from Proxydrop. While you can talk to the support via Discord, the system is clear that you should have made an order and provided details. This means we could not get much help from Discord either.
Additional Tools
Proxydrop offers a proxy checker which helps you check the functionality of the proxies you have bought before a release. The app is available on the website for Windows and Mac users.
Once you download it, you can paste a list of proxies along with the target. The proxy checker will then show you the IP speed and whether they are functioning properly. If the IPs are not working, the checker will pinpoint the issue.

Purchase Simplicity
The Proxydrop website is amazing. We loved the sneaker illustrations as they added to the aesthetic feel and made us know we were dealing with sneaker-oriented proxy server provider. However, we cannot say the same about the purchase process.
You must use a Discord account to register for the service, which is quite odd. If you do not have a Discord account, you must set up one and use it to register for Proxydrop. Remember, you do not have to download the application to sign up – you can complete the entire process in your web browser.
Still, it is quite complicated and might not work for most users. Take, for instance, sneaker enthusiasts who have no idea what Discord is. They will have to go through the process of signing up to access Proxydrop.
After completing the sign-up process, you will access the dashboard, which consists of two tabs: licenses and generator. You create a license by buying a plan from the Discord bot or the website. Once this is done, you can generate a list of 1,000 addresses (residential proxies).
Proxydrop Pricing
Before we get into the pricing model, you should note that Proxydrop's pricing model works best for small-time sneakerheads, not resellers. With that said, the pricing model will depend on the kind of proxy you decide to go for.
The CAPTCHA (datacenter) proxies start at $11 for 10 IPs. If you decide to scale upwards and go for 50 IPs, you will pay $50. You can also get 200 IPs for $100. The ISP proxies are way more expensive and start at $62.50 for 25 IPs, while the largest plan goes for 200 IPs for $100.
The residential proxies have a more comprehensive pricing model where the price will depend on the package you choose. The first package, 'Ace,' starts at $18 per GB. The 'Elite' package is more expensive, starting at $20 per GB. Finally, the most expensive plan is 'Prestige,' starting at $22 per GB.
While the prices are not that high, it is unfortunate that this provider does not offer any kind of money-back guarantee or free trial. The only way you can test the proxies is using the proxy checker, but you will still have paid for them, even if they fail to work.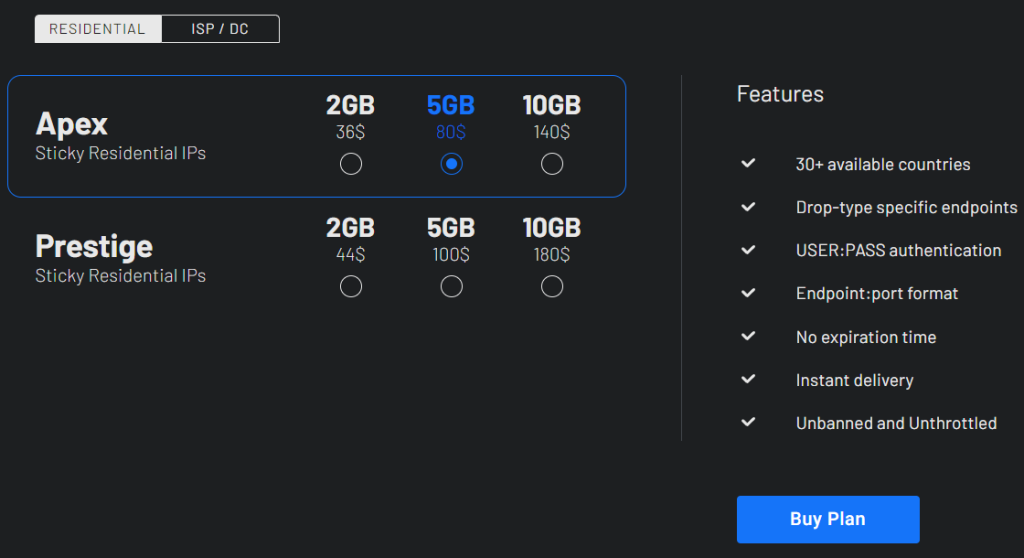 Proxydrop Discounts
Proxydrop is not big on discounts, free trials, or money-back guarantees. We scoured the website for signs of a discount or coupon but could not find any. The only kind of discount you can get from this provider is by making bulk orders.
Under the bulk order, the more you buy, the less you pay per IP. For instance, under residential proxies, specifically the APEX plan, 2 GB of data go for $36 while 10 GB goes for $140. The price per GB here is $18, which is a $4 discount. This discount is available in all proxies from this company.
Is Proxydrop Legit or a Scam
Proxydrop is a legitimate company with a focus on meeting customer demands. Apart from a few mishaps, this is indeed an honest company. However, the lack of a free trial or money-back guarantee raises some important questions.
Customer Support
The customer support system is pretty good, but it lacks diversity. You can only talk to the support agents via Discord by clicking the envelope button or by using email. You should note that the agents are in an EU time zone, and they do not offer 24/7 customer support. You can only get a reply up to 8 pm EST.
While Discord is a good option for reaching customer support, It would be better if the website added an in-website customer support feature. It is more effective as it is faster, and the customer does not have to leave the website to talk to the customer support team.
Can You Earn Money With Proxydrop?
You can earn money with Proxydrop through its affiliate program. You will have to register for the program and wait for approval before you start earning. You will earn commissions through affiliate links and cookies, which are active for 30 days.
Once you are approved, you get access to the affiliate dashboard. You can earn up to 40% commission on sales. The payout is done monthly, and you must reach $100 to get paid. Finally, the funds are released via Paypal.

Proxydrop Pros and Cons
Just like any other provider, Proxydrop has its pros and cons. Some factors will genuinely push you to work with the company, while others will make you look for alternatives. Here's what you need to know.
Positive
Good product catalog 
Good website design 
Dual authentication 
Negatives
Complicated sign-up process 
Poor customer support system 
No SOCKS5 support
Pros
Below are some of the factors that can motivate you to work with the company.
The proxy packages from this company are pretty diverse, meaning there is something for everyone.
The website design is amazing, with a touch of sneaker wear in practically every aspect.
You get both username/password authentication, making the service more convenient.
Cons
Below are some of the downsides of working with this company.
Complicated sign-up process
Unlike most proxy service companies, you must sign up via a Discord account, which may not work for all users.
Poor customer support system
The customer support system does not match top-tier standards since the agents are not available 24/7.
None of Proxydrop's plans offer SOCKS5 support, meaning functionality may be a bit on the lower side for certain clients.
Final Verdict
With all that said, does Proxydrop have what it takes? Well, it depends. This provider seems like a good option for small-time sneakerheads. One of the most significant advantages of working with Proxydrop is that you do not have to worry about the expiry date for the residential proxy servers.
On the negative side of things, the number of available locations is pretty limited. Well, at least for the datacenter and ISP proxies. For the latter, Virginia is the only region supported. The datacenter proxies have no information on location.
Regardless, this is still a legitimate proxy service provider with a robust network of proxies. The prices are not that bad either (for small-time sneaker coppers). We would advise you to go for this provider but first, start with the smaller packages to decide whether the services can work for you.
Ratings
Average
Score by our metrics
PROS
Good product catalog 
Good website design 
Dual authentication 
CONS
Complicated sign-up process 
Poor customer support system 
No SOCKS5 support
Add your review
|
Read reviews and comments
Proxydrop Alternatives
Given the numerous shortcomings of Proxydrop, you might be inclined to go with alternatives. Some suitable companies are listed below:
MarsProxies is a sneaker proxy provider, much like Proxydrop. It has one of the most impressive networks of sneaker proxies on the market and high compatibility.
Storm Proxies is a sneaker proxy service with an impressive IP pool. The private proxies from this provider are robust and reliable.
IPBurger is known for its impressive speeds and reliable sneaker proxies. The proxies from this provider are compatible with most sneaker sites.
FAQ
Proxydrop is a legitimate proxy service provider. Its proxies are streamlined towards sneaker copping.
What kind of proxies are available from Proxydrop?
You can get different kinds of proxies from Proxydrop. They include ISP, CAPTCHA, and residential proxies.
Can I earn money with Proxydrop?
Yes, you can earn money with Proxydrop. All you have to do is sign up for the affiliate program and meet all the requirements.