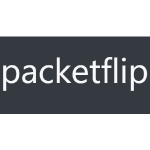 Packetflip is a premium proxy provider that has been selling dedicated proxies ever since 2008. But, staying on the market for so long doesn't mean it offers quality service. In fact, you can't really find out a lot of information about its proxies on its site or reviews about its service on the net.
For that reason, we've decided to find out everything about this proxy provider and do a detailed review that will help you decide if this is the right choice for you.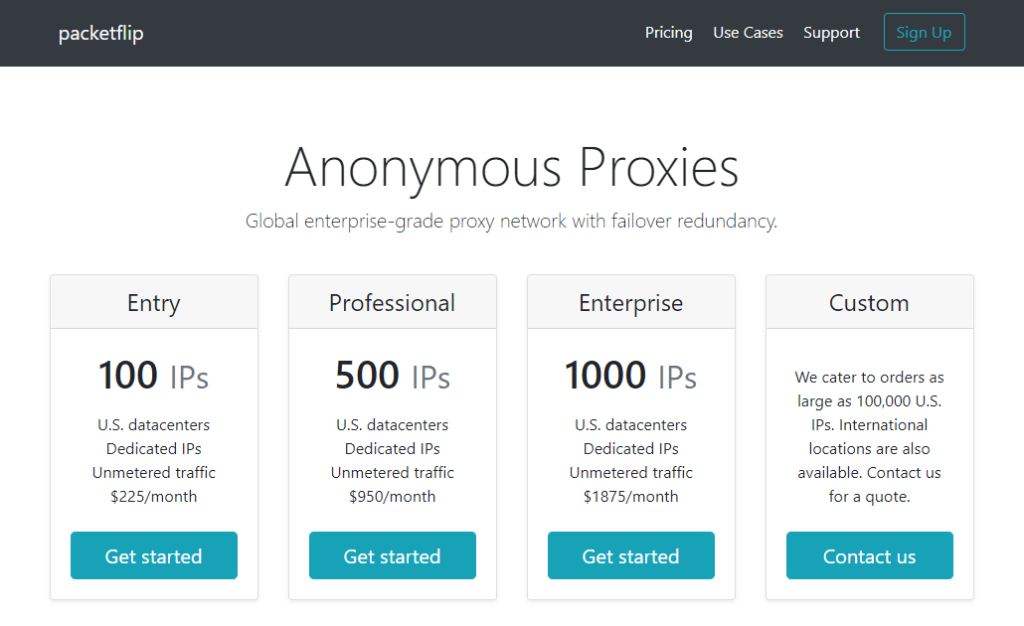 Packetflip Introduction
Packetflip may not be one of the most popular proxy providers out there, but it's certainly one of the oldest being formed in 2008. It provides dedicated proxies from the United States and international locations unknown to the site's visitors.
The provider sells only datacenter proxies, unlike many other companies that offer both datacenter and residential proxies. You can use its proxies for internet research and data gathering activities like price comparison, brand protection, ad verification, etc.
Packetflip Features
Let's start with the most important features of any proxy company – the size of their IP pool, the location coverage, and how they get their IP addresses.
This company has around 250,000 IP addresses in its global proxy pool. Although it's not the largest proxy pool on the market, with other providers offering millions of IPs, it should be enough for many proxy users' needs. Still, compared to other providers, it does have a small proxy pool.
When it comes to location coverage, Packetflip offers US IP addresses. Its United States locations are Dallas (TX), Piscataway (NJ), and Los Angeles (CA). But the company site says international locations are available as well. These locations are not stated anywhere, so you'll have to contact the support team to learn more about them.
Packetflip says it owns its IP addresses, so this is a good thing as many providers on the market are offering unethically sourced IPs.
So while the proxy pool's size and the location coverage are not Packetflip's greatest strengths, the fact that the company owns its proxies is definitely a plus.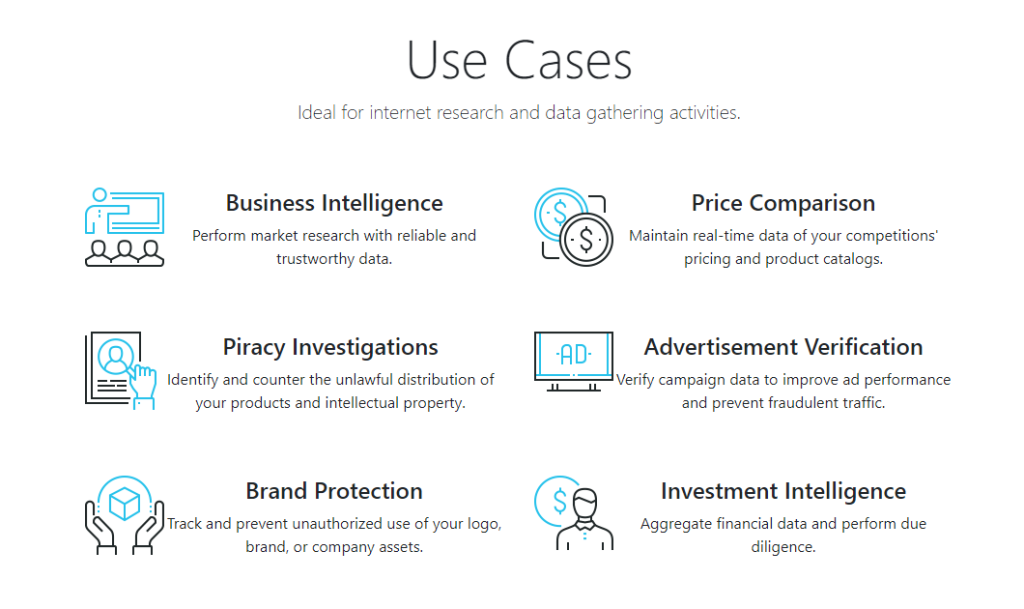 Types of Proxies
Packetflip offers dedicated or private proxies, which are the most reliable and secure proxies on the market. Unlike shared proxies, these are reserved for one user at a given time. So if you buy proxies from Packetflip, you can be sure that no one else will use the same proxies while you're using them. And this is exactly what makes them reliable, private, and secure, helping you avoid risky blacklisting.
When it comes to proxy types based on IP, Packetflip offers datacenter proxies only. These proxies are known for their fast speed, great performance, and affordable price. So if you're looking for datacenter proxies, Packetflip has got you covered. But if you need residential proxies, which are very popular thanks to their high level of security and privacy, this provider is not the option for you.
All proxies from Packetflip are static, so you won't find any rotating proxies. Also, they only support HTTP and HTTP(S) protocols, which can be a downside as many other proxy providers offer both HTTP(S) and SOCKS proxies.
In terms of the authentication methods, the company offers both IP authentication and username/password authentication methods.
Packetflip Proxy Speed and Performance
Packetflip's servers are connected to 1Gbps ports, meaning its proxies are fast enough for most proxy tasks. Success rates are determined by the site you're connecting to, so it depends on the purpose of use.
Additional Tools
Today, many proxy providers offer various additional tools to their customers, such as proxy checkers, scrapers, or multi-credential generators. With Packetflip, you won't find any such tool that will further improve your proxy experience. For that reason, we'll consider the lack of additional tools a drawback.

Purchase Simplicity
The company's site has a simple design which makes it easy to find the package you need. Once you select the plan that suits your needs and budget, you can enter a promo code if you have one and go to checkout to fulfill your personal and billing information.
You can also leave any additional comments or information before completing the order. After that, you'll get a list of proxies in the IP:port format with a username and password. Overall, Packetflip has made it simple and easy for its visitors to find the product they need and become its customers.
Packetflip Pricing
This proxy provider is not the cheapest one on the market. Although many companies sell their proxies at higher prices than Packetflip, you can definitely find cheaper alternatives.
Its lowest subscription plan costs $225 for 100 US dedicated IP addresses, which is $2.25 per IP. But, the good thing is that the more proxies you buy, the cheaper they are. For example, you can get 500 US dedicated IP addresses for $950, which comes down to $1.9 per IP, or buy 1,000 US IP addresses at the price of $1,875, which means paying $1.875 per IP.
The company caters to orders as large as 100,000 US IP addresses, but you'll have to contact its support team for further details.
Unfortunately, Packetflip doesn't offer a free trial or money-back guarantee at the moment. This means that you can't test its proxies before buying them, which is a bit risky. On the good side, it does give you a prorated refund for the unused days of your subscription if its proxies don't meet your needs and you contact them before the end of the first month of service.
The company supports only credit card payments for now, unlike other providers that support some cryptocurrencies and PayPal.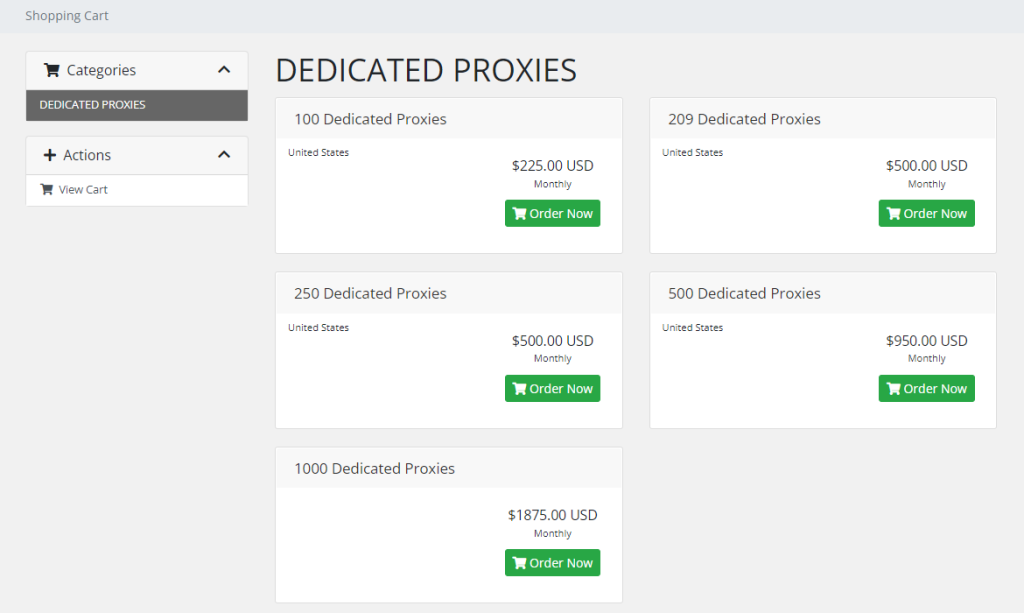 Packetflip Discounts
At the moment, Packetflip has no discounts or sales, so that's a flop. But, the site tells you to leave the promo code if you have one when making an order, indicating that they do exist, so you can try finding one by researching or contacting its support team.
And don't forget that you can get its proxies for a lower price if you buy them in larger quantities. While this is great for individuals and companies looking for a large number of IPs, it's not for those that need a small number of IP addresses.
Is Packetflip Legit or Scam?
Packetflip seems like a legitimate proxy provider offering US dedicated proxies to proxy users around the world. Although we couldn't find many reviews of the provider, everything seems legit.
Customer Support
If you want to contact Packetflip, there's only one way to do it – via email. This means you will probably have to wait for about 24 hours to get the support or responses you need. The lack of options to contact the provider is a severe downside. There's no live chat support and no phone number to call, which can be quite frustrating if you need help or answers ASAP.
On the other hand, once you do get an email from its agent, they will answer all of your questions. This is exactly what happened when we wanted to find out more information about its service. We've sent them an email and it took about 24 hours for them to reply, answering each and every question we've asked.
Can You Earn Money With Packetflip?
Currently, Packetflip doesn't have an affiliate program you can join, so you can't earn money with this provider, at least for now.
Packetflip Pros and Cons
Let's see the major pros and cons of Packetflip so you can compare them and see if its pros outweigh its cons.
Positive
Owns its IPs
Offers dedicated proxies which are very private and secure
Offers IP and username/password authentication methods
Easy to purchase and use
Lower price for buying more proxies
Negatives
Restricted location coverage
Small proxy pool
No residential proxies
High prices
No additional tools
No free trial and money-back guarantee
Lack of SOCKS support
No live chat support
Supports only credit card payments
Final Verdict
Packetflip seems like a good option if you need large amounts of dedicated US datacenter proxies. Although the provider offers international IPs as well, you'll have to contact them to learn more about the locations. However, if you need residential or SOCKS proxies, you should look for another company. Also, Packetflip may not be the best option if you're on a tight budget.
Packetflip Alternatives
Here are a few other options to consider if you think Packetflip is not the right proxy provider for your needs or budget:
Mars Proxies – unlike Packetflip, this provider has considerably cheaper datacenter proxies with SOCKS support. It even has a daily plan that allows you to pay $0.80 per proxy.
Proxy-Cheap – with over 900,000 datacenter IPs available, this provider has a drastically larger proxy pool than Packetflip. It also sells residential and mobile proxies and has live chat support.
Bright Data – unlike Packetflip, this company has a massive proxy pool, offering over 1.6 million datacenter IP addresses from almost any major country in the world.
Average
Score by our metrics
PROS
Owns its IPs
Offers dedicated proxies which are very private and secure
Offers IP and username/password authentication methods
CONS
Restricted location coverage
Small proxy pool
No residential proxies
Add your review
|
Read reviews and comments
FAQ
Does Packetflip offer free proxies?
No, Packetflip doesn't have free proxies. It sells datacenter proxies at competitive prices.
Does Packetflip sell residential and mobile proxies?
Currently, the company has only datacenter proxies, so it won't meet your needs if you're looking for residential or mobile proxies.
Does Packetflip have a proxy checker?
No, this provider doesn't have a proxy checker or any other additional tools, unlike most of its competitors.