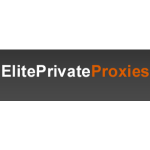 Elite Private Proxies is a premium proxy provider founded in 2012. It has sold US dedicated proxies for over ten years, claiming it caters to over 5,000 customers from all over the world. Even though the company is more than a decade on the market, it's not listed among the top proxy providers on the internet.
Not being able to find many customer reviews and testimonials for Elite Private Proxies has made us want to investigate this proxy provider and the service it offers. This review will help you figure out if you should be glad to have found it or if there's a reason why not many people talk about it.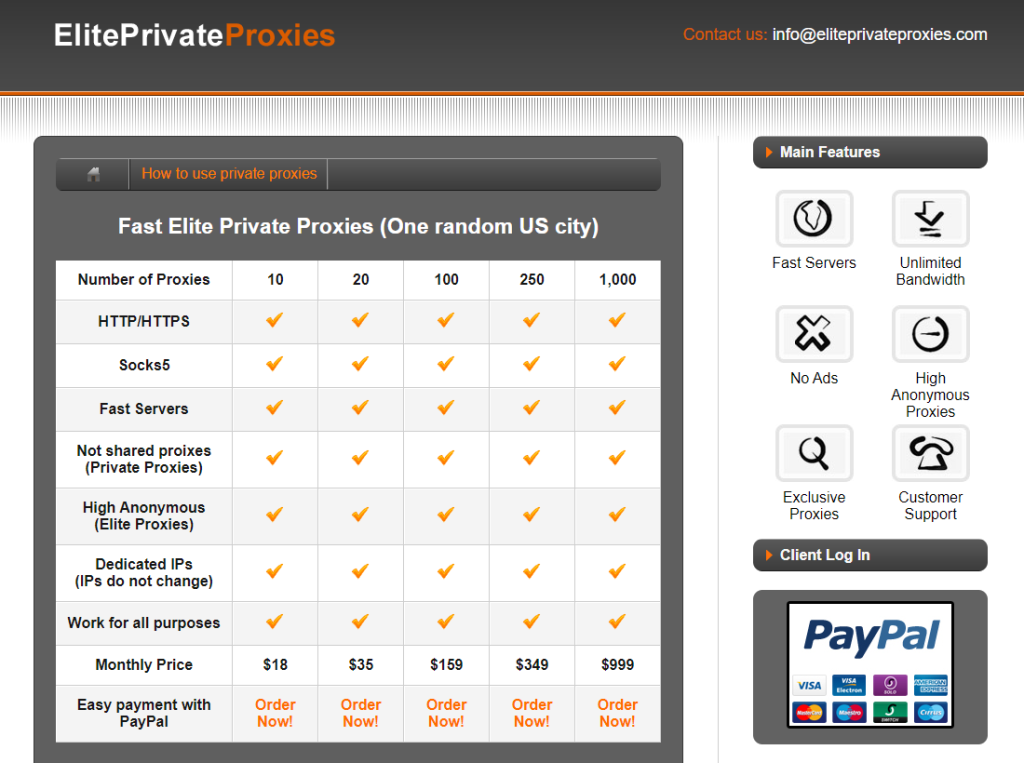 Elite Private Proxies Introduction
Elite Private Proxies is a proxy provider that sells dedicated proxies. The company was founded in 2012, but it still hasn't got a big reputation in the business. It has servers located in the United States, so it only provides US IP addresses.
The company has affordable prices and offers packages of 10 up to 1,000 proxies. This makes it suitable for individuals and small companies that don't need to buy proxies in large quantities.
The proxy provider claims its proxies are great for web scraping, general browsing, and SEO scraping software such as CraigsDominator, XRumer, Scrapebox, Long Tail Pro, WebHarvy, SEnuke, etc.
Elite Private Proxies Features
The lack of information about the size of its proxy pool on the company's site can only mean one thing – a small proxy pool. Since companies like to boast about the high number of proxies they provide, hiding this fact reveals the opposite about Elite Private Proxies.
Also, you can't see how it collects its proxies, which means they might not be ethically sourced. When it comes to location coverage, the brand offers only US datacenter proxies. More precisely, its proxy servers come from seven different locations across the United States, but these locations are not specified.
It seems Elite Private Proxies got off to a bad start with its limited location coverage, a small proxy pool, and suspicious sources of its proxies. But, let's continue with our review as there are many other things you should know before deciding to scratch it off your list.

Elite Private Proxies Proxy Speed and Performance
The proxies provided by Elite Private Proxies are limited to 35 to 40 GB/month, but you can raise the limit if you choose a larger package of at least 250 proxies. They come with unlimited bandwidth, so that's a plus. They have 97% uptime, which is not impressive compared to other providers.
We couldn't find any information about their success rates which is weird considering how long the brand has been on the market.
Additional Tools
Today, proxy providers tend to have at least one additional tool to award their customers for choosing them out of so many providers. In most cases, these tools include proxy checkers that allow you to check the speed and performance of proxies. Certain providers also offer scrapers, proxy management browser extensions, API, etc.
However, Elite Private Proxies doesn't have any additional tools, so that's a bummer.
Types of Proxies
Elite Private Proxies offers dedicated or private proxies, which are the best type of proxies when it comes to online anonymity, reliability, and security. That's because they are reserved only for you, so you're not sharing them with anyone else. This will ensure your proxies are not used for any illegal or spamming activity by another user, thus reducing the risk of getting banned.
All proxies from this provider allow HTTP(S) and SOCKS5 connections and support both IP authentication and username/password authentication methods. They are password-protected, so you can rest assured no one else will use your proxies while you're renting them.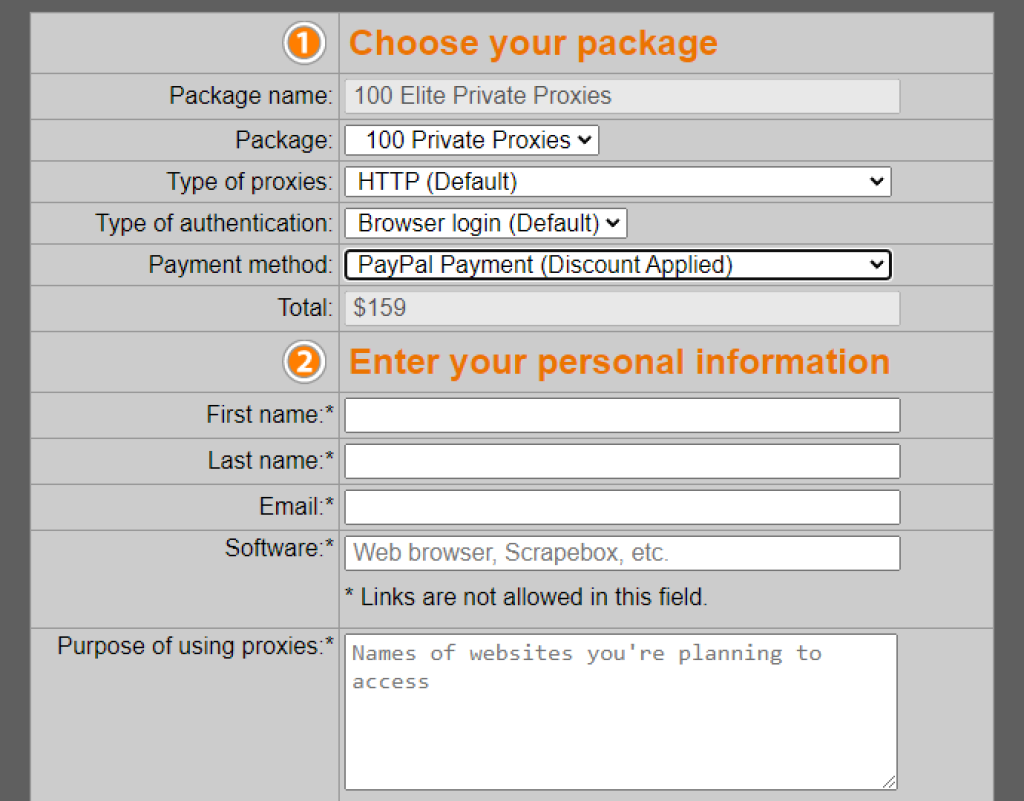 Purchase Simplicity
Purchasing proxies from Elite Private Proxies is quite simple. Although the homepage may feel overloaded with information, finding the subscription plans is easy. In fact, whatever Order Now link you choose, you'll get to the same page where you can choose your package.
Besides selecting your package, you can choose the type of proxies based on protocol, the type of authentication, and the payment method. After entering your personal information, you'll also need to enter the purpose of using the proxies.
The proxies will be delivered to your email address within 48 hours, which doesn't sound that great if you need them sooner. You'll get IP addresses along with their port numbers. Just keep in mind that you need to be logged in to the company website to use your proxies.
Elite Private Proxies Pricing
This proxy brand has affordable proxies, although they are certainly not the cheapest on the market. The lowest plan costs $18 and provides you with 10 proxies, meaning paying $1.8 for one proxy, which is not cheap. However, you'll pay less per proxy if you order more proxies.
For example, the most expensive plan costs $999 for 1,000 proxies, which means paying $0.99 for one proxy. It's not a bad deal if you're a big company or anyone looking for a large number of proxies.
Unfortunately, Elite Private Proxies doesn't offer a free trial, so you'll have to buy its proxies to find out if they are suitable for your proxy needs. If the proxies don't work because of technical issues within the first 24 hours, you can get your money back. If you're not happy with its proxies for any other reason, the provider won't supply you with a replacement or refund.
Also, the support team will try to solve your technical issue before you get your money back, and if you refuse to provide access to your device, they won't provide a proxy replacement or refund.
All this seems like a risk you don't have to take, as many proxy providers out there offer either a free trial or a decent refund policy, and sometimes even both.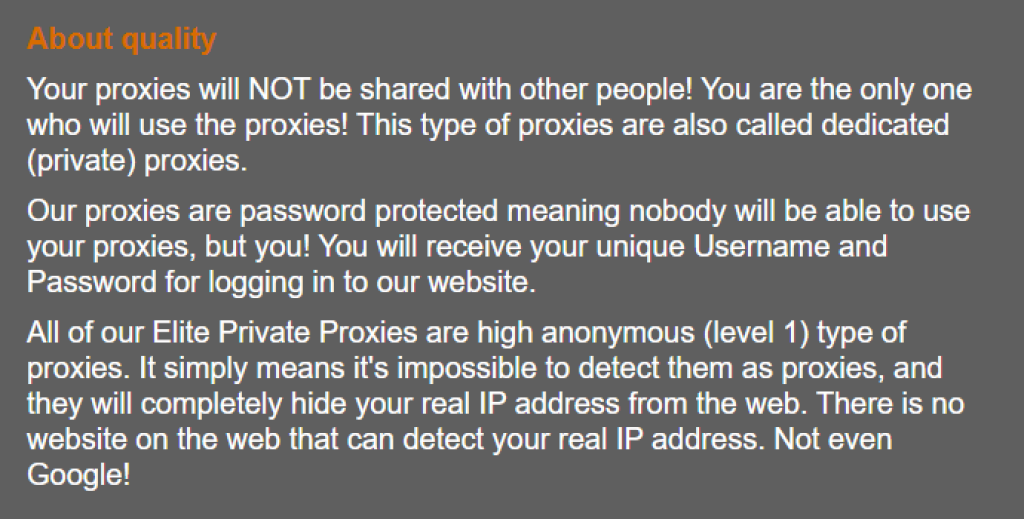 Elite Private Proxies Discounts
The company supports PayPal and credit card payments, but it encourages all users to pay with PayPal. It even offers great discounts for those using this payment method as opposed to those using credit cards.
For example, if you buy 500 proxies with PayPal, you will get them for $599. But if you order them with a credit card, you'll have to pay $609. Also, the discount increases if you select the 3-month or 6-month prepaid plan. Once again, the discount applies only to PayPal.
Is Elite Private Proxies Legit or a Scam?
The brand seems legit, despite the lack of reviews and user testimonials about their experience with the service.
Customer Support
Other than a single email address, we couldn't find any other contact information on the Elite Private Proxies site. We wanted to test how fast they would respond to our email, but we were definitely not happy with the speed result.
The lack of live chat support, phone number, and other ways to contact the proxy provider and the slow email reply are serious drawbacks of the service.
Can You Earn Money With Elite Private Proxies?
This proxy provider doesn't have an affiliate program you can join to earn from potential clients you attract. Therefore, it doesn't give you the option to earn money, unlike many proxy providers on the market.
Elite Private Proxies Pros and Cons
To make your buying decision easier, you need to know the key pros and cons of Elite Private Proxies.
Positive
Private proxies
HTTP(S) and SOCKS5 support
IP authentication and username/pass authentication support
Easy to purchase
Affordable prices
24-hour money-back guarantee
Great discounts for PayPal customers
Negatives
Lack of residential proxies
Limited location coverage (only US proxies)
No info about its proxy pool size
No info about its success rates
No additional tools
No additional tools
No discounts are applied when paying with credit cards
No affiliate program to join
Bad customer support
No free trial
Final Verdict
Elite Private Proxies is not the best proxy provider on the internet as there are many other brands that offer more types of proxies, greater location coverage, better customer support, and discounts for all users, no matter the payment method.
On the other hand, it offers US private proxies that support HTTP(S) and SOCKS5 protocol at affordable prices, especially if you buy them with PayPal. While we don't recommend this brand due to the long list of cons, it can be a decent option if you need a large quantity of US private proxies.
Elite Private Proxies Alternatives
Here are a few other proxy providers you can consider:
IPRoyal – unlike Elite Private Proxies, this provider offers ethically-sourced private proxies from almost every country in the world, additional tools, and affordable prices no matter the payment method you choose.
Trusted Proxies – This provider offers high-level proxy servers focused on SEO and web scraping activities. With decent prices and location coverage, it's an excellent option for international data analysts and SEO marketers.
Proxy-Seller – unlike Elite Private Proxies, this company has datacenter proxies in around 40 countries worldwide and great customer support with a live-chat option.
Below average
Score by our metrics
PROS
Private proxies
HTTP(S) and SOCKS5 support
IP authentication and username/pass authentication support
CONS
Lack of residential proxies
Limited location coverage (only US proxies)
No info about its proxy pool size
Add your review
|
Read reviews and comments
FAQ
Can you use Elite Private Proxies from multiple places at the same time?
No, this provider allows you to use its proxies from one location at a time only. This means you can't use them from multiple places simultaneously.
Can you get a refund in the second month?
No, Elite Private Proxies can only provide you with a full refund within the first 24 hours of the purchase. This means that you can't get a refund in the second or third month.
Does Elite Private Proxies have global proxy servers?
This proxy provider sells only US proxy servers, so if you need IP addresses from outside the United States, you should look for another provider.