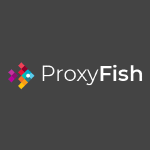 Place here Description for your reviewbox
Proxies have been around since the inception of the internet. Over the years, their use cases have steadily risen as internet penetration reaches new heights. What's more, breaking into the proxy industry is not as complicated as other niches, leading to an influx of companies offering this service.
Consequently, if you were to use the word "proxy" in any search engine today, you would find hundreds, if not thousands, of companies in the niche. Most of these will use assuring words like "fast proxies", "top privacy", and more to convince you to give them your money. In all reality, some of these services are bound to be mediocre, and some will be functional.
Therefore, as a proxy user, you must perform your due diligence before going for any proxy service. That said, checking neutral proxy reviews is one of the most efficient ways of verifying the authenticity and efficacy of a provider.
With this in mind, this review will dive into the nuts and bolts of ProxyFish, a provider specializing in datacenter and residential proxies. We'll provide an unbiased opinion on whether you should give this company a chance and whether service delivery will be optimum.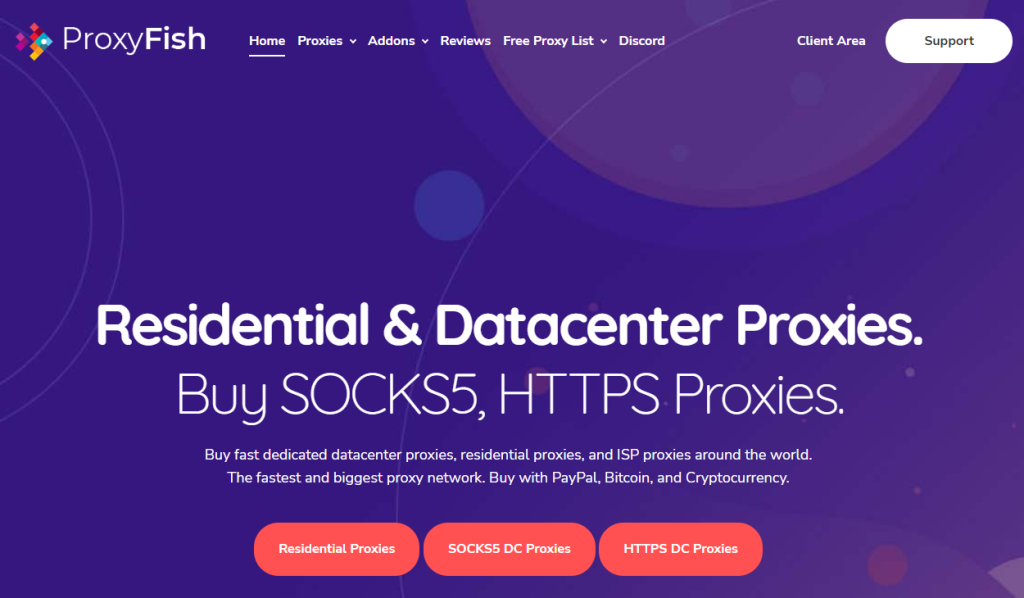 ProxyFish Introduction
ProxyFish is a company specializing in datacenter, residential, and ISP proxies. It has a friendly and modern website with a nice tech feel. The company claims that it does not log user data, which is a big plus for users that want their activity to remain anonymous.
The proxy servers from this provider are directed toward marketers and social media influencers. However, it is pretty odd that the catalog lacks mobile proxies, given mobile phones are the primary devices for such tasks.
Regardless, whether this provider has what it takes to take up a place among top proxy service providers remains to be seen. Factors such as the features, pricing, and customer reviews will influence this conclusion.
ProxyFish Features
While the ProxyFish website is informative, it lacks critical data such as supported locations. It lacks a dedicated location section, as you would expect from a premium provider, which is quite odd.
You will only find information on the supported locations if you navigate to the free proxies. For example, under residential proxies, the website mentions support for more than 195 locations, which is beyond impressive by current standards. The IP pool is even more impressive, with more than 120 million IPs supported.
Unfortunately, we can't say much about the ISP proxies as they support a few locations, such as Ashburn, Virginia. On the flip side, they are categorized according to the ISP, making the service more comprehensive.

Types of Proxies
One thing you will notice with ProxyFish is inconsistency. The home page talks of datacenter and mobile proxies, but they are seemingly absent if you navigate to the specific products. You will only find residential, ISP, Runescape, SOCKS, HTTPS, EarnApp & Transfer proxies.
What's more, if you navigate packages such as "Ashburn ISP Proxies," the system does not display anything indicating that these proxies are probably unavailable or sold out. Such glitches are a big red flag and cast a shadow on a provider's authenticity.
Granted, the catalog is quite impressive, and it surpasses that of most proxy service providers. Moreover, you will also find the highly sought-after SOCKS5 proxies here. Such servers are highly efficient since SOCKS5 is more versatile than HTTP/HTTPS.
Finally, you can authenticate these proxies by using your username and password, or by whitelisting your IP. This is a big plus for users, given these authentication methods have distinct upsides and downsides; hence you can use that which best fits your use case.

ProxyFish Proxy Speed and Performance
ProxyFish guarantees users that it has the fastest and most reliable network. The website mentions that all the IPs have low latency, which translates to better performance.
However, you should note that the speed will mostly depend on your ISP limitations, location, and distance from the proxy. Hence, your speeds might differ from what the website says.
Additional Tools
ProxyFish has several tools to complement the servers, unlike most proxy service providers, which goes far in streamlining the service delivery. You can find these tools under the 'Addons' section, including Chrome and Firefox extensions and ProxyFish Pro.
The extensions help users manage the proxies, while ProxyFish Pro is a VPN extension. You should also note that while the extensions are free to download, ProxyFish Pro is a premium package.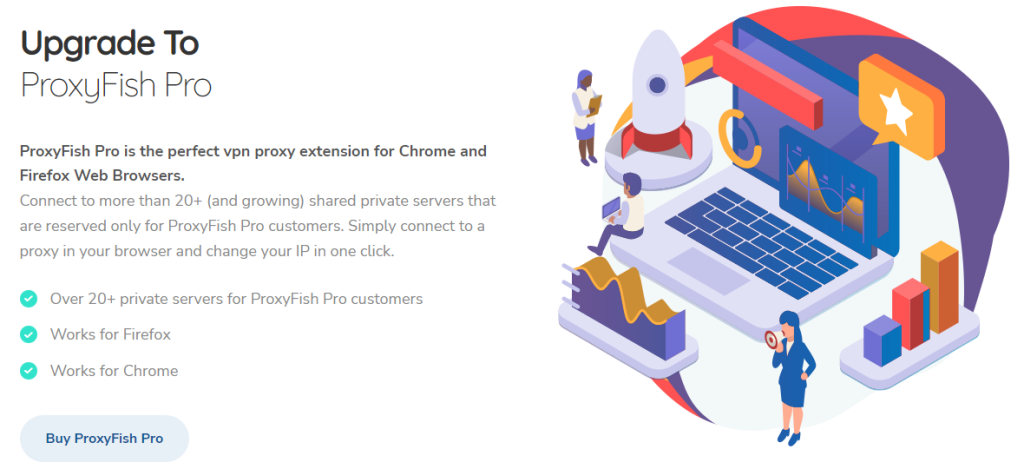 Purchase Simplicity
The ProxyFish website is relatively easy to follow and has an intuitive and accessible design. It has the right balance between visuals and text. Hence, you probably will not need help navigating the site's different aspects.
Purchasing a proxy from the provider is also reasonably straightforward. You need only navigate to the different packages under the 'Proxies' section. Under each is a list of some of the features available, followed by an "Order Now" button.
ProxyFish Pricing
ProxyFish's pricing is quite affordable and is suited for small-time users (the provider also has an enterprise solution). That said, the pricing will be determined by the proxy you decide to purchase. Granted, the residential proxies are way more expensive than the rest but compared to market prices, they are still quite affordable.
While this provider offers a free trial, it is only available under a select package- Sprint ISP Proxies. While we commend the inclusion of a free trial, it is quite odd that it is only available under one package. Moreover, it only lasts for 24 hours, which is below average. The company does not seem to offer money-back guarantees.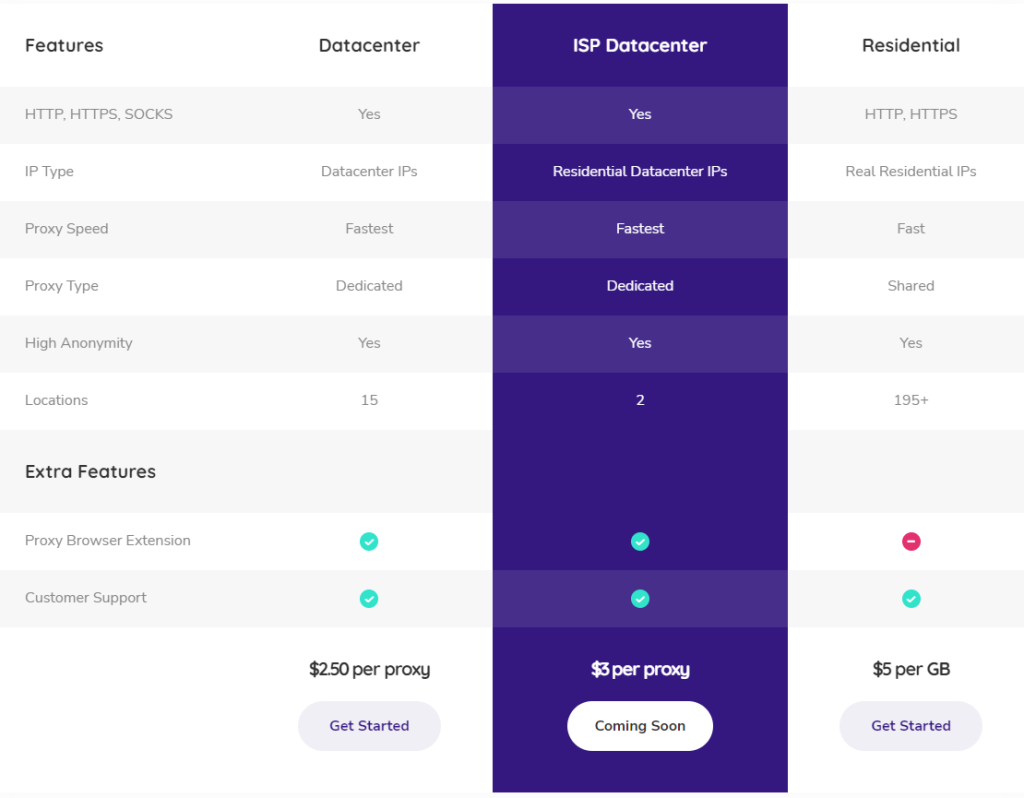 ProxyFish Discounts
From our analysis, ProxyFish offers discounts from time to time. Some of the offers we found include special coupon codes and discount sales. We also noticed bulk order discounts, albeit the website does not explicitly mention them.
Regardless, the bigger your order, the bigger your discount. For instance, under shared residential proxies, 1GB is priced at $7, while 50 GB is priced at $250.
Is ProxyFish Legit or a Scam
Even though ProxyFish is a legitimate company, the customer reviews seemingly allude that service delivery is poor, contrary to what the website says. Accordingly, the company has a TrustPilot rating of 2.4 stars, indicating that most users are generally dissatisfied with ProxyFish. Some of the issues customers have raised include faulty payment systems where the system allegedly still deducts payments even after canceling the service.
Customer Support
The customer support system seems to be poor, judging from the customer reviews: Most customers have complained that the customer support takes too long to respond. Furthermore, the website lacks a live chat feature, which has been lauded as one of the fastest and most efficient ways to reach customer support.
You can reach the support team using the ticketing system available on the website or by email. We tried using the ticking feature, and to our surprise, it was broken, meaning the email address is the only remaining option.
Can You Earn Money With ProxyFish?
There is no mention of an affiliate or referral program on ProxyFish, leading us to believe that the provider likely does not offer any similar service. Therefore, users looking for affiliate links will have to use alternate companies as they are lacking at ProxyFish.
ProxyFish Pros and Cons
Just like any other proxy service provider, ProxyFish is not without its ups and downs. These factors can make you confident in working with the company or push you to look for alternatives. These are listed below:
Positive
Dual authentication support
SOCKS Support
Good location coverage
Negatives
Poor customer support
Faulty payment systems
Broken sections of the website
Final Verdict
With all that said, does ProxyFish have what it takes to become a top-tier proxy service provider? Is it a safe company to use? Sadly, no. The many inconsistencies and shortcomings imply that this provider still has a long way to go if it wants to streamline its service.
Factors such as broken sections of the website and the home page mentioning non-existent services cast a shadow of doubt on ProxyFish. Also, the customer support system is flawed, given the ticketing system does not work.
Ratings
Awesome
Place here Description for your reviewbox
PROS
Dual authentication support
SOCKS Support
Good location coverage
CONS
Poor customer support
Faulty payment systems
Broken sections of the website
Add your review
|
Read reviews and comments
ProxyFish Alternatives
Given the many issues with this provider, you might be uncomfortable with the service and look for alternatives. Some suitable companies are mentioned below:
IPRoyal is renowned worldwide for ethically sourced proxies that are impossible to detect. It has some of the most comprehensive customization options via its intuitive dashboard.
Froxy is known for high-speed proxies from all over the world. It supports all major protocols and has a large enough IP pool for most tasks.
NetNut ranks among the best proxy service providers despite the fact that it's a fairly new provider. It claims to have the fastest proxy servers and even allows users a 7-day free trial.
FAQ
Is ProxyFish a legitimate proxy provider?
Yes, ProxyFish is a legitimate company. However, it has a poor reputation, with customer reviews pointing to poor customer support and faulty payment systems.
Can I get a refund with ProxyFish?
Unfortunately, this provider does not offer discounts for services. However, you can get a 24-hour free trial, but it is only available under one package.
Does ProxyFish offer dedicated sneaker proxies?
ProxyFish does not have specific sneaker proxy packages under its catalog. However, its dedicated proxies should work for sneaker copping, among other things.