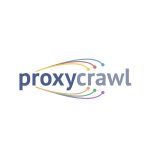 In a world where the internet is at the core of everything we do, proxies have become an indispensable tool to internet users. You can find almost everything on the web, but some factors hinder access to internet content, censorship and geo-restrictions being the most popular ones.
Today, many companies on the web claim to offer state-of-the-art proxies capable of meeting your every need. While some can fulfill your needs, the only way to verify this claim is by checking for reviews and seeing what these providers have to offer.
Again, not all reviews show everything for what it is, as some may be biased. With this in mind, this review is designed to offer unbiased insight into the features of ProxyCrawl. By the end, you should have a rough idea of what this company is and how it may benefit you.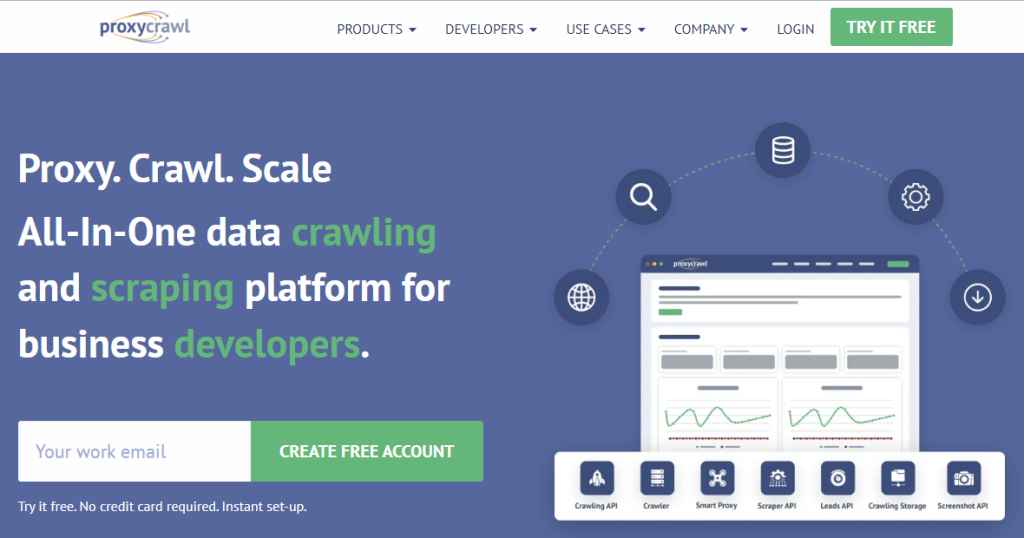 ProxyCrawl Introduction
ProxyCrawl is a company that specializes in offering web crawling services to consumers. It also provides proxy services under a package called 'Smart Proxy,' which we will dive into in this review.
It is worth noting that ProxyCrawl is not famous for its proxy services as much as it is known for its web crawling services. This company's vast range of products has made it the go-to provider for some big names in the industry, including some Fortune 500 companies.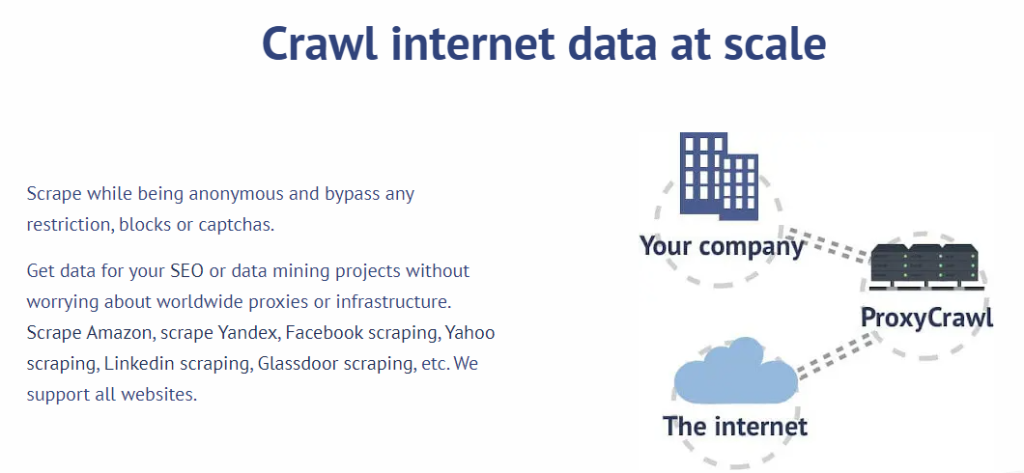 ProxyCrawl Features
ProxyCrawl's smart proxy package is nothing short of amazing. The company does not include the number of locations the proxies support like many companies. Instead, it only mentions that the proxies have worldwide support.
From what we could gather, ProxyCrawl has over a million proxies in rotation in over 45 countries worldwide. Some of the countries mentioned include the US, UK, Germany, India, UAE, France, and many more. The website does not disclose whether it uses its data centers or relies on peer-to-peer networks.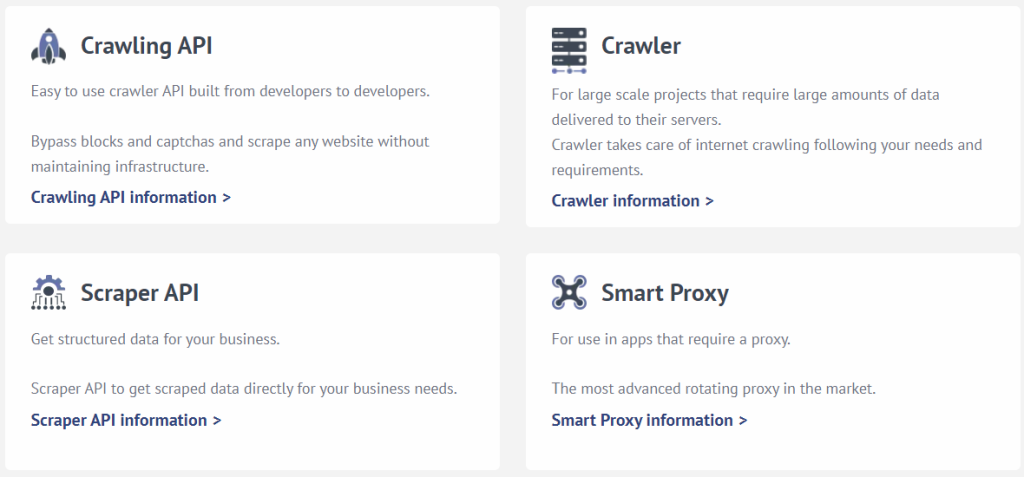 Types of Proxies
ProxyCrawl offers something different from other providers. Where most providers offer different proxy packages: residential and datacenter proxies in different tiers, ProxyCrawl has mixed these proxies in one package. This way, the customer gets the absolute best of both worlds.
The system forwards users' internet requests to randomly rotating proxies that, depending on the plan the customer has selected, will include either datacenter proxies or both datacenter, residential, and mobile proxies.
It is worth noting that ProxyCrawl only supports username authentication, which is a significant downside since most premium companies offer a mix of username/password and IP authentication. Also, the company does not provide support for SOCKS5, another downside for users.

ProxyCrawl Proxy Speed and Performance
By default, ProxyCrawl is designed to be more successful than other companies. This is because the developers have used a blend of different technologies to boost the efficiencies of these proxies. ProxyCrawl is bound to experience better success rates with more efficient speeds with a mix of residential and data center proxies.
Additional Tools
ProxyCrawl has lots of tools available to customers to boost their experience with the platform. One of these is the AI designed to complement the proxy performance. It works in tandem with machine learning to help the proxy avoid CAPTCHAs and blocks. This way, your success rate while using the proxies is significantly boosted.
Being a company specializing in web scraping, ProxyCrawl has several tools all tuned to help in this task. The first and arguably more important is the crawling API. This tool is designed to help users easily scrape the web without worrying about blocks. It works like the smart proxy in that it uses artificial intelligence and machine learning to avoid blocks and CAPTCHAs.
ProxyCrawl also has a crawler that is designed to handle big data. This tool supports many applications and allows you to easily add gathered data to your products at the tap of a button. One of the biggest appeals of the crawler is that it makes the rather complicated crawling activity much easier. Other tools available from this company include the scraper API, the screenshot API, and Leads API.

Purchase Simplicity
The order purchase process from ProxyCrawl is quite straightforward. The website is relatively easy-to-use, and all aspects are well laid out using an impressive and modern format that most users will find appealing. Once you sign up for the service, you are directed to your dashboard, where you will find all information regarding your current subscription.
If you want to upgrade to a different package, that process is fairly easy – all you have to do is hit the upgrade button from the dashboard. From there, you get a list of all the available options and their integral features. Hence, you could say that the purchase process is fairly straightforward.
ProxyCrawl Pricing
The pricing structure at ProxyCrawl is influenced by several factors: the number of threads, the number of credits, the number of proxies, and rotating IPs. Accordingly, once you sign up, you are automatically placed under the 'Free' plan, where you get five threads, 5,000 credits, and less than 100,000 unique proxies.
You can opt to upgrade from the free plan for the 'Strater' plan with 20 threads and 200,000 credits. You still get less than 100,000 unique proxies and 5,000 rotating IPs. This plan is priced at $99 per month.
Better still, you can opt to upgrade to the 'Advanced' plan, which the company claims to be the most popular. Here you get 40 threads, one million credits, JavaScript rendering, and less than one million unique proxies. You also get 10,000 rotating IPs and custom geolocation in the US at $289 a month.
The most expensive package is the 'Premium,' with 40 threads, one million credits, Javascript rendering, and less than 1 million unique proxies. You also get 10,000 rotating IPs and custom geolocation in the USA.
It is also worth noting that the 'Starter' and 'Free' plans only have datacenter proxies, while the 'Advanced' and 'Premium' plans have both datacenter, residential, and mobile proxies. Also, while all other plans get support tickets, the 'Premium' plan gets priority support.
ProxyCrawl also offers a money-back guarantee of 24 hours. Therefore, if the service fails to meet your expectations within the first 24 hours, you are free to ask for your money back. Coupled with the free option, this is a win for users.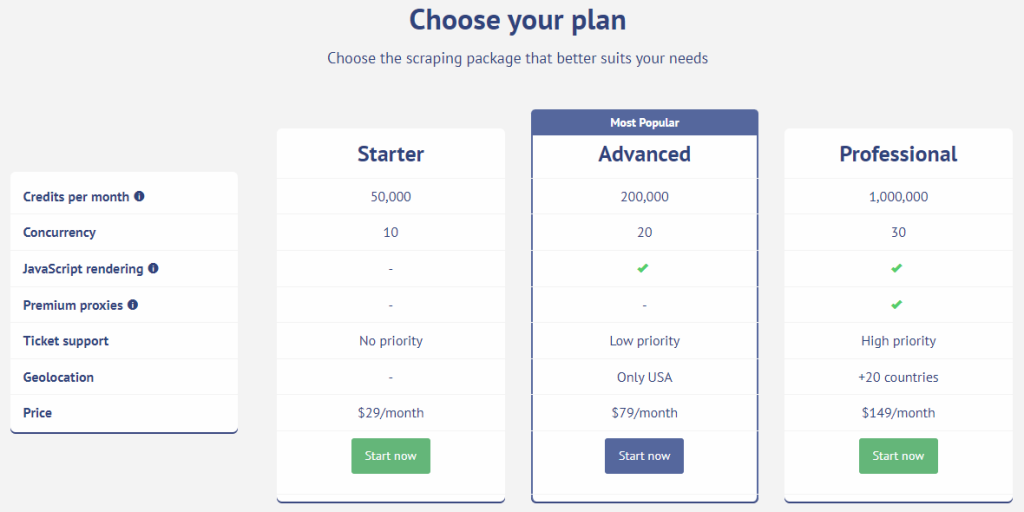 ProxyCrawl Discounts
ProxyCrawl offers discounts for users that make use of the yearly plan. Here, the 'Starter' plan goes for $1,068, a 10% discount. In the same accord, the 'Advanced' plan goes for $1,499 a year, a 15% discount. Lastly, the 'Premium' plan goes for $2,760, a 20% discount.
Is ProxyCrawl Legit or a Scam
ProxyCrawl is a legitimate service provider with excellent reviews. The company has a rating of 4.2 stars on Trustpilot, implying customers are generally satisfied with its services. In fact, ProxyCrawl works with some big names in the industry, including some Fortune 500 companies.
However, it is worth noting that the excellent reviews are probably due to the crawling services from the company. This is because it does not properly market its proxy service, and as such, it does not have many customers in this niche. Therefore, there is limited information regarding the legitimacy and customer experience of the proxy service.
Customer Support
The customer service at ProxyCrawl is nothing short of excellent. We reached out to the support team from the live chat feature, and they replied in seconds. This is incredibly impressive, given other providers reply in hours or even days.
Other than that, ProxyCrawl has several ways you can use to reach out to the agents. You can use the contact button from your dashboard, the email option, or you can opt to call them.
Can You Earn Money With ProxyCrawl?
ProxyCrawl has an excellent affiliate program where you earn money by endorsing the service to other customers. The company claims to offer an average of $467 for every new customer affiliates bring into the company, which is quite impressive.
Referred customers also get added benefits as well. For instance, they get double the number of requests as the normal free trial user. Signing up for the referral program is straightforward and will not take a significant chunk of your time.

ProxyCrawl Pros and Cons
ProxyCrawl, just like any other proxy company, has its ups and downs. It has areas where it excels and other areas where it flops. It all boils down to your needs, as this company will either impress or disappoint you. With this in mind, below is a list of the pros and cons that should help you decide.
Positive
Excellent customer support
Easy to use 
Affordable
Good location support 
Negatives
Lack of SOCKS5 support
Only username authentication is supported
Limited Proxies
Pros
ProxyCrawl has several areas where it excels. Depending on your needs, you might be impressed and choose to work with it.
Excellent customer support
The customer support team at ProxyCrawl is nothing short of excellent. The agents are polite and reply in a matter of seconds.
The ProxyCrawl website is quite easy to follow and has everything well laid out. There are also detailed docs you can use in case you get stuck.
Compared to other providers, ProxyCrawl is quite affordable. It has a wide array of pricing plans for customers to choose from.
ProxyCrawl supports proxies from over 45 countries. This means customers have a wide variety to choose from when using the proxies.
Cons
While ProxyCrawl succeeds in some areas, it falls short in some other areas, such as the ones listed below.
Currently, ProxyCrawl only supports HTTP. This means customers looking for SOCKS5 will not benefit from the platform.
Only username authentication is supported
While most providers support username/password and IP authentication, ProxyCrawl only offers support for username authentication.
ProxyCrawl only offers datacenter, residential, and mobile proxies. Users only access residential and mobile proxies once they pay for advanced and premium plans.
Final Verdict
While ProxyCrawl is a legitimate company, it is evident that ProxyCrawl is yet to place resources and focus on its proxy services. Seemingly, the company is more invested in web scraping services than proxies.
Perhaps this is why the proxies from this company lack some essential features such as SOCKS5 support and IP authentication. Regardless, the customer support is still amazing, and customer reviews imply that the company is focused on helping its customers.
Ratings
Average
Score by our metrics
PROS
Excellent customer support
Easy to use 
Affordable
CONS
Lack of SOCKS5 support
Only username authentication is supported
Limited Proxies
Add your review
|
Read reviews and comments
ProxyCrawl Alternatives
It is evident that ProxyCrawl, while it offers proxy services, has not invested in this niche. Instead, this company is invested in scaping and crawling services, which is why its proxy package lacks features. With this in mind, there are several other alternatives you could go with.
Unlike ProxyCrawl, IPRoyal is solely focused on proxy services. Therefore, it has way more features, including SOCKS5 support and IP authentication, along with great prices.
This is a fairly new provider with only three years in the industry. It has a pile of features at a relatively affordable price.
OxyLabs has a wider range of locations than ProxyCrawl. You should note that the prices are significantly higher, though.
FAQ
What kind of proxies does ProxyCrawl offer?
ProxyCrawl offers a mix of residential, datacenter, residential, and mobile proxies. The mobile and residential proxies are only available under the 'Advanced' and 'Premium' plans.
Does ProxyCrawl have a free trial?
No, this company does not have a free trial. Instead, it has a free plan and a 24-hour money-back guarantee.
Does ProxyCrawl offer SOCKS5 proxies?
Unfortunately, this provider does not support SOCKS5. Users in need of such proxies will have to look for alternatives.