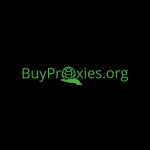 In a world where everything is connected to the internet, proxies are becoming an ideal tool for users that want to optimize their experience on the web. Today, many proxy companies are all looking to get a slice of the same customer pie.
Therefore, these companies try to come up with ingenious ways of outdoing each other. Some end up offering fantastic features that make them come out on top. So, how exactly do you select the right proxy company for your internet needs?
You first start by looking for reviews on the same. With this in mind, this post will dive into BuyProxies, one of the contenders for the top proxy company position in the world. By the end of this post, you should have a rough idea of what BuyProxies is and whether it can meet your needs.

BuyProxies Introduction
Founded way back in 2011, BuyProxies is one of the pioneers in the competitive proxy industry. While many companies have failed to keep up with customer demand, BuyProxies has been going strong since it hit the market.
BuyProxies is renowned for providing quality private proxies to customers worldwide. With above-average speeds and an excellent customer support team, this company has maintained a steady stream of clients ever since its inception.
A few out-of-the-box features you get with BuyProxies are unlimited bandwidth, various available locations, and API integration. With the API integration, you can read the proxies in .txt files right from your running script.
Proxies from BuyProxies are optimized to work with sites such as Instagram, Google, Facebook, Twitter, and much more. According to the main website, BuyProxies owns all the servers, meaning users do not have to worry about unresponsive IPs that have already been utilized.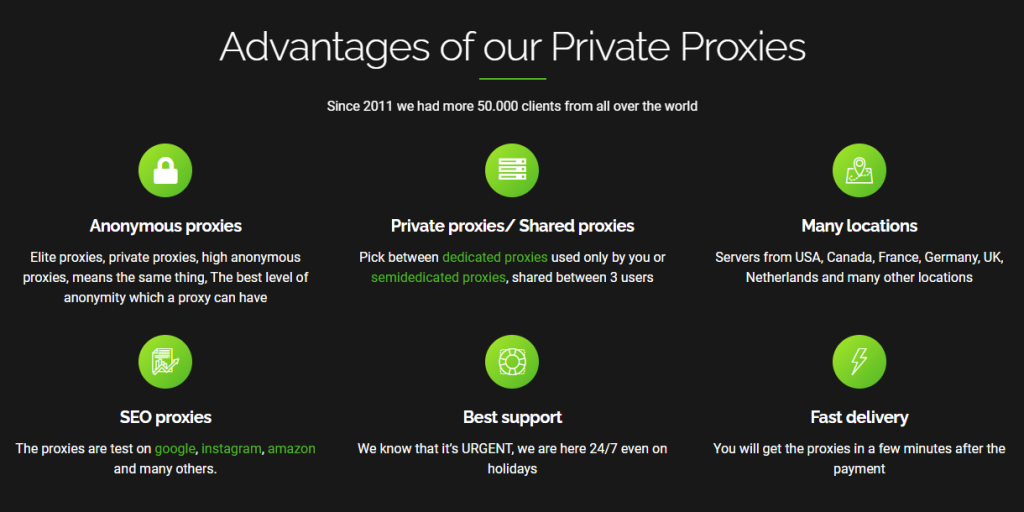 BuyProxies Features
One of the most significant features of BuyProxies is that it fully owns all the equipment used to service its proxies. This means the company has full control over its network, which is rarely the case with peer-to-peer sourced IPs. Here, the company network will heavily rely on the performance of the peers' networks, which is hardly efficient.
BuyProxies does not necessarily state the cities and countries from where its servers are located. The website only mentions that the proxies come from many different locations, with the USA, Canada, France, Germany, the UK, and the Netherlands included. However, the website mentions that BuyProxies operates all the servers in these regions.

Types of Proxies
The proxies available from BuyProxies fall into four distinct categories: semi-dedicated proxies, dedicated proxies, Ticketmaster proxies, and shoes proxies. You should note that these proxies fall into different pricing plans, as we will see later in this post.
This is the cheapest package from BuyProxies. They are only semi-dedicated, meaning they are shared, and according to the website, each proxy can only be shared by a maximum of three users.
These proxies are recommended for web scraping and have unlimited bandwidth. Furthermore, they support HTTPS and SOCKS5, a big plus.
These proxies are dedicated to one user and are faster than their semi-dedicated counterparts. They are available from countries like the US, UK, Germany, Netherlands, Switzerland, and France.
You do not have to worry about being banned since these proxies change every 30 days. They also support HTTPS and SOCKS5 protocols at affordable prices.
Ticketmaster proxies are optimized to work on Ticketmaster and come with a significantly higher price tag. They allow you to purchase tickets at lightning-fast speeds and resell them at a price.
Ticketmaster proxies have pretty much the same features as all other proxies from BuyProxies. For one thing, they are dedicated, meaning you are the only user. They also support HTTPS and SOCKS5 protocol at decent speeds.
Just like Ticketmaster proxies, these proxies are optimized for performing specific tasks, which in this case is copping sneakers. You can pair these proxies with sneaker bots on Adidas and Supreme (Nike might not work).
The Shoe proxies from BuyProxies, while they are significantly more expensive, offer both HTTPS and SOCKS5 protocols. They are also dedicated, meaning you will be the only user.
BuyProxies supports both username/password authentication and IP authentication. This is a significant plus since most companies do not offer both, just one or the other.

BuyProxies Proxy Speed and Performance
BuyProxies has pretty decent speeds. While their services may not be optimized for heavy-duty tasks such as gaming, they can work for average tasks. The proxy speed may vary depending on the type of proxy you want to purchase.
For instance, a relatively small number of proxies from this company can achieve upload speeds of more than 60 Mbps, while the remaining average about 6 Mbps. On the other hand, most proxies can clock at a high average download speed of more than 200 Mbps.
Additional Tools
BuyProxies offers users an API intended to make their experience with the service a whole lot easier. This tool is available right from the control panel once you purchase the proxies and has a lot of use cases.
For instance, you can insert the API into several bot software depending on your need. Once you do this, the API can be automatically configured to pull the proxy list saving you the hassle of inserting them manually.
Purchase Simplicity
The website is pretty easy to use. Everything is well placed, and you do not need help finding your way around it. You can find all the packages quite easily without help from the FAQ section or the customer support team.
However, one significant downside is that the website is quite dated and has a distracting design. The company could improve and revamp the design to meet today's standards. Despite the blunt design, purchasing a proxy is easy, and you will not have to go through many hassles as is the case with some other websites we came across.
BuyProxies Pricing
Compared to other companies, BuyProxies has a pretty competitive pricing model that may suit small businesses and sole proxy users. The company uses a per-IP pricing model, where depending on the kind of proxy, you get a discount when you purchase more proxies.
The smallest tier is 10 proxies that go for $12.50 per month. The more proxies you buy, the cheaper it becomes. For instance, 20 semi-dedicated proxies have a monthly price tag of $25, while 200 go for $200.
The smallest tier for dedicated proxies is five proxies at $12.50 per month. The more proxies you get, the cheaper it becomes. Accordingly, 30 proxes go for $71.26 per month, and 100 dedicated proxies go for $212.50 per month.
Ticketmaster and shoe proxies
The Ticketmaster proxies from BuyProxies are a bit more expensive, starting at 50 proxies for $150 per month. There are only two options with this package, the second one being 100 proxies for $300 per month. Shoe proxies are priced in the same way, but they have an additional option of 200 proxies at $600 per month.
BuyProxies has a wide variety of payment options available to its users. The company accepts PayPal, Bitcoin, Perfect Money, Trustpay, and bank transfer for its services. You also get a 24-hour money-back guarantee, which may not be the best since other companies offer as many as 7-day money-back guarantees.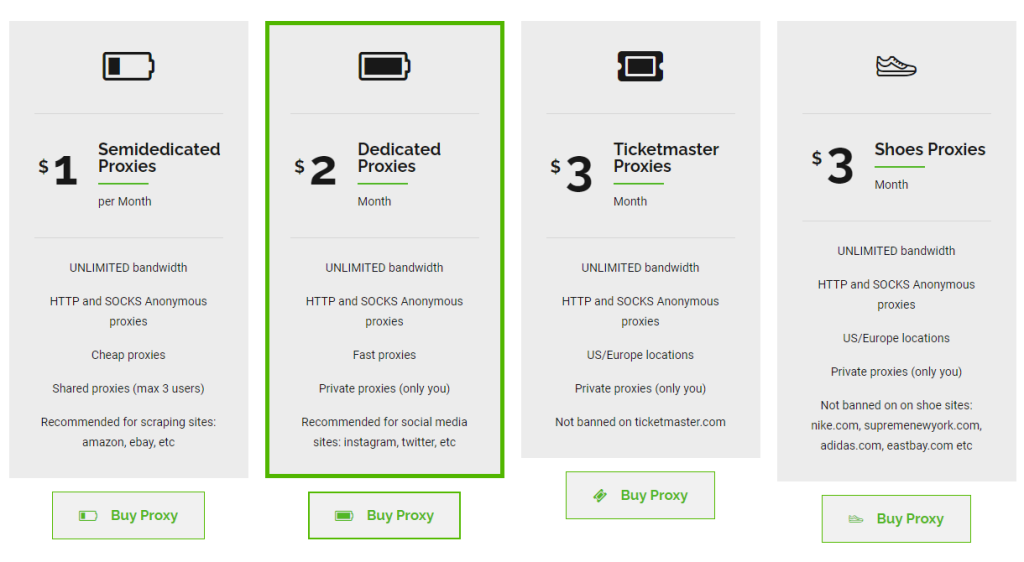 BuyProxies Discounts
BuyProxies does not necessarily state that it offers discounts for its proxies. However, they becomes cheaper if you place bulk orders. For instance, under semi-dedicated proxies, the discounts start from the plan with 30 proxies, which goes for $35.63. Under this plan, the more you purchase, the less you'll pay per proxy.
The same case goes with the dedicated proxies, where the discounts start from the plan with 30 proxies which goes for $71.26. The higher plans also have discounts depending on the number of proxies you get. Unfortunately, Ticketmaster and shoe proxies do not have discounts.
Is BuyProxies Legit or a Scam
BuyProxies is a legitimate company with legitimate services. It has a Trustpilot rating of 4.0 stars, which shows it has shown a trend of delivering quality services to its customers. It's safe to say that the services from BuyProxies are legitimate, and you will most likely get value for your money.
You can take advantage of the 24-hour money-back guarantee and see if the service meets your expectations. This way, you can test out the legitimacy of this company and see whether it meets your needs. If not, you can ask for your money back.
Customer Support
Customer service may be another strong point for BuyProxies. The company has a running ticker that displays the number of resolved tickets which at the time of this writing was at 49,000.
Furthermore, the company claims that a ticket becomes resolved only when the customer feels the issue has been resolved. If that is the case, then BuyProxies takes customer service quite seriously.
On average, the customer support team takes about two hours to respond to a ticket. While this may not be the fastest response time, it is still pretty decent compared to other companies that take as much as a day.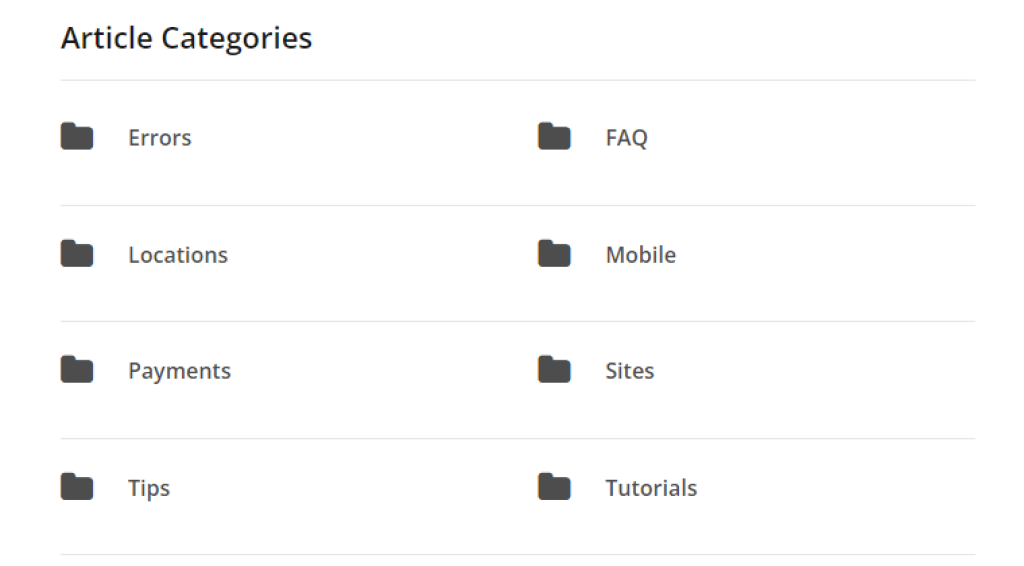 Can You Earn Money With BuyProxies?
BuyProxies has an affiliate program, although the company does little to advertise this feature. Once you sign up for the affiliate program, you are given a unique link that other users will use to sign up. Once they do this, you get a commission. The company does not specify what amount you will get.
The company also uses cookies to track customers for 90 days. Every time they come back to the website, you get a commission. Hence, you can sign up for the program if you have a website and want to become an affiliate for BuyProxies.
BuyProxies Pros and Cons
BuyProxies is a legitimate proxy service provider with a proven record of meeting customer expectations. However, just like any other proxy service provider, it has its ups and downs, and depending on your needs, this company may or may not work for you. Here's a list of key pros and cons.
Positive
It owns all the servers
Specialized proxies for sneaker sites and Ticketmaster
Fast service 
Two authentication methods
Negatives
Poor refund policy 
Limited proxy support
Limited locations
Average proxy speed
Pros
Below are some of the reasons why you may choose to work with BuyProxies.
BuyProxies owns all the servers used to run its proxy network, meaning it does not rely on peer-to-peer networks, as is the case with many providers.
Specialized proxies for sneaker sites and Ticketmaster
BuyProxies offers specialized proxies for sneakerheads and for purchasing tickets from Ticketmaster.
Once you purchase the proxies, they are delivered in under 3 minutes.
Two authentication methods
BuyProxies supports both username/password and IP authentication.
Cons
Just like any other provider, BuyProxies has its downsides which are listed below.
The refund policy from this company is only available for 24 hours.
Despite having different proxy packages, the most developed are datacenters. Mobile and residential proxies are still new.
The location support is not comprehensive, with most proxies coming from the USA and Europe.
The proxy speeds from this company are nothing exceptional. In fact, they might not meet the needs of a heavy-duty consumer.
Final Verdict
From the information presented above, it is evident that BuyProxies is a company that is designed to meet the needs of the average user. While it has many upsides, one of its most significant downsides is that it is limited in terms of available locations, with only the USA and parts of Europe represented.
Furthermore, while this company has affordable prices, it only offers datacenter proxies that are not that fast either. Hence, this may not be the best fit for individuals looking to conduct tasks that focus on speed.
Overall, BuyProxies is a good choice for small-time users who want proxies for average tasks such as everyday browsing. Heavy-duty internet users might have to look for alternatives as the speeds are inconsistent.
Ratings
Below average
Score by our metrics
PROS
It owns all the servers
Specialized proxies for sneaker sites and Ticketmaster
Fast service 
CONS
Poor refund policy 
Limited proxy support
Limited locations
Add your review
|
Read reviews and comments
BuyProxies Alternatives
Below are some of the companies that offer better features than BuyProxies and could help fill the gap that this provider leaves:
SmartProxy has long defended its title as one of the most trusted providers in the proxy industry. It has proxies spread out in over 195 locations and offers more than 10 million IPv4 proxies.
This provider offers a large pool with millions of residential, datacenter, and mobile proxies. All proxies have SOCKS support and there's a 3-day free trial available.
MarsProxies is designed for sneakerheads. Their private proxies are designed to integrate seamlessly with sneaker bots, offering a selection of locations and maximum success rates.
FAQ
Yes, BuyProxies is a legitimate company that specializes in datacenter proxies. It offers its prices at relatively affordable prices for customers.
Does BuyProxies offer a free trial?
Unfortunately, this company does not offer a free trial for its packages. It also has a 24-hour money-back guarantee which is not at all great.
Does BuyProxies have an affiliate program?
Yes, BuyProxies offers an affiliate program for users that want to earn money with the company. All you have to do is sign up for the program and start earning.