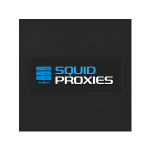 Proxies are fast becoming a right-hand tool for anyone looking to use the internet. These tools have a wide array of use cases and are easy to set up. Today, several companies are claiming to offer top-tier proxy services to users.
How do you sift through and find the provider likely to meet your needs? You start by checking for reviews. With this in mind, this post contains a comprehensive outline of SquidProxies, its features, and a final verdict on whether it is a good fit for you.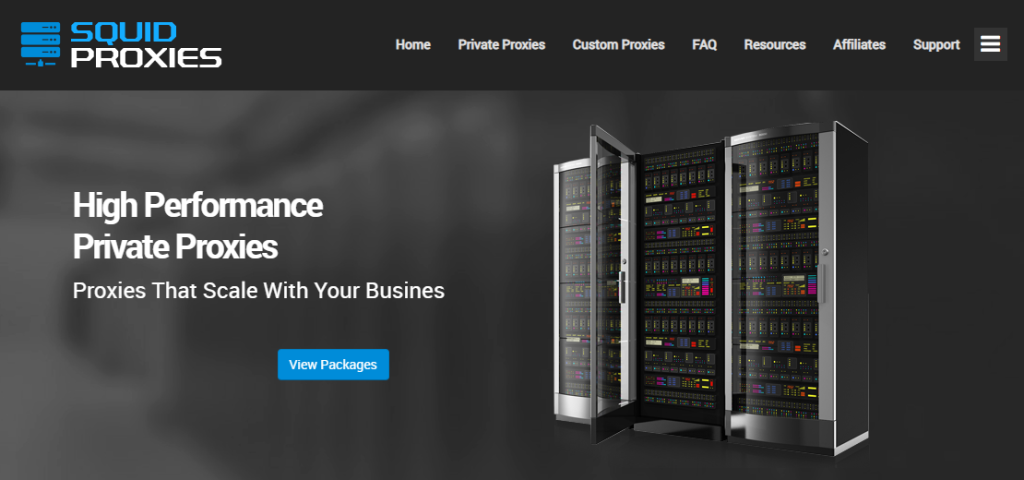 SquidProxies Introduction
SquidProxies is a US-based proxy provider that offers shared and private HTTP/HTTPS proxies. The company has been servicing clients for over a decade, which is hard to believe given the relatively small scope of services it offers.
You would expect a proxy company to offer a wide range of proxies from residential to mobile, right? That is not the case with SquidProxies. The company specializes solely in shared and private datacenter proxies.
With SquidProxies, there is not much fuss on proxies dedicated to sites such as Craigslist, Nike, Ticketmaster, and the rest. The company only says that its proxies work great with social media sites like Facebook, Twitter, and Instagram.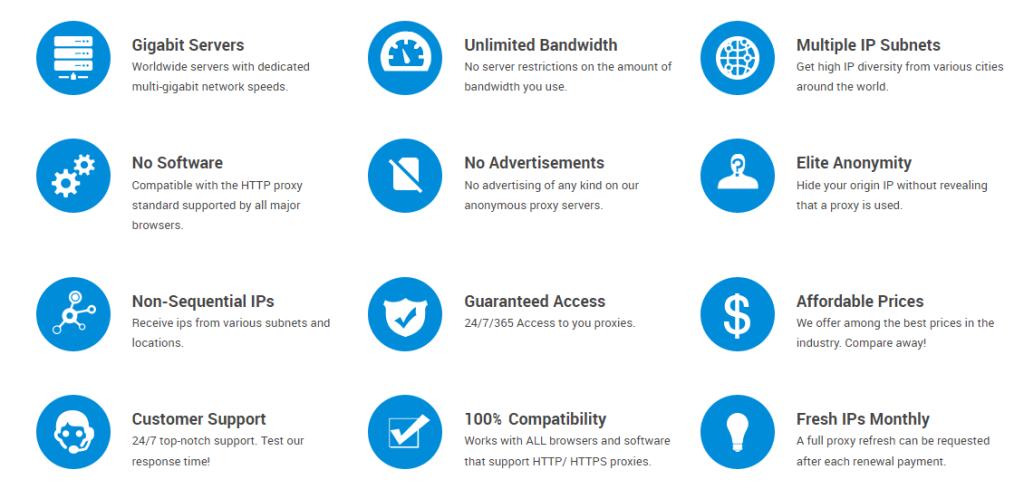 SquidProxies Features
SquidProxies offers non-sequential IPs that are pretty fast. These IPs have a lower chance of getting detected when compared to regular ones. The locations are pretty small, with only ten countries supported. They include the US, select countries in Europe, India, and China.
You get the choice of multiple cities when you select proxies from the US, which is a big plus for interested users. However, you should note that if you need specific locations for your proxies, you need to raise a ticket with the support and specify, or you will be assigned random locations in the US.

Types of Proxies
SquidProxies only offers two kinds of proxies for its users: private datacenter proxies and shared datacenter proxies. For shared proxies, SquidProxies does not necessarily specify the number of users that share a specific proxy with its plans.
You should note that the shared proxies from this company are not at all great. If anything, they are less likely to work for your intended purpose. In fact, the company warns that it does not guarantee that the shared proxies will work with any specific purpose.
The private proxies from SquidProxies have far better features than shared proxies. For instance, these proxies come with non-sequential IPs, meaning that websites are less likely to realize you are using proxies.
You should also note that these proxies only support IP authentication and do not offer username/password authentication, which is a significant downside. Furthermore, SquidProxies does not offer support for SOCKS5, which is another downside.
SquidProxies Proxy Speed and Performance
While SquidProxies has its fair share of problems, one area where it excels is proxy speed and performance. The website claims to offer proxies with over 1,000 Mbps. Hence, you are less likely to encounter latency issues while using these proxies.
However, there is very limited information regarding the efficiency of these proxies and how successful they are in real-life situations. With the lack of a free trial and a proxy tester tool, knowing just how fast these proxies are might be quite hard.

Purchase Simplicity
The SquidProxies website is quite clunky and has a somewhat dated look that is not appealing to the eye. Nevertheless, the purchase process is fairly straightforward since all you have to do is select the package you want and make the order.
You need to know that the sign-up process is lengthy and quite complicated. If you want IP addresses from different subnets and locations, you must specify this during the sign-up process. That is not all. You will need to raise a ticket and explain to the support team what you need.
SquidProxies Pricing
Several factors influence the pricing structure at SquidProxies, including the number of proxies, subnets, and cities. Accordingly, the plans range from SPP-10 to SPP-2000. The cheapest plan gets you ten proxies, with two cities and four subnets at $24.
The number of proxies, cities, and subnets increases as you upgrade your plan. For instance, SPP-200, the mid plan, gets you 200 proxies, six cities, and 12 subnets at $290. Finally, the most expensive plan, SPP-2000, gets you 2,000 proxies, ten cities, and 20 subnets at $1,500.
While SquidProxies have a 7-day money-back guarantee if their services don't work for you, you should note that this is not unconditional. SquidProxies will request details of your issue and will only offer a refund once this issue is proven unfixable. Unfortunately, the company does not offer a free trial for its services.

SquidProxies Discounts
While SquidProxies does not necessarily offer discounts, you will notice that its bulk orders are far cheaper than the basic plans. For instance, while ten proxies go for $24, you will notice that 100 proxies go for $160, a discount since you would expect $24 proxies to go for $240.
Seemingly, SquidProxies offers discounts based on the number of proxies you purchase, where the more you get, the less you pay for them. Therefore, depending on your needs, it would be good to go for the bulk options.
Is SquidProxies Legit or a Scam
There is very limited information regarding SquidProxies' legitimacy online. In fact, Trustpilot only has one review of this provider, which is 3.6 stars. Nevertheless, from the website itself, it can be inferred that SquidProxies is indeed a legitimate company, although it has faults that make it lag behind its competitors.
Other reviews deem the service from SquidProxies legitimate. Therefore, rest assured that the company is genuine and offers real proxy services to users. You do not have to worry about your money despite the lack of a free trial.
Customer Support
The customer support system at SquidProxies is average, to say the least. The company has a live chat feature which is quite convenient since there is no need to provide a lot of details just to talk to the support. You can simply contact them and raise your issue.
It also has a ticketing feature where you provide your details and raise your issue. Once you open a ticket, you wait for the support team to respond with solutions. The response time is average.
The customer support from SquidProxies could be improved. For instance, while the website does contain tutorials, they are basic and short with minimal attention to detail. Users may still have problems even after going through this material.
The FAQ section does little to improve the situation. While you can find answers to some key questions, the section lacks context.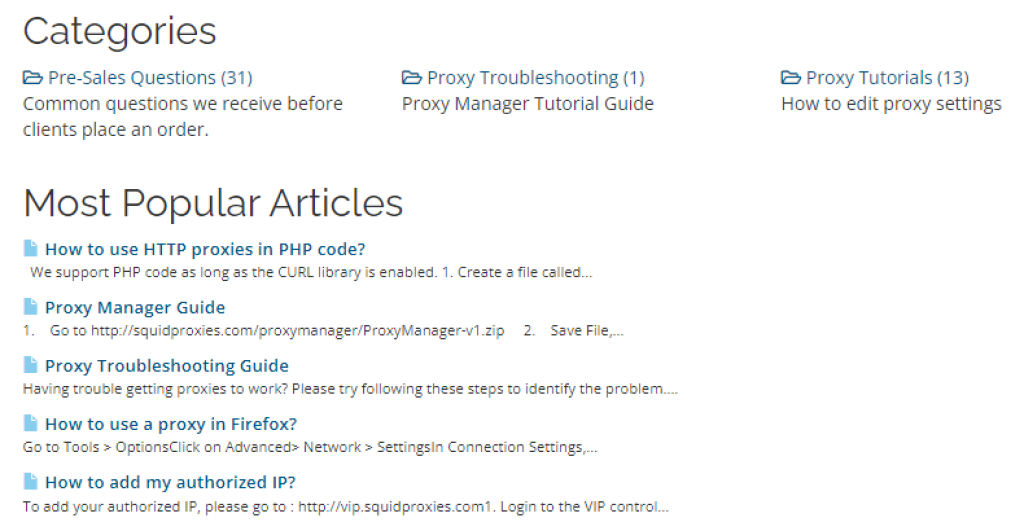 Can You Earn Money With SquidProxies?
SquidProxies has an affiliate program where you can earn money by referring users to the service. You get 20% from the referrals, which is lower than the 25% we've seen offered by some other companies. The affiliate dashboard shows you statistics regarding your referrals.
SquidProxies Pros and Cons
SquidProxies is not without its pros and cons. The company has succeeded in some areas and may impress clients, while in others, it falls behind, and some customers may choose to look for alternatives. With this in mind, below is a list of some of the company's highlights.
Positive
Unlimited bandwidth 
Non-sequential IPs
Good proxy speed
Negatives
No support for SOCKS5
Only one authentication method supported 
Poor customer support options
Pros
Depending on your needs, below are some of the reasons why SquidProxies might work for you.
Regardless of the subscription plan you decide to go for, SquidProxies offers unlimited bandwidth. Therefore, you can use the proxies without worrying about the bandwidth.
SquidProxies offers non-sequential IPs for users. These are less likely to be recognized by websites and have a higher success rate.
SquidProxies claims to offer high proxy speed, which most users will appreciate.
Cons
SquidProxies has several areas where it fails to meet expectations. Below are some of the reasons why you might choose to go with a different proxy provider.
The website does not support SOCKS5 protocol, meaning you will have to look for alternatives that offer this feature.
Only one authentication method supported
SquidProxies only supports IP authentication and does not support username/password authentication.
Poor customer support options
The website only offers one method of reaching the customer support team, a ticketing system that might be inconvenient for some users.
Final Verdict
If you are after a simple proxy with minimal features and basic use cases, then SquidProxies might work just fine for you. The product range from this provider is quite limited and might only work for smaller operations. There are no residential proxies or proxies designed to work on particular websites, as with many top-tier providers.
Furthermore, there is no free trial with SquidProxies, and you can't test the proxies via a free tool like other top companies. That is not all. The provider lacks a username/password authentication and does not support SOCKS5 protocol.
With this in mind, our final verdict is that these proxies are best suited for beginners with pretty basic needs. For more advanced use cases, you might be forced to go with more advanced alternatives.
Ratings
Average
Score by our metrics
PROS
Unlimited bandwidth 
Non-sequential IPs
Good proxy speed
CONS
No support for SOCKS5
Only one authentication method supported 
Poor customer support options
Add your review
|
Read reviews and comments
SquidProxies Alternatives
As has been repeatedly stated, SquidProxies is pretty limited in features. Hence, some users might find it lacking and opt for alternatives. Below are some useful options you could go for in case SquidProxies doesn't meet your needs:
IPRoyal is a household name in the world of proxies. It boasts of over 2 million IPs spread out worldwide. It has a wide range of reliable and ethically-sourced solutions from residential and mobile to datacenter and sneaker proxies.
The Social Proxy specializes in 4G mobile proxies with unlimited bandwidth. It supports username/password authentication, unlike SquidProxies, and has a flat payment of €90 for all its features.
NetNut is world-renowned for the ISP-sourced proxies that give it a major advantage over other providers. The company uses DiviNetwork's data delivery services to ensure stable and secure infrastructure.
FAQ
SquidProxies is a legitimate company specializing in private and shared datacenter proxies. The US-based provider is fairly limited in services since its proxies are only designed to do simple tasks.
Does SquidProxies have a money-back guarantee?
SquidProxies has a seven-day money-back guarantee, but you should know that it is not unconditional. This means that the company will only refund you once it has established that it cannot resolve your issue.
Does SquidProxies have an affiliate program?
SquidProxies offers an affiliate program. You can get a 20% commission by referring customers to the platform.