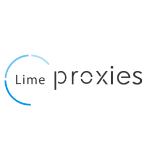 LimeProxies is a well-established company in the proxy industry, selling its proxies ever since 2010. It offers a variety of proxies, promoting itself as the best premium private proxy provider with an awesome support team and millions of IPs that never get blocked.
But that's what the company site says, so it's our job to find out if that's really the case. For that reason, we'll be reviewing LimeProxies and helping you decide if this proxy service has what you need.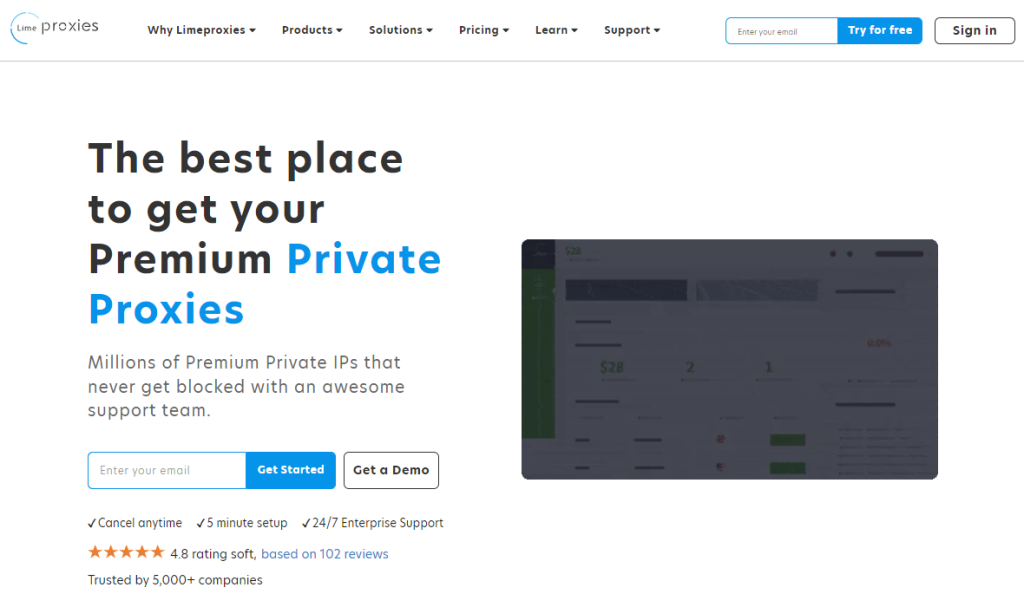 LimeProxies Introduction
LimeProxies is one of the most popular proxy providers on the market, selling a variety of proxies for over 12 years. It offers premium and private proxies as well as dedicated and shared proxies for personal and business use.
What's really amazing about this brand is that it offers a 3-day free trial AND a 3-day money-back guarantee. Also, it allows you to replace your proxy IP on-demand, anytime, and to have up to 25 IPs at a time authenticated for proxy usage. On the other hand, it does have a bit higher prices than its competitors, so we'll see if its proxies are worth buying.
You can use LimeProxies proxies for data scraping, ad verification, ticketing, travel aggregation, online gaming, market research, bypassing geo-restrictions, general browsing, etc.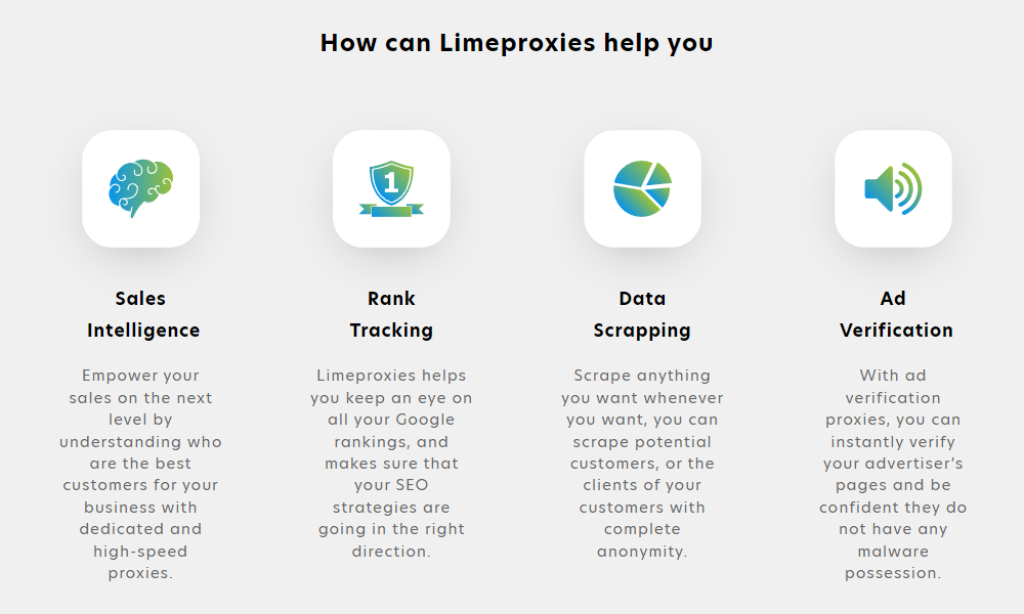 LimeProxies Features
Let's talk about the most important features of any proxy provider, the location coverage, proxy pool size, and source of proxies.
LimeProxies has a great location coverage, offering proxies from almost every country in the world and every city in the United States. But, even though it has over 50 geographical locations, both countries and cities, you can only unlock them by purchasing larger plans when it comes to private datacenter proxies.
In other words, proxy locations are limited by the private proxy plan you buy. Current locations available for private proxies are Germany and a few cities in the US. For premium proxies, including all residential and mobile proxies, all locations are available, but they come at a higher price.
When it comes to the proxy pool size, LimeProxies' network pool consists of over 40 million IPs across the globe, which puts it among the top proxy providers on the market. The company's mobile proxy pool consists of over 2 million IPs, which is very impressive.
All proxies are legally sourced, which means better online security.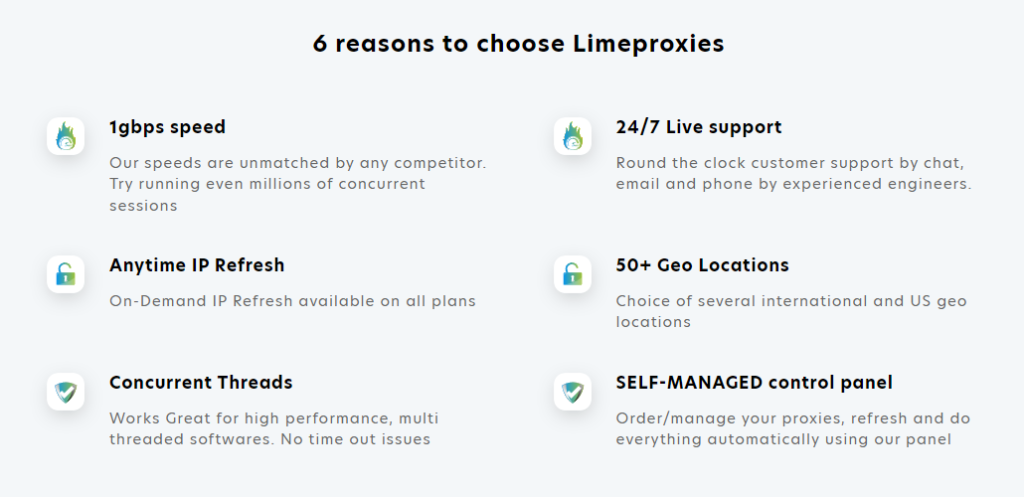 Types of Proxies
LimeProxies is one of the few proxy providers that offer such a wide variety of proxies. It has residential, datacenter, mobile, SOCKS, private, premium, and shared proxies.
One of its main products is dedicated datacenter proxies which are dedicated only to one user at a time. Here, you can choose between private and premium dedicated datacenter proxies.
One of the main differences between them is that with private proxies, you get recycled IPs as opposed to premium proxies which are virgin IPs. Obviously, using virgin IPs is a lot better than recycled IPs as they have never been used before, guaranteeing ultimate security and the highest possible success rates for any purpose.
Unlike private proxies, premium proxies support session control and SOCKS connections.
Another LimeProxies product is dedicated residential proxies. You have access to both static and rotating residential proxies no matter the plan you choose. Country, state, and city-level targeting are supported.
In terms of mobile proxies, the company gives you dedicated access to real residential cellular 3G/4G IPs that support a country, state, city, ASN, and carrier targeting. Mobile static and mobile rotating proxies are both available in every plan.
LimeProxies also has SOCKS proxies and shared proxies as separate products, but you'll have a hard time finding them on the site. We had to Google them and find the LimeProxies pages for these products. Shared proxies support sticky IP sessions, and you have options to choose between shared residential and shared datacenter proxies.
This proxy provider supports IP authentication and username/password authentication for all of its proxies.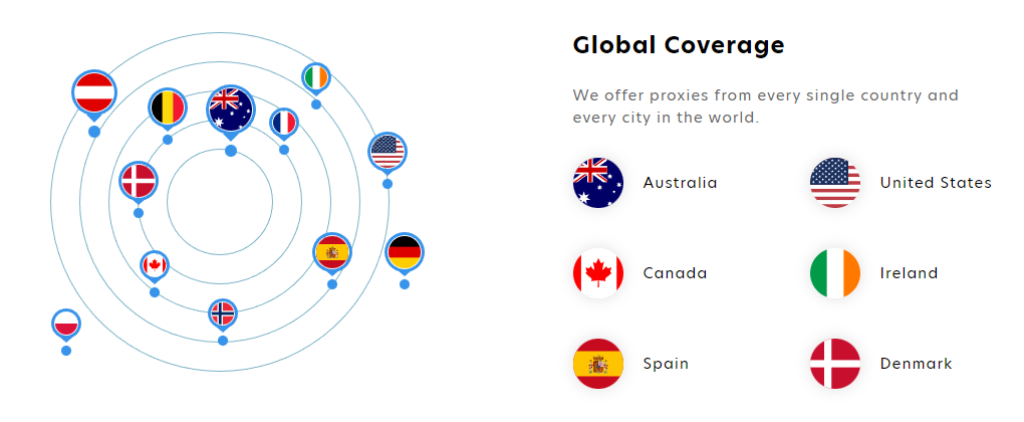 LimeProxies Proxy Speed and Performance
LimeProxies's private proxies have a maximum speed of 100Mbps, which is slow compared to other providers. Premium proxies are considerably faster, with a maximum speed of 1Gbps. The average proxy response speed of residential proxies is 0.3 s, and so is the average speed of mobile proxies.
Each subscription plan has a different bandwidth limit, so you can choose the one that's convenient for you. With 99% monthly average uptime, these proxies are very reliable.
Additional Tools
A super useful feature of this proxy provider is that it provides an API for its proxies. You can integrate it into your applications for automatic configuration of the proxy settings.
Purchase Simplicity
Buying proxies from LimeProxies is a no-brainer. You find the plan you want and go to the Subscribe page, where you select the desired payment method. Then you enter the required personal and billing information, and you complete the order.
The dashboard interface is simple and user-friendly. At the same time, it's well thought out as it allows you to monitor proxy plans and traffic usage, authorize IPs, and add and spend credit.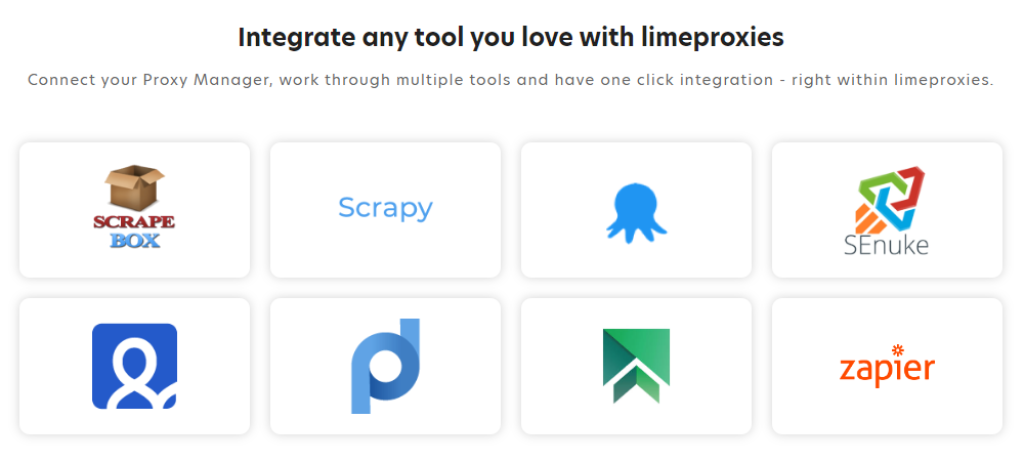 LimeProxies Pricing
The pricing model of LimeProxies is different for each product. For datacenter proxies, it's based on the number of IPs. The lowest plan provides you with 10 private datacenter proxies from 10 subnets for $25 or 10 premium datacenter proxies from over 100 subnets for $50.
This means paying $2.5 per private proxy and whooping $5 per premium proxy. Compared to most datacenter proxy providers, this is very expensive. However, the price gradually decreases as you order more proxies.
So, for 1,000 private datacenter proxies, you have to pay $750, which is $0.75 per proxy, and for 1,000 premium datacenter proxies, you have to pay $1,500 or $1.5 per premium proxy. This means LimeProxies datacenter proxies are more affordable for businesses that need a large number of IPs as opposed to individuals.
For residential and mobile proxies, LimeProxies charges you based on the bandwidth limit of the plan you choose. So the lowest residential and mobile proxy plans include 5 GB of bandwidth and cost $75, or $15 per GB. The price per GB reduces as the bandwidth you order increases.
Although LimeProxies doesn't have the cheapest proxies on the market, it's one of the rare companies that offer both a free trial and a great refund policy. It allows you to try its proxies for three days for free, as well as return your money if you're not satisfied with the proxies within three days of purchase. This is one of LimeProxies's biggest strengths and speaks about the company's confidence in the success and functionality of its products.
However, the company says its proxies don't support sneaker websites, so if you use them for copping sneakers without success, you won't get a refund. Something to keep in mind.
LimeProxies supports multiple payment methods, including MasterCard, Visa, Discover, American Express, Wire Transfer, PayPal, and cryptocurrency.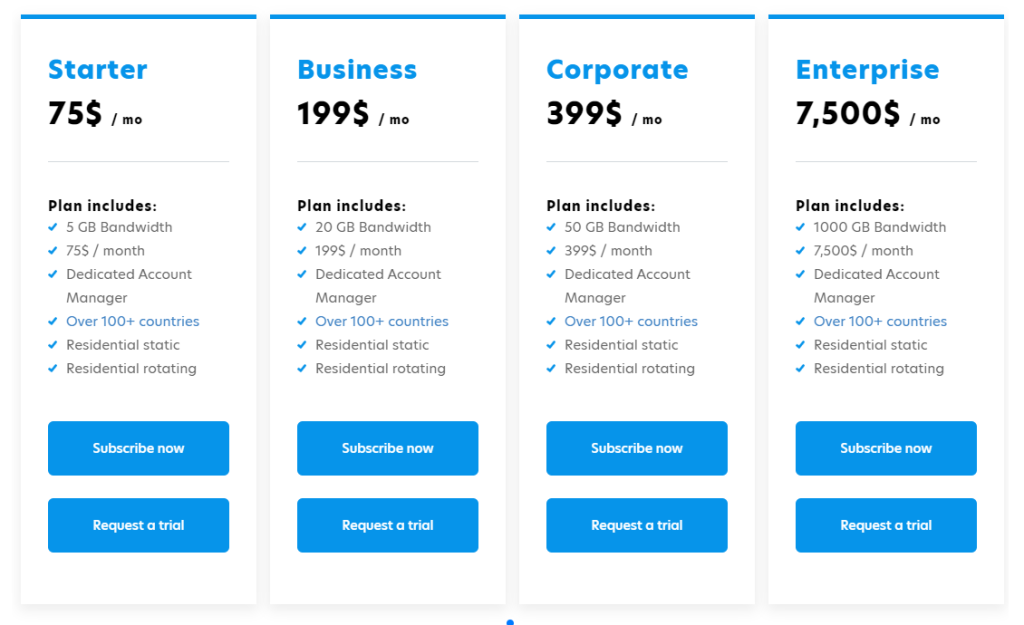 LimeProxies Discounts
The price of proxies or bandwidth reduces as you order more proxies or bandwidth, as usual with most proxy providers. But, you can always look for some discount codes to make its proxies a bit more affordable.
Is LimeProxies Legit or Scam?
LimeProxies is a legitimate company offering a wide range of proxies for over a decade. Over 5,000 companies have decided to trust LimeProxies for their business purposes, so you can rest assured that its proxies are reliable. You can also find a lot of individual proxy users praising the service all over the internet.
Customer Support
Good customer support is the backbone of any serious proxy provider, so we can say LimeProxies has its clients covered. You can get in touch with someone from its staff at any time by starting a live chat or opening a ticket.
Users are describing LimeProxies customer support as friendly, helpful, and polite. Most importantly, they say they always get instant replies which help them solve their issues quickly.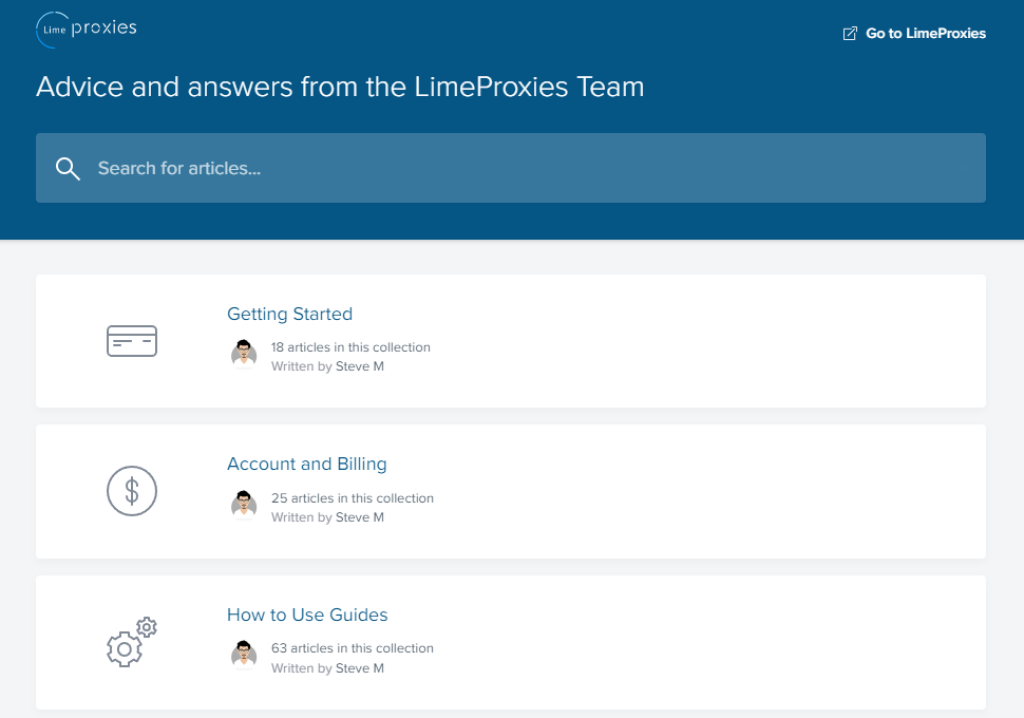 Can You Earn Money With LimeProxies?
Yes, you can join its affiliate program and earn a fee for each new customer you bring. The affiliate program of this proxy provider has been very successful since its launch, so you can try it for free.
LimeProxies Pros and Cons
Let's see the biggest pros and cons of LimeProxies so you can better decide if you want to go with this proxy provider or look for another option.
Positive
A huge variety of proxies
A massive proxy pool
Excellent location coverage
Good premium proxy speed
Dual authentication support
Session control
Static and rotating IPs
100+ subnets
Virgin SOCKS proxies
City, country, state-level targeting
99% Uptime
API
Good discounts
A 3-day free trial
A 3-day money-back guarantee
On-demand IP refresh
Supports multiple payment methods
Great customer support
Affiliate program
Negatives
Expensive proxies
Slow private proxies
No SOCKS support for private proxies
Limited location availability for smaller plans
No sneaker website support
Final Verdict
LimeProxies is a reputable and reliable proxy provider that can provide you with a variety of proxies and great customer support. It has fast premium proxies but slow private proxies, so basically, you get what you pay for.
Still, its proxies are a bit more expensive than other providers, but you can easily find a 50% off coupon code. If you're looking for proxies for copping sneakers, however, you should look elsewhere.
Ratings
Good
Score by our metrics
PROS
A huge variety of proxies
A massive proxy pool
Excellent location coverage
CONS
Expensive proxies
Slow private proxies
No SOCKS support for private proxies
Add your review
|
Read reviews and comments
LimeProxies Alternatives
Here are a few other options to consider if you're not sure LimeProxies is the best proxy provider for you:
IPRoyal – unlike LimeProxies, this provider has much more affordable and fast proxies that support SOCKS connections and copping sneakers.
Bright Data – this company has a larger proxy pool, location coverage, and free trial than LimeProxies.
Shifter – unlike LimeProxies, this proxy provider offers proxies with unlimited bandwidth and supports online shopping on sneaker websites.
FAQ
How Many concurrent connections can clients use?
LimeProxies allows up to a hundred concurrent threads by default. You can request a limit increase by contacting the support team.
How often can LimeProxies servers be refreshed?
Your proxies will refresh once per month, but you can require a new one by contacting the LimeProxies support team via live chat.
What type of authentication does LimeProxies provide?
LimeProxies proxies are authenticated by your IP by default. But, you can request a username/password authentication at any time by contacting the support team.