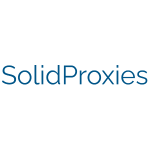 SolidProxies is a proxy provider that sells semi-dedicated and dedicated proxies. Even though you can't really find out anything about this company except that it sells these two types of proxies, its affordable semi-dedicated proxies are a reason enough to learn more about it.
That's why we've decided to gather all information available for SolidProxies and deliver our honest review of its service so you can make an easier and better buying decision.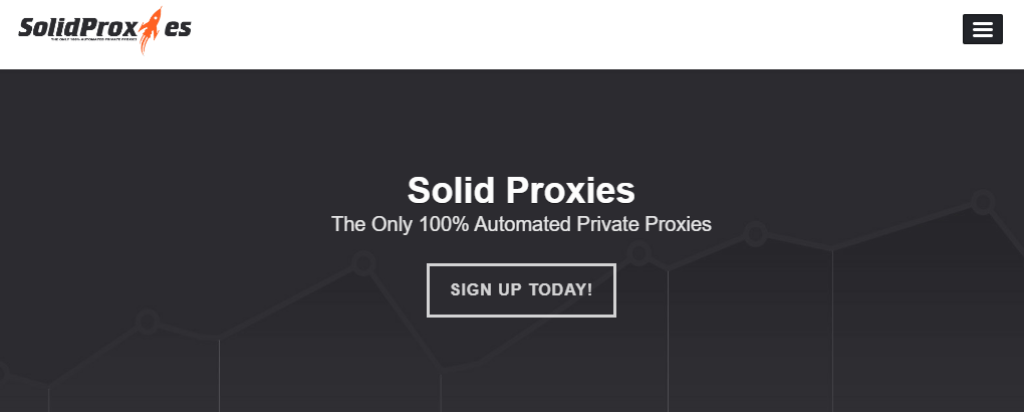 SolidProxies Introduction
SolidProxies is not a popular name in the proxy industry, but it may be worth knowing. With so many companies offering a wide range of proxies with different features and prices, choosing the best one for your needs and budget can be challenging. The worst part is that some of them are scams and just want to take your money and leave you without proxies.
To avoid that, you should always learn more about the proxy service before subscribing. When it comes to SolidProxies, it seems not many people talk about it on the net. We couldn't find any recent customer reviews although we did find a few posted several years ago.
Some of the things we know about this provider are that it sells HTTP semi-dedicated and HTTP dedicated proxies that are GSA SER friendly, so you can use them for GSA scraping and posting. The company, however, offers no refund policy. But, let's find out more by discussing SolidProxies features.

SolidProxies Features
The most important features of any proxy provider are its proxy pool size, location coverage, and the source of its IPs.
SolidProxies offers proxies from the USA and Europe without specifying countries or cities. No matter which type of proxy and plan you choose, you'll get proxies from these two locations. When we tried to buy a proxy plan, we found that the company is out of stock, so we couldn't make an order and see whether it allows you to choose a specific location or you get proxies from random locations.
There's no information about the company's network pool size or how it collects its IPs. The lack of information about SolidProxies features is definitely a flop and makes you doubt the quality of its service.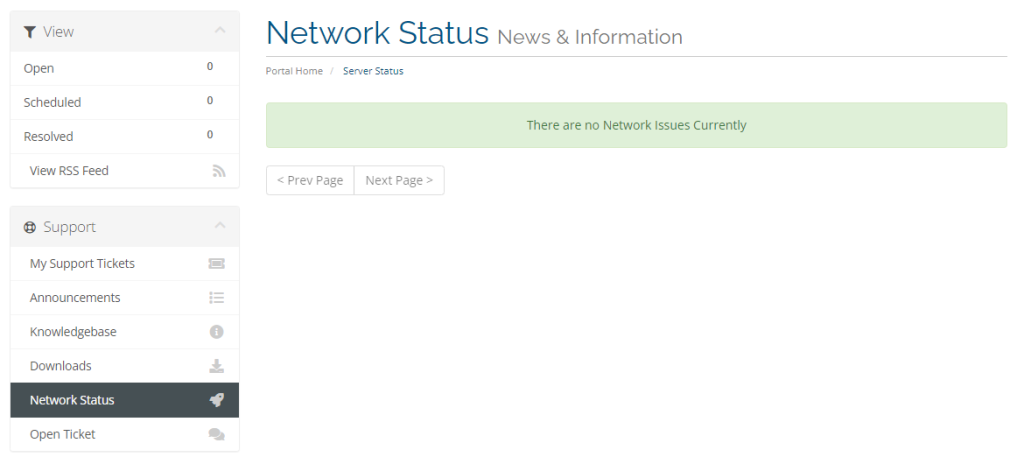 Types of Proxies
As you already know, this proxy provider offers semi-dedicated and dedicated proxies. But, we'll discuss what each of these types means and what you'll get by ordering one over the other.
With dedicated proxies, you know you're the only user of the proxies you buy, giving you total control over proxy security and bandwidth. You get exclusive IPs that are not shared with anyone else. Since you don't share bandwidth with other proxy users, you enjoy a faster connection that's ideal for almost any online task.
With semi-dedicated proxies, you get proxies that are shared by up to three users. Although they don't provide the same level of anonymity, security, and speed as dedicated proxies do, they are significantly cheaper. But, they can still keep you anonymous online if you use them for general browsing.
All SolidProxies proxies are private datacenter proxies that support HTTP connections only and IP authentication. They come from two, three, or four subnets, depending on the plan you choose. Any blocked/dead proxies are instantly and automatically replaced with fresh proxies from SolidProxies proxy pool which is great.
On the downside, the provider doesn't support SOCKS connections. Also, all packages are limited to one connection only.
SolidProxies Proxy Speed and Performance
All proxy plans from this provider come with unlimited bandwidth, so you don't have to care about bandwidth usage. They feature 1 Gbit speeds, so although it's not the fastest speed you can get for dedicated proxies, it's still a decent speed to get most proxy tasks done.
Additional Tools
The most common additional tools offered by companies in the proxy business are scrapers, proxy speed checkers, and API. SolidProxies has an API that helps you export a fresh proxy list from GSA SER, so bonus points for that.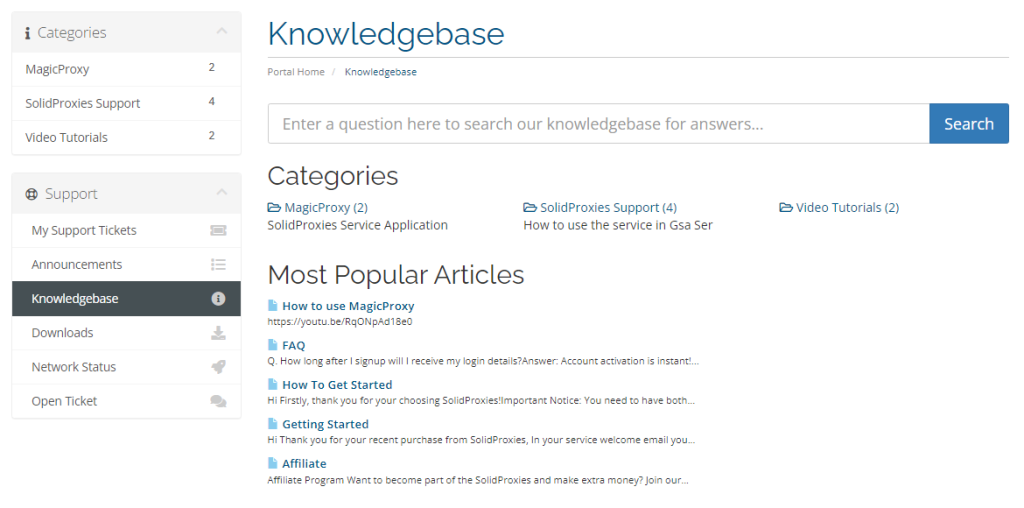 Purchase Simplicity
Buying SolidProxies proxies is pretty easy due to the simple user dashboard. The service site is as simple as it can get, asking you to choose one from the three main categories, one of which is "Order Hosting." Interestingly enough, you can choose the category of proxies you want by clicking on this button, each offering four different plans.
Once you pick the ideal plan for you, you click "Order Now" and enter the required personal and billing information. SolidProxies will instantly activate your account and once the site's payment processor approves your payment, you'll get an activation mail with detailed instructions to help you get started.
In fact, the site features a great "Getting Started" page that explains all this in detail, so you won't probably have problems setting up your proxies and getting them to work.
One thing to keep in mind, however, is that you can't use SolidProxies automated proxies mixed with proxies from other providers.
SolidProxies Pricing
Just as with other proxy providers, SolidProxies semi-dedicated proxies are cheaper than its dedicated proxies. That's because dedicated proxies provide a higher level of online anonymity, security, and control.
In terms of its semi-dedicated proxies, they come at a low price. The lowest plan consists of 10 HTTP semi-dedicated proxies and costs $16.50 a month, which means you get one proxy per $1.65. But, if you order more proxies, for example, 100 proxies, you'll get them for $124.50 a month or $1.24 per proxy.
Dedicated proxies are almost double the cost of semi-dedicated proxies. The lowest plan consists of 10 HTTP dedicated proxies and costs $32.50, which makes one proxy cost $3.25. The price per proxy decreases as you order more proxies, so higher plans providing 50 proxies or 100 proxies cost $124.50 or $239.50, respectively. This means you'll get one dedicated proxy for $2.49 or $2.39.
Compared to other dedicated proxy providers, SolidProxies dedicated proxies are affordable, although you can find cheaper alternatives.
The lack of a free trial and refund policy is one of the biggest downsides of SolidProxies. While most proxy providers try to offer at least one of these two features, this company expects you to trust it without getting a chance to test its proxies before buying them or getting your money back if they are not compatible with your targeted site or service.
The only thing SolidProxies offers is a full proxy replacement in case your proxies don't work as described on its site. If this is their way of assuring you that you won't end up without your money and proxies, they should've offered you a free trial or some kind of money-back guarantee. At least that's what we think.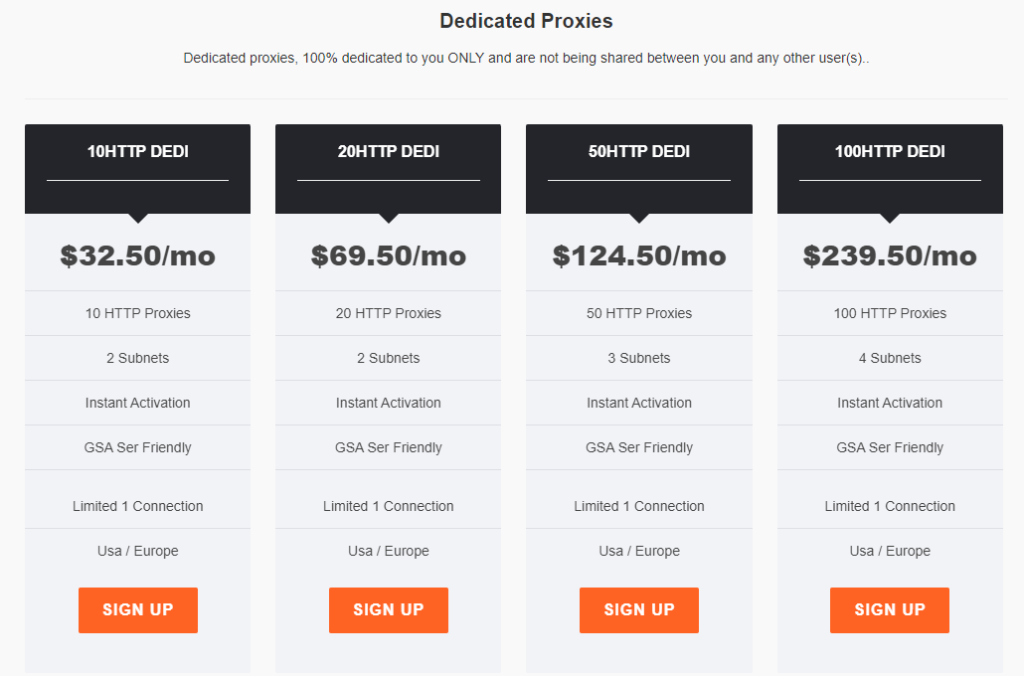 SolidProxies Discounts
Except for a reduction of the price when buying a higher number of proxies, you probably won't get another discount from SolidProxies, at least for now.
Is SolidProxies Legit or a Scam?
Despite the lack of information about SolidProxies service, it's a legitimate proxy provider that sells HTTP dedicated and semi-dedicated proxies. Although it doesn't have a refund policy, you won't have to spend a lot to try its proxies as they are quite affordable.
Customer Support
The only way to reach SolidProxies is to open a support ticket and wait for a reply. The lack of live chat support is a drawback as most proxy users prefer chatting with a live agent that will help them solve their issues ASAP.
On the good side, you will probably get a reply to your email within 24 hours. So it's not all bad after all.
Can You Earn Money With SolidProxies?
Yes, SolidProxies allows you to earn extra money by joining its affiliate program for free. As a member, you will earn 5% referral commissions by sending new customers to SolidProxies site.
You'll also get access to the company's affiliate dashboard, where you can see stats about your performance as an affiliate marketer, the number of visitors you've helped become SolidProxies customers, and the time you'll get paid commissions.
SolidProxies Pros and Cons
Let's compare SolidProxies's biggest advantages and disadvantages that will help you see what to expect if you decide to subscribe and use its proxies.
Positive
Decent location coverage
Private dedicated and semi-dedicated datacenter proxies
Decent proxy speed
SA SER friendly
API
Easy to purchase
Instant account activation
A great Getting Started page
Blocked/dead IPs instantly replaced
Affiliate program
Negatives
No information about proxy pool size
No country/city/state targeting
No residential proxies
No free trial
No refund policy
No SOCKS support
No live chat support
Limited to one connection only
No discounts
Final Verdict
SolidProxies is a good proxy provider if you're looking for cheap HTTP semi-dedicated and affordable HTTP dedicated proxies for running GSA SER effectively. However, don't expect live chat support, blazing speeds, or a refund policy in case you're not pleased with its service.
If you need SOCKS proxies or residential proxies, you better look for an alternative, especially if you plan to use them on Mac.
Ratings
Average
Score by our metrics
PROS
Decent location coverage
Private dedicated and semi-dedicated datacenter proxies
Decent proxy speed
CONS
No information about proxy pool size
No country/city/state targeting
No residential proxies
Add your review
|
Read reviews and comments
SolidProxies Alternatives
If SolidProxies is not a good fit for your proxy needs, here are a few other providers to consider:
IPRoyal – unlike SolidProxies, this company offers ethically-sourced residential and datacenter proxies with HTTP and SOCKS support, blazing speeds, and excellent location coverage.
ActProxy – this proxy provider sells dedicated and shared proxies from 64 subnets, supports SOCKS protocol, dual authentication method, and has a 3-day refund policy.
Flipnode Proxies – unlike SolidProxies, this proxy provider offers HTTP and SOCKS residential proxies and offers a 3-day money-back guarantee.
FAQ
What forms of payment do SolidProxies accept?
Currently, SolidProxies accepts Visa, Mastercard, Amex, PayPal, and Discover through 2Checkout. This is a good variety of payment methods supported by a proxy provider.
What is the maximum connection limit?
Each SolidProxies plan is only limited by the number of PCs you can use simultaneously.
Does SolidProxies offer a scraper?
No, SolidProxies doesn't offer a scraper, at least for now. The only additional tool it has right now is API.