The use cases of proxies have increased tremendously in the past few years. Nowadays, censorship regulations are becoming more stringent, meaning not all content on the web may be available to you.
Furthermore, internet security has become an issue of growing concern in the past few years. Identity theft cases are on the rise, and users need efficient ways of protecting their online activities.
Proxies are efficient tools that can aid in the situations mentioned above. Keep in mind that these are just but a few use cases. In all truth, dozens of situations might warrant proxies.
With this in mind, this post will dive into the nuts and bolts of Rayobyte. This US-based proxy company belongs to the Sprious umbrella, a conglomerate specializing in data intelligence and web scraping.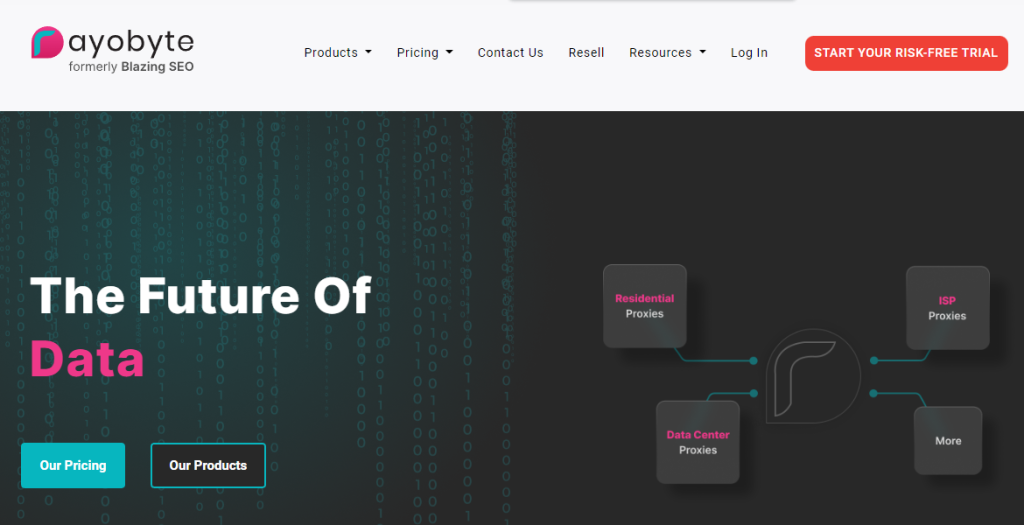 Rayobyte Introduction
The company is renowned for its datacenter proxies targeted at SEO engines and business persons affiliated with SEO marketing. The company adopted a unique marketing strategy that perhaps played a role in its success since its introduction.
For instance, the company's CEO would personally log on to online forums and interact with customers where he would answer their questions. Furthermore, the service delivery at the time was top tier. Traffic was delivered on 1 Gbps lines, and the service delivery was quite fast.
One of the biggest Rayobyte advantages is that it has something for everyone. While most providers decide to service the hustlers or enterprises, this company has a wide array of services.
As of 2021, the company set up on an intensive rebranding and expansion campaign where it dived into ISP, residential and mobile proxies. Although it is still in beta, the residential proxy plans are expected to bring in more clients for the company.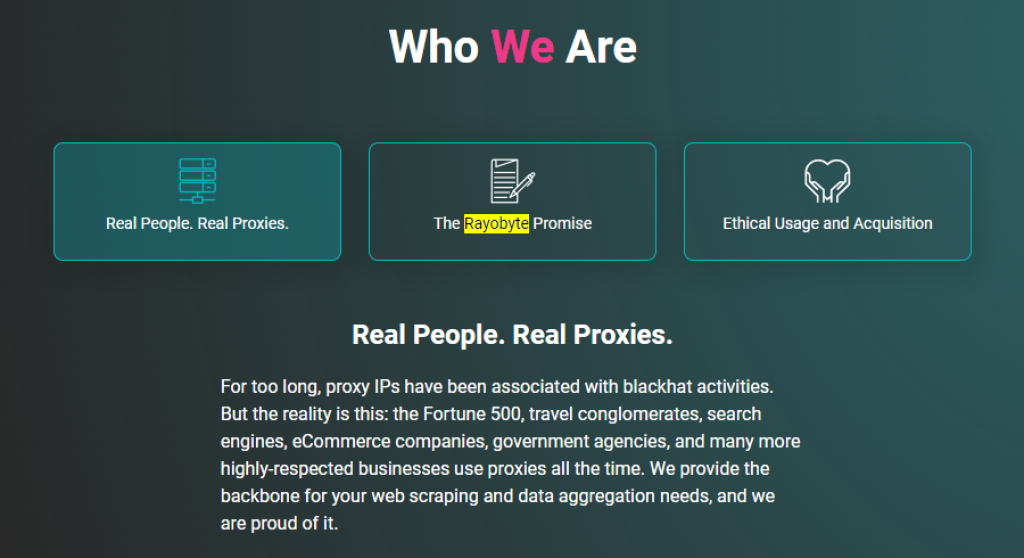 Rayobyte Features
While the IP pool in Rayobyte is not the best in the industry, it is still pretty impressive and can be trusted to handle even the most complicated tasks. The company claims to own close to 300,000 datacenter IPs spread out across 20,000 C-class subnets. This is quite impressive since it lowers the likelihood of the banned IPs.
The IPs come from nine different ASNs, increasing the success rate since some sites can ban a whole ASN. Hence it is a good idea to have multiple ones. Most of the addresses are from the US, but the company offers IPs from 30 countries.
You should note that the company does not utilize third-party data centers like many other providers. Instead, the proxies are from company-owned data centers in different regions.
The static residential IPs from Rayobyte are pretty limited at the moment since they are only a year old. Accordingly, the company has 3,000 IPs in three different ASNs. These IPs only come from the US, and the company claims it sources them from major providers like Verizon.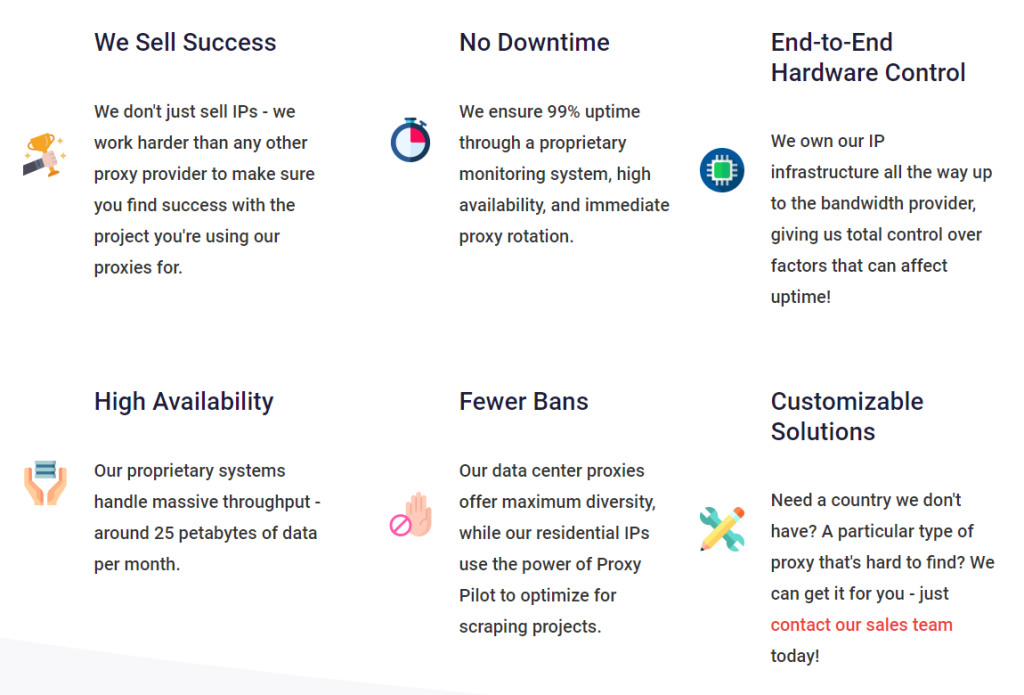 Types of Proxies
With Rayobyte, you get four different proxy types: datacenter proxies, ISP proxies, rotating ISP proxies, and mobile proxies. Each of these comes under various subscription plans and with varied features.
The datacenter proxies run on 1 Gbps lines, but this does not mean you will get the full bandwidth since they are shared. The speeds are still pretty decent, with no limits on bandwidth or threads.
When it comes to locations, they are spread out according to the type of datacenter proxy. You can get dedicated IPs in over 30 countries, semi-dedicated IPs in 10 countries, and finally, rotating IPs in four countries.
The rotating package comes with access to a backconnect gateway server from which you can access different ports. This package comes with a proxy pool that is 20 times the number of the ports you buy.
It is also worth noting that Rayobyte datacenter proxies support the SOCKS5 protocol, along with IP authentication and password/username authentication.
The residential proxies from Rayobyte are still in their infancy stages, given the company only recently started selling the servicer to its customers. As of July 2021, the company had 3,000 proxies from three different ASNs.
One significant downside of this package is that it has no support for rotation since they come in a list. However, these proxies support SOCKS5, a definite plus for users.
The ISP proxies have unlimited bandwidth and threads and come with username/password and IP authentication. They also support both HTTP(s) and SOCKS5 protocol.
The mobile proxies from Rayobyte are still new and lack features. The company does not specify which features these proxies support, and it still does not specify the number of IPs available and from which regions.

Rayobyte Proxy Speed and Performance
Overall, the datacenter proxies from Rayobyte work pretty great, but you might be forced to replace the IPs from time to time when they fail to work on specific targets. They have a success rate of 78.97 percent, with an average response time of 1.76 seconds.
However, while these proxies have a decent success rate, they might not work for big sites like Google and Amazon, so it would be good to look for alternatives here. Overall, their average success rate is 85.8%.
Most of the static residential proxies from this company are registered under Verizon, with a much higher average success rate of 95.75% with an average response time of 1.78 seconds.
It is worth noting that the static residential proxies are much slower than their datacenter counterparts. This, however, does not mean that they can not perform optimally with an average speed of 22.4 Mbps.
Additional Tools
Rayobyte offers several tools designed to make your experience with their proxies easier. The first is the Proxy Pilot, which is still in beta. The company claims that this tool is designed to be an interface where you can easily manage all your proxies.
According to Rayobyte, the Proxy Pilot can do automatic retries on your behalf in the background. The tool can also handle cooldown logic, an alternative to spamming websites with many requests. This way, it relays the requests between different IPs.
The tool can also detect bans and help you avoid them, making the proxy service way more efficient. It also supports geotargeting and provides advanced statistics.
Rayobyte also offers a scraping robot for users interested in scraping data off the web. The tool is developer-friendly with structured JSON output and is priced according to the amount of data you need to scrape off the web.
Finally, the proxies from Rayobyte come with access to an API that is designed to complement the user experience. The API can automatically pull the proxy list and save you the hassle of manually inputting the proxies.

Purchase Simplicity
The Rayobyte dashboard is pretty intuitive and user-friendly. You need to note that the registration process is pretty lengthy, and it can take a while, as you will have to fill out a long form.
After registration, the IPs are available within 30 minutes of purchase, and you can use the dashboard to manage your account. One of the most convenient features of this platform is that you do not need to contact the customer support team whenever you want to upgrade or downgrade a plan.
You have to fill in the number of proxies you want to add or remove, and the system handles the rest. However, you can only do this for proxies native to your current plan. Whenever the proxy is not working optimally, you can replace it at the touch of a button, and a new one will be made available within an average time of 30 minutes.
Rayobyte Pricing
Rayobyte has a rather broad pricing structure that can fit different customers. Each type of proxy has a different pricing plan than the other. Some customers have complained that they did not get what they wanted after making the purchase, and the company has agreed that the plans can get confusing.
Surprisingly, the company has done nothing to correct this situation, and the pricing plan remains the same. Under residential proxies, you get four different plans from the 'Starter' plan, which costs $60 per month with a bandwidth cap of 15 GB. The most expensive plan is 'Corporate,' which has a bandwidth cap of 999 GB and costs $2,000 monthly.
The ISP proxies are priced on a per IP model, with the 'Starter' plan going at $5.00 per IP and the 'Corporate' plan going for $4.60 per IP. The datacenter proxies have another pricing plan where each package has options ranging from dedicated to ISP proxies. Again, each of these proxies is priced on a per IP model.
Finally, the mobile proxies come in three different packages. The 'Starter' plan goes for $50 per month, while the 'Business' plan goes for $300 per month, and finally, the 'Enterprise' plan goes for $600 per month.
The company also offers a 2-day free trial on its plans and a 1 GB free trial on its residential proxies. Unfortunately, Rayobyte does not provide a money-back guarantee for its services, a significant downside.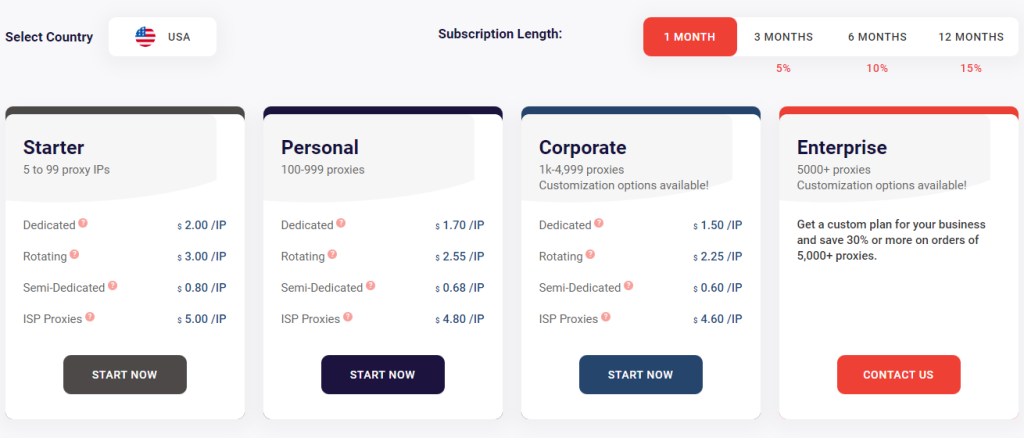 Rayobyte Discounts
Rayobyte offers discounts based on the order subscription length. You should note that the discounts do not apply to all packages from the company. The only offers with discounts are ISP and datacenter proxies, which is not great.
You only get a discount if your purchase the datacenter proxies under the 3-month subscription: a 5% discount. The 6-month plan gets you a 10% discount, and the 12 months plan gets you a 15% discount.
With ISP proxies, you get a discount based on the number of proxies you buy. For instance, in the 'Personal' plan, you save 4% on orders between 100 to 999 proxies. The 'Corporate' plan lets you save 8% on orders between 1,000 to 4,999 proxies. Finally, the 'Enterprise' plan lets you save up to 30%.
Is Rayobyte Legit or a Scam
While Rayobyte claims to deliver legitimate and top-tier services to its customers, the customer service reviews say otherwise. The company has a Trustpilot rating of 3.0 stars, which is below average in the industry.
Seemingly, most customers claim that the proxies only work for a specific timeframe and become obsolete after that. Keep in mind that this is within the subscription period. Other customers complain that customer service is poor and that the SOCKS5 proxies do not work.
Overall, the customer reviews show that Rayobyte still has a long way to go to meet customer demands. While it is a legitimate company, its service seems below average and below customer expectations.
Customer Support
Rayobyte offers several methods of reaching the customer support team. You can contact the agents straight from the dashboard using the live chat option, or you can choose to create a ticket. The company also offers an email address to reach the service agents.
It is worth noting that the customer support response time is not at all great. On average, the agents take two hours to respond to customer queries, which is long compared to Rayobyte's competitors.

Can You Earn Money With Rayobyte?
Rayobyte has an affiliate program for users interested in earning money with the platform. Once you sign up for the program, Rayobyte issues you with a unique link or coupon, which you will use to invite your customers, contacts, or users to the platform.
Rayobyte then issues you with a commission for all the customers you bring in. The signup process for this program is quite straightforward. You have to provide a few details, and you are all set.
Rayobyte Pros and Cons
Rayobyte excels in some areas and fails to show its work in others, making it lag behind its competitors. Below are some of the Rayobyte pros and cons.
Positive
Relatively fast proxies 
Location diversity 
Proxy tools 
Negatives
Too many pricing plans 
Poor customer support 
Pros:
The proxies from Rayobyte have good speeds suitable for all manner of tasks.
Rayobyte has proxies in over 30 locations.
Rayobyte has several tools for a better user experience, including Proxy Pilot and an API.
Cons::
Some customers have complained of getting confused with the pricing plans of this company.
The customer response time from this company is not at all great.
Final Verdict
Rayobyte has come a long way since it hit the market in 2015. Its datacenter proxies are amazing and robust, although they are a bit expensive for the average consumer. With 20,000 subnets, Rayobyte is a top-tier premium proxy provider.
If the company's word is anything to go by, users are bound to enjoy working with the proxies since control is left to the consumer. With the extensive documentation, everything should flow smoothly. However, the customer support response time could be improved, given the agents take too long to respond.
However, if customer reviews are anything to go by, Rayobyte has yet to fulfill customer expectations. Therefore, we would recommend getting to know the company first and understanding the broad pricing structure before working with its solutions.
Ratings
Rayobyte Alternatives
While Rayobyte has its upsides, it also has its downsides. If this company does not work for you, several others might meet your expectations. Below are some Rayobyte alternatives and some of their top features:
Formerly known as Luminati, Bright Data is one of the top proxy providers on the market today. They offer three types of proxies: residential, private, and shared.
With more than 33 locations available, SSL Private Proxy is another great alternative to Rayobyte. It has amazing customer support with above-average response times.
This is an excellent alternative for sneakerheads. While Rayobyte has a variety of use cases, MarsProxies is solely dedicated to offering the most versatile and reliable sneaker proxies.
FAQ
Yes, Rayobyte is a legitimate proxy service provider based in the US. The company specializes in different kinds of proxies, such as datacenter and static residential proxy servers.
Does Rayobyte support SOCKS5?
Yes, all proxies from Rayobyte support SOCKS5. This is a big plus since it is a feature mostly found with premium providers.
Does Rayobyte offer a free trial?
Yes, Rayobyte offers a free trial. However, it also does not offer a free tester tool like other premium providers.