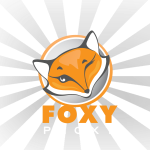 Since the invention of the internet, life as we know it has taken a turn for the better. It has become interwoven in every aspect of life. In fact, so important has the web become that it is now the preferred method of communication.
Whether you are ordering a pizza, talking to a friend over your phone, or sending a picture to someone, chances are high that the internet is involved. Before this marvel of technology was invented, you had to keep up with the news and walk up to the newsstand to get the latest scoop on what was happening around you.
Today, you can do all this from the comfort of your home using your device. In truth, the range of conveniences created by the internet is endless. At the same time, some issues can limit your access to the web. Users can become frustrated with complications like geo-blocks, copyright laws, government and institution policies, and security in general.
You can avoid all these problems by using proxies, tools simply designed to mask your IP address and provide an alternative one. In doing so, your internet activity and location become anonymous and inaccessible to any party.
While proxies are efficient tools, getting access to a reliable, reputable proxy is not always easy. Given the minimum threshold of venturing into this niche, many companies are claiming to offer state-of-the-art proxy services.
On the one hand, as a user, you get many options to choose from. But discerning reputable companies from shady ones is not always that easy. That said, this review will dive into one of the well-known proxy service providers, FoxyProxy. It is intended to give you an expert review of this company and help you decide if this provider deserves your money.
FoxyProxy Introduction
FoxyProxy is one of those companies that has been in the business for a while. In fact, it might be as well accorded the title of proxy service pioneer, given it entered the market way back in 2006.
This company offers proxy services bundled up together with a VPN. You should, however, note that you cannot use these two services simultaneously. The American company offers services under three different subscription plans: monthly, bi-annual, and annual.
We were not impressed with the website since it looks pretty outdated. One might think that the company has maintained the same website design since its inception in 2006, which does not say much about growth. Nevertheless, the website is less important if the service is top tier, which remains to be proven.

FoxyProxy Features
Our analysis showed that this provider might not have the features to match up to other top-tier proxy service companies. We drew this conclusion from several observations. For one thing, this provider seems to be quite shady about its service. While it mentions support for 81 locations, we noted other website sections specifying location support in over 110 countries.
This discrepancy may just be a marketing trick, as a user is more inclined to work with the company if it has support for many countries. But, it begs the question, how many countries des FoxyProxy proxies really support?
To get the full report on the supported countries, you must navigate to the FAQ section, where you will find a list of 127 supported countries. The provider also does not specify how it governs its network leading us to believe that this info might drive away potential customers.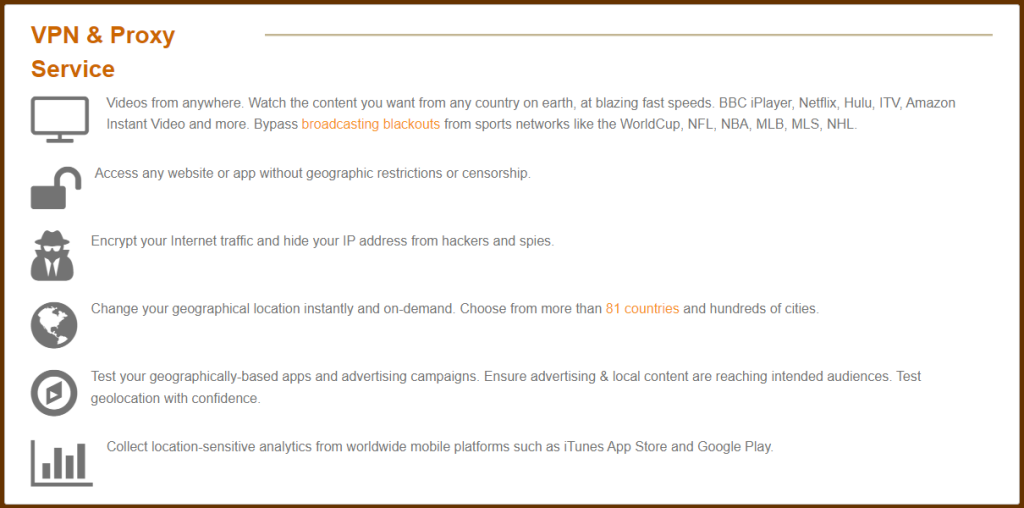 Types of Proxies
As mentioned earlier, FoxyProxy is quite shady about its service. We found it quite bizarre that the website does not mention what kind of proxies it offers users. Yes, there is no mention of either datacenter or residential proxies on the site. This is indeed odd.
We scoured the website and found that while the provider does not specify the kind of proxies supported, it mentions support for HTTP(S) and SOCKS5 protocols, which is pretty impressive, especially where the SOCKS5 protocol is concerned. You also get username/password and IP authentication methods when you sign up for the service.
Evidently, the lack of information on the type of proxies available is a big letdown. The worst part is that users will likely have no clue what kind of proxies they are purchasing. What if a user prefers residential proxies over datacenter proxies? This is a big downside.
FoxyProxy Proxy Speed and Performance
FoxyProxy does not say much regarding the speed of its proxies. We scoured the website, hoping to find information regarding the speed of the proxies but could not find anything worthwhile. However, they do mention that you get broadband speeds under all the packages.
We contacted the support team in hopes of getting more info on the proxy speeds. While they did not give us a definite answer, the information they provided was quite helpful. Accordingly, they mentioned that they do not limit connection speeds on their end, which is quite great. Factors such as location and your distance from the destination server determine the speed.
While proxy network performance will play a significant role in speed, a proxy will not necessarily make your internet connection faster. Here, different factors such as the ones mentioned above will come into play. Regardless, we expected to find detailed info on these proxies' performance.
Additional Tools
FoxyProxy has done a pretty decent job of providing additional tools to make the customer experience flawless. Under the proxy package, the company offers browser extensions. We were particularly impressed with the diversity, as the company provides several extensions for all the major browsers. They are designed to make the process of using the proxies much easier. With these tools, you can easily configure the proxies and switch between them as you wish without having to mess around with system settings.

Purchase Simplicity
We were not in any way impressed with the FoxyProxy webpage. It lacks that modern feeling, and one would assume that the company has not changed its layout since its initial design more than ten years ago. We noted several flaws while trying to sign up for the site. For instance, we could not locate a signup button. Seemingly, you have to purchase a proxy when signing up, which is a significant letdown.
For you to sign up to access the service, you must navigate to the different packages available and enter your details. One would assume that your name and email would be enough, but it is not as easy as that. You also have to provide your payment details, which is quite odd. Hence, purchasing proxies from this company is quite complicated.
It would be better if the company allowed users to sign up without necessarily forcing them to buy the proxies. This would allow customers to view the dashboard and see the different features before deciding whether or not to make a purchase.
FoxyProxy Pricing
After our analysis, it was apparent that FoxyProxy is not in any way diverse when it comes to pricing. We expected different pricing plans for the VPN and proxy services, but these are under the same packages even though you are not supposed to use them simultaneously.
Accordingly, three different subscription plans are available, covering both the VPN and the proxy packages. These are the monthly, 6-month, and annual packages. The only significant difference between these options was the pricing and the period. Otherwise, the features remained pretty much the same.
On the flip side, you get a seven-day money-back guarantee period. While the company issues refunds at its own discretion, the website says that FoxyProxy offers them for 'almost any reason,' which is quite impressive. We could not find a mention of a free trial on the website.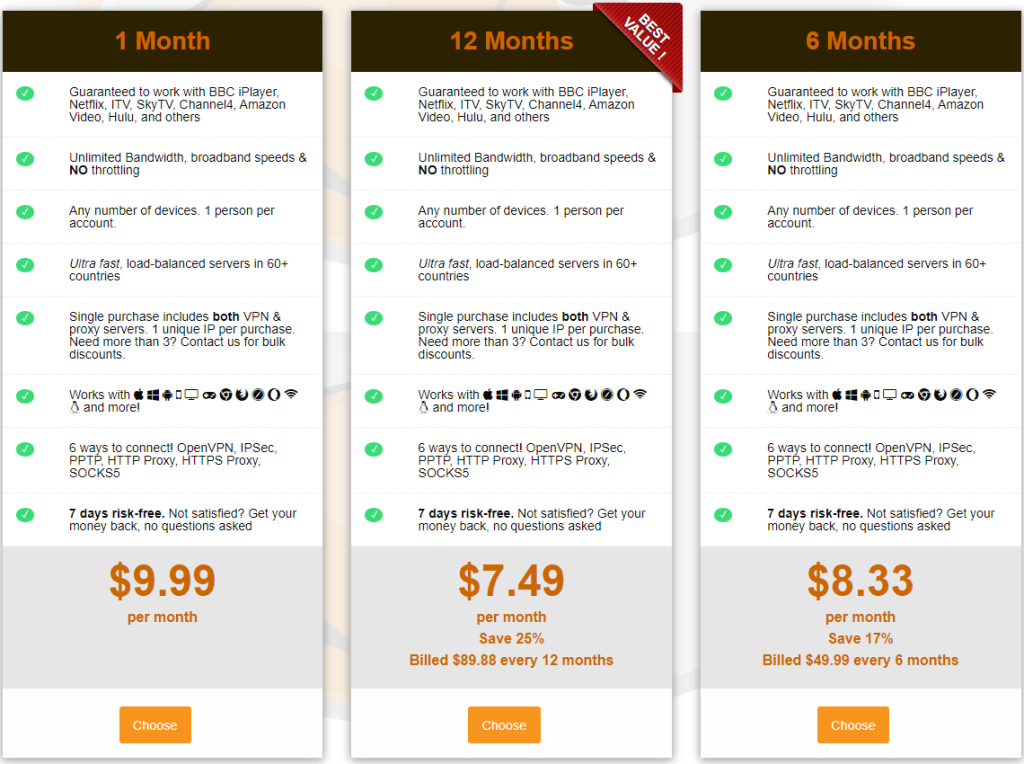 FoxyProxy Discounts
You should not expect any significant discounts and special offers from this website. There is no mention of a particular discount or deal anywhere on the website, which is not that great. However, you do pay less when you opt to go for the 6-month and 12-month subscription plans. Under the 6-month option, you pay $8.33 per month, as opposed to $9.99 for the monthly plan. The 12-month option gives you a rate of $7.49 per month. This is great, but, sadly, there is no mention of any other discount from the company.
Is FoxyProxy Legit or a Scam
FoxyProxy is indeed a legitimate company. While there is scanty information regarding customer experience online, we gathered that it has been in the business for quite a while. The payment methods are safe and secure, so you do not have to worry about your financial data. It is an excellent option for unblocking geo-restricted content online.
Customer Support
The customer support system at FoxyProxy may not be the best, but it has its perks and is above average. You can contact the support team via a support ticket and do not have to register to gain access. We used this feature, and the support team responded in minutes. While the website lacks a live chat feature, which is usually one of the easiest ways to reach out to the support team, it is amazing that they have perfected their ticketing system.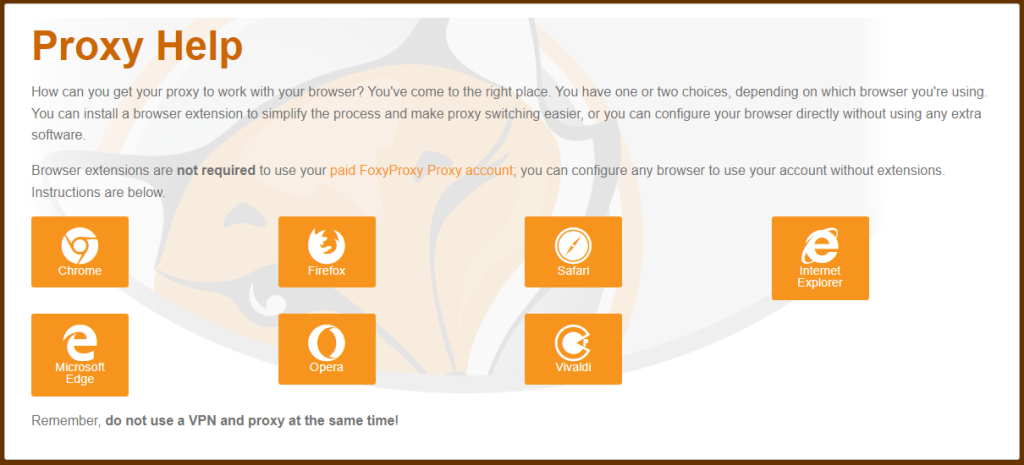 Can You Earn Money With FoxyProxy?
Yes, you can earn money with this provider as a reseller. Seemingly, the reseller option is limited to the VPN service. Therefore, it is beyond the scope of this review as we are dealing with proxy services. This is a big letdown as the proxy market is quite lucrative, meaning the affiliate niche will likely attract a huge customer base.
FoxyProxy Pros and Cons
Below are some of the reasons why you might be motivated to work with this provider or look for alternatives:
Positive
Good for unblocking Netflix, BBC Iplayer, and other geo-restricted content
Good location support
Dual authentication
SOCKS5 support
Good customer support 
Negatives
Limited information 
The proxy service lacks diversity
Final Verdict
From our extensive analysis, FoxyProxy is a legitimate proxy service provider with numerous advantages. It is a fantastic option for people who want to unblock restricted content, as this seems to be where the company has specialized. However, the service appears to be expensive for the prices, given you only get one IP for all the subscriptions.
In all truth, you would be better off going with alternatives given the shadiness surrounding this provider. The website does not mention what kind of proxies are available, and they are bundled together with the VPN, yet you cannot use them simultaneously.
Moreover, FoxyProxy is known for its VPN packages, and the proxies seem to be additional services. Hence, you should opt for companies with proxies as their primary area of specialization. This is not to say that the company is a scam. It is indeed legitimate, just that the service is below par for what you pay.
Ratings
Below average
Score by our metrics
PROS
Good for unblocking Netflix, BBC Iplayer, and other geo-restricted content
Good location support
Dual authentication
CONS
Limited information 
The proxy service lacks diversity
Add your review
|
Read reviews and comments
FoxyProxy Alternatives
Given the numerous inconsistencies with FoxyProxy, you might decide to look for alternative providers. Below is a list of companies that offer better value for money:
MarsProxies is the perfect option for sneakerheads. It has a massive pool of sneaker proxies and offers exceptional network performance with responsive customer support.
SmartProxies has impressive features that offer value for money. It has an extensive proxy pool and prices its services reasonably. You also get several tools and extensions.
This provider is a bit pricey, but you get what you pay for. It has modest features but has streamlined them to world-class performance.
FAQ
Yes, this is a legitimate proxy service provider. It is a good option for unblocking restricted content on platforms such as Netflix, Hulu, BBC iPlayer, and others.
Do you get a money-back guarantee with FoxyProxy?
Yes, this company offers a money-back guarantee for all its proxy services. You can get a refund for whatever reason within seven days of purchase.
Can you get banned on FoxyProxy?
Mostly, this provider does not place any restrictions on the proxies. However, you are advised not to abuse the servers.