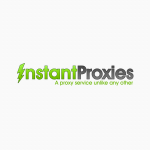 Getting access to a premium proxy provider today is challenging due to the high number of companies in the market. You may find yourself at a crossroads in deciding which company works best for you since there are so many entering the market constantly. What's more, most premium proxy providers have rather expensive plans that might be out of your reach.
However, InstantProxies, a US-based company, has been hailed as one of the cheapest proxies providers in the market. Are their proxies really worth it? Often, cheap products end up being expensive in one way or another. Is this the same case with InstantProxies, or are its services really worth it?
This review will dive into the nuts and bolts of InstantProxies and find out how their services compare to other providers in the market. After this short read, you should have a rough idea of what InstantProxies offers and whether it is worth your time and resources.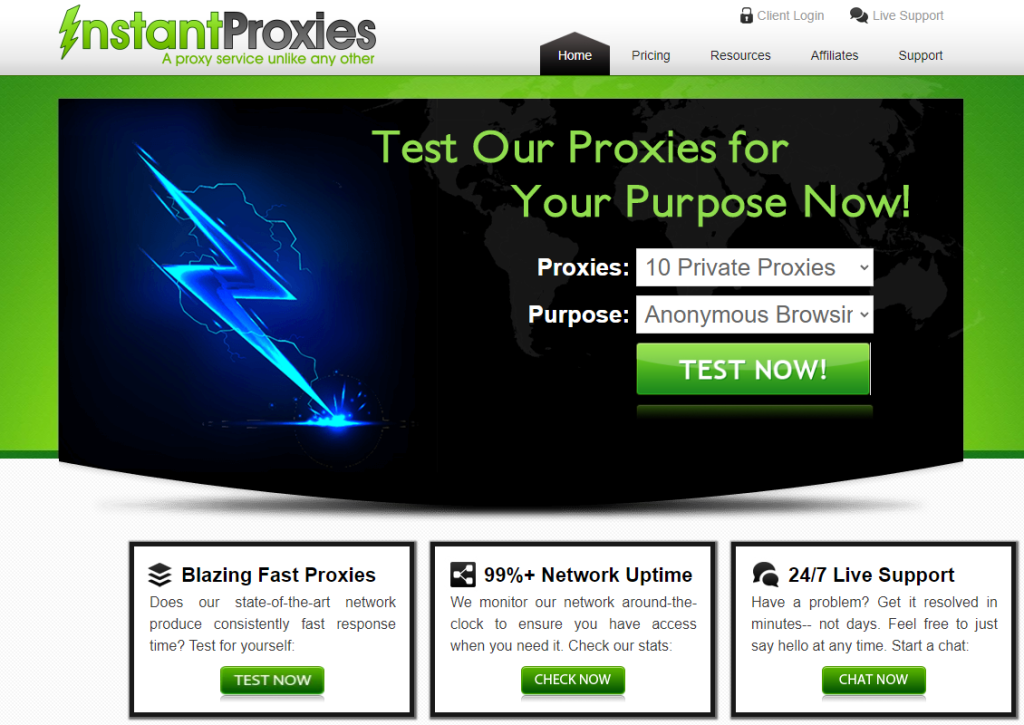 InstantProxies Introduction
InstantProxies is a US-based company specializing in datacenter proxies useful for search engines and audit management. Despite most of its proxies being located in the United States, meaning it lacks variety, this company is still famous and has a substantial user base.
Perhaps the fame and popularity can be attributed to the pocket-friendly prices that make InstantProxies available to the average user, which is rarely the case with premium proxy companies. Despite being datacenter proxies, they have a wide array of use cases.
For one thing, you can use these proxies for general browsing, a pretty basic application. You can also take it up a notch and use them for social media marketing and scraping sites such as Amazon. However, while these proxies are compatible with social media sites, they won't work with sneaker bots.

InstantProxies Features
InstantProxies comes with some pretty amazing features that may or may not meet your expectations. Some of these factors make it rank higher than its competitors while some make it rank lower. Let's go over the key features of InstantProxies so you can decide if it's a good choice for your needs or not.
Network and Types of Proxies
As mentioned earlier, InstantProxies specializes in datacenter proxies. While there are shared and dedicated proxies in this niche, InstantProxies only offers dedicated proxies, which is a big plus since they are more efficient.
The datacenter dedicated proxies from InstantProxies have a wide range of use cases. You may use them to improve your general browsing experience, and for more advanced applications, you can use these proxies to scrape data from most web pages.
Pricing
Users might have doubts concerning the InstantProxies pricing model. For one thing, cheap and free proxies have long been proven unreliable and risky. In the past, some free proxies have been proven to be scams set up by hackers looking to steal personal data.
However, this is not the case with InstantProxies. In fact, you might go as far as to say that this company has gone out of its way to provide affordable proxy plans to customers. Accordingly, InstantProxies has six different subscription plans, the cheapest of which starts at a mere $10.
InstantProxies has a different pricing model than its competitors: it charges by the number of proxies instead of bandwidth. Hence, the higher the number of proxies, the higher the cost. You should also note that all plans have similar features, with the only difference being the number of proxies.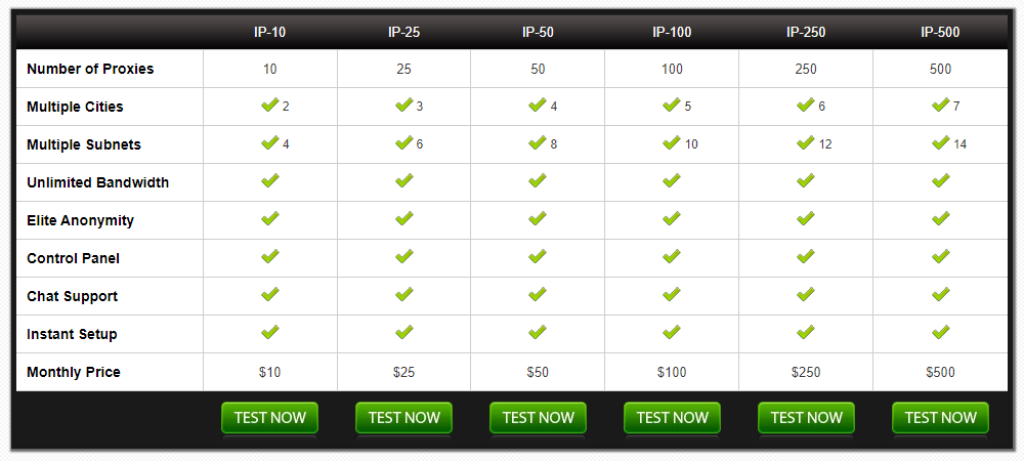 Proxy Authentication
Proxy authentication is a security technique that allows you to secure your proxies before use. While it is a big plus in terms of security, only one type of proxy authentication is available with InstantProxies. With the platform, there is no option for username/password authentication, which is a significant downside for users.
Bandwidth
This is one of the most significant appeals with InstantProxies. While most companies place a cap on the amount of traffic you can use, this is not the case with InstantProxies, as it provides unlimited bandwidth.
The InstantProxies pricing model is based on the number of proxies instead of the bandwidth consumed. What's more, the proxies come with an unlimited number of concurrent connections and unlimited threads, which is another great plus.
There is a catch here. With great power comes great responsibility. You have to be especially careful when using these proxies because if they get blocked for whatever reason, you will only get a replacement after 30 days from the day when you renewed your subscription plan.
This is because InsantProxies only renews its proxies every month. Therefore, you will be stuck with them until the next renewal period if your proxies get blocked. This policy will be a dealbreaker for many clients.
Money-Back Guarantee
InstantProxies has a lot of confidence in the service quality it offers customers. Accordingly, they offer a money-back guarantee if you feel unsatisfied with their services. This is not new, as most companies offer money-back guarantees for customers.
The number of days you can use the proxies and ask for a refund makes InstantProxies stand out. Most companies offer a maximum of three-day or even hourly money-back guarantees, but this is not the case with instantProxies. Accordingly, the company has a seven-day money-back refund policy, which is pretty amazing.
Proxy Speed
Most users that test proxies for the first time note that they are significantly slower than the normal internet connection. This may be partly true since an overhead and bottleneck are introduced when your internet traffic is rerouted through a proxy server.
With this in mind, the connection speed is one of the most important factors used to determine the quality of any proxy service. Luckily, with InstantProxies, there is no bottleneck introduced due to traffic rerouting. Therefore, you will likely get decent speeds when using them.
While the connection speed may not be the fastest in the market, it is pretty decent for the average user. Below are some of the stats native to datacenter proxies offered by InstantProxies:
Ping: 39 ms
Download Speed: 16.85 Mbps
Upload Speed: 14.65 Mbps
Furthermore, another significant upside with InstantProxies is that you get the option of testing the proxies before using them right from the website. Here you can test whether the proxy will work for your website. You get a detailed report of the response time and other stats.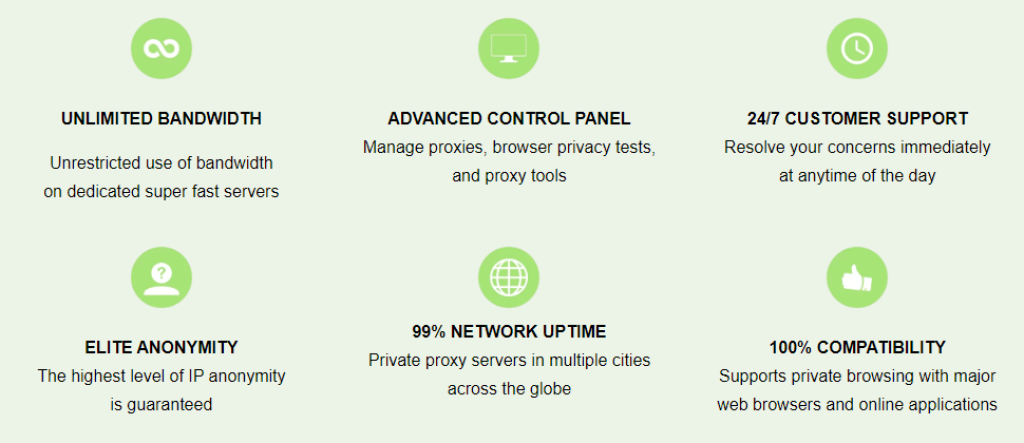 Customer Support
While it is not the best, the customer support response time is pretty decent. If you ever need to contact them, you can use the live chat service, and in case none of them is online, you can open a support ticket. They will then get back to you in a couple of hours.
They have a pretty useful FAQ section that contains informative content. Finally, the agents are known to be open and friendly, which goes a long way in attracting customers.

Lacking Features
While InstantProxies seems to be a pretty decent proxy service provider, on paper, it is not without its flaws. Some of the factors that need improvement are listed below.
Location Coverage
Most of the IPs available from InstantProxies are from the USA and Europe. This is a great plus for users that want to change their current IP location to these areas. However, for some unknown reason, InstantProxies does not show the exact location. What's more, you cannot manually select the proxy location when using the site. This is one of the most significant downsides of the platform.

SMTP Emailing and Sneaker Copping
Developers and sneakerheads will probably not be satisfied with InstantProxies. This is because the proxies from this company do not, for starters, support SMTP emailing. Hence, if you are a developer who uses this technique, you might have to get alternatives.
The same case applies to sneakerheads since the website does not support sneaker copping. If you employ sneaker bots, you will have to look for other companies for proxies as they are not available from InstantProxies.
Username/Password Authentication
This is one of the biggest downsides of InstantProxies. IP authentication and username/password are the authentication methods for most proxy service providers. Unfortunately, InstantProxies only supports IP authentication, which may come at a significant inconvenience for most users.
The username/password authentication is convenient since users do not have to check their device IP address and whitelist it. However, it is not available with InstantProxies.
Advantages of InstantProxies
Below are some of the factors that make InstantProxies a reliable provider:
Decent 7-day refund policy
This is one of the most significant advantages of InstantProxies since you can use its services for up to a week and still ask for a refund. It makes the website stand out since most providers only offer a 3-day refund policy at best.
The website is pretty intuitive and easy to follow. You should have no trouble following the steps to set up your proxies as the website is well optimized.
The company offers SEO-optimized proxies for marketers. These are targeted for use cases such as keyword research.
With InstantProxies, you do not have to worry about data as the proxies come with unlimited bandwidth. You only pay for the number of proxies you want.
InstantProxies offers users a proxy tester tool right from the website. This way, you can test the efficacy of the proxy before purchase.
Dedicated proxies are more reliable as you don't have to share them with other users.
Monthly IP refresh policy
All IPs are refreshed every month regardless of the package. This goes a long way in boosting the reliability of InstantProxies.
Disadvantages of InstantProxies
Below are some of the factors that might make you question InstantProxies' capacity to meet your needs:
You might be disappointed to know that InstantProxies does not offer a free trial. It does offer a money-back guarantee so you can test the service without losing money.
No SMPT emailing and sneaker copping
Developers and sneakerheads may not benefit from InstantProxies as it does not offer SMTP emailing or sneaker copping. Such users will have to look for alternatives.
This is another significant downside. If SOCKS5 support is essential for your usage scenario, you'll have to find another provider.
Most IPs from InstantProxy are from the USA and Europe, which does not say much about variety.
InstantProxies Pros and Cons
To sum it up, here are the most important pros and cons of InstantProxies.
Positive
Great refund policy
Unlimited bandwidth
Easy setup
Negatives
No SOCKS5 support
Unlimited bandwidth
Easy setup
Final Verdict
From the information presented above, it is clear that InstantProxies is a legitimate company offering proxy services to consumers. While it has a pretty limited location coverage, the dedicated residential proxies are useful for various tasks such as web scraping.
Ratings
InstantProxies Alternatives
InstantProxies is only optimized for the needs of the average user. For more sophisticated users, there are alternatives such as the ones listed below:
Unlike InstantProxies, IPRoyal has a much more extensive location coverage with city-level targeting. This means you can manually select the location where you want the proxy to be based, unlike InstantProxies.
This provider offers more variety compared to InstantProxies. Accordingly, the IP pool comprises over 10 million IPs from over 195 countries. It has datacenter, rotating residential, and scraping proxies.
This proxy succeeds where InstantProxies fails in that it provides four different proxy types with 72 million IP addresses, IPv5 and IPv6 support, free proxy tools, and extensive documentation.
FAQ
Yes, InstantProxies is a popular legitimate company based in the USA known for its affordability. It offers dedicated datacenter proxies based in the US and Europe.
Does InstantProxies offer a money-back guarantee?
Yes, InstantProxies offers a 7-day money-back guarantee. If you use the proxies for seven days and they don't work well for your needs, you can ask for a refund.
Does InstantProxies support SOCKS5 proxies?
Unfortunately, it does not support these proxies. You will have to go for alternatives such as IPRoyal.