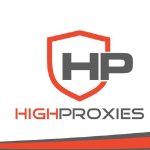 In this day and age, proxy use for different purposes has become quite common. As digitization continues to affect every aspect of our lives, so do censorship and regulations governing the pace of digitization. Sometimes, you may want to bypass some form of restriction and access content unavailable in your region.
This is where proxies come in handy. These devices mask your real IP address and reroute your internet traffic through their servers with an alternate IP address. In all truth, there are numerous proxy providers on the market, and before you decide to get into business with any of them, you should perform your due diligence and see if their services would be a good fit for you.
With this in mind, this post will review High Proxies and highlight its pros, cons, and its features. Let's dive in.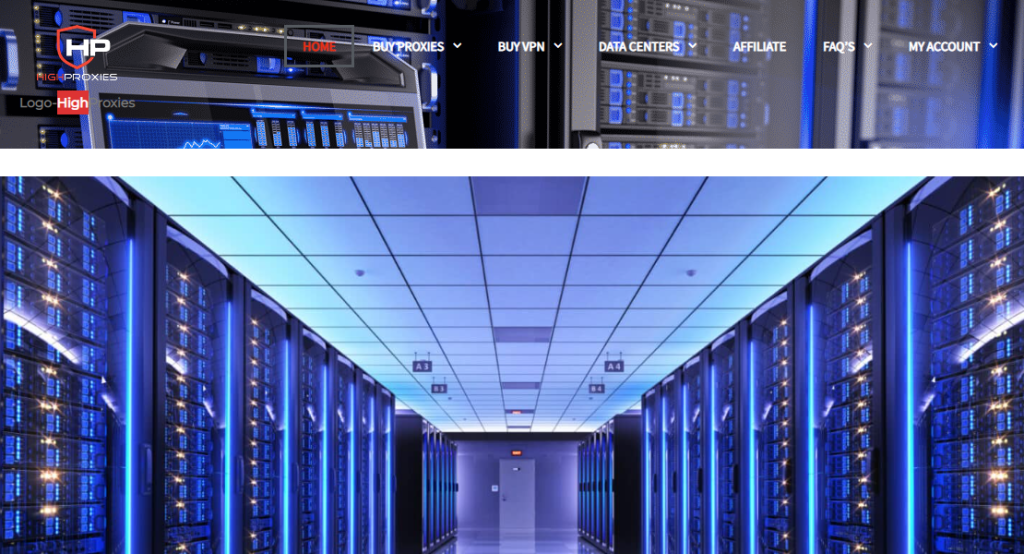 High Proxies Introduction
High Proxies is a relatively new entrant into the world of proxies, introduced seven years ago. Over the years, the company has beaten the odds to earn a spot among the top proxy companies on the internet.
In fact, this company has been synonymous with online marketers as it provides proxies for sites such as Instagram and other social media. Other supported sites include Google, Amazon, Paypal, and others.
High Proxies primarily deal with datacenter proxies (both dedicated and shared). It has over 68,000 IP addresses across the United States, Europe, and Germany.
High Proxies Features
High Proxies has several features that have helped elevate it to what it is today. We'll go over the key features comprehensively to give you a better chance of deciding whether this proxy service provider can meet your needs or not.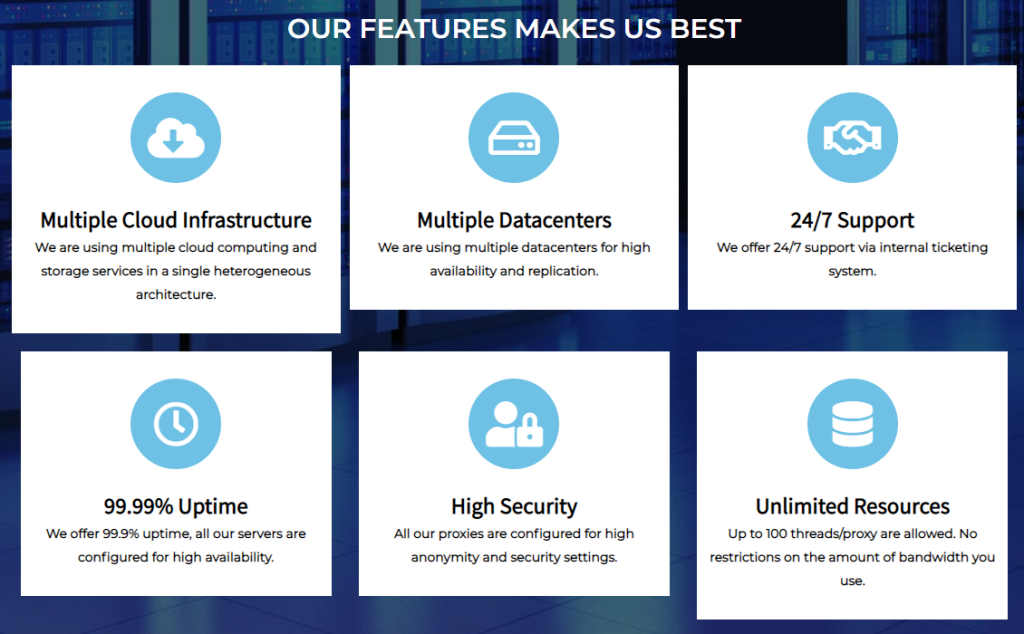 High Proxies Pricing
Compared to its competitors, High Proxies offers affordable prices for its services. Given that the IPs are all virgin, the services are well priced. However, you should note that the private proxies cost twice as much as the shared ones. Still, they're priced at $1.35 each, which is a lot less than what we've seen with some other providers. Below is the pricing structure for the proxies at the time of this writing:
Shared proxies – $0.64 per month
Private Proxies – $1.40 per month
VPN – $5.00 per month
Shared VPN – $2.50 per month
You should also note that High Proxies specializes in proxies optimized for specific tasks such as the following:
Classified AD proxies- $2.45 per month
Social media proxies- $2.60 per month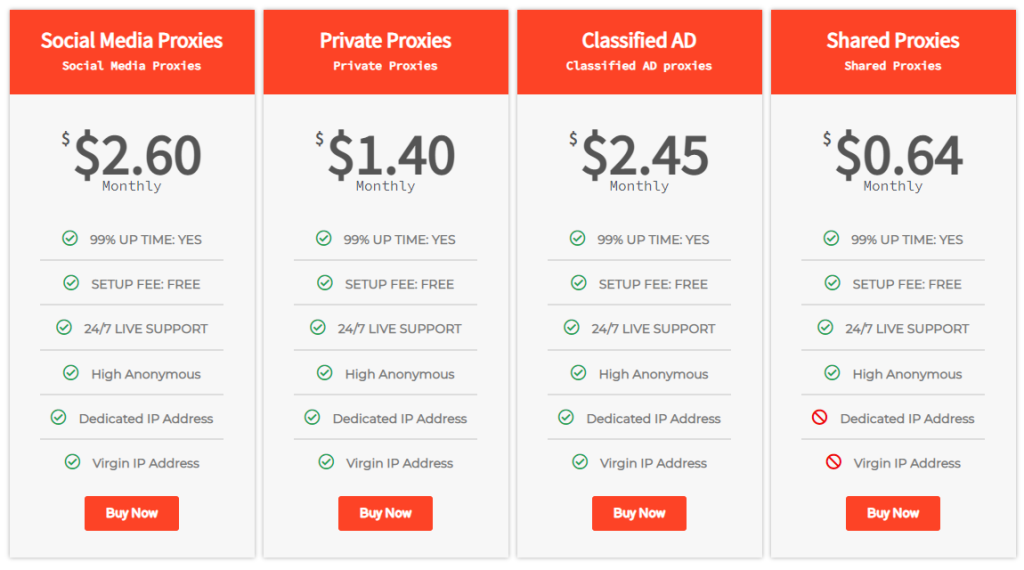 Payment Options
While High Proxies has different payment options, one of its biggest downsides is that they do not accept credit card payments for its services. Currently, the website only accepts Paypal and Bitcoin as payment methods.
IP Locations
High Proxies has a pretty diverse IP location layout with 33 locations based in 11 countries. It is worth noting that of the 33 locations, 17 are in the United States. Therefore, if you need locations in the United States, you have a wide base to choose from. However, this only extends to the United States. Beyond this region, there is little to say in terms of location diversity.
You get cities such as Miami, Los Angeles, New York, Portland, and many more in the US. But when you move over to Europe, you are limited to London and Frankfurt.
Countries with data centers owned by High Proxies include Germany, France, Italy, Australia, Spain, Canada, etc. You should note that the company is constantly working on adding more locations.

Customer Support
High Proxies has a pretty decent customer support team that is friendly and always ready to answer your questions. However, you should note that the company does not offer the live chat feature for any pre-sale service.
Instead, High Proxies uses a ticketing feature to give users access to its customer service team. While you may find this feature a bit rigid, the upside is that customer support is almost always there to help you. For the most part, a service agent will be available to respond to your query after 24 hours.
Speed
Datacenter proxies are known to have higher connection speeds when compared to residential proxies, but High Proxies takes it a notch higher. A speed test will show that the proxies from this company are pretty decent.
Unlike most proxies, these do not experience overhead and bottlenecks that inhibit proxy speed. Below are some of the performance stats native to these proxies:
Ping: 19 ms
Download Speed: 55.43 Mbps
Upload Speed: 31.96 Mbps
You should also note that these proxies are multithreaded, meaning that they can run several tasks at a single instance. Currently, High Proxies support up to 100 threads, which is great. This basically implies that they can run up to 100 concurrent tasks in a single instance.
You would think that the multithreaded capability will compromise proxy speed. However, given that these servers run sufficient RAM, the speed is optimized to remain the same even when you run numerous tasks concurrently. This is the greatest strength of High Proxies.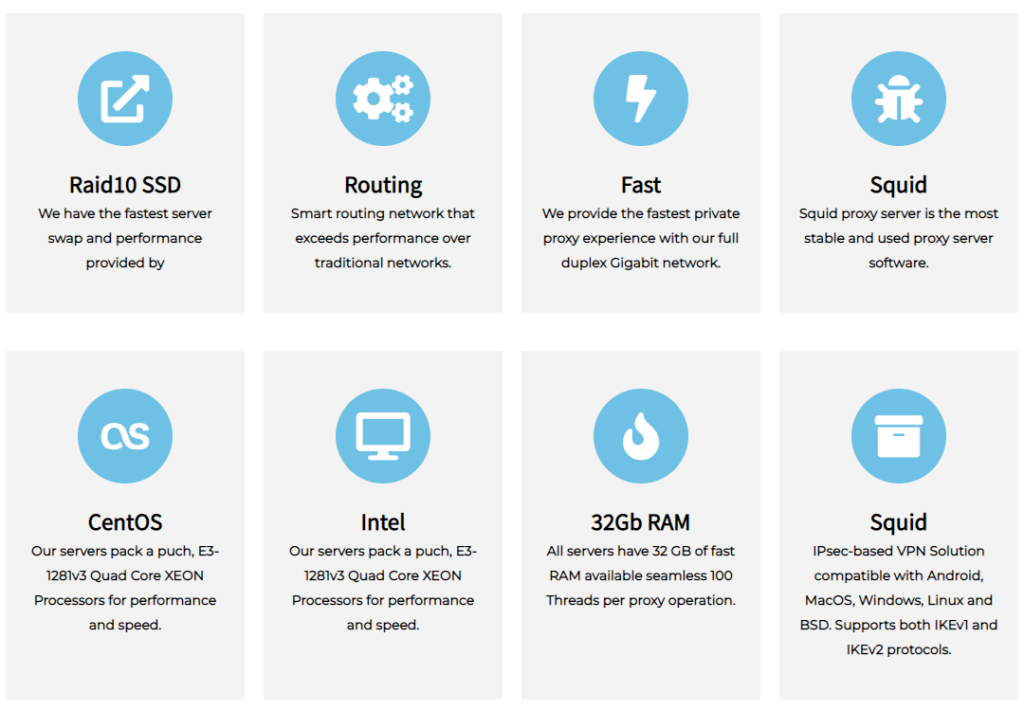 Advantages of High Proxies
Below are some of the factors that make High Proxies compete favorably with other providers:
When using proxies from High Proxies, you do not have to worry about data limits, as all their proxies come with unlimited bandwidth. You should note that different proxies have different pricing.
High Proxies supports both username/password authentication and IP authentication. This is a major plus for users as it makes the experience more secure and convenient.
Fast servers and high uptime
High Proxies claim to have 99.9% uptime, meaning their servers are rarely down. You are less likely to encounter connection issues while using their proxies.
High Proxies has different proxy categories on the website, so you can find a package that meets your needs. Some of the available options include social media, private, classified AD, and shared proxies.
High Proxies is relatively affordable compared to other premium proxy providers on the market. You could say that its proxies are designed to meet the average consumer's needs.
The High Proxies website is intuitive and easy to use. Even if you're a first-time visitor, you'll have no problem getting to know the ins and outs of the site.
Disadvantages of High Proxies
Below are some of the factors that might make you think twice about working with High Proxies:
No support for sneaker bots
Unfortunately, High Proxies does not support sneaker copping. If you decide to use these proxies to cop sneakers, you will be instantly detected and blocked; hence it is best to stay away.
High Proxies has a 3-day money-back guarantee. However, one of this website's biggest flaws is that it does not accept credit card payments despite being one of the most popular forms of payment on the market today.
This is a feature synonymous with premium-level proxy service providers where you do not have to renew proxies manually. However, it is lacking in High Proxies as you have to request proxy renewal manually. What's more, the renewal process can only happen once a month.
High Proxies Pros and Cons
In short, here are the key pros and cons of High Proxies.
Positive
Great pricing
Unlimited bandwidth
IP and user/pass authentication
Negatives
No sneaker proxies
Only two payment methods available
Lots of unfavorable reviews on Trustpilot
Final Verdict
From what we could find, High Proxies seems great on paper. However, some of its biggest downsides include a lack of support for sneaker copping since, as we know, sneakerheads form a significant portion of the proxy client base. Customer reviews we've seen don't look too favorable either. Judging from reviews on Trustpilot and similar websites, High Proxies might not work as well as advertised.
Furthermore, High Proxies has limited payment options, which may inconvenience some users. Finally, this company does not automatically renew proxies for its customers. With this in mind, while High Proxies is efficient in providing proxy services, there are other options you could go with that lack the numerous downsides of High Proxies.
Ratings
PROS
Great pricing
Unlimited bandwidth
IP and user/pass authentication
CONS
No sneaker proxies
Only two payment methods available
Lots of unfavorable reviews on Trustpilot
Add your review
|
Read reviews and comments
High Proxies Alternatives
If High Proxies doesn't sound like the ideal provider for you, here are a few alternatives you can look into:
IPRoyal has far better coverage when compared to High Proxies, which makes it a better option. Furthermore, proxies from IPRoyal support sneaker copping, and the company accepts credit card payments.
The biggest appeal of Smart Proxy is that it has wider proxy coverage in over 195 locations worldwide compared to the 33 from High Proxies. It has a user-friendly dashboard that is easy to use, even for a beginner.
Storm Proxies has a wide array of features for very affordable prices. The company offers backconnect proxies, private dedicated proxies, and rotating residential proxies. Despite being short of features, these proxies come at relatively low prices.
FAQ
Yes, High Proxies is a legitimate company based in Seychelles that offers proxy services to customers worldwide. It has affordable plans and proxies for different usage scenarios.
Does High Proxies support SOCKS5?
Unfortunately, no. High Proxies does not support SOCKS5. You will have to go with a different provider if SOCKS5 support is crucial for your needs.
Does High Proxies support IP authentication?
Yes, High Proxies support both IP authentication and username/password authentication, which is a huge plus for users.