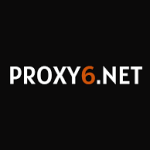 The proxy market has been steadily growing over the past few years as more and more companies break into the scene. At the same time, the use cases for proxies are growing daily.
This, coupled with immense internet growth and digitization reaching unprecedented heights, has made the proxy market one of the most vibrant. However, this niche has long been plagued with user privacy scandals and controversies.
That said, getting a legitimate proxy service provider for your proxy needs can become a complicated affair, especially if you have no prior information on how the niche works. Not to worry, we're here to review Proxy6 and let you know whether you can work with this provider.
We will analyze its features, pricing, and other aspects of the company, so you know whether the proxies are reliable. By the end, you should have an easier time deciding whether this company suits your needs.

Proxy6 Introduction
Proxy6 is a lesser-known proxy service provider that offers IPv4 and IPv6 proxies. We took a good look at the website, hoping to uncover how the service works and see whether it is worth your time.
Upon our analysis, one thing you will likely notice about the website is that it lacks the necessary content that could help a user navigate the website. There needs to be more information as to how the website works.
That aside, one of the biggest highlights of this company is the pricing, where you can get a server for as low as $0.59 per month. Do the proxies perform well? Are they really worth your time? Let us find out.

Proxy6 Features
The servers from Proxy6 lack the high-grade features you would expect from companies competing in the same niche. For one thing, Proxy6 does not mention the total number of IPs it has in rotation.
Instead, the website only mentions the specific amount of servers it has in a particular region. For instance, there are 0 IPv6 proxies in the United States and only 322 in the UK. Most servers from this provider come from Russia, which is where the company is based.
Likewise, the website does not mention how many locations it supports. Upon analysis, we noted just shy of 50 countries, which, to be honest, is not at all that great. Finally, the website does not mention how it sources its servers, and neither does it mention how it governs its network.

Types of Proxies
As mentioned earlier, Proxy6 does very little to show the kind of service it offers users. It does not list the proxy features as other proxy providers do. This we found to be a massive red flag.
Proxy6 provides two distinct types of proxies to users that are IPv4 and IPv6. Other than that, there is little to say about the service from this provider. On the flip side, the servers support HTTP and SOCKS5, a big plus for users.
Proxy6 Proxy Speed and Performance
The proxy speed and performance from Proxy6 are wanting, given how secretive the company is about its service. For one thing, it does not specify whether the servers are rotating or static.
On top of that, we are still determining whether these are datacenter or residential proxies, which could be another good performance indicator. However, the website guarantees 10 Mbit/s speeds on both dedicated and shared IPv4 proxies and 30 Mbit/s on IPv6 proxies.
Additional Tools
This is one area where this provider truly shines. It has several tools you can use, including a proxy checker, a port scanner, as well as the 'Whois' tool. All these tools have specific use cases and come free of charge.
For instance, you can use the port scanner to check for any open ports on your computer. The 'Whois' tool lets you check a particular domain's ownership, whereas the proxy checker enables you to analyze the availability of specific proxy servers.

Purchase Simplicity
The Proxy6 website seems somewhat clunky and outdated. Navigation was a bit bland as nothing was as exciting to the website as in other premium proxy service providers.
You must first sign up for the service to purchase a proxy, which entails providing your email and password. From there, you get access to the dashboard from where you can make your purchases.
Proxy6 Pricing
The pricing plan at Proxy6 is affordable, at least when compared to other companies in the same tier. The IPv4 and IPv6 plans from this provider are priced according to the subscription length and the number of proxies.
For example, under the IPv6 plan, you can get one proxy for three days for just $0.06. Hence, the longer the subscription plan, the more expensive it gets. The same case goes with the IPv4 proxies, where one proxy, lasting one month, goes for $1.77.
We did not find any mention of a free trial on the website, meaning this company likely does not have this feature. The website offers a money-back guarantee, but it is only provided if the service fails. You can't get a refund if Proxy6 detects you have been using the proxies.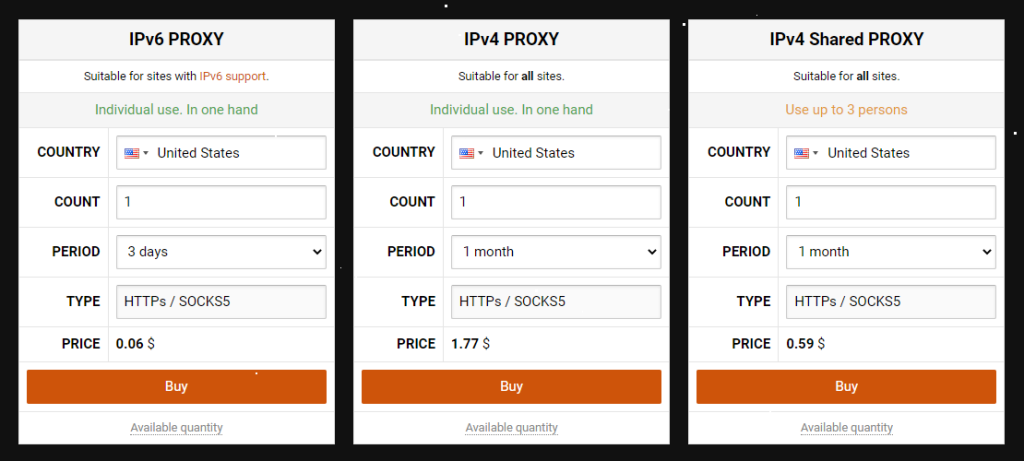 Proxy6 Discounts
We could not find any mention of special offers or discounts from the Proxy6 website, which was quite odd given that discounts are some of the most effective marketing techniques companies use. However, the website offers a 5% discount for customers that share their coupons.
Is Proxy6 Legit or a Scam
Proxy6 has the poorest reputation of any company we have reviewed so far. The company has a Trustpilot rating of 1.5 stars, indicating that most users are generally unsatisfied with the quality of service.
Most customers complain of a rude customer support team and poor and blacklisted proxies. Proxy6 is still far off if it is to boost its reputation to the same tier as other proxy service providers.
Customer Support
Seemingly, the customer support system at Proxy6 is decent. The website has several options to reach out to the support agents, including a phone number, email, and a live chat option.
However, given the negative reputation this company has on sites such as Trustpilot, it goes without saying that it needs to revamp its customer support system.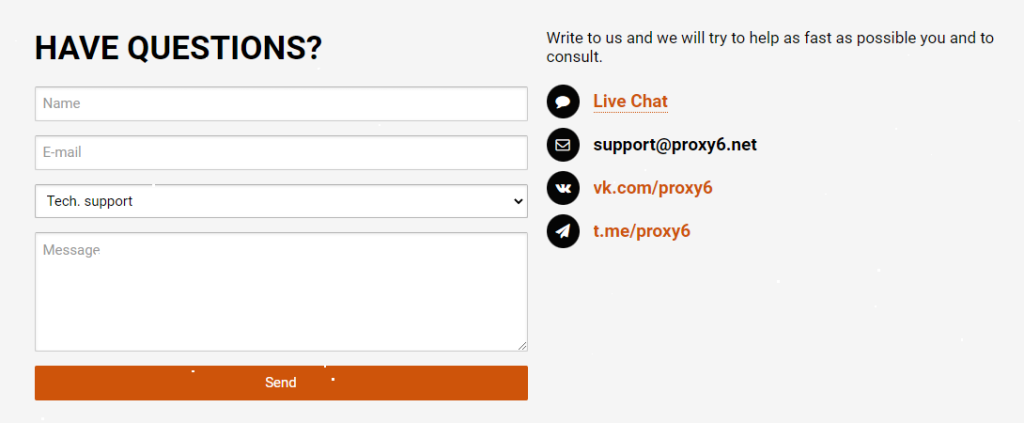 Can You Earn Money With Proxy6?
The affiliate incentives at Proxy6 are some of the most lucrative we have seen so far. You get a 30% payout on all referral orders, which is way above what most companies offer. All you have to do is sign up for the service and use your referral link to market it.

Proxy6 Pros and Cons
Listed below are some of the advantages and disadvantages of working with Proxy6:
Positive
Affordable proxies
Generous affiliate program
Extensive additional tools
Negatives
Poor proxy performance
Terrible reputation online
A clunky and outdated website
Final Verdict
Upon our analysis, the clincher is that this provider still has a long way to go to become a true premium proxy company. For starters, it needs to diversify its proxy portfolio. Currently, the company only has two proxy types in its catalog, whereas its competitors have at least five.
On top of that, Proxy6 needs to work on its services and marketing to repair its broken image. A 1.5 stars Trustpilot rating is, by all accounts, poor. The company should improve the customer support system as clients complain of rude agents.
Only when these things are done will this company finally be on its way to giving other bigwigs a run for their money. Until then, it remains a fairly shady company with very little information for the customer.
Ratings
Below average
Score by our metrics
PROS
Affordable proxies
Generous affiliate program
Extensive additional tools
CONS
Poor proxy performance
Terrible reputation online
A clunky and outdated website
Add your review
|
Read reviews and comments
Proxy6 Alternatives
Given the many flaws we have seen with this provider, we have taken it upon ourselves to look for alternatives that can give you better value for money. They are listed below:
If you are looking for a reliable and revered proxy company, then IPRoyal is the way to go. It has over 2 million IPs, different types of proxies, and a responsive customer support team, all available at your disposal.
Bright Data has one of the most technologically advanced proxy infrastructures, which makes it a perfect fit for you. It has over 72 million IPs from different regions worldwide and a comprehensive catalog.
Oxylabs is another proxy world bigwig. It has more than 102 million IPs and a diverse proxy package, albeit it is more suited to corporate clients than individual customers.
FAQ
What kind of proxies does Proxy6 offer?
Proxy6 offers IPV4 and IPV6 proxies. These come under different [packages and are each priced differently according to the subscription length and the number of proxies purchased.
At the moment, Proxy6 does not seem to be a reliable company. It has a poor online reputation, alluding that most customers tend to get dissatisfied with the service. The customer support system is also wanting.
Does Proxy6 offer a money-back guarantee?
Yes, Proxy6 offers a money-back guarantee, but under stringent conditions. If the company detects you have been using the proxies, it will not refund your money.