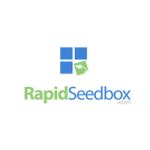 As an internet user, there comes a time when you may feel like your basic internet connection just is not making the cut for you due to endless restrictions, blocked websites, and other limitations. So, what does one do in such situations? Do you ditch the internet and cut yourself off from the world?
No, you utilize proxies, tools designed to give you an entirely new experience as far as an internet connection is concerned. With a proxy by your side, you can say goodbye to inconvenient internet limitations such as geo-blocks and other kinds of restrictions.
But how exactly do you find the right proxy service provider? It is no secret that the web has hundreds, if not thousands, of companies offering proxy services. Finding the best from such a huge pile can become complicated.
Fortunately, we have taken it upon ourselves to scour the depths of the web in search of proxy companies and review them according to a predefined set of criteria. That said, this review will be carefully and impartially covering RapidSeedbox.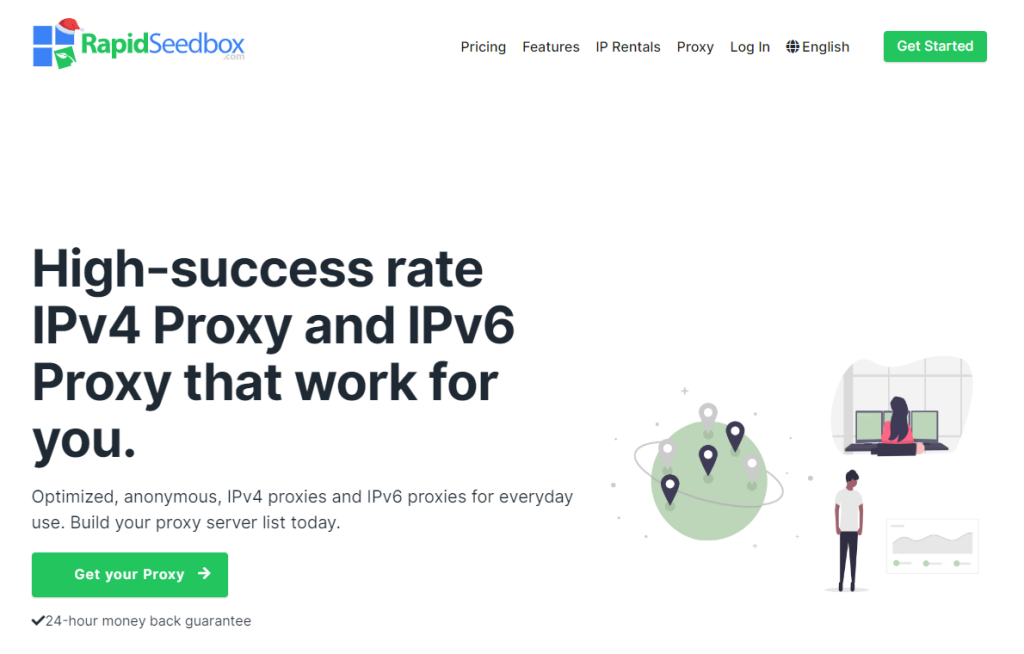 RapidSeedbox Introduction
RapidSeedbox is a relatively big name in the world of online privacy and file sharing. While this review is restricted to proxies, you should note that RapidSeedbox is more into seedbox services than proxies, as the former is what it is known for.
RapidSeedbox has a proxy service under its catalog, which is what we will dive into. Right off the top, you will realize that the proxy service is not at all evolved, at least not as much as other premium companies we have reviewed.
But, even with that in mind, does RapidSeedbox have what it takes to take on other premium proxy service providers? Let us find out.
RapidSeedbox Features
One thing we noted about RapidSeedbox, while we were analyzing the service is it is not that forthcoming about the features its proxies offer users. For instance, the website does not mention how many IPs make up the company's pool.
On top of that, the website does not mention how it sources its proxies nor specify how it governs its network. We could not find any reason why RapidSeedbox decided to withhold this information from the public.
Upon analysis, we quickly realized that RapidSeedbox only has proxies in three countries: the US, Netherlands, and the United Kingdom. In all reality, this is a massive flop as competitors offer as many as 195 different locations.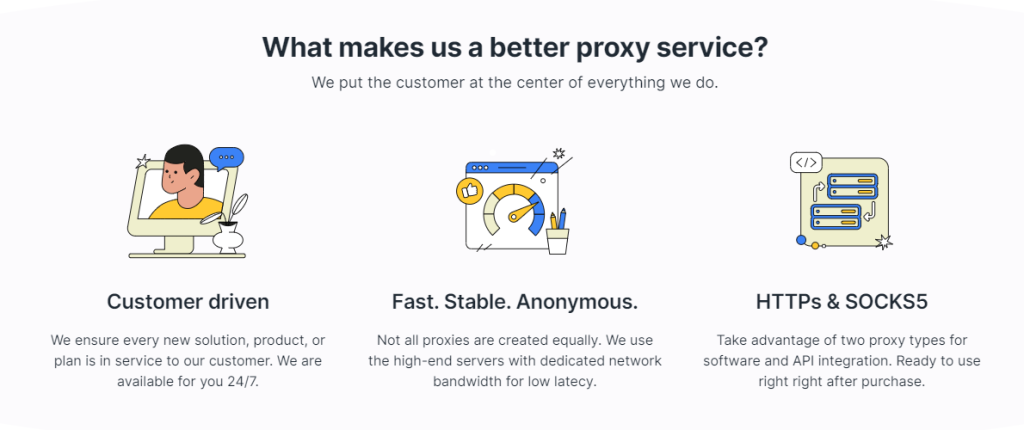 Types of Proxies
You should not expect proxy-type diversity from this company as you would from other premium proxy service providers. From our analysis, this provider only has two different kinds of proxies in its catalog, which are IPv4 and IPv6 proxies. On top of that, the provider does not mention whether these are datacenter or residential servers, which is another massive question mark.
The website does mention that the proxies are privately owned and dedicated, which partially points to increased reliability. Also, all packages come with rotating IPs, another indicator of increased reliability. Finally, the servers support the SOCKS5 protocol, which is the final reliability indicator we noted from the provider.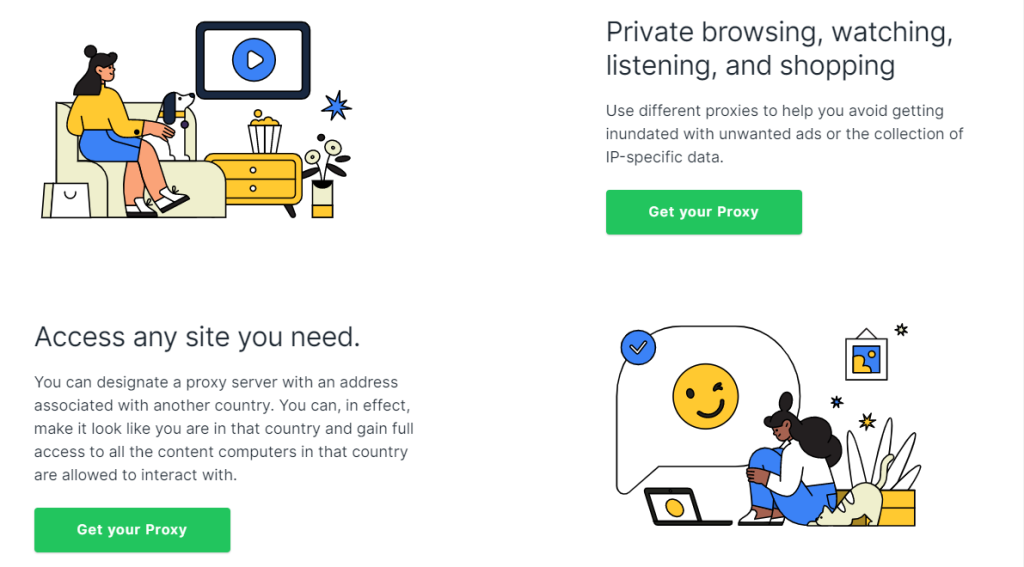 RapidSeedbox Proxy Speed and Performance
Up to this point, everything is pointing to a reliable proxy service provider with a knack for meeting customer needs. But is this really the case? Do the proxies from this provider really have what it takes to meet other competitors in the same niche? Let us find out.
Given the current stats, RapidSeedbox seems to have what it takes to meet its competition. From SOCKS5 support to IP rotation, the servers are seemingly robust and might just be the right fit for you.
Additional Tools
From what we uncovered, this provider does not seem to have any additional tools for users' convenience. We could not see any signs of API support, proxy checkers, or browser extensions, which is a massive flop as it helps boost the overall proxy usability.
Purchase Simplicity
We were impressed by the website's overall usability and how fluid it is during navigation. You likely will not need help finding your way through the website as it is pretty easy to follow.
The text boxes are well-highlighted and placed, which goes a long way in boosting usability. The signup process is simple, too. However, you should note that to purchase the proxies, you first have to sign up, where the only thing you will have to provide is your email address and password. Overall, purchasing a proxy from RapidSeedbox is straightforward and easy to follow.
RapidSeedbox Pricing
The pricing at RapidSeedbox is a bit on the lower side of things compared to other companies in the same niche. For instance, under the IPv4 proxies, each server starts at $1, while the IPv6 proxies are priced differently. That is the monthly option.
Under IPv6 proxies, the cheapest tier starts at $15 monthly, offering 100 IPs. This implies that one proxy starts at $1.5, showing that the price difference is insignificant. Finally, you can opt for the yearly option, which is significantly cheaper as the lowest tier starts at $13 monthly.
You get a 24-hour money-back guarantee when you sign up for the service. We could not find any sign of a free trial on the subscription packages page, meaning the company likely does not have this option available.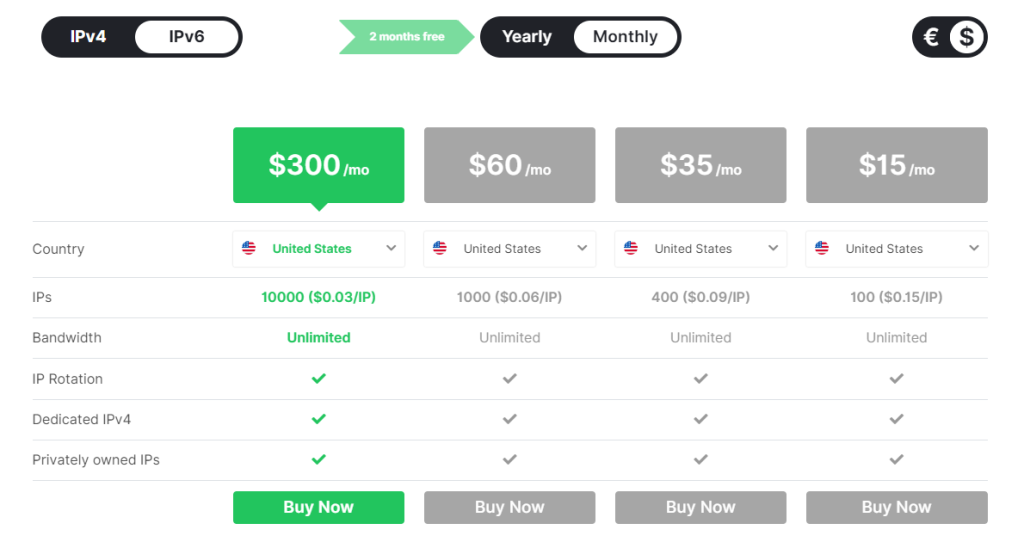 RapidSeedbox Discounts
Right off the homepage, you will notice that this provider is big on discounts, which is an effective marketing tool to attract and retain customers. Upon opening up the home page, we were hit with a one-time discount for the first order.
You also get a chance to redeem a promo code when making your proxy order. However, the website mentions that promotion codes do not apply to annual subscription plans. Overall, the discounted nature of the service is really appealing from a marketer's and customers' point of view.
Is RapidSeedbox Legit or a Scam
RapidSeedbox is indeed a legitimate company with a positive online reputation. It has a Trustpilot rating of 4.0 stars showing that most users are generally satisfied working with the company. In particular, most users praised the company's customer service along the lines of promptness and efficiency.
Customer Support
The customer support system at RapidSeedbox is one of a kind. This is one of the few providers where you can schedule a meeting with the customer support team and raise your issues over a conference call. Alternatively, you can communicate with the customer support agents via the live chat option, where agents typically take under 10 minutes to reply.

Can You Earn Money With RapidSeedbox?
You can earn money with RapidSeedbox via the affiliate program. All you have to do is sign up for the service, after which the system will allocate you a unique link to use for referrals. RapidSeedbox offers a 10% commission on all referral sales, which is a bit on the lower tier as other competitors offer up to 25% commission.

RapidSeedbox Pros and Cons
Below is a detailed outline of the upsides and downsides of working with RapidSeedbox:
Positive
Affordable and robust servers
Good customer support system
Good set of proxy features
Negatives
The company only offers one type of proxy
Proxies are not the company's main area of focus
Final Verdict
With all that said, is RapidSeedbox a true premium proxy service provider? In all reality, RapidSeedbox is yet to perfect its proxy package as it is lacking in several areas. For instance, we realized this company only offers one kind of proxy, and it does not specify which one, as the proxies are labeled as IPv4 and IPv6.
Therefore, the proxies from this provider will only likely work for small to medium tasks as the network itself is underdeveloped. However, given how established this company is in the seedbox realm, it is only a matter of time before it becomes a true premium proxy service provider.
Ratings
Average
Score by our metrics
PROS
Affordable proxies
Good customer support
Well organized website
CONS
No affiliate program
Minimal discounts
No money-back guarantee
Add your review
|
Read reviews and comments
Alternatives
Given the shortcomings of this provider, you might be inclined to look for alternatives that make up for these flaws, a few of them are listed below:
IPRoyal is a premium proxy service provider with a proven track record of meeting customer needs. With a pool of over 2 million IPs and more being added every once in a while, you can never go wrong with IPRoyal.
MarsProxies is designed for sneakerheads. The company has over 550,000 unbanned private IPs, all fine-tuned for the sole purpose of sneaker copping.
Oxylabs has one of the most impressive proxy infrastructures in today's market. It has over 100 million IPs, which makes it perfect for intensive activities.
FAQ
Is RapidSeedbox affordable?
RapidSeedbox is an affordable proxy service and will likely work for small-time users. The pricing starts at $1 per proxy.
Does RapidSeedbox have a money-back guarantee?
You can get a 24-hour money-back guarantee from RapidSeedbox in case the service fails to meet your criteria.
Are the proxies from RapidSeedbox reliable?
RapidSeedbox proxies are reliable and efficient as they have sought-after features such as SOCKS5 support and in-house IP rotation. On the negative side of things, this provider only offers one kind of proxy servers.