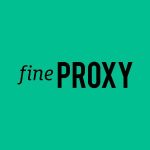 The requirements for entry into the proxy service market are pretty basic. This is a good thing as it has led to many companies venturing into this lucrative business. The benefit? There is always a company with the proxy service you are looking for.
With this diversity comes one major disadvantage: how do you select the best company to fit your needs? All these providers claim to offer top-tier services and promise to deliver what you're looking for. Deciding which one deserves your money can become complicated for most users.
Is FineProxy one of these providers that makes fake, unrealistic promises? Or is it a legitimate company focusing on meeting customer needs? We will not answer this question just yet. First, we will review FineProxy and see what it has to offer.

FineProxy Introduction
FineProxy is one of those companies that has been in the market for a long time. Having been introduced way back in 2011, we can safely say that this is a pioneer in the world of proxies. FineProxy is based in Russia and focuses on the average proxy user.
Consequently, FineProxy offers cheap proxies for users with a low budget and simple to average internet needs. With support for 69 countries, this provider has done a decent job diversifying its service, given it offers cheap proxies.
This information is what we were able to get at face value. A deeper analysis will give a clearer picture of FineProxy's efficiency. With this in mind, the section below dives into some of the provider's features.

FineProxy Features
Given the low pricing of proxies from FineProxy, you would expect the features to be pretty basic, right? Well, that is not the case, at least not for the most part. For starters, the location support is pretty diverse as FineProxy has support in over 50 countries worldwide.
Moreover, the company has its own 400 data centers spread out in these regions. We all know that most datacenter proxy providers find it hard to support many locations due to the cost of setting up the datacenters. Therefore, we can conclude that FineProxy has done a pretty decent job.
Of the 69 supported countries, you can buy individual proxies from 30. The remaining 20 have few proxies meaning they form a mix of plans. The company does not disclose the details of the hardware and software supporting these servers. However, it has over 400,000 IPs in rotation, which is an average number.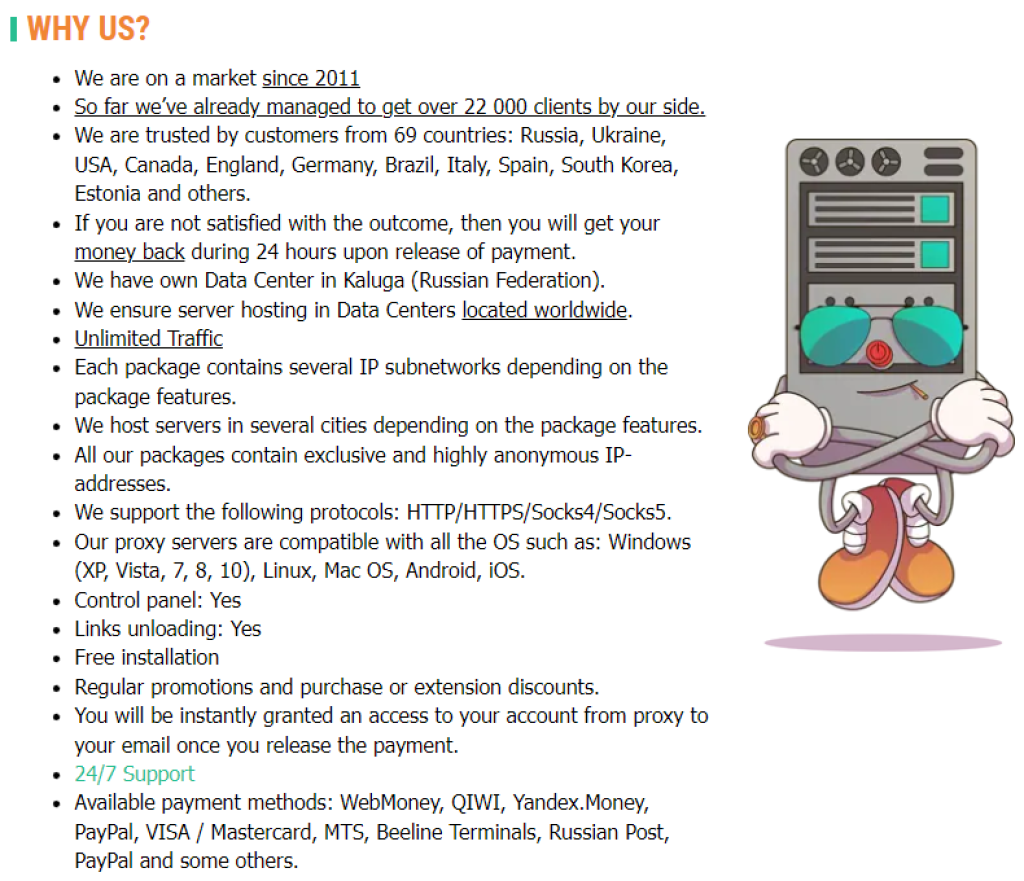 Types of Proxies
As mentioned earlier, FineProxy offers datacenter proxies. These are divided into two distinct categories: shared and private. The shared proxies are used by several users in a single instance and come at meager prices. The quality justifies these throwaway prices since these proxies' performance is usually poor.
The private proxies are much better when it comes to performance. These are reserved for only one user at a time, which translates to better performance. Moreover, these proxies are designed for specific use cases, including Skype, social media, YouTube, and torrents.
When it comes to authentication, FineProxy is a bit unique. The free proxies do not require any form of authentication as they are open. For the open proxies, you have to authenticate before use.
On the flip side, this provider offers username/password and IP authentication, which is a big plus for users. Another significant upside is that this provider has SOCKS5 support, allowing support for different protocols and usage scenarios.
FineProxy Proxy Speed and Performance
Speed is one of the most important factors when deciding whether to work with a proxy service provider or not. In most cases, proxy servers will slow down your internet connection since your traffic does not take a direct route and is rerouted through the proxy server. Just how much the speed is reduced will determine the efficacy of the proxy service provider.
Now, when it comes to FineProxy, the speed is not that great. The average download speed is about 6 Mbps, while the upload speed is about 12 Mbps. This is on the lower side and will only work for basic tasks. Keep in mind that this speed can change depending on your ISP.
The success rates are not that great since most IPs from this provider are detected, meaning they might not meet the intended purpose. In fact, in some cases, Google detects the proxy, alluding you likely will not go far while using them.
Additional Tools
FineProxy offers several tools designed to help users while working with their proxies. The first of these is a proxy checker, which verifies the functionality of the proxy for the intended purpose. You have to purchase a proxy to get access to this service.
The next tool available from this provider is an IP checker that tells you your current IP. This is a simple but valuable tool that can tell whether the proxy has successfully changed your IP address. The last tool is the IP subnet calculator.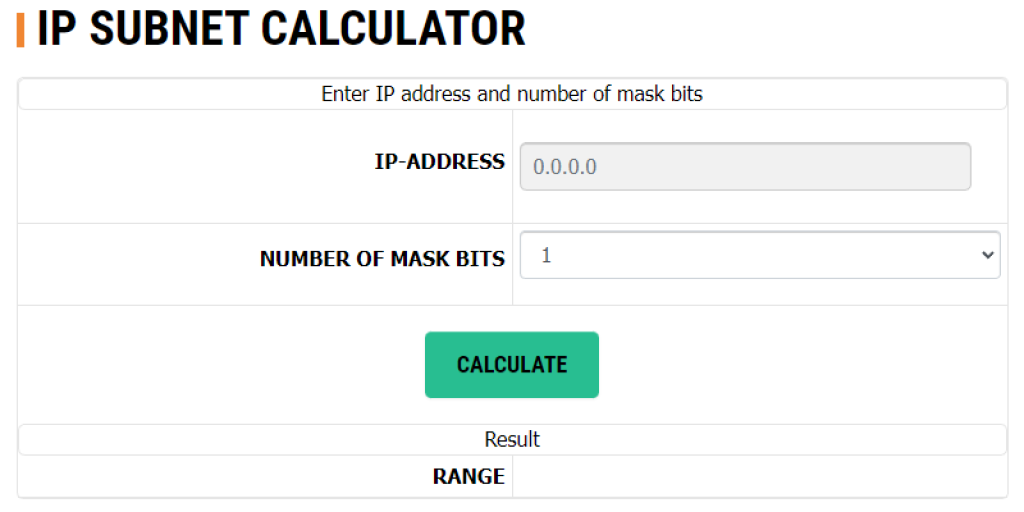 Purchase Simplicity
The FineProxy website is not at all that great. For one thing, it lacks that modern feel, and one might think that this is the original design from 2011. Therefore, the designers have work to do if the website is to match current standards.
On the flip side, purchasing a proxy is relatively easy, and you likely will not need help selecting and purchasing the proxy of your choice. The proxies are listed on the website in different categories. They include IPv4 proxy, locations, and proxy servers by location.
Once you click on any one of the categories, you get a list of the available proxies and their prices. From there, you can purchase and pay using your preferred method. Hence, we can surmise that buying a proxy from this provider is relatively straightforward.
FineProxy Pricing
One of the things you will notice with this provider is that they are not as aggressive when it comes to pricing. For one thing, right from the home page, you get access to free proxies for a trial period of 30 minutes. This is an incredibly well thought off feature as it lets you test the features before making a purchase.
You also get a 24-hour money-back guarantee, meaning that if the proxies fail to work for you a day from the period of purchase, then you can request a refund. While this is a good feature, it is not the best as some providers have as much as a 30-day money-back guarantee.
The shared proxies are incredibly cheap. You can get as many as 1,000 proxies for as low as $50 from FineProxy. This is unheard of and amazingly cheap. However, you should note that you get precisely what you pay for.
FineProxy has a knack for going for the extreme. While their shared proxies are some of the cheapest in the market, their private proxies are some of the most expensive, with one proxy going for as high as $5.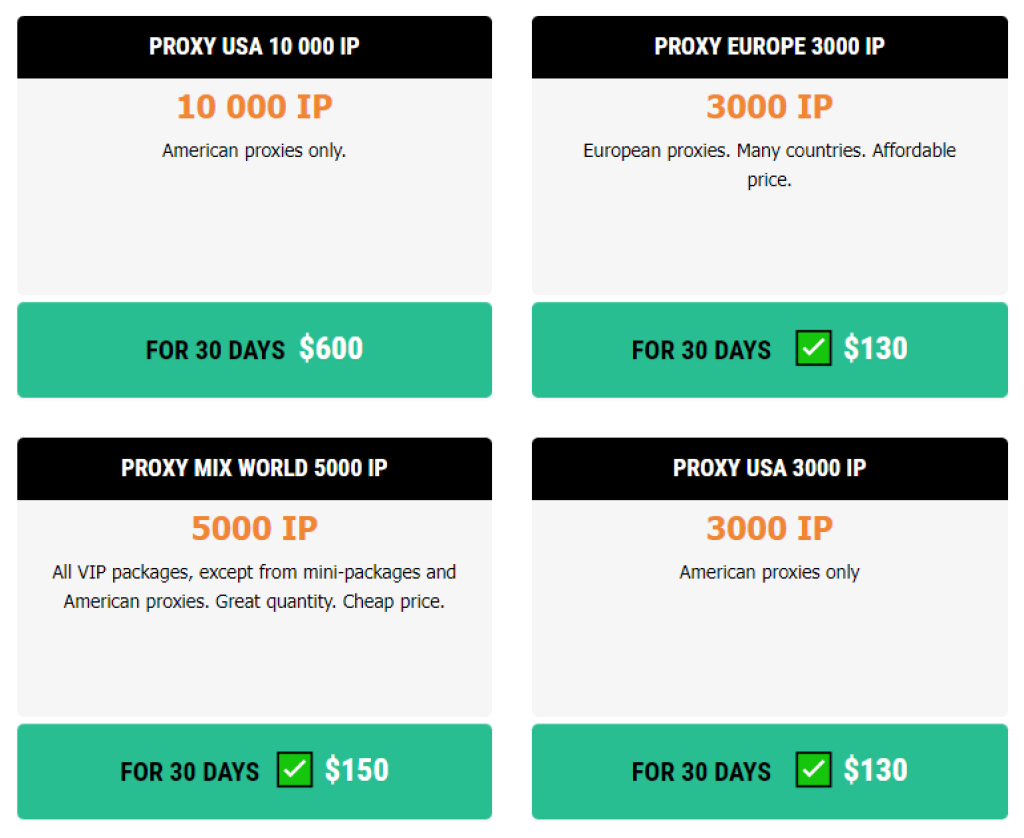 FineProxy Discounts
This provider does not explicitly mention that it has discounts for its services. But, in addition to the meager prices, it gets even cheaper when you make bulk orders. Take, for instance, the shared proxies. While 100 proxies go for $60 in regions such as Europe, you can get 3,000 proxies for $130. This significant discount will work for most users looking for many proxies.
Is FineProxy Legit or a Scam
FineProxy is a legitimate company with a focus on meeting customer needs. With a TrustPilot rating of 4.6 stars, most customers are generally satisfied with the services of this provider.
Also, the payment plans this provider offers are secure and legitimate. All in all, you do not have to worry about getting scammed or your personal data being compromised while working for FineProxy.

Customer Support
The customer support system at FineProxy is nothing short of impeccable. It has a handy live chat feature which we used. An agent was with us within seconds and was very warm and polite while answering our questions. This is beyond impressive as the customer system with most providers takes up to days to respond. FineProxy gets a rare 10 out of 10 for its approach to customer care!
The website also has a help section with informative data on how to use the website and the different features. You also get a phone number you can use in case you need fast and direct access to the customer support team.
Can You Earn Money With FineProxy?
Unfortunately, you cannot earn money with FineProxy. We tried looking for a dedicated affiliate page from the main website but could not find any. Following this setback, we decided to talk to the support team, which ended up reaffirming our previous findings. Hence, you cannot earn money with this company.
FineProxy Pros and Cons
FineProxy has proven to have its highs and lows. As such, it might work for some users, and some might be inclined to look for alternatives. With this in mind, below are some of the pros and cons of FineProxy.
Positive
Great prices
Dual authentication
SOCKS5 support 
Free trial 
Money-back guarantee
Good location support
Impeccable customer support 
Negatives
Poor speeds 
Questionable shared proxies 
Expensive private proxies 
Pros
Below are some of the advantages of working with FineProxy.
The prices at FineProxy are some of the most affordable in the market.
You get dual authentication for the paid proxies while the free ones are open.
FineProxy has SOCKS5 support, so you can use the proxies in more ways.
You get a free trial to test the services before making the purchase.
FineProxy offers a 24-hour money-back guarantee, which is pretty average.
The website has 50 locations supported by over 400 data centers.
Impeccable customer support
FineProxy has good customer support features, including live chat and good response times.
Cons
The following are the shortcomings of this provider:
You get exactly what you pay for. The cheap proxies perform poorly in terms of speed.
Questionable shared proxies
Many of the shared proxies are already banned or flagged on most websites.
Expensive private proxies
While the shared proxies are cheap, the private ones are significantly more expensive.
Final Verdict
With all that has been said, do we recommend FineProxy? Yes, but with a catch. We recommend this provider for minor tasks as its shared proxies have low speed and perform poorly. Things get way more expensive if you decide to go for private proxies.
Other than that, this is a pretty solid provider. With SOCKS5 protocol support and dual authentication methods, this provider has put a lot of work into its features. If you ever get problems using their service, the customer support system is a second away!
Ratings
FineProxy Alternatives
One significant downside we have noted with this provider is that the shared proxies perform poorly. With that in mind, you might be inclined to go for better-performing providers.
Sneakerheads will probably not get much out of FineProxy, which is why we recommend MarsProxies. It specializes in private sneaker proxies that integrate seamlessly with most sneaker bots.
This provider has an IP pool spanning more than 40 million IPs in more than 195 locations. This diversity makes it an excellent alternative to FineProxy.
Bright Data is one of today's most popular proxy service providers. It has over 72 million IPs available for use, making it a great alternative to FineProxy.
FAQ
What kind of proxies does FineProxy offer?
FineProxy specializes mainly in datacenter proxies. It offers both shared and private proxies, each with distinct performance.
FineProxy is a legitimate company. It has a Trustpilot rating of 4.6 stars indicating most users are generally satisfied with its service.
Can you use FineProxy for sneaker copping?
For the most part, you cannot use these proxies for sneaker copping. This is because most IPs are already flagged or blocked and will likely not work.