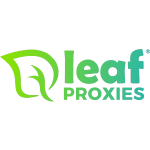 Every day, a new way to use a proxy server comes up. Without the right tool, chances are high you will be left out. Take, for instance, the world of entertainment. Countless artists all over the world release their work every day. This content is published on different streaming platforms, and some restrict the streaming to specific regions.
The entertainment niche is just one illustration. The tech world is another classic example. Certain apps and services only work in a specific part of the world.
So, where exactly do proxies come in? These tools are designed to swap your IP address with a brand new one. With a reliable proxy server in the right location, access restrictions to music, apps, websites, and all other online resources become a thing of the past.
This post will dive into the nuts and bolts of Leaf Proxies to help you decide whether it has what you need. Accordingly, we will highlight its key features and pros and cons to make your decision easier.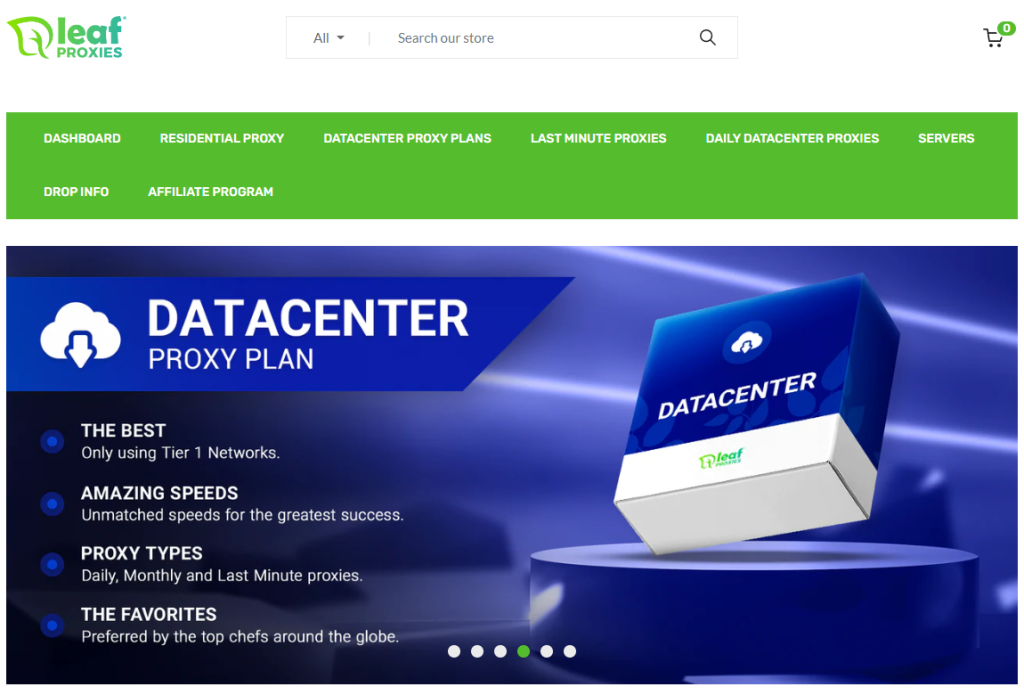 Leaf Proxies Introduction
Leaf Proxies is a company that is devoted to the sneaker copping industry. It is no secret that this provider has become quite popular among sneakerheads due to the quality of sneakers that it offers. Leaf Proxies has datacenter proxies and residential proxies.
One thing this provider really excels at is availability. You can get the provider's daily proxies, last-minute proxies, and even servers. The last-minute proxies are designed to work with urgency, making them available immediately after you make the purchase.
With this information, a deeper analysis of this provider will reveal whether it is a good fit and can work for most users. The sections below will analyze Leaf Proxies from an expert point of view to help you decide whether you can work with it.
Leaf Proxies Features
As mentioned earlier, Leaf Proxies has a focus on sneaker copping. In fact, there is a page on the website that is dedicated to drop information. This is incredibly well thought of since users can stay in the know regarding the latest sneaker drops without scouring the web for information.
The location support at Leaf Proxies is not at all impressive. For the residential proxies, the website supports approximately seven countries, which is below average. Some other providers we've seen support up to 100 countries or even more, meaning Leaf Proxies is several steps behind.
While we might excuse the poor location diversity of datacenter proxies since setting up data centers in different countries is complicated, two countries are still too low.
On the flip side, the proxy pool is quite impressive. Leaf Proxies has over 100 million residential IPs in its collection, which is quite remarkable. This means sneaker copping using this provider should be pretty easy.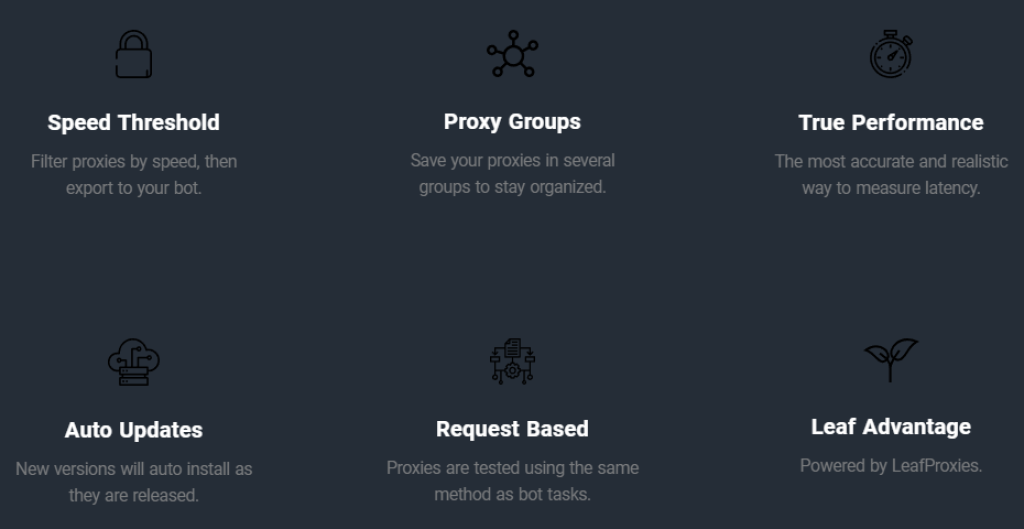 Types of Proxies
Leaf Proxies offers residential and datacenter proxies. There is a clear distinction between these two different categories. On the one hand, datacenter proxies use IPs generated from datacenters, which means they are less reliable since they are not affiliated with ISPs.
On the other hand, residential proxies use IPs connected with ISPs. These are more reliable since they are sourced from real users. However, they tend to be a bit more expensive than their datacenter proxies.
One of the most significant benefits of this provider is that it has static and dynamic session support. When you opt for static sessions, your IP will remain the same. However, your IP will constantly change when you decide to go for dynamic sessions.
Another significant benefit is that these proxies support username/password and IP authentication. This means you can authenticate the proxies using the method you prefer. Unfortunately, Leaf Proxies does not support SOCKS5. Users in search of such proxies will therefore have to look for alternatives.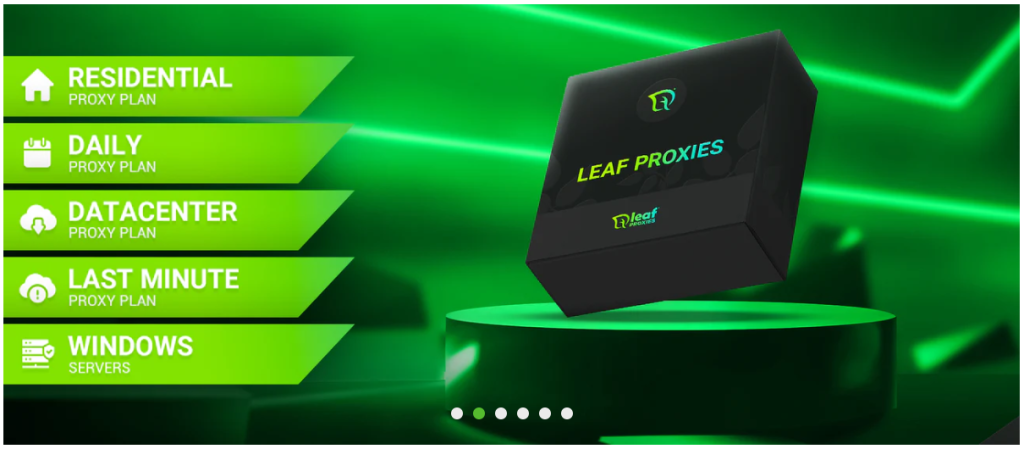 Leaf Proxies Proxy Speed and Performance
As a proxy user, speed is essential in deciding which provider you will work with. Typically, a proxy will lower your internet speed. It is expected since your traffic takes a detour through the proxy servers. How much the internet speed is reduced will determine the efficiency of the proxy you decide to work with.
Leaf Proxies has some average speeds and will work for simple to intermediate tasks. The success rates are bound to be impressive since this is a provider dedicated to sneaker copping. Without decent success rates, it would not work for its intended purpose.
Additional Tools
This provider has some pretty intuitive tools designed for sneakerheads. Once you subscribe to their proxies, you can access the Zephyr Monitor for sneaker coppers. You should note that this software is paid, but access is free for subscribers. What's more, the provider assigns users account managers that work to ensure that service delivery is seamless.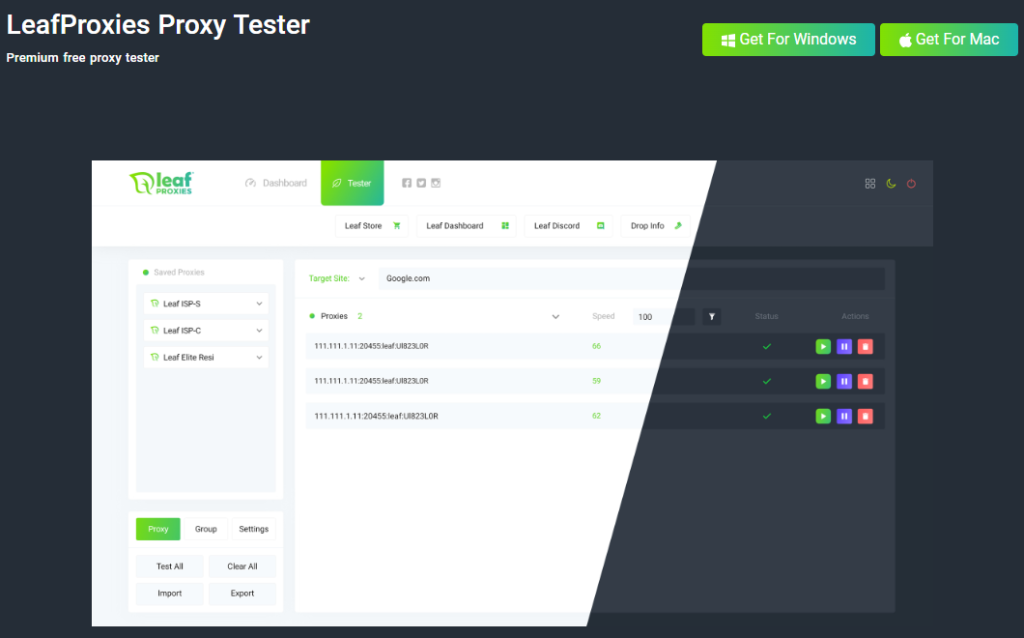 Purchase Simplicity
The Leaf Proxies website is pretty decent. It might not be the best in the market, but navigating it is pretty straightforward, making it relatively average.
Purchasing a proxy is not that hard either. Keep in mind, however, that you must sign up to access the proxies and make a purchase. You must provide personal information such as address and names during sign-up. Once this is done, you can return to the cart and complete the checkout.
Leaf Proxies Pricing
The Leaf Proxies pricing plan is pretty average. Before we go on, you should note that cheaper providers are out there, and you might be inclined to go for them. Also, the datacenter proxies are priced per proxy, while the residential proxies are priced according to the bandwidth consumed.
For the residential proxies, 1 GB starts at $10. This might not be the cheapest plan, but it is still not the most expensive we've seen. When it comes to the datacenter proxies, the only proxies available at the time of this writing were ISP, as the regular datacenter proxies were sold out.
The pricing structure here is more diverse. For example, 50 YS ISP proxies go for $80 and last for 30 days. The mobile proxies are way cheaper, starting at $100 for 25 proxies which last for the same period. The last-minute proxies are expensive, going for $9.99 for ten proxies lasting for a single day. The daily datacenter proxies are priced the same way.
Therefore, the pricing structure at Leaf Proxies is higher than average. This is more pronounced when you go for datacenter proxies, meaning the small-time user might not be able to fork out such huge sums. Also, this provider does not offer any refunds for the proxy services. Once you buy, that's it, whether they work for you or not. There is also no mention of free trials.

Leaf Proxies Discounts
The only kind of discount you can get from this provider is a bulk order discount, and they are not that significant. For instance, under residential proxies, if you buy the 1GB plan, you pay $10. If you decide to go for 2GB, you pay $19.50, a $0.50 discount. If you go for 4GB, you will only get $2 off.
The same case goes for the datacenter proxies. Take, for instance, mobile proxies – 10GB is priced at $25, but 25 goes for $62.50. This is still a minimal discount. In brief, the deals from this provider are minimal and might not work for most users.
Is Leaf Proxies Legit or a Scam
Leaf Proxies is a legitimate company with a focus on meeting customer needs. There is not much information on customer reviews for this company on the general web. But, from an expert point of view, no red flags presented themselves when reviewing this company.
Customer Support
Customer support is the one area where this provider dropped the ball. For one thing, the website lacks the live chat option, which is one of the fastest ways to reach the customer support team. Normally, most providers that lack the live chat option complement the customer support with a ticketing system, which, unfortunately, is lacking from this provider.
To talk to the customer support system at Leaf Proxies, you would have to reach them via Discord. If this does not work for you, you can reach out using Twitter. Finally, you can also use email. While these are still efficient channels, an in-website customer support system would still have been better.
Can You Earn Money With Leaf Proxies?
You can earn money with Leaf Proxies through its Shopify affiliate program. You can earn a commission for every Shopify sale made using your unique code. The good thing is that the website provides all the tools needed for the program, including the sales tracking dashboard. Upon signing up, you link your PayPal, after which payouts are made once your balance reaches $10.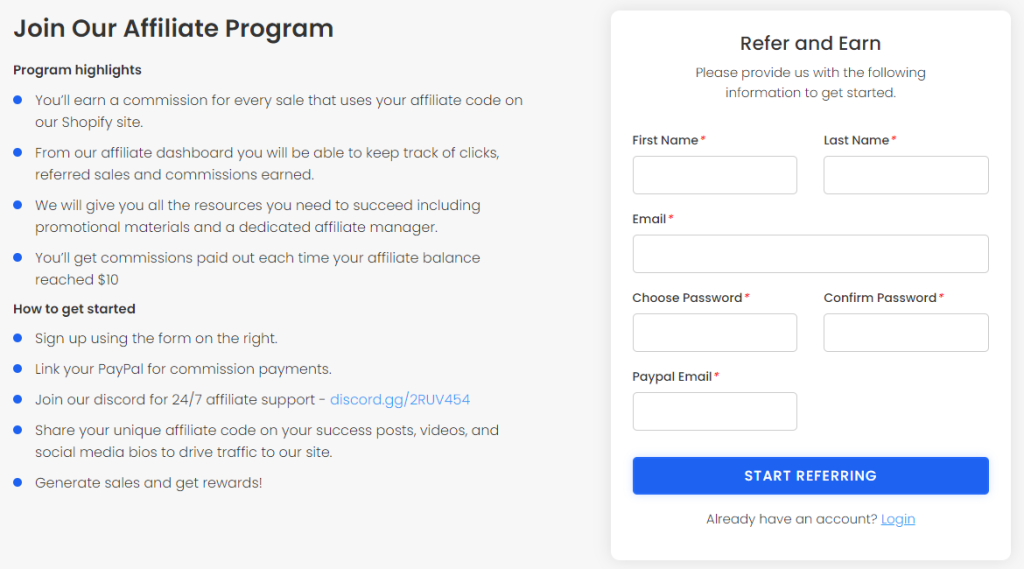 Leaf Proxies Pros and Cons
Leaf Proxies has some areas where it does a good job and attracts customers. In others, it falls behind the competition. Here's what you need to know.
Positive
Dual authentication
Diverse datacenter proxies
Static and dynamic sessions 
Negatives
High prices
No SOCKS5 support
Limited locations for datacenter proxies 
Datacenter proxies often out of stock
No free trials or refunds 
Pros
Below are some of the areas where Leaf Proxies excels.
You get username/password and IP authentication from this provider.
Diverse datacenter proxies
Leaf Proxies has several categories of datacenter proxies, which makes its packages diverse.
Static and dynamic sessions
You can opt for either static or dynamic sessions depending on your needs.
Cons
While the proxies are expensive, they are still not the most expensive in the market.
The provider does not have SOCKS5 support for its proxies.
Limited locations for datacenter proxies
The datacenter proxies only support two locations. While this will be fine for sneakerheads, it might be a dealbreaker for other users.
Datacenter proxies often out of stock
While looking at the different packages, most datacenter proxies are usually out of stock.
No free trials or refunds
Leaf Proxies does not offer any refund or a free trial for its services.
Final Verdict
With all that has been said, do we recommend Leaf Proxies? Yes, but only for people interested exclusively in sneaker copping. If you're looking to get proxies for other purposes, you might want to look elsewhere.
Ratings
Average
Score by our metrics
PROS
Dual authentication
Diverse datacenter proxies
Static and dynamic sessions 
CONS
High prices
No SOCKS5 support
Limited locations for datacenter proxies 
Add your review
|
Read reviews and comments
Leaf Proxies Alternatives
Given the high-priced Leaf Proxies subscription plans, you might be forced to go for alternative companies with better pricing or at least prices that match their qualities. A few of them are listed below.
IPRoyal offers a diverse range of proxies with some of the most advanced features in the market. With an excellent pricing structure, this is a good alternative to Leaf Proxies.
SmartProxy is renowned worldwide for affordability. With a pool of over 40 million IPs, this is another provider you can use in place of Leaf Proxies.
MarsProxies is another provider focused exclusively on sneaker copping. Its proxies are significantly more affordable and feature better coverage, so it's worth considering.
FAQ
Is using Leaf Proxies illegal?
Using Leaf Proxies is entirely legal. However, if you violate the provider's terms of service, you will likely get banned from using the service.
Is Leaf Proxies legitimate?
Yes, Leaf Proxies is a legitimate company. It offers datacenter, mobile datacenter, ISP, and residential proxies.
Can you use Leaf Proxies for sneaker copping?
Yes, you can use Leaf Proxies as this is what the proxies are designed for. In fact, there is a section on the website solely dedicated to sneaker drop updates.