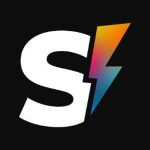 Technology has transformed life as we know it. Every aspect of daily life is impacted by technology in one way or another. From communication to travel, you are bound to find a way in which technology has influenced these niches.
The expansion of the internet brought to light the importance of protecting sensitive personal and corporate data from falling into the wrong hands. This is where proxy servers can help.
This post will dive into a proxy service provider known as Surge Proxies. By the end, you should have an easier time deciding whether this provider offers the services and features that will work for your needs.

Surge Proxies Introduction
Surge Proxies is a proxy service provider offering two types of proxy servers: residential and datacenter. The company has a pretty intuitive website with a good design but one major flaw – lack of information.
If you log on to the website, you will notice that the designers put in a lot of work in terms of design. However, the whole presentation lacks content. Another significant downside with this provider that you will likely see is that some of the content on the website is in Latin for some reason.
At face value, this provider seems to have some significant issues to deal with if it is to make its service compete at the same level with other proxy service providers. The following section will dive deeper into this provider's features and help you determine whether you can work with it.
Surge Proxies Features
Upon a keen analysis, Surge Proxies seems shady in its features and services. We scoured the website and tested its services to find out the features this provider offers despite these hindrances.
As mentioned earlier, this provider offers two kinds of proxies: datacenter and residential. The proxy pool is impressive, with a current capacity of 20 million IPs. Given that Surge Proxies bill according to bandwidth as opposed to per proxy, you can utilize these proxies to the maximum.
The location diversity is nothing short of disappointing. The datacenter proxies are from only one location, Ashburn, Virginia. This is a colossal flop as there are many providers with many more locations.
To make matters worse, the company does not mention from which locations it gets its residential proxies. Many customers have complained that this is one of the company's biggest downsides.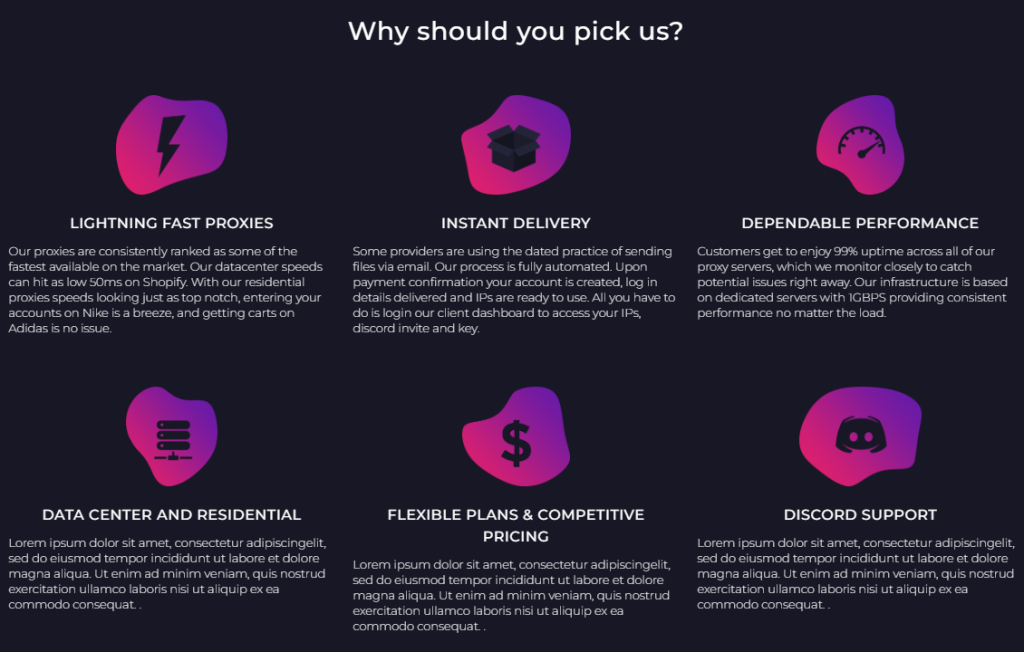 Types of Proxies
Surge Proxies does not provide the standard datacenter proxies. Instead, it offers ISP proxies. These are simply datacenter proxies hosted on datacenters but use residential IPs. The goal here is to make these proxies mimic real IPs and reduce the chances of detection.
The datacenter and residential proxies from Surge Proxies lack rotating session support. This is another major flop as rotating sessions fit countless use cases. Also, the company does not mention how long their sticky sessions last, but it does imply that it is enough for sneaker copping, which is what the proxies are intended for.
This makes sense since sticky sessions keep your IP address the same for the entire sneaker copping session. When it comes to authentication, Surge Proxies only supports username/password authentication. Unfortunately, this provider does not have SOCKS5 support, which is another significant downside.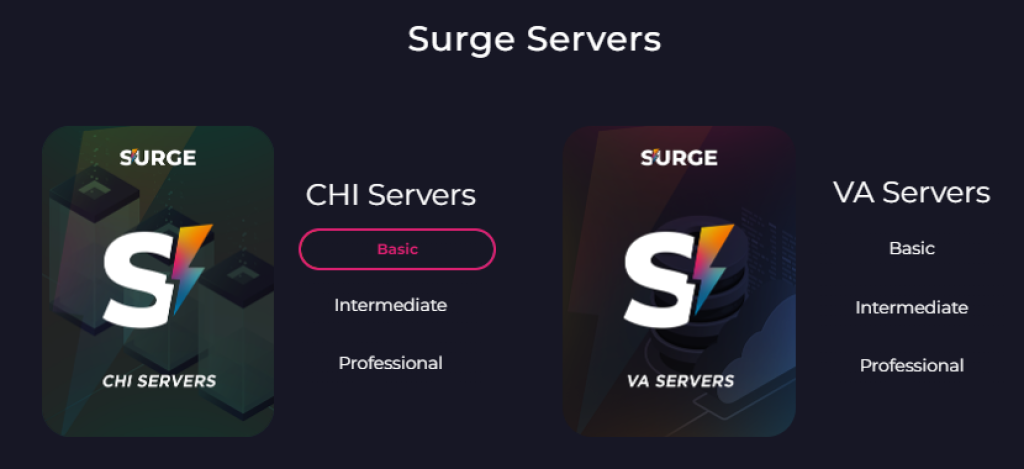 Surge Proxies Proxy Speed and Performance
Speed is perhaps where Surge Proxies excels and wows customers. The website claims its proxies have lightning-fast speeds with pings as low as 50ms on sites such as Shopify. Surge Proxies also claims to offer 99% uptime, which is another significant upside.
With that being said, this provider may be a good fit for sneakerheads since it has streamlined its services in this area. With sticky sessions and ISP datacenter proxies, Surge Proxies may just be the right fit if we turn a blind eye to its other significant shortcomings.
Additional Tools
Surge Proxies claims to take care of its customers, which is why it offers a proxy tester tool. It is available for Windows and Mac users and can be used to test the efficacy of purchased proxies. Unfortunately, you have to be signed in to access this tool, contrary to most providers that provide such tools straight from the website.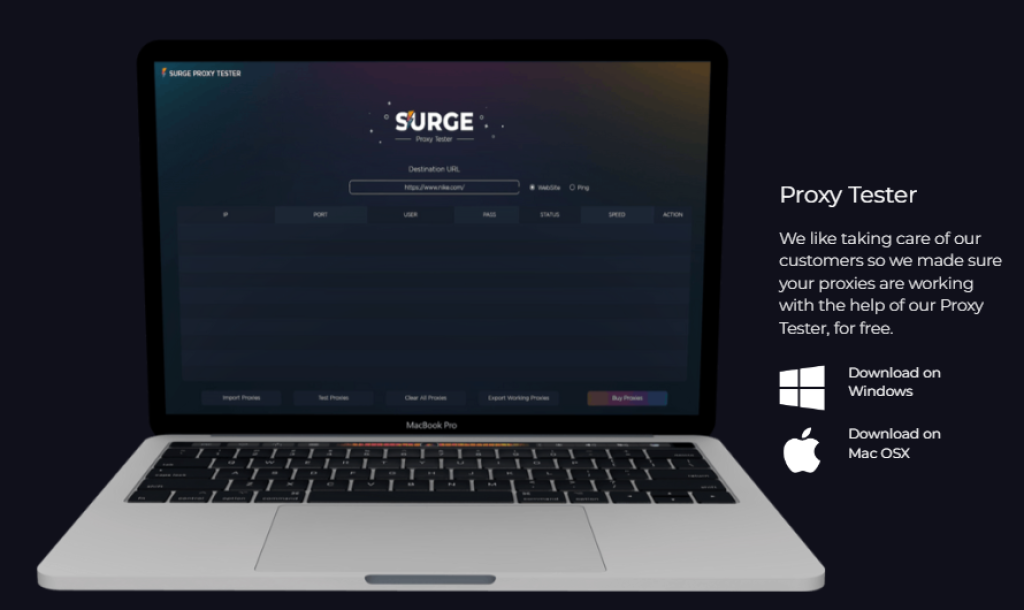 Purchase Simplicity
While the Surge Proxies website looks modern and has that sleek tech feel, the same cannot be said for the purchase simplicity. For one thing, the website creators have made it incredibly complicated to sign up for the service. This is because you have to sign in using your Discord account.
While this may seem like a good idea, it is one-sided. Customers that have experience with Discord are the ones that can benefit. What if a customer has no prior experience with the platform? They will be forced to sign up for Discord and use their account to sign up for Surge Proxies. This extra step is highly complicated, and some potential clients are bound to see it as a waste of time.
Therefore, we can surmise that signing up for Surge Proxies could be more streamlined. This is quite ironic as most websites are designed to motivate visitors to sign up, which is why the sign-up button usually is so conspicuous. In Surge Proxies, the sign-up button is non-existent.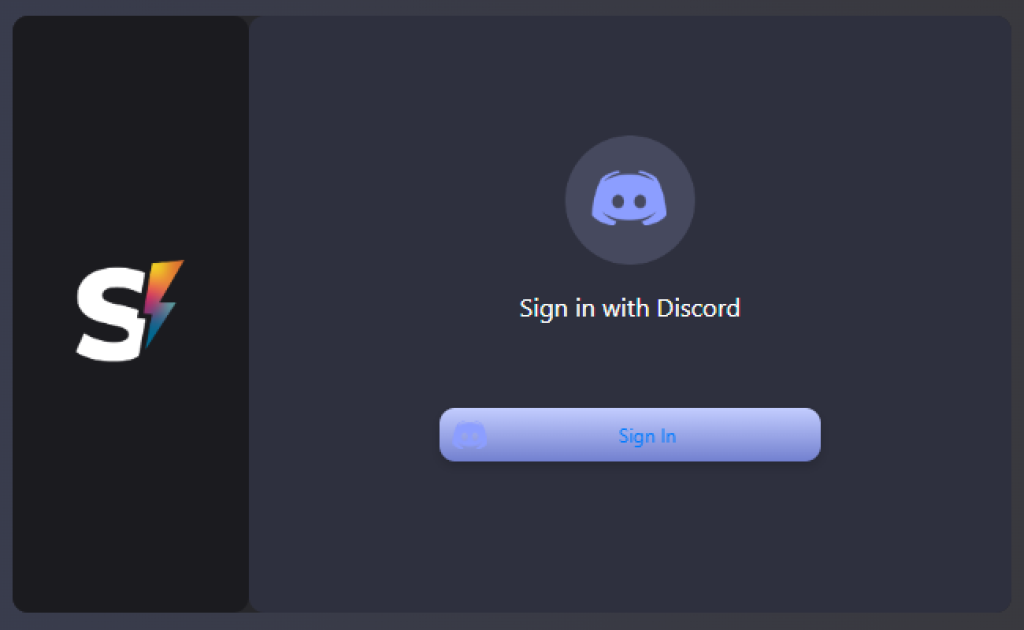 Surge Proxies Pricing
The Surge Proxies pricing structure is on the higher side and might not work for most users. In fact, there have been reports that this provider charges up to five times more than what other similar proxy providers charge.
You should note that the company uses a metered bandwidth pricing model where you pay for the bandwidth you consume. Now, for the residential proxies, the lowest tier is 3GB of data for $39. This is extremely expensive, and this figure can quickly get to thousands of dollars if you want to make mega purchases.
The ISP proxies are not any cheaper. You might find yourself spending thousands of dollars if you are looking to purchase bulk ISP proxies. Note that the pricing model used here is per proxy. Accordingly, the lowest tier is 25 proxies which are $16 for two days, and the highest is 200 proxies at $118.
To make matters worse, Surge Proxies does not offer any money-back guarantee or free trial. This means there is no way to test how the proxies work without first spending your money and if they fail to work for you, you cannot get a refund.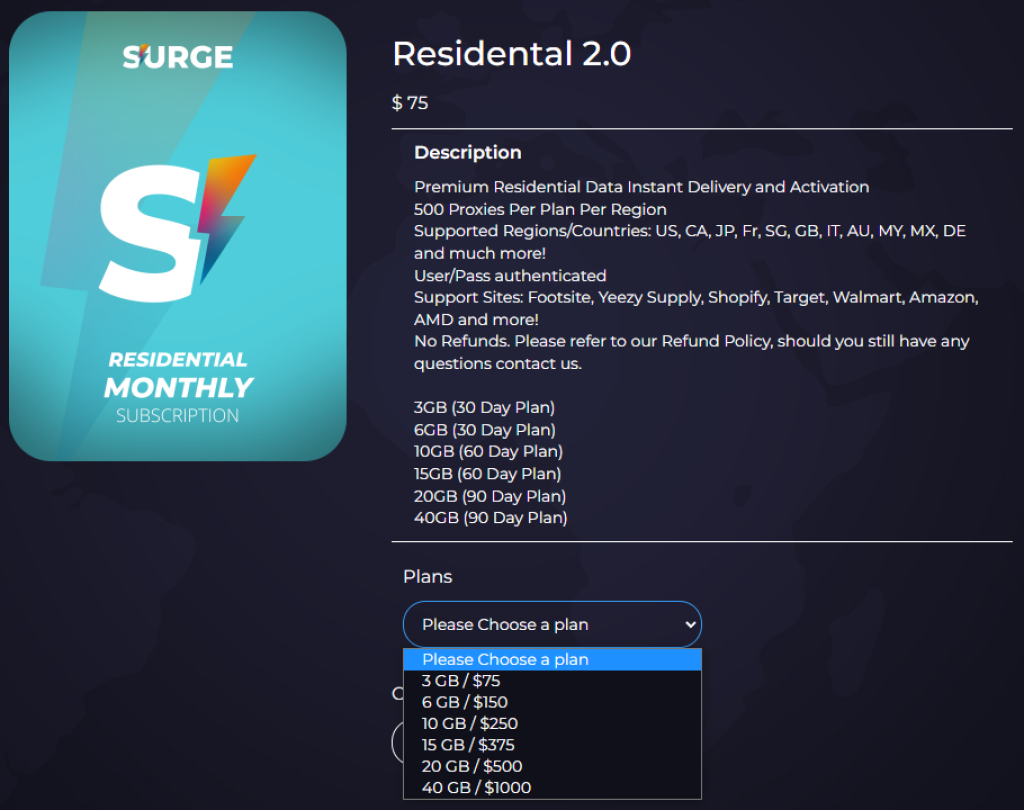 Surge Proxies Discounts
Surge Proxies does not warm up to discounts if its prices are anything to go by. There is no mention of special offers from the main website, which is a significant downside. Conversely, you get indirect discounts on bulk orders for residential proxies. These discounts are minimal. For the most part, you will not even realize they are there.
Is Surge Proxies Legit or a Scam
Surge Proxies is a legitimate proxy service provider with a sizable customer base. The payment methods are safe and secure. Hence you do not have to worry about losing your financial data to unsafe payment methods. Therefore, we can surmise that this provider is legitimate.
Customer Support
The customer support system at Surge Proxies is poor, to say the least. The website lacks a live chat feature, meaning there is no direct way to get to the customer support team. You would expect a ticketing system in place, right? Well, this one, too, is lacking.
There are only two sure ways of getting to the customer support team at Surge Proxies, either using email or Discord. This is a big downside as it means the only way to get a quick and direct response from the customer support team is using Discord, and this might not work for all users.
Can You Earn Money With Surge Proxies?
From what we could gather, you cannot earn money with Surge Proxies. There is no mention of an affiliate program on the website, and there is no dedicated page either. When we tried to reach out to the support team via Discord, we were shocked to find out that tickets with no order details were closed and ignored. This is a significant disadvantage as it limits the customer experience.
Surge Proxies Pros and Cons
Like any other proxy service provider, Surge Proxies has pros and cons. This means some reasons might make you inclined to work with this provider, and others might push you to look for alternatives.
Positive
Fast
ISP and residential proxies available
Proxy tester tool
Negatives
Overpriced for basic features
No money-back guarantee
The website is unfinished
No SOCKS5 support
Only one authentication method
Pros
Below are some of the advantages of working with Surge Proxies.
The proxies are fast, with 99% uptime as the website claims.
ISP and residential proxies available
While you won't find any datacenter plans, Surge Proxies offers fast ISP and residential proxy servers.
The provider offers a proxy tester tool for clients so you can see how they perform.
Cons
Below are some of the disadvantages of working with Surge Proxies.
Overpriced for basic features
The website charges a premium for basic features.
There are no refunds for the proxies since the website mentions these are digital services.
The website is unfinished
Parts of the website are placeholders in Latin, which is quite bizarre.
The website does not support the SOCKS5 protocol despite being a premium provider.
Only one authentication method
You only get username/password authentication with Surge Proxies.
Final Verdict
With all that said, one question still has not been answered: do we recommend working with Surge Proxies? The simple answer is no. This conclusion is influenced by several factors, the most significant of which is the extremely high prices. These prices would be reasonable if Surge Proxies offered above-average features. However, this is not the case.
Another notable shortcoming is that some text blocks are Latin placeholders. As if that is not enough, the sign-up process is highly complicated as you have to be a Discord user to sign up to Surge Proxies. In brief, it is clear that the downsides of this service far outweigh the benefits. Hence you would be better off looking for alternatives.
Ratings
Poor
Score by our metrics
PROS
Fast
ISP and residential proxies available
Proxy tester tool
CONS
Overpriced for basic features
No money-back guarantee
The website is unfinished
Add your review
|
Read reviews and comments
Surge Proxies Alternatives
Given the numerous downsides, it is clear that you would be better off going for alternative proxy services. With this in mind, below are some providers you could work with in place of Surge Proxies.
IPRoyal is a household name in the world of proxies. It's an excellent alternative to Surge Proxies with robust servers (residential, datacenter, and sneaker proxies), great pricing, and comprehensive customer support.
Bright Data is renowned for its stellar proxy services. It has some of the most positive reviews on the web, indicating that the company focuses on meeting customer needs.
With support for the SOCKS5 protocol, Oxylabs is another great alternative to Surge Proxies. Notably, it is recommended for tasks that need you to keep the same IP address for a while.
FAQ
Surge Proxies is a legitimate company with a sizable customer base. The payment methods are safe and secure as well.
What kinds of proxies does Surge Proxies offer?
Surge Proxies offers ISP and residential proxies. These have different pricing plans and varied features.
Is Surge Proxies affordable?
No, this provider is not affordable. It charges as much as three times what other companies with more advanced features charge.