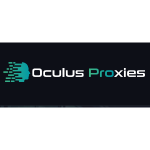 Limited edition sneakers are some of the most sought-after commodities today. Typically, these shoes sell out in a matter of seconds. Before you realize they are one sale, they're already sold out. Some time ago, you could buy these limited edition sneakers from local stores. Those days, people queued for hours or even days only to find the sneakers sold out.
However, you can no longer buy limited-edition sneakers from physical stores today as manufacturers prefer to use online stores for drops. This move has led to creating a multi-billion dollar business where tech-savvy entrepreneurs buy these shoes in bulk and sell them at a profit.
Websites have noticed this and developed mechanisms to prevent users from making bulk purchases. In fact, for most sneaker drops today, you will find that each buyer is limited to only one pair of sneakers.
Again, tech-savvy buyers have devised an ingenious way of bypassing these restrictions – sneaker bots. These tools can make thousands of requests in a single instance and purchase as many sneakers as required.
This technique has not gone under the radar as sneaker companies have devised ways of detecting and banning bots. Whenever they notice a suspicious number of requests from one IP, they ban it.
The solution? Proxy servers. These tools can replace your IP address and provide a new one depending on your needs. In this scenario, a good proxy will rotate IPs depending on the number of requests.
With this in mind, this review will look at a sneaker proxy provider known as Oculus Proxies to help you determine whether you should give this provider a chance or not.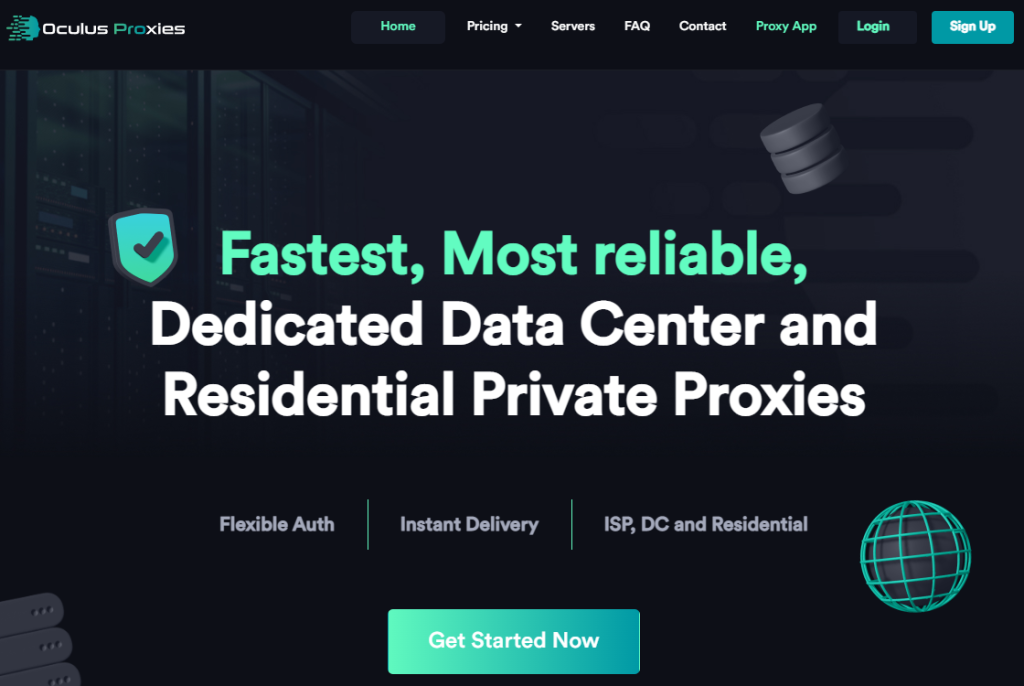 Oculus Proxies Introduction
Oculus Proxies is a premium proxy service provider specializing mainly in sneakers and social media automation. This may not be one of the most popular proxy service providers in the market today, but it does have its benefits, and it may work for you depending on your use case.
You should note that while the proxies from this company are mainly focused on sneaker copping and social media automation, you can also use them for a wide variety of use cases. Accordingly, this provider mainly offers datacenter and residential proxies. There are no mobile proxies here, so users that want to cop using their mobile phones will have to look for alternatives.
The location diversity of this company is a mystery since Oculus Proxies does not publicly disclose how many proxy locations it supports. However, it does mention a few of the supported locations and the different features available.
With this said, let us look at some of the features this proxy provider offers.
Oculus Proxies Features
Oculus Proxies is a premium proxy provider offering customers a wide array of features. First, it has a decent IP pool, which translates to better reliability. It has 40 million IPs in its residential network and 15 million in its datacenter network.
The latter is designed with sneaker copping in mind. With 15 million IPs in rotation, you stand a better chance of getting more success rates with these proxies. The location diversity of this company is shrouded in mystery for several reasons.
First, Oculus Proxies does not mention how many locations it currently supports. If you log on to the website, you will note that it mentions New York, Virginia, and Chicago. If these are the only locations that this provider supports, this is a massive flop since it does not say much about diversity.
Other companies in the same tier as Oculus Proxies offer as many as 190 locations worldwide, meaning customers are more than likely to opt for these companies.
On the flip side, this company seems to own all the equipment used to support the proxies, which is a big plus. Do note that we are talking about the datacenter proxies, not the residential ones.
The Oculus Proxies website mentions that the company owns dedicated servers in Virginia, New York, and Chicago. Therefore, the proxies from these regions are bound to be more reliable as the company has complete control over the network.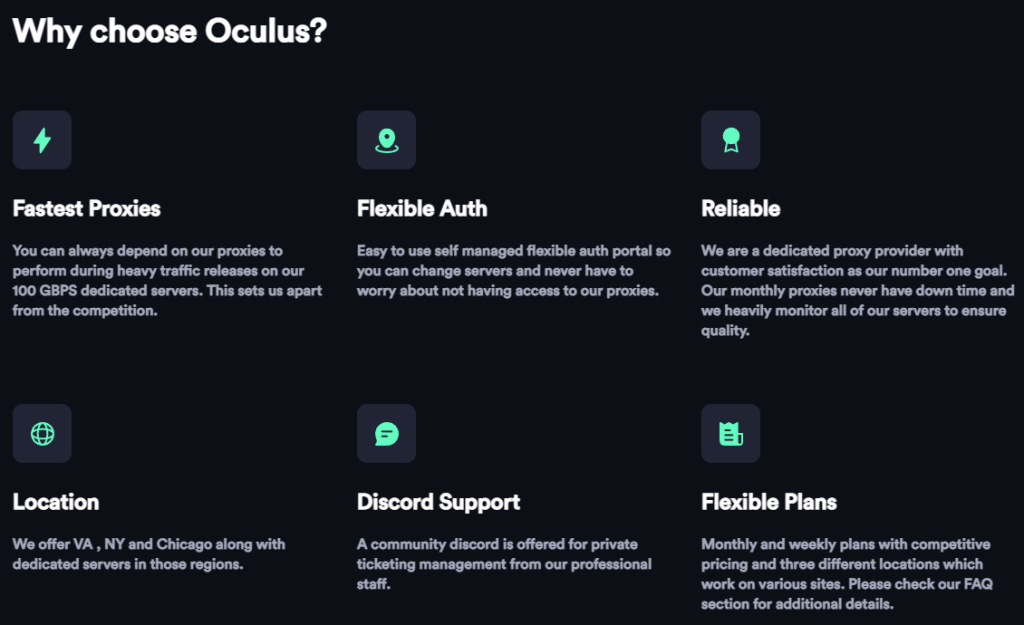 Types of Proxies
As mentioned earlier, this provider offers two kinds of proxies to users: residential and datacenter. These two come with varied features and equally different pricing plans. In the same accord, these proxies come optimized for different purposes.
For instance, the datacenter proxies come optimized to work on sneaker sites such as Yeezy Supply and more. Sneakerheads are bound to find a home working with Oculus Proxies.
One thing you will note is that the features these proxies have to offer will, for the most part, be determined by the location. Take, for instance, proxies from Virginia. You will note that they offer optimized support for way more sites than datacenter proxies from London.
One significant downside with this provider is that it only has one authentication method – IP authentication. While it is a fast and convenient way of authentication proxies, it may not work for most users. What if some users feel more comfortable with username/password authentication?
Another significant downside with Oculus Proxies is the lack of SOCKS5 support. Why SOCKS5? These proxies are known to offer more in the way of functionality as compared to regular proxies.
For instance, these proxies offer better performance in P2P connections. However, this may not be an issue since P2P is not the focus of Oculus Proxies.
Oculus Proxies Proxy Speed and Performance
At face value, different factors allude to this provider having good speeds and decent success rates. First off, the IP pool is impressive, with 15 million IPs dedicated to sneaker copping alone.
This alludes to better efficiency since you'll never run out of IP addresses to rotate between. Furthermore, Oculus Proxies claims to offer their services from dedicated proxies, which translates to better efficiency.
The company offers impressive speeds of up to 100 Gbps, which is beyond impressive by today's standards. With all this information, it is evident that this provider is ideal for its speed and practicality.
Additional Tools
Oculus Proxies offer something that other providers do not – a PC application, and a pretty impressive one at that. The application is designed to give users an easier time while managing their proxies in addition to some fantastic capabilities.
For instance, you can use the application to track how much bandwidth you consumed while using the proxies for different tasks. What's more, you can use it to manage your subscription, upgrade or downgrade. Finally, the app allows you to test the proxies and get instant results.
For sneakerheads, you can get sneaker drop updates right from the application, which is a big plus. It is available on Windows and Mac, so you do not have to worry about compatibility issues.

Purchase Simplicity
The Oculus Proxies website has a modern feel and a fantastic design. In fact, upon navigating to the website, its design itself can tell you that this is a company devoted to tech.
One of the most significant advantages of this company is that you do not have to log in or create an account just to see the different proxies available and their different features. All this information is displayed right from the web page.
Purchasing a proxy from Oculus Proxies is also easy, and you will likely not need help from anyone just to do this. Once you select the kind of proxy you are interested in from the home page, you can press the purchase button, from where you will be required to log in or sign up to make the purchase.
In summary, the website is well thought out and has a good design and a modern feel. Nothing negative in this section, as purchasing a proxy is also simple.
Oculus Proxies Pricing
First off, you should note that the pricing structure from this company is a bit on the higher side. One thing that is evident once you start looking at how this company prices its proxies is that it is pretty flexible.
Accordingly, Oculus Proxies has four subscription plans available based on the kind of proxy. You can get a weekly subscription or the monthly subscription. Better still, you can opt to pay after two or three months, depending on your need.
In a bizarre twist, the datacenter proxies from this company are more expensive than the residential proxies. In standard scenarios, the residential proxies are more expensive since they are sourced from real users and connected to ISPs.
However, the datacenter proxies here are more expensive, given they are optimized to work on sneaker sites. Accordingly, the residential proxies start at $24 per week, while the datacenter proxies start at $48 per week.
You should note that the pricing, while it is influenced by the type of proxy and the period, is also influenced by the location. For instance, the New York and Chicago monthly subscription is more expensive than Virginia.
This website does not offer any money-back guarantee or free trial for its users. This means you cannot get a refund if the proxies fail to work for you. Once you pay, that is it. On the flip side, you could take advantage of the proxy tester tool from the PC app to see the quality of proxies.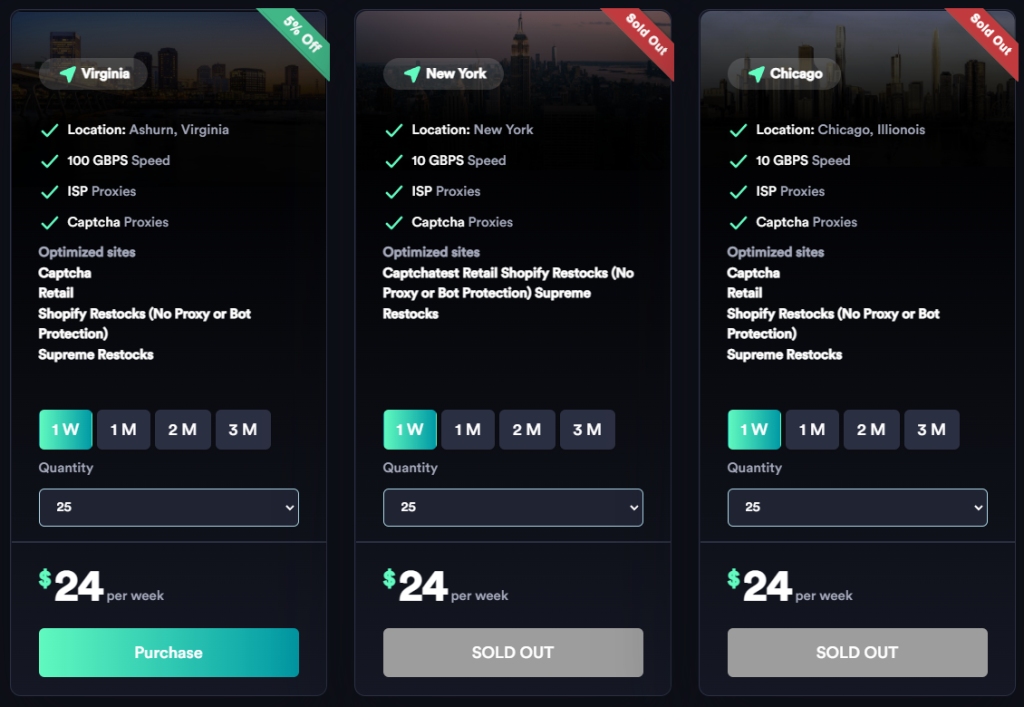 Oculus Proxies Discounts
Oculus Proxies does not mention that it offers discounts for its services, but upon close analysis, you will notice that longer subscriptions are way more economical. For instance, under ISP proxies, the weekly subscription for Virginia proxies starts at $24, while the monthly subscription is $48.
If you do the math, you will notice the monthly plan is 50% cheaper, which is a great plus for users. The same goes for all the subscription plans under this provider. However, if you really think about it, this is still a downside since some users will still have minimal use cases, meaning they will have no use for the longer subscriptions.
Is Oculus Proxies Legit or a Scam
Oculus Proxies is a legitimate and trustworthy company. Its payment methods are secure and verified. Hence you do not have to worry about losing your hard-earned money while paying for their services.
Most customer reviews mention that their services are indeed legitimate. However, a common consensus among most reviews is that the services are way too expensive, which has been mentioned in this review.
Customer Support
The customer support system at Oculus Proxies is not at all that great. First, the website lacks a live chat feature, one of the most convenient ways to reach out to the support team. The only way to contact the customer support team is by emailing them straight from the website.
The response time is also not that great since they claim to get back to you within 24 hours. Other companies in the same class respond in a matter of minutes. Hence, Oculus Proxies still has to work on its customer support system.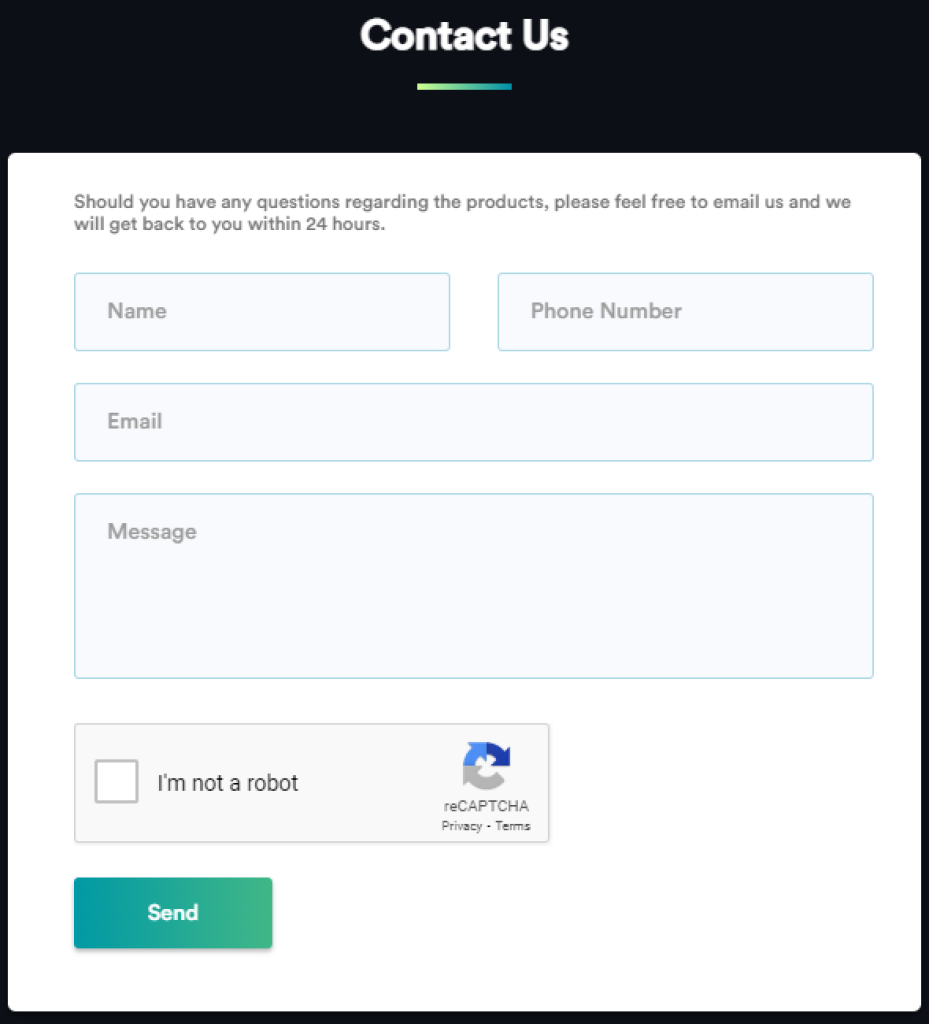 Can You Earn Money With Oculus Proxies?
From what we could gather, you cannot earn money while working with Oculus Proxies. There is no affiliate program on the website, nor is there a dedicated page. We tried contacting the support team for more info, and they responded after two weeks, a big red flag. They confirmed our previous findings that this feature is unavailable in their response. Hence, users looking for such features will have to look for alternatives as they are lacking from this provider.
Oculus Proxies Pros and Cons
With all that said, you may still have a hard time deciding whether you should give this provider a chance. Therefore, we have compiled a pros and cons list designed to help you make the decision. Have a read below:
Positive
Optimized for sneaker copping
Impressive proxy pool 
Decent speeds
Sticky and rotating sessions available
Negatives
Only one authentication method 
Way too expensive
Limited location coverage 
No refunds 
Limited features 
Final Verdict
Oculus Proxies is a legitimate proxy service provider with secure and verified payment methods. The website is fluid and has a good UI, making navigation straightforward. Hence, we can conclude that this is a good company focusing on attracting and retaining customers.
However, Oculus Proxies has some significant downsides. For one thing, the prices are way too high and may not work for small-time users. While the services are expensive, they lack features that make up for the steep prices.
Therefore, this provider may only work for bulk users and companies, but not the everyday user with limited use cases. For that, we could use some alternatives.
Ratings
Below average
Score by our metrics
Positive
Optimized for sneaker copping
Impressive proxy pool 
Decent speeds
Negatives
Only one authentication method 
Way too expensive
Limited location coverage 
Oculus Proxies Alternatives
Given the steep pricing structure of Oculus Proxies, some users could be inclined to go for alternatives. Below are some options you could go with:
MarsProxies has a focus on sneaker copping, much like Oculus Proxies. Its prices are way more affordable, and it has a better location diversity with better features.
This provider is renowned for its unbeatable prices. Its affordable subscription plans make it an excellent alternative to Oculus Proxies.
For users interested in web crawling and scraping, then ProxyCrawl could be a good alternative. It has a wide array of tools you could leverage for this purpose.
FAQ
Yes, Oculus Proxies is a legitimate company. It mainly focuses on sneaker copping.
Does Oculus Proxies have a free trial? 
Unfortunately, this company does not offer a free trial. You have to pay to access the proxies.
What kind of proxies does Oculus Proxies offer?
Oculus Proxies offer two kinds of proxies: datacenter and residential proxies. These have different pricing plans and features.